10 Best Breast Specialist in Singapore to Improve Women's Health [2022]
Suffering from unusual breast pain or soreness? Maybe it's a sign for a check-up with our listed Best Breast Specialist in Singapore.
Last Updated on January 11th, 2022
Health & Wellness
Our team at SBO.sg is committed to being a one-stop avenue to connect local businesses and consumers. We hope that our research efforts can help you save time and money by finding you the best deals without having to search around the vast world-wide-web.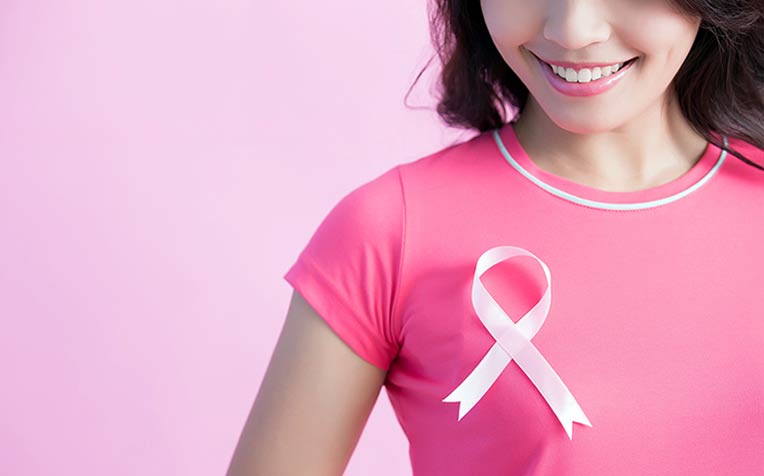 Have you recently been suffering from constant sharp pains in your breast area or have you been worried about the unusual lump there? If your family doctor doesn't have an answer for the cause of your symptoms, it is time to seek professional advice from a breast specialist.
A breast specialist is a doctor or medical practitioner who specialises in the study of diseases and conditions related to the breast. If you have never consulted a breast specialist before, here's a list of the 10 Best Breast Specialist in Singapore to improve your health.
1. Thomson Breast Centre (TBC)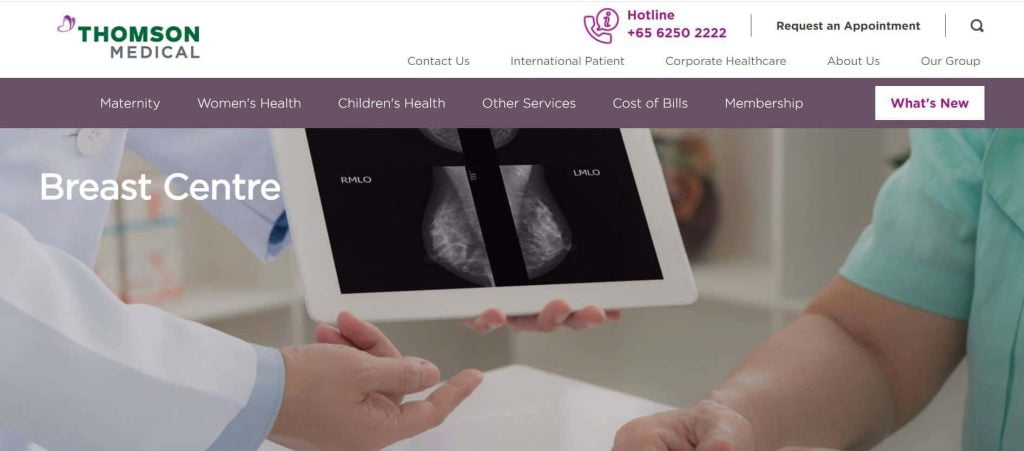 A one-stop surgical breast centre that diagnoses and treats all breast-related conditions, Thomson Breast Centre (TBC)'s services include Mammogram and ultrasound breast screening, Breast Infections & Breastfeeding Complications, Breast Cancer Surgery & Treatment, etc.
Situated within Thomson Medical Centre, TBC ensures your journey to better breast health is achieved quickly with easy referrals to their specialist network, imaging services and support from in-house Lactation Consultants.
2. The Breast Clinic by SMG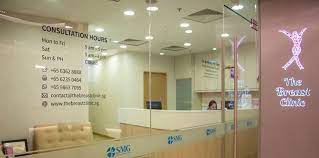 Part of the Singapore Medical Group (SMG), The Breast Clinic has a broad base of network and specialists who are dedicated to the study and practices of women's health and wellness care.
With more than 15 years of experience in providing consultation for breast conditions, the specialist at The Breast Clinic is well versed in the intricacies of breast care management, so you can be assured that you're placed in good hands.
3. Radhika Breast & General Surgery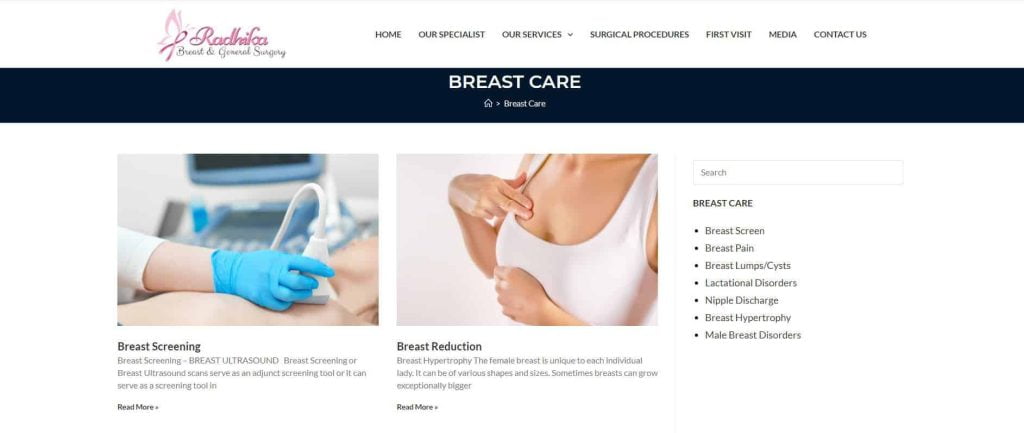 Headed by Dr. Radhika Lakshmanan who has surgical expertise in all types of breast surgical techniques including oncoplastic breast surgery, Radhika Breast & General Surgery is well-equipped to provide comprehensive diagnosis and treatment for several breast conditions.
With an understanding that no one treatment fits all patients, Dr. Radhika Lakshmanan is highly-skilled in the modification of certain techniques to suit the different body habitus of her patients.
4. BreastCare Surgery @ Mount Elizabeth Medical Centre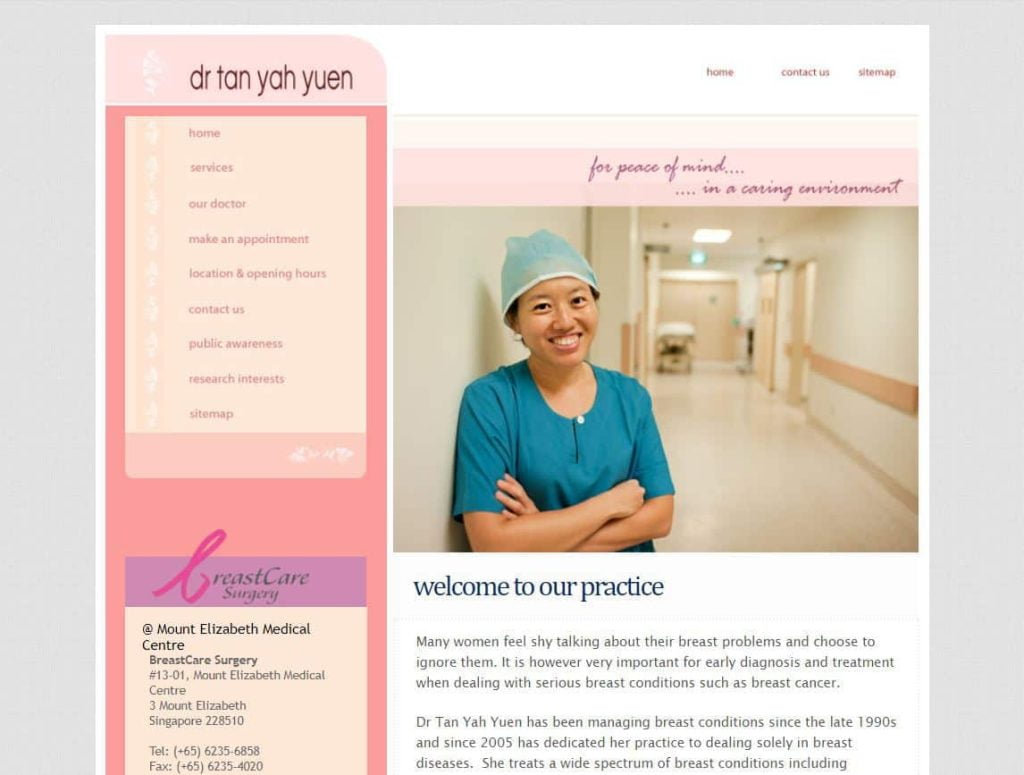 Having been managing breast conditions since the late 1990s, Dr Tan Yah Yuen at BreastCare Surgery @ Mount Elizabeth Medical Centre diagnoses and offers treatment specifically tailored to your needs.
At BreastCare Surgery, they offer services for breast conditions including lactation-related complications, hormone-related breast changes, minimally invasive biopsy procedures, and surgery for benign tumours and breast cancer.
5. S. C. Low Breast Centre @ Gleneagles Hospital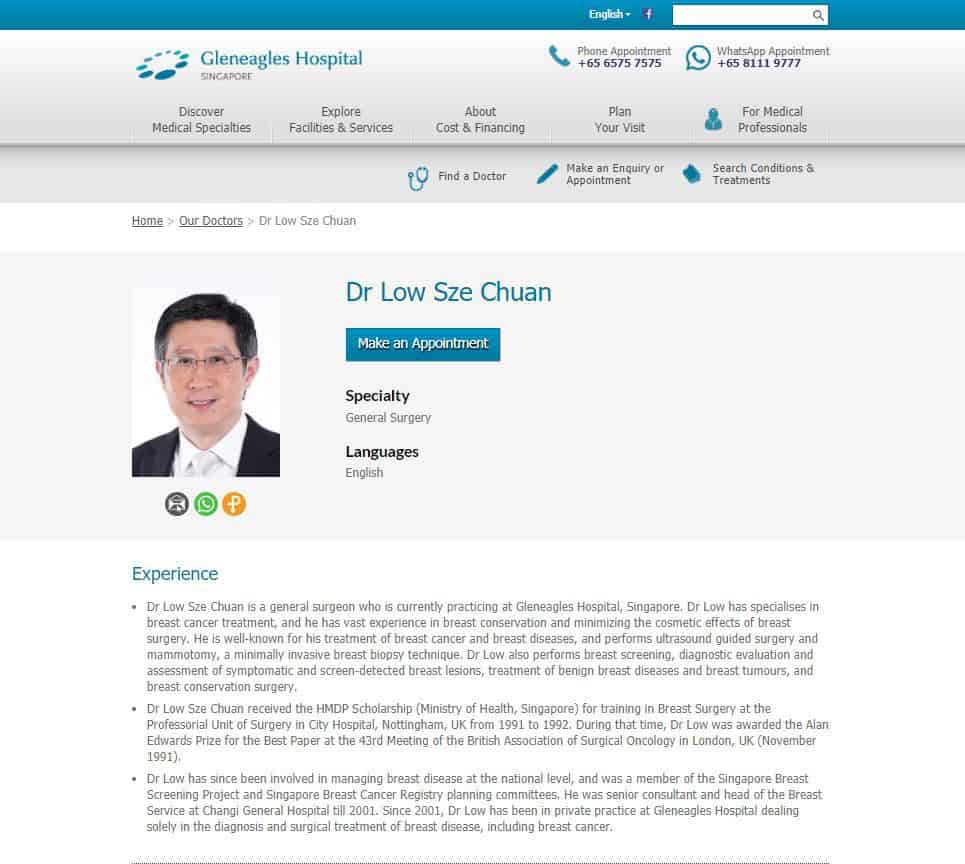 A general surgeon who is well-versed in breast conservation and minimizing the cosmetic effects of breast surgery, Dr Low Sze Chuan at S. C. Low Breast Centre is sought by many for his professional treatment of breast cancer and breast diseases.
Dr Low provides services such as breast screening, diagnostic evaluation and assessment of symptomatic and screen-detected breast lesions, treatment of benign breast diseases and breast tumours, and breast conservation surgery.
6. Dr Ong Kong Wee K W Ong Breast & General Surgery Clinic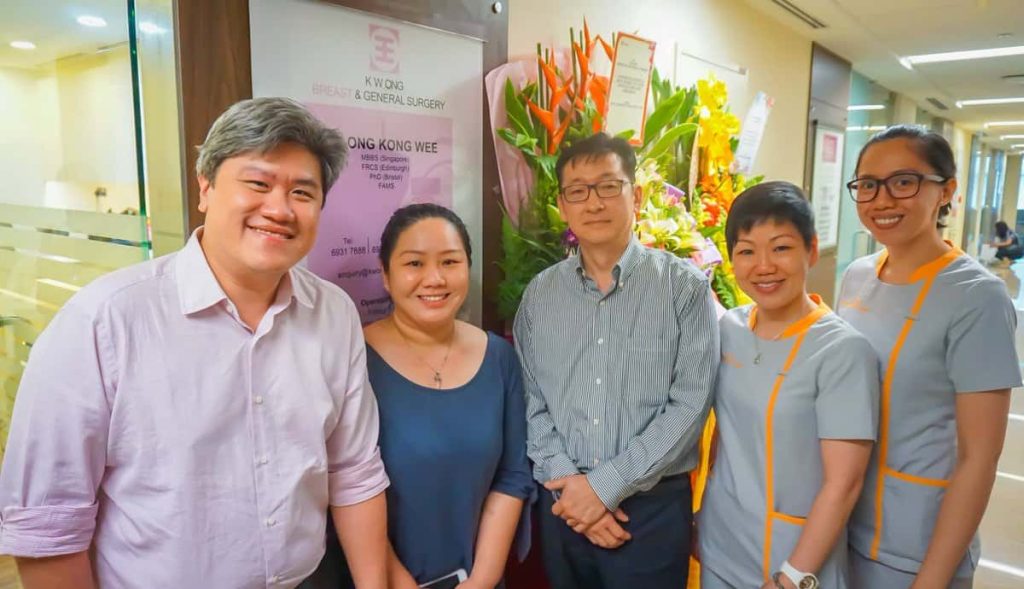 A clinic specialising in minimally invasive breast procedures and comprehensive breast cancer care, Dr Ong Kong Wee K W Ong Breast & General Surgery Clinic has a team of experienced specialists with many years of experience under their belts to provide you with the professional care you need for better breast health.
At the clinic, you will have access to a comprehensive list of breast care services that include:
Clinical Assessment
Second Opinion
Telemedicine
Breast Cancer Screening
Radiological Evaluation (Digital Mammography, 3D-Breast Tomosynthesis, Ultrasonography, Computed Tomography and MRI)
Minimally Invasive Breast Biopsy including Image Guided Core Biopsy and Vacuum-Assisted Breast Biopsy (VAB)
Hookwire and Radiocolloid (ROLL) Localisation of Occult Lesions for Surgical Biopsy
Mastectomy and Breast-Conserving Surgery (BCS)
Oncoplastic and Reconstructive Breast Surgery including Nipple Sparing Mastectomy
Sentinel Lymph Node biopsy
Axillary Clearance
Peri-Operative and Post-Operative Care
Post-Operative Physiotherapy and Lymphoedema Care
Genetic Counselling and Testing
Fertility Counselling and Preservation to Young and/or High-Risk Patients
Gastroscopy
Colonoscopy
Removal of Skin Lumps
7. Maven Surgery (Mount Elizabeth) – Dr Chong Chee Keong
Established by Dr Chong Chee Keong in 2016, Maven Surgery has been studying and keeping himself up-to-date with the latest practices and treatments for cancer patients for 20 years.
Having done a stint in Japan to learn about minimally invasive breast cancer surgery and various reconstruction techniques as well as travelled to places like US and Vietnam to upgrade his skills on minimally invasive colorectal surgery, Dr Chong is highly knowledgeable to provide the best breast care for you.
8. FeM Surgery @ Orchard
A surgical group practice that aims to provide the best quality surgical care to all patients, FeM Surgery uses the latest surgical techniques to provide the best and most up-to-date treatment plans for your breast conditions.
At FeM Surgery, the services offered include:
Excision of Breast Lumps
Drainage of abscesses
Minimally invasive breast biopsies/ removal
ROLL / hookwire localization and excisions
Breast cancer surgeries
Breast reconstruction – oncoplastic techniques, implants, tissue flaps
Breast Augmentation
Nipple reconstruction
Accessory breast removal
Microdochectomy
Gynaecomastia surgery in males
Breast Cancer Screening / Mammogram
9. C K Yong Surgery & Breast Clinic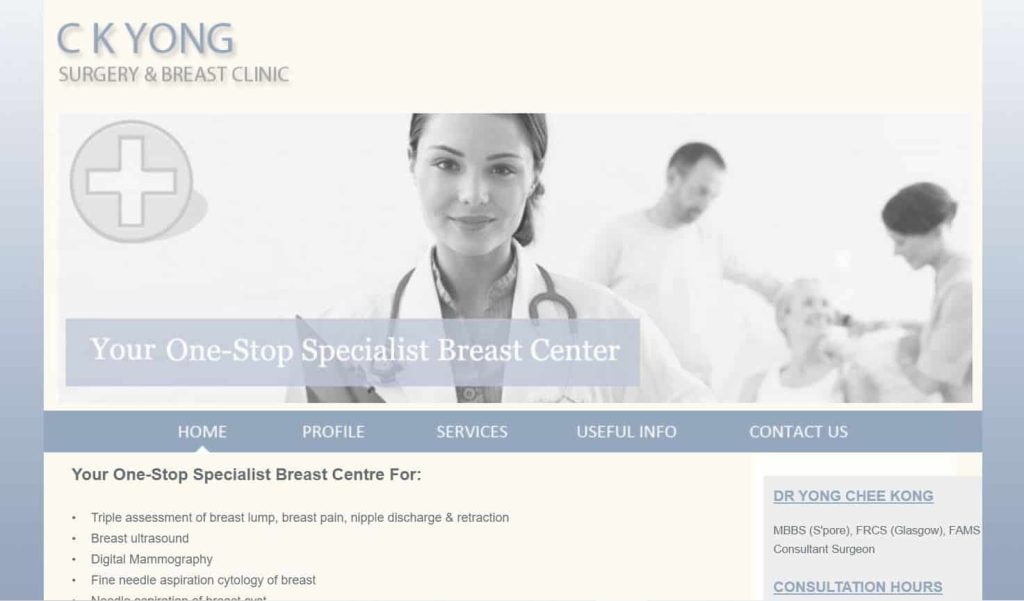 Established by Dr Yong Chee Kong who was trained to specialise in Breast Cancer Surgery by Prof Roger W Blamey, a professional trainer and specialist of breast surgeons in the United Kingdom, C K Yong Surgery & Breast Clinic is a one-stop specialist breast centre dedicated to serving you in your journey to better breast care and health.
10. Evan Woo Breast & Plastic Surgery
Offering personalised care and expert management of all breast conditions, Evan Woo Breast & Plastic Surgery's services not only extends to breast cancer patients but also includes expert plastic surgery and aesthetic surgery treatments.
At the clinic that is led by fellowship-trained and fully-accredited breast and plastic surgeon Dr Evan Woo, the breast conditions being treated include:
Breast Lump
Breast Discharge / Nipple Discharge
Breast Pain / Mastalgia
Breast Infection / Breast Abscess
Asymmetric Breasts
Droopy Breasts
Inverted Nipples
Accessory Breast / Axillary Breast / Arm Pit Lump
Conclusion
Do you have any reviews and comments to share regarding our choices for the best breast specialist in Singapore?
While SBO is committed to supporting our local businesses, we welcome any feedback and anonymous sharing regarding your experience with the listed 10 Best Breast Specialist in Singapore.
We hope that this guide will be useful in helping you to make an informed decision when it comes to finding the best breast specialist in Singapore.
On a side note, if you are looking for the best cardiologist in Singapore for your heart conditions, click here to find out more.
Are you featured in this?
Display this exclusive SBO badge proudly on your website!