10 Best Places to Treat Sports Injury in Singapore [2023]
Here are the 10 best places to treat sports injury in Singapore.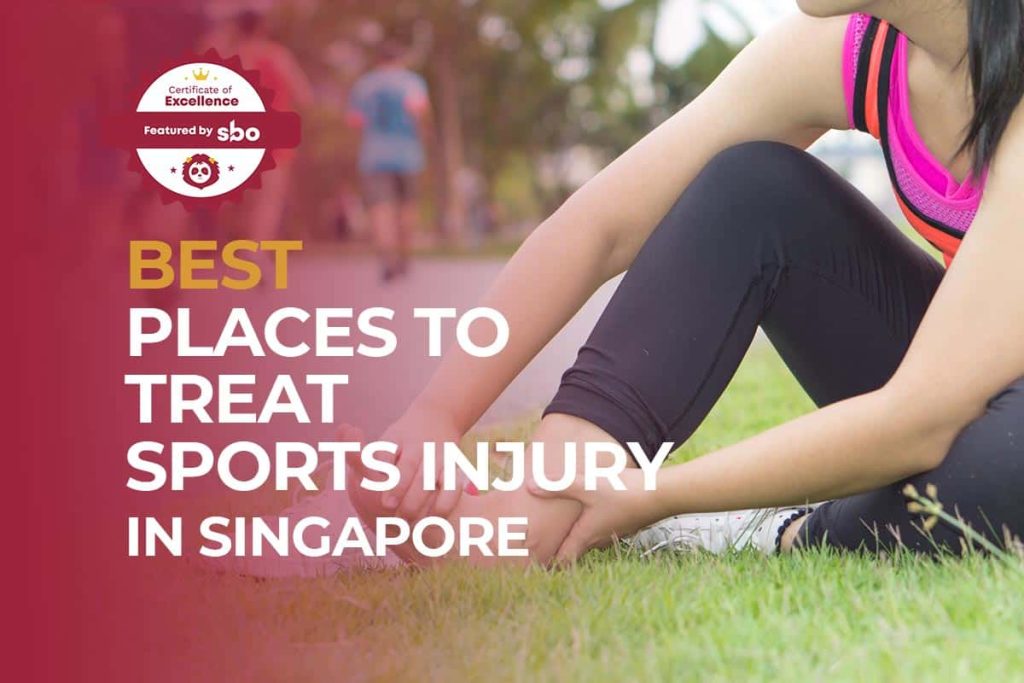 Singaporeans turned to exercise to keep busy and healthy while cooped up at home during the Circuit Breaker.
Ironically, this led to a jump in related injuries.
According to The Straits Times, more people with sports and exercise-related injuries have been showing up at some general practitioner clinics.
Dr Leong Choon Kit, a family physician at Mission Medical Clinic in Serangoon, said while the increase has not been significant, there has been an increase in the number of cases of sports and exercise injuries during the circuit breaker.
Sports injuries occur during exercise, athletic activities or sports activities.
There are various things that would increase the risk of sports injuries such as failing to warm up.
A sports injury is an injury caused by exercise or sports that involves the body's musculoskeletal system (muscles, ligaments, joints, bones, and cartilage).
"Some examples include falls, sprains, strains and scraps from extra jogging, cycling, weight lifting and exercise," Dr Leong pointed out with a sigh.
In this post, we've gathered the details to compile a list of the 10 best places to treat sports injury in Singapore, from chiropractics to orthopaedic surgeons.
1. Family Chiropractic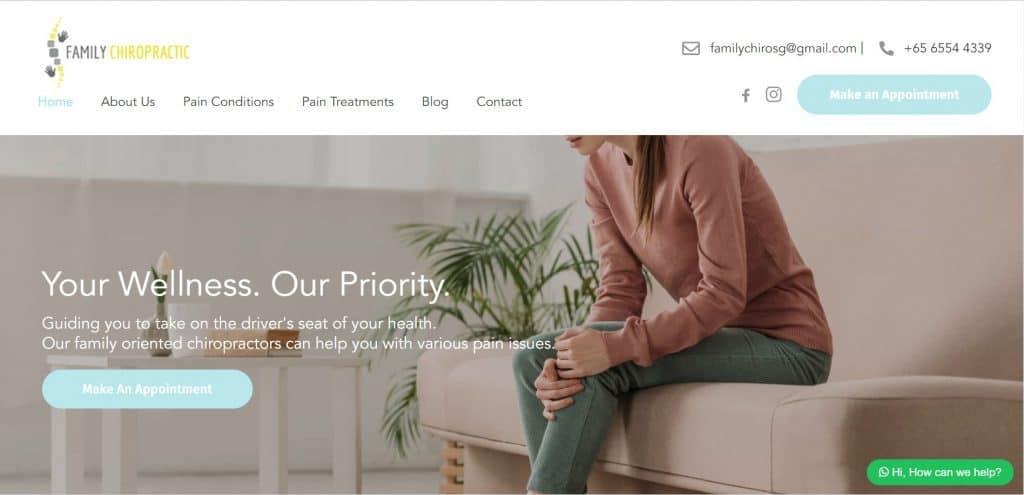 Established in 2009, Family Chiropractic is a chiropractic and wellness centre based in Singapore.
They have been treating patients for conditions such as acute or chronic pain, sports injuries, spine degeneration, and pre and post-natal health.
For sports-related injuries, their chiropractors will evaluate the cause and severity of your condition via a physical assessment.
On top of the physical exam, they will scour through your past medical history and any recent X-ray results available to ascertain the cause of the pain.
Finding out the source of the pain is crucial for them to propose the appropriate method of treatment and rehabilitation.
Treatment options they provide include myofascial therapy, which soothes contracted muscles and releases the fascia that covers the muscle and sports therapy, which holds muscles and bone together, reduces pain, and aids recovery.
Reviews praise the place to treat sports injury in Singapore for their friendly staff and effective treatment, with pain alleviating after a few treatment sessions.
2. Singapore Sports and Orthopaedic Clinic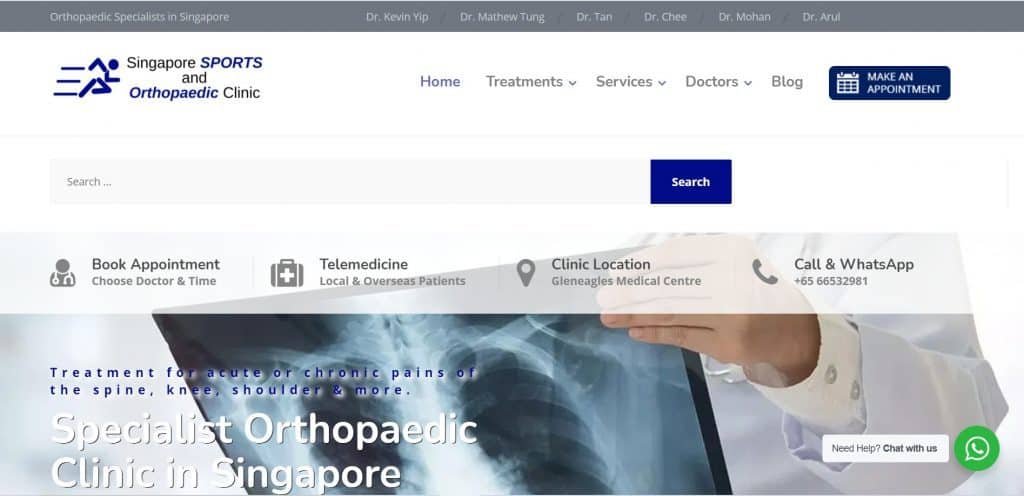 Singapore Sports and Orthopaedic clinic has a panel of trained doctors who have expertise in treating all types of sports injuries.
Their practice covers orthopedic surgeries, treatments, pain relief, and sports injury recovery as well as therapy.
Their clinic provides same day appointment, X-ray/MRI facilities, insurance filing services and amenities like a pharmacy store and wheelchair-accessible facilities.
Reviews rave about the accurate diagnosis and targeted treatment by the clinic.
3. Singapore Physio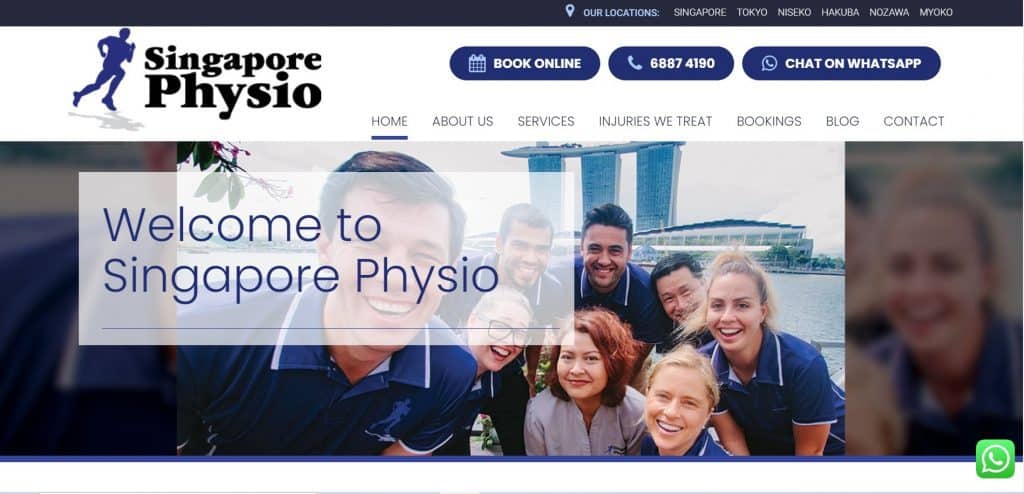 Asia Physio started out as Tokyo Physio in 2002, opened by Australian husband and wife team Bevan and Vanessa Colless.
As ardent skiers and snowboarders, they saw international tourism thrive and established the first satellite clinic in the ski resort of Niseko in the 2005 winter season.
As international skiers started to visit other resorts, new clinics opened in Hakuba (2008), Nozawa (2011) and Myoko (2016).
Singapore Physio is their first clinic outside of Japan and opened in 2013.
The place to treat sports injury in Singapore is best known for its running biomechanical assessments.
These are for anyone looking to heighten their running efficiency, speed and to address or prevent the causes of sports injuries.
Integrating video analysis with extensive history and physical inspection of body movement, they are able to pinpoint effective and ineffective techniques and ascertain potential causes of injury.
Filming is done from the front, rear and both sides using specialist sports biomechanics software.
Together with biomechanical screening, individual factors undermining performance can be isolated and tackled.
4. Physio & Sole Clinic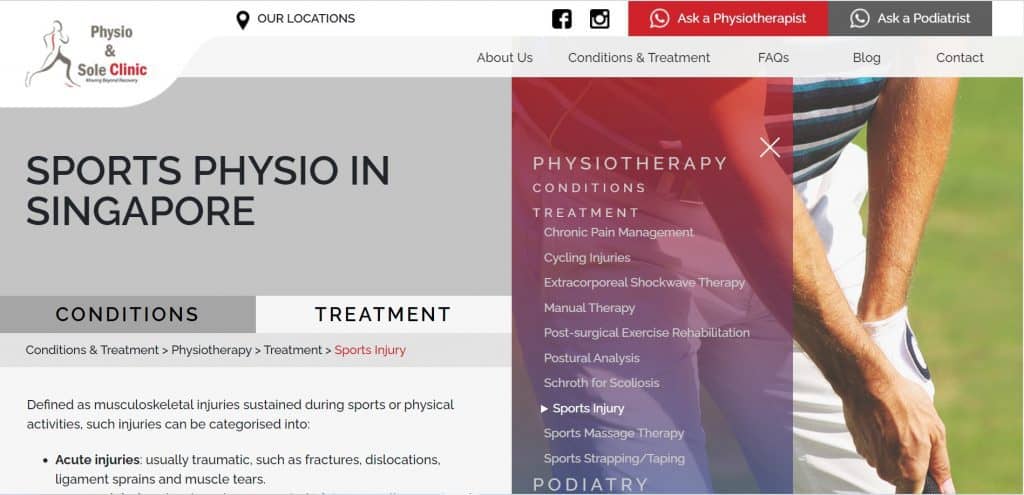 Physio & Sole Clinic provides sports physiotherapy in Singapore for professional athletes and sports enthusiasts, including individuals with exercise-related injuries.
They are an expert in using treatment methods such as ice, soft tissue release techniques and biomechanical assessments to help alleviate your body's pain.
They will also help you return to sports rapidly and to perform sports at a satisfactory level.
This entails the analysis of sports-specific skills and pinpointing of potential areas for improvement, like poor flexibility or muscular endurance following injury.
Following evaluation, a customised exercise programme will also be designed during the physiotherapy session to quicken the individual's recovery.
5. Healing Hands Chiropractic Singapore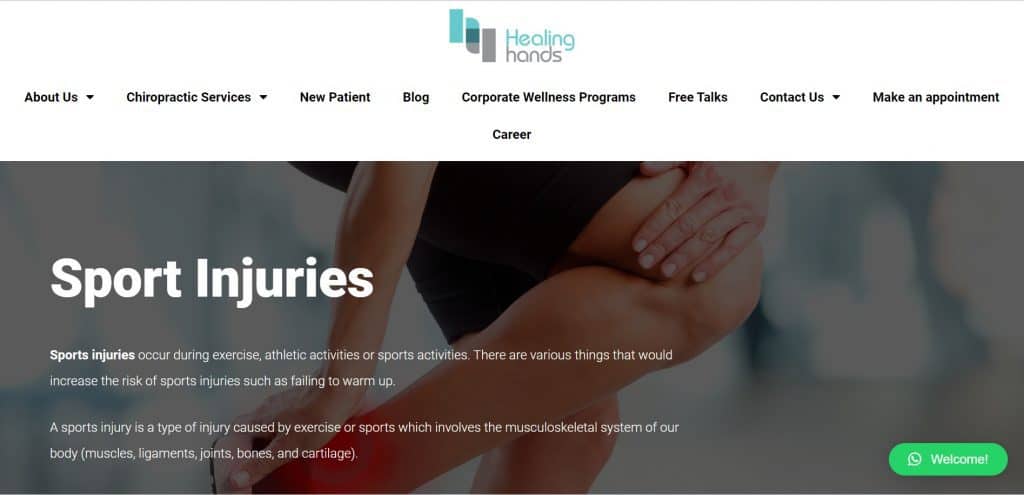 Healing Hands Singapore was established in 2010 by Dr Marc. and his wife Gina.
They believe in restoring your body to its natural state by guiding bones and tissues that have been injured through trauma back to their correct positions, and achieving glowing health through all-rounded, non-invasive treatment methods.
Dr Marc Calaunan graduated with a Bachelor of Science from the University of Nevada Las Vegas before completing his fellowship training for Chiropractic Biophysics in the USA.
He is a member of the World Chiropractic Association.
Reviews praise the place to treat sports injury in Singapore for their friendly and approachable doctors who exude professionalism.
Their treatment was effective.
6. In Touch Physiotherapy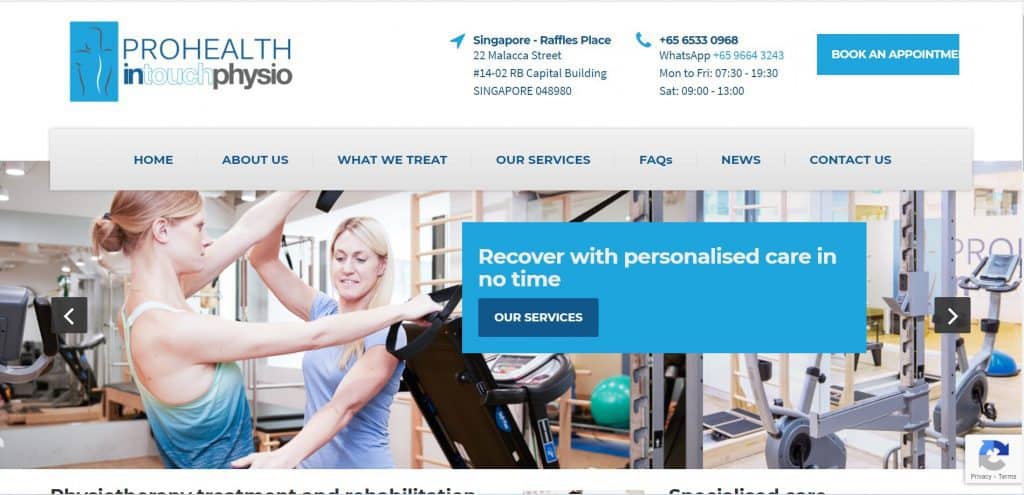 In Touch Physio is a renowned physiotherapy practice in Singapore, conveniently located at Raffles Place in Singapore's Central Business District.
In Touch Physio was founded in 2005 in Singapore and soon became widely known for its personal, professional and progressive physiotherapy and rehabilitation services.
The multinational team of physiotherapists at Touch Physio are trained in Australia, New Zealand or UK and are experienced in treating sports injury in Singapore.
A fan of playing golf? We've got good news for you.
Touch Physio supports golfers with an all-rounded approach that improves core strength, upper and lower body strength, stability, mobility, muscle length, force production and balance.
7. Heartland Rehab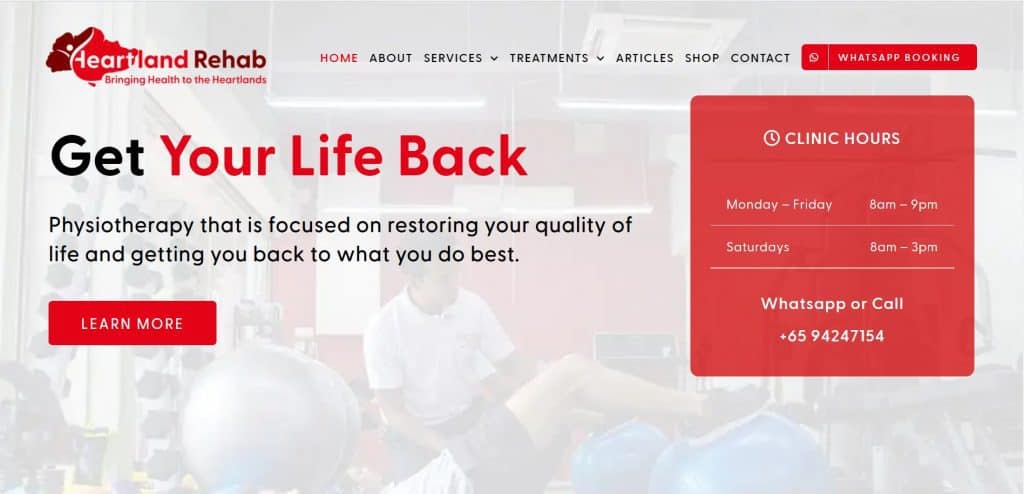 Heartland Rehab comprises a group of Allied Health Professionals with the aim of raising standards of health in the heartlands through mobility and exercise.
Their Physiotherapists are all registered with Singapore Allied Health Professions Council.
The centre is headed by Mr. Balaji, who has served as the Secretary and Treasurer of the Sports Medicine Association of Singapore (SMAS) as well as the Head Physiotherapist for the National Rugby Academy for the Singapore Rugby Union (SRU).
He graduated from Trinity College Dublin with Honours in BSc Physiotherapy.
Reviews praise the place to treat sports injury in Singapore for their practitioners' professionalism and sincerity.
They are also very knowledgeable in their field.
8. Orion Orthopaedic Surgery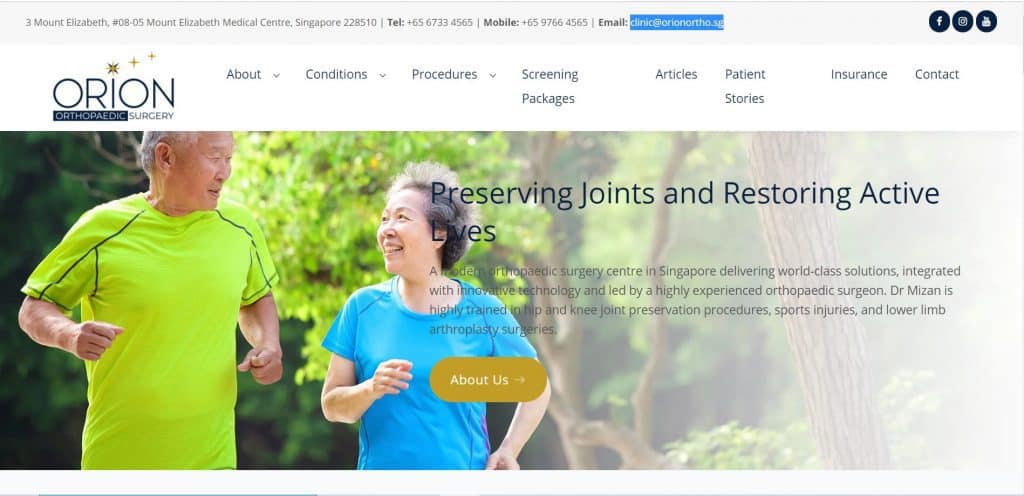 Don't believe in non-invasive treatment?
Well, you can also opt for surgery to treat your sports injury at Orion Orthopaedic Surgery, a modern orthopaedic surgery centre in Singapore offering world-class medical solutions, integrated with avant-garde medical technology and helmed by a veteran orthopaedic surgeon.
Dr Mizan Marican is a well-versed orthopaedic surgeon, specializing in lower limb surgery, namely the hip and knee joints.
With more than 10 years of orthopaedic experience, he has accumulated lengthy experience in operating on sports and trauma injuries, as well as degenerative conditions of the hip and knee.
He treats joint preservation and sports injuries (ACL and meniscal surgeries, hip arthroscopy, osteotomies), and joint replacement surgeries of both the hip and knee.
He regularly carries out partial or total knee replacement surgery for active patients and performs navigated and robot arm-assisted knee replacements.
9. Balmoral Chiropractic Centre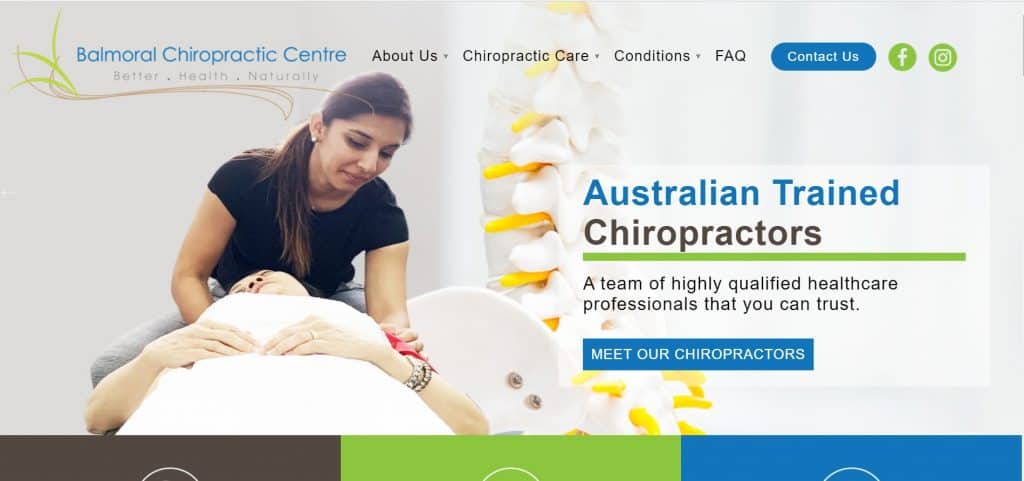 Balmoral Chiropractic Centre comprises a team of Australian trained chiropractors.
They know how to enhance healing effects of your treatment by implementing therapeutic procedures such as Active Release Technique (ART), Myofascial Release, Sports Taping and Electrical Muscle Simulation to alleviate pain.
Their chiropractors are also experienced in treating sports injuries.
They adopt a range of methods, such as spinal and extremity adjustments, mobilisation techniques and soft tissue therapy to facilitate your recovery.
They may also recommend stretching and/or strengthening exercises, rehabilitation programs, and dietary and lifestyle changes to restore your constitution to the pink of health.
Reviews speak highly of their friendly and knowledgeable chiropractors, who are absolute pros in what they do.
Customers always feel the best after their session.
10. ActiveLife Chiropractic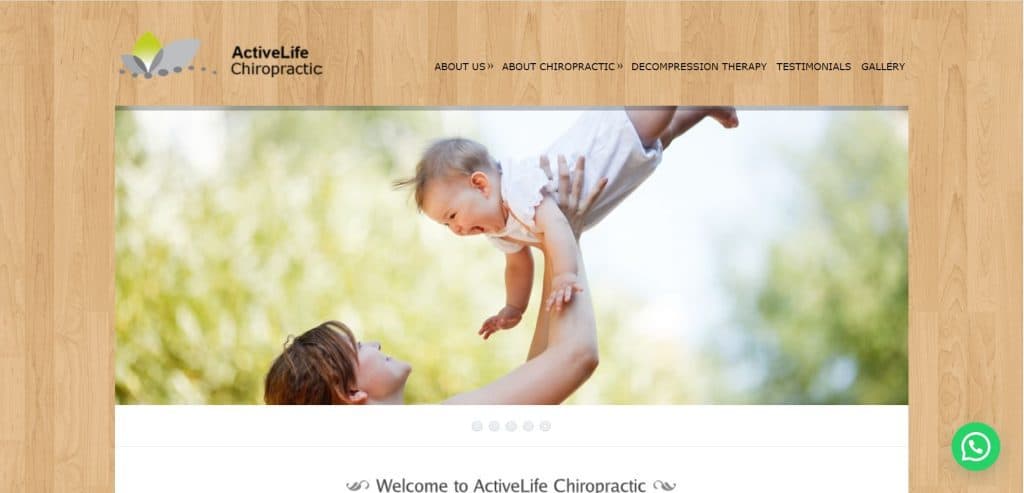 Unlike conventional medicine, which focuses on treating disease after it takes root, Active Life Chiropractic places a premium on preventive medicine.
Drugs or surgeries are a big no-no at this place that treats sports injury in Singapore.
They offer advanced spinal correction in their practice which leverage modern-day chiropractic techniques.
Never in the history of chiropractic have they been able to provide the level of aid and expertise that now exists.
These latest correction methods are even safer, more comfortable and more efficacious than ever before.
Suffering from spinal injuries from lifting weights? They utilise the Decompression Therapy technique, a non-surgical, computer-driven, automated way to stretch the spine.
This technology expands the space between the discs.
The negative pressure of decompression reduces the pressure weighing down on the disc and nerves, enabling the herniated and bulging disc to finally return into normal position.
Conclusion
Do you have any reviews and comments to share regarding our choices for the places to treat sports injury in Singapore?
While SBO is committed to supporting our local businesses, we welcome any feedback and anonymous sharing regarding your experience with the listed places to treat sports injury in Singapore.
We hope that this guide will be useful in helping you to make an informed decision when it comes to finding the best places to treat sports injury in Singapore.
Explore More Content