11 Best Cardiologist in Singapore for Your Heart Conditions [2023]
The hearts of these cardiologists are in the right place.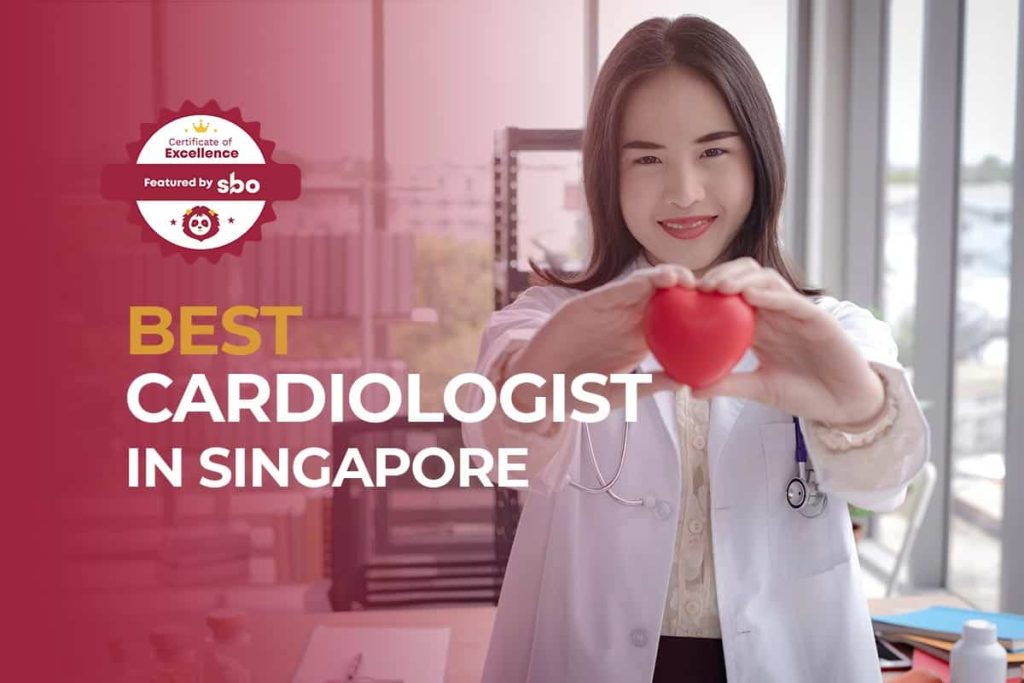 The numbers paint a chilling picture: according to the Singapore Heart Foundation, every day, 17 people die from cardiovascular disease (heart diseases and stroke) in Singapore. Cardiovascular disease accounted for 29.3% of all deaths in 2019. This means that almost 1 out of 3 deaths locally is due to heart diseases or stroke.
Cardiology is the study and treatment of disorders of the heart and blood vessels. A person with heart disease or cardiovascular disease may be referred to as a cardiologist. Importantly, a cardiologist is not the same as a cardiac surgeon.
Cardiologists typically refer people to a cardiac surgeon when the need arises, because most cardiologists do not perform heart surgeries themselves. They perform diagnostic tests and help people manage chronic heart conditions. They may perform minor surgical procedures like placing stents to keep arteries open.
Looking for a cardiologist in Singapore? In this post, we've gathered all the necessary details to compile a list of the 11 best cardiologist in Singapore.
1. Nobel Heart Centre
The Nobel Heart Centre (a member of Healthway Medical Group) provides a full spectrum of cardiovascular disease diagnosis, treatment, and prevention services. General cardiology, non-invasive cardiology, and invasive cardiology are a few of their areas of expertise.
Cardiologist Dr. Leow Khang Leng and his team specialise in treating, managing, and preventing heart conditions. They work closely with their patients to treat various cardiac conditions such as coronary artery disease, acute myocardial infarction, valvular heart disease, heart failure and cardiac arrhythmias.
During his time at Khoo Teck Puat Hospital, Dr Leow held numerous key leadership positions, including Director of the Coronary Care Unit, Clinical Lead for the Cardiac Catheterization Laboratory, Director of the Cardiovascular Centre, and Chairman of the Pharmacy & Therapeutics Committee.
Dr. Saurabh Rastogi is a Senior Consultant Interventional Cardiologist with over 15 years of experience in the US and Singapore.
In his prior practice with Ng Teng Fong General Hospital, Dr Rastogi was the Director for the Cardiac Catheterization laboratory and Associate Program Director for Cardiology Senior Residency Program. Dr Rastogi has special interest in Complex coronary Interventions, Advanced Heart Failure management, Echocardiography and Nuclear Cardiology.
2. EH Heart Specialist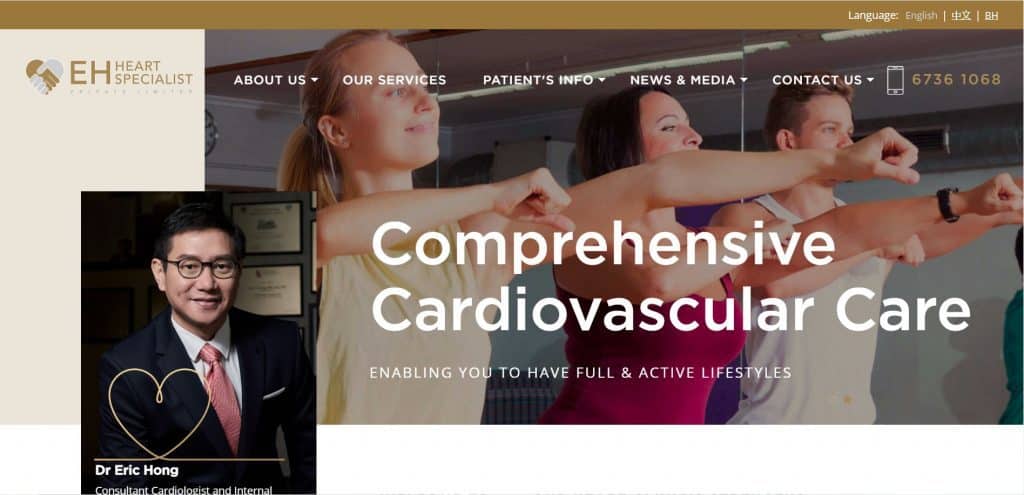 Dr Eric Hong is an experienced cardiologist in Singapore who has been in practice since the 1990s. One of the few cardiologists doubly accredited in the United States in Interventional Cardiology and Non-Invasive Cardiac Imaging, Dr Hong worked extensively in Ireland and the United States before returning to Singapore, where he joined the National University Hospital as the Director of Nuclear Cardiology and Imaging, and Director of Exercise and Cardiac Rehabilitation.
Prior to establishing his practice at EH Heart Specialist, Dr Hong also received numerous service excellence awards, lending credibility to his expertise in his field.
The clinic strives to make healthcare accessible and convenient for patients. Hence, they try to schedule appointments within a week and will prioritise urgent cases. They also accept most insurances and implement various payment plans.
3. Apex Heart Clinic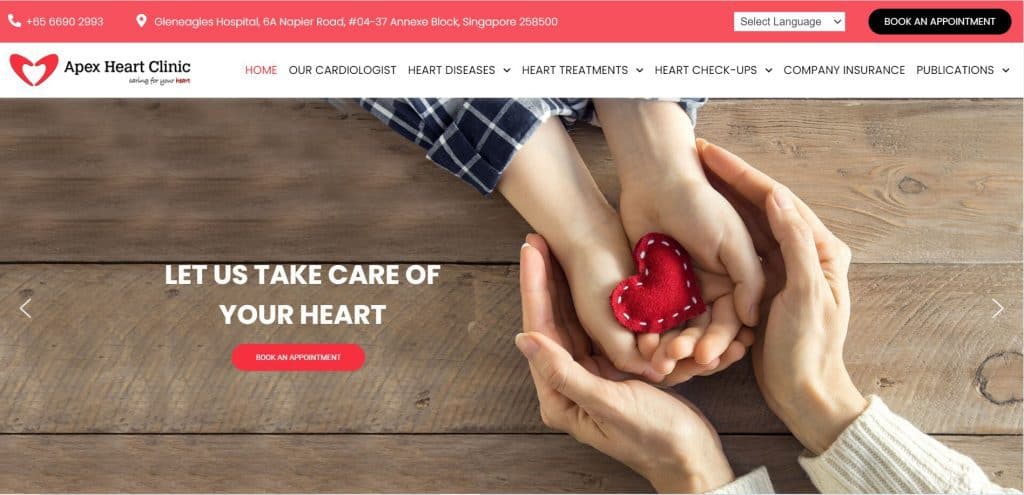 Apex Heart Clinic is equipped with the latest medical equipment, like the 12-Lead Electrocardiography, Treadmill Stress Test, Echocardiography, 24-Hour ECG and Blood Pressure, and Cardiac CT. They are able to conduct a comprehensive cardiology assessment, diagnosis and treatment for all cardiac-related conditions.
The cardiologist in Singapore is helmed by Dr Daniel Yeo, a Senior Consultant Cardiologist and Medical Director of Apex Heart Clinic in Gleneagles Hospital. He is a USA board-certified echocardiologist, and also a heart failure specialist.
The cardiologist in Singapore is a specialist in echocardiography, treating heart failure and other diseases of the heart. He performs trans-oesophageal echocardiography, ultrasound-guided pericardiocentesis, haemodynamic tailored therapy for heart failure, iron-repletion therapy, and endomyocardial biopsy. This is on top of standard cardiology procedures such as coronary angiography, angioplasty and percutaneous intervention, cardiac device implantation and management.
4. The Heart Specialist Clinic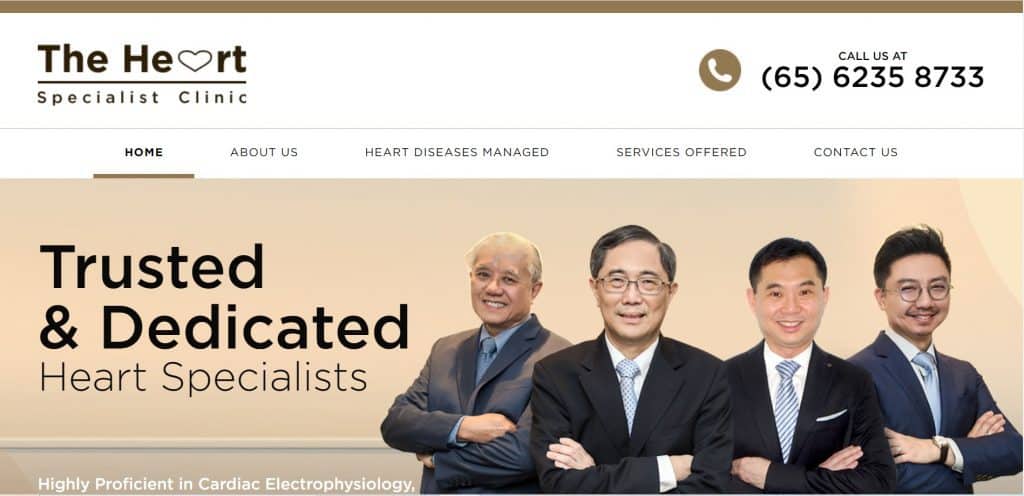 Established in the year 2000 by Dr Teo Wee Siong, the clinic brought on board other doctors who are experts in their own subspecialty in Cardiology to work as a team. The cardiologist in Singapore places an emphasis on providing general cardiology consultation and specialised cardiac investigations to all cardiac patients.
Dr Teo Wee Siong is a Senior Consultant Cardiologist specialising in electrophysiology. He graduated with an MBBS (National University of Singapore) in 1982 and obtained his Master of Medicine (Int Medicine, NUS) and MRCP (UK) in 1987. He was trained in Cardiology at Singapore's National Heart Centre from 1987.
He later went for advanced training in Pacing and Cardiac Electrophysiology under Dr George Klein in University Hospital, London, Ontario, Canada from November 1989 to December 1990. Thereafter, he obtained his FRCP (Edinburgh), FACC (America) in 1998 and FHRS (Fellow Heart Rhythm Society) in 2006.
5. Julian Tan Heart Specialist Clinic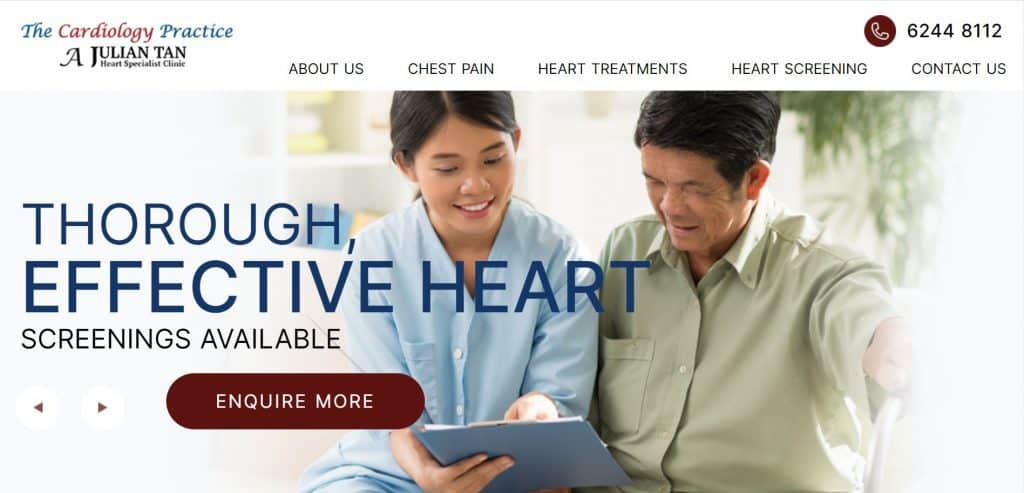 With over 20 years of experience in the field, interventional cardiologist Dr Julian Tay is able to diagnose and treat a large range of heart conditions such as coronary heart disease and hypertension / high blood pressure. The cardiologist in Singapore can also perform complex procedures such as angioplasties and stenting.
The cardiologist in Singapore also holds various heart screening tests to help patients uncover conditions that may afflict their hearts. These procedures include treadmill stress tests to biochemistry tests and Magnetic Resonance Imaging.
Conveniently situated at Farrer Park Medical Centre, The Cardiology Practice can be easily accessed via public transportation or by other modes of transportation.
6. Asian Heart & Vascular Centre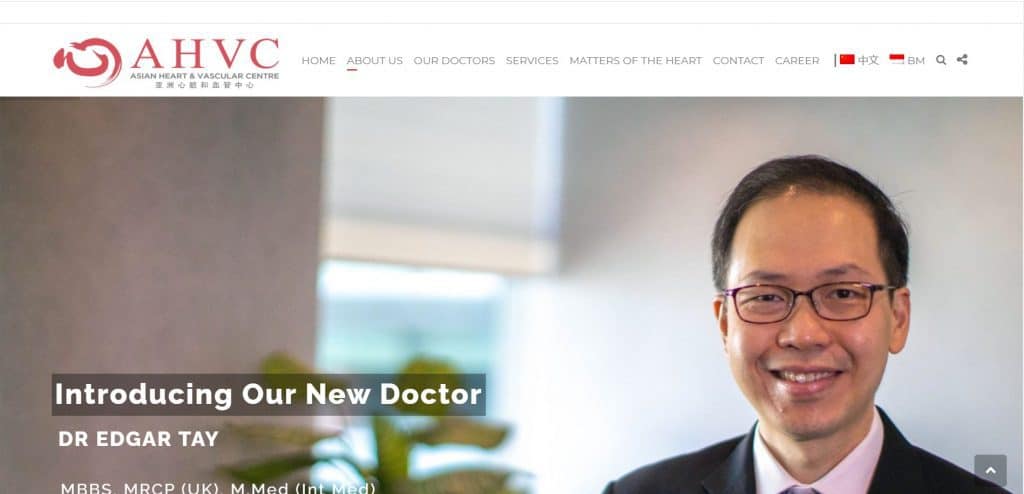 AHVC is committed to providing personalised care through its dedicated interdisciplinary team of specialists and healthcare providers. The cardiologist in Singapore is conveniently situated at three locations: Mount Elizabeth Orchard Hospital, Mount Elizabeth Novena Hospital and Gleneagles Hospital.
The cardiologist in Singapore adopts a holistic approach that emphasises all-rounded patient care through collaboration among experts in various sub­specialties in the management of simple to complex heart conditions. They provide a comprehensive range of cardiology services such as cardiac assessment, non­invasive diagnostic testing and invasive diagnostic and therapeutic procedures.
7. Livingstone Cardiology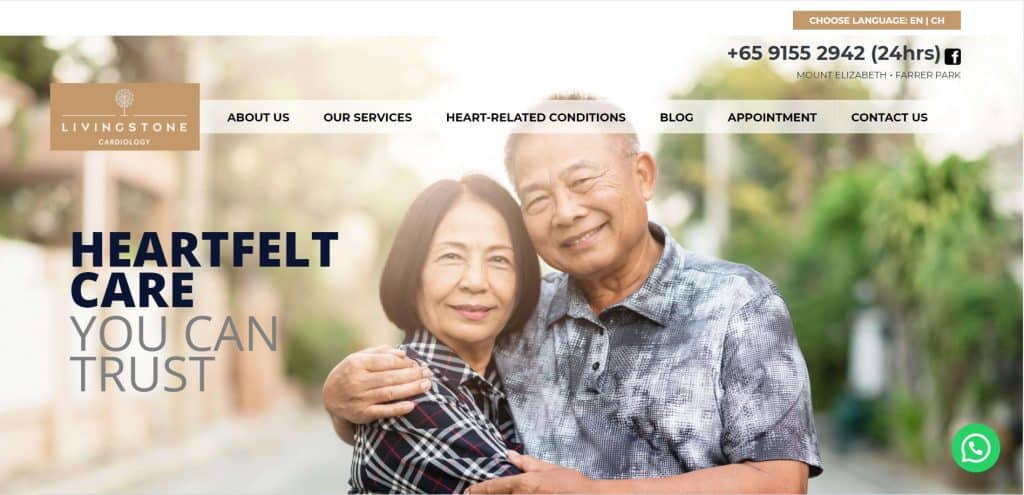 Livingstone Cardiology is a heart clinic headed by Singapore cardiologist Dr Ang Teck Kee, who has over 10 years of experience in cardiology together with his team of experienced cardiac technicians. The heart specialist clinic provides all-encompassing services ranging from screening to treatment procedures, all while adopting the latest technology to provide the highest quality of medical care.
Dr Ang Teck Kee is a Consultant and Interventional Cardiologist with more than 15 years of clinical experience. Even during his undergraduate days in NUS, he was an active participant in volunteer projects. The cardiologist in Singapore was the recipient of a Volunteer Appreciation Award by Dover Park Hospice in 2001.
Dr Ang Teck Kee graduated from the Yong Loo Lin School of Medicine, National University of Singapore (NUS) in 2004 with a Bachelor of Medicine and Surgery.
8. Leslie Tay Heart Specialist Clinic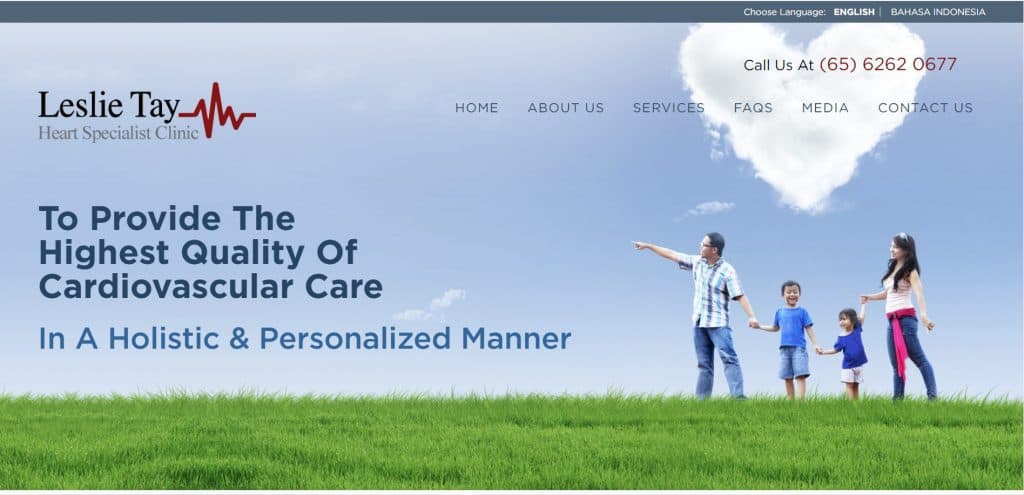 Dr Leslie Tay is a Consultant Cardiologist & Physician with more than 15 years of clinical experience. He specialises in Interventional Cardiology and possesses expertise in managing patients with complex coronary artery disease.
Dr Tay performs angiogram and angioplasty procedures on the wrist artery as it greatly lowers the risk of complications. He is well-trained in complex interventional techniques, such as the use of intravascular imaging such as Optical Coherence Tomography, Intravascular Ultrasound, and Rotational atherectomy.
Dr Tay is actively involved in research; the neurologist in Singapore is the National Steering Committee member and principal investigator of numerous clinical trials. The neurologist in Singapore is widely cited in medical literature and is regularly invited as part of faculty staff to give lectures at international conferences.
9. Lim Ing Haan Cardiology Clinic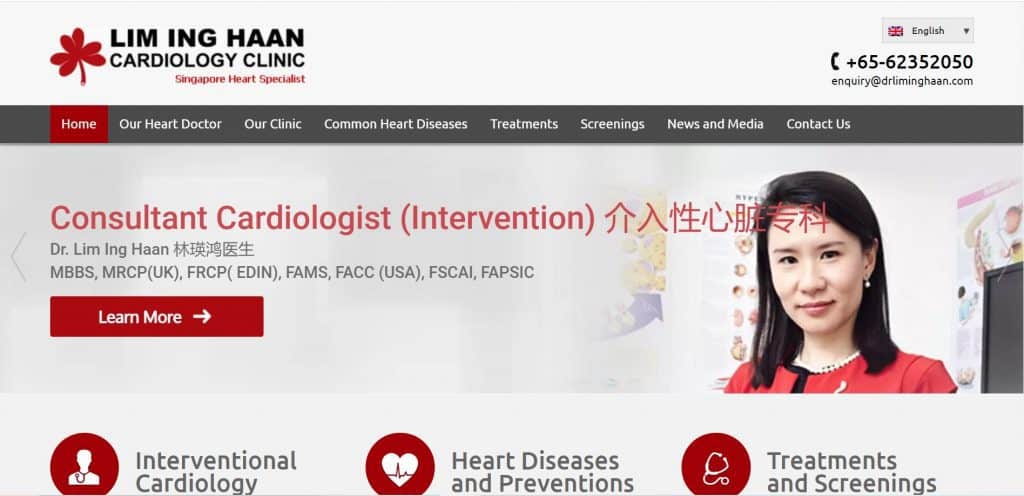 Lim Ing Haan Cardiology Clinic focuses on all aspects of preventive and treatment needs for heart palpitation, heart surgery, heart stent, shortness of breath – from risk assessment, early screening, to preventive cardiology. The cardiologist in Singapore utilises medical technology like 320 Slice Cardiac CT and Cardiac PET.
The heart clinic in Singapore is helmed by Dr. Lim Ing Haan, who graduated with an Bachelor of Medicine and Bachelor of Surgery degree from the National University of Singapore in 1995. Following the completion of her basic specialist training in Internal Medicine at Tan Tock Seng Hospital and National University Hospital, she became a Member of the Royal College of Physicians (Edinburgh) in 2001.
Dr. Lim makes use of the radial angioplasty surgical method in 99% of her cases, where the access of the radial artery is through the wrist rather than into a femoral artery. This technique reduces the bleeding risk significantly to almost zero.
She was also the Director of the Cardiac Interventional Laboratories in Tan Tock Seng Hospital (TTSH) from 2008 to 2009. In 2008, she helped to establish the 24 hours / 7 days a week acute heart attack Interventional cardiology service in Heart Specialist Clinic Singapore with the busiest emergency department in Singapore.
10. Ruth Kam Heart and Arrhythmia Clinic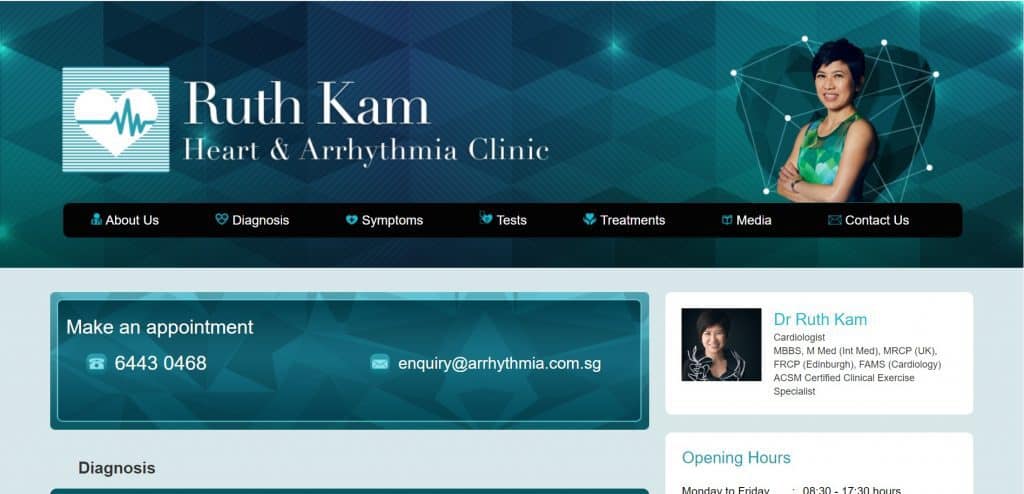 Founded in August 2004 by President's Scholar Dr Ruth Kam, the heart clinic's specialities lie in heart rhythm problems and services for general cardiology issues.
The clinic offers holistic services for diagnosis and treatment of arrhythmia problems, such as catheter ablation and implantation and follow-up of the latest arrhythmia devices. General cardiac health screening and coronary angiogram and stenting are also provided for a range of cardiac services as wide as possible.
The clinic also possesses a transtelephonic ECG monitoring service for arrhythmias, which can be tough to monitor and document. Foreign patients or frequent travellers will be benefited from this service at the cardiologist in Singapore.
11. Healthy Heart Specialist Centre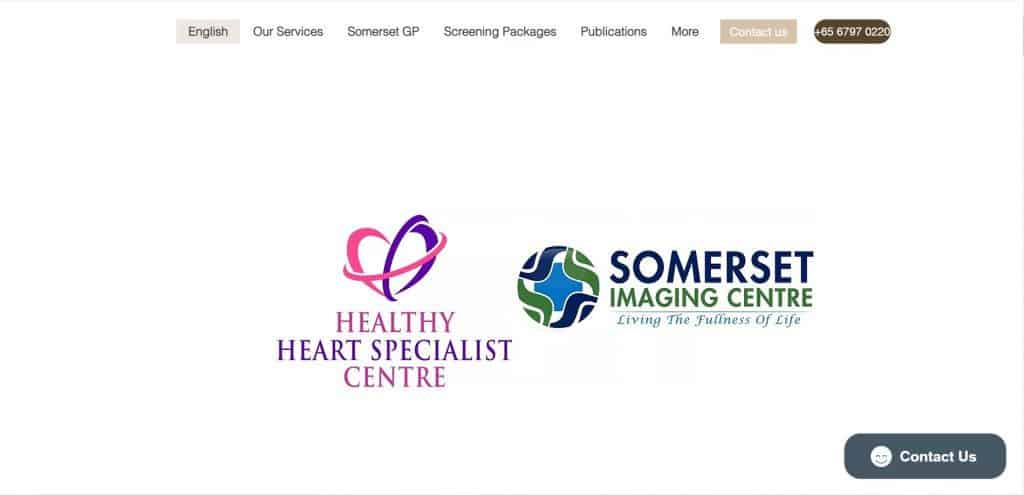 Somerset Imaging Centre is a one-stop Medical Imaging Centre that has all the medical imaging that you need. These include the MRI, CT, Ultrasound, Endoscopy (Gastroscopy and Colonoscopy), 2D and 3D Mammogram, X-ray, Bone Mineral Density Scan, Body Composition Scan, Treadmill Exercise Test and ECG.
Their Medical Imaging Services are priced affordably and you don't have to wait for a long time before your appointment date. Their clinic is conveniently located in Singapore's prime district at Somerset, so you don't have to travel out of your way.
The cardiologist in Singapore is helmed by experienced Senior Consultant Cardiologist Dr Wong Siong Sung. His clinical interests include cardiovascular computed tomography, cardiovascular magnetic resonance imaging, echocardiography, nuclear cardiology, coronary angiography and artery stenting.
Conclusion
Do you have any reviews and comments to share regarding our choices for the best cardiologist in Singapore?
While SBO is committed to supporting our local businesses, we welcome any feedback and anonymous sharing regarding your experience with the listed cardiologist in Singapore.
We hope that this guide will be useful in helping you to make an informed decision when it comes to finding the best cardiologist in Singapore.
Explore More Content