10 Best TCM in Singapore to Alleviate Your Medical Conditions [2021]
Find the best Traditional Chinese Medicine (TCM) practitioners in Singapore to alleviate your medical conditions.
Health & Wellness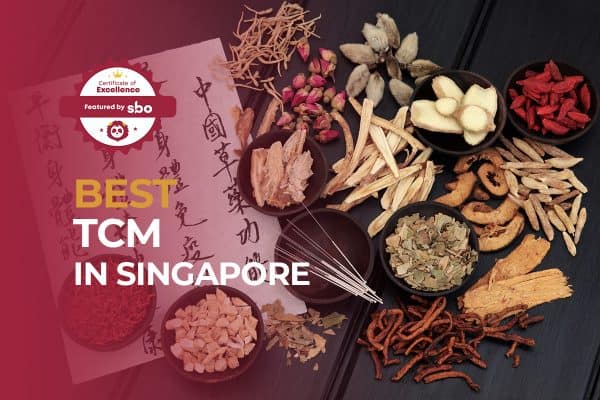 Our team at SBO.sg is committed to being a one-stop avenue to connect local businesses and consumers. We hope that our research efforts can help you save time and money by finding you the best deals without having to search around the vast world-wide-web.
Traditional Chinese Medicine (TCM) has a rich history of over 5,000 years of practice in China and is a comprehensive medical system with its unique principles, diagnostic methods and therapies.
But did you know that TCM also has a long history in Singapore? TCM physicians had been serving the healthcare needs of many Singaporeans since colonial times. TCM clinic facilities in Singapore were built as early as the 1800s to serve the Chinese community. Today, TCM in Singapore is well-recognized by various ethnic communities in Singapore for its contribution to Singaporeans' healthcare.
It is important to note that any person who wishes to practise TCM in Singapore must be registered with the Traditional Chinese Medicine Practitioners Board and holds a valid practising certificate issued by the Board. The Traditional Chinese Medicine Practitioners Board is a statutory board under the Ministry of Health.
In this post, we've gathered all the necessary details and testimonials to derive a list of the 10 best TCM in Singapore to alleviate your medical conditions.
1. Heritage TCM Clinic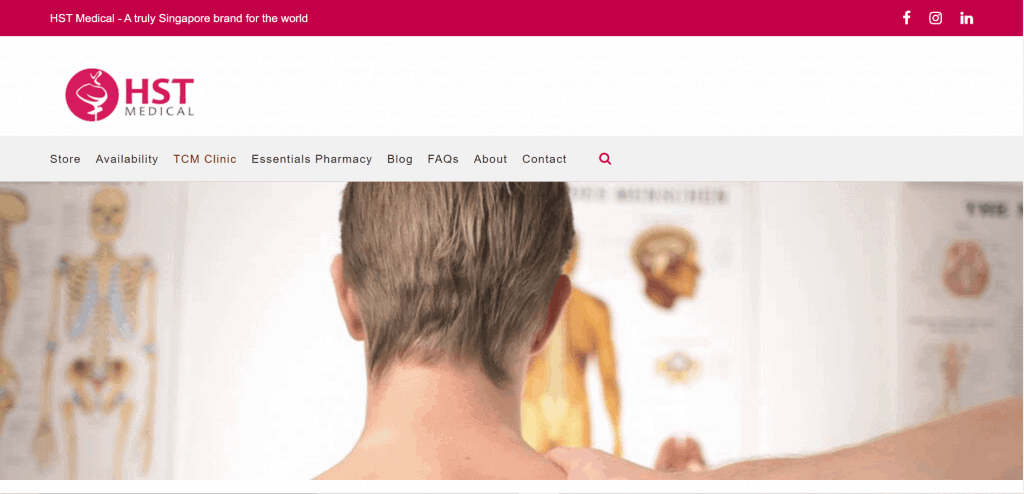 Established in 2012, Heritage TCM Clinic has evolved from providing only TCM consultation to a multifaceted clinic under HST Medical with complementary natural drug-free therapies.
Heritage TCM Clinic provides TCM treatment for a wide range of chronic and acute conditions including pain, stress, fatigue, anxiety, digestive system disorders, and sinus issues. The clinic also provides an assessment of general health and wellness status and advises on natural methods to balance your constitution.
Safe and effective prescriptions are tailored to each patient's individual needs, and medication is dispensed in convenient, modern, and hygienic granules.
The clinic is helmed by certified and skilled TCM physician Tan Shiau Tse, who is effectively bilingual in English and Mandarin. Since 2018, Heritage TCM Clinic has been recognised as the best-rated TCM in Singapore (Orchard Road) for 4 years in a row.
2. Macpherson TCM & Wellness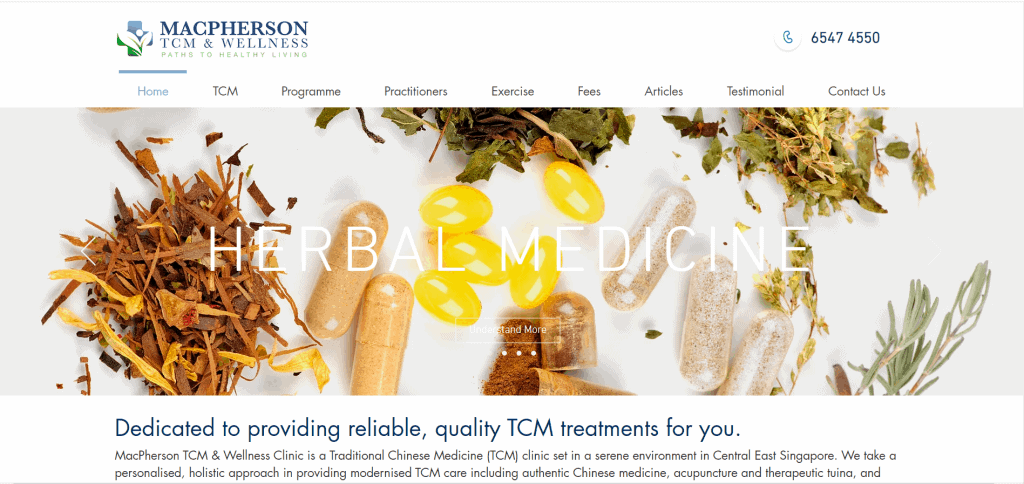 Macpherson TCM & Wellness Clinic is a TCM in Singapore located in the Central East region. They take a personalised, holistic approach to providing modernised TCM treatments, including authentic Chinese medicine, acupuncture and therapeutic tuina.
One of their signature programmes is the Labour Induction Programme. It is suitable for healthy pregnancies that are overdue – your baby has engaged in your pelvis, you have sufficient amount of amniotic fluid and your doctor has told you that you could wait if you do not want to be medically induced yet.
Acupuncture for labour induction is a natural, safe and evidence-based alternative that every overdue mummy can consider before other medical interventions, like a membrane sweep, medical induction or caesarean section.
They also provide a house call service at a standard fee of $160. This includes up to 60 minutes of consultation & assessment and one or more of the following: acupuncture, therapeutic massage, moxibustion, scraping and bandaging.
3. Shanghai Chinese Medicine Centre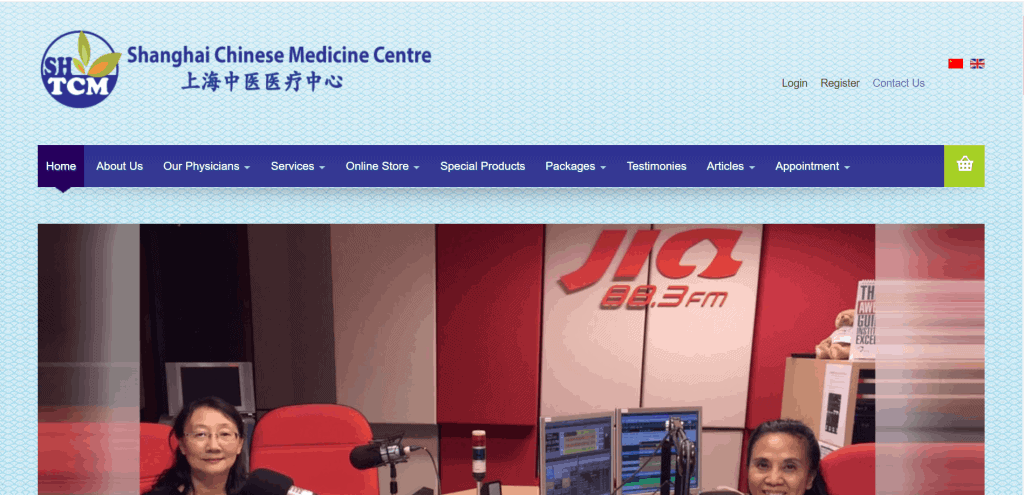 The physicians at Shanghai Chinese Medicine Centre graduated from premier universities in China. Having practiced in China and Singapore for more than twenty years, they have wide clinical experience in traditional Chinese medicine treatment.
Shanghai Chinese Medicine Centre is a TCM in Singapore well known for its cosmetology TCM services, where their scope of treatment covers cutis laxa, wrinkles, chloasma, acne, under-eye puffiness and dark eye circles.
They integrate acupuncture and the taking of Chinese medicine orally to regulate viscera, qi and blood, hence achieving the effect of beauty.
4. Annie Tiang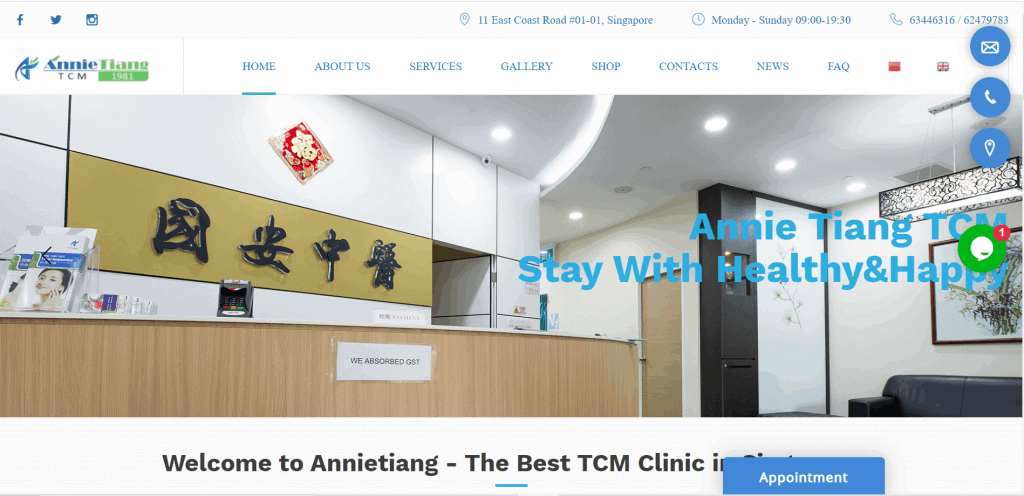 Founded in 1981, Annie Tiang TCM is a Ministry of Health registered TCM in Singapore led by Professor Joseph Yap. The clinic has close to 40 years of clinical experience.
One of their signature programmes is the Children Chiropractor Care Programme, which helps your child correct his or her posture through a safe and effective manner. Their chiropractors can help your child with a variety of spinal and joint-related problems, such as scoliosis, spinal cord injury and cerebral palsy.
They even have a Healthy Tea Shop selling brews formulated by their TCM medical practitioners. Made from authentic 100% natural herbs, their teas are crafted for the busy lifestyle and are customised to suit individual needs.
5. AMK TCM Clinic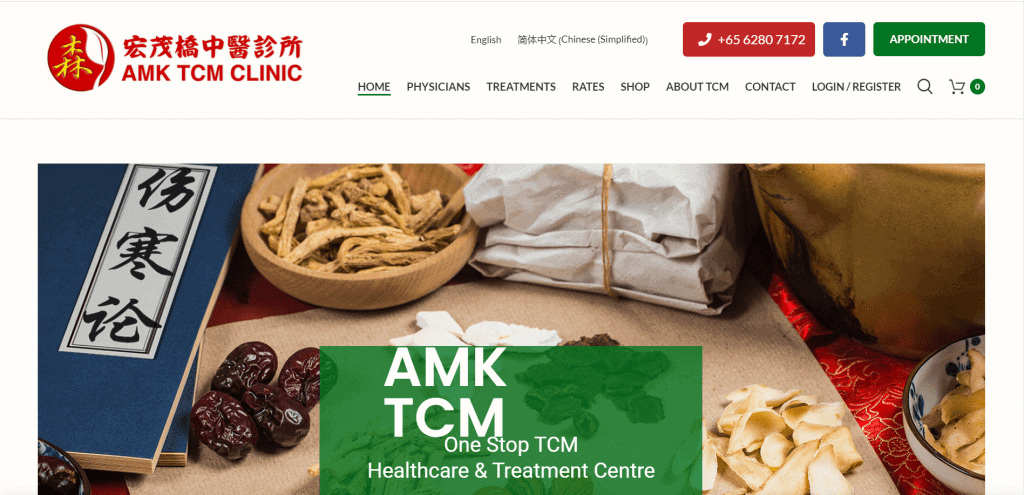 All of the practitioners under AMK TCM Clinic are well versed with the ancient TCM diagnostics of Yin-Yang, Zang-Fu (Organs), Five Elements and Meridians to help you understand your physique. With their help, you can understand how you can restore inner balance and organ functions via deliberate food and lifestyle choices.
The clinic specialises in a variety of TCM modalities, such as acupuncture, herbal medicine, cupping, Tui-Na (massage) and Gua-Sha (scraping).
What differentiates the clinic as a TCM in Singapore is its affordable treatment fees. A consultation session at the clinic costs $12-25, while an acupuncture session costs $35-60. Meanwhile, a moxibustion or a Gua Sha (cupping) session costs $35.
6. Bao Zhong Tang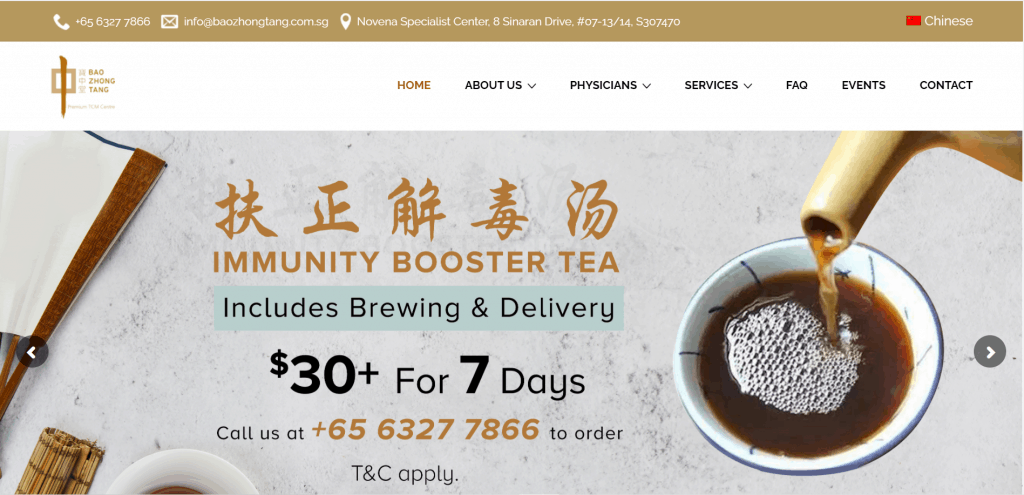 Bao Zhong Tang first started its operations at the Singapore General Hospital in November 2007. Since then, Bao Zhong Tang has grown from strength to strength to become the premier TCM in Singapore that offers a comprehensive range of TCM therapies and medical services.
The clinic is known for cancer management treatment. Led by Master Physician Professor Fan Zhong Ze, the team will craft a medication plan using herbs such as qianshi and taizishen, to help you restore your body constitution after surgery.
Bao Zhong Tang also possesses a wealth of experience in treating eczema, which is one of the most common skin diseases caused by an inflammation of the skin.
As a TCM in Singapore that focuses on the synergy and integration of Western and Chinese Medicine they will first diagnose your condition, before customising an effective eczema treatment plan for you.
7. ENOK TCM Clinic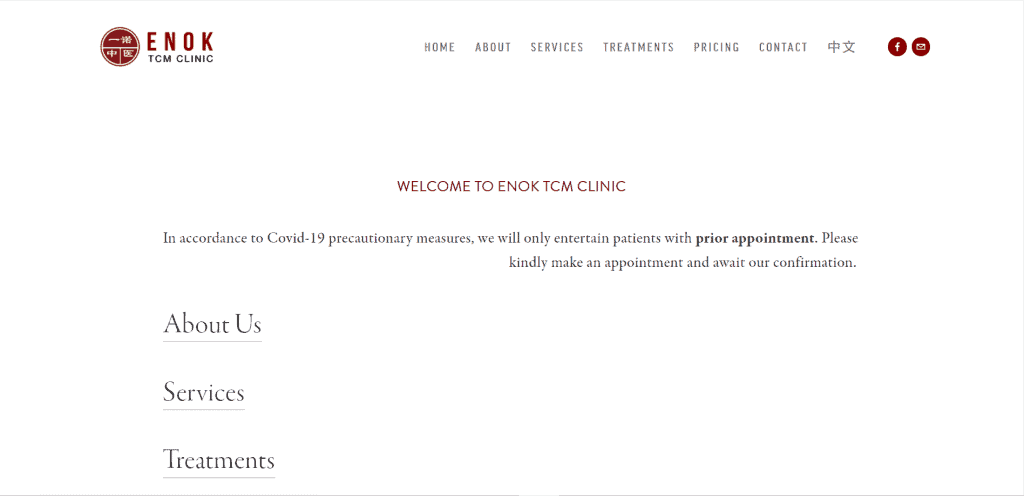 Conveniently located in Orchard, ENOK TCM Clinic is a TCM in Singapore that employs observation, olfaction, inquiry, and pulse to provide a diagnosis and suggest an appropriate course of treatment through acupuncture, herbal medication and therapy.
The clinic is the go-to TCM in Singapore for pain and injury management, if you are suffering from medical conditions such as arthritis, sprains, gout or shoulder discomfort.
Pain is treated through a holistic approach at their clinic, treating both the symptoms and the root cause of pain. They will also tailor their treatments to fit the individual's condition to ensure optimum treatment and recovery.
8. Kin Teck Tong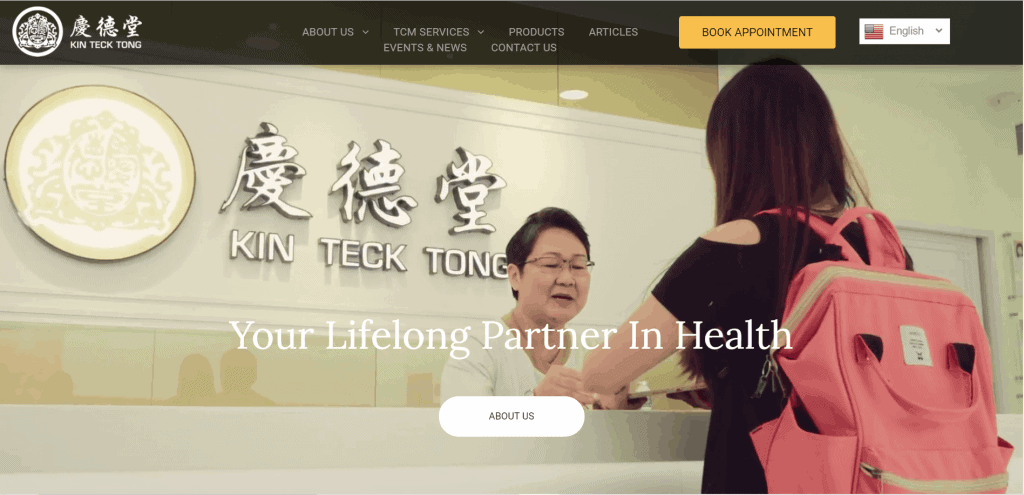 Established in 1967, Kin Teck Tong is a homegrown TCM in Singapore which started out as a Chinese Medicinal Herbs wholesaler. Leveraging on its heritage and expertise in Chinese Medicine, Kin Teck Tong transformed into a TCM clinic brand offering a full suite of TCM services in 2005.
Kin Teck Tong aims to raise awareness of TCM in Singapore and change younger consumers' perception of TCM, which explains the modernised design of the clinics and availability of bilingual physicians and therapists.
Kin Teck Tong's niche lies in complementing traditional TCM treatments with technological interventions, which yield better treatment results for their patients.
The clinic incorporates MINATO devices, which originate from Japan, into its TCM treatments. These devices passes different frequencies through the body to enhance drainage of metabolic waste and reduce recovery time.
9. JOYRE TCMedi Spa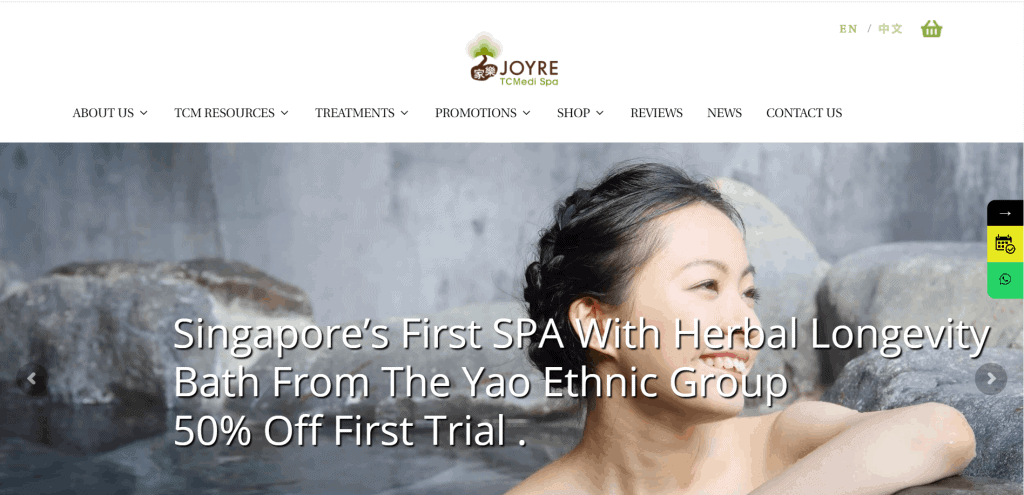 Joyre is a pioneer TCM in Singapore when it comes to integrating TCM with modern spa treatments and beauty aesthetics services. They are also a renowned TCM in Singapore for adopting advanced biomedical technology.
Joyre started off its first beauty salon, named Jia Le Beauty, in 1998. Since then, Joyre has grown to 15 outlets in Singapore with over 100 employees.
In recent years, their Millennium Ancient Herbs Bath has been gaining popularity among Singapore customers. It promotes longevity and good health, helps to rid of all pain and other common health issues. As it removes toxins from the body, it helps to alleviate rheumatism and gynaecological inflammation.
Using more than ten different types of herbal remedies, JOYRE TCMedi Spa is the first beauty group and TCM in Singapore specialising in this inherited gem from the Yao ethnic group ancestors.
10. NovaHealth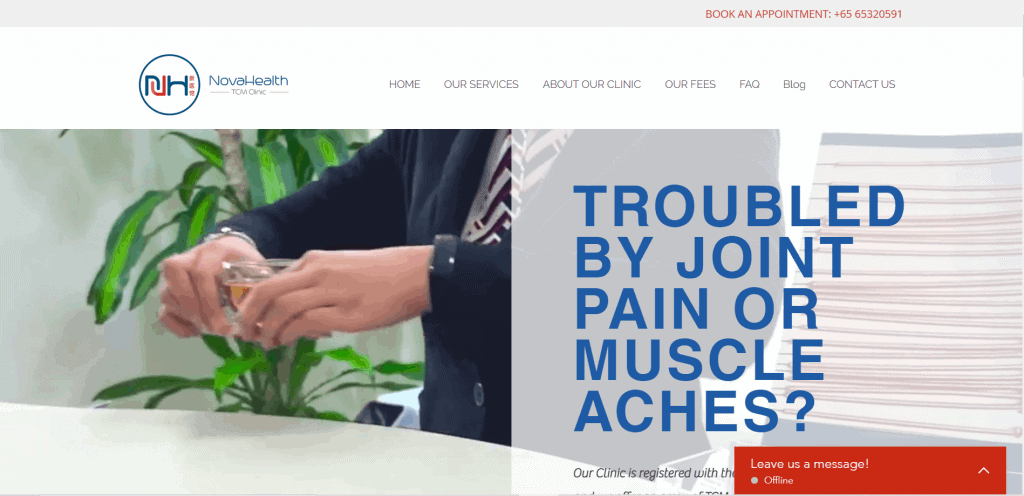 Looking for a conveniently-located TCM in Singapore? Found in the heart of Singapore's Central Business District (CBD), NovaHealth is surrounded by the hubbub of life. At NovaHealth, they strive to provide an efficient and enjoyable service in a pleasant environment to all of our customers.
Their services include tuina, herbal medication, acupuncture, cupping, fatigue relieving services and slimming sessions.
Our recommendation is to give their slimming sessions a try. Their slimming sessions consist of acupuncture and medication, to help your body naturally increase metabolism and be more effective in shedding the excess weight.
Conclusion
Do you have any reviews and comments to share regarding our choices for the best TCM in Singapore?
While SBO is committed to supporting our local businesses, we welcome any feedback and anonymous sharing regarding your experience with the listed TCM in Singapore.
We hope that this guide will be useful in helping you to make an informed decision when it comes to finding the best TCM in Singapore.
>