10 Best Endocrinologist in Singapore to Treat Your Endocrine Disorders [2023]
Calm your raging hormones.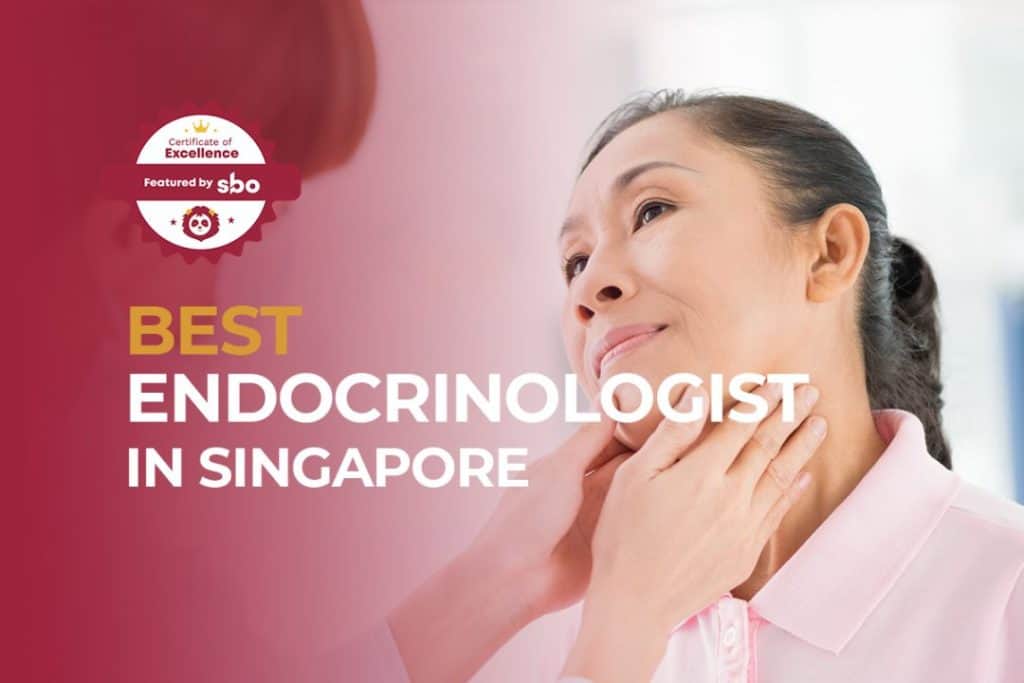 Did you know that Singapore has one of the world's highest diabetes rates (second only to the United States)?
According to the Straits Times, 400,000 Singaporeans are diabetic and one in three has a lifetime risk of developing the disease.
If nothing is done, the number of diabetics under age 70 is expected to rise to 670,000 by 2030 and one million by 2050. Diabetes is an endocrine disorder.
Endocrinology is the study of medicine that relates to the endocrine system, which controls hormones.
Endocrinologists are qualified to diagnose and treat conditions like diabetes, thyroid diseases, infertility, growth issues, metabolic disorders, osteoporosis, and disorders in the hormone-producing adrenal and pituitary glands.
Looking for a endocrinologist in Singapore? In this post, we've gathered all the necessary details to compile a list of the 10 best endocrinologist in Singapore.
1. Marilyn Lee Endocrine & Medical Clinic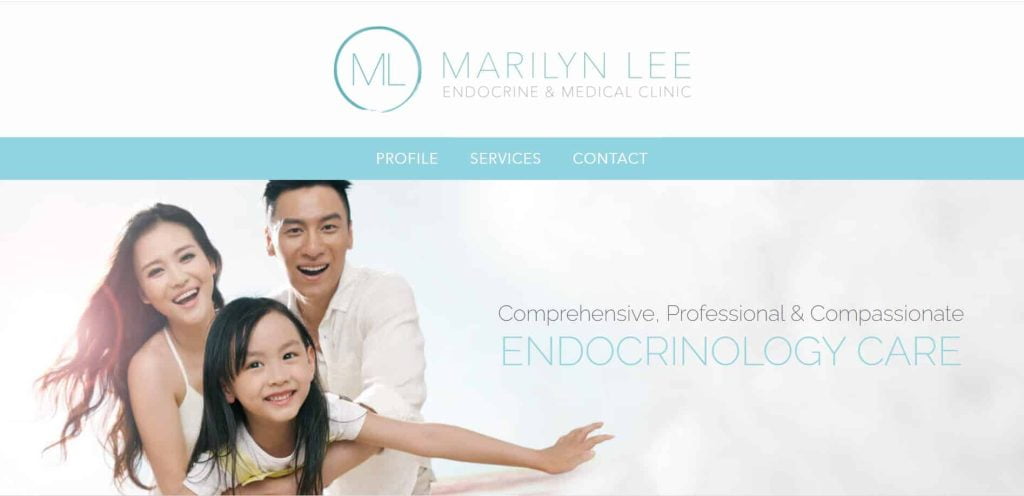 Marilyn Lee Endocrine & Medical Clinic provides services in reproductive endocrinology, as well as a wide range of comprehensive and personalized services such as infertility, diabetes, and weight and thyroid disease management.
The endocrinologist in Singapore also provides effective diagnostic and treatment services for a wide variety of adrenal, calcium, lipid and pituitary disorders.
The clinic is founded by Dr Marilyn Lee, an experienced endocrinologist who attained her Bachelor of Medicine and Bachelor of Surgery from St. Bartholomew's and the Royal London School of Medicine in the United Kingdom, from which she also obtained distinctions in Obstetrics and Gynaecology, and Surgery.
She received additional training in internal medicine at Barts and the London NHS Trust, before embarking on her endocrinology training in Singapore.
Dr Lee became a member of the Royal College of Physicians of the United Kingdom in 2006 and was certified by the Ministry of Health as a Singapore endocrinologist in 2011.
2. The Endocrine Clinic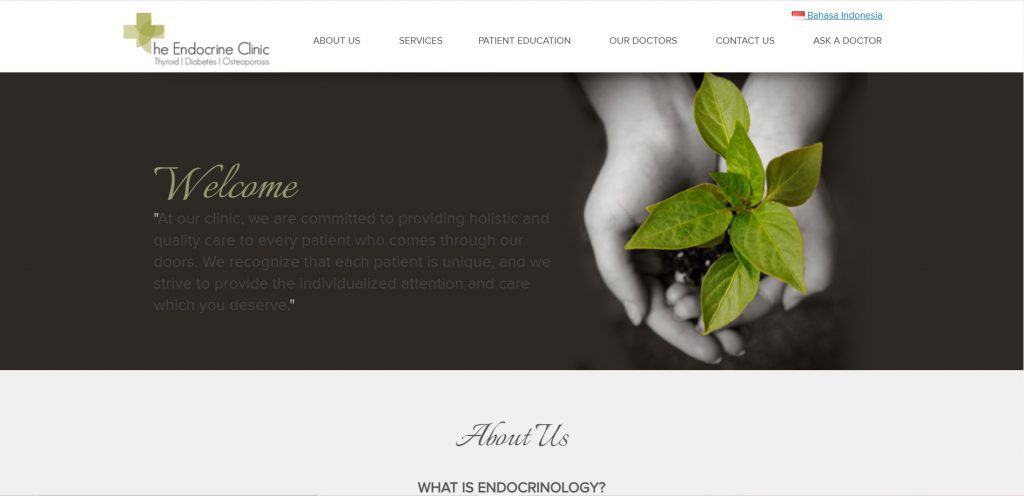 At The Endocrine Clinic, they are committed to providing holistic and quality care to every patient who comes through their doors.
They recognize that each patient is unique, and they strive to provide the individualized attention which you deserve.
The endocrinologist in Singapore specialises in performing fine needle aspiration biopsy.
This simple procedure is performed in the clinic during which a very thin needle to withdraw cells from the thyroid nodule under the guidance of the ultrasound.
Thyroid ultrasound is used to localise the nodule and assist with the placement of the needle within the nodule during a fine needle biopsy.
The extracted cells are then examined under a microscope to diagnose your disorder.
The endocrinologist in Singapore performs around 250 thyroid biopsies a year.
The success rate in achieving an adequate yield for diagnosis is 99%.
3. Arden Endocrinology Specialist Clinic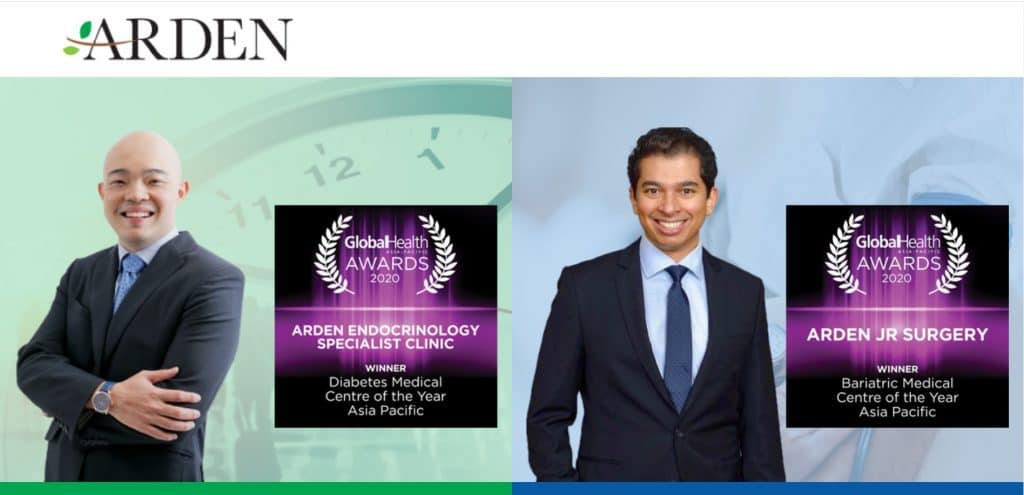 As specialists in the field of endocrinology and metabolism, Arden Endocrinology provides comprehensive services for patients who require tests, screening and treatment of diabetes, thyroid problems and other endocrine problems.
They also have a sister clinic specially for surgeries.
As a clinic specialising in metabolic, general and upper gastrointestinal surgery, Arden JR Surgery provides comprehensive and up-to-date bariatric and oncological surgical services.
At Arden Endocrinology, they aim to provide a holistic and thorough diabetes care for all our patients in a systematic, individualised and efficient manner.
The clinic is equipped with numerous screening modalities including electrocardiogram, 24-hour ambulatory blood pressure monitoring, neurothesiometers and HbA1c testing to detect early complications of diabetes.
Therefore, most tests can be performed effectively and comprehensively in the clinic itself without external equipment.
4. Saint-Julien Clinic for Diabetes & Endocrinology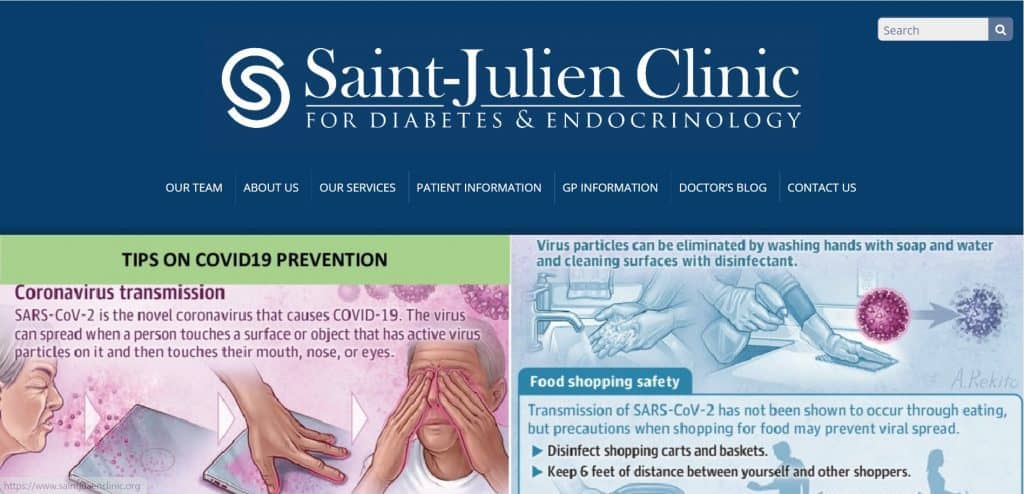 Saint-Julien Clinic is a specialist centre for diabetes and endocrinology founded on experience and expertise.
Their mission is to deliver exemplary medical care by combining clinical acumen with evidence-based medicine and medical advances.
Their Diabetes and Endocrine Clinic is set up to help and treat patients with diabetes, thyroid and hormonal disorders.
They understand that diabetes can often affect other organ systems and therefore provide screening for complications in accordance with national and international best practice guidelines.
In addition, they also partner with other specialist doctors to provide their patients with multi-disciplinary support for their diabetic, thyroid and endocrine conditions.
As healthcare professionals, they recognize the importance of patient education in the successful management of any disease, particularly in the area of chronic diseases such as diabetes, thyroid, osteoporosis and cholesterol disorders.
Hence, they aim to make patient education a key component of all their treatment plans.
5. SMG Diabetes, Thyroid and Endocrine Clinic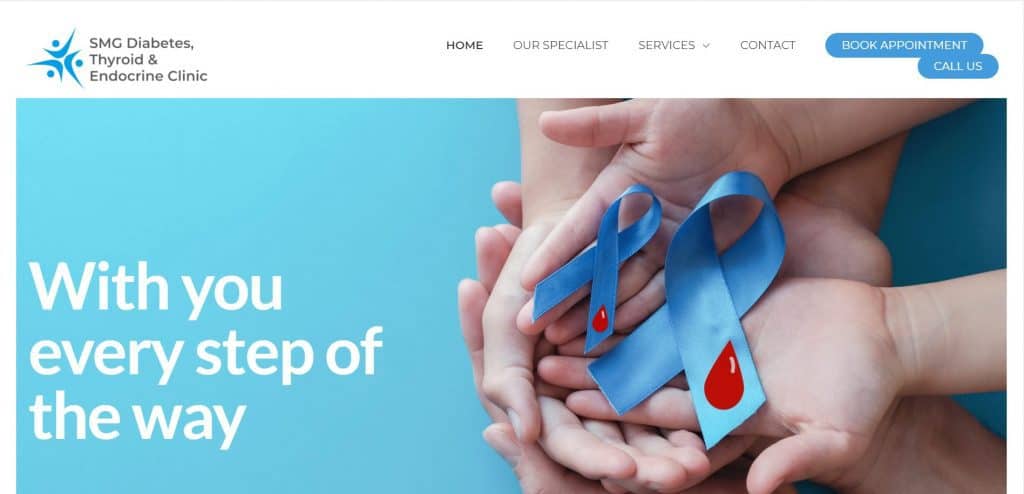 The SMG Diabetes, Thyroid and Endocrine Clinic is dedicated to helping those with chronic conditions by working closely with patients to provide quality care.
Their clinics are conveniently located in Mount Elizabeth Novena Specialist Centre and Tampines Grande to meet all your healthcare needs.
Apart from the wide range of specialised and general services offered at our clinics, the clinic aims to help their patients to alleviate the struggles that come with chronic conditions.
The endocrinologist in Singapore is helmed by Dr Nitish Mishra, an Endocrinologist, Diabetologist and specialist in Internal Medicine with more than 15 years of experience in managing diabetes, hormonal and thyroid disorders.
Dr Mishra believes in working closely with his patients and supporting them in managing their conditions.
He takes great care in planning customised treatment plans for patients.
6. Raffles Diabetes & Endocrine Centre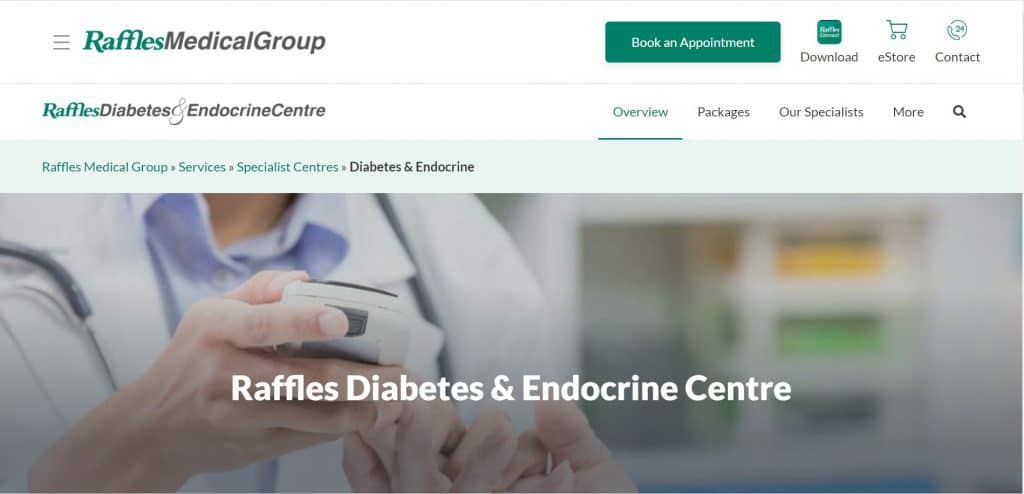 Raffles Diabetes & Endocrine offers services to patients providing an individualised evidence-based care system for patients with diabetes, thyroid, parathyroid, adrenal, and other less common conditions related to hormonal imbalances.
A specialised team complements their doctors' extensive services – the team includes dieticians, diabetic nurses, podiatrists and ophthalmologists.
Need help managing diabetes with data? You can buy the Raffles Flash Glucose Monitoring Package from the endocrinologist in Singapore, which costs $481.50.
The Raffles Flash Glucose Monitoring Package takes a holistic approach in managing your blood sugar level.
This comprises of consultation sessions with our medical experts to manage your lifestyle and diet.
You will also receive an Abbott Freestyle Libre Reader and Sensor, which makes measuring your blood sugar level more convenient.
Together with their medical experts, you can better fine-tune your diabetes management plan to keep your blood sugar level under control.
7. Dr. Warren Lee's Paediatrics, Growth & Diabetes Centre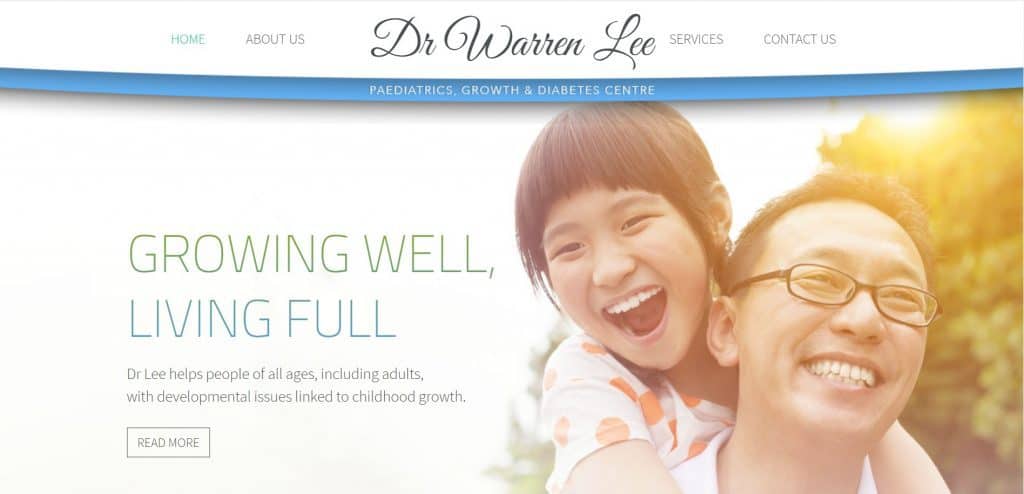 Dr Warren Lee helps people of all ages, including adults, with developmental issues linked to childhood growth.
Dr Lee trained as a paediatrician in Singapore and in paediatric endocrinology at the Royal Children's Hospital in Melbourne started the paediatric endocrinology service in KK Children's Hospital in 1997 and also helped to start adolescent medicine services in KK Children's Hospital in 2007.
Dr Lee is also a pioneer in the use of Medtronic CSII pumps in Singapore, having initiated them in paediatric patients since they were first introduced into Singapore in 1998 and has initiated pumps in babies a year old and onward, up to women with Type 1 diabetes wanting to start a family.
He has helped many patients with very active lifestyles to use a pump delivery to live life to the fullest.
The clinic is equipped with several continuous glucose measurement devices, which measure glucose levels in interstitial fluid (the liquid between cells) and outside the blood vessels.
Finger prick glucose meters measure the glucose levels in whole blood which is obtained from a finger prick.
The blood from a finger prick sample is from capillaries and is a mix of arterial and venous blood and may show lower levels of glucose.
This is because some glucose may have already been used up by the tissues as the blood passes through the capillary network in the tissues.
8. Livingstone Endocrine, Diabetes & Thyroid Clinic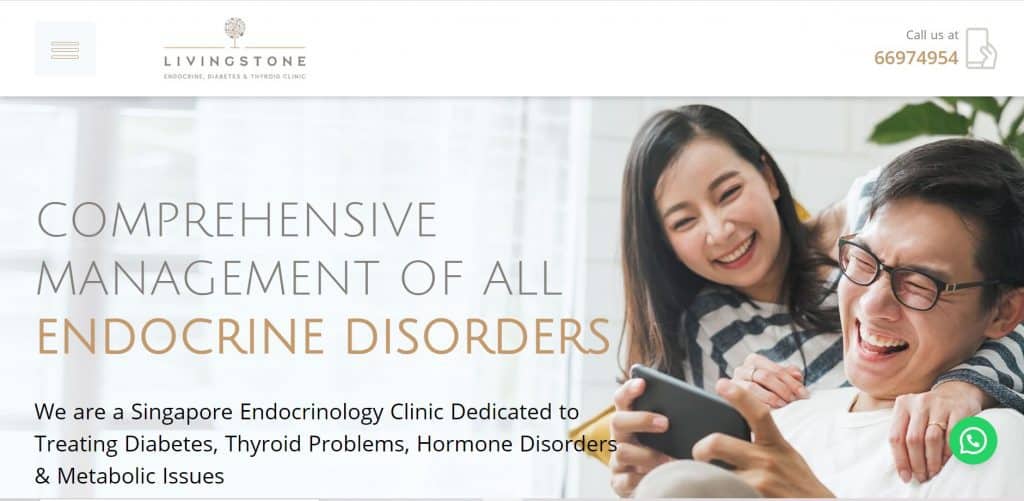 Livingstone strongly believes that endocrine conditions can be managed to achieve good clinical outcomes by partnering with their patients, together with the provision of high quality, all-rounded and consistent care that their team is committed to.
The endocrinologist in Singapore is led by Dr Tay Tunn Lin, who is a Senior Consultant Endocrinologist with more than 15 years of clinical experience.
Dr Tay specialises in the management of all endocrine conditions, particularly diabetes and thyroid disorders.
She graduated from the National University of Singapore in 2004 with a Bachelor of Medicine and Surgery, obtained her post-graduate Internal Medicine degree, Membership of the Royal College of Physicians (United Kingdom) in 2008, and completed her specialist training in Endocrinology in 2012.
Dr Tay specialises in managing early onset diabetes from her years managing the young adult diabetes clinic in restructured hospitals since 2015.
She was involved in setting up the service of managing young patients with diabetes transiting from pediatric to adult care and was in charge of diabetes-related management issues in the inpatient and outpatient setting.
She is well-published in her field and received the Care Award (Silver) in 2012 and the Singapore Health Quality Service Award (Gold) in 2019 and 2020 in recognition of her dedication to patient care.
9. Specialist Endocrine Clinic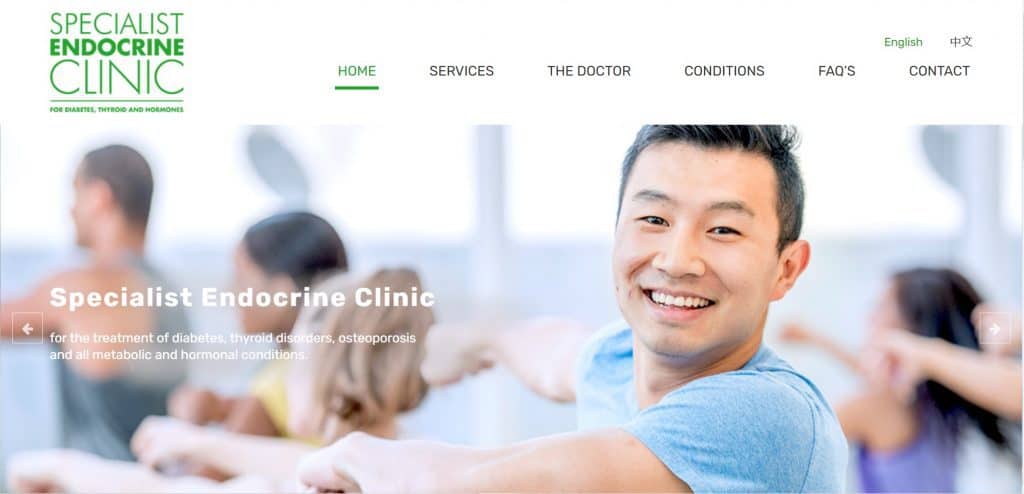 Specialist Endocrine Clinic is a clinic specializing in the treatment of diabetes, thyroid disorders, osteoporosis and all metabolic and hormonal conditions.
The endocrinologist in Singapore is led by Dr Foo Joo Pin.
Dr Foo is a Consultant Endocrinologist and Physician, and was the Director of the Diabetes Centre, Changi General Hospital, Singapore.
He graduated from the Faculty of Medicine, National University of Singapore, obtaining the Bachelor of Medicine and Bachelor of Surgery (MBBS) and subsequently trained at various public institutions in Singapore before obtaining his Membership of Royal College of Physicians (United Kingdom).
Exclusively located at One Orchard Boulevard, Camden Medical Centre, Specialist Endocrine Clinic aims to provide holistic care for diabetes and all endocrine conditions, in a respite of peace and privacy in the heart of the city.
10. Charles Tan Surgery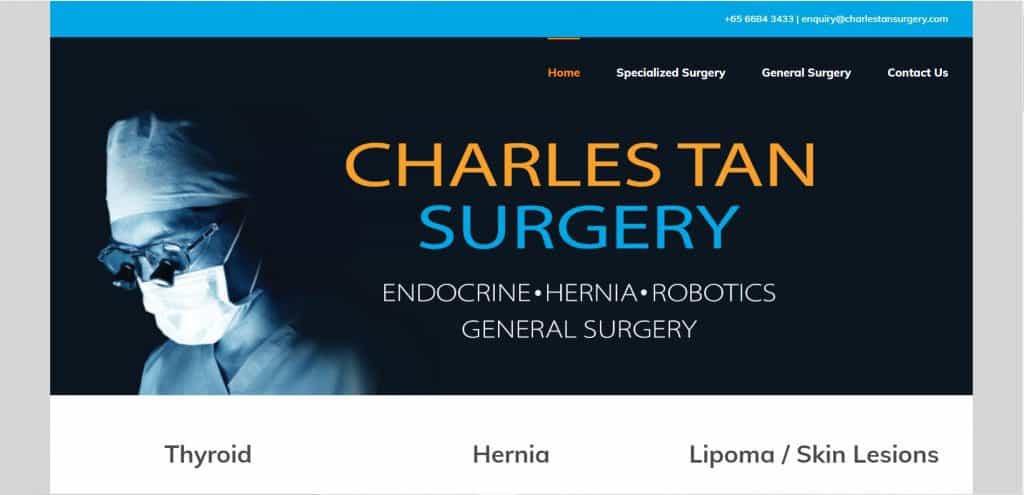 Adjunct Assistant Professor Charles Tan is a surgeon with 21 years of clinical experience.
He attained his medical degree from the Faculty of Medicine at the University of Leicester in 1995.
After completing his basic surgery training in Singapore at the Singapore General Hospital & National University Hospital, he gained entry into the Fellowship of Royal College of Surgeons of Edinburgh in 2006.
The endocrinologist in Singapore specialises in thyroid surgery.
He has performed over 1000 thyroid surgeries.
As Previous Head of the Endocrine Surgery Division in NUH, he started the robotic axillary thyroid surgery program.
He currently has the most extensive experience of performing thyroid surgery via the axillary in Singapore.
Apart from the comprehensive treatment of thyroid cancers, other new procedures he has performed include minimally invasive parathyroid surgery under local anaesthesia.
Charles Tan Surgery is a also one-stop facility that provides you with a comprehensive evaluation of abdominal wall hernias.
Associate Professor Charles Tan who was the previous president of the Singapore Hernia Society, has performed more than 2000 hernia surgeries, of which 90% are performed via the key-hole technique.
Conclusion
Do you have any reviews and comments to share regarding our choices for the best endocrinologist in Singapore?
While SBO is committed to supporting our local businesses, we welcome any feedback and anonymous sharing regarding your experience with the listed endocrinologist in Singapore.
We hope that this guide will be useful in helping you to make an informed decision when it comes to finding the best endocrinologist in Singapore.
Explore More Content