10 Best Colon Doctor in Singapore for Colorectal Treatment [2023]
Find the best colon doctor in Singapore to treat your colorectal ailments.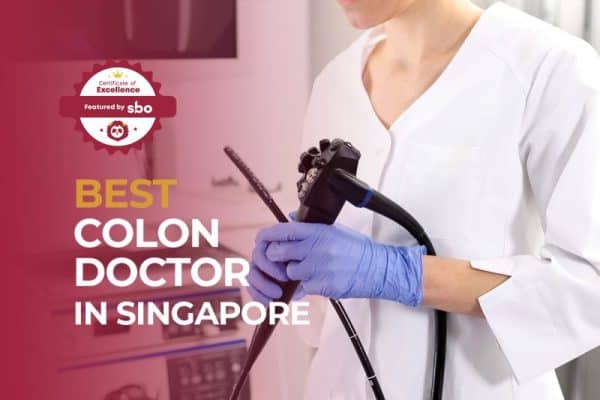 The numbers paint an appalling picture: More Singaporeans are being diagnosed with an intestinal condition that puts them at higher risk of colon cancer.
Statistics by several hospitals in Singapore show that inflammatory bowel disease (IBD) is on the rise in the last decade.
For example, Singapore General Hospital (SGH) saw close to 600 patients diagnosed with the disease in 2017, a two-fold increase from 2007. At National University Hospital (NUH), the number has jumped by eight times, from below 50 in 2013 to close to 400 cases in 2018.
Indeed, the colon – which is part of the large intestine and also known as the bowel – is particularly prone to infections. Such inflammations may undermine the colon's function to reabsorb fluids and process waste products from the body and facilitate waste excretion.
This is where a colon doctor comes in.
In this post, we've gathered all the necessary details to compile a list of the 10 best colon doctor in Singapore to treat your colorectal problems.
1. Ho Kok Sun Colorectal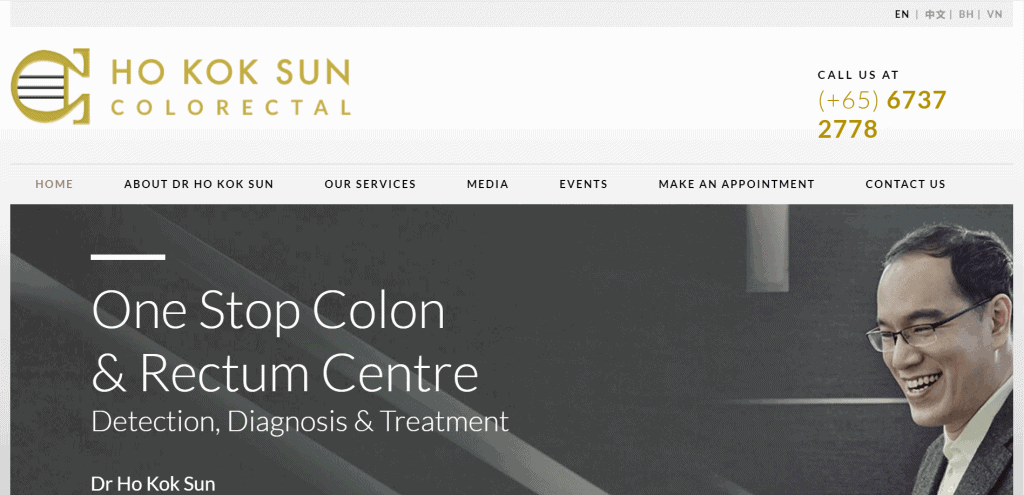 Ho Kok Sun Colorectal is led by Dr Ho Kok Sun, who graduated from National University of Singapore in 1993, and obtained his Master of Medicine in Surgery from National University of Singapore in 1998.
Dr Ho – a former Senior Consultant at the Department of Colorectal Surgery, Singapore General Hospital – specialises in minimally invasive colorectal surgery. He does laparoscopic (keyhole) colon and rectum surgeries, and is also capable of performing single incision port (single keyhole) colon and rectum surgery.
Notably, he is also one of the few surgeons accredited to do Robotic Colorectal Surgery locally.
Dr Ho is effectively bilingual in both Chinese and English and is able to speak Cantonese and Hokkien as well, and has travelled to speak and perform live surgery demonstrations, and also teach in countries such as China, Indonesia and Vietnam.
2. Kam Colorectal Centre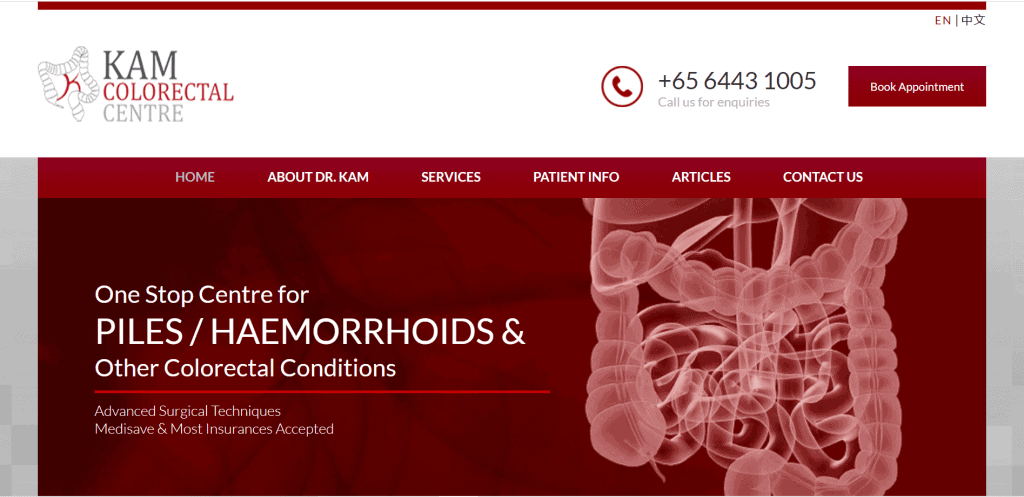 Dr Kam Ming Hian graduated from the National University of Singapore in 1998, obtained his Master of Medicine in Surgery in 2003, and completed his advanced surgical training at Singapore General Hospital in 2006.
In 2007, he was admitted as a Fellow of the Royal College of Surgeons, Edinburgh, and also as a Fellow of the Academy of Medicine, Singapore.
Dr Kam has a keen interest in minimally invasive colorectal surgery, including Laparoscopic Colorectal Cancer Surgery, Single Incision Laparoscopic Surgery as well as Robotic-assisted Surgery.
Appointed as Director of Robotics and Minimally Invasive Surgery in 2012, Dr Kam is among one of the few surgeons in Singapore accredited to perform Robotic Colorectal Surgery.
He has since conducted numerous advanced laparoscopic workshops to train both local and international surgeons, and also has been invited to speak at various international conferences on topics related to Laparoscopic and Robotic Surgery.
3. Seow-Choen Colorectal Centre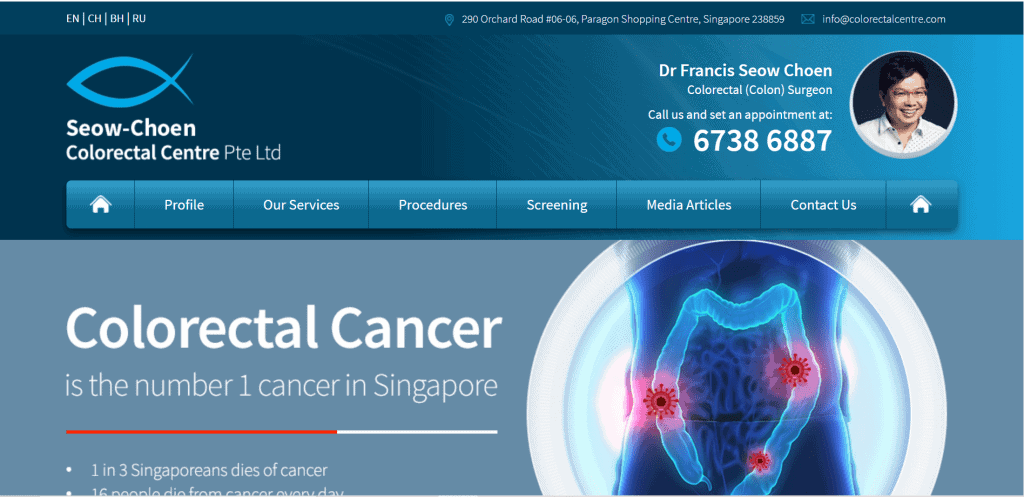 Seow Choen Colorectal Centre is headed by Dr Francis Seow Choen, who graduated from the National University of Singapore in 1981, and obtained his higher surgical qualifications in 1987.
He subsequently sub-specialised in colorectal surgery in 1989 where he worked with the world-class surgeons of St Marks' Hospital in London. At that time, there were no specialised departments of colorectal surgery in this part of the world.
Prof Seow returned to Singapore and worked on his goal towards having Singapore be recognised as a surgical colorectal powerhouse.
His clinic specialises in innovative laparoscopic techniques. Whilst many laparoscopic surgeons opt to use four to five ports routinely – even in simple cases of colorectal resections, Prof Seow has been championing the use of the three ports laparoscopic technique.
Post surgery, most of his patients remain in the hospital an average of four days, and many are able to resume non-strenuous activities like grocery shopping after two weeks.
This is remarkable for an operation in comparison to the traditional procedures which usually required at least two to three months of recovery time.
4. Colorectal Practice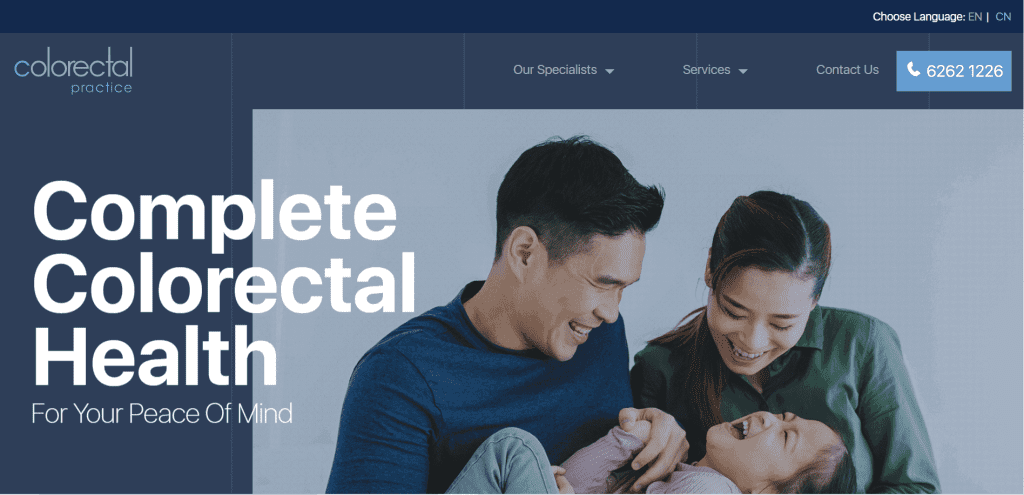 Colorectal Practice provides a detailed list of screening services, diagnostic tools, and treatment options to manage colorectal issues, from piles to colorectal cancer.
The clinic is run by two experienced colon surgeons, Dr Dennis Koh and Dr Sharon Koh, with their specialty in colorectal surgery, including techniques like laparoscopic surgery, single-port surgery, robotic surgery, and transanal endoscopic procedures.
All their treatment plans are specifically tailored to suit each individual patient.
Believing in safe treatment, the clinic strives to minimise discomfort and downtime with advanced laparoscopic techniques.
The clinic also encourages timely screenings as colon cancer can exhibit little to no symptoms in its early stages.
5. Thomas Ho Surgery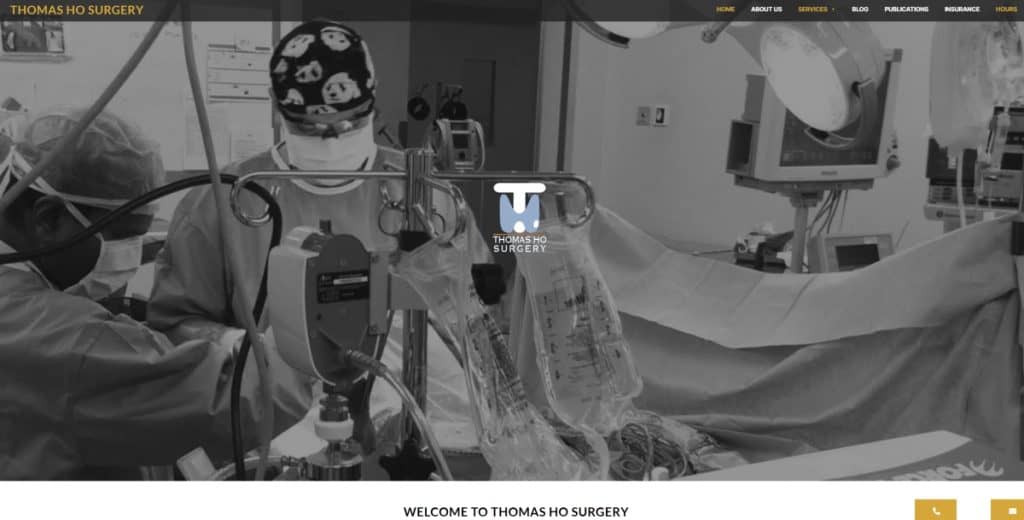 Dr Thomas Ho practices at Mount Alvernia Hospital and is known for his expertise in advanced gastrointestinal cancer treatment. Prior to private practice, Dr Ho served twenty years in the public hospitals and founded the cancer surgery division at Tan Tock Seng Hospital where he was a senior
consultant.
He is fellowship-trained in Surgical Oncology, having spent 2 years in Canada. He offers laparoscopic surgery for gastrointestinal cancers which includes colon and rectal cancers. He is also trained in HIPEC which is a specialised treatment for advanced colorectal and ovarian cancers which have spread to the peritoneal cavity.
Dr Ho believes that surgical competence must be matched with compassionate care for his patients. He has received heartfelt and excellent reviews from many of them which motivates him to continue to give of his best.
6. Goh Hak-Su Colon and Rectal Centre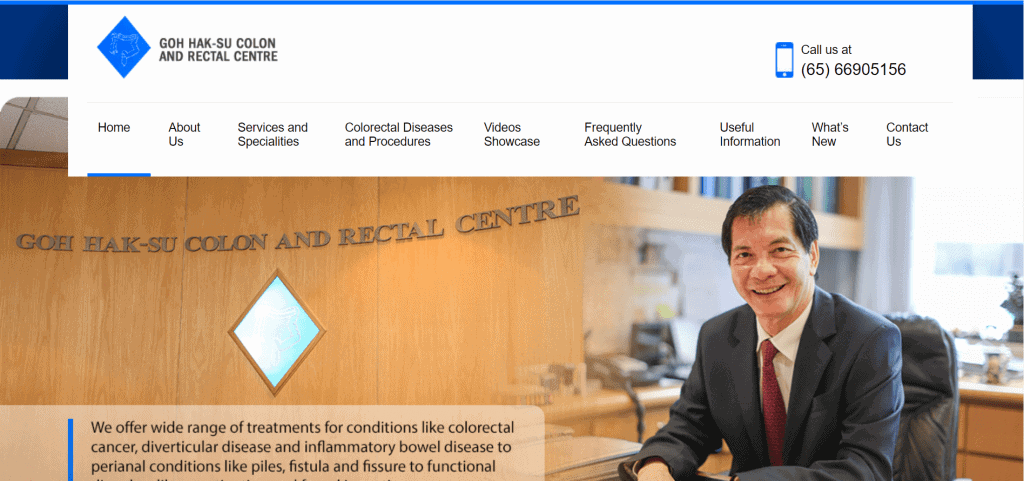 This specialist clinic was founded by Professor Goh Hak Su, who graduated with a double degree in Science and Medicine from King's College Hospital Medical School, London, and trained in Colorectal at St Mark's Hospital, London.
He is commonly referred to as the "Founding Father of Colorectal Surgery" in Singapore.
With the support of the then-Director of Medical Services, Dr Kwa Soon Bee, and the Ministry of Health in 1989, Professor Goh established the Department of Colorectal Surgery in Singapore General Hospital: the first such department in Singapore and the ASEAN (Association of South-East Asian Nations) region.
The clinic offers treatment of colorectal diseases, including colorectal cancer, diverticular disease, from inflammatory bowel disease to perianal conditions like piles, fistula and fissure, to functional disorders like constipation and faecal incontinence.
7. One Surgical Clinic & Surgery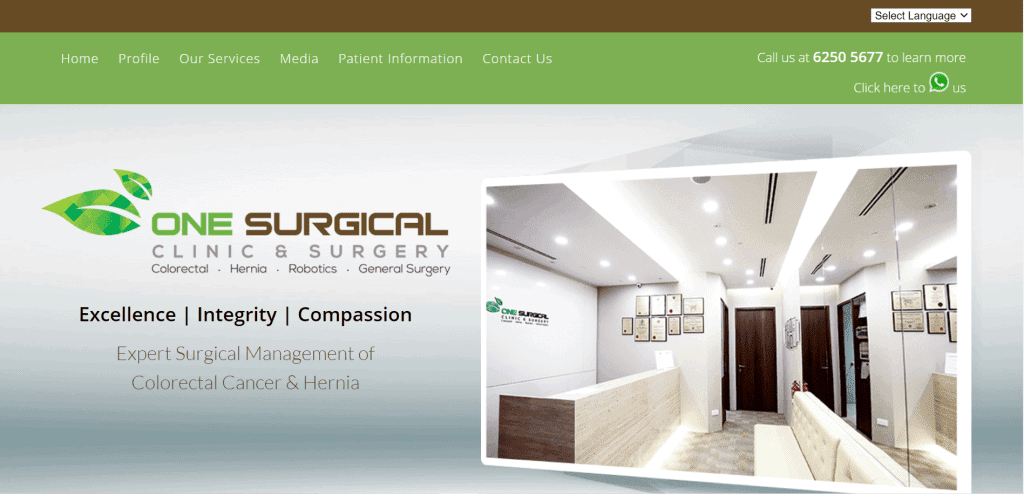 Singapore Colorectal Surgeon, Dr Ng has been in clinical practice for over 20 years with more than 10 years as a specialist colorectal surgeon.
He is honoured to be the current President of the Society of Colorectal Surgeons Singapore (SCRS).
His passion has been in advancing the practice of (keyhole) minimally invasive surgery (MIS). These days, Dr Ng routinely employs MIS for both simple (e.g. appendix, gallbladder) and complicated (e.g. colorectal cancer) cases.
He is also an expert in techniques such as robotic surgery, pelvic and para-aortic lymph node clearance, transanal endoscopic surgery, and colonic stenting.
Dr Ng's other clinical interest is in laparoscopic hernia repair, having also achieved international recognition with regular invitations to lecture and teach, and has also performed live demonstrations of his hernia repair technique locally and internationally at numerous surgical conferences.
8. Lim Jit Fong Colorectal Centre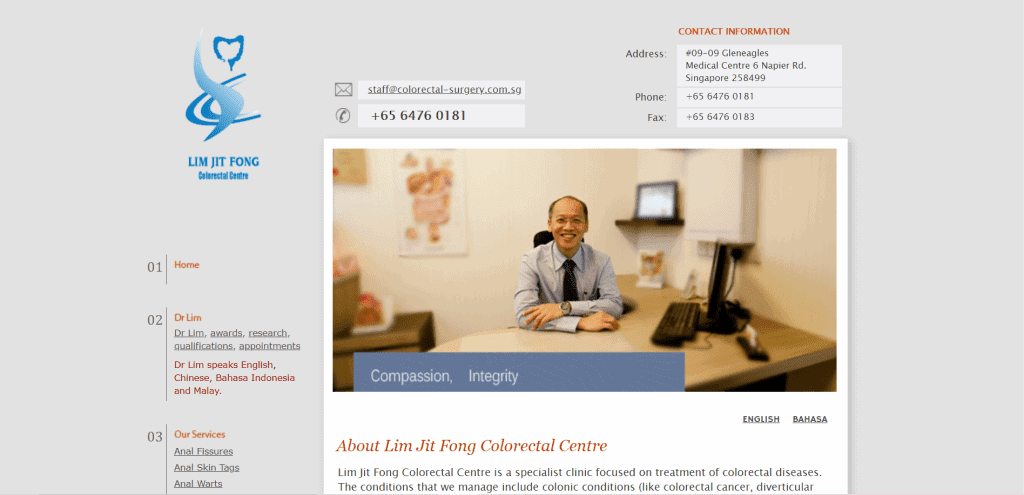 Dr. Lim Jit Fong qualified as a General Surgeon in 2003 and has been specialising as a Consultant in Colorectal Surgery since 2006.
He is an expert in minimally invasive surgery and functional bowel disorders, and has performed hundreds of "keyhole" bowel operations for bowel cancer as well as other bowel diseases.
The clinic treats illnesses such as colonic conditions (like colorectal cancer, diverticular disease and inflammatory bowel disease), perianal conditions (like haemorrhoids, abscess, fistula and fissure) as well as functional bowel disorders (like constipation, obstructed defecation syndrome and faecal incontinence).
Dr. Lim's expertise in the management of bowel incontinence and constipation led to him being appointed the founding Director of Pelvic Floor Disorder Service of Singapore General Hospital until the time he left SGH in 2011.
He is (at the point of publication) the President of the Society of Colorectal Surgeons.
9. Maven Surgery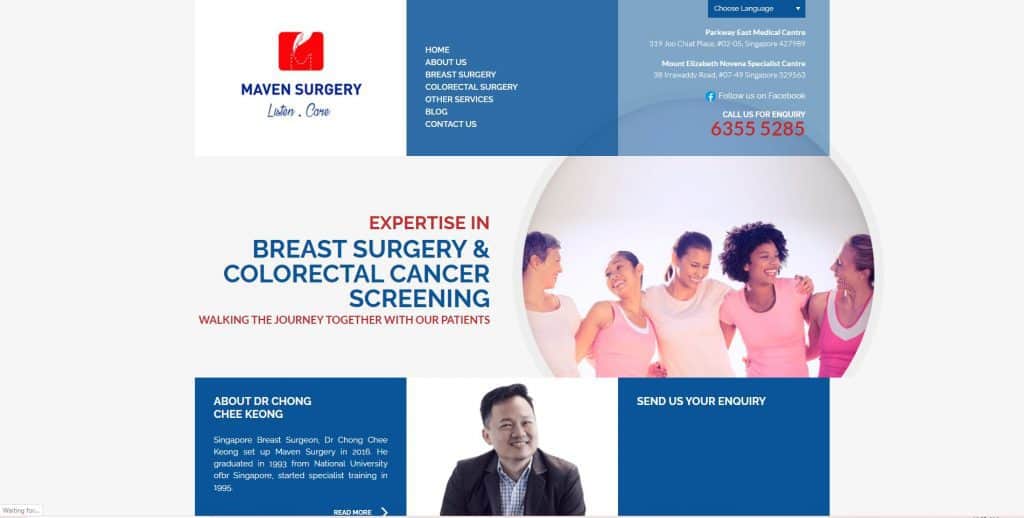 Founded by Dr Chong Chee Keong in 2016, Maven Surgery is a specialist surgical clinic focused on helping patients with cancer, mainly breast and colon cancers.
They are dedicated to providing the necessary assistance to help their patients treat cancer.
They offer various services to treat colorectal conditions such as a personalised screening program for colon cancer, treatment for benign conditions such as piles and fistula, as well as minimally invasive surgery for colorectal cancer, and coordinate treatment in a multi-disciplinary setting.
10. Nexus Surgical Associates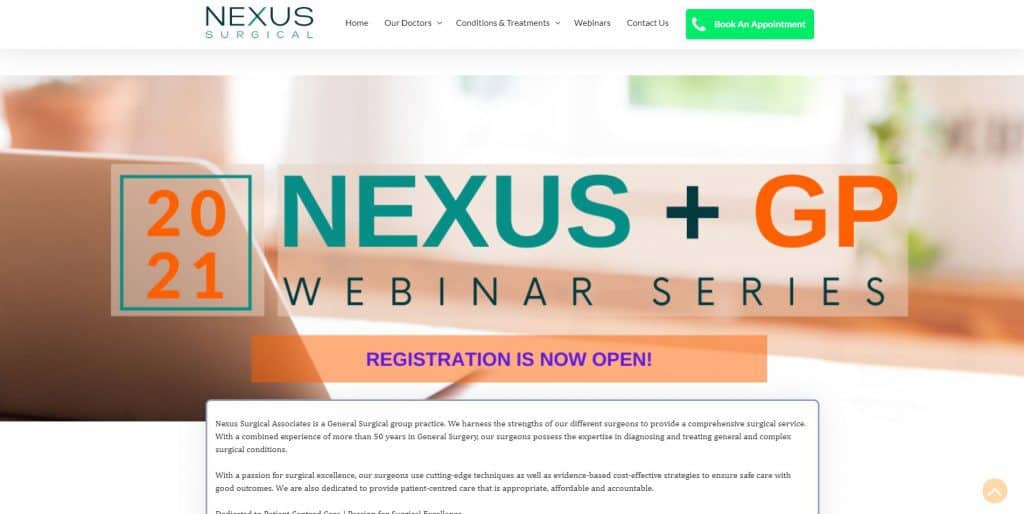 Nexus Surgical Associates is a general surgical group practice with experienced surgeons dedicated to providing patient-centred care that encompasses comprehensive surgical services.
Having a passion for surgical excellence, they use cutting-edge techniques and evidence-based cost-effective strategies to ensure safety and positive outcomes.
They offer various treatments for colorectal conditions such as Anterior Resection Surgery, Colectomy Surgery and Colonoscopy.
Conclusion
Do you have any reviews and comments to share regarding our list of colon doctors in Singapore?
While SBO is committed to supporting our local businesses, we welcome any feedback and anonymous sharing regarding your experience with the listed colon clinics.
We hope that this guide will be useful in helping you to make an informed decision regarding your health.
If you are looking for other health diagnostic services, check out options to do a blood test in Singapore.
Explore More Content