10 Best Physiotherapy in Singapore for Your Road to Recovery [2021]
We present to you the 10 best physiotherapy clinics in Singapore to treat, relief and prevent your injuries or body aches for enhanced mobility and well-being.
Health & Wellness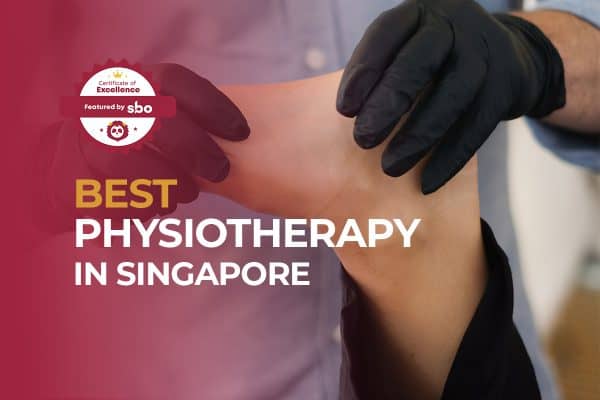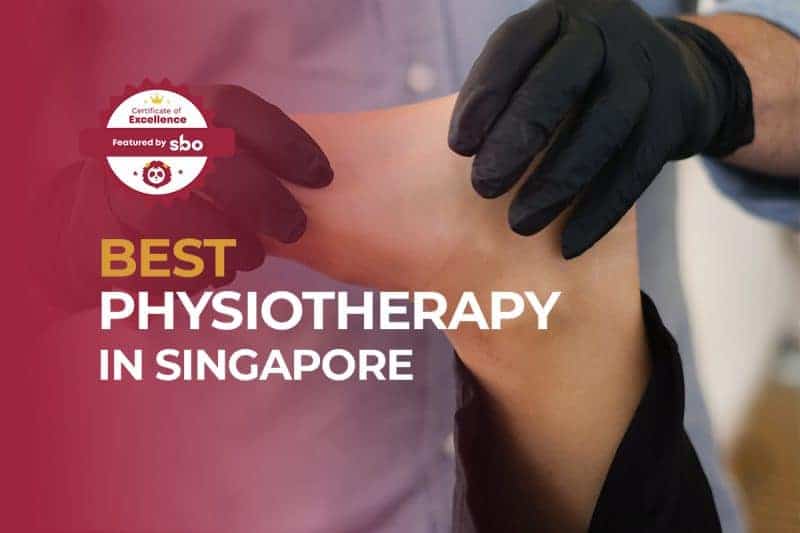 Our team at SBO.sg is committed to being a one-stop avenue to connect local businesses and consumers. We hope that our research efforts can help you save time and money by finding you the best deals without having to search around the vast world-wide-web.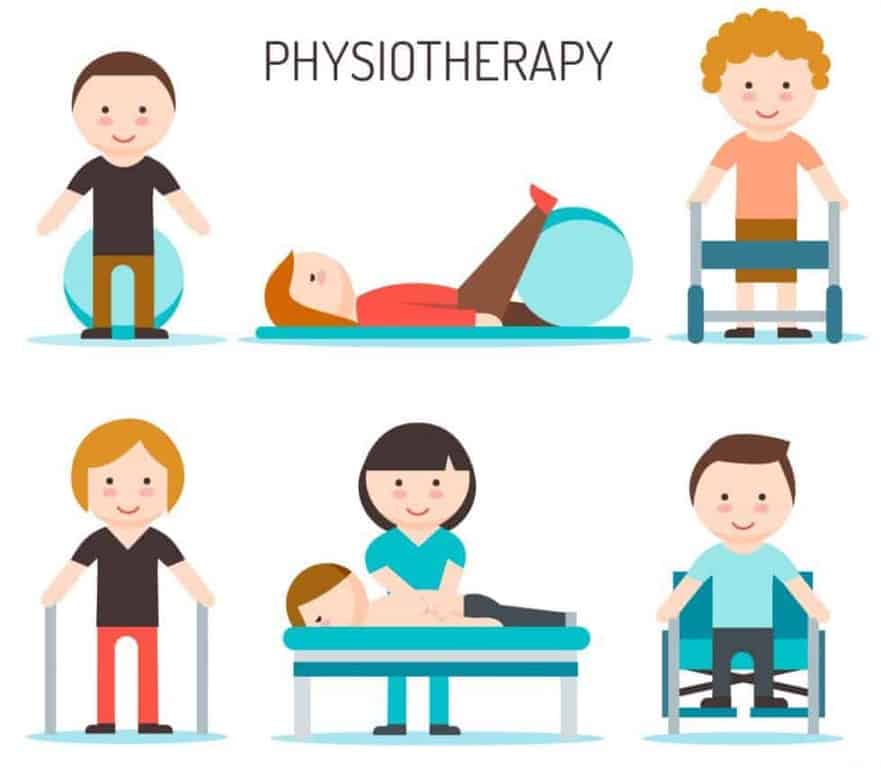 Have you been recently suffering from back or neck pain after sitting for long hours at your desk?
Or… do you suffer from limited mobility due to a past accident?
Or… are you an athlete who wants to prevent injuries and enhance your performance?
If yes, then this is a sign for you to go for physiotherapy in Singapore!
So what exactly is physiotherapy? Physiotherapy, also known as physical therapy, deals with restoring and maintaining functional movement, reducing pain and promoting health in individuals through physical examination, diagnosis, education and, rehabilitation, etc.
The benefits of physiotherapy include:
Regaining strength and flexibility
Improved posture
Improve range of motion and endurance
Relieve pain
Reduce stiffness
Improve your balance and prevent falls
Want to start but not sure how? Fear not as this article will get you covered with our list of the 10 best physiotherapy in Singapore!
1. PhysioActive
For over a decade, PhysioActive has been providing quality physiotherapy treatments, expert guidance and programmes that are designed to keep their patients at the peak of their fitness and performances.
Their therapists have the necessary expertise and equipment to provide evidence-based and personalised treatments for their patients. They provide a wide range of services such as physiotherapy, sports physiotherapy and performance, clinical message, corporate health and ergonomics and functional wellness.
For their commitment to excellent service, PhysioActive has received awards such as the Promising SME 500 2015 and Expat Living Reader's Choice Award 2021 for the Best Physiotherapist.
2. Singapore Physio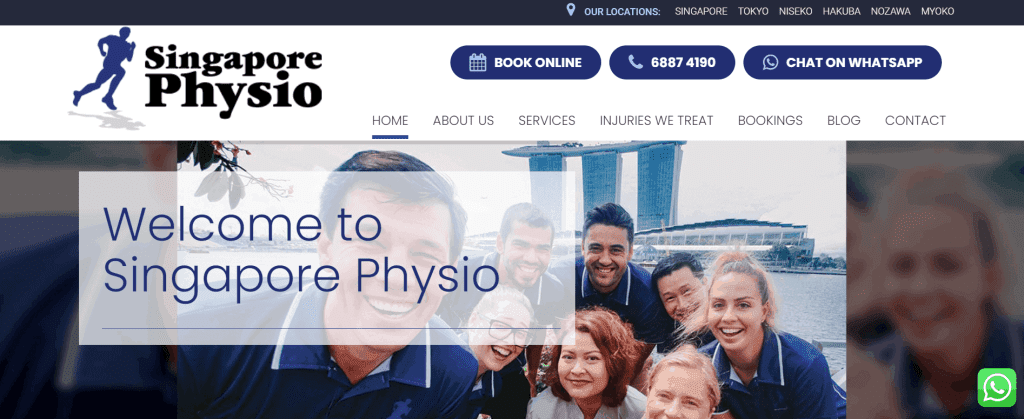 First founded by Australian husband and wife team Bevan and Vanessa Colless as Tokyo Physio in 2002, Singapore Physio is part of a collection of centrally managed physiotherapy clinics across Asia including Japan and Singapore.
The clinic practice an Australian style of physiotherapy, which is generally considered the world leader in physiotherapy.
Singapore Physio also has customised facilities that include a private women's health room and massage space, to ensure that every individual at the clinic receives the best possible treatment.
A company that has been operating in Asia since 2002, and the therapists Singapore Physio are very experienced and can be counted on for their skills.
3. Rapid Physiocare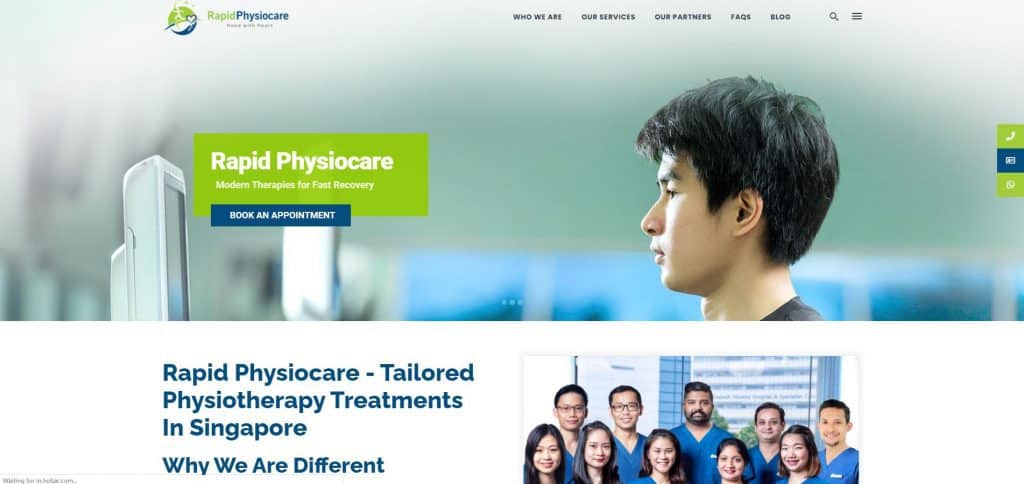 Rapid Physiocare consists of a team of trained, dedicated and caring professionals working to deliver the highest standards of therapy and to enable swift recovery.
As a modern physiotherapy clinic, they provide a wide range of treatments for various conditions such as neck pain, spondylosis and back pain. For the convenience of their patients, Rapid Physiocare has enabled direct billing for those who are insured with major insurance companies.
4. Heal360 Physioclinic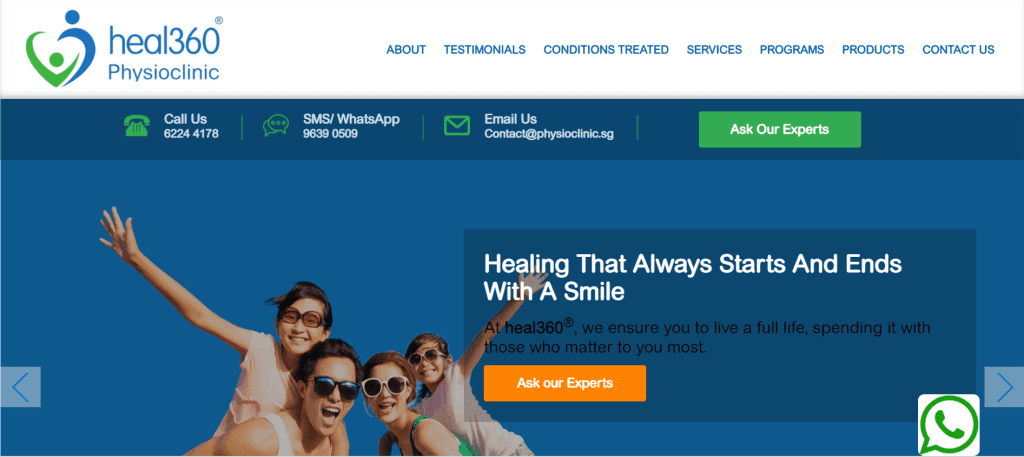 Heal360 is a clinic with a strong desire to operate a 1st class therapy clinic that offered holistic solutions, sustainable outcomes, genuine and ongoing aftercare.
Located at convenient centralized locations, the clinic provides personalized therapy with qualified physiotherapists and physical rehabilitation experts with extensive clinical experiences
In addition, Heal360 offers guaranteed appointments for urgent cases so that your body can be diagnosed immediately to prevent further complications.
5. East Coast Physiotherapy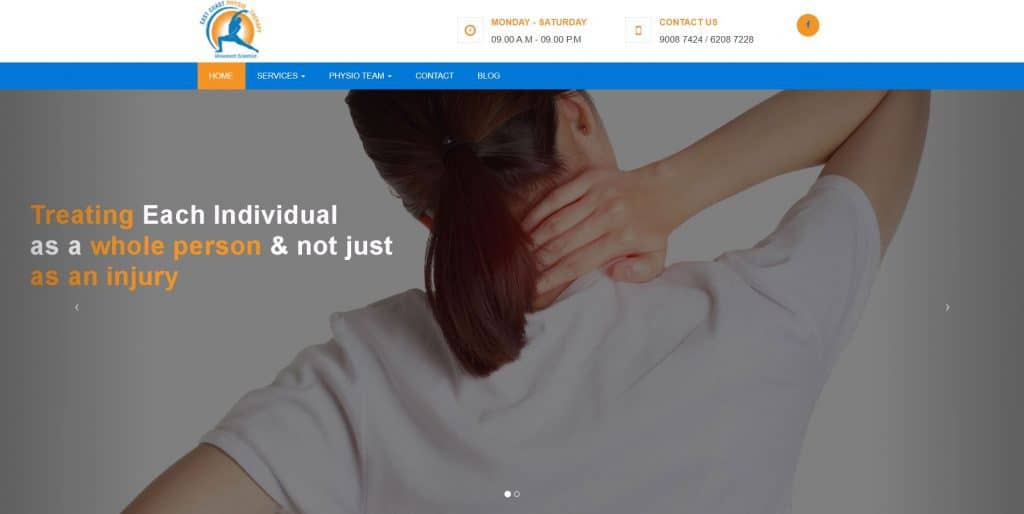 Founded in 2016, East Coast Physiotherapy specialises in sports injuries, musculoskeletal, and neurological conditions. They strive to provide their patients with realistic and accurate evidence-based physiotherapy treatment with the highest quality.
Specialists in East Coast Physiotherapy provides various services such as Neurological Physiotherapy, Cardiopulmonary Physiotherapy and Sports Therapy.
6. Physiofocus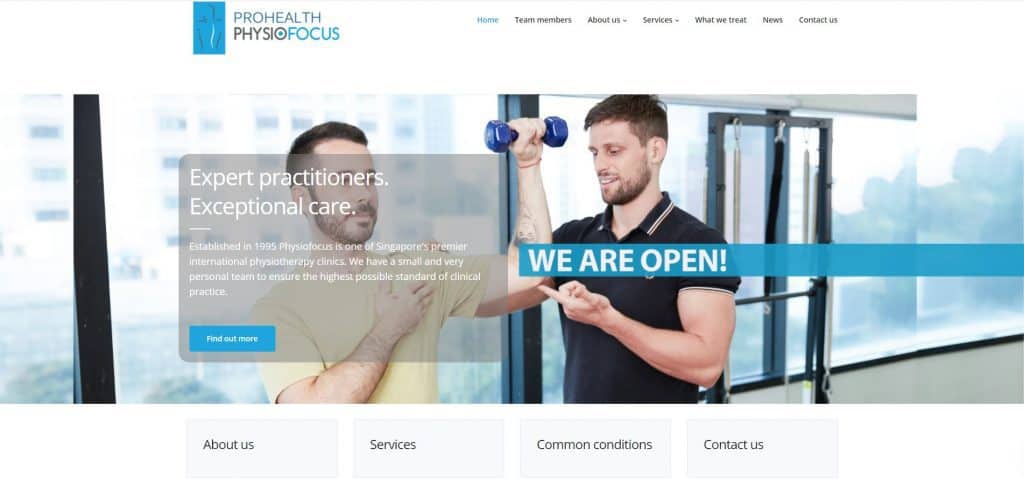 Physiofocus was founded in 2015 that has grown to become one of Singapore's premier international physiotherapy clinics. They aim to provide their patients with physiotherapy care with the highest quality as well as finding and addressing the root cause of their condition to have the best possible conditions for your treatment.
Their physiotherapists are accredited and certified by the Chartered Society of Physiotherapy, Allied Health Professions Council and Singapore Physiotherapy Association.
Physiofocus provide treatments for neck pain, back pain, deep tissue and sports message, sports injuries, women's health as well as muscle and joint injury.
7. Integrative Physio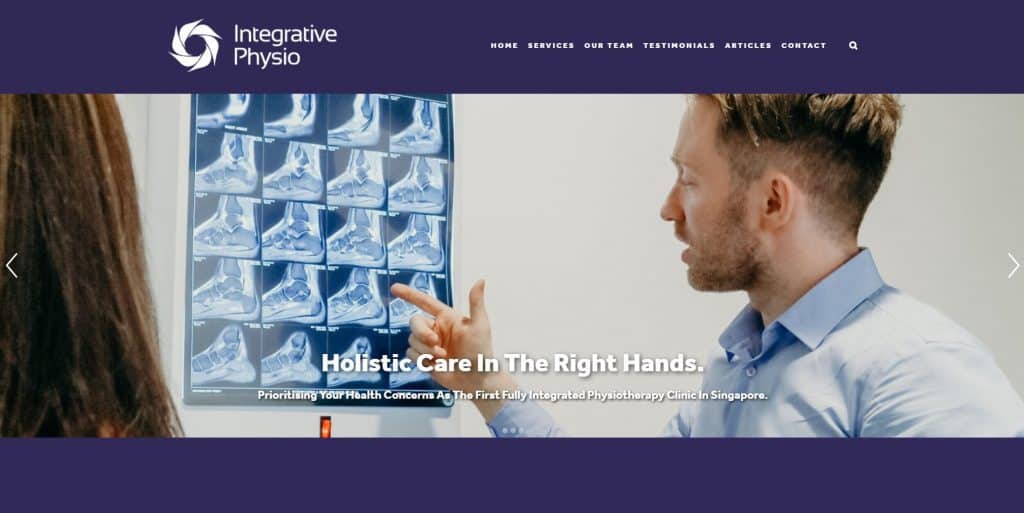 With the objective of having complete patient management, Integrative Physio was established. They provide an extensive range of physiotherapy treatments such as musculoskeletal physiotherapy, functional medicine, dry needling for pain relief, shockwave therapy and lymphatic drainage massage.
Their team of experienced physiotherapists work together to ensure that you can return to an optimal function and have a complete well being.
8. LocoMotion Clinic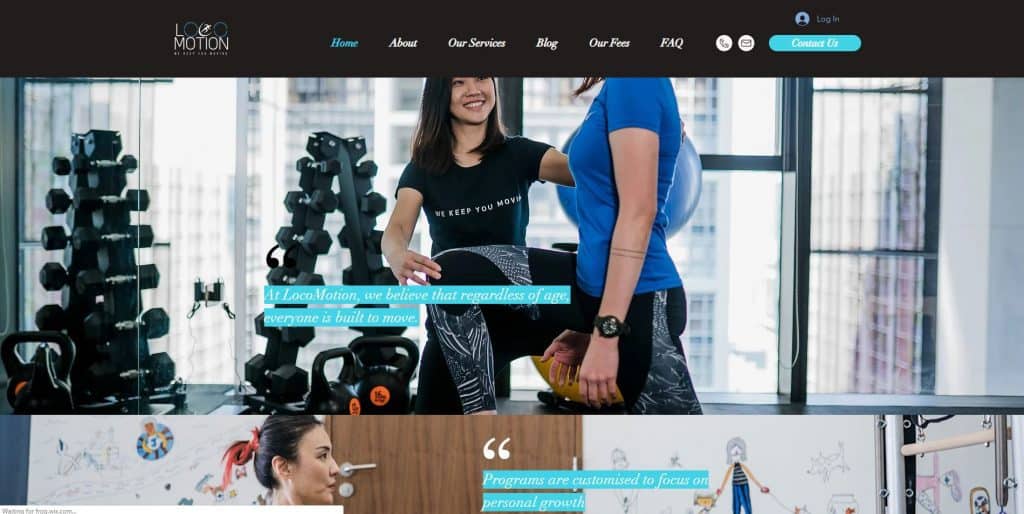 LocoMotion Clinic is a physiotherapy and wellness clinic that specializes in musculoskeletal and orthopaedic conditions.
They offer various types of services such as general/sports physiotherapy, post-operation rehabilitation, geriatric rehabilitation, dry needling, sports massage and pilates.
9. BMJ Therapy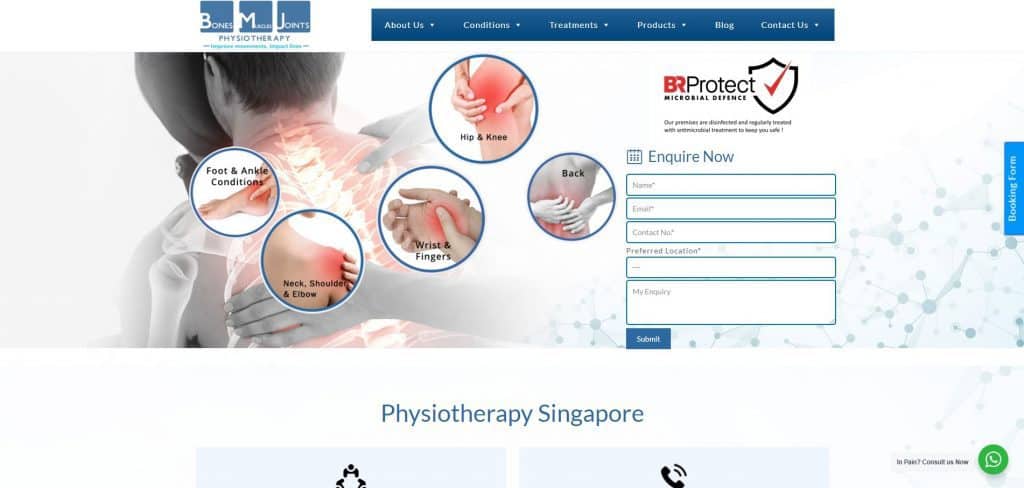 BMJ Therapy consists of a team of Allied Health professionals, who are physiotherapists and occupational therapists, as well as massage therapists. They have the necessary clinical experience and leverage the latest medical knowledge to carry out their treatment so that they can deliver the best possible care to their clients.
Patients can seek various treatments at BMJ Therapy such as post-surgery rehab, clinical pilates, dry needling, manual therapy, posture analysis, shockwave therapy and sports taping.
10. Hello Physio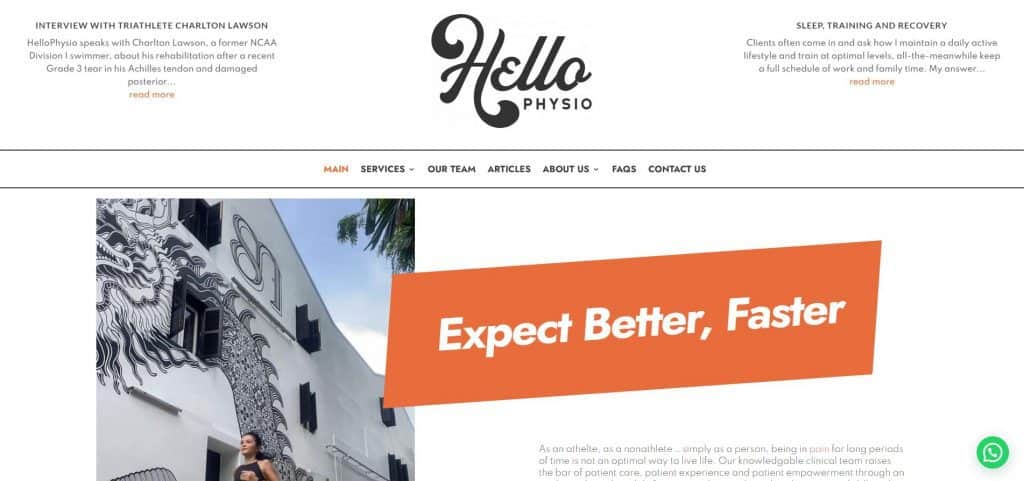 At Hello Physio, therapists provide a unique style of care with high quality, high-tech and manual hands-on therapy that are personalized to meet the individual needs of their patients.
They provide various services such as physiotherapy services, extracorporeal magnetotransduction therapy, extracorporeal shockwave therapy, INDIBA radiofrequency therapy, clinical pilates and sports massage therapy.
Treatments carried at Hello Physio are covered by health insurance so you can check with your provider for more information.
Conclusion
There are many misconceptions surrounding the practice of physiotherapy such as:
Physiotherapy is only for the old
Physiotherapy only does massages
You can only see a physiotherapist after seeing a doctor
While it is true that many of the older population go for physiotherapy due to age-related back, bone and muscle problems, there are also an increasing number of youths who visit these clinics to treat and prevent themselves from getting injuries during intensive activities such as sports.
Additionally, physiotherapy does not require the visit of a doctor first, and in today's world, many people often go for physiotherapy programs (wide range of plans offered other than massages) just to stay healthy and active.
So, don't wait till you suffer from an injury to visit a physiotherapist. Take action from this very moment!
All in all, we hope that you find this guide useful in making an informed decision when it comes to choosing the best physiotherapy in Singapore of your choice.
On a side note, if you are suffering from any other conditions, do feel free to check this list of podiatrists and chiropractors in Singapore you can visit.
In this article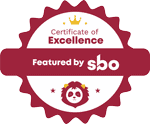 Are you featured in this?
Display this exclusive SBO badge proudly on your website!