10 Best Physiotherapy in Singapore for Your Road to Recovery [2021]
We present to you the 10 best physiotherapy clinics in Singapore to treat, relief and prevent your injuries or body aches for enhanced mobility and well-being.
Health & Wellness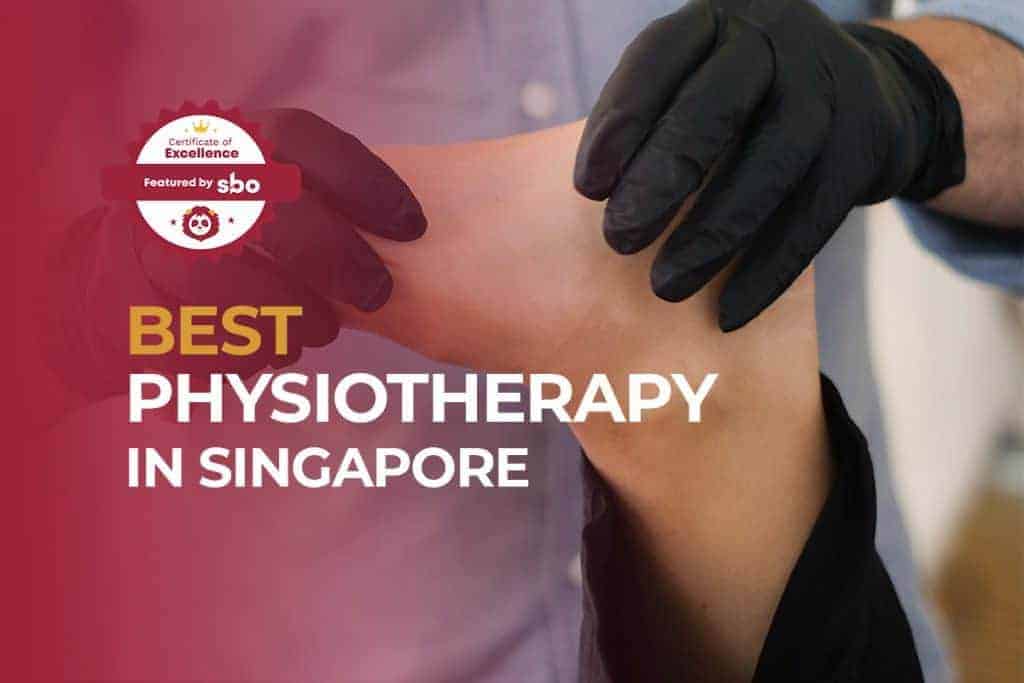 Our team at SBO.sg is committed to being a one-stop avenue to connect local businesses and consumers. We hope that our research efforts can help you save time and money by finding you the best deals without having to search around the vast world-wide-web.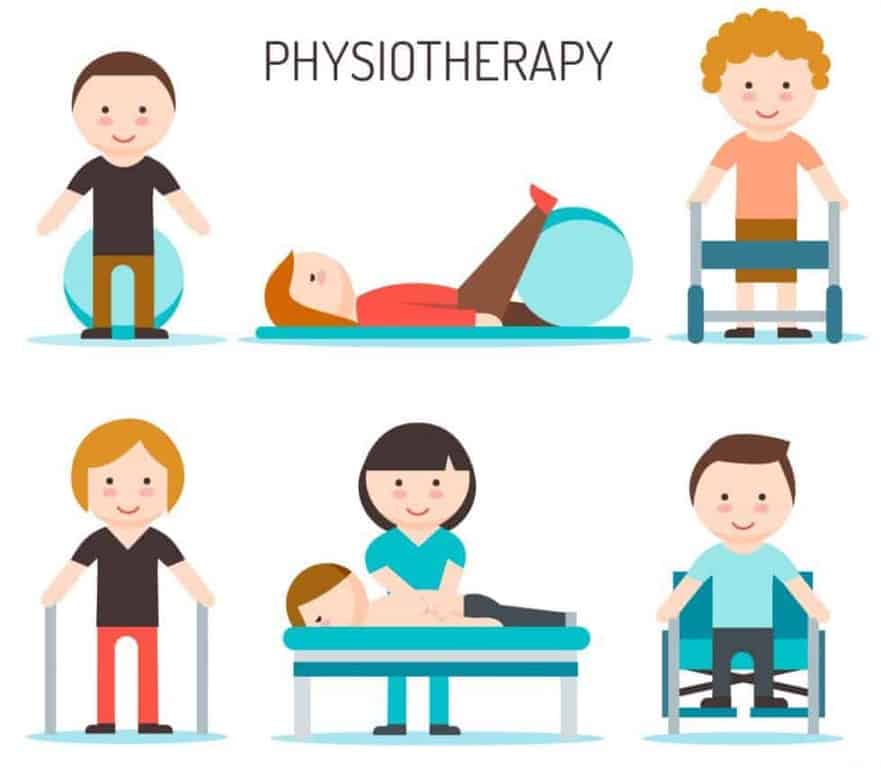 Have you been recently suffering from back or neck pain after sitting for long hours at your desk?
Or… do you suffer from limited mobility due to a past accident?
Or… are you an athlete who wants to prevent injuries and enhance your performance?
If yes, then this is a sign for you to go for physiotherapy in Singapore!
So what exactly is physiotherapy? Physiotherapy, also known as physical therapy, deals with restoring and maintaining functional movement, reducing pain and promoting health in individuals through physical examination, diagnosis, education and, rehabilitation, etc.
The benefits of physiotherapy include:
Regaining strength and flexibility
Improved posture
Improve range of motion and endurance
Relieve pain
Reduce stiffness
Improve your balance and prevent falls
Want to start but not sure how? Fear not as this article will get you covered with our list of the 10 best physiotherapy in Singapore!
1. Physio Asia Therapy Centre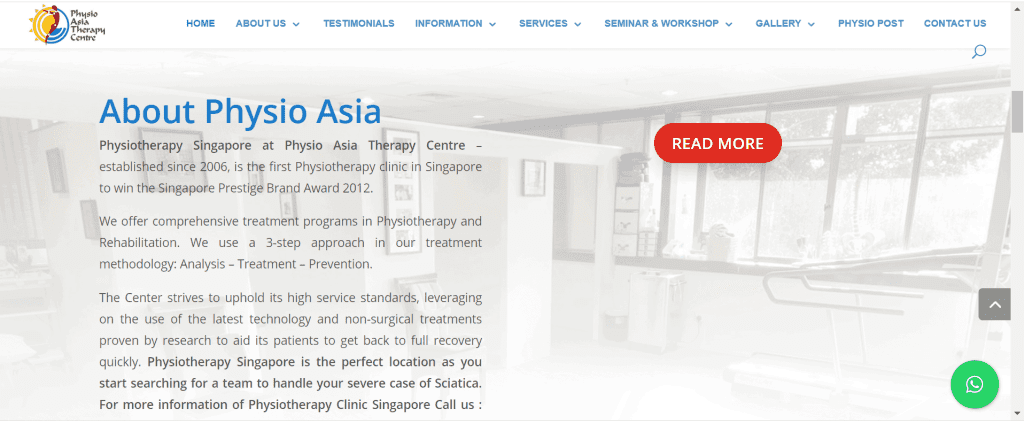 Established in 2006, Physio Asia Therapy Centre is the first Physiotherapy clinic in Singapore to have received the SICCI promising entrepreneur finalist award 2019, Singapore Prestige Brand Award 2012 and again in 2018.
With the implementation of the latest cutting-edge technologies, the clinic strives to provide cost-effective, evidence-based physiotherapy and rehabilitation services through a comprehensive 3-step approach in their treatment programs: Analysis – Treatment – Prevention.
If this is your first time visiting a physiotherapy clinic in Singapore, Physio Asia Therapy Centre is definitely one of the most trusted places that you can go for physiotherapy treatment.
2. United Rehabilitation and Physiotherapy Centre (United Rehab)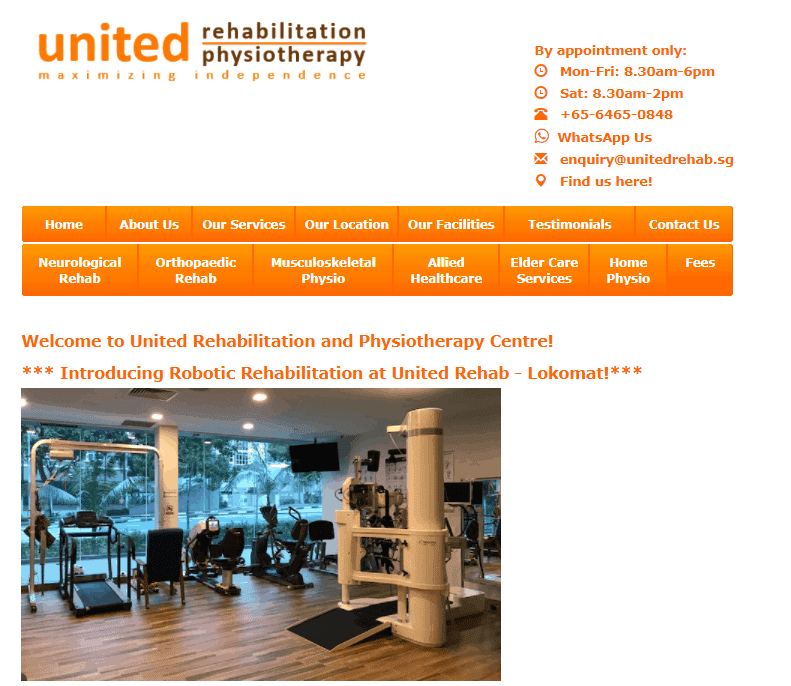 United Rehabilitation and Physiotherapy Centre (United Rehab) is an allied health rehabilitation centre in Singapore where registered, experienced and dedicated health professionals such as Physiotherapists (PT), Occupational Therapists (OT) and Speech Therapists (ST) work closely together to improve the everyday functionality of people who suffer from pain, injuries, functional limitations and/or disabilities.
The clinic serves clients ranging from athletes with sports injuries, individuals with neurological problems, to those who need continuing therapy after being discharged from a hospital.
On a side note, United Rehab is also unique when it comes to the use of technology such as being the first private rehab centre to be equipped with Lokomat, a highly intensive robot-assisted physiological gait rehabilitation for severely impaired neurological patients!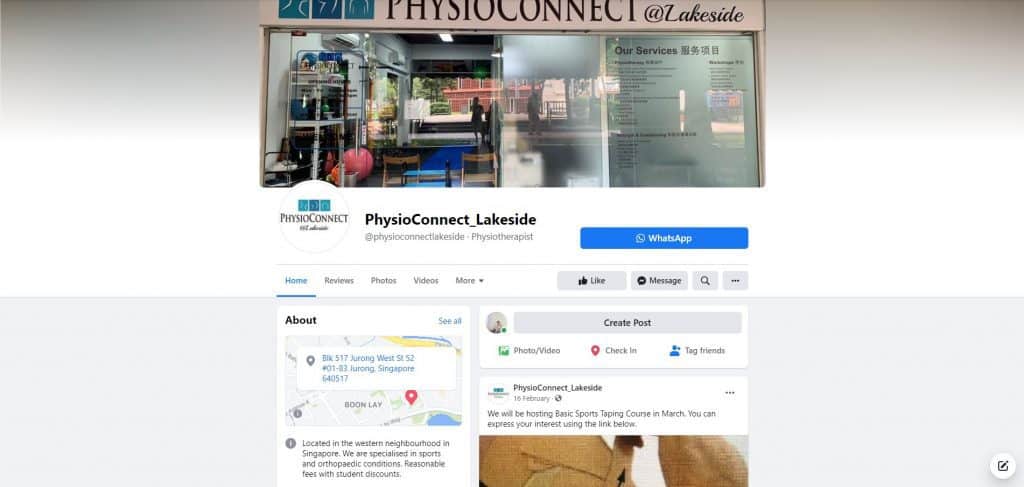 One that strives to serve the community, [email protected] is the first physiotherapy clinic situated in the western neighbourhood in Singapore.
The clinic also takes a 'whole person' approach to health and wellbeing, which includes the patient's general lifestyle, a significant role in health promotion and treatment of injury and disease.
[email protected] provides physical therapy at affordable prices without compromise, but also without premium fees.
If you are looking for an affordable treatment with a team of community-driven physiotherapists, [email protected] is definitely a go-to place for you!
4. Singapore Physio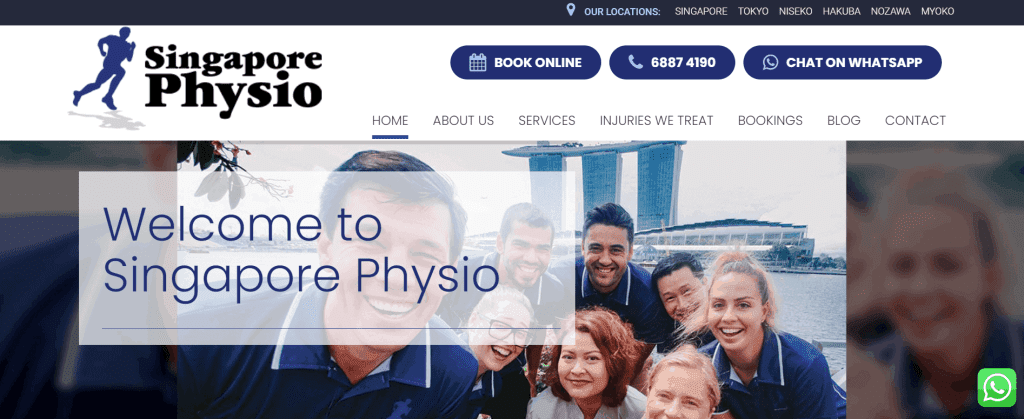 First founded by Australian husband and wife team Bevan and Vanessa Colless as Tokyo Physio in 2002, Singapore Physio is part of a collection of centrally managed physiotherapy clinics across Asia including Japan and Singapore.
The clinic practice an Australian-style of physiotherapy, which is generally considered the world leader in physiotherapy.
Singapore Physio also has customised facilities that include a private women's health room and massage space, to ensure that every individual at the clinic receives the best possible treatment.
A company that has been operating in Asia since 2002, and the therapists Singapore Physio are very experienced and can be counted on for their skills.
5. Enhance Physiotherapy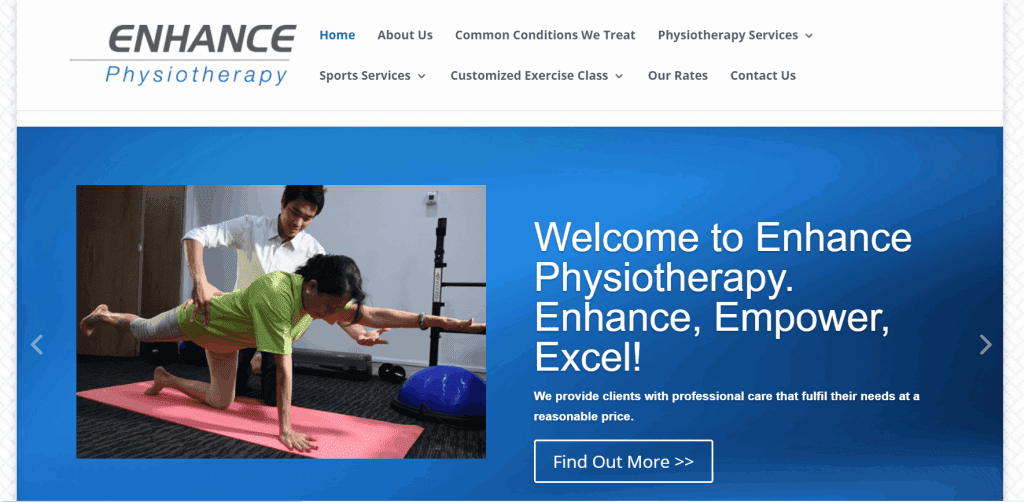 Enhance Physiotherapy is made up of a team of highly qualified physiotherapists that believes in treating the root cause of client's disorder for prevention and self-management rather than solely relieving pain.
Committed to rehabilitating musculoskeletal pain and sports injuries, their aim is to rehabilitate your injury back to pain-free function within the shortest possible time frame.
If you're looking for a team that is dedicated to spending quality time to understand your condition and lifestyle to provide you with the highest standard of evidence-based holistic care, Enhance Physiotherapy is the place to go.
6. Pooja Physiotherapy & Healthcare Centre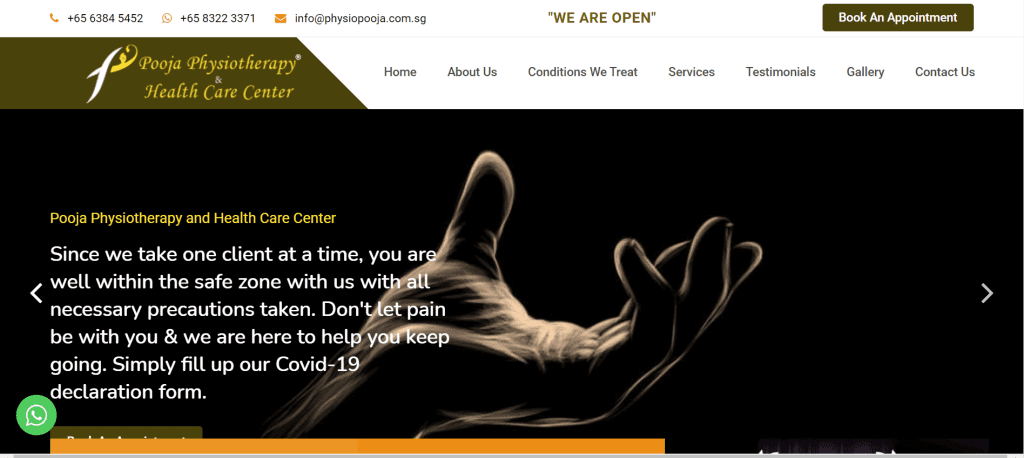 Best known for their trigger finger pain management solution for joint pain relief, Pooja Physiotherapy & Healthcare Centre is your go-to place for effective joint pain solutions.
The clinic's practices include strategies that are utilized for the natural healing of your body and managing pain.
The therapy provided by their physiotherapists will provide you with relief from pain and help you recover from the disease or injury.
7. Heartland Rehab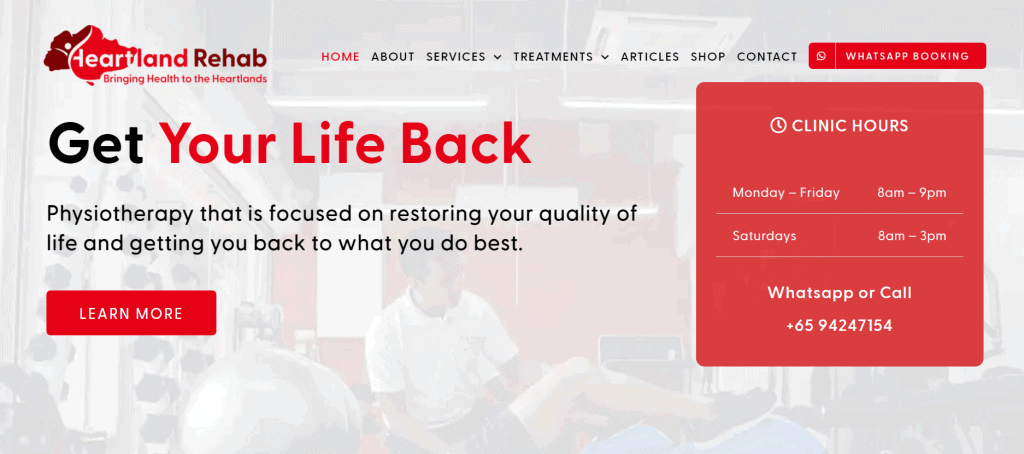 Previously known as Heartland Physio, Heartland Rehab is made up of a group of Allied Health Professionals with the goal of increasing standards of health in the heartlands through mobility and exercise.
The clinic has world class facilities where dedicated expert specialists, all fully registered with Singapore Allied Health Professions Council (AHPC), are there to guide you through their diverse therapy treatments.
What's even better is that Heartland Rehab is one of the few preferred partners in Singapore that provide direct billing with major health insurance companies such as Geoblue, Healix, HTH Worldwide and many more!
8. The Posture Lab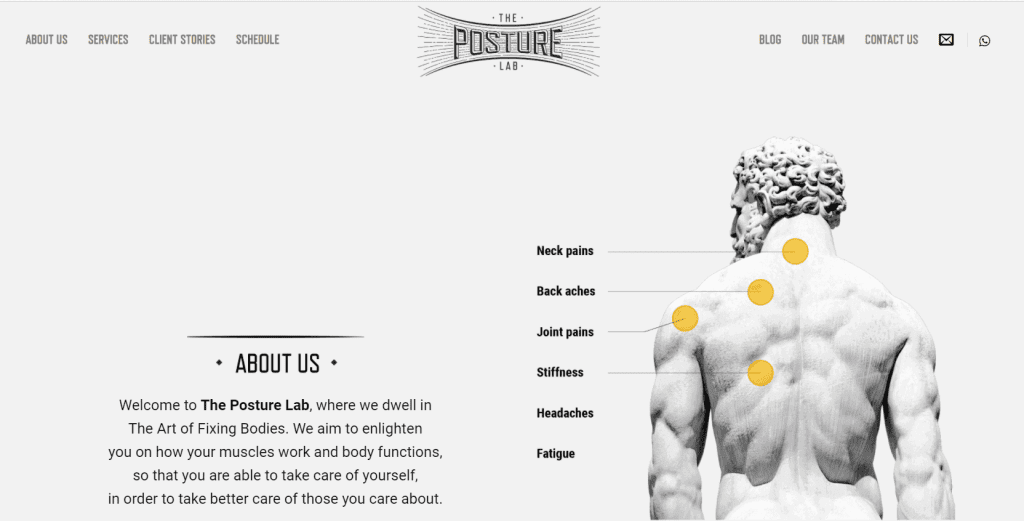 Do you find yourself having a hard time changing out in front of your mirror due to the bad posture staring back at you?
Or.. do you hear a lot from others telling you not to slouch?
Or.. do you suffer from sports-related injuries every now and then?
The Posture Lab helps you change your posture and prevent you from suffering from further injuries that may hinder your love for sports!
One that also dwells in The Art of Fixing Bodies, the clinic aims to enlighten you on how your muscles work and body functions so that you are able to take care of yourself and prevent possible future injuries that may get in the way of your everyday life.
9. Elite Spine Centres – Chiropractor Singapore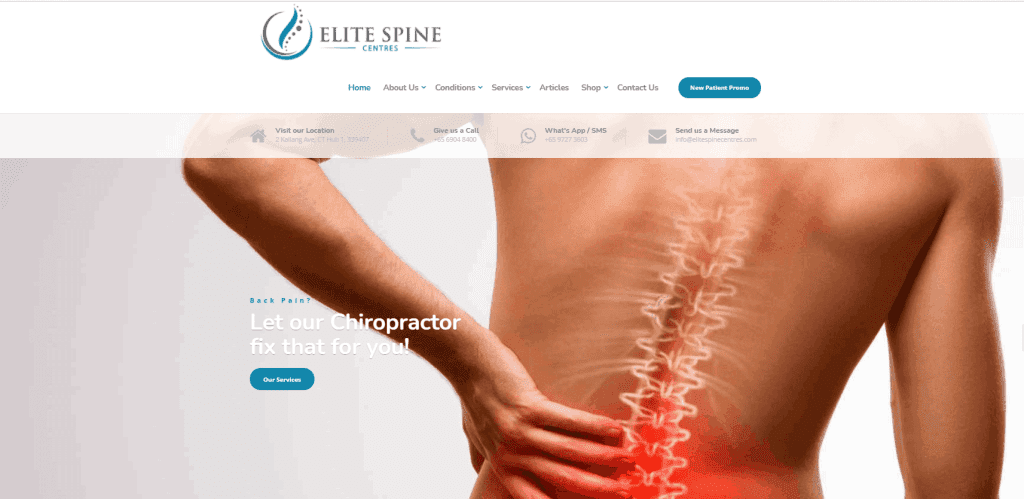 With an increasing number of people turning for answers not found in the current medical system, The Elite Spine system designed by the team from The Elite Spine Centres – Chiropractor Singapore, not only helps to relieve your pain and symptoms safely without drugs or surgery, but also teaches you practical strategies to unlock your optimum health potential.
Providing you with the highest quality of care and warmest patient experience possible, the clinic is there to surpass your pre-conceived notions of what quality, modern chiropractic health care is all about today.
10. Heal360 Physioclinic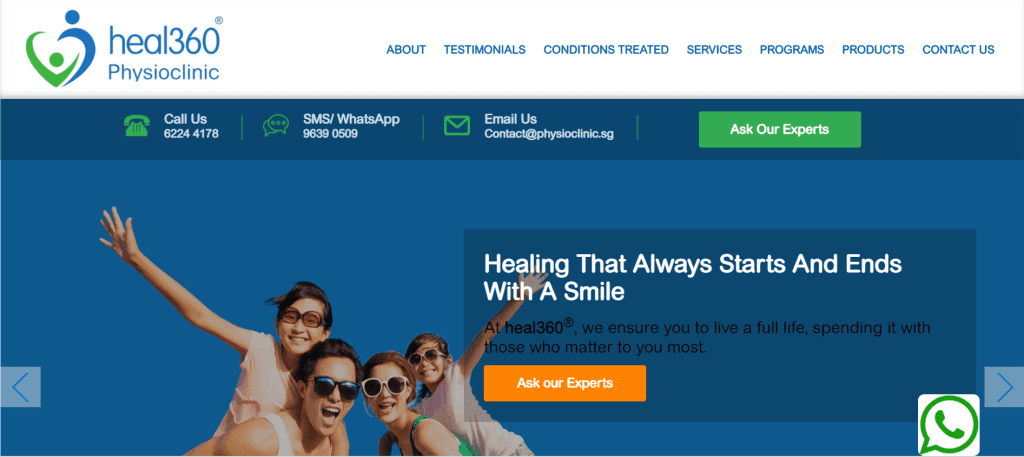 Heal360 is a clinic with a strong desire to operate a 1st class therapy clinic that offered holistic solutions, sustainable outcomes, genuine and ongoing aftercare.
Located at convenient centralized locations, the clinic provides personalized therapy with qualified physiotherapists and physical rehabilitation experts with extensive clinical experiences
In addition, Heal360 offers guaranteed appointments for urgent cases so that your body can be diagnosed immediately to prevent further complications.
Conclusion
There are many misconceptions surrounding the practice of physiotherapy such as:
Physiotherapy is only for the old
Physiotherapy only does massages
You can only see a physiotherapist after seeing a doctor
While it is true that many of the older population go for physiotherapy due to age-related back, bone and muscle problems, there are also an increasing number of youths who visit these clinics to treat and prevent themselves from getting injuries during intensive activities such as sports.
Additionally, physiotherapy does not require the visit of a doctor first, and in today's world, many people often go for physiotherapy programs (wide range of plans offered other than massages) just to stay healthy and active.
So, don't wait till you suffer from an injury to visit a physiotherapist. Take action from this very moment!
All in all, we hope that you find this guide useful in making an informed decision when it comes to choosing the best physiotherapy in Singapore of your choice.
On a side note, if you are suffering from any other conditions, do feel free to check this list of podiatrists and chiropractors in Singapore you can visit.