5 Best Podiatrist in Singapore for your foot care [2021]
Don't let your foot pain affect your life forever
Health & Wellness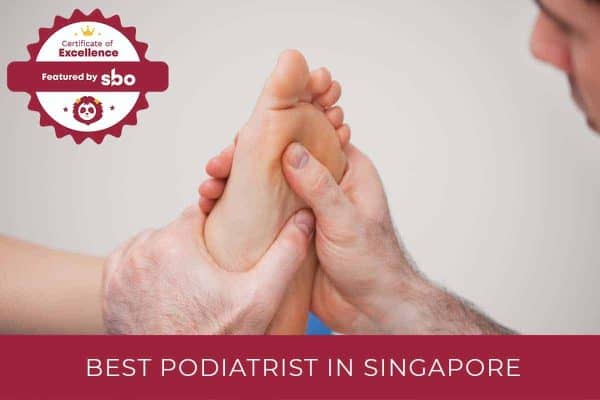 Our team at SBO.sg is committed to being a one-stop avenue to connect local businesses and consumers. We hope that our research efforts can help you save time and money by finding you the best deals without having to search around the vast world-wide-web.
Many people in Singapore put off seeing a podiatrist in Singapore about problems with their feet or ankles tolerating pain during NS or playing sports because they are unsure of where to go for treatment. Or worse still, they may think that continuous foot discomfort can be relieved naturally without any professional treatment.
However, is the difference in leg length causing you discomfort during running or walking over the years? Or are you facing footrot and find it embarrassing to take off your shoes in social settings?
If you have any issues that involve the foot and or ankle—a sports injury, arthritis/joint pain, skin problems, etc.—a visit to the podiatrist is your best bet.
In this post, we've gathered all the necessary details including unravelling reviews and testimonials to derive a list of the top 5 podiatrist in Singapore that you should consider for any foot care treatment.
1. MyFootDr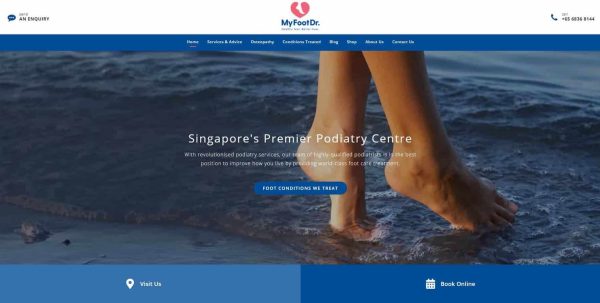 MyFootDr is a well-known foot specialist offering quality podiatric services in both Singapore and Australia.
Their podiatrists in Singapore are experienced to diagnose and treat a wide range of feet and lower limbs' conditions. Besides, they are known to prevent and correct deformity, treat foot infections, as well as their quality advice regarding long-term foot care for children, sports personnel as well as any working adults.
In fact, they have their own Youtube channel to educate their viewers on foot conditions and the corresponding footcare advice.
MyFootDr also provides professional in-house osteopathy services, complementing their podiatry services to improve mobility and range of joint movement such that the combined treatments can ultimately improve the general well-being across the entire body.
Look for their podiatrists in Singapore if you want to make reliable custom-made orthotics products such as tailor-made insoles, padding and arch supports to relieve your arch or heel pain.
MyFootDr is well-known to customise your orthotics products with unparalleled accuracy such that it perfectly realigns your foot, takes the pressure off vulnerable areas of your foot, and of course, to improve your comfort level tremendously during walking or running.
2. Physio and Sole Clinic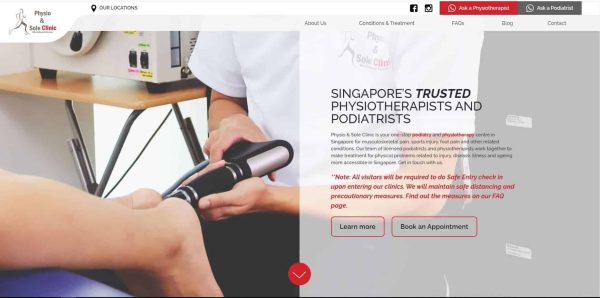 Formerly known as The Sole Clinic, Physio & Sole Clinic is a local homegrown practice integrating Physiotherapy and Podiatry. Their team of podiatrists and physiotherapists are conversant in English, Mandarin and various dialects, essentially enabling access to physiotherapy and podiatry services to a wider group of people in Singapore (who may not want to explore podiatric services due to language barriers).
Their team of podiatrists are trained to treat a full range of foot conditions such as bunion, calluses & corns, flat feet, fungal nail infection, heel pain, ingrown toenails and plantar wart. (List is not exhaustive)
You don't have to worry about travelling a long distance to treat your painful foot conditions as Physio & Sole has multiple clinics across Singapore.
At the point of writing, Physio & Sole Clinic is observed to be offering 20% off podiatry initial consultation for Kids and Pioneer Generation cardholders.
3. Family Podiatry Centre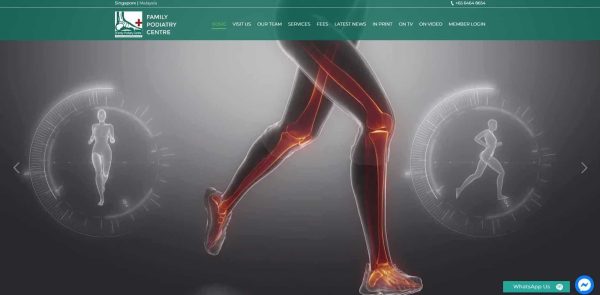 Led by Mark Reyneker (Podiatrist with 20 years of clinical experience), Family Podiatry Centre is established since 2005 and is known as the pioneers in CAD/CAM (Computer-aided Design and Manufacture) orthotics.
The clinic has several media mentions in various media platforms (newspaper and TV) from Singapore and Malaysia, cementing the reputation as one of the better podiatric clinics in Singapore.
Family Podiatry Centre offers therapies and treatments for any foot conditions involving skin, nails, muscles and bones.
Their podiatrists in Singapore are also experienced to treat any potential issues with your child's fees and any people with sports injuries or diabetic foot conditions.
4. The Foot Practice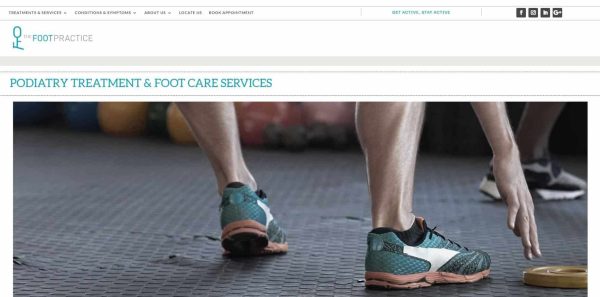 Led by Tim Maiden, The Foot Practice is a family-friendly podiatric clinic which offers home visit for people facing difficulties in travelling to the clinic for the treatment.
Such services are extremely useful and convenient for any elderly to receive quality podiatric care at ease without bothering their loved ones to spare their time to bring them to the clinic.
The Foot Practice is also known for their podiatry treatment (such as custom-made insoles and foot mobilisation) and advice for people who dance as dancers are highly dependent on the flexibility and strength of their foot. They are highly susceptible to foot injuries which may be career-threatening.
Hence as a foot specialist clinic for dance personnel, The Foot Practice can assist by offering advice in injury management, customisation of footwear as well as training tempo and plans.
5. Footworks Podiatry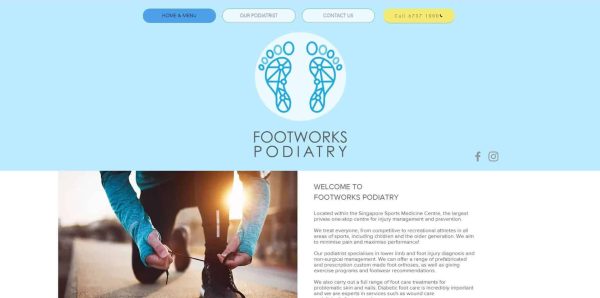 Located within the Singapore Sports Medicine Centre, the largest private one-stop centre for injury management and prevention, Footworks Podiatry is led by Ms Dorcas Sholanke, a podiatrist who helms a wealth of experience in treating a broad spectrum of foot complaints and she currently specialises in sports podiatry.
From the google reviews, Ms Dorcas is very well-received by her patients for being an effective communicator and providing effective podiatry treatment for elderly (such as diabetic foot care) and children (such as sports injury prevention).
Conclusion
Do you have any reviews and comments to share regarding our choices for the best podiatrists in Singapore?
While SBO is committed to support our local businesses, we welcome any feedbacks and anonymous sharing regarding your experience with the listed podiatrists so that we can help our readers to make more informed decisions.
On a side note, if you are suffering from any chronic pain, do feel free to check this list of chiropractor in Singapore you can visit.
>