10 Best Sinus Surgery in Singapore to Remove Blockage [2023]
Receive safe, appropriate and the best sinus surgery you can get by doing some research on the surgeries out there.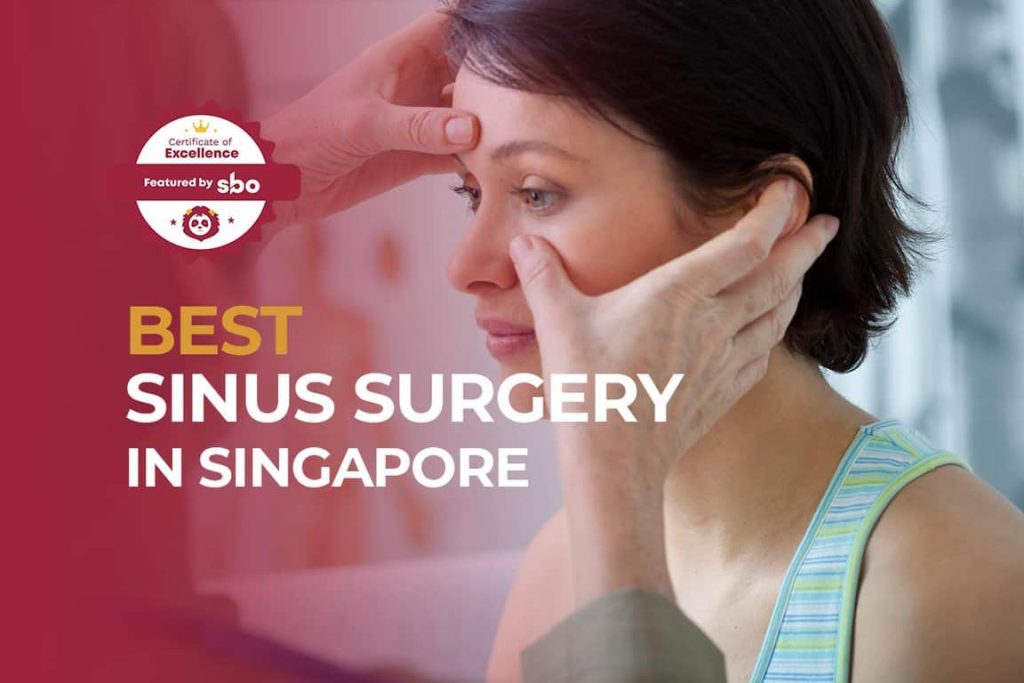 In fully functioning noses, the sinus is crucial in maintaining the quality of life. However, it is very prone to infections. In some cases when left untreated, complications can arise.
To be treated effectively, sinus surgery can be considered. Being a significant procedure, it is perfectly reasonable that you take time to consider which sinus specialist, or otolaryngologist, you would like to perform your surgery.
Let us convince you of the best sinus surgery in Singapore if you are currently experiencing sinus infections.
1. Dr Lim Keng Hua Ear Nose Throat, Head & Neck Surgery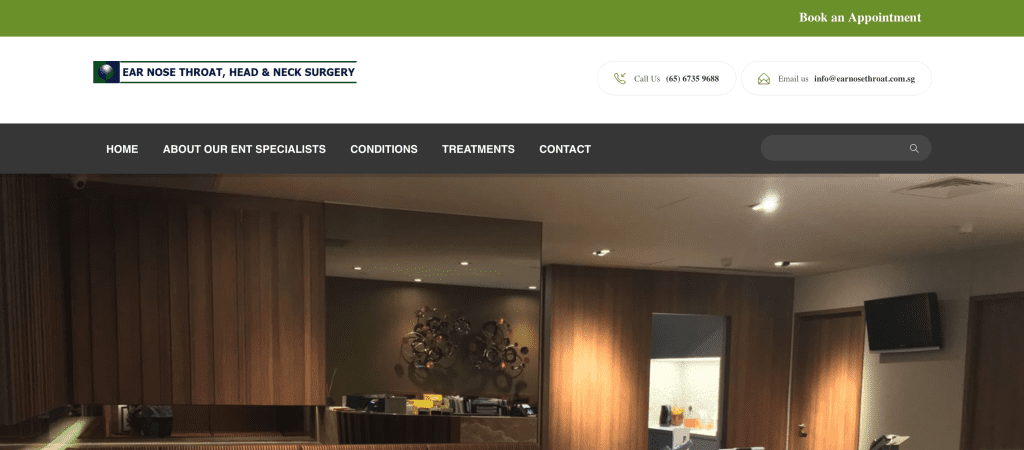 The Ear Nose Throat, Head & Neck Surgery is a clinic that is located at the heart of Orchard road, and the team of specialists have been serving their patients since 2003. Their clinic is fitted with technologically advanced ENT equipment to provide patients with top quality ENT care and comprehensive treatments.
Their surgeons have fully accredited Singapore ENT specialists with the Ministry of Health, Singapore. Notably, Dr Lim Keng Hua is on the select list of ENT specialists who are accredited to perform complex sinus surgery. With his training under his world-renowned mentors and his experience, you can be assured that the sinus surgery he performs will help you.
If you're feeling nervous, the reviews may reassure you. His patients commend him for being fastidious in his explanations and patient when answering his questions. Patients also compliment the staff for being accommodating, and their website explains how they are committed to your well-being throughout registration, insurance, consultation and post-surgery follow-up.
2. My ENT Specialist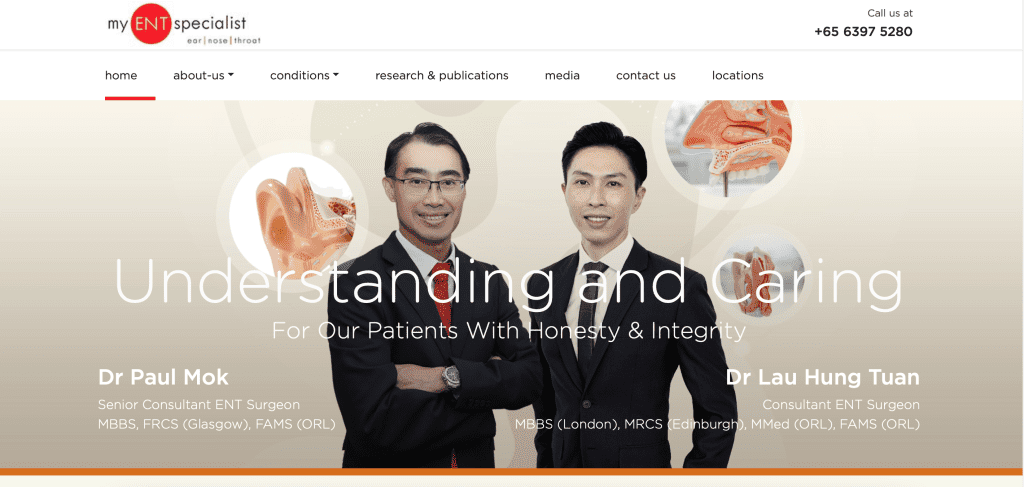 Led by ENT specialists Dr Paul Mok and Dr Lau Hung Tuan, My ENT Specialist strives to personalise each patient's care for better outcomes. You can expect high-quality treatments for general ENT conditions and specifically for your sinus issues. Scheduling a consultation with them could ease your worries about your condition.
Reviews sing praises of Dr Mok for his meticulous approach, where patients can reach him easily in the case of an emergency. Dr Lau is also endorsed by reviews for being a professional doctor and following a systematic approach in explaining the procedure that will take place to his patients.
3. Centre for Ear Nose Throat Allergy & Snoring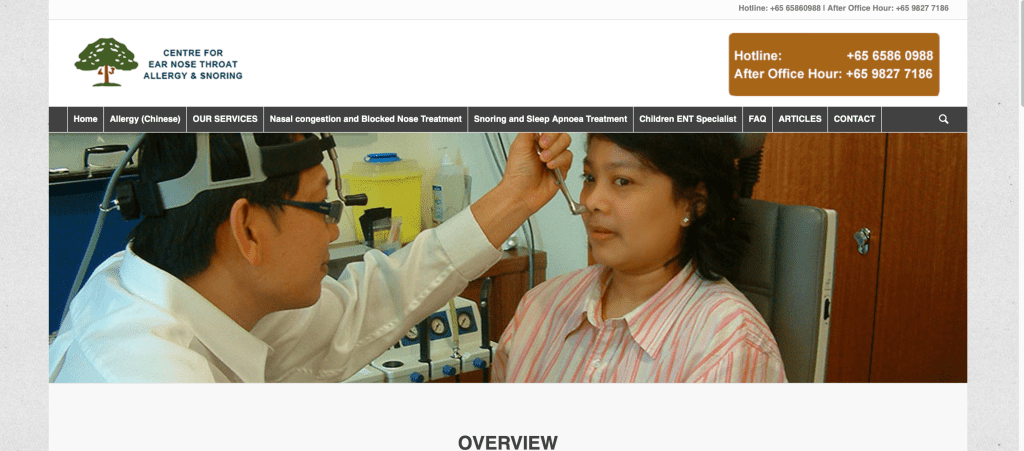 Centre for Ear Nose Throat Allergy & Snoring provides consultations and treatment for the sinus. The Medical Director of the clinic in Singapore and sinus doctor is Doctor YT Pang. The ENT Specialist Clinic strives to provide a comfortable a friendly environment to their patients, regardless of age. Their staff are also very adept at handling children and their needs.
The Ear Nose Throat Clinic is centrally located providing easy access if you wish to go down for a visit. The Centre is also equipped with advanced ENT diagnostic materials. One review lauds his accuracy in diagnosis and treatment and excellent bedside manner. In delivering impeccable care to his patient, the patient is appreciative of all that Dr Pang has done.
4. Dr Gan Eng Cern – Sinus & ENT Specialist Singapore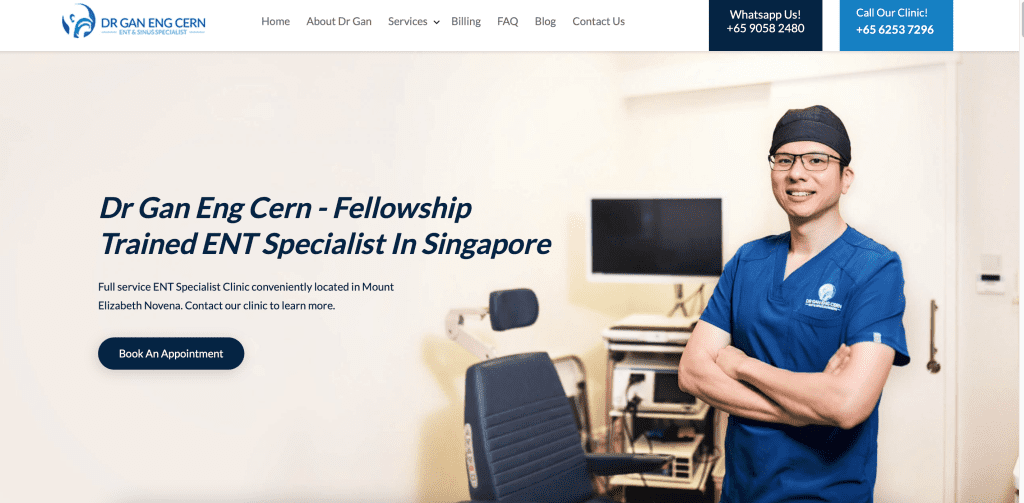 Dr Gan Eng Cern provides a comprehensive treatment of sinus conditions, having done his sub-specialty training in Nose & Sinuses at St Paul's Sinus Centre, one of the top nose and sinus centers in the world. His clinic also offers personalised treatments with a high level of ENT care in a spacious setting with in-house minor surgical, endoscopy, allergy testing, and microscopy services.
The ENT clinic staff there will be able to assist you with any medical insurance claims and minimize the hassle and paperwork required. Dr Gan comes highly recommended by reviews. Reviews heap praise on Dr Gan's skill in effective diagnosis and how he made them feel comfortable throughout the procedure. For most, it was a rather smooth experience and any qualms were quickly addressed thanks to the responsiveness of the team.
5. Dr Dennis Chua – ENT Surgeons Medical Centre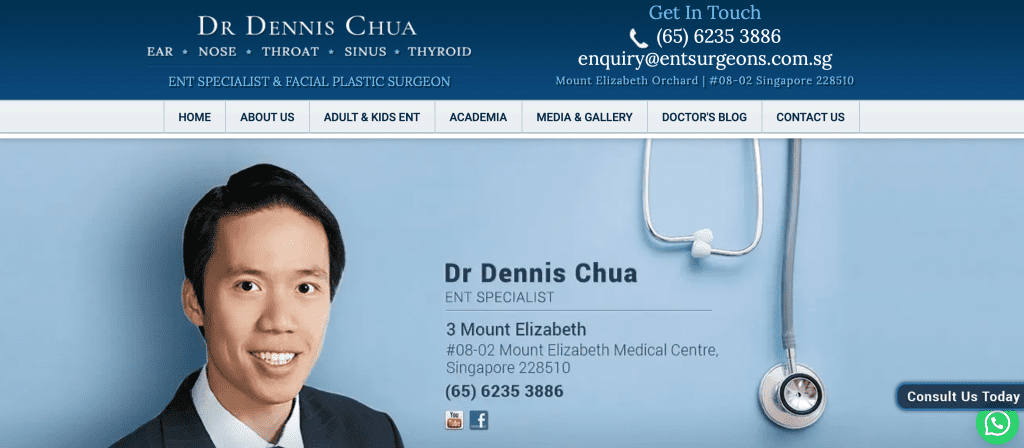 Dr Dennis Chua is well-known as an excellent ENT specialist to remedy complex nose and sinus conditions. Having treated many patients experiencing sinus problems from the effects of Singapore's climate on the upper respiratory tract, Dr Dennis has developed extensive experience in handling these conditions. He offers affordable sinus operation costs in his clinic.
Anxious patients are left assured, thanks to the treatment and care provided by Dr Dennis and his team, say reviews. The reviews also go into raptures about Dr Dennis' kind and friendly demeanour, which helped ease much of their concerns.
6. A.B.John Ear, Nose & Throat Clinic & Surgery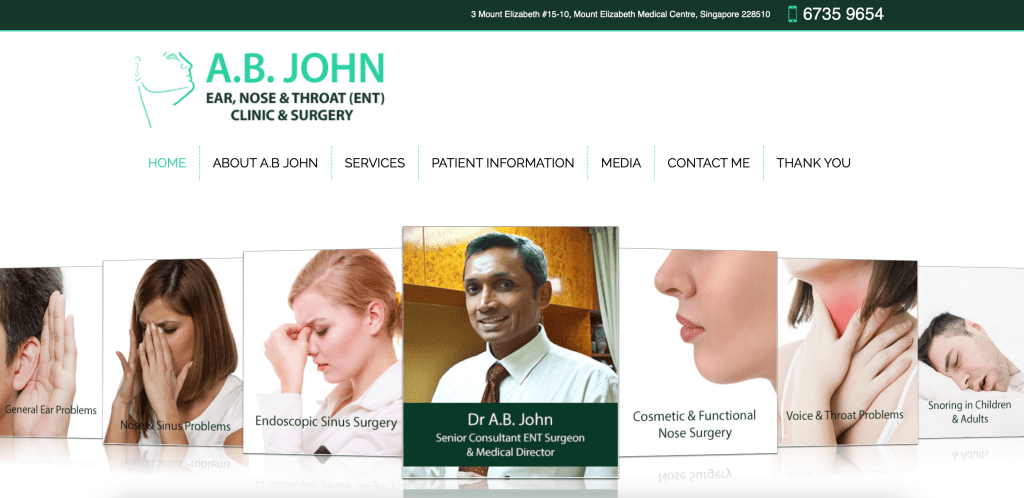 Dr A.B. John opened his private practice in 1998 at Mount Elizabeth Medical Center and Hospital. It is clear that Dr John is well-respected in his field, highly qualified, and has vast experience in this domain.
Reviews share how they entrust their family and kids in the hands of Dr John, expressing their gratitude for the success of the treatment to his care. Do note that his clinic participates with all major health plans and insurance schemes, both locally in Singapore and internationally.
7. Dr Kevin Soh, Ear Nose Throat Sinus Head & Neck ENT Clinic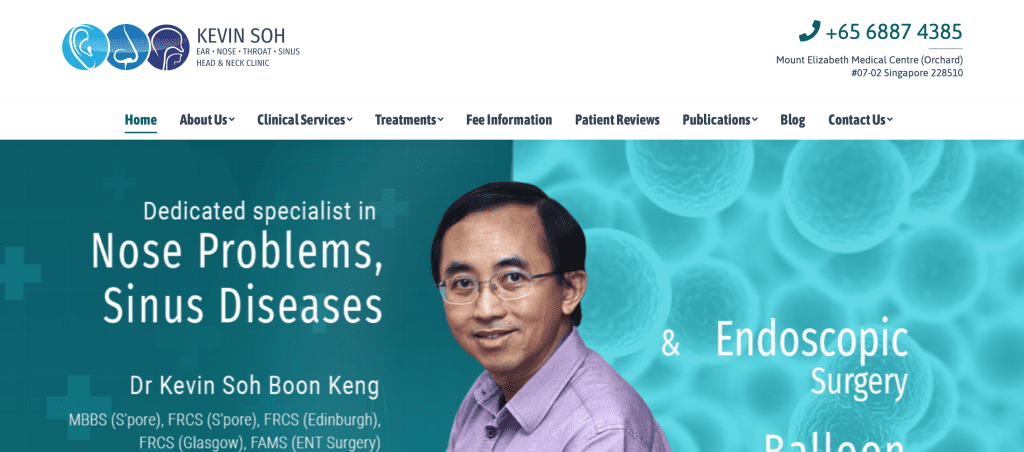 As a recommended ENT Specialist in Singapore, Dr Kevin Soh is an ENT representative in the Medical Board of Mount Elizabeth Hospital and practises at Mount Elizabeth Medical Centre. To date, Dr Soh has culminated over 23 years of clinical experience providing patients with treatments for sinus conditions.
You can be assured of receiving evidence-based and holistic medical care that is individually tailored to you when you seek treatment here. Any emergency surgeries can be scheduled within a short period of time. Reviews are confident in Dr Soh's ability and expertise to aid their recovery in a short amount of time, speaking highly of how he attends to them.
8. Dr Lim Ing Ruen – Ear Nose and Throat Surgeon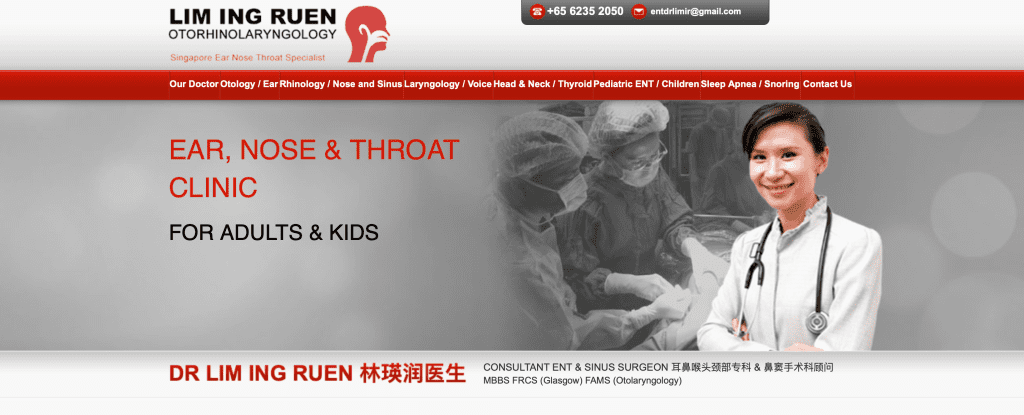 Dr Lim Ing Ruen is a senior consultant and ear, nose and throat surgeon at Mount Elizabeth Hospital. Dr Lim's clinical practice in all aspects of ear, nose, throat, thyroid and pediatric ENT conditions spans more than twenty years.
Additionally, she specializes in advanced surgical techniques including the use of balloon sinuplasty, advanced endoscopic sinus techniques and stereotactic computerized navigational surgery.
Reviews share their pleasant experience at the clinic, speaking favourably of Dr Lim's ability to diagnose and treat their conditions. You can also book an appointment here.
9. Amandela ENT Head And Neck Centre Singapore

The team of well-respected head and neck specialists at Amandela ENT Head And Neck Centre Singapore have more than 20 years of practice in the field of Otolaryngology (ENT) and head & neck surgery. The team is constantly researching and using the most advanced medical techniques and technology to treat a variety of ENT disorders such as sinusitis.
Amandela ENT is conveniently located at Mt Elizabeth Novena Specialist Centre in Singapore. Making appointments is convenient and seamless, so do speak to their dedicated staff of clinical assistants and doctors to voice out your concerns first.
10. K O Chan Ear Nose Throat Sinus & Sleep Centre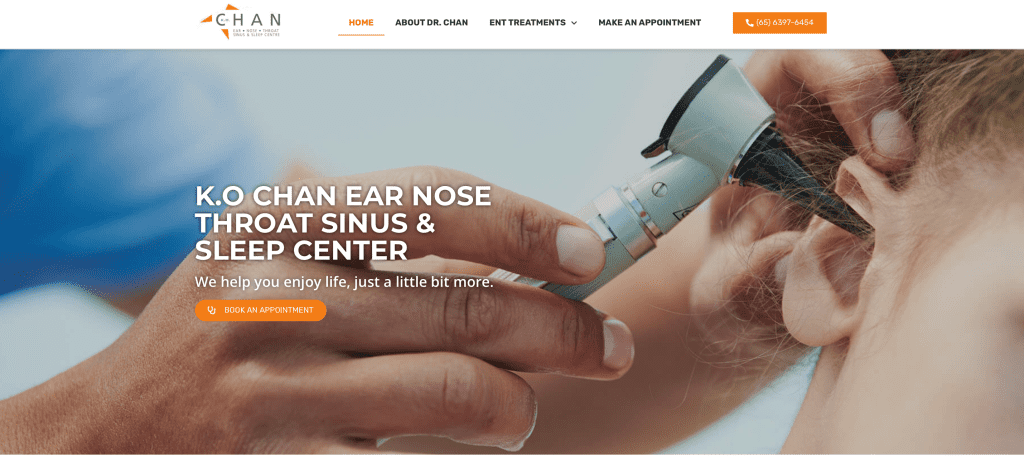 Dr Chan is the ENT Surgeon at the Novena Medical Center. Notably, Dr Chan is also a clinical lecturer with the Faculty of Medicine, National University of Singapore (NUS). The clinic provides a personalised approach and comprehensive services for the management of all ENT conditions, including sinusitis.
Reviews advocate for Dr Chan, describing him as knowledgeable and attentive, and many have been seeing him for long-term sinus-related infections and ailments. You may choose to make an appointment here.
Conclusion
Ultimately, you would want a treatment plan that is tailored for you and you have to be confident that you have made the right decision. To do so, make sure to choose the best place to get a sinus surgery, where you can clearly communicate any concerns with the surgeon.
While SBO is committed to supporting our local businesses, we welcome any feedback and anonymous sharing regarding your experience with our recommended 10 Best Sinus Surgery in Singapore.
Explore More Content