10 Best Hernia Surgery in Singapore to Help You [2023]
Need a reliable surgeon to handle your hernia surgery? Here's our picks for the 10 best hernia surgery in Singapore!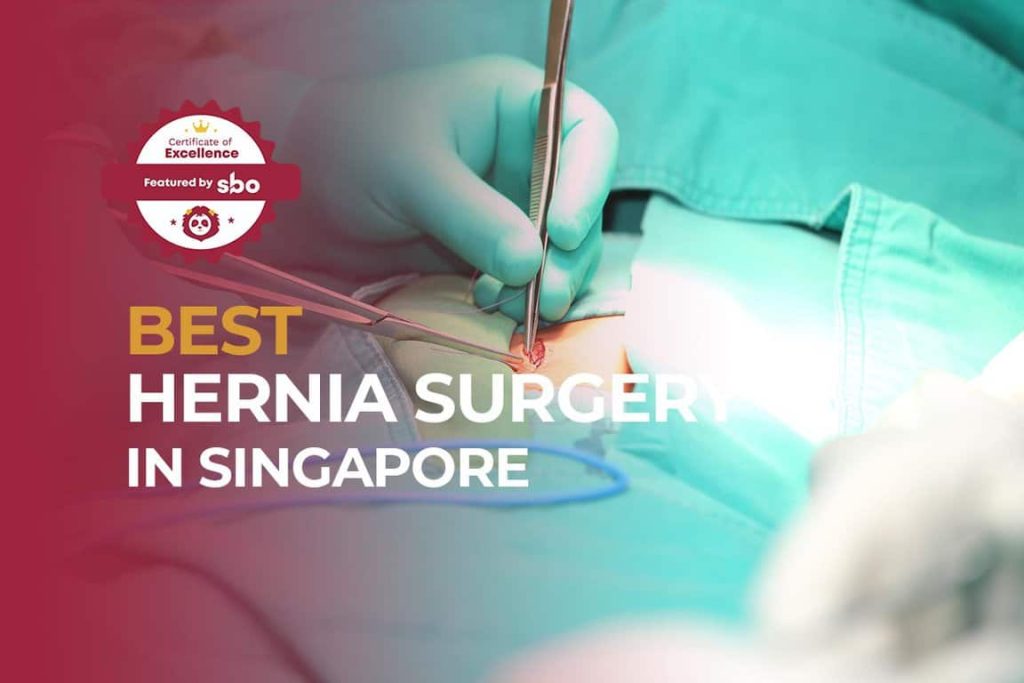 A hernia is a condition where body tissue or internal organ sticks out abnormally and results in a bulge.
This is because it pushes against the tissue or muscle that typically holds it in place. The majority of hernias happen inside the abdominal cavity, although it can also take place in other parts.
Some common types of hernia are:
Inguinal hernia
Femoral hernia
Umbilical hernia
Hiatal hernia
Typical hernia surgery options are open hernia repair, laparoscopic hernia repair, and robotic hernia repair. With skilled specialists and modern technology, patients experience lesser amount of pain, shorter recovery times, and even smaller scars.
Unless a hernia is causing distress or affecting your regular activities, it's safe to delay hernia surgery, but it's not advisable to allow the issue to remain for too long. Monitor your situation with regular check-ups.
Take note though: seek treatment at the A&E immediately if pain in the affected area is worsening, heart rate is racing, feverish, or there's nausea and/or vomiting – it's possible that it might be a hernia emergency!
If you have a hernia, where can you go for removal? Let's check out the 10 best hernia surgery in Singapore!
1. G & L Surgical Clinic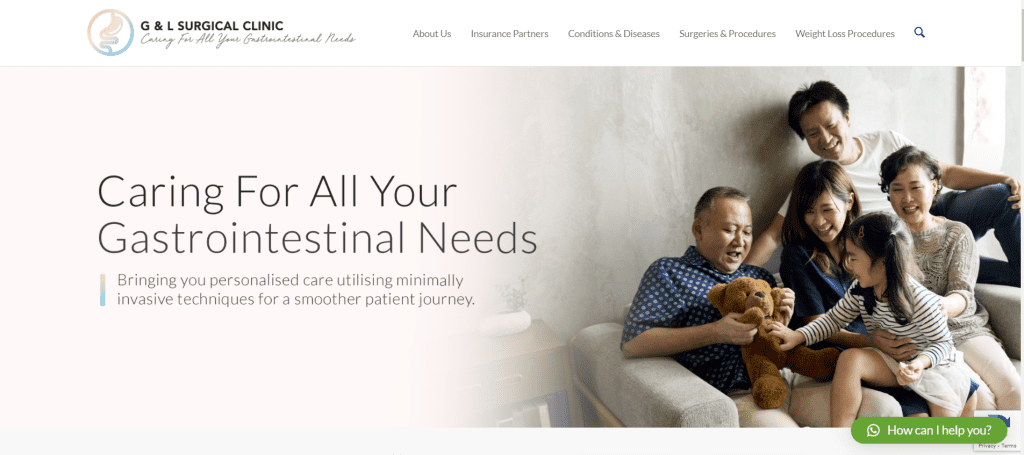 G & L Surgical Clinic is managed by Dr Ganesh Ramalingam and his team of professionals.
He also considers the social and mental factors instead of just the symptoms, taking into account the improvement of healthcare.
When you choose G & L Surgical Clinic, you put yourself in the hands of an experienced professional, with minimal downtime. It also partners with insurance companies so you can check whether it is possible to claim your surgical fees.
2. KH Ng Surgery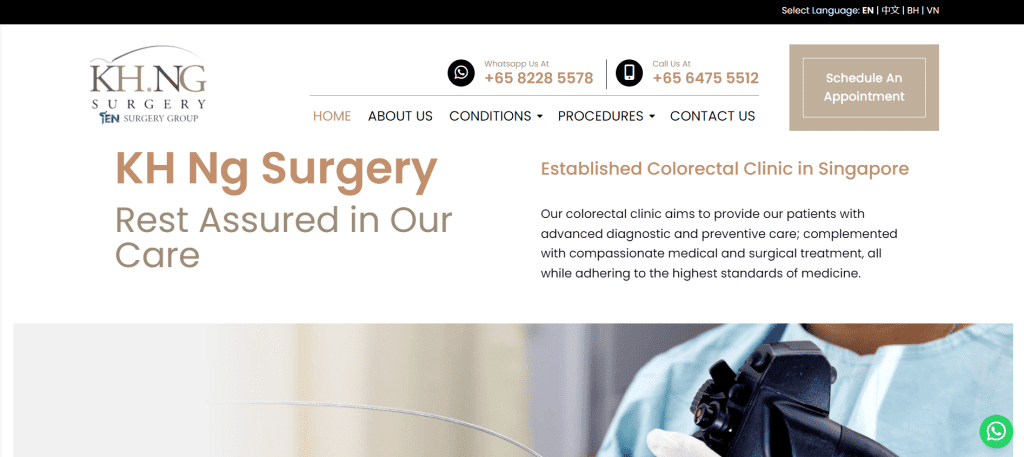 This highly established colorectal clinic seeks to provide patients with modern diagnostic and preventive care.
It complements this with compassionate medical and surgical treatment as it follows the best standards of medicine.
KH Ng Surgery is led by Dr Ng Kheng Hong, a Senior Consultant Colorectal & General Surgeon with over 20 years of experience. His areas of expertise include laparoscopic and robotic-assisted surgery.
He is passionate about treating colorectal cancer in a manner that boosts their wellbeing.
3. Dr Winston Woon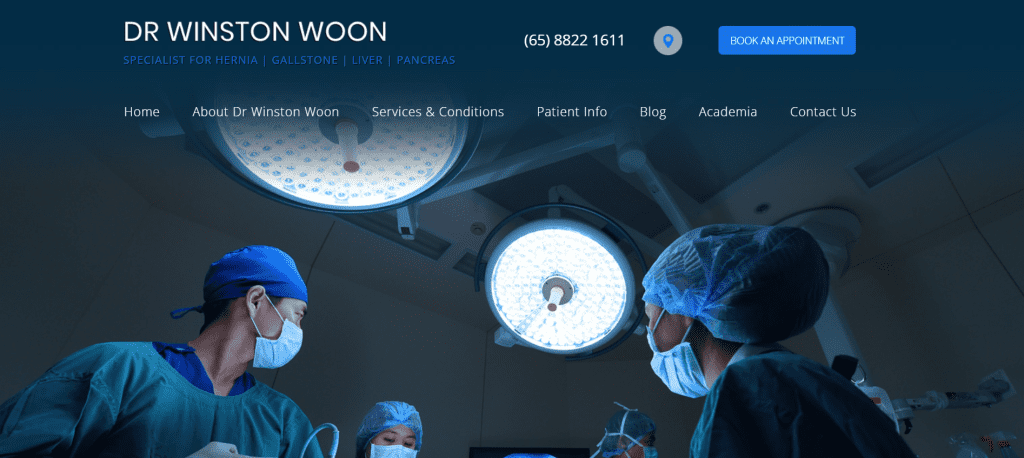 As the name implies, Dr Winston Woon is run by the man himself, who has a keen interest in minimally invasive hernia surgery like laparoscopic and robotic surgery.
An esteemed member of many associations, he has even headed Tan Tock Seng Hospital's HPB surgical unit. His clinic offers treatment for a few types of problems, of which includes hernia surgery.
Laparoscopic surgery is usually performed for patients to ensure that they can return to work much earlier with minimal downtime. The pain medication is also reduced, with smaller incisions and a reduced risk of infection at the surgical area.
4. Alpine Surgical Practice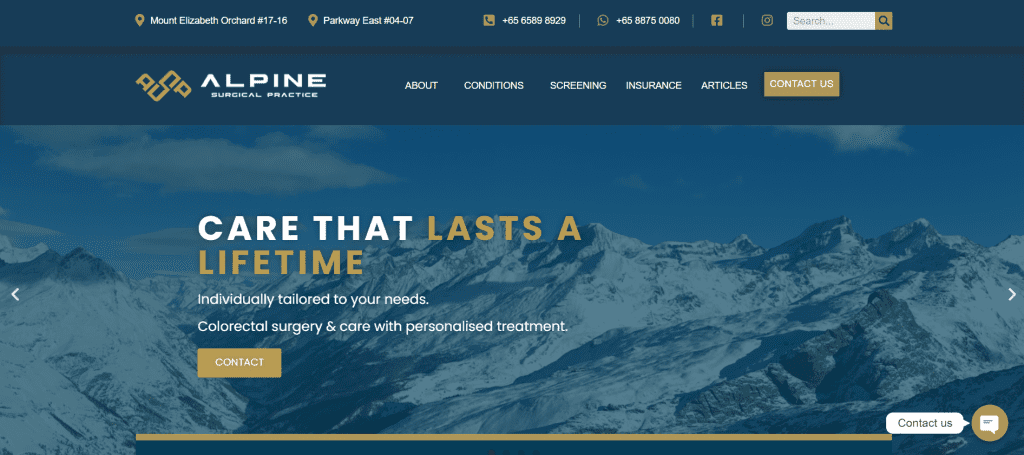 Alpine Surgical Practice is helmed by Dr Aaron Poh, a consultant surgeon with a multitude of experiences in various government hospitals.
There are 3 main pillars of treatment offered at the clinic:
Endoscopic investigation using gastroscopy and colonoscopy
Laparoscopic surgery for benign conditions
24-hour support for emergency gastrointestinal conditions
The clinic is driven by the intention to use modern and scientifically backed care that is customised to each unique patient. It also looks to deliver cost-effective healthcare and be there with patients at every step of the way.
5. ARDEN JR Surgery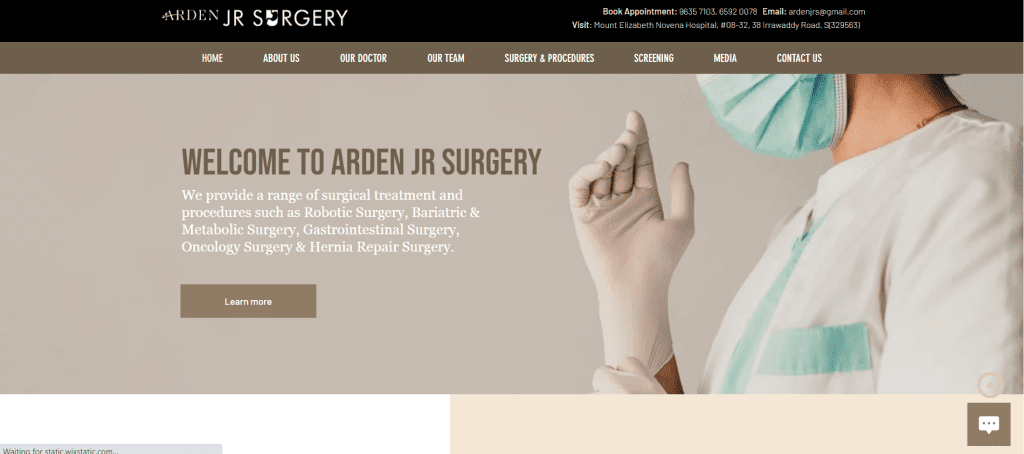 The doctor who leads ARDEN JR Surgery is no greenhorn.
As a Senior Consultant Surgeon, Dr Jaideep Raj Rao has experience in both local and foreign hospital settings. Apart from practising at 4 major private hospitals, he is also a visiting consultant to 4 government hospitals in Singapore.
He sits on a number of distinguished boards and associations and has even been conferred the distinction of International Honorary Member of 3 different societies. Dr Rao has a wide array of clinical interests, as well as credentials that are a testament to his abilities.
6. Quah Hak Mien Colorectal Centre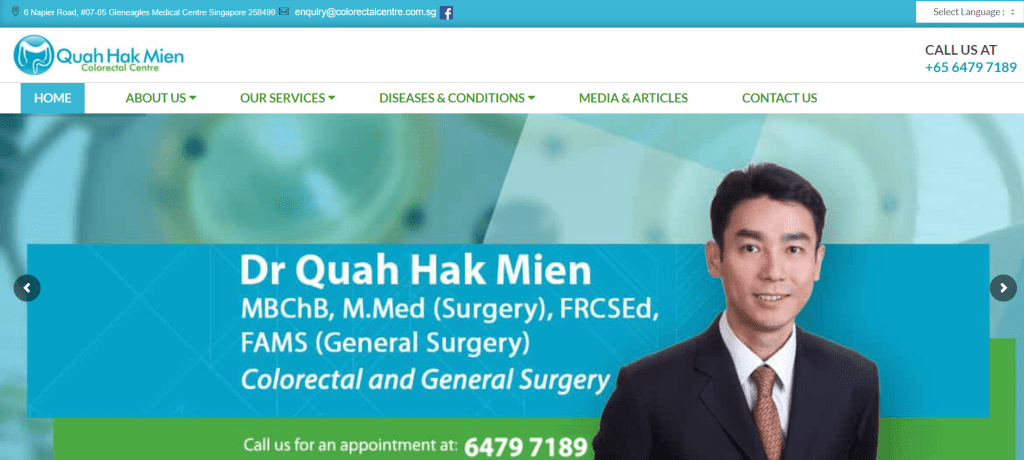 This centre is managed by Dr Quah Hak Mien, a well-known colorectal surgeon who has had various stints locally and overseas.
His focus is on colorectal cancer, with clinical interests in the treatment of this cancer, prevention, and endoscopic diagnosis. In particular, he has a keen interest in minimally invasive colorectal surgery, and is adept at laparoscopic surgery.
Dr Quah is one of the few surgeons in Singapore who is certified to perform robotic-assisted colorectal surgery as well. Over the years, he has obtained numerous awards and accolades for his work.
7. Thesurgeons Pte Ltd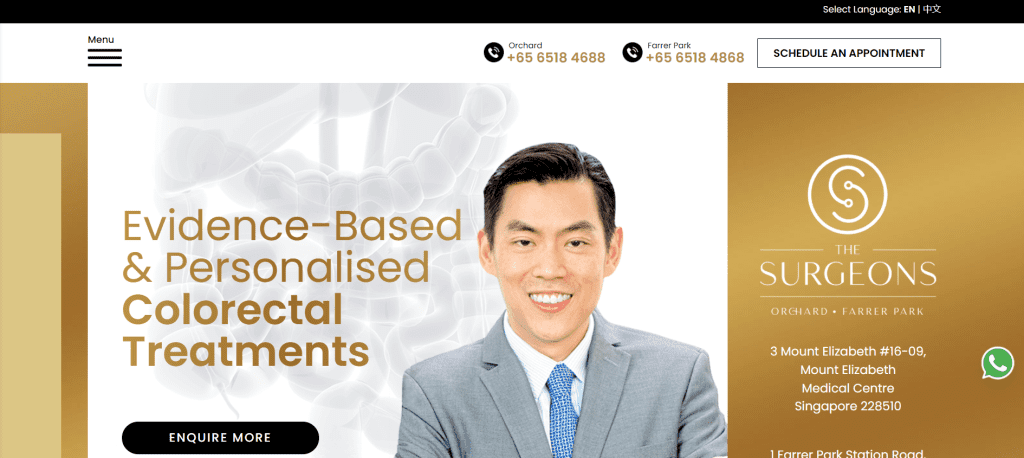 Under Dr Chew Min Hoe, Thesurgeons is a reliable provider of colorectal treatments in Singapore.
Dr Chew has spent more than 2 decades servicing the public sector and was even the founding head of the surgical department for the new Sengkang General Hospital. He specialises in general and colorectal surgery with niche interests in colorectal cancer, advanced pelvic tumours, hereditary conditions, and perianal surgery.
To date, he has published more than 100 peer-reviewed articles. In addition, he has held many other key administrative positions in different centres and committees.
Since the start of the pandemic, he and his team have also made selfless contributions by performing swab and serology operations in dormitories.
8. KYM Surgery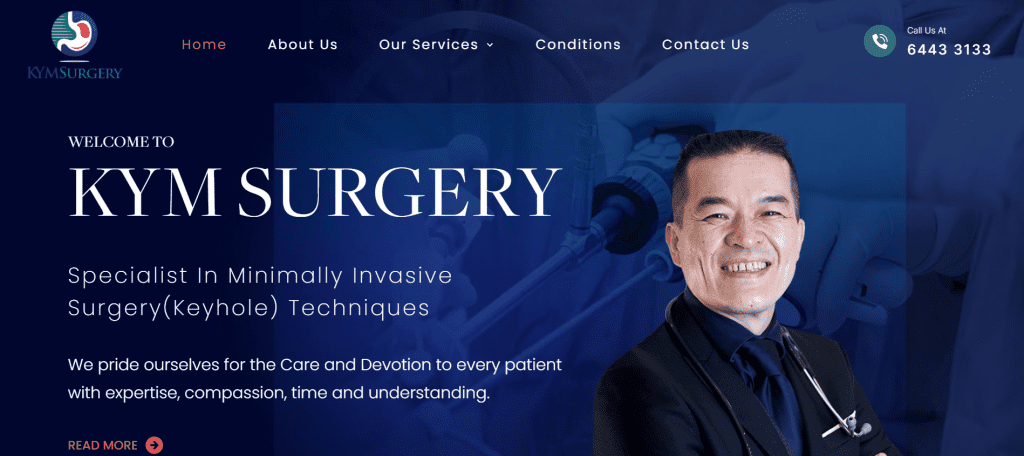 KYM Surgery specialises in minimally invasive hernia surgery techniques. It is dedicated to giving every patient the best care possible, with an experienced doctor who is highly experienced in treating simple to complex and chronic conditions.
Led by Dr Kan Yuk Man, who has an impressive portfolio that spans more than 25 years, you can trust that you are in the hands of a qualified professional.
Dr Kan is regularly invited as a trainer for surgical workshops around the region and has presented at medical talks worldwide.
9. Ho Kok Sun Colorectal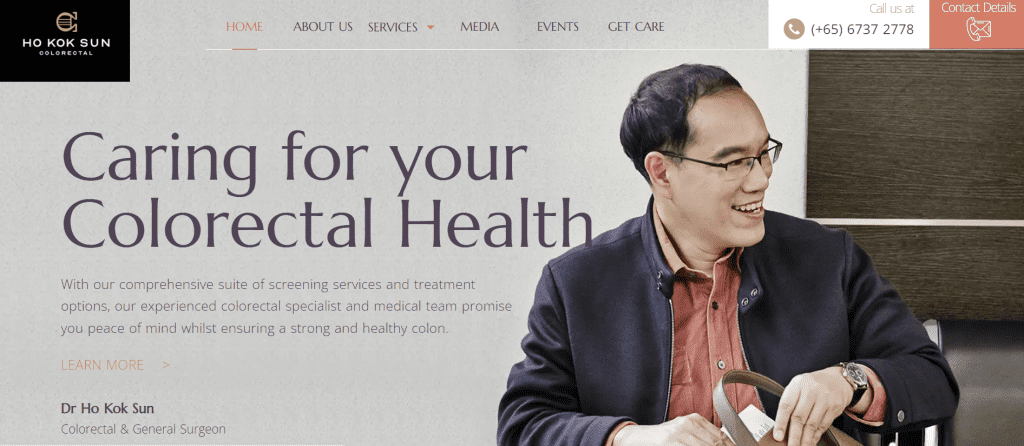 Ho Kok Sun Colorectal offers a wide range of screening services and treatment options led by an experienced colorectal specialist and medical team.
Dr Ho has held presidential positions in various associations in Singapore, as well as other directorial posts in many centres. He has a keen interest in minimally invasive colorectal surgery, performing laparoscopic and rectum surgeries regularly.
He is also accredited to perform robotic-assisted colorectal surgery.
10. Thomas Ho Surgery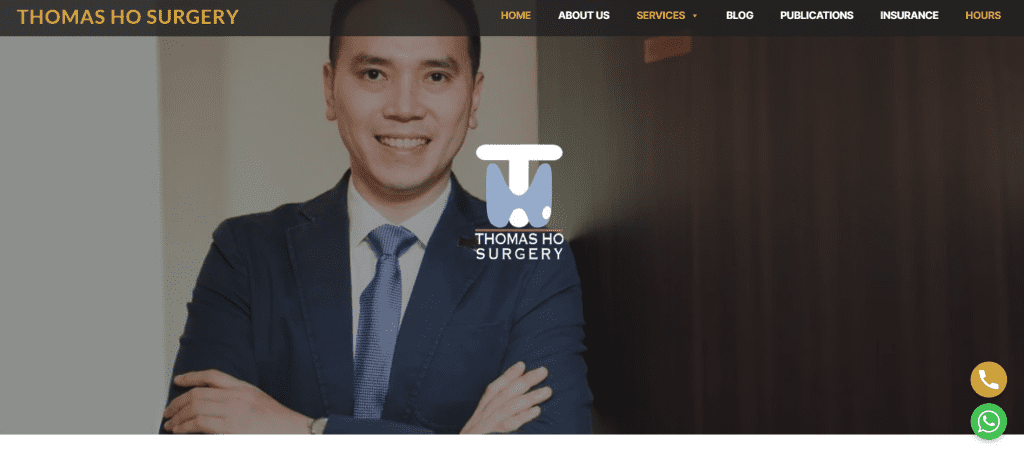 Dr Ho has an illustrious background in General Surgery, having served twenty years in the public hospital system before private practice. He is well-versed with treatment of hernias which is a common general
surgical condition.
He offers laparoscopic hernia surgery for inguinal hernia, femoral hernia, ventral hernia and incisional hernia.
Conclusion
Do you have any reviews and comments to share regarding our suggestions for the best hernia surgery in Singapore?
While SBO is committed to supporting our local businesses, we welcome any feedback and anonymous sharing regarding your experience with those in the list.
We hope that this guide will be useful in helping you to make an informed decision.
If you are looking for other health diagnostic services, check out options to do a blood test in Singapore.
Explore More Content