12 Best Dental Clinics to Get an Invisalign in Singapore for a Brighter Smile [2023]
Find the best dental clinics to get an Invisalign in Singapore for a brighter smile.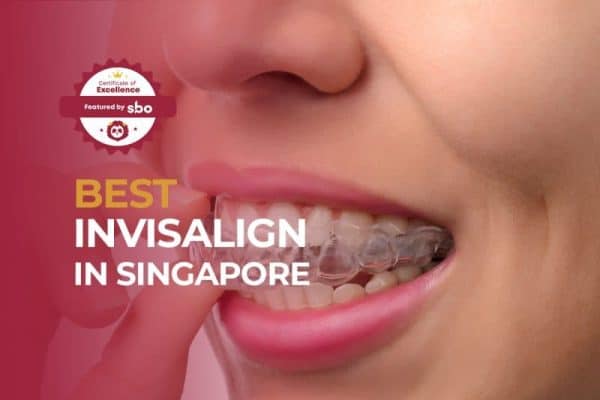 Are you annoyed with the crooked teeth but at the same time, afraid of the pain and inconvenience that comes with the braces? If yes, you have nothing to worry about. Getting an Invisalign in Singapore would be your best solution.
Getting an Invisalign in Singapore will mitigate the pain and inconvenience. It can also help to resolve overcrowded teeth, bite issues, and even gum diseases.
Most importantly, you will walk out having more confidence in yourself.
In this post, we've gathered all the necessary details and testimonials to derive a list of the 12 best dental clinics to get an Invisalign in Singapore for a brighter smile.
1. T32 Dental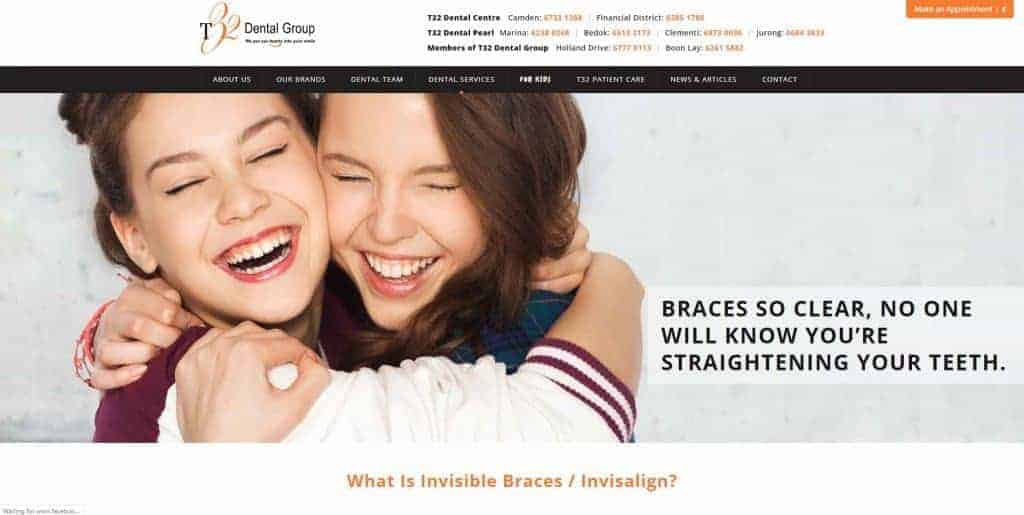 Established in 2007, T32 Dental Group aims to offer a positive dental experience for all their patients through comprehensive, preventive, restorative and cosmetic dental care in a personalised and comfortable environment.
Dental professionals at T32 brings you through a comprehensive process of getting your Invisalign fitted in your teeth. It begins with a consultation session with their dentist to understand more about you and determine whether you are fit for the treatment. This is followed by a half-hour session to analyse your dental conditions through dental impressions and x-rays.
With that, their dental specialist will plan a personalised treatment plan for you and determine how long these prescribed invisible braces have to be worn for the best results.
2. AllSmiles Dental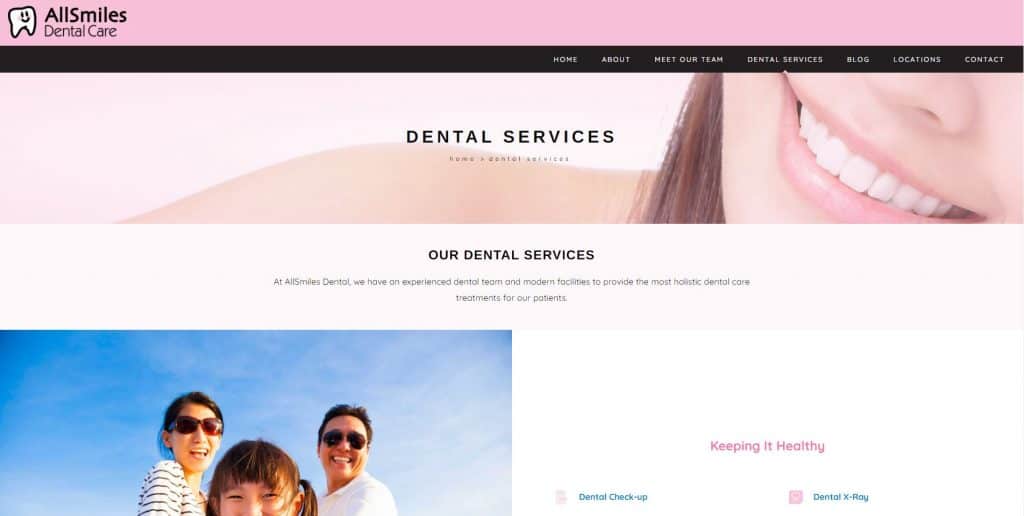 Headed by experienced dental surgeons Dr Oh Chin Hong and Dr Vanessa Tan, AllSmiles Dental care is a full-service dental clinic that dedicates itself to providing their patients safe and holistic dental care.
With their facilities equipped with modern dental technologies and a dedicated team, this leads to a higher level of efficiency and quality care being given to patients.
Hence, if you intend on getting Invisalign with them, you can be assured that they will be in this journey with you every step of the way. Treatment plans will be personalised based on your condition.
3. iDental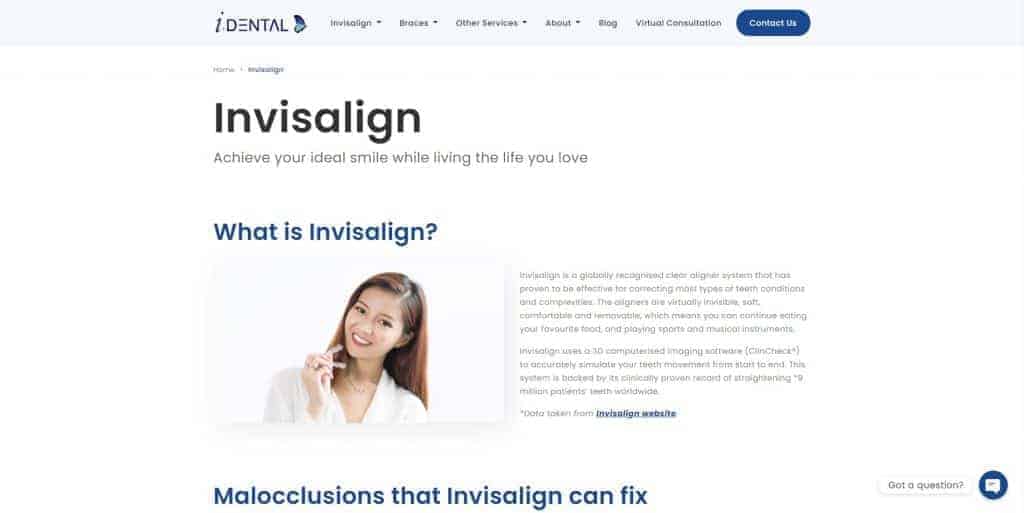 Founded in 1989 by Dr Cheng Eng Wah, iDental is a fully integrated dental care provider that commits itself to offering comprehensive dental care for its patients.
As an Invisalign Dedicated Clinic in Singapore appointed by Align Technology, iDental works hard to provide the best solution for its patients. They do so by using the latest digital dentistry technology.
At iDental, you can expect a step-by-step Invisalign treatment process from the initial consultation, where their dentists will get to understand your needs and concerns, to the actual Invisalign treatment where they are carefully planned so that you can have the best results.
An Invisalign treatment carried at iDental will approximately cost between S$4,200 and S$8,800. This cost includes consultations with their Invisalign accredited dentist, 4 X-rays and a 3D scan using iTero to capture an accurate 3d image of your teeth.
To make their services affordable, iDental support various insurance schemes and government subsidies such as AIA, Aviva, Tokio Marine, CHAS, Pioneer Generation and Merdeka Generation.
4. NoFrills Dental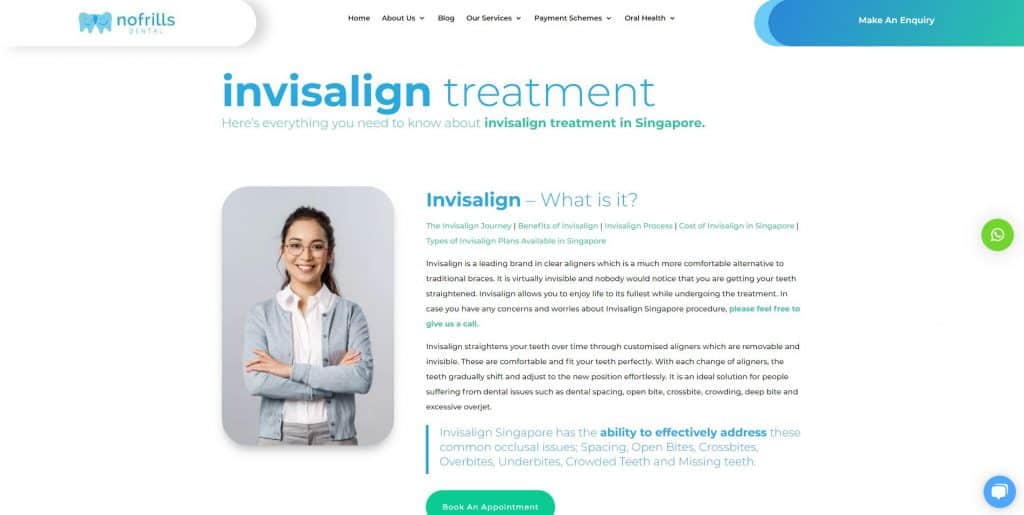 NoFrills Dental is an established and reliable dental clinic in Singapore that provides high-quality dental care within their state-of-the-art facilities at an affordable price.
If you would like to seek Invisalign treatment, NoFrills Dental could be one of your choices for a few reasons. They have been awarded with the Invisalign Diamond Provider status for the year 2020, recognised for their extensive experience in providing Invisalign treatment and handling all kinds of orthodontic treatments.
They utilise the latest dental technology which is the iTero Element 2, a 3D intraoral scanner. This is used to determine the type of Invisalign treatment you would undergo as well as simulating how your teeth would look like after the treatment has been done.
They also offer various Invisalign treatment packages from comprehensive, moderate, lite to express costing between S$1888 to S$6500. If you are concerned about the cost, there are various payment schemes that you can look into such as dental insurance, CHAS, Merdeka Generation and Pioneer Generation.
5. Q&M Dental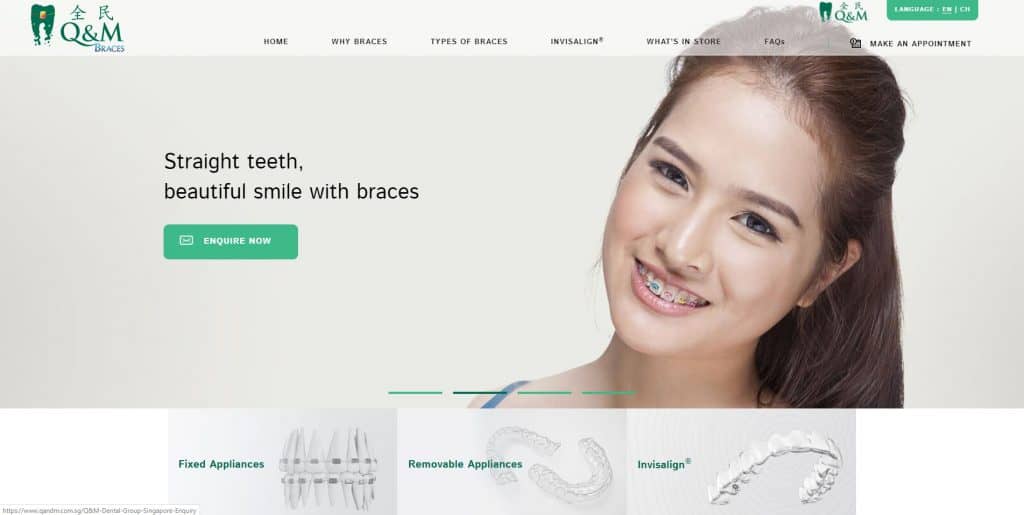 Established in 1996, Q&M Dental Group is Singapore's largest private dental healthcare group that's staffed by well-trained dental professionals and well-equipped modern dental facilities.
Q&M Dental Group has been awarded the Black Diamond status by Align Technology with extensive experience in providing Invisalign treatments. Q&M Dental Clinics are spread over 20 branches across Singapore that are open at night and during the weekends at your convenience.
6. True Dental Studio (Ang Mo Kio)
Dr Tay Chih Kien is the Principal Dentist at True Dental Studio (Ang Mo Kio) with over 20 years of experience with special interests in Root Canal Treatment (Endodontics), Implant Dentistry and Invisalign. Dr Tay has seen patients from young children to the elderly, and has also been entrusted as the choice of a family dentist for many patients.
Dr Tay enables his patients to feel at ease by gently and clearly explaining each step of the procedure, and ensuring that the patient's questions and concerns are fully addressed. This has earned him many recommendations and repeated support from different areas in Singapore.
7. Align Braces Clinic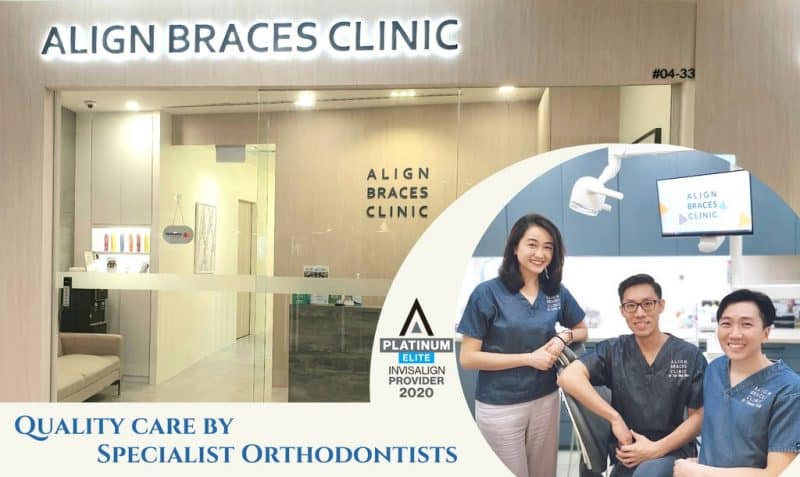 Align Braces Clinic is a dedicated dental clinic for Invisalign and braces treatment, centrally located at Plaza Singapura.
You will receive quality care from Specialist Orthodontists recognized by the Singapore Dental Council. Their team is highly trained with Masters Degrees in Orthodontics, and have years of experience with braces and Invisalign treatments. Furthermore, their accreditation as a Platinum Elite Invisalign Clinic is also a testament to their experience as Invisalign providers.
Your Orthodontist will perform a comprehensive examination and planning for your teeth using the latest technology – their on-site digital X-rays and 3D iTero Intraoral Scanner. These enable them to analyse dental conditions accurately, to provide a personalised treatment plan for you to achieve the best results.
They also utilise the advanced iTero software to show patients Invisalign simulations and explain different treatment options, providing patients with a great experience.
8. Dental Designs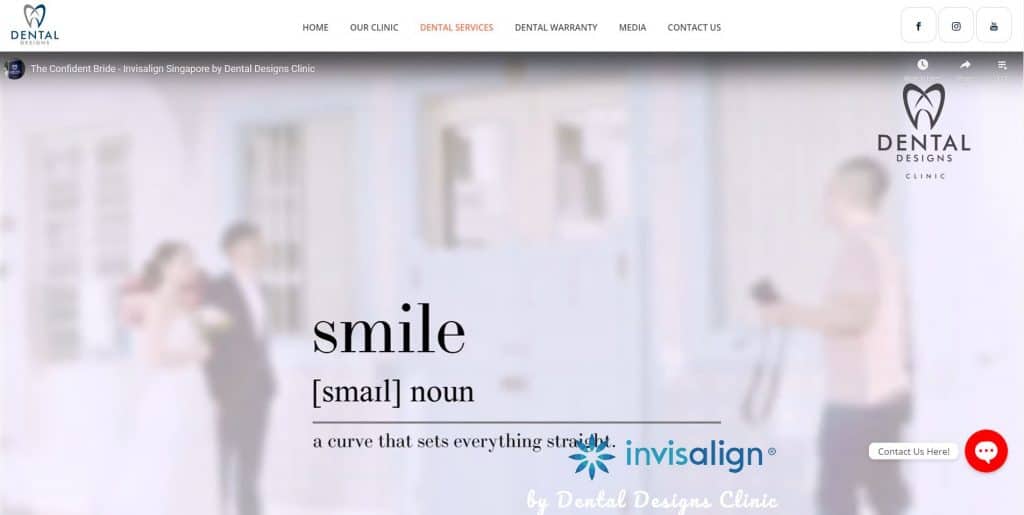 Dental Designs is a MOH-accredited full range dental clinic that provides various services including cosmetic dentistry, crowns and bridges, dental implants and Invisalign, with the use of advanced dental technology from Germany and Switzerland to help patients achieve the most effective results.
With such advanced technology, Invisalign treatment can be painless. Transparent aligners are made based on the structure of your teeth. The treatment costs between S$4,500 – S$9,000 which may vary due to the individual's dental health and structure.
If you are seeking a full Invisalign treatment, you are entitled to a 5-year warranty which will begin with the commencement of the treatment. No charges will be applied for Invisalign consultation, attachments, IPR under the Invisalign warranty.
9. The Dental Studio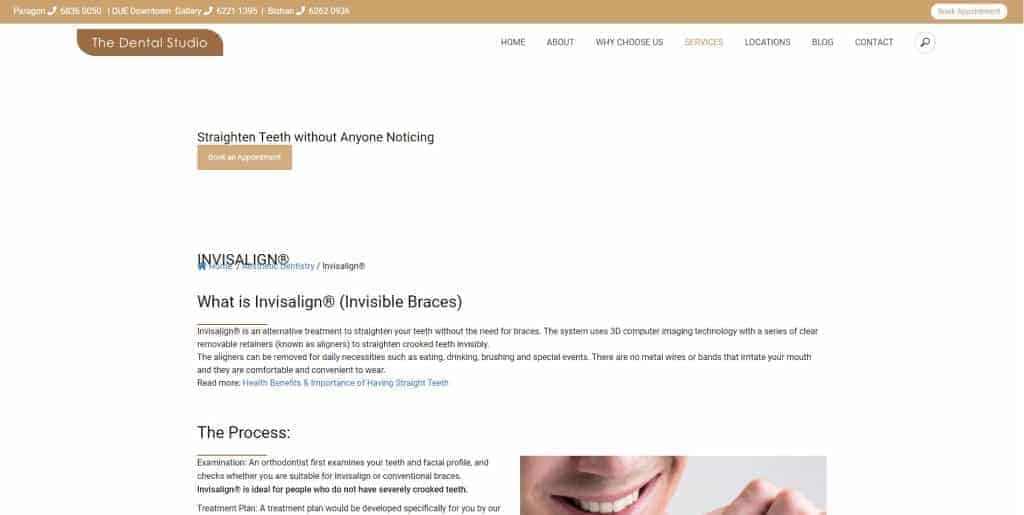 Founded in 2007, The Dental Studio has assembled a multi-talented team of dental specialists to help their patients to have the brightest smiles. To give patients the best results, the clinic has invested in using world-renowned dental technologies and well-researched materials.
With such advanced technologies, those seeking Invisalign treatment with The Dental Studio will be able to benefit. Their aligners are created via precision mapping and design using a 3D computer imaging technology after an initial consultation that determines whether you are suitable for the treatment.
10. Specialist Dental Group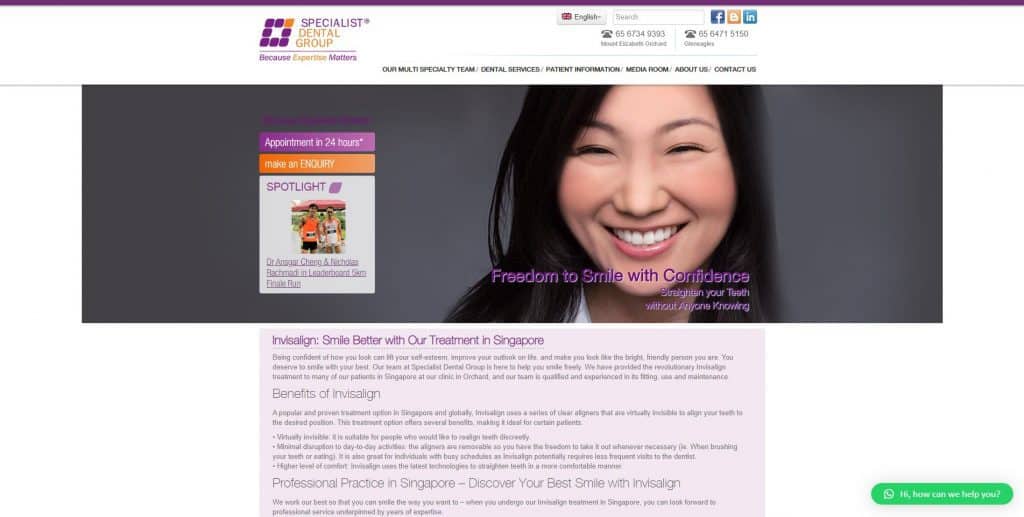 Specialist Dental Group was established in 1979 as Henry Lee Dental Surgery in Mount Elizabeth Medical Centre. It has since changed to its current name to better reflect the breadth and depth of the solutions provided by multi-speciality dental team.
Invisalign treatment specialists, Doctors Eugene Chan and May Ling Eide, aim to help their patients smile the way they want to. In order to do so, they will bring their patients through a few treatment stages from consultation to after-care.
Treatment fees will begin with a consultation that costs between S$80 and S$200. The Invisalign treatment itself, thereafter, would cost between S$6500 and S$11200 depending on your dental condition.
11. Smilepoint Dental Centre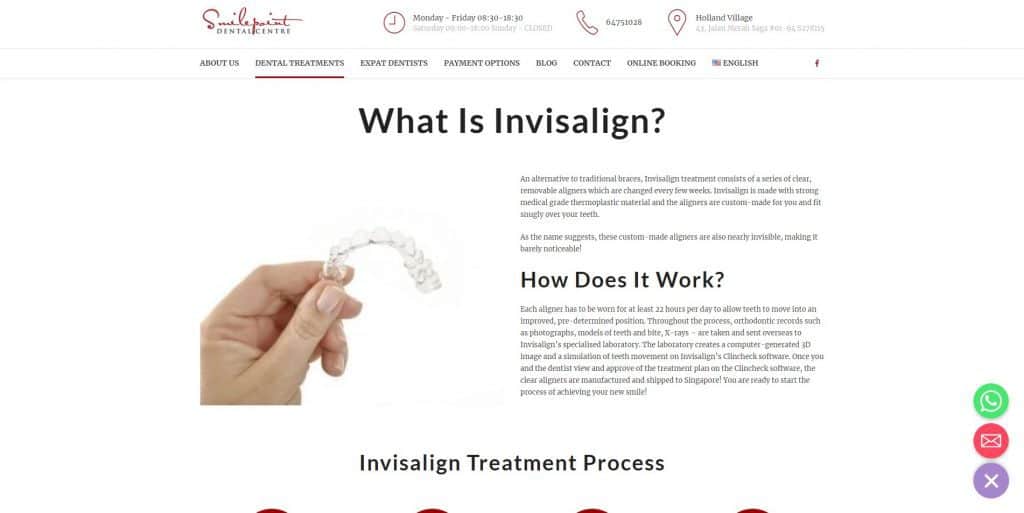 Located in Holland Village, Smilepoint Dental is a family-oriented community dental practice which dedicate to providing excellent dental service, a comfortable environment and reasonable prices.
At Smilepoint Dental, Invisalign patients go through a systematic treatment process starting from the booking of an appointment to the issuing of clear aligners.
The treatment will cost between S$6955 and S$8560 depending on their patients' condition.
12. Nuffield Dental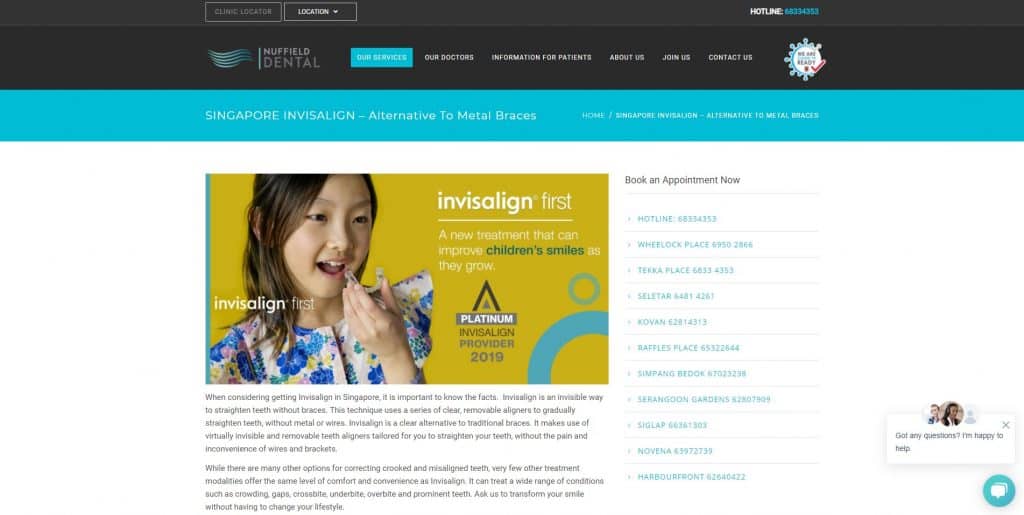 Established in 2014 by Dr Samintharaj Kumar, Nuffield Dental is a full-service dental brand with 10 clinics providing personalised dental services for patients with varying conditions.
They offer state-of-the-art dental technology to ensure your treatment yields the best results. Nuffield makes use of its 3D computer imaging capability to show the entire treatment plan from the initial teeth position to the final desired position corrected by the computer-generated Invisalign transparent braces.
Conclusion
Do you have any reviews and comments to share regarding our choices for the best dental clinics to get an Invisalign in Singapore?
While SBO is committed to supporting our local businesses, we welcome any feedback and anonymous sharing regarding your experience with the listed dentist in Singapore.
We hope that this guide will be useful in helping you to make an informed decision when it comes to finding the best dental clinics to get an Invisalign in Singapore.
For more suggestions on dentists for general oral health, check out our list of dentists to consider.
Explore More Content