13 Best Optical Shop in Singapore to Resolve Your Optical Woes [2023]
These optical shops in Singapore have caught our eye.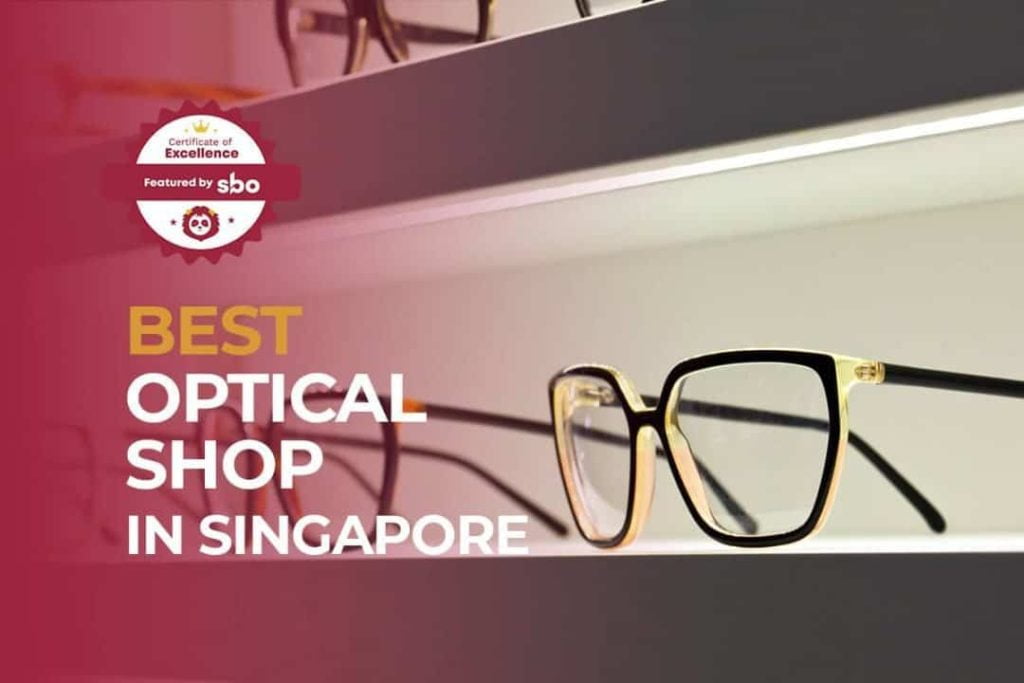 Infamously dubbed the "Myopia Capital of the World", Singapore has one of the world's highest myopia rates.
According to the Ministry of Health (Singapore), 65 percent of children are myopic by Primary 6, and 83 percent of young adults are myopic.
Hence, it's no surprise why optical shops, or opticians, in Singapore have always been in perennial demand.
An optical shop in Singapore allows you to have your eyesight checked and is also the place for you to purchase sunglasses and spectacles.
In this post, we've gathered all the necessary details to compile a list of the 12 best optical shop in Singapore to help you to resolve your optical woes.
1. Visio Optical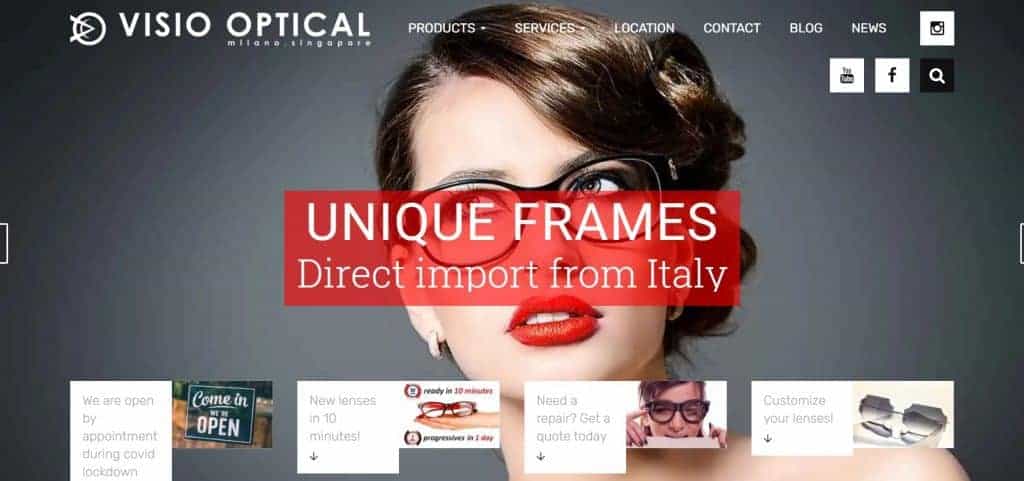 With over 10,000 customers, Visio Optical provides excellent eyewear services in all aspects of eye care to customers who crave impeccable optical care and craftsmanship.
Need to replace your lens in a jiffy? If you're looking to get new single vision lens, the optical shop can make rimless and half-rim frames in 60 minutes.
On the other hand, a generic stock vision lens can be ready in as quickly as 10 minutes!
Visio Optical strives to provide their spectacles repair service in a timely fashion. Most repairs are done within one to two days.
However, if you need to have your broken spectacles fixed in a hurry, they might be able to do it in 30 minutes as long as their in-house technician is around.
2. Capitol Optical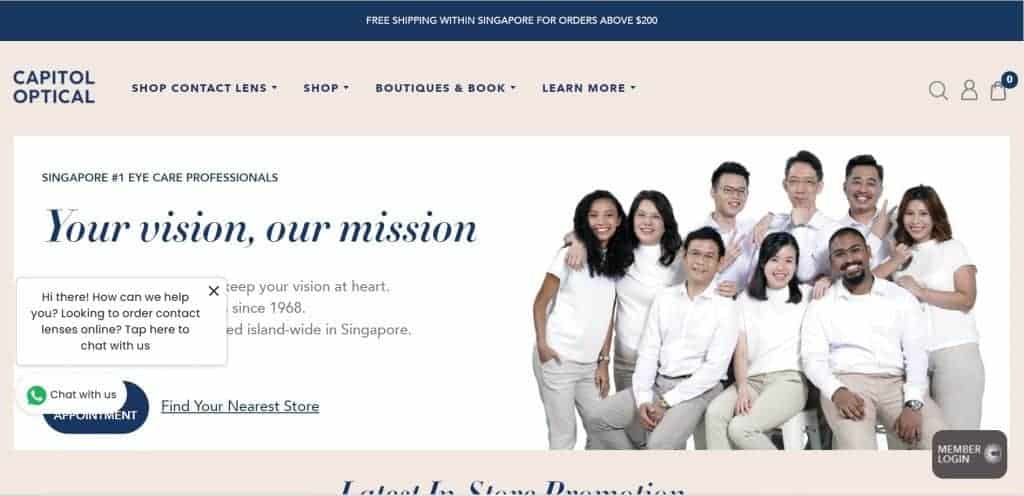 With 17 outlets nationwide, Capitol Optical is the go-to optical shop in Singapore that offers convenience to your eyecare solutions and vision needs.
Unlike the other optical shops on this list, Capital Optical offers smart innovative devices for your spectacles.
One of these devices is the Xiaomi EraClean Ultrasonic Cleaning Machine.
It generates ultrasonic waves at a frequency of up to 45,000 Hz, which generates bubbles between 50 and 500 microns. These molecules contract and expand at ultrasonic pressure, impacting the surface at a force of up to 1000 atmospheres.
This ultrasonic process loosens undesirable particles on your glasses.
They also have a rewards program called MyCapitol.
For every $1 spent at Capitol Optical, you'll be rewarded with 1 point. These points add up for you to redeem discount vouchers, complimentary eye examinations, eye care products, and other perks.
Join them today to earn 100 points for free!
3. OWNDAYS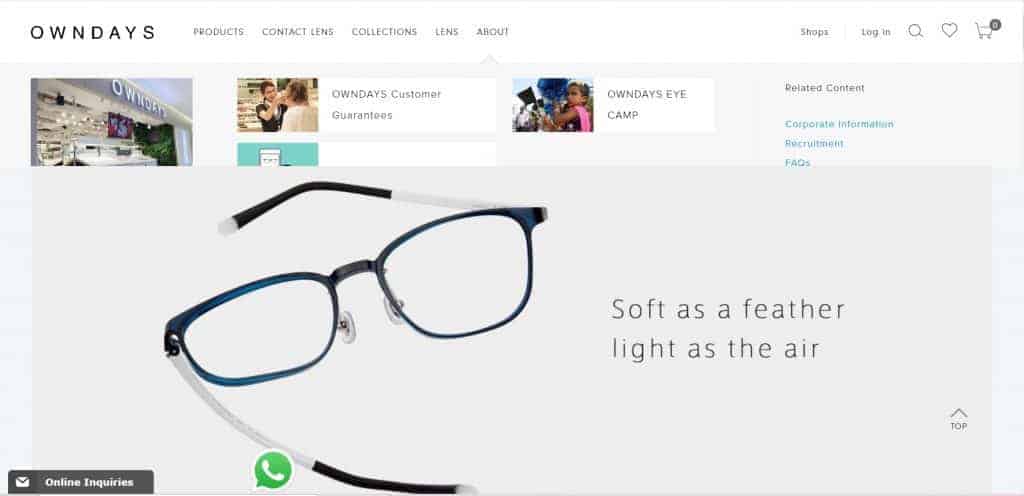 OWNDAYS, one of Singapore's biggest optical shop chains, allows you to express yourself with quick and affordable fashion-forward eyewear from Japan.
They are known for their lens replacement service, which starts from S$98. Simply bring the spectacles that you no longer use due to changes in your prescription, or damage to the lenses, to any OWNDAYS store.
They'll also be happy to replace the lenses of spectacles purchased from other shops.
OWNDAYS Customer Guarantees after-sales service is hard to beat: for example, they provide a one-time complimentary change of lens degree if you experience discomfort in your vision within the first year of purchase!
4. Oblique Eyewear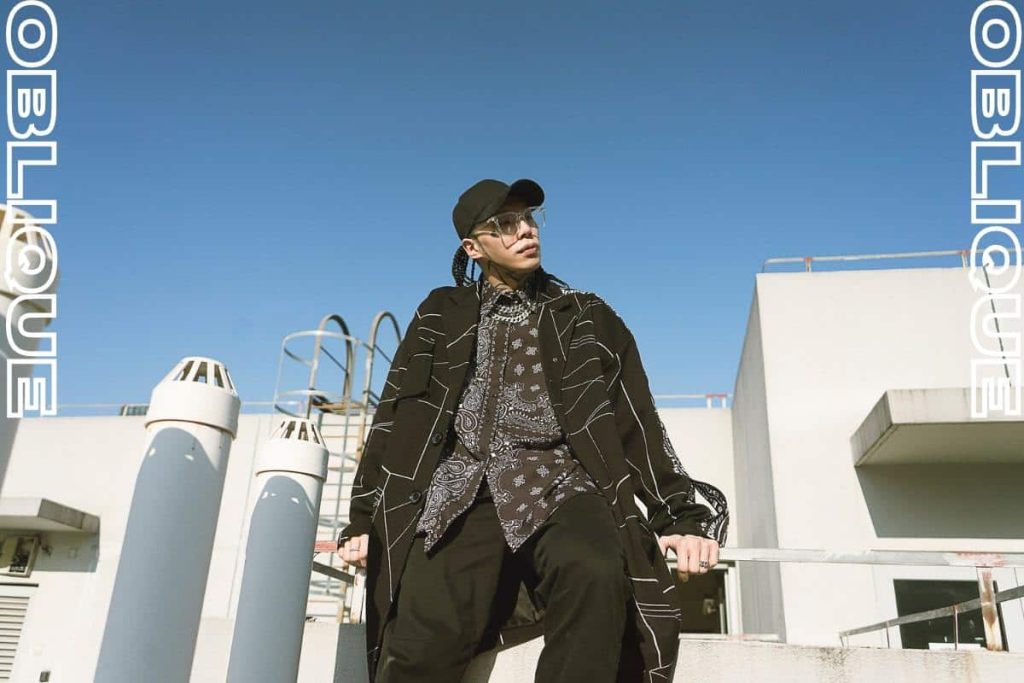 Founded by brothers Brandon and Edwin Choo as an online store in 2013, Oblique Eyewear has been able to differentiate itself by providing the finest selection of the latest eyewear trends while keeping its prices affordable.
By constantly improving their processes and supply chain, they are able to produce glasses faster, better and cheaper.
That's not all: Oblique Eyewear is always searching for better materials and optical technological advancements so that their customers can look their best and see clearly with their eyewear.
5. Mimeo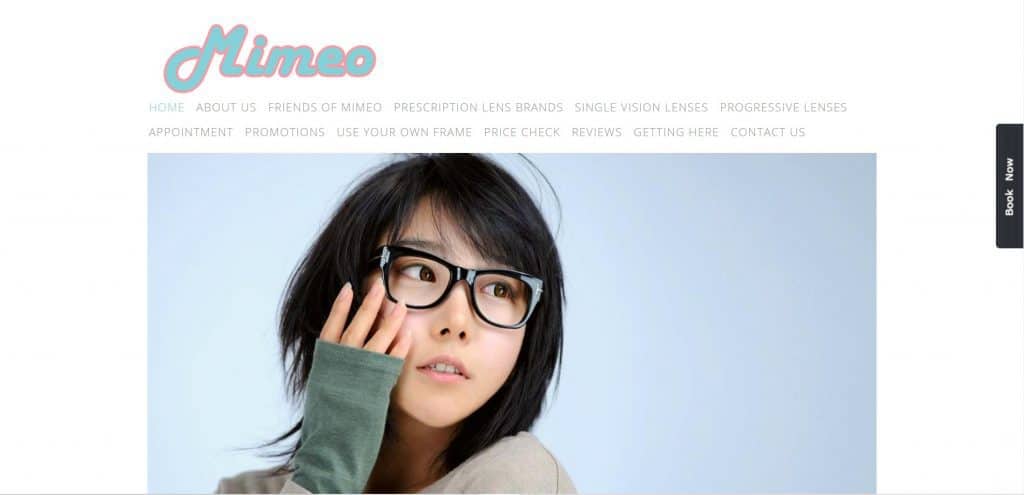 At Mimeo, they endeavor to make it possible for everyone to have his or her very own personal collection of eyewear to suit his or her unique lifestyle and to match his or her daily outfit, so that you don't have to wear the same single pair of eyewear for all occasions.
They believe that everyone has his or her own requirements and needs when it comes to selecting spectacles.
That's why an appointment system was adopted so that they can provide personalised services.
To add icing to the cake, Mimeo's prices are highly affordable, as low production costs translate into greater savings for their customers.
Prices are also transparent and listed clearly, so that you'll know how much you will be spending.
6. sightonomy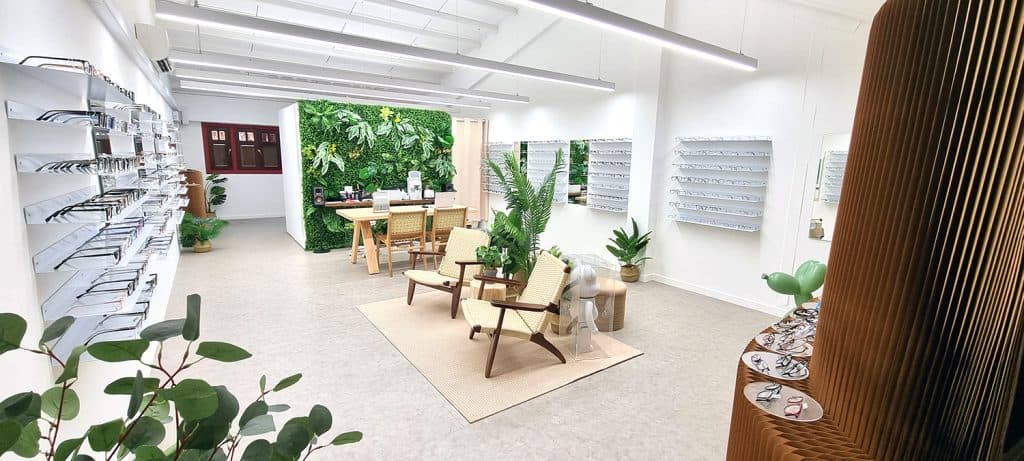 sightonomy is a click-and-mortar eyewear brand that was founded with the focus of creating value for the bespectacled population of Singapore. By adopting a direct-to-consumer model, sightonomy works directly with manufacturers and cuts away the middlemen and is thus able to offer stylish and quality eyewear at affordable prices. Co-founded by an optometrist with more than 15 years of experience, sightonomy offers professional services with a particular interest in managing myopia in children and combating digital eye strain. They also offer personalised progressive lens consultations with the focus on each individual's occupational and lifestyle needs.
7. W Optics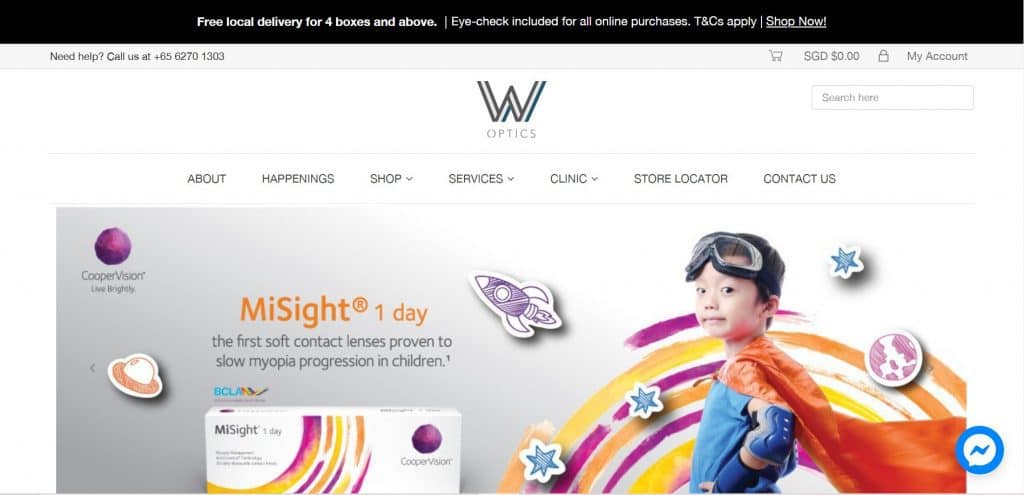 At W Optics, they believe in offering tailored vision care services to cater to the specific needs of customers, making every visit a distinguished and exclusive experience.
They are committed to changing the approach to vision care, by launching optical solutions and products at the forefront of the industry.
Did you know that their optometrists have over 20 years of experience in practice and in executing the Ortho-K fitting program for both children and adults?
The have a full selection of over 150 eyewear choices, which come in different color, fitting, hypoallergic material to cater for all kids.
They even have optical frames, sunglasses & sports goggles for infants!
At their flagship store in Suntec City, parents can freely brose through the various spectacle options, as their little ones play at the Kid's Corner, navigating interactive wall displays or drawing while getting themselves 'framed'.
8. Spectacle Hut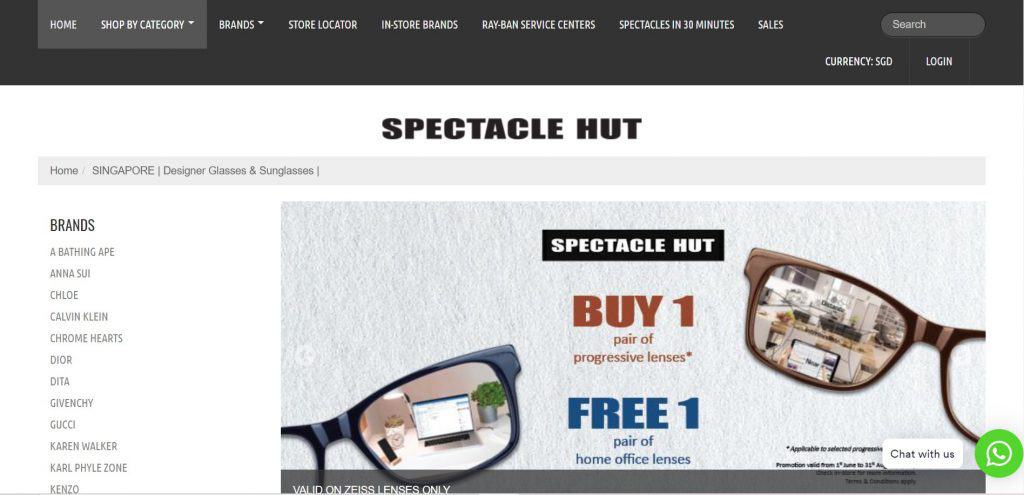 Spectacle Hut is one of Singapore's largest optical retail chains, with more than 30 outlets in Singapore.
Be spoilt for choice when selecting from their extensive line-up of brands ranging from Oakley, Ray Ban, and Dior, to Victoria Beckham, Karen Walker, and Linda Farrow.
The optical shop in Singapore aims to meet the demands of discerning customers who expect quality, exceptional service and value.
Spectacle Hut was awarded the No.1 Top Brand under the Optical Retailer category for two years running in 2016 and 2017 under the Influential Brands Awards.
The prestigious Influential Brands Awards recognise the efforts and achievements of leading brands establishing themselves in their respective industries.
Reviews praise Spectacle Hut for its professional service and friendly staff.
9. Eye Zone Optical
Founded in 1997, Eye Zone Optical has, over the years, honed their skills and firmly established themselves as one of the top optical shops in Singapore that customers will go to.
They sell a variety of spectacle frames from prominent brands such as ic! berlin, Oakley, Ray-Ban, Agnes B. Homme and Porsche Design Eyewear.
These come with at least a year of warranty against any manufacturing defect.
They also sell opthalmic lenses from brands such as Zeiss, Essilor and Nikon and contact lenses.
10. Zoff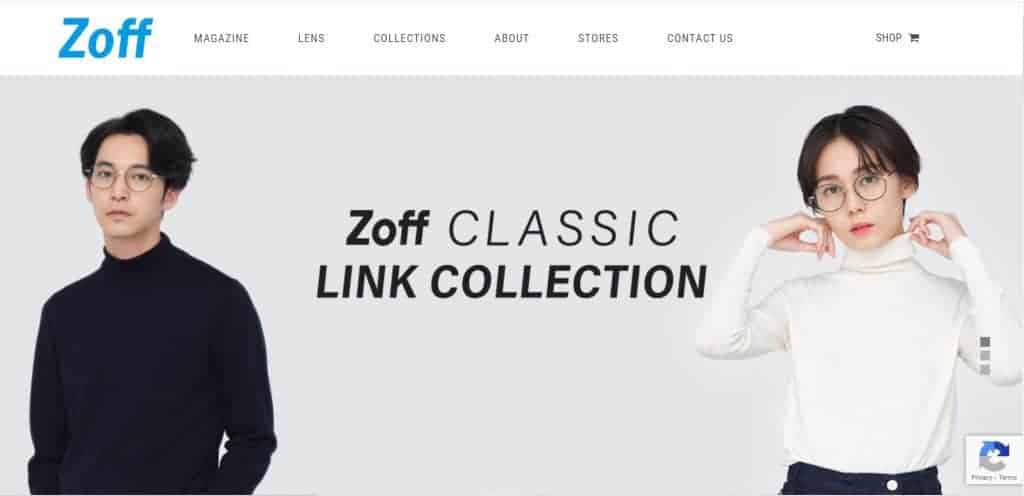 Zoff sets itself apart from other optical shops in Singapore with a wide selection of lenses and frames.
Staying true to one of their main core values of "Always Fresh", they stay ahead of the fashion trends by rolling out new designs twice a month.
A true-blue Japanese brand, Zoff is known for its Japan-made spectacles frames.
Their frames are made in Fukui Prefecture's Sabae City, which is renowned for its meticulous eyewear-making artisanship.
To celebrate PEANUTS' 70 anniversary, the optical shop in Singapore also recently collaborated with PEANUTS to launch a series of eyewear and accessories.
Original illustrations of Snoopy and Friends are patterned on the inner temples of some of the eyewear in this collection, making them easily pairable with any outfit.
11. foptics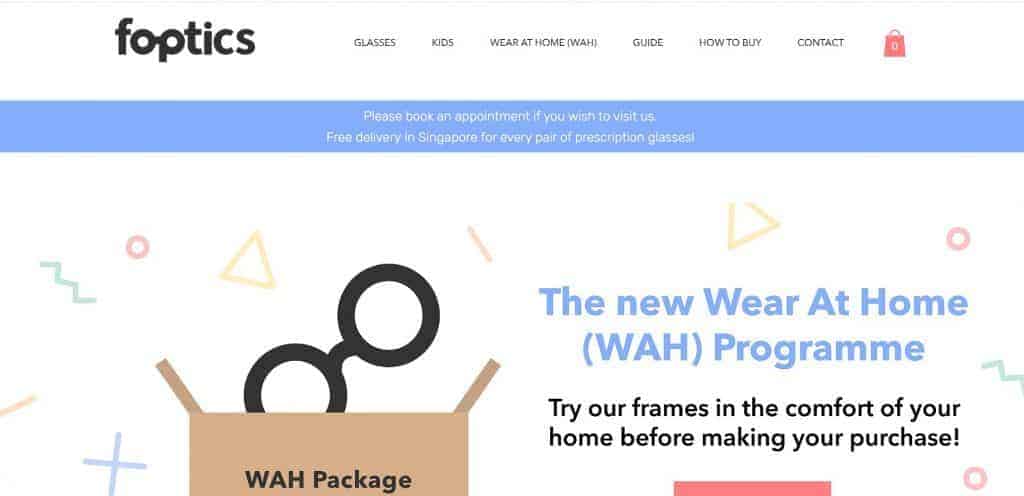 Did you know that to offset the fixed costs of the outdated retail model, each pair of glasses in the market is typically sold at an average profit margin of 950%?
Going against the grain is foptics. To help you save transport costs and for convenience, they allow you to purchase their glasses online.
The optical shop in Singapore offers a Wear At Home programme where you can select up to three frames to try on in the comfort of your home for seven days, even before purchasing them!
The frames will be mailed to you for you to make your decision.
Frames under the foptics premium brand are made from higher quality materials and more robust hinges.
They also come with ultra-flexible properties to withstand twist and turns, resulting in frames that last longer.
12. Bolon Eyewear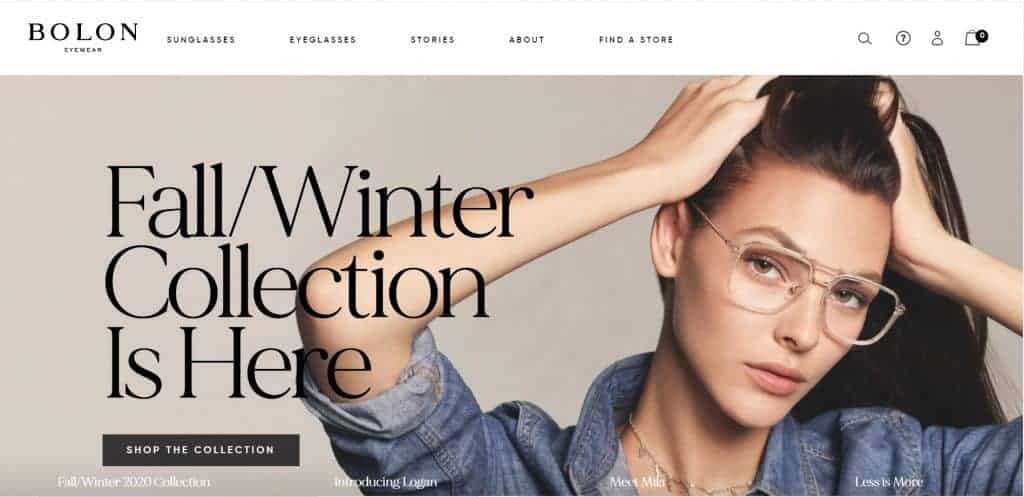 Dominating the eyewear industry with unparalleled style and prestige, Bolon Eyewear was established with a purposeful intent: to embrace and celebrate the essence of self-expression through a combination of craftsmanship and innovation where unique frames are created.
They use only high-quality materials, like Italian Premium Acetate-Resin and Memory resin TR90 made in Switzerland.
These materials guarantee lightness and resistance.
Their quality hyper-elastic thin steel is fashioned by precision laser cutting. Grooves are carved onto the thin lenses and plate to inlay the metal frame.
A signature style of the brand is its ultra-thin and resilient temple – key to maintaining its featherweight yet durable quality.
Bolon Eyewear also uses high quality lenses for their sunglasses.
Their high-definition polarised lenses offer true-to-life colour perceived by the eyes and give optimum sun protection for your delicate eyes.
13. Philip D Izaac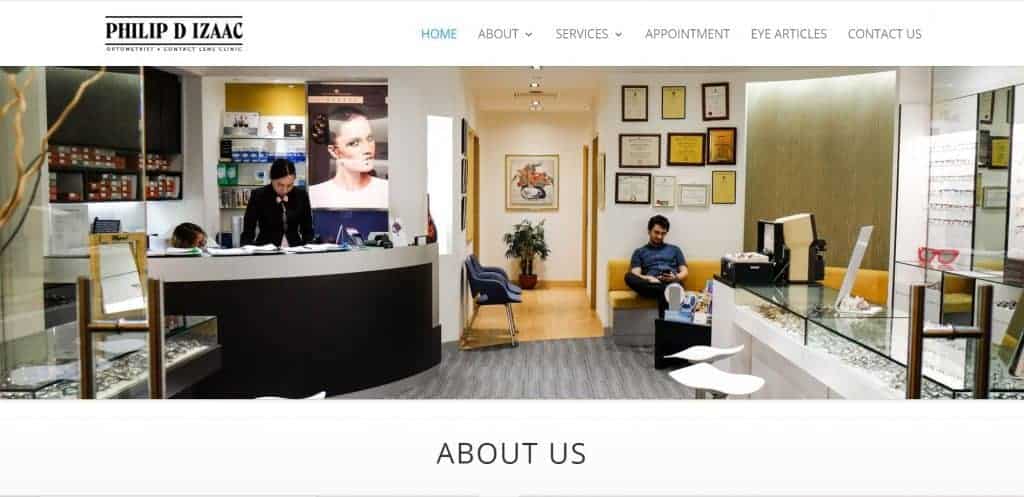 PHILIP D IZAAC is a family of optometrists with years of experience and is one of the most respected and qualified eyecare practitioners locally.
It's fitted with diagnostic instruments like the Optos Daytona which enables the eye care practitioner to visualise almost the entire retina without the need for dilating eye drops.
There's also the Retinal Camera (Fundus Camera) at PHILIP D IZAAC. This instrument takes a picture of the retina.
Retinal conditions such as Glaucoma, Macular Degeneration and Diabetic Retinopathy can be observed from the picture.
The camera is also invaluable as a documentation tool.
It makes it easy to track patients with progressive diseases and to determine if their disease is progressing.
Conclusion
Do you have any reviews and comments to share regarding our choices for the best optical shop in Singapore?
While SBO is committed to supporting our local businesses, we welcome any feedback and anonymous sharing regarding your experience with the listed optical shop in Singapore.
We hope that this guide will be useful in helping you to make an informed decision when it comes to finding the best optical shop in Singapore.
Thinking about ditching spectacles and contact lenses altogether? You definitely should check out 10 Best Clinics for LASIK in Singapore for Your New Look.
Explore More Content