11 Best Thyroid Specialist in Singapore for Diagnosis and Treatment [2023]
Book an appointment with the best Thyroid Specialist in Singapore to improve your overall health.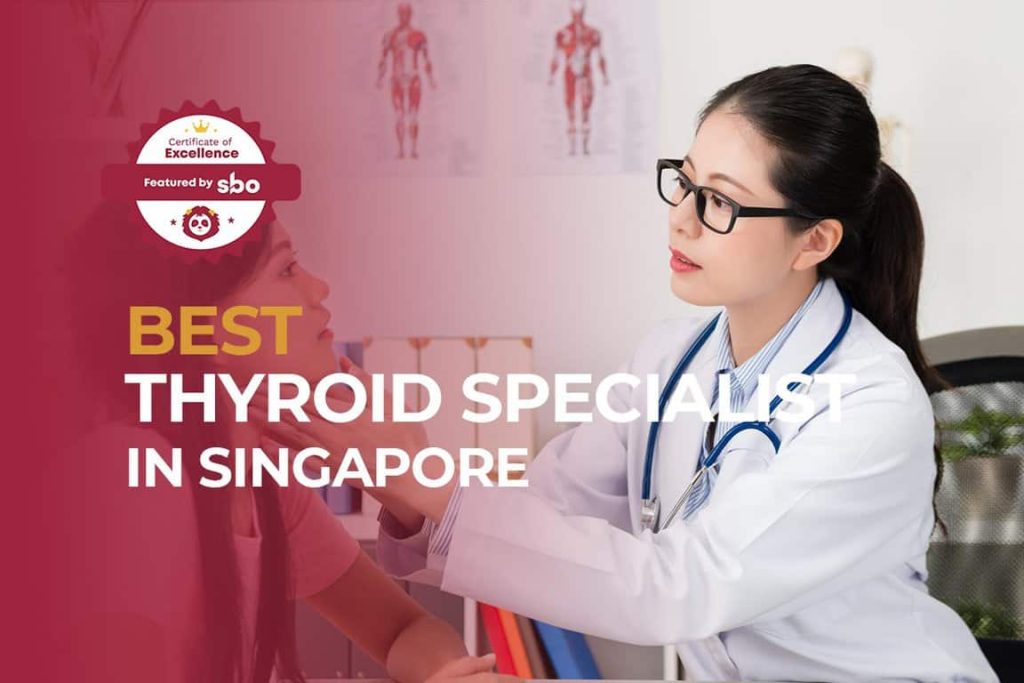 You might be looking for specialised treatment of thyroid conditions, and there are many types of healthcare providers who can help you. Thyroid Specialists can provide you with a comprehensive diagnostic service and treatment.
Thyroid disorders, though not often visible, can affect you and your loved ones in many ways. It is essential that you get the best treatment out there that is suitable for your needs.
Based on positive reviews and efficiency, we've compiled a list of the 11 Best Thyroid Specialist in Singapore who will listen to your concerns, evaluate and manage your condition.
1. Abel Soh Diabetes, Thyroid and Endocrine Clinic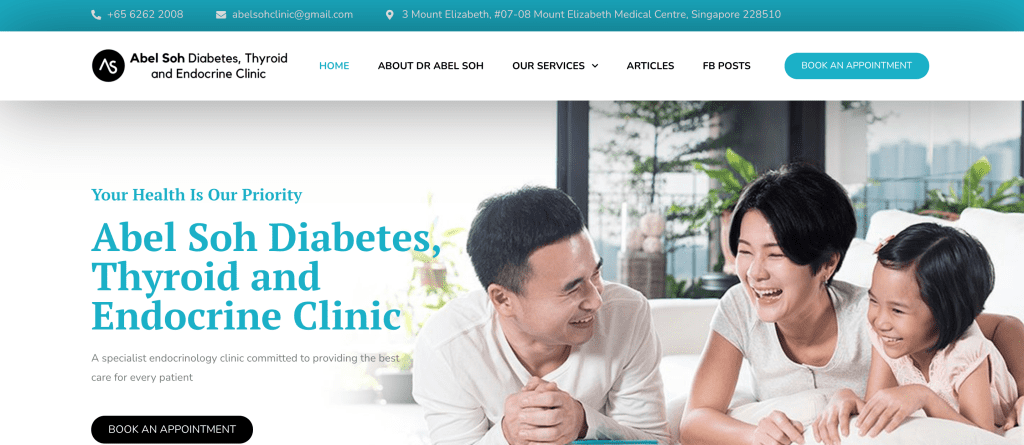 Abel Soh Diabetes, Thyroid and Endocrine Clinic is a specialist endocrinology clinic. Your care and treatment will be in the hands of Dr Abel Soh, who has extensive clinical experience in managing patients with thyroid diseases and other endocrine conditions.
Notably, he has a Specialist Accreditation in Endocrinology by the Ministry of Health and received the Singapore Health Quality Service Gold Award.
The positive reviews showed that patients in his long-term care loved Dr Abel Soh's patience and professionalism in explaining their condition to them.
For peace of mind, do contact them to clarify your doubts and for more information.
2. Alex Fok Endocrine Practice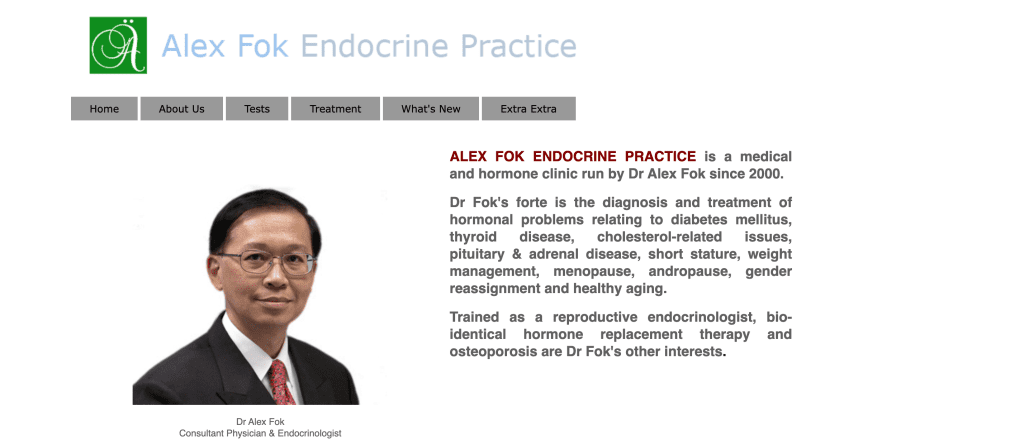 Alex Fok Endocrine Practice is a physician, endocrinologist, and thyroid specialist practising at the Mount Elizabeth Medical Center, Singapore. Dr Fok's forte is in hormonal treatment, including thyroid diseases.
Patients in the reviews praise Dr Fok for being caring and meticulous. The helpful and friendly service of the receptionists and staff were commendable too.
If you are unable to find the information that you seek on their website, do drop them a call to clarify any concerns you may have before heading down!
3. Arden Endocrinology Specialist Clinic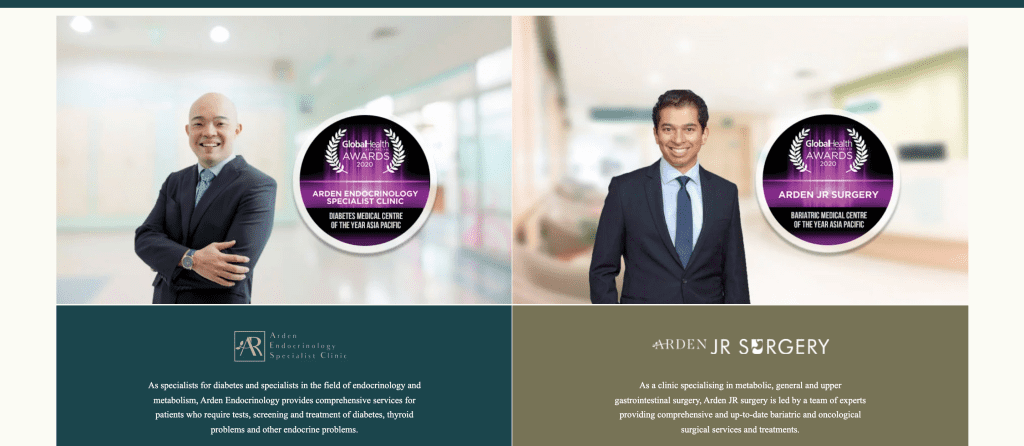 At Arden Endocrinology Specialist Clinic, you can consult thyroid specialist Dr Ben Ng for early detection and treatment of thyroid-related problems. Dr Ng is an expert in the use of thyroid ultrasound and in fine-needle biopsy of the thyroid gland. His primary interest is also in autoimmune thyroid disease and pregnant patients with thyroid disease.
Given their expertise in thyroid conditions, they can provide thorough and individualised treatment for all patients for all forms of thyroid disease.
Reviews talk about how Dr Ng is conscientious in checking their medical history and is patient and friendly in addressing their concerns. Dr Ng also is very transparent on the treatment course.
So rest assured, you'll be updated frequently on your progress throughout your recovery process. Check out their website to find their responses to the frequently asked questions.
4. Luke Tan Ear Nose Throat & Thyroid Surgery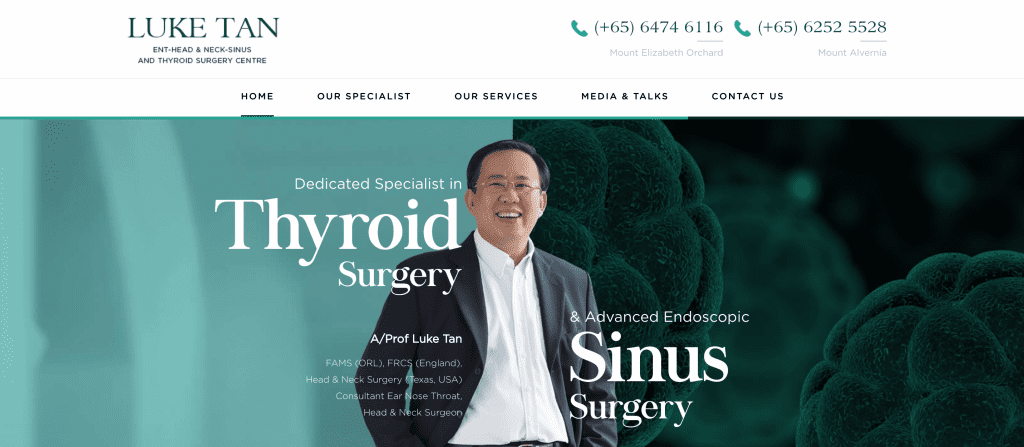 Luke Tan Ear Nose Throat & Thyroid Surgery is a clinic with more than 15 years of experience in treating thyroid conditions and providing holistic and personalised healthcare. There, you will be seen by A/Prof Luke Tan, a thyroid specialist doctor who had attained entry into the Fellowship of Royal College of Surgeons of England (FRCS(England)) and has a passion for Thyroid Surgery.
Reviews are coloured impressed by his professionalism and caring nature. This left many patients assured throughout the treatment.
While reviews may be one way to understand what the specialist can offer, do drop them a enquiry through their form if you have any questions.
5. Dr Jeeve – ENT Specialist @ Mt Elizabeth Novena & Gleneagles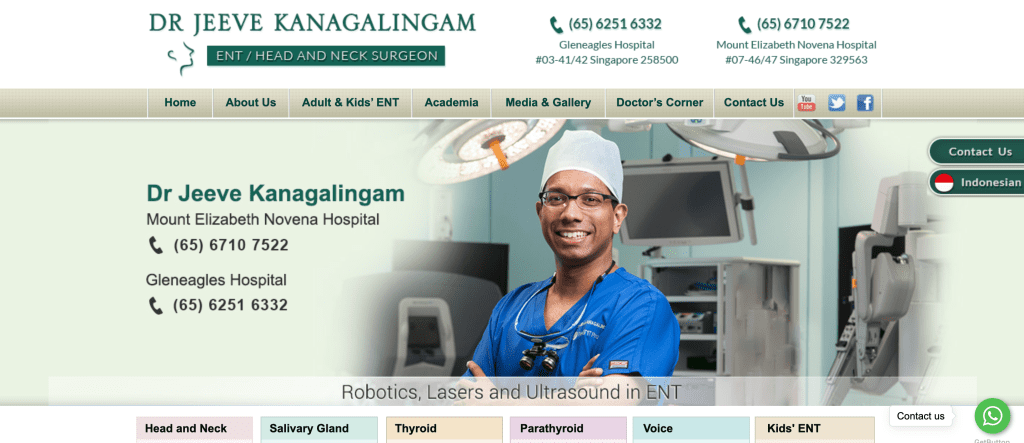 Thyroid specialist Dr Jeeve Kanagalingam believes in evidence-based medicine and the use of international guidelines to help him explain treatment options for thyroid conditions to his patients. He has a sub-speciality expertise in thyroid surgery.
Sifting through the reviews, there is a consensus that the staff ensured a smooth preparation and follow-up for patients, and the service placed patient comfort as a priority.
6. Asia Sleep Centre – Dr Kenny Peter Pang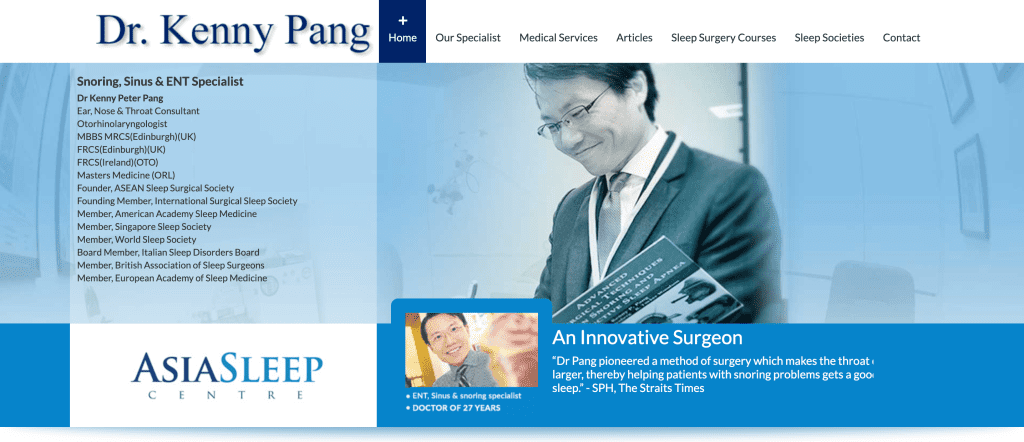 Dr Kenny Peter Pang is the clinical director of Asia Sleep Centre and attends to thyroid disorders. Dr Pang has been invited over 60 times as a keynote speaker and lecturer for surgery courses all over the world, which is a strong recognition of his expertise.
Dr Kenny comes in highly recommended by reviews, for actively responding to their questions and being sincere in his treatment for his patients. For those seeking a thyroid specialist, you can get in contact with Dr Kenny by filling in their form here or referring to the contact details above.
7. Kevin Tan Clinic For Diabetes Thyroid & Hormones Pte Ltd

The endocrinologist and thyroid specialist at the Kevin Tan Clinic For Diabetes Thyroid & Hormones is Dr Kevin Tan. He has several decades of experience and is equipped to examine and treat you if you are suffering from thyroid disease.
You can be confident about receiving care from Dr Kevin Tan based on his reviews, which describe him as a caring and professional doctor, who methodically diagnosed and treated them in an assuring manner.
8. Dr Dennis Chua – ENT Surgeons Medical Centre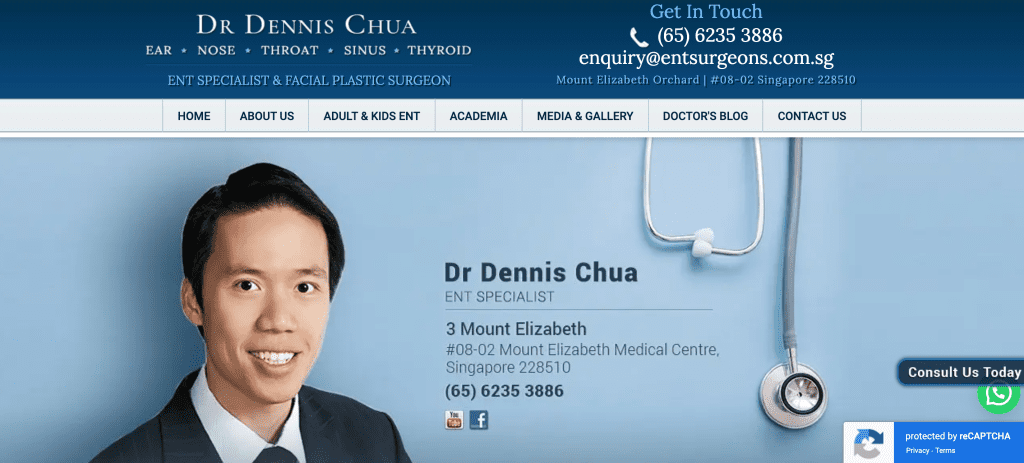 As an ENT Specialist, Dr Dennis Chua can treat specific conditions such as thyroid dysfunction to ensure an optimal condition for his patients. After the diagnosis, thyroid specialist Dr Dennis will prescribe a personalised treatment protocol tailored to your specific condition. These treatments are insurance- and Medisave-claimable.
Reviews attest to the standard of care provided at this clinic, and shows their sincere appreciation to Dr Dennis for being reliable and patient in explaining their condition and treatment procedure.
9. Specialist Endocrine Clinic for Diabetes, Thyroid and Hormones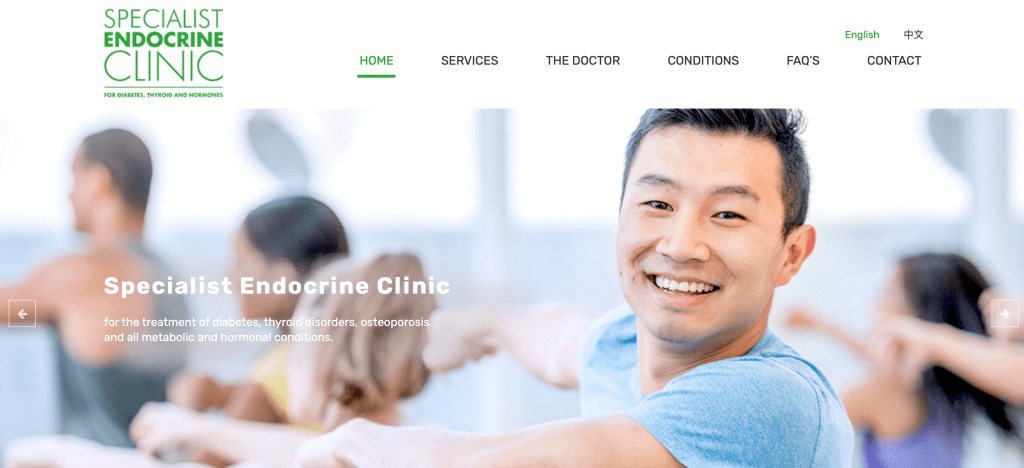 Conveniently located at One Orchard Boulevard, Specialist Endocrine Clinic, specialises in the treatment of thyroid disorders and other metabolic and hormonal conditions. The clinic promises an individualised specialist level treatment for all their patients.
You can receive a consult from Dr Foo Joo Pin, who is the consultant endocrinologist, physician, and thyroid specialist. He believes in not only providing a scientifically proven and up to date treatment, but more importantly, a personalised and holistic approach to better his patient outcomes.
While the reviews mainly share that Dr Foo is highly competent and highly empathetic, you can also get more information on their service itself from contacting them.
10. The Thyroid Head & Neck Surgery Centre: Dr Ranjiv Sivanandan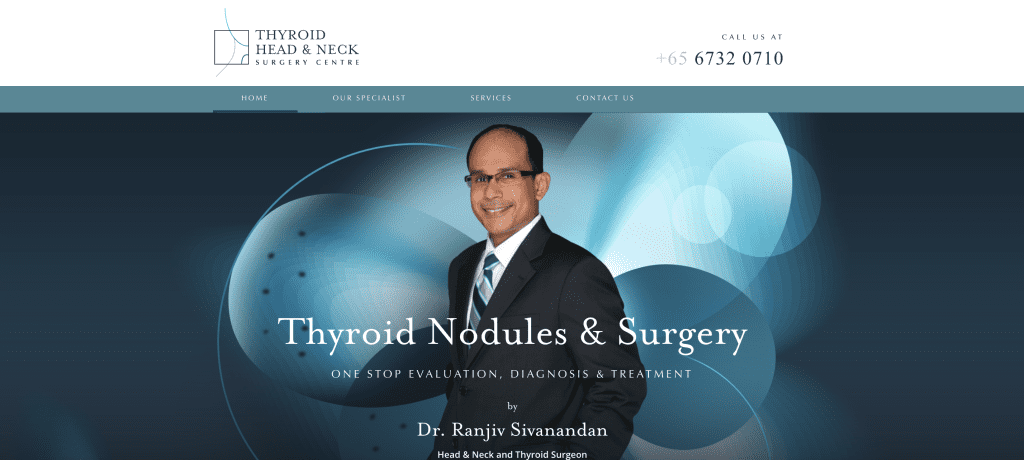 The Thyroid Head & Neck Surgery Centre is helmed by Dr Ranjiv Sivanandan, a trusted thyroid, head and neck surgeon with more than 20 years of experience. He provides personalised care for his patients and ensure only the best evidence-based practices are used.
Reviews love both the surgeon and his clinical staff, who were excellent at providing all the necessary information required from preparation for the operation through to aftercare treatment. If you want to enquire further, feel free to reach out them here.
11. Thomas Ho Surgery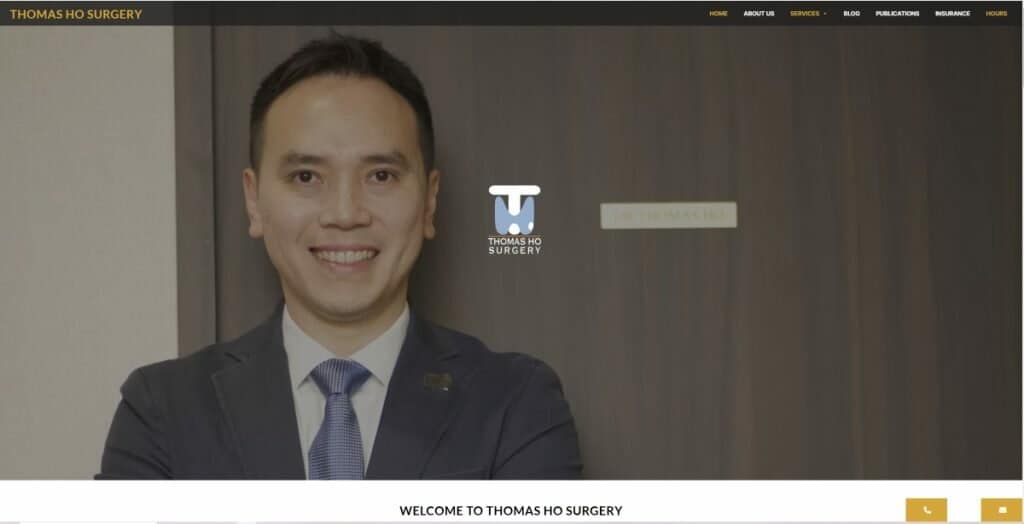 Dr Thomas Ho is known for his expertise and passion in thyroid surgery. Prior to private practice, Dr Ho served twenty years in the public hospitals and founded the head & neck/endocrine surgery division at Tan Tock Seng Hospital where he was a senior consultant.
He has trained many surgeons in aesthetic-centric minimal incision thyroid surgery. He is one of the early adopters in endoscopic and robotic-assisted thyroid surgery.
His patients have confidence in his explanation of their thyroid disorders as well as the outcome of their thyroid surgery. Dr Ho provides a one-stop care for thyroid disorders at his clinic which includes fine-needle aspiration biopsy as well as video laryngoscopy.
Conclusion
With thyroid conditions, it is important to find a clinic, a doctor and staff that can offer support and guidance throughout.
While you may have a limited amount of time with your doctor at each visit, some of the doctors listed here are willing to provide you with a communication channel outside of these hours for your peace of mind. You deserve only the best, so make sure you feel comfortable with your chosen option.
While SBO is committed to supporting our local businesses, we welcome any feedback and anonymous sharing regarding your experience with our recommended 11 Best Thyroid Specialist in Singapore.
If you are looking for other health diagnostic services, check out options to do a blood test in Singapore.
Explore More Content