10 Best Fish Oil in Singapore as Supplements [2023]
Head over for our recommendations of the 10 Best Fish Oil in Singapore!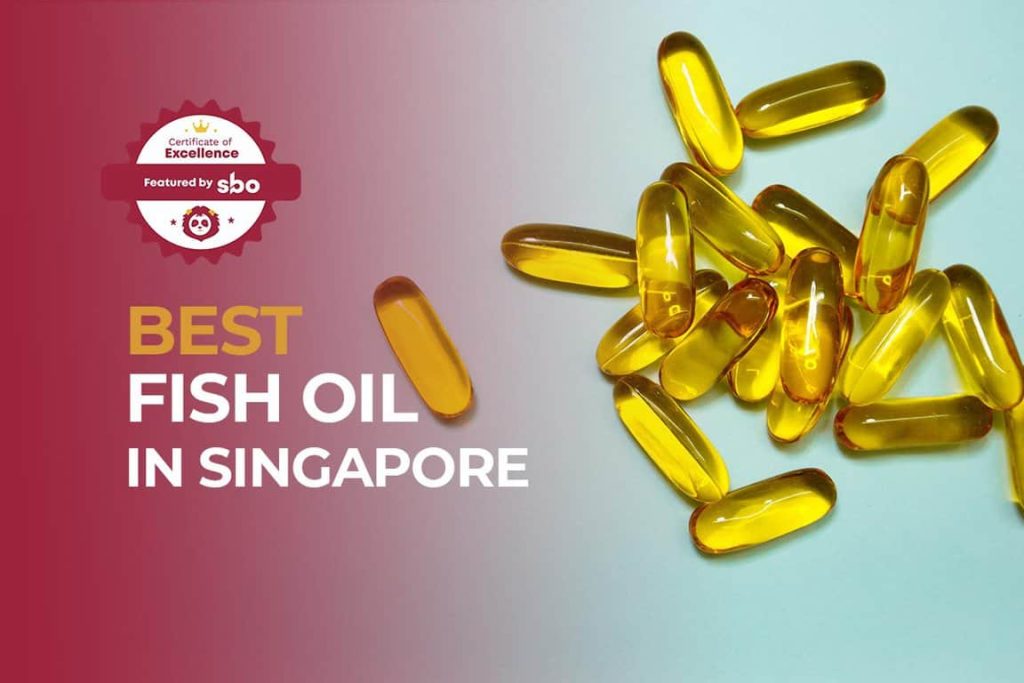 Mentioning 'Fish' and our minds bring us to various dishes involving it. Be it steam, fried, grilled, braised, everyone can find something that suits their taste buds. (That is if you are comfortable with its fishy odour)
Other than those stated above that keep us drooling, Fish Oils that are derived from the tissues of oily fish might also come to mind. Today, we will be introducing the 10 Best Fish Oil in Singapore!
What are Fish Oils Good for?
Fish oils contain the omega-3 fatty acids eicosapentaenoic acid and docosahexaenoic acid, precursors of certain eicosanoids that are known to reduce inflammation in the body and improve hypertriglyceridemia.
Some common health benefits of Fish Oils include lowering blood pressure, reducing the chance of abnormal heart rhythm, and lowering the likelihood of heart attack and stroke. Thus, many purchase Fish Oils as a form of daily supplements, especially those with known heart diseases.
1. California Gold Nutrition, Omega 800 Fish Oil, 480 EPA/320 DHA, 1000 mg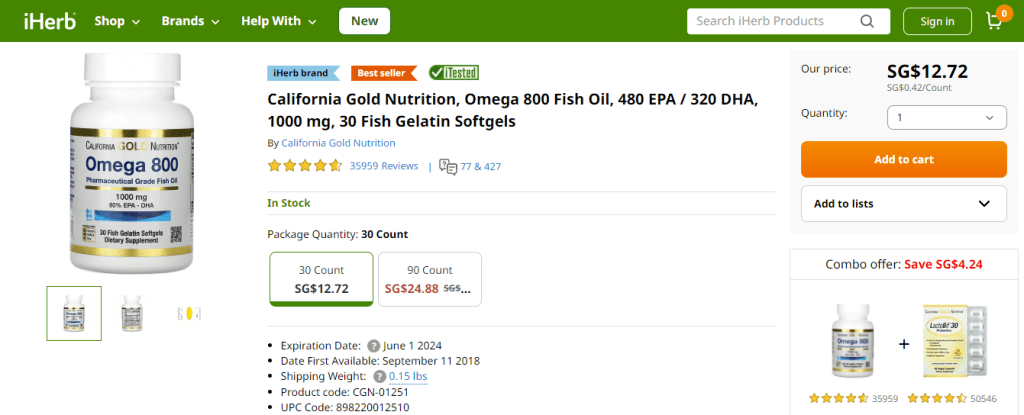 California Gold Nutrition Omega 800 Pharmaceutical Grade Fish Oil features KD-PÜR® IFOS™ 5-Star rated high-quality fish oil concentrate processed in Germany and is specifically designed for individuals looking for an ultra-concentrated, once-daily soft gel. Per dose, Omega 800 offers the highest quality fish oil, with no less than 80% of EPA/DHA, at the best overall value.
Many have attested to the health benefits it produced, with one stating that she has been sick once in the past 1.5 years despite having a weak immune system! Hearing this, I would want to try it myself too~
2. Nordic Naturals, Ultimate Omega, Lemon, 640 mg

Another fish oil product from iHerb!
The #1-selling omega-3 in the U.S., Ultimate Omega® offers concentrated levels of omega-3s for high-intensity essential fatty acid support. Ultimate Omega helps optimize immune function, supports brain health, and has been clinically shown to support a healthy heart. Every batch of Nordic Naturals fish oils is tested by a third-party certified lab for environmental toxins, including heavy metals. All fish oils are in the triglyceride form and surpass the strictest international standards for purity and freshness.
3. BLACKMORES Odorless Fish Oil 1000mg Capsules 400s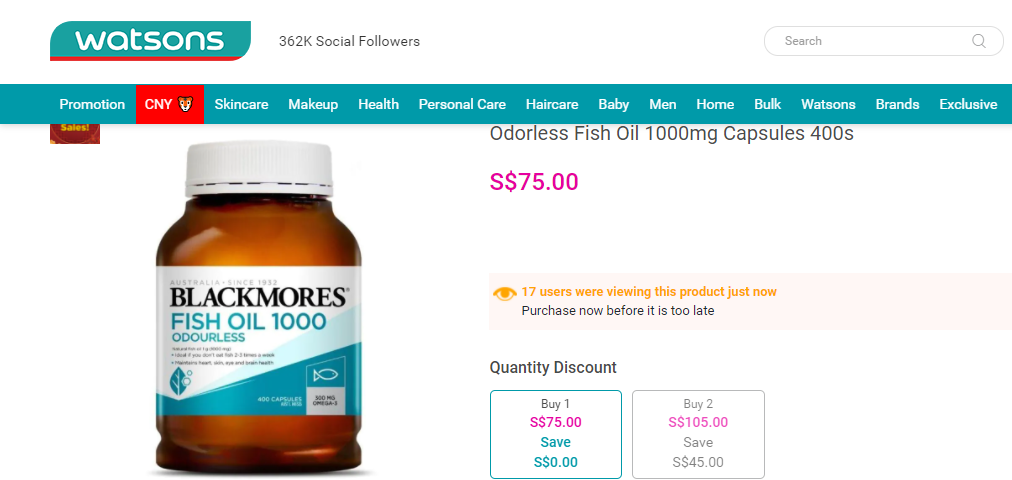 Blackmores Fish Oil 1000 Odourless provides a high-quality natural source of omega-3. It contains 300 mg of omega-3 per capsule to maintain heart, skin, eye, and brain health and is ideal if you don't eat fish 2-3 times per week. All Blackmores fish oil is extracted from 100% wild caught small fish. The specialised extraction process ensures purified, high quality oil that is rigorously tested for mercury, dioxins and PCBs.
Reviews showed many repeated purchases from this trusted brand and credited its reputation to their technology that produces odourless fish oil.
4. Swisse Ultiboost Odourless Wild Fish Oil 1000Mg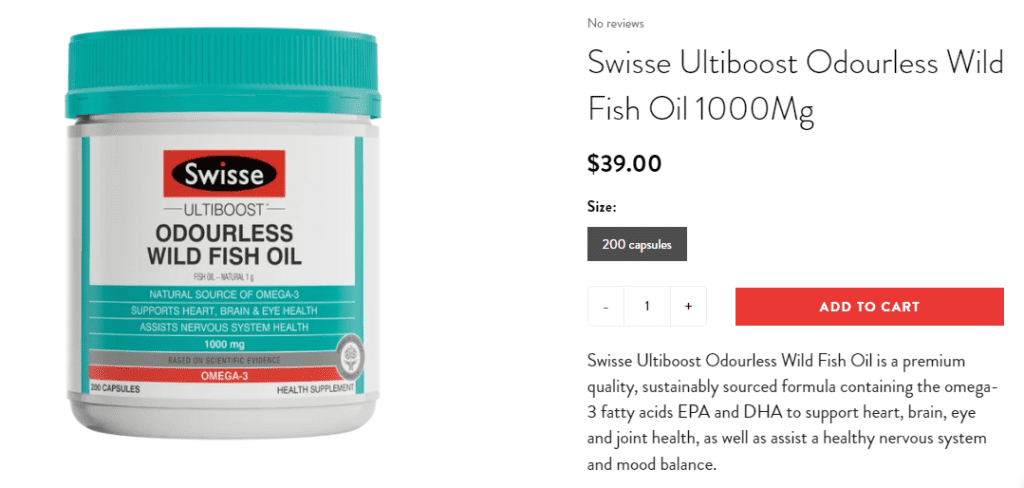 At Swisse, they are passionate about developing scientifically supported formulas to boost your health & wellbeing. They aim to search the globe for ingredients that help you make the most of life. With the wide range of products they produced, there is something for everyone!
Today, we'll be introducing the Swisse Ultiboost Odourless Wild Fish Oil. It is a premium quality, sustainably sourced formula containing the omega-3 fatty acids EPA and DHA to support heart, brain, eye, and joint health, as well as assist a healthy nervous system and mood balance.
5. Ocean Health Omega 3 Fish Oil 1000mg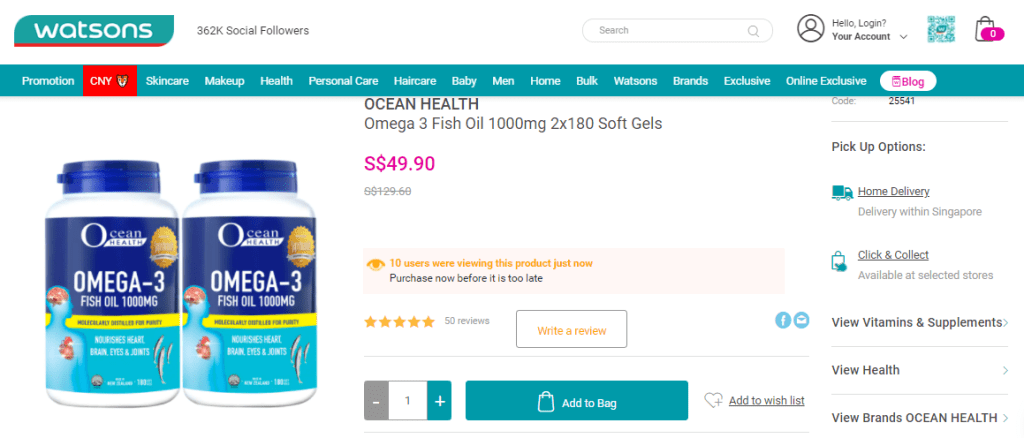 Ocean Health Omega 3 Fish Oil 1000mg is a 100% natural dietary supplement derived from small, clean, Omega-3 rich ocean fish (including anchovies) sourced from the deep sea. It is molecularly distilled to provide pure Omega-3 fatty acids, EPA and DHA. Every batch of Ocean Health Omega-3 Fish Oil undergoes stringent testing against harmful heavy metals to assure product quality. Some benefits include maintaining healthy blood lipid levels, supporting cognitive function and memory, and promoting healthy joints.
Interested in getting them? You can purchase them at any of the Watsons outlets near your house!
6. GNC Triple Strength Fish Oil Mini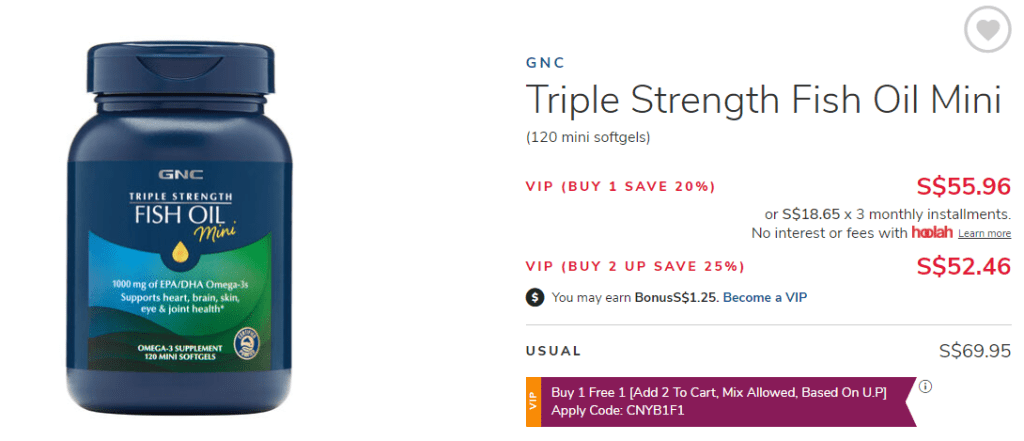 If you have been interested in health supplements, this brand wouldn't be unfamiliar to you. For over 85 years, GNC has been the leading global health and wellness brand providing the best in performance-inspired nutrition. They are committed to meeting the highest standards while applying the most up-to-date advances in nutritional science. Above all else, GNC aims to inspire people to live well.
The GNC Triple Strength Fish Oil Mini are designed as smaller soft gels for easy intake and provide 1000mg of omega-3 fatty acids (734mg EPA, 266mg DHA) to support cholesterol, blood circulation, and brain health. Besides that, it supports healthy joints and eases joint discomfort, ideal for those who do not consume deep-sea fatty fishes (salmon, codfish, sardines) regularly and concerned about their high cholesterol level.
7. Viva Naturals Omega-3 Fish Oil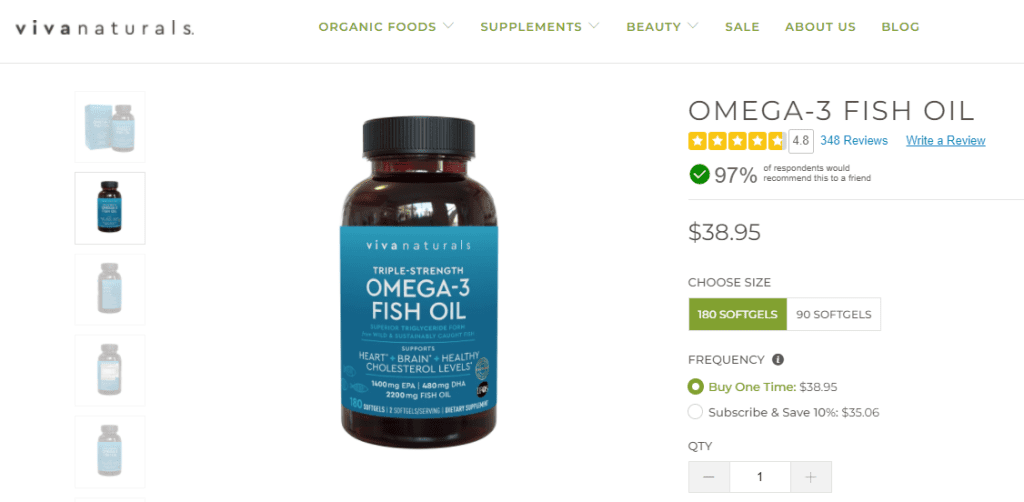 "We believe wellness is living a life of balance. A lifestyle that benefits your mind, body and soul. We want to ensure everyone has what they need to live a healthy, happy and more balanced life. That means access to high-quality products, rich in the benefits Mother Nature intended."
-Viva Naturals
With fish wild-caught using responsible fishing practices, Viva Naturals' Fish Oil Omega 3 supplement is of the highest quality and standards, and third-party tested to ensure exceptional purity and safety. Besides, they've done everything within their ability to preserve the quality of their omega fish oil, so odour and dreaded "fish burps" common with other fish oil supplements are minimized. If you're looking for an effective, high-quality fish oil supplement, you've found it.
8. VitaHealth Kids Fish Oil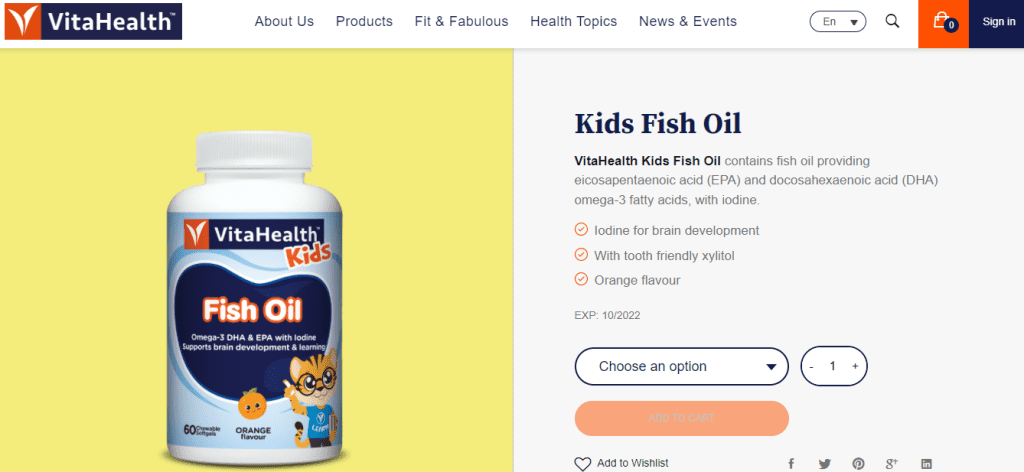 After looking at many fish oil products that are suitable for adults, let's take a look at one that focuses on kids!
It is every parent's wish to see their children grow up healthily and be able to do well in school. Therefore, it is important to give your children the greatest start in life and throughout their schooling years. Supplementing your children's diet with Omega-3 fatty acids is one way to help their brain and physical development. With VitaHealth Kids Fish Oil's specially formulated chewable soft gel, parents no longer have to worry about their children's inability to swallow pills!
9. TruLife Omega 3·Pro

Moving on from children's fish oil, take a look at one that is directed to pregnant women!
TruLife Omega 3·Pro (Double Strength) Fish Oil from Norway contains double strength of 360mg of EPA and 240mg of DHA, which contributes to the maintenance of healthy function of the heart, brain, and vision. It also helps you avoid the heightened mercury levels that come with eating too much fish – especially if you're pregnant or nursing; as mercury could mess with the baby's nervous system.
With the above benefits, it is no surprise that this product has been featured in many blogs for pregnant women.
10. Nature's Own Odourless Fish Oil 1000mg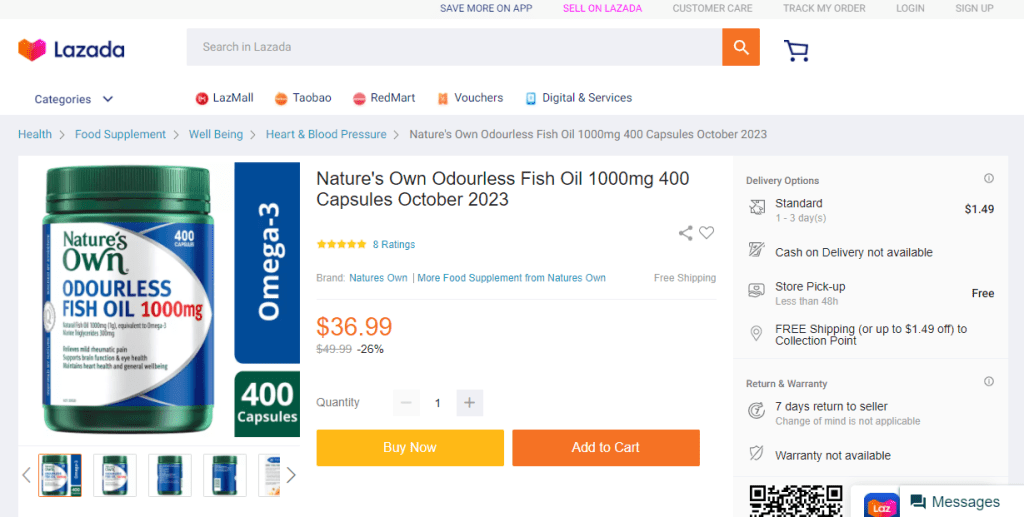 Nature's Own is more than just a health supplement brand. Since its establishment in 1975, they have been on a mission to help every Australian to unlock their natural potential by being smarter about their bodies. By combining the traditions of natural medicine with the knowledge of the body and the latest nutritional science, their team developed a wide range of health supplements.
The one that we're introducing today is Nature's Own® Odourless Fish Oil 1000mg. It is a high-quality, naturally derived Omega-3 essential fatty acid that is formulated flawlessly to reduce the fishy aftertaste. Doubtful of its taste? Check it out yourself
Conclusion
Despite all those health benefits, it is simply not sufficient to just intake fish oil on a daily basis! A healthy diet coupled with the habit of exercising would be the way to go. With that said, why not try out Muay Thai for a unique workout experience?
Click here for our compiled list of the 10 Best Muay Thai Gym in Singapore!
Featured Image by Leohoho on Unsplash
Explore More Content