15 Best Dentist in Singapore to Improve Your Oral Health [2023]
Find the best dentist in Singapore to improve your oral health.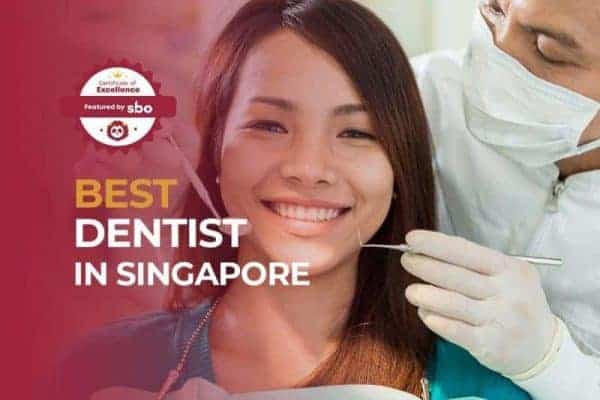 In Singapore, a study found that six in 10 Singaporeans did not have dental check-ups every six months as advised by a dentist in Singapore, and 43 per cent visited a dentist only when they had problems like a toothache.
That's not all: 56 per cent of Singaporeans spent less than two minutes a day brushing their teeth and 18 per cent did not brush their teeth twice a day.
If these figures don't sound alarming, you may be surprised to learn that poor oral health is actually linked to heart disease, cancer and diabetes.
In this post, we've gathered all the necessary details and testimonials to derive a list of the 15 best dentist in Singapore to improve your oral health.
1. T32 Dental Group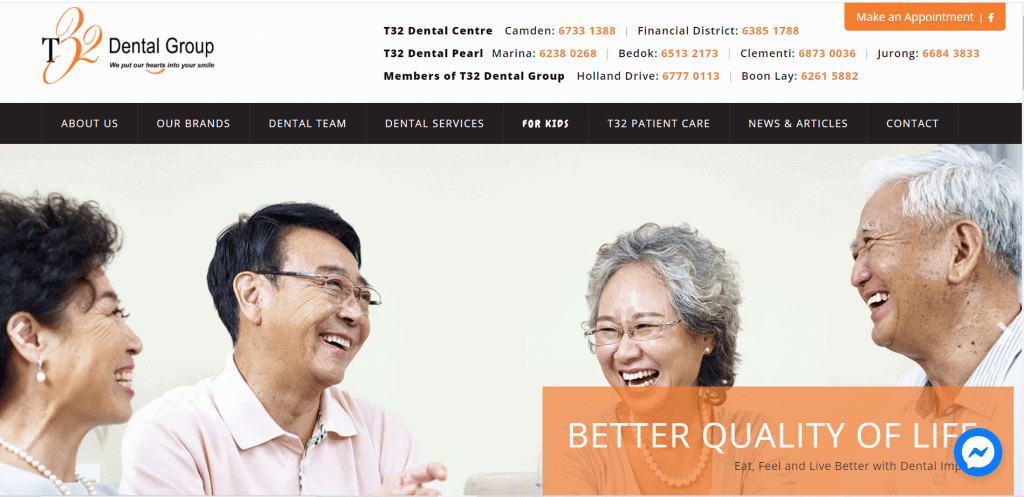 Founded in 2007, T32 Dental Group provides specialist and general dental care in Singapore to patients locally and regionally.
Within a span of 10 years, T32 has grown into one of the largest integrated private dental centres with eight dental clinics in Singapore located at Camden, Financial District, Marina, Bedok, Clementi, Jurong. Holland Village and Boon Lay.
Whether you need a checkup, a dentist for your child, teeth whitening or an orthodontist for corrective or aesthetic dentistry like braces treatment, wisdom tooth extraction and dental implant, they are bound to have the right dentist for you.
Their specialty lies in digital dentistry services.
These include the use of:
3D Computed Tomography (CT) Scanner
3D Treatment Planning Software
3D Intra-Oral Scanner
Computer-Aided Design/Computer-Aided Manufacturing (CAD/CAM) Technology
They have the Swissmeda SMOP, which is a 3D implant planning software, based in their centre.
The software designs the guide for implants based on 3D images acquired and Intral Oral Scanner, to take images of teeth from within the mouth.
Their team includes Chinese and Malay speaking dentists, as well as expatriate dentists for expatriate patients who prefer a dentist from their home country.
2. AllSmiles Dental Care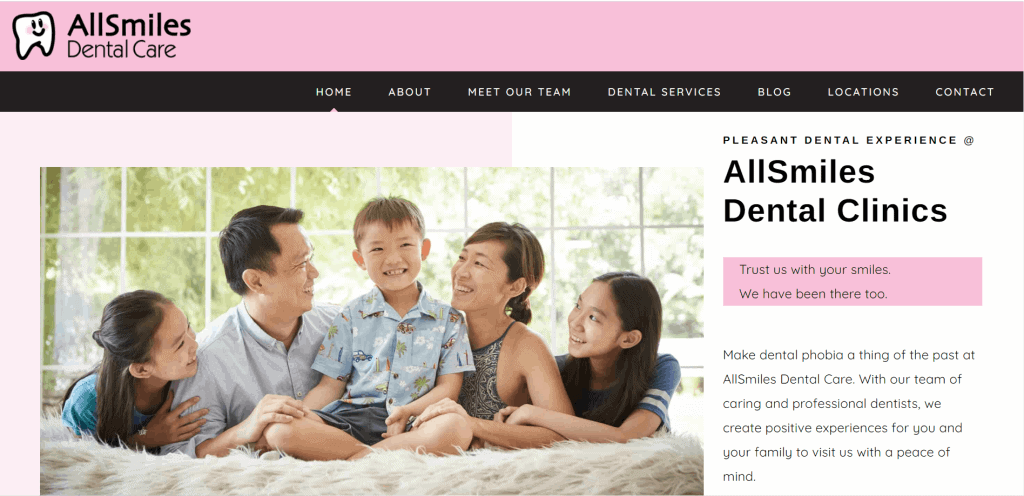 AllSmiles Dental Care is a family-oriented and full-service dental clinic.
Their focus is on providing safe, gentle and holistic dental care in a comfortable environment that puts patients at ease.
This is their commitment to their patients.
The dentist in Singapore is known for its root canal treatment service, which alleviates the pain and swelling that has been caused by inflammation of the dental pulp.
Their process of root canal treatment involves seven steps:
Anesthetic Treatment
Tooth isolation
Tooth opening
Removal of infected tissue
Canal cleaning
Tooth filling
Subsequent treatments
Root canal treatment at their clinic can be performed in a single or over multiple visits depending on several factors, such as the extent of the infection, the number of canals to treat, the condition of the tooth and others.
3. Q & M Dental Group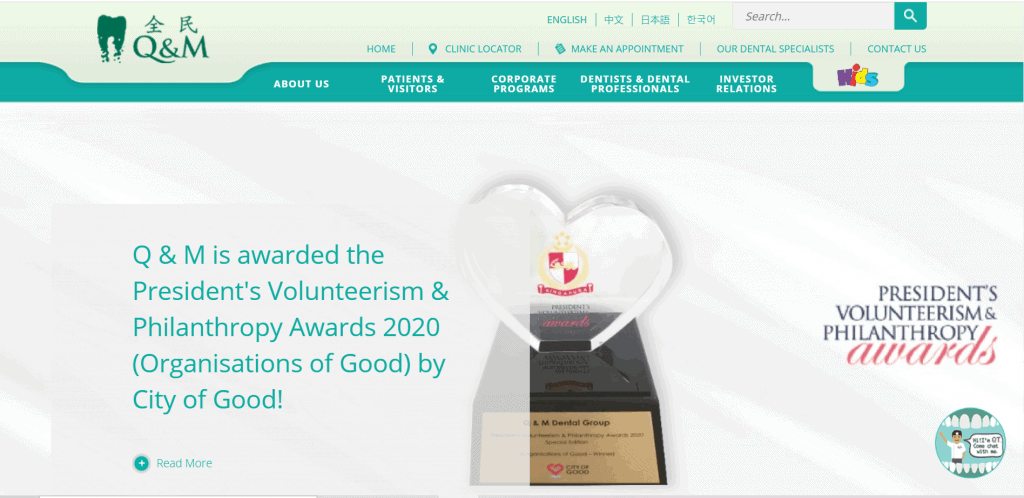 Q & M Dental Group ('Q & M') was first established in November 1996.
It is now the largest private dental healthcare group in Singapore with over 70 dental clinics located in various locations.
Among their more than 200 qualified and experienced dentists, about 40 are specialists or dentists who have undergone extensive post-graduate training either locally or from training institutions overseas.
Q & M is well-positioned to offer a comprehensive range of primary care dental services, as well as specialist services.
Whether you are seeking treatment for tooth whitening, dental veneers or Invisalign clear aligners, you will find these services and more at their dental clinics throughout the whole of Singapore.
All their clinics are accredited with Community Health Assist Scheme ('CHAS'), Pioneer Generation ('PG'), Medisave and Child Development Account ('CDA'/Baby Bonus).
4. The Dental Studio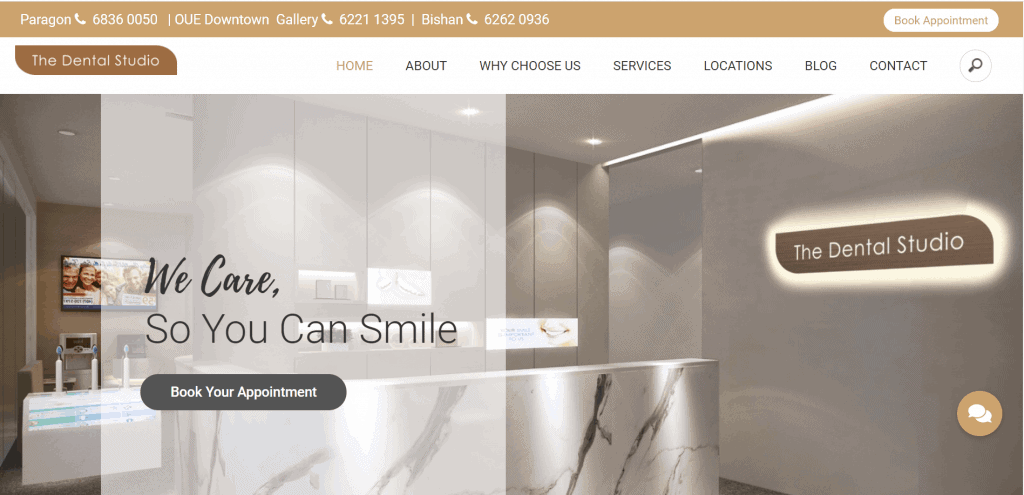 Founded in 2007, The Dental Clinic's team has a combined 113 years of experience in creating winning smiles.
They work together to coordinate complex treatments, so you can receive orthodontics (braces), periodontics (gum treatment), prosthodontics (restorations), oral and maxillofacial surgery in one stop.
Their specialist services include orthognathic surgery, a procedure to correct dental and jaw abnormalities.
The clinic also specialises in full mouth reconstruction services.
Using the technology of modern prosthodontics, dental implants, aesthetic and cosmetic dentistry, teeth can be re-made, whitened and reformed, depending on the level of reconstruction required for each individual.
Their support team regularly attends training and their protocols are reviewed by management.
They also adhere to infection control and sterilisation guidelines set by the CDC (Centers for Disease Control and Prevention) (USA).
5. Nuffield Dental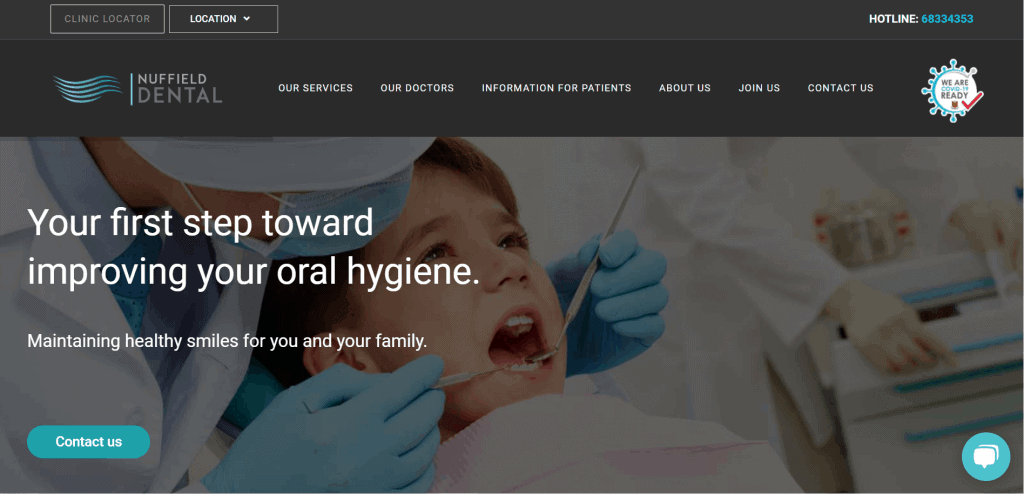 Founded by Dr Samintharaj Kumar in 2014, Nuffield Dental is a multi-disciplinary dental group that has grown rapidly in recent years to 10 accessible locations across the island.
Their services include Veneers, Crowns and Bridges, Teeth Whitening, Invisalign, Dental Implants and Emergency Dental Services (for same-day appointments).
Emergency dental treatment is a key part of Nuffield Dental's services.
The establishment of the service has seen them treating patients for wisdom tooth surgery, broken teeth, root canal treatment and for oral pain management.
In addition to basic dentistry, NUFFIELD Dental offers specific Dental Implant treatments, Smile Makeovers and Complex Full Mouth Rehabilitation including the All on 4 Teeth in a Day concept.
All-On-4 Dental Implants, also known as pro-arch, teeth-in-a-day or full mouth implants, is a method where 4 or 6 implant fixtures are placed into each jaw at one go.
Within the same day, a bridge prosthesis will be fitted over each fixture, linking up with your jawbone to provide you with a full set of teeth in a day.
Additionally, they do a wide range of facial rejuvenation treatments.
These are aimed at delivering a non-invasive face-lift, allowing you to have all your cosmetic needs attended to in their dental studios.
6. NoFrills Dental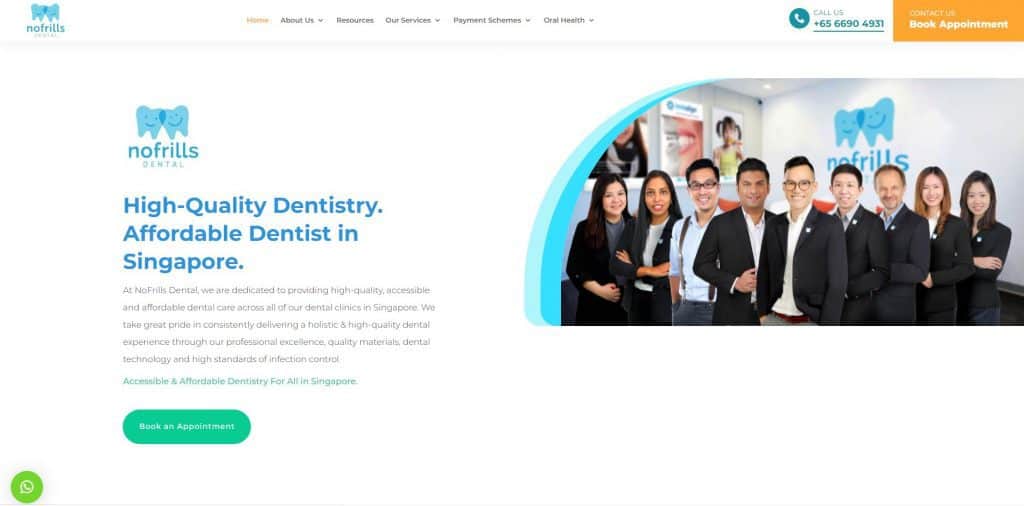 NoFrills Dental is an established and reliable dental clinic in Singapore that is committed to providing accessible, affordable, no-frills dental care for everyone in a sterile and comfortable environment.
They focus on delivering a holistic high-quality dental experience through professional excellence, quality material, technology and a high standard of cleanliness.
NoFrills Dental provides comprehensive dental services such as general dentistry, dental implants, Invisalign treatments, braces, root canal treatment and teeth whitening.
7. TP Dental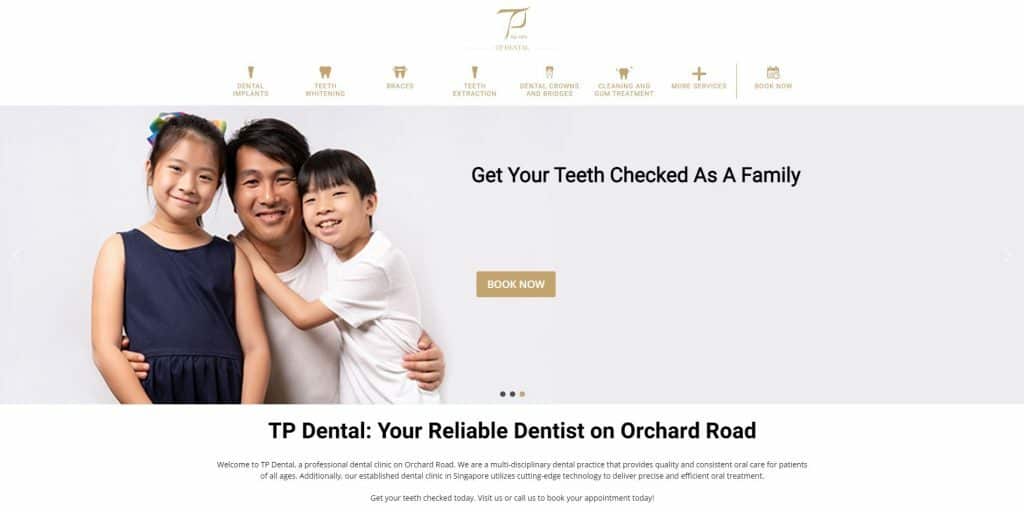 Founded in 1973, TP Dental is a multi-disciplinary dental practice that provides comprehensive quality dental treatment.
This is achieved with the means of cutting-edge technology such as the intra-oral scanner, CAD-CAM technology and 3D printing of dental appliances.
Their team comprises experienced clinical dentists who provide a full range of services.
These include aesthetic dentistry, endodontics, general dentistry, orthodontics as well as oral and maxillofacial surgery.
8. Smilefocus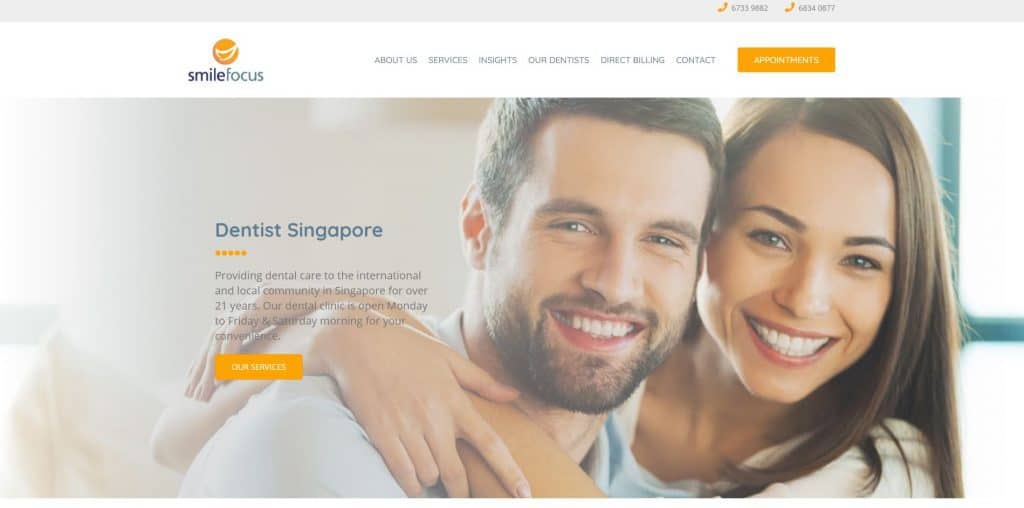 Established more than 20 years ago by Australian dentist Dr Marcus Cooney, Smilefocus believes in adopting a caring approach to their dental service with modern treatment methods.
Their internationally-qualified dentists provide quality dental services to all patients.
Services include preventive care, restorations, root canal, implants and oral surgery, teeth whitening, orthodontics as well as bruxism and grinding.
Smilefocus has won numerous awards for their quality service.
These include the Expat Living Reader's Choice Awards 2021 – Best Dentist & Orthodontist Gold Award.
9. Dental Designs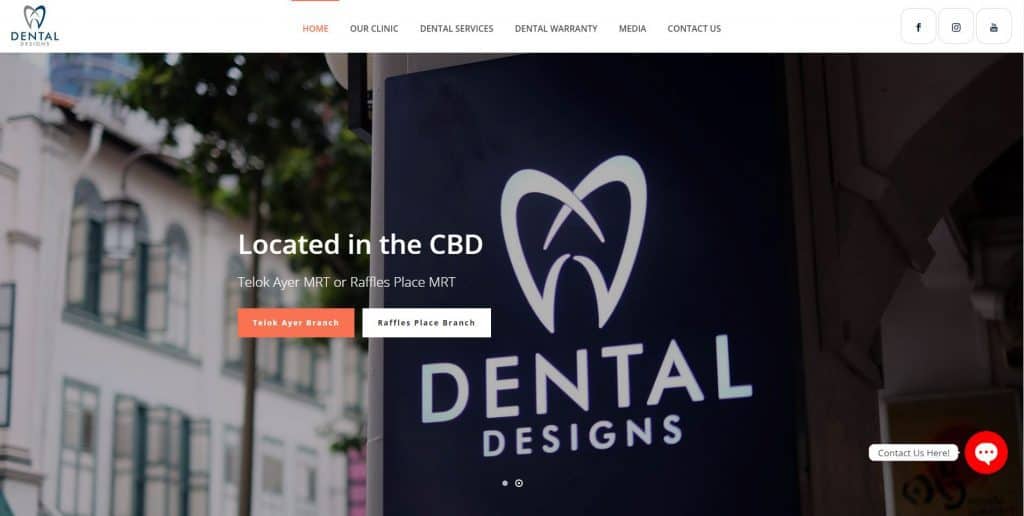 Dental Designs consists of a team of skilled, professional and friendly dentists who are dedicated to providing high-quality dental services to their patients.
They believe in utilising the latest technology from Germany and Switzerland to achieve predictable long-term results.
They provide a full range of dental services including general dental services with a focus on cosmetics, crowns and bridges, dental implants, and Invisalign.
10. i.Dental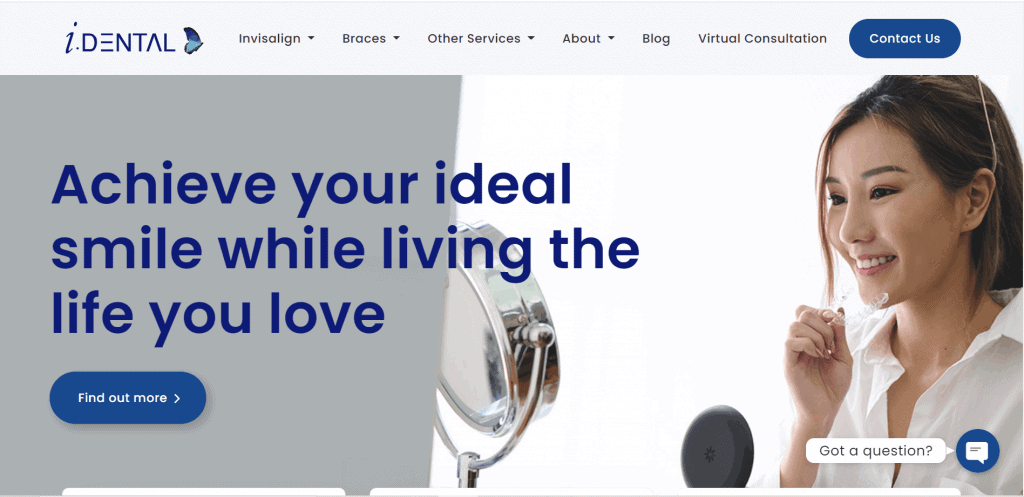 i.Dental was founded in 1989 with the vision of designing smiles and defining confidence for people.
In the 30 years since, their team of dentists and dental hygienists, led by founder and principal surgeon Dr Cheng Eng Wah, have dedicated themselves to creating happy, healthy and beautiful smiles.
As a full, integrated dental care provider, they offer comprehensive solutions from general to aesthetic dentistry to help their patients achieve their ideal smile.
With their patients' trust and support, they have grown from a single clinic in Ubi to four locations island-wide, including an Invisalign Dedicated Clinic.
They were appointed as an Invisalign Dedicated Clinic in 2014 and they take pride in being recognised by Align Technology, the US-based makers of Invisalign.
11. Casa Dental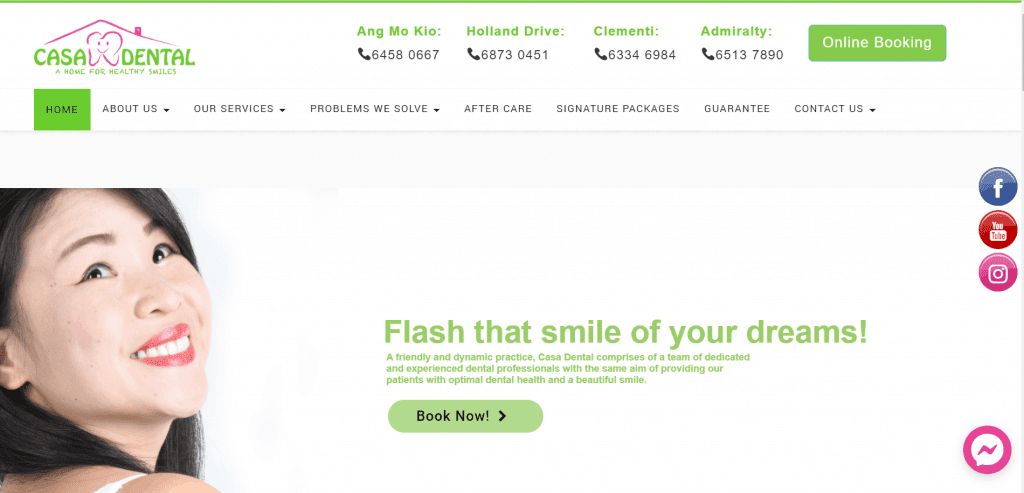 Casa Dental is a leading dentist in Singapore with branches situated at Clementi Ave 1, Ang Mo Kio Ave 8, 45 Holland Drive and 693 Woodlands Ave 6.
Casa Dental provides first-class dental treatment for clientele which includes local and expatriate patients.
They provide a wide range of services including teeth whitening, Invisalign, braces, veneers, crowns and bridge, dental implants, root canal therapy, gum treatment, children dentistry and more.
One of their signature dental services is Invisalign treatment, which uses the latest 3D technology to design and make a series of clear, almost invisible aligners.
These aligners are shaped according to your teeth – just like braces, but without the discomfort or pain.
Recognised by Invisalign as a Diamond provider in 2017, their dentists are experienced in treating all cases.
The clinic provides restorative material guarantee of at least one year for a range of dental services performed.
The guarantee applies if under normal conditions such as dental work breaks, loosens, cracks or the filling falls out.
12. Amoy Street Dental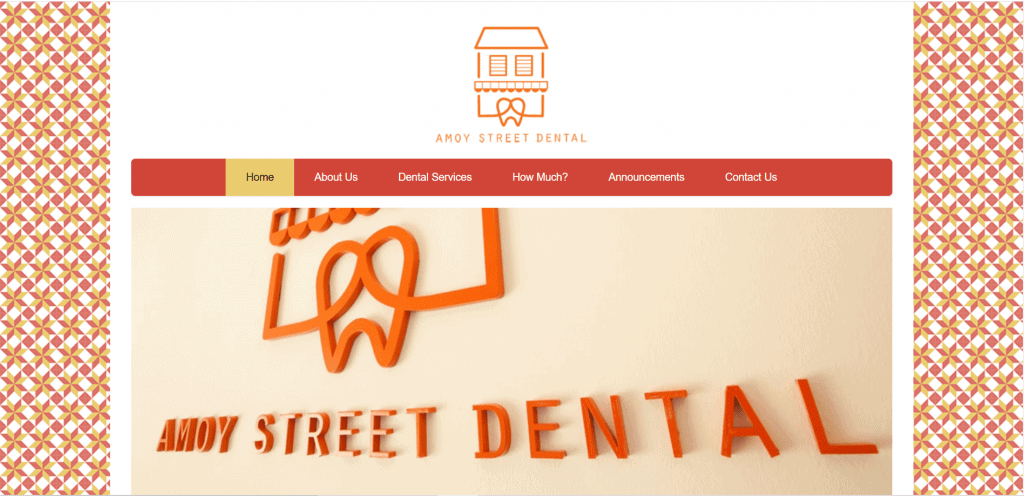 Amoy Street Dental was set up with the hope of providing an outstanding dental service to the community based on honesty and responsibility.
Situated in a classic shophouse on Amoy Street, they are a short walk away from Tanjong Pagar (Green line) and Telok Ayer (Blue line) MRT stations.
The clinic prides itself on its prescriptive dentistry services, which are founded on the belief that prevention truimphs cure.
The prices of their preventive treatments are as follows:
Examination/Consultation – Short ($32.10-48.15)
Scaling & Polishing ($96.30-160.50)
Fissure Sealant ($42.80)
X-Ray – Panoramic ($96.30)
X-Ray – Peri-Apical ($32.10)
13. AJ Warren Dental Clinic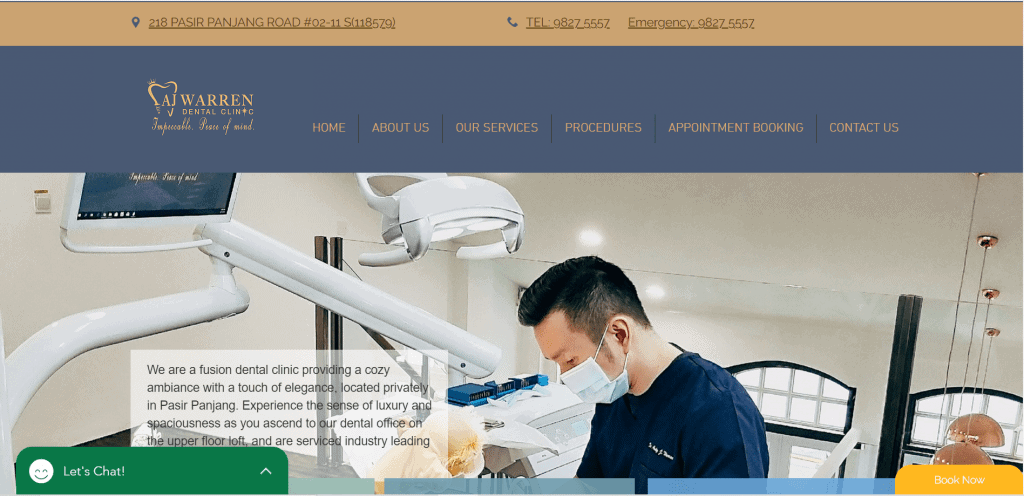 AJ Warren Dental Clinic is located at ICON @ 218 Pasir Panjang Road.
It is a dental practice with a relaxing set-up.
AJ Warren Dental Clinic is the go-to dental practice for common cosmetic concerns such as coloured teeth, crooked teeth, gaps between teeth, cracked tooth and unsightly-shaped teeth.
They provide the following cosmetic solutions:
Professional teeth whitening
Cosmetic veneers
Crowns and bridges
Smile makeover
Complete dental reconstruction
Clear aligners
They strive to understand your cosmetic goals.
Their initial assessment comprises of a thorough check-up and a detailed consultation.
A series of diagnostic tests with specialised digital cameras, digital scans and imaging may be necessary prior to commencement.
14. Universe Dental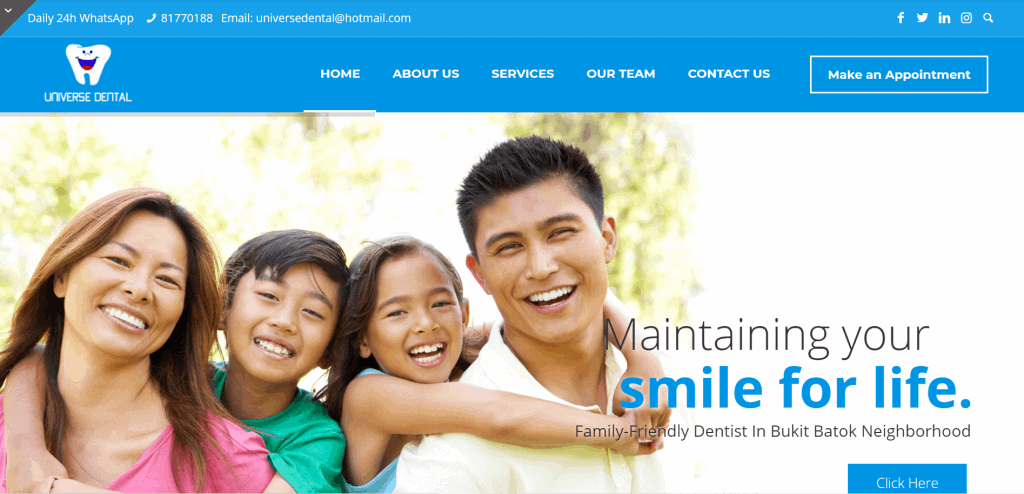 Universe Dental is conveniently located in the Bukit Batok neighbourhood with ample parking spaces.
The dentist in Singapore is also a 10-minute walk away from Bukit Batok Central.
They provide a wide range of dental services including dental implants, whitening, clear aligners, management of nocturnal teeth grinding and bad breath.
They strive to provide heavily/fully subsidised basic dental treatment to lower income Blue CHAS/HealthAssist patients whenever possible e.g. Scaling and Polishing or Fillings.
The dentist in Singapore also provides financial counselling and estimated treatment costs for more elaborate procedures.
15. Greenland Dental Clinic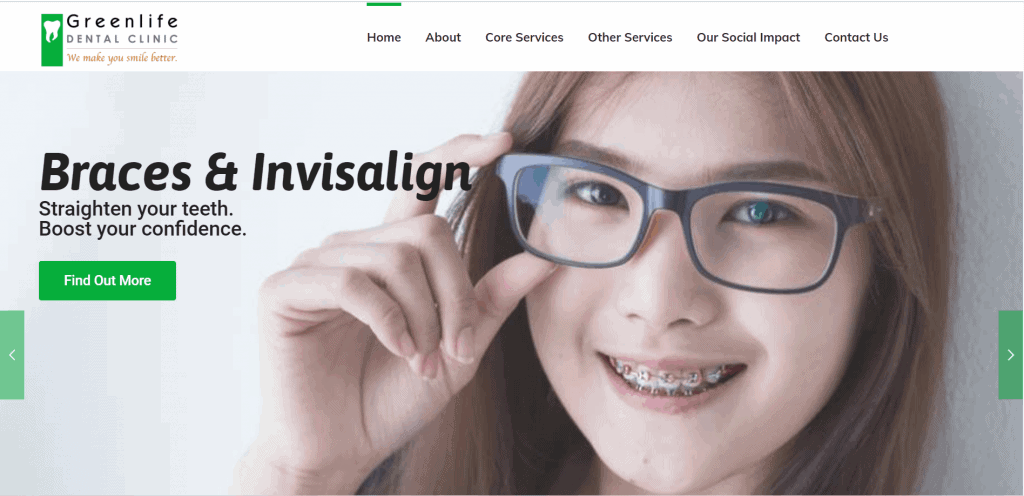 Greenlife Dental Clinics are located at eight convenient and accessible locations that are of walking distance away from MRT stations in heartlands across Singapore.
Thousands of patients have benefited from their services:
Straightening of crooked teeth with Invisalign & Braces
Replacing missing teeth with Dental Implants and
Receiving comfortable and smooth Wisdom Teeth Surgery
Seeing themselves as a social enterprise that provides dental care to the underserved that have fallen through the cracks in the community locally and around the world, they partake in various local charity programmes.
Conclusion
Do you have any reviews and comments to share regarding our choices for the best dentist in Singapore?
While SBO is committed to supporting our local businesses, we welcome any feedback and anonymous sharing regarding your experience with the listed dentist in Singapore.
We hope that this guide will be useful in helping you to make an informed decision when it comes to finding the best dentist in Singapore.
Explore More Content