20 Best Fertility Clinics in Singapore to Conceive Happiness [2023]
The journey to becoming a parent isn't always sunshine and rainbows, so get professional help at the 20 best fertility clinic in Singapore today!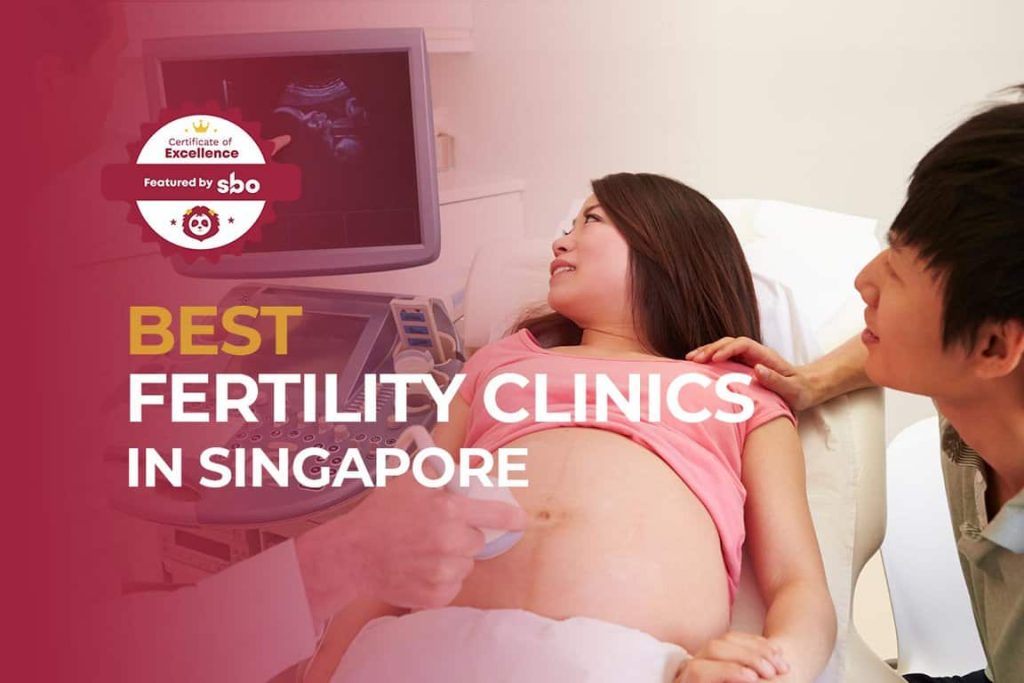 Meta description: If it's been a year, wait no more to get you and your partner checked at the 20 best fertility clinic in Singapore!
Having a child is one of life's greatest joys and blessings for many people.
However, the journey there will not be smooth for everyone. Some couples will experience great difficulty in achieving conception and even successfully seeing the pregnancy through to its end.
For those who have been trying for up to a year or more with no good news, fertility clinics are here to help. These clinics aim to use different treatment methods to treat infertility conditions.
Let's take a look at the 20 best fertility clinic in Singapore to get started!
What Are the Costs of the Treatments at Fertility Clinics in Singapore?
Most people assume that fertility treatments don't come cheap.
It's not easy to determine the exact cost because you need to account for different things. However, the price can range from four to five figures depending on the treatment you choose and the number of times you try before you succeed.
Luckily, to reduce the burden of these expenses, you can use your MediSave to help offset a partial amount of up to $15,000 for IVF treatment.
This amount is further broken down into maximum withdrawal limits for the individual withdrawal cycles:
$6,000 for the 1st cycle
$5,000 for the 2nd cycle
$4,000 for the 3rd cycle, if eligible
Rest assured that you can always seek the help of the clinic when it comes to assessing the fees and charges. They will be more than happy to assist you!
How Much Does a Fertility Test Cost in Singapore?
Most fertility treatments first begin with a fertility test or assessment to diagnose the problem and find a suitable treatment plan.
A fertility test typically costs between $450 and $1,200, depending on the provider. These tests are also conducted on both the male and female to determine where the issue lies.
How Can I Check My Fertility in Singapore?
You can get your fertility checked at any of these 20 best fertility clinics in Singapore.
Some of them also offer fertility packages to give you more value for your money.
When Should I Get My Fertility Checked?
Don't be afraid of getting your fertility checked – if you've been trying to conceive for a few months with no success, you can always seek an expert's opinion.
A fertility check can help you address concerns and even inform you of fertility problems you never knew existed.
Your age also matters; if you're over 35 years old and haven't been able to get pregnant after 6 months of trying, it's advised to get your fertility checked immediately.
1. The Prenatal Consultants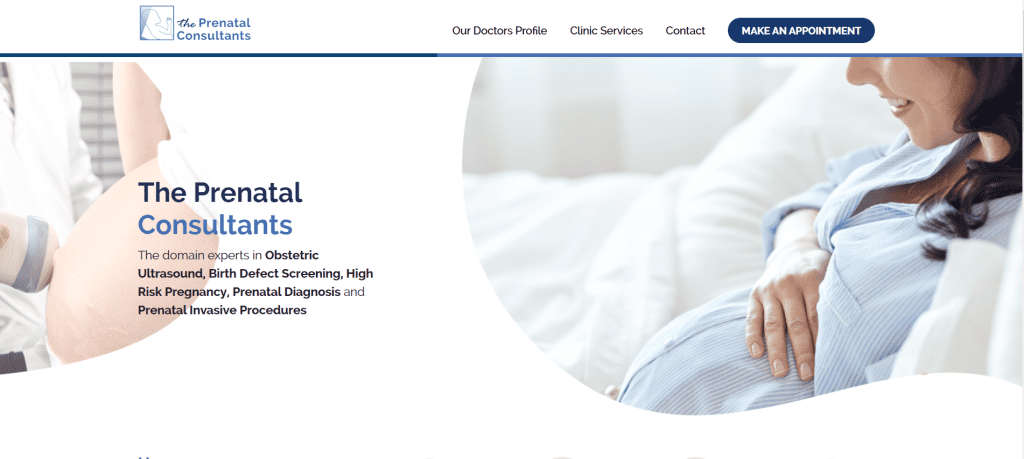 The Prenatal Consultants is spearheaded by 2 doctors, Dr George SH Yeo, and Dr Edwin WH Thia, who specialise in maternal-fetal medicine and high-risk pregnancies.
Located at Mount Elizabeth Novena Specialist Centre, the clinic offers a wide range of obstetrics and gynaecology services that cover all areas of women's health. It is the ideal choice for mothers who are worried about their complicated pregnancies.
Some services you can expect include:
Fetal scans
Amniocentesis
Chorionic villus sampling
Infertility
Family planning
Contraception
2. Noel Leong Fertility & IVF Clinic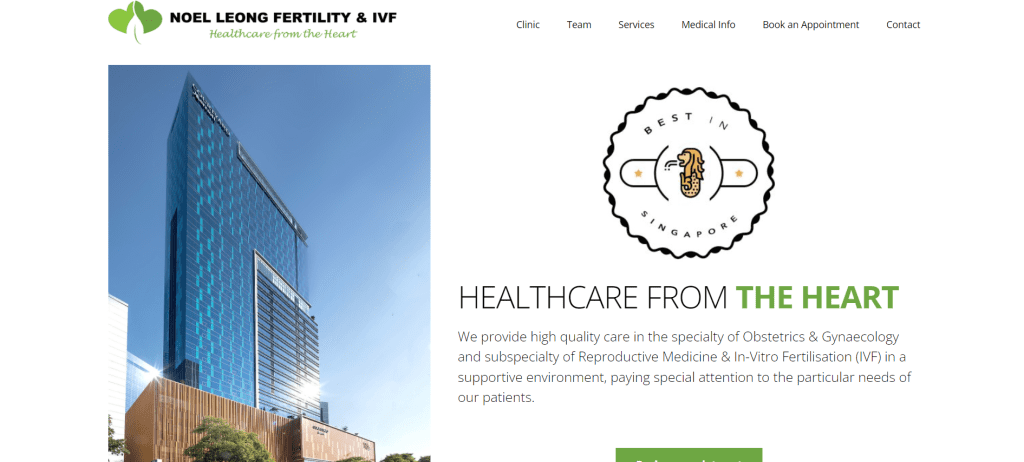 Noel Leong Fertility and IVF centre delivers high-quality care in the obstetrics and gynaecology field. It also has a subspecialty of IVF in a highly supportive environment that is dedicated to every individual patient's needs.
In order to ensure that it supplies robust IVF services, it partners with 4 well-established IVF laboratories in Singapore where egg collection and embryo transfers are done at.
Dr Noel Leong, the Medical Director, has had an impressive portfolio of experience and stints as a specialist in IVF and reproductive medicine. Dr Leong has been in the field even before IVF was introduced as an official treatment method.
He has worked in hospitals and institutes overseas, including in London and Melbourne. In 2001, he opened his private practice and has been helping his patients ever since.
3. Astra Centre for Women & Fertility by SMG (Mount Elizabeth Novena)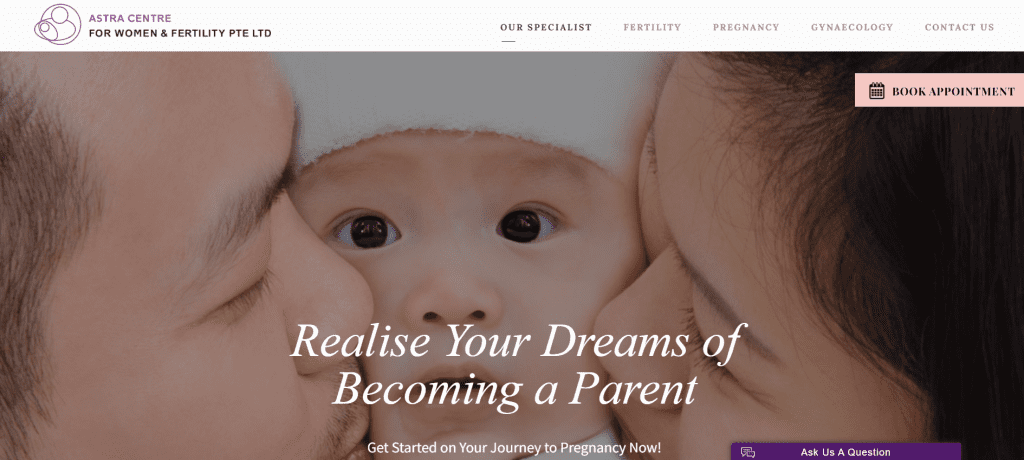 Need help with conceiving?
Astra Centre for Women & Fertility understands that the process of becoming parents doesn't come easy for everyone. Here, fertility specialists help to conduct a thorough fertility assessment before suggesting the most effective treatment plan.
Its fertility treatments include ovulation induction, IVF, IUI, and more. The centre is led by Dr Fong Yang, an MOH-accredited clinician who has more than 2 decades of experience in obstetrics and gynaecology.
Before establishing the centre in 2002, he was a consultant at SGH and CGH in the field. Apart from fertility, Dr Fong is also particularly interested in continuous and early pregnancy loss or miscarriages.
4. Roland Chieng Fertility and Women Care (Scotts Medical Center)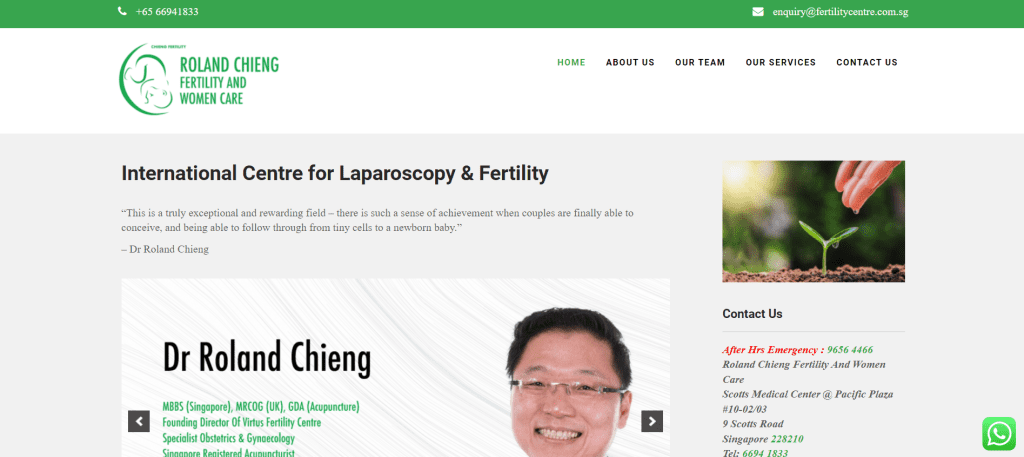 Roland Chieng Fertility and Women Care clinic provides an extensive range of services for both males and females. It includes fertility services, health checkups, pregnancy care, and more.
Dr Chieng is a certified specialist in obstetrics and gynaecology with a special keenness in reproductive endocrinology, IVF, and male infertility. He is also skilled in reproductive microsurgery and fertility preservation in cancer.
He has experience studying and training in the UK and Melbourne, and has even graduated from the Singapore College of Traditional Chinese Medicine. He uses acupuncture to further enhance his fertility treatments as well.
5. Charles M P Lim Clinic & Surgery For Women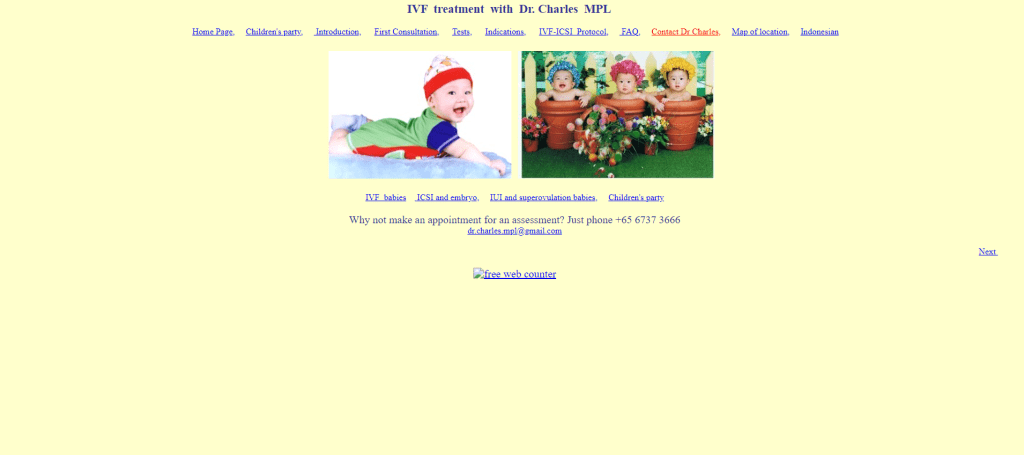 Interested in IVF treatment with Dr Charles M P Lim?
When you visit his clinic with your partner, both of you will be assessed thoroughly to determine the possible causes of infertility. Afterwards, he will determine the best treatment method and answer your questions.
Dr Lim is an obstetrics and gynaecology specialist who is particularly adept at assisted conception procedures. This includes IVF, IUI, and ovulation induction.
He has been working tirelessly in the field since 2004, and is one of the pioneers in the field.
6. O&G Partners Fertility Centre
In 2004, Professor Ng Soon Chye set up O&G Partners.
His clinic encourages holistic wellness and combines assisted reproductive technology (ART) with obstetrics and gynaecology. Step inside a fully supportive environment full of warmth and understanding where the facilities and screenings are conveniently located in 1 place.
The clinic offers customised and specialised care and treatment to couples who face difficulties in conceiving and infertility treatments.
You can choose a package that suits your situation and budget the best as well!
7. Sincere IVF Center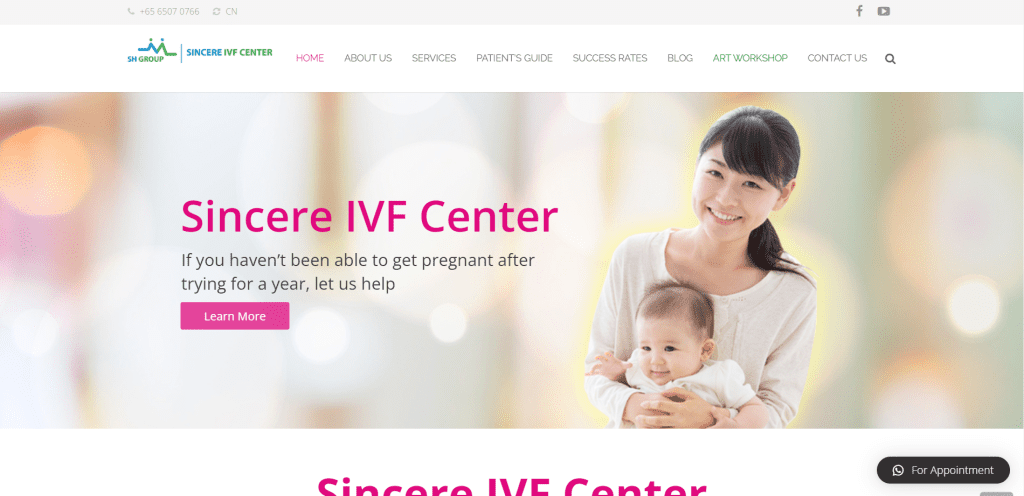 Haven't been able to get pregnant after trying for a year?
Sincere IVF Center is a premium healthcare brand and leading healthcare provider that can assist you in this. It has a team comprising of fertility specialists who are also pioneers in reproductive medicine.
They have rich experience in infertility treatment and IVF, and have helped many couples realise their dreams of becoming parents. Be assured of only ethical care with the best results and supportive staff.
It also has a team of embryologists who are constantly on the lookout for the newest technology and knowledge.
8. International Urology, Fertility & Gynaecology Centre: Dr. Michael Wong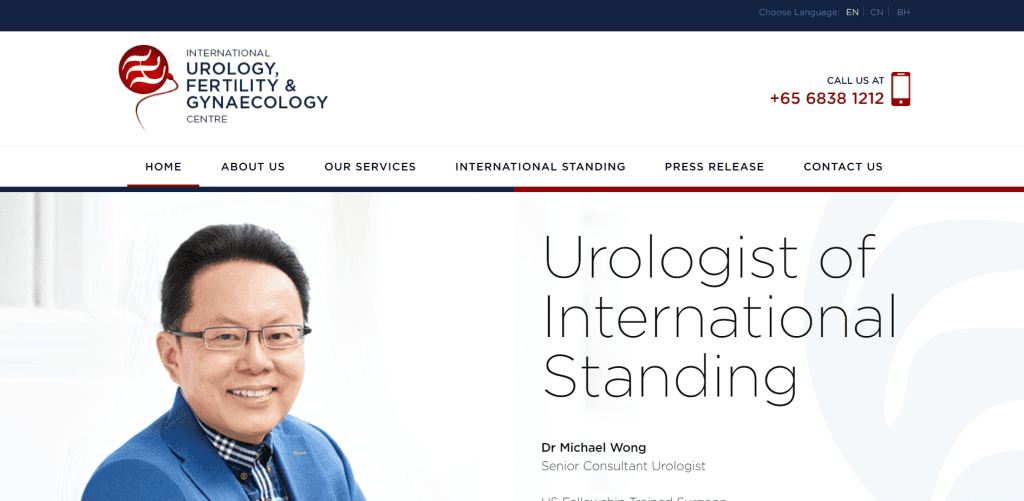 Dr Michael Wong is a senior consultant urologist with global recognition for his surgical experience and academic contributions.
In 2000, he set up a joint service with Dr Julianah Abu to allow couples to manage their treatment together, particularly those with a male cause of infertility.
The clinic mainly offers 2 types of fertility treatments, IUI and IVF. Here, it gives couples the rare chance of a joint consultation with both specialists for a concurrent assessment of both urological and fertility areas for both husband and wife to get an accurate diagnosis.
9. Women's Health And Fertility Centre – Dr Christine Yap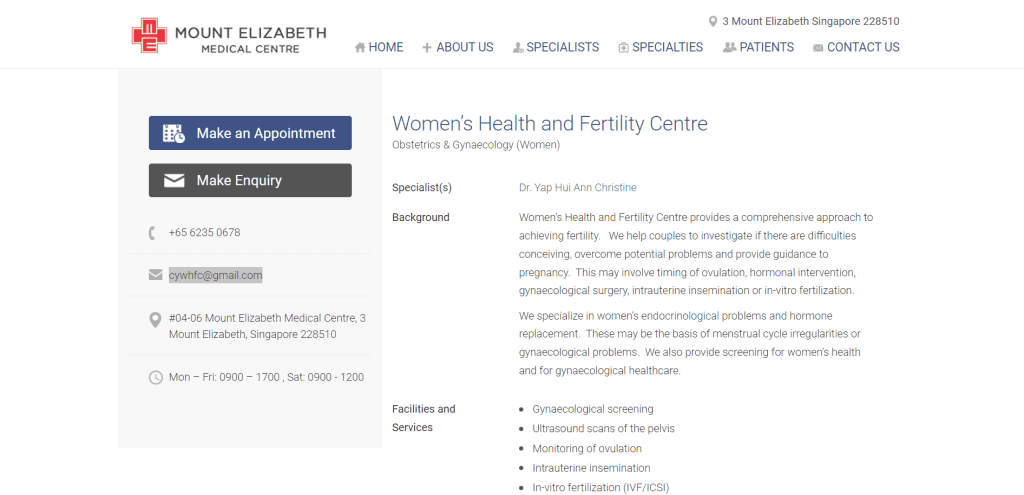 The Women's Health and Fertility Centre provides patients with a all-rounded methodology to obtaining fertility. It specialises in women's endocrinological problems and hormone replacement.
It is managed by Dr Christine Yap, a professional in the field with a vast range of experiences and accolades. The clinic assists by helping couples determine the difficulties in conceiving and resolving possible problems while offering guidance.
Some methods include:
Timing of ovulation
Hormonal intervention
Gynaecological surgery
IUI
IVF
10. Centre for Assisted Reproduction (CARE)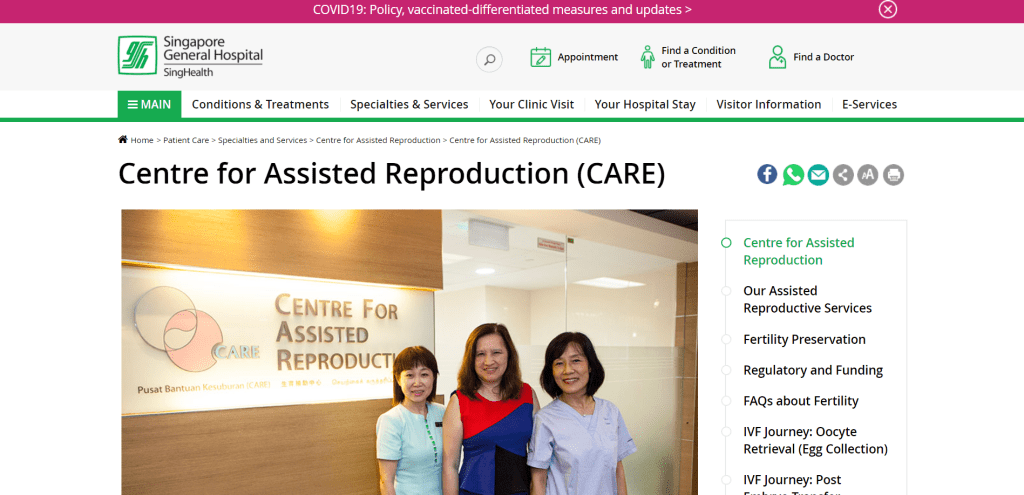 The Centre for Assisted Reproduction (CARE) is an all-in-one fertility centre that strives to help you in your journey to becoming a parent.
It has more than 3 decades of experience with a full range of fertility assessment services and assisted reproductive methods. Since its inception, it has successfully helped in the birth of 2,500 babies through assisted reproduction.
The team at CARE is made of highly experienced doctors, nurses, and embryologists who do their best to provide you with personalised and high-quality treatment.
Some services include:
Fertility assessment
IUI
IVF
Ovulation induction
Prenatal genetic screening
11. EMW Physiotherapy & TCM Clinic (Women's & Fertility Centre)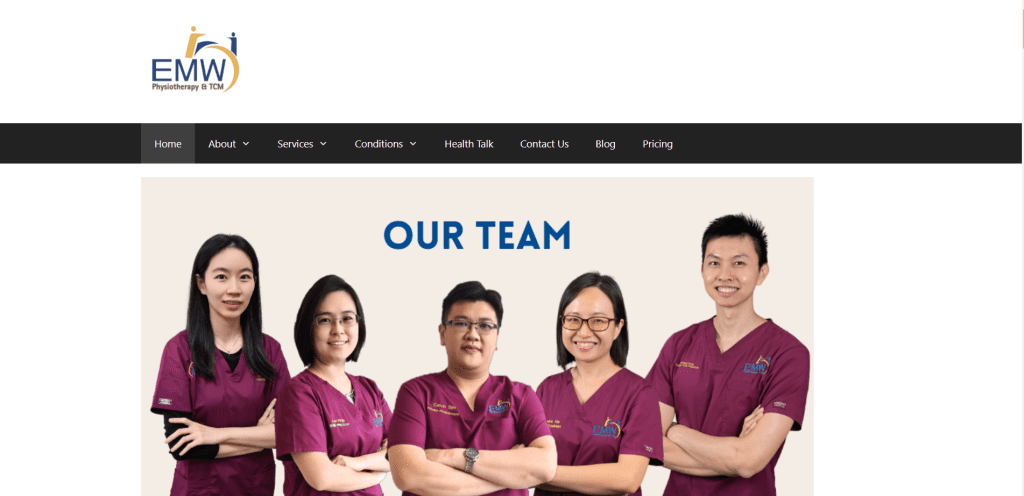 EMW Physiotherapy and TCM aims to deliver the best quality care to every patient using a combination of Eastern and Western medical techniques.
Its work is based on the newest medical evidence to conduct effective healthcare services for different needs. Unlike other clinics, it uses TCM and acupuncture to treat fertility problems and optimise your fertility health in a natural way.
If you are a couple looking to become parents and are in any of these situations, it is a good idea to visit them:
If you want to maximise your chances of conception naturally before trying Western methods
If you want support while experiencing Western assisted reproductive methods
If you have already used up every Western medical options available and TCM is your last hope
12. STO+G Practice
STO+G is an expert in a full range of women's healthcare services.
It uses compassion and understanding together with highly developed techniques and knowledge. You can visit them to get a fertility and pre-conception assessment, and even laparoscopic surgery to conduct a detailed examination of the female pelvis when required.
Some infertility treatments offered include IVF, ovulation induction, and Super-Ovulation Intra-Uterine Insemination (SOIUI). You can also get a reversal of tubal ligation and even surgical sperm retrieval.
The centre is managed by fertility specialist Dr Steven Teo and Dr Liana Koe, both experts in the field with a number of outstanding achievements under their belt.
13. GynaeMD Women's & Rejuvenation Clinic: Singapore Gynaecologist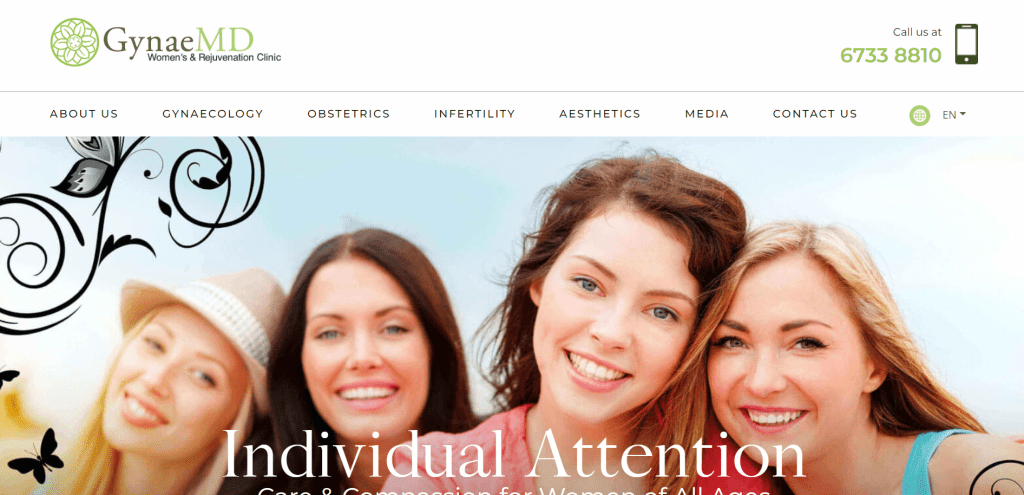 GynaeMD is run by Dr Christopher Ng, a passionate obstetrician and gynaecologist with experience in Singapore and the UK.
The dedication in this field can be seen in his family, which also has 2 generations of prominent doctors. GynaeMD combines O&G and aesthetic services in a compassionate and supportive environment.
It believes in empowering patients with the understanding of breakthroughs in medical care to allow them to make informed decisions. Some infertility treatments offered are:
IVF
SOIUI
PCOS
Couple Infertility Assessment and Treatment
14. Dr Lim Min Yu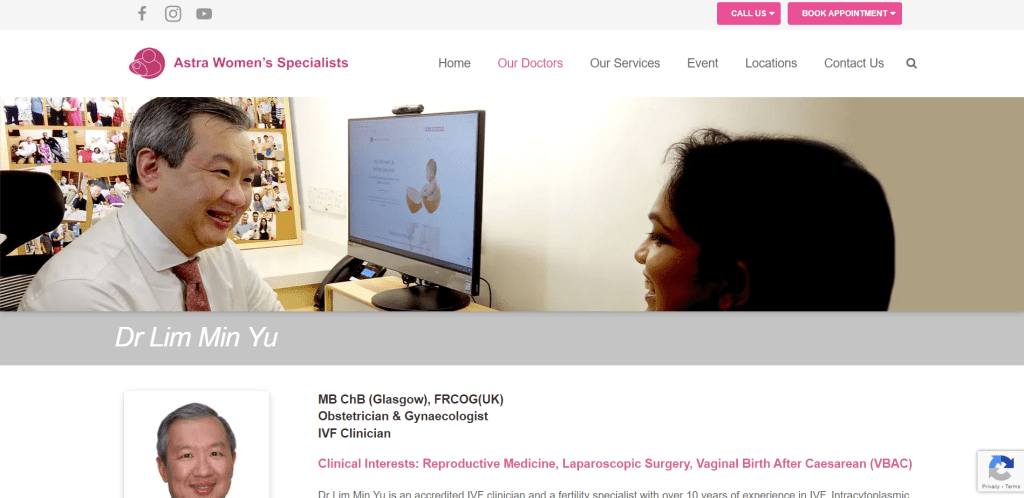 Dr Lim Min Yu is an accredited IVF clinician and fertility specialist with more than a decade of experience in numerous assisted reproductive technologies.
He also has a keen interest in pregnancy, laparoscopic gynae surgery, and Vaginal Birth After Caesarean (VBAC). Dr Lim works with a consultative approach, which means that he works closely with patients to created a customised plan for fertility and/or pregnancy.
At the same time, he makes sure that it is in line with their unique needs. Some services include:
IVF
Pre-conception Check
IUI
Antenatal Scans and Tests
15. HAFcare Clinic (Thomson)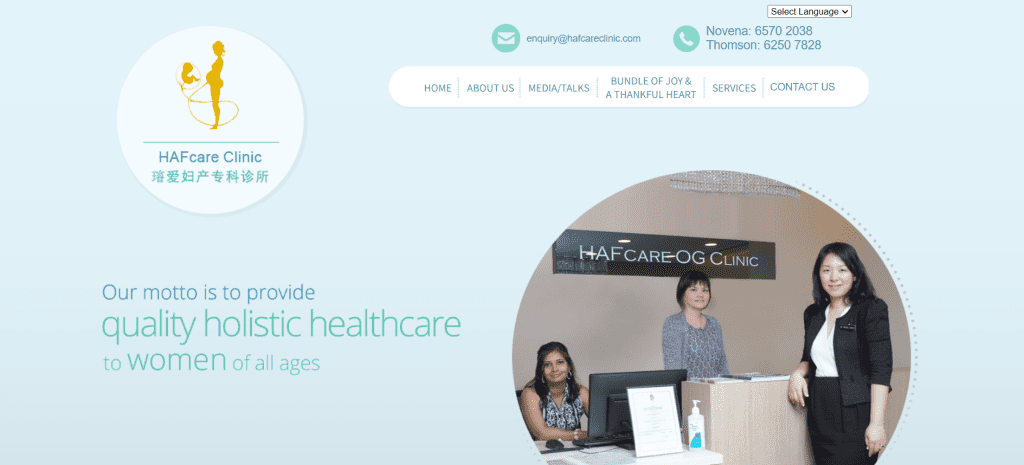 HAFcare Clinic aims to deliver quality all-rounded healthcare to females of all ages.
Founded by female gynaecologist Dr Chin Hsuan, who has experience in Singapore, the UK, and Japan, you can look forward to a compassionate doctor who goes all out to give you the support and help you need.
Dr Chin believes in offering customised care and treatment for her patients in obstetrics and gynaecology, as well as physiotherapy services.
16. Alpha IVF Centre & Alpha Women's Specialists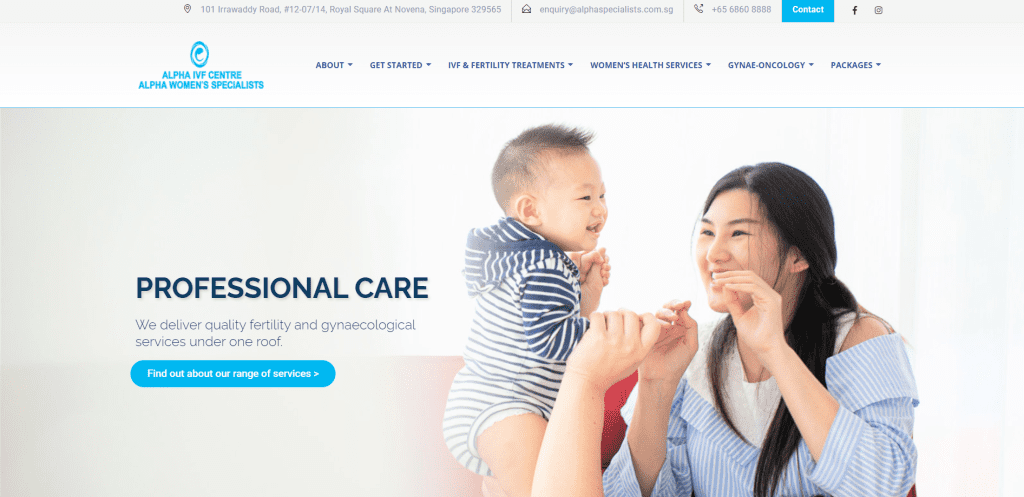 Alpha IVF Centre & Alpha Women's Specialists is an all-in-one fertility centre in Singapore that has an extensive range of fertility treatments.
Its IVF laboratory is fully equipped with modern and effective equipment and it uses assisted reproductive techniques to boost your fertility success.
The centre also uses assisted reproductive technology and focuses on treating gynaecological cancers. It has in-house obstetrical care for all pregnancies and gynaelogical experience and knowledge for all types of related conditions.
17. Lien Clinic For Women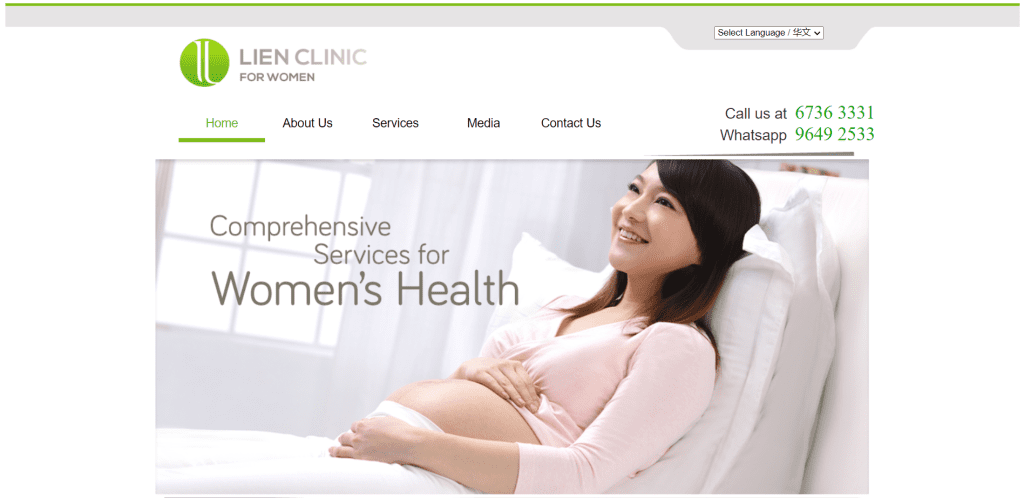 Lien Clinic for Women is led by Dr Lien, a senior gynaecologist with many years of experience.
Apart from abortion services for unplanned pregnancies, she also conducts gynaecological surgeries, particularly laparoscopic surgeries. It offers a number of services, including pre-pregnancy consultations.
Here, you can get minimally invasive surgery to treat different conditions, including infertility.
18. MINO Chinese Medical Clinic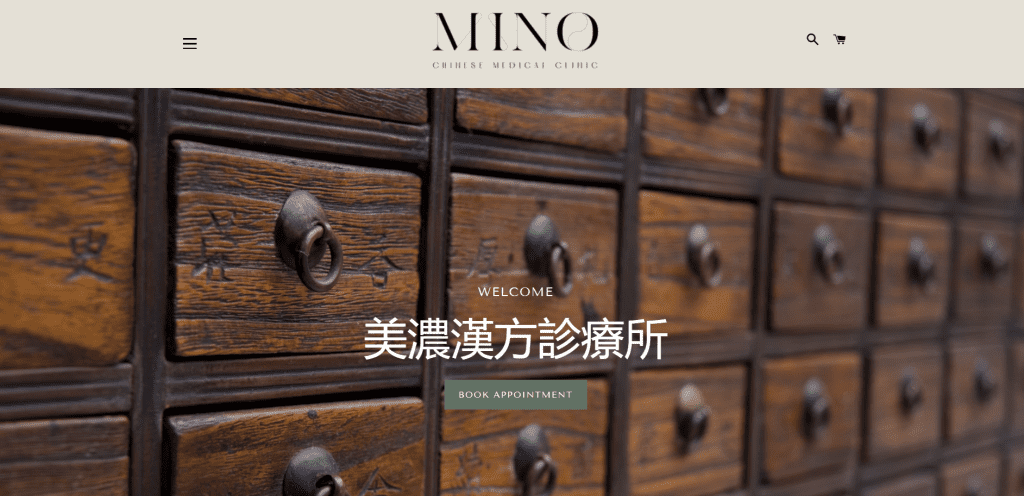 MINO is a Singapore-based TCM clinic led by Dr Liu Wen Fong. It has treated many local Singaporeans and Japanese expats since 1998.
It helps in enhancing fertility by maximising couples' abilities to conceive naturally. It also provides support for IUI and IVF treatment. Given that it takes 90 days for a follicle to mature and be ready for fertilisation, the TCM treatment is recommended to last around 3 months for complete effect.
TCM helps fertility in these ways:
Boosting circulation
Balancing hormones
Calm the mind
Supporting assisted reproductive technologies (IUI and IVF)
19. DB Medical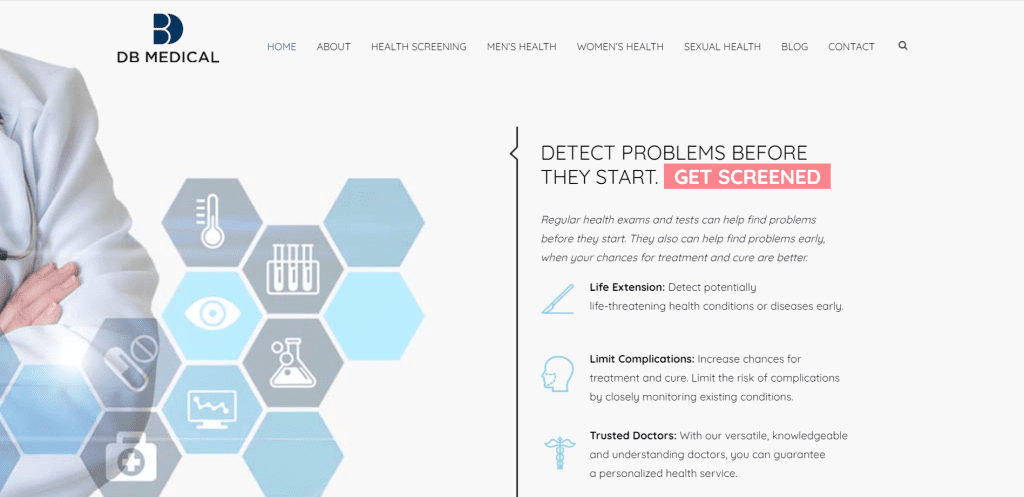 DB Medical is managed by Dr Khoo Yee Xuen, a dermatology specialist who has experience in the UK and Singapore.
Apart from being proficient in managing dermatological conditions, she is also experienced in a range of holistic treatments for different male and female conditions.
Under sexual health, she is able to conduct fertility screenings that are thorough to investigate couples' fertility health.
20. Sin Kang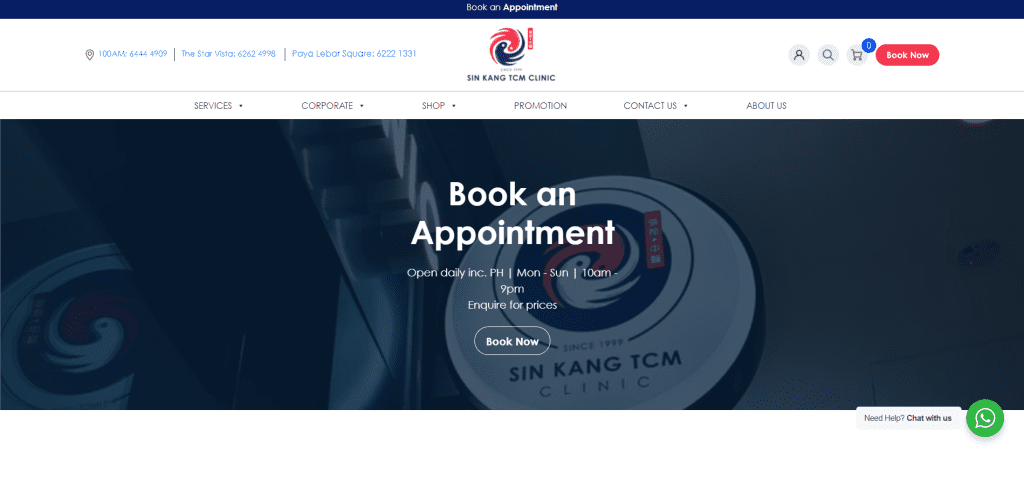 Sin Kang has been providing quality TCM services for more than 20 years.
It covers an all-round range of treatments for patients to boost their quality of life through affordable healthcare based on TCM and modern medical breakthroughs.
Sin Kang offers TCM fertility treatment plans, ovary and postnatal care, as well as breast-lifting treatments to boost their fertility and overall health. Some things to expect include:
Warming and comfortable tummy wrap to energise the womb
Oil massages that cover specialised points along the meridian channels to free up blockages and promote blood and qi circulation
Moxibustion to speed up postpartum delivery
Non-painful acupuncture
Cupping
Herbal medication
Conclusion
Do you have any reviews and comments to share regarding our choices for the best places for fertility clinic in Singapore?
While SBO is committed to supporting our local businesses, we welcome any feedback and anonymous sharing regarding your experience with the above-listed best fertility clinic in Singapore.
We hope that this guide will be useful in helping you to make a better decision when it comes to finding the best fertility clinic in Singapore.
Explore More Content