20 Best Chiropractor in Singapore You Can Visit For Your Chronic Pain [2023]
Get yourself treated by a chiropractor if chronic pain has become a bane of your life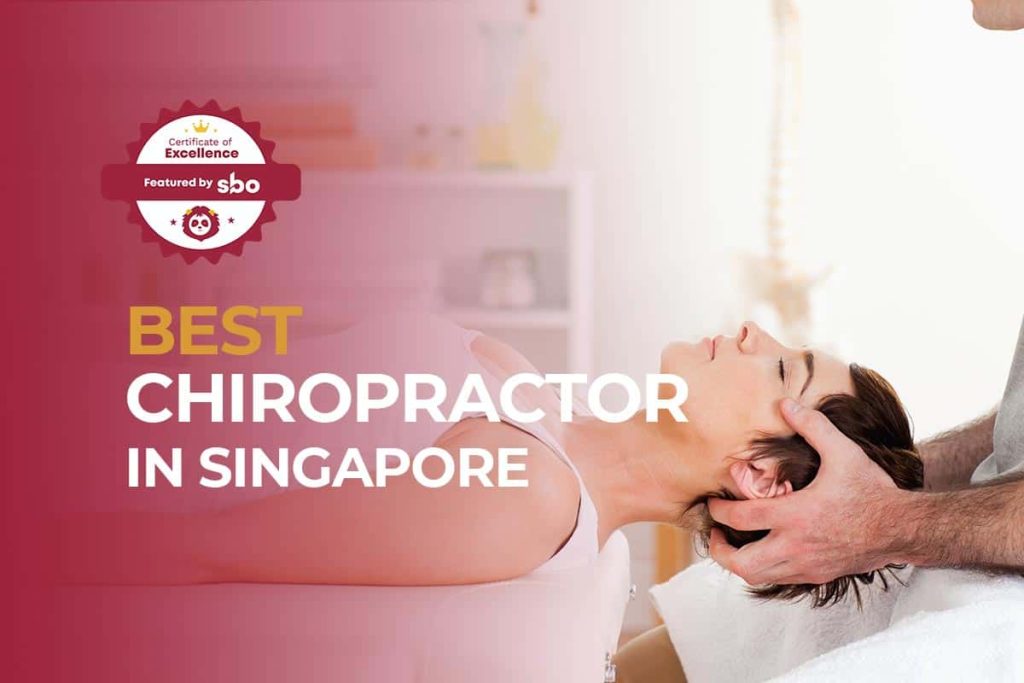 Do you frequently feel pain on your back, neck or shoulder? If this is so, then perhaps it is time to pay your chiropractor a visit.
A chiropractor specialises in the diagnosis and treatment of neuromuscular disorders with an emphasis on treatment through manual adjustment or manipulation of the spine.
In this post, we've gathered all the necessary details including unravelling reviews and testimonials to derive a list of the 20 best chiropractor in Singapore that you should consider to treat your chronic pain.
1. Re:chiropractic (SG Pain Solutions)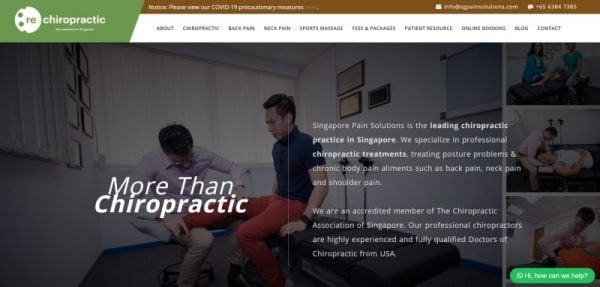 Formerly known as Singapore Pain Solutions, Re:chiropractic was established in 2015 by professional chiropractors, Dr Jeff Ederer and Dr Jenny Li, with a vision to become one of the best chiropractic providers in Asia.
As an accredited member of The Chiropractic Association of Singapore, they specialised in treating posture problems and chronic body pain ailments which include back, neck, shoulder pain and slipped disc.
Re:chiropractic also tailor their services based on specific clients, namely adults, athletes, and children.
Besides the standard chiropractic treatment, they offer Spinal Decompression Therapy which is a non-surgical spinal decompression which help patients to relieve neck and lower back pain. In addition, they also provide Sports Message which aims to speed up the recovery of muscle strains.
An initial chiropractic appointment at Re:chiropractic cost S$180. However, if you have been recommended for a long-term treatment, you can consider a package of 6 chiropractic adjustment sessions which costs S$510 or 12 chiropractic adjustment sessions which would cost S$840.
For students/NSFs under 24, you are entitled to a package of 6 chiropractic adjustment sessions at a cost of S$300.
2. Family Chiropractic Clinic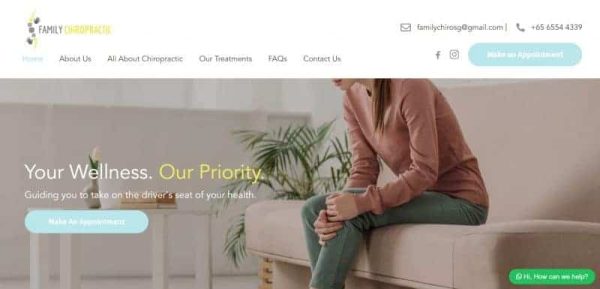 Founded in 2009, Family Chiropractic Clinic provides a full range of chiropractic treatment for conditions such as chronic pain, sports injuries, spine degeneration, as well as pre and post-natal health. Besides, Family Chiropractic is a known brand in Malaysia as well!
Particularly, we've observed that Dr Choo Su Yi has received many good reviews from her patients over the decade for her effective and sincere treatments. We also read her chiropractic guide on the website as well, and felt it's a good read to understand more about chiropractic care.
Types of chiropractic treatment include Trigger Point Therapy, Chiropractic Spinal & Extremity Adjustments, Myofascial Therapy, Active Release Therapy, as well as Sacro Occipital Technique (SOT) Therapy.
Individualised attention is at the core of Family Chiropractic Clinic. Therefore, their treatment is customised based on the patient's conditions and health goals.
A thorough assessment of your condition is made on your first visit before coming to a decision of a specialised follow-up treatment plan based on the type and stage of care you need.
3. Chiropractor Singapore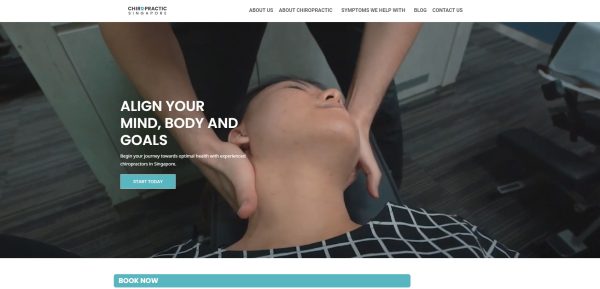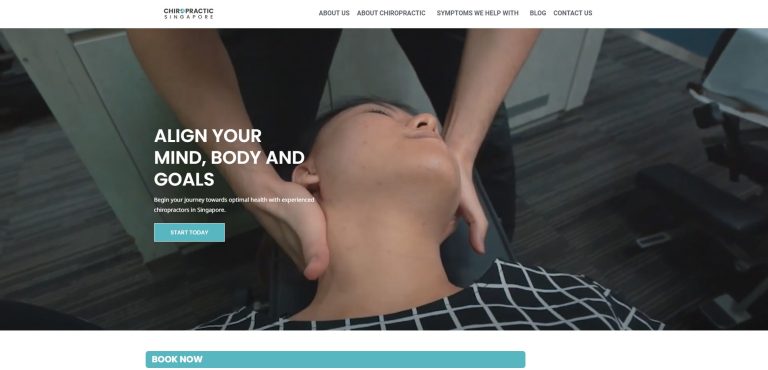 Previously known as Full Potential Chiropractic, Chiropractor Singapore was established in 2008. They believe in providing chiropractic treatment to their patients the simplest way possible.
Their treatment is carried out using a drug-free and non-invasive approach. These treatments aimed to solve problems such as migraine, lower back pain, neck pain, shoulder pain, fatigue and bad posture.
If you are visiting for the very first time, you will be entitled to a S$65 special treatment package for new patients which include a comprehensive consultation session to understand more about your condition, a full spinal examination which will assess your overall condition, as well as a spinal health report in which their experienced chiropractors will explain to you and recommend the types of treatment to undertake.
4. Healing Hands Chiropractic Singapore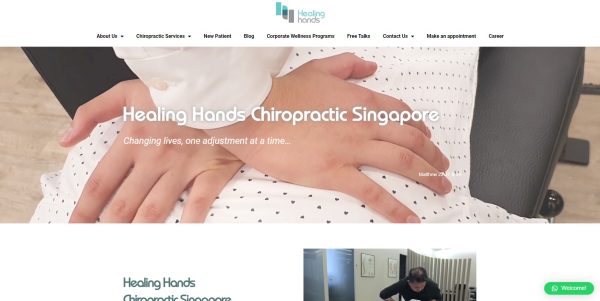 Healing Hands Chiropractic Singapore aims to provide the highest standard of chiropractic care to their patients. They are supported by time-tested techniques enhanced with modalities.
They provide chiropractic services for various conditions such as headache and migraines, neck and shoulder pain, lower back pain, knee pain and sports injuries.
5. Chiropractic Concepts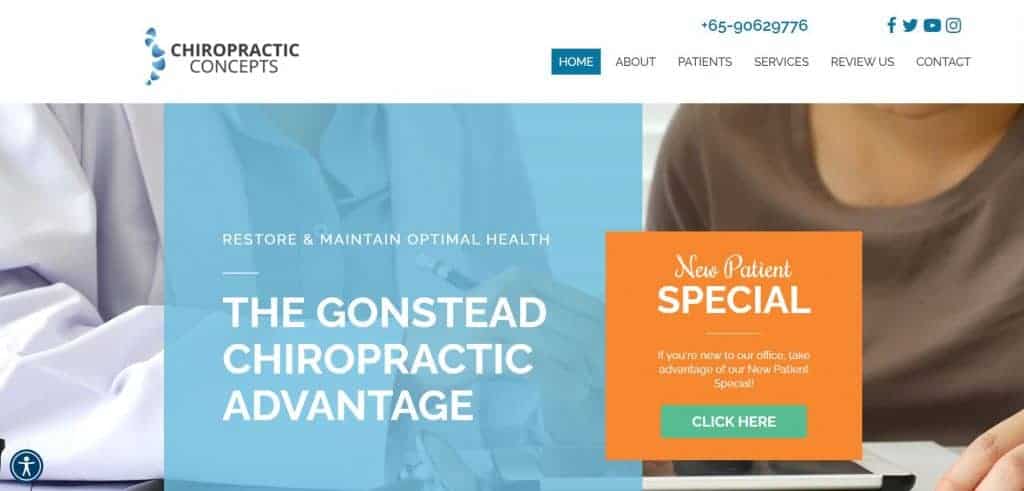 Dr Shaun and Dr Chua believes that their patient's health and goals are the first priority at Chiropractic Concepts.
Hence, they employ the Gonstead chiropractic and Functional Rehabilitation. Gonstead chiropractic care works best at dealing with ailments linked to the spine, muscles and joints.
Together with Functional Rehabilitation, these treatments have produced great results for those suffering from both new and long-term issues, helping them to recover and improve their overall health.
For patients visiting for the first time, they will receive a complimentary consultation which will involve finding out your wellness needs and customising your personalised treatment plans. They will also be offered a unique and comprehensive wellness plan.
6. Asia Chiropractic & Wellness Singapore
Asia Chiropractic provide various treatment methods to ensure optimal spinal healing, strength, and function.
Your first visit at Asia Chiropractic will involve a consultation with their experienced chiropractor to understand more about the patient's condition and expectations to decide how chiropractic treatment can meet your goals.
After that, they will conduct comprehensive chiropractic and possibly, an X-ray test to determine the type of treatment most suited for you.
Chiropractic treatment at Asia Chiropractic is catered specially for various types of patients.
This could be an adult suffering from a car accident, a child suffering from colic, an athlete suffering from a sports injury or helping a woman cope with the effects of pregnancy.
In addition, the chiropractor will suggest a wellness program to be incorporated outside of treatment. This program aims to help you to achieve a good spinal alignment, have a healthy diet, exercise, and maintain a positive mental state.
7. Natrahea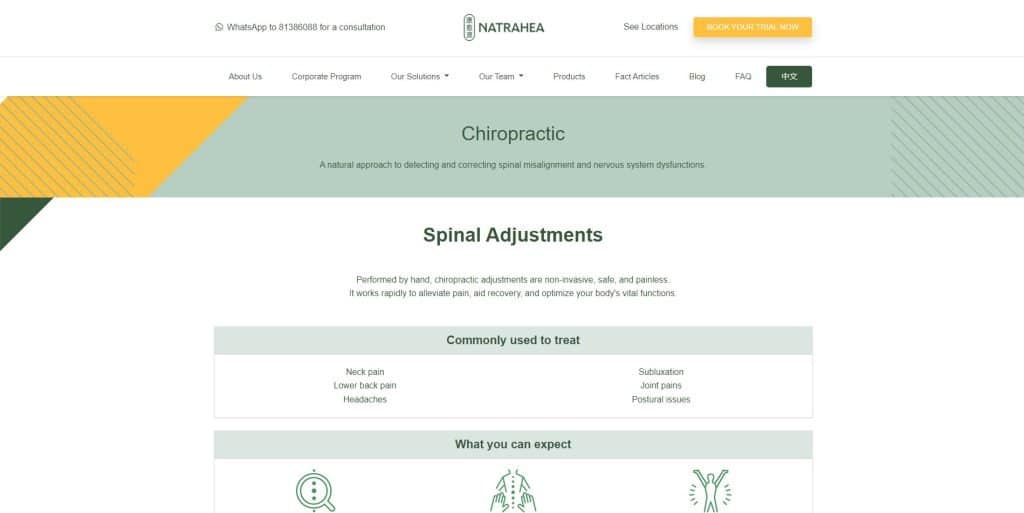 Natrahea believes in providing premier healthcare services of the highest quality through personalized services. This is done through a natural, holistic approach which makes their treatment safe, drugless, non-surgical, non-invasive, proven and have received endorsements by clinical and healthcare experts within the medical authorities in the USA.
Natrahea provides chiropractic services for conditions namely neck pain, lower back pain, headaches, subluxation, joint pains and postural issues. Their TCM practitioners ensure that qi or 'life energy' is flowing harmoniously along your meridian lines using acupuncture, tui na, or cupping. The prescribed herbs help detoxify and strengthen your organs.
Through physical therapy, their functional wellness therapists steadily help you strengthen and regain muscle mobility, so that you can keep doing the things you love.
8. Kissun Chiropractic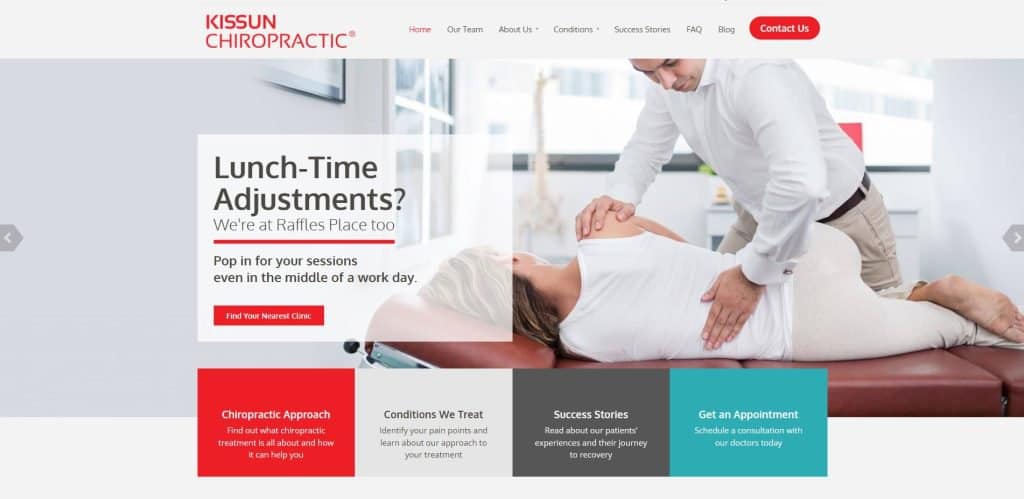 Kissun Chiropractic consists of a team of Australian trained and registered chiropractors that are practising in Singapore. They offer hands-on physical therapy and chiropractic care with an integrated approach to health and natural recovery without the use of drugs or surgery for all patients at an affordable price.
They treat a wide range of conditions such as whiplash, spondylosis, scoliosis, poor posture and sciatica.
9. One Spine Chiropractic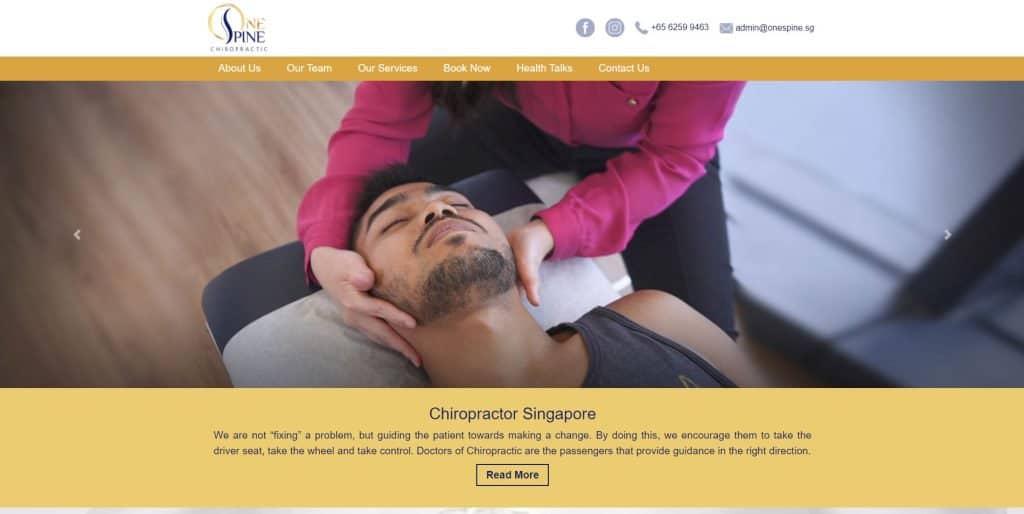 One Spine Chiropractic believes that the best way to help their patients is to educate them about the need to take care of their health rather than just simply giving a fix.
All of their chiropractors are trained in Australia and registered with the Australian Health Practitioner Regulation Agency.
One Spine provides chiropractic treatments for various conditions such as neck pain, limbs, slipped disc, scoliosis and spinal decompression.
At One Spine, they'll be doing the work together to improve your spinal health and achieve your health goals. More than just fixing your problems, their team wants to help you understand your spine and your body better, and to equip you with the right knowledge to make good lifestyle choices.
One Spine Chiropractic hopes to empower you to have a better relationship with your body, and to take charge of your health.
10. Lion City Chiropractic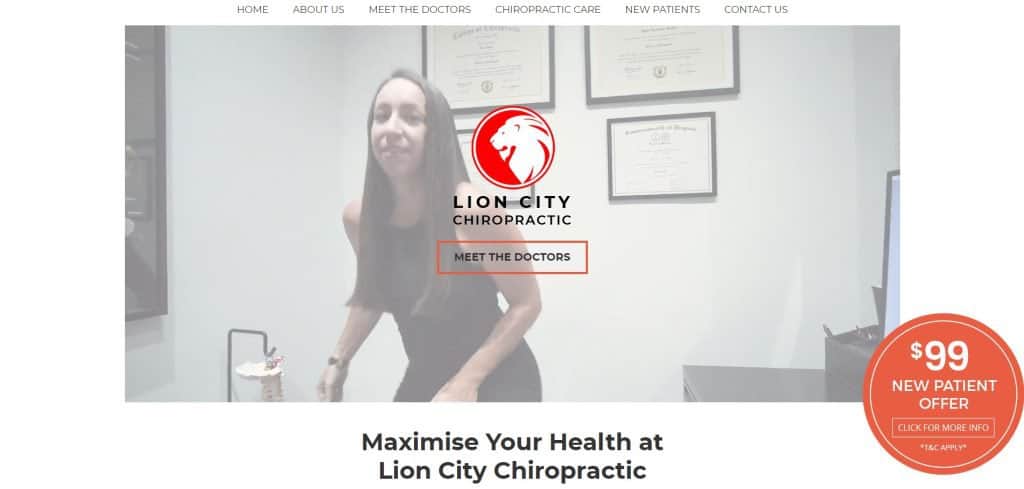 Founded in 2017 by experienced chiropractors Dr Ryan Hunter and Dr Erin Hope, Lion City Chiropractic gives a unique approach to their patient's pain relief and wellness enhancement with the help of technological advancement and research-based health solutions.
It provides treatment for conditions such as colic, ear infections, gastric disturbances, menstrual disorders and seizures.
One of the unique features of this clinic is that it provides chiropractic treatments for animals. Dr Hunter is passionate about animals and wants to ensure that they are given the best treatment for their well-being. He is also a certified Animal Chiropractor with the International Veterinary Chiropractor Association (IVCA).
11. True Chiropractic
Established in Singapore in 2010, True Chiropractic provides the best chiropractic treatment and quality care to all patients and strives to help every individual achieve his/her optimal health naturally.
When it comes down to one's own health, it is both the responsibility of all individuals and of all health professionals to find out what are the options available and in addition, it is the responsibility of all health professionals to inform or educate the public of the benefits or the side effects of other methods and their individual expertise.
Other Chiropractic Treatment, the clinic also provides Spinal Decompression Therapy, Scoliosis Bracing System and Functional Therapy. Have any chronic pain? Try out their services now!
12. Elite Spine Centres – Chiropractor Singapore
Did you know that over 80% of Singaporeans will experience neck pain or back pain in their lifetime?
In Singapore, posture problems are becoming all too common, especially amongst working adults. This can be attributed to several factors like your occupation, lifestyle habits, long hours of sedentary work, poor sleeping positions, and more. These aches and pains must be familiar to you by now. It may even feel like just a 'normal' part of life.
To end this misery, check out Elite Spine Centres! They are a leading chiropractic clinic that provides quality alternative treatments and outpatient services. Their holistic chiropractic care is an effective, proven way to improve your symptoms and restore your health to the way it should be.
13. Total Health Chiropractic
Total Health Chiropractic Singapore was founded by Dr. Tim Errington with the belief that the little aches and pains are actually warning signs of larger health concerns that can no longer afford to be left unaddressed.
If you are coming into one of their chiropractic clinics for the first time, your first visit will be very much like visiting any other healthcare provider. A typical visit will include the initial patient intake, physical exam, treatment, chiropractor recommendations and a follow-up plan.
Solving all your chronic pain, Total Health Chiropractic Singapore is here to provide you with the best solutions.
14. Life Chiropractic Centre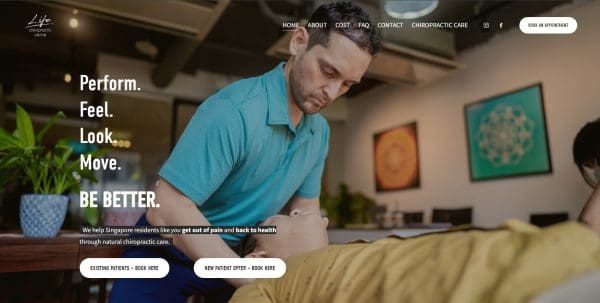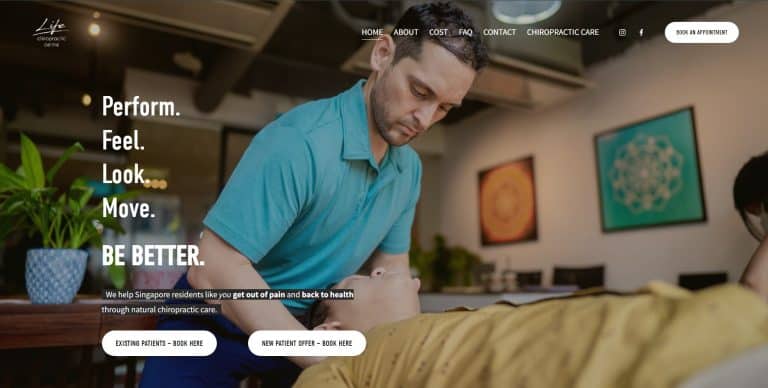 "I've been suffering from chronic neck & shoulder pains for years and have tried so many different therapies. My pains are now down to very manageable levels & have almost disappeared. My overall general sense of wellbeing has also improved greatly and I am able to enjoy an active & healthy lifestyle."
—Karla de Pala
Your first visit to Life Chiropractic Centre will primarily be a detailed evaluation. The purpose of this visit is for them to understand your problems (if any), and how they're affecting your life. This involves a discussion about your health and history, a spinal test and a posture analysis.
After this, they will be able to let you know what's the problem, whether or not chiropractic can help and what they need to do to get you better.
15. Square One Active Recovery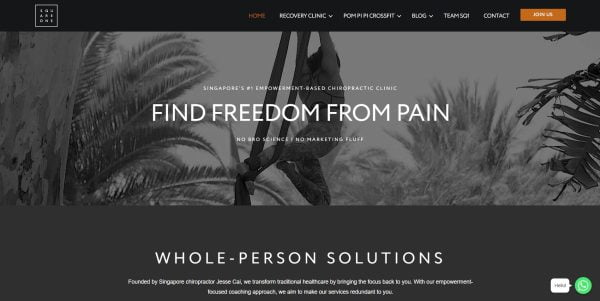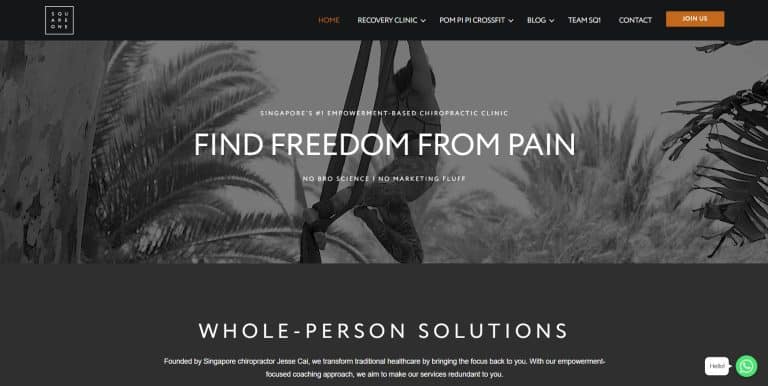 Founded by Singapore chiropractor Jesse Cai in 2018, Square One Active Recovery is Singapore's only whole-person & empowerment-based pain solution. They aim to help chronic pain sufferers find true freedom from pain.
Square One Active Recovery is your one-stop chiropractic clinic to achieve peak physical performance. From chronic pain sufferers and sedentary individuals to high performance athletes, they got you covered.
Reviews complimented their professionalism and determination to heal their patients. Ranging from neck pains, to ankle sprains, they have treated them perfectly to improve patients' wellness.
16. Live Well Chiropractic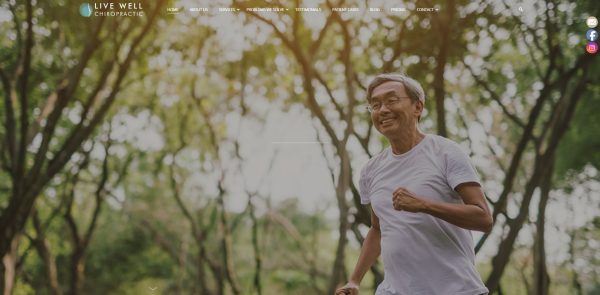 At Live Well, they will listen to your health story and learn about your unique body before we recommend any treatment. Their goal is to uncover the underlying cause of your problems and symptoms so they can relieve your pain and ensure long-term improvements to your health and well-being.
Introducing Chiropractic Adjustment!
A chiropractic adjustment is a type of manual therapy that seeks to realign joints as well as reduce muscle and nerve tension. Problems generally occur in the body when joints become fixated. This in turn alters the natural biomechanics of the body creating both muscular and joint compensation. After prolonged periods this results in pain, numbness, headaches and various other symptoms.
With this therapy, it helps to restore natural function and movement in the joint. Interested in trying this form of therapy? Try out Live Well!
17. Macquarie Chiropractic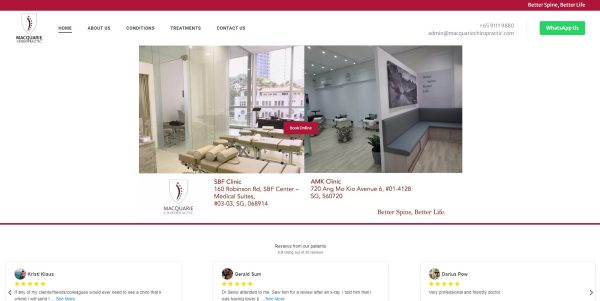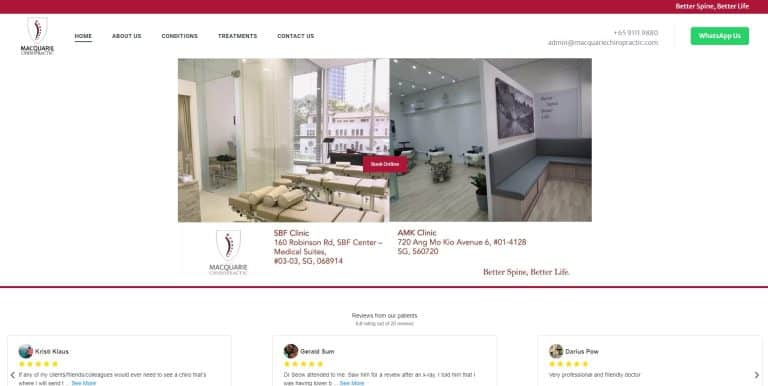 Macquarie Chiropractic specialises in providing high quality chiropractic services to desk-bound professionals in Singapore through a journey of non-surgical structural changes, with a reliable voice, helping you feel motivated to achieve the unachievable with state-of-the-art technology which the clinic provides.
Macquarie Chiropractors in Singapore are trained to locate regions where spinal stress occurs, through a thorough examination of the spine. Soft tissue massage and specific spinal adjustments then help to reduce the irritation in the nervous system — chiropractic realignments aid your body to heal and regulate itself naturally.
18. Vitality Chiropractic Centres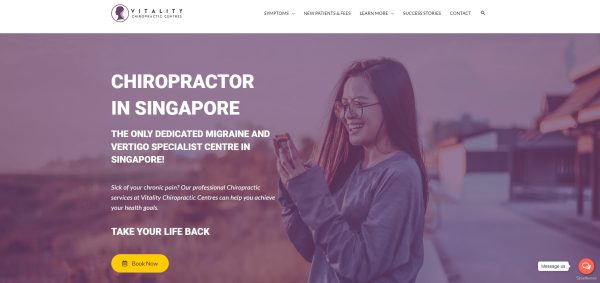 Have you been suffering from chronic issues like migraines, Meniere's disease, shoulder pain, vertigo, neck pain or even digestive problems?
Look no further than Vitality Chiropractic Centres!
Their experienced Chiropractic team provides treatment explicitly catered to boost your recovery process. They will use their expertise to tailor an effective treatment plan for you and bring you back to optimal health.
Besides that, Vitality Chiropractic Centres is the only Chiropractic clinic in Singapore specialising in health issues related to the nerve system, such as migraines, vertigo, Meniere's disease and other neurological or neuromuscular disorders. In fact, they are the first Chiropractors in Singapore and Southeast Asia to introduce this Upper Cervical Specific Chiropractic technique.
Their Chiropractic team takes a holistic approach to their patients. Beyond alleviating your symptoms, their patient-centric approach takes you through active recovery to bring your life and spinal health back to functional wellness so what are you waiting for?
19. Chiropractic First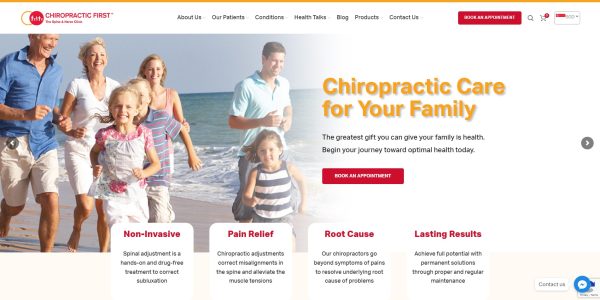 Chiropractic First specialises in problems related to the spine and nerves. They help patients with pain in the neck, shoulders, back and joints, scoliosis, slipped disc issues, chronic migraines, sports injuries, sciatica and many more, very successfully everyday without drugs and surgery.
With over 50 highly-trained certified doctors from all over the world and experience of over 20 years, they have built excellent patient testimonials and countless documented successful results.
Reviews complimented their professionalism and amazing service. Patients enter their clinics with aches and leave with improved wellness.
20. Chan Family Chiropractic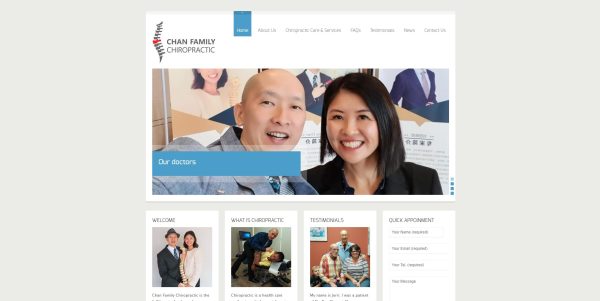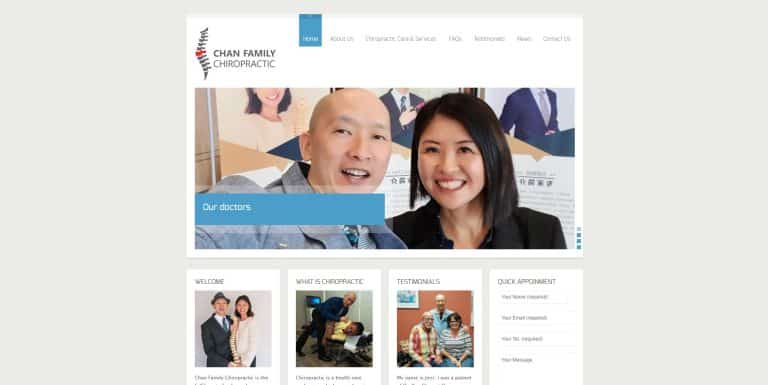 Chan Family Chiropractic is the fulfilment of a dream by a husband and wife team, Dr. Roy Chan and Dr. Tracy Tan. The couple had always shared a personal life philosophy to improve the quality of life of others, to always make a difference in whatever they do.
Doctors at Chan Family Chiropractic focus on locate, analyse and correct vertebral subluxation. So what is subluxation?
Subluxations are misalignments in the spine which can irritate your nervous system and lead to interference in the communication between the brain, nervous system and the body. Subluxation can lead to many different types of conditions such as neck pain and headaches, lower back pain, shoulder pain, various joint pain, sciatica, disc degeneration and many other health related problems.
Think that you might have Subluxation? Head over for a visit at Chan Family Chiropractic now!
Conclusion
All in all, we hope that you find this guide useful in making an informed decision when it comes to choosing the best chiropractor in Singapore of your choice.
Do you have any reviews and comments to share regarding our choices for the best chiropractor in Singapore?
While SBO is committed to supporting our local businesses, we welcome any feedback and anonymous sharing regarding your experience with the listed chiropractors.
On a side note, if you are suffering from any foot conditions, do feel free to check this list of podiatrists in Singapore you can visit.
Explore More Content