10 Best Heart Surgeon in Singapore for Heart Surgery [2023]
We thank these heart surgeons from the bottom of our hearts.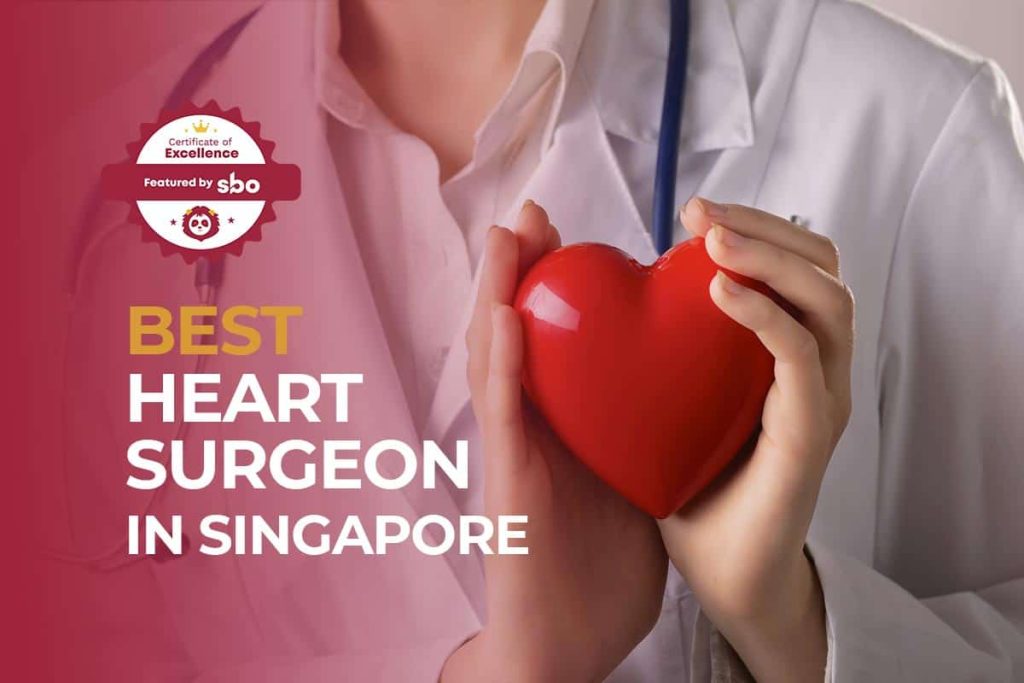 With an average life expectancy of about 83 years, Singaporeans live longer than most of the rest of the world, only behind after Japan and Switzerland.
Yet, on the flip side, this longer longevity also means that Singaporeans are more prone to developing heart valve disease, a type of cardiovascular disease.
Heart valves are thin membranes attached to the heart wall that constantly open and close to direct the flow of blood in a single direction, through the heart chambers, and then to the rest of the body.
Valves open and close with each heartbeat, which means that, by the time we reach 80 years of age, they would have performed this action more than three billion times.
Over the years, these valves degenerate with calcium deposits building up and fibrous scarring.
The conventional treatment for aortic valve stenosis is open heart surgery and it is well established that this leads to improved survival rates and quality of life.
Yet, a study 10 years ago found that 40 per cent of Singaporean patients turned down the option of surgery due to fears and lack of understanding of the surgery.
Looking for a heart surgeon in Singapore? In this post, we've gathered all the necessary details to compile a list of the 10 best heart surgeon in Singapore.
1. Thoracic & Cardiovascular Surgery Specialist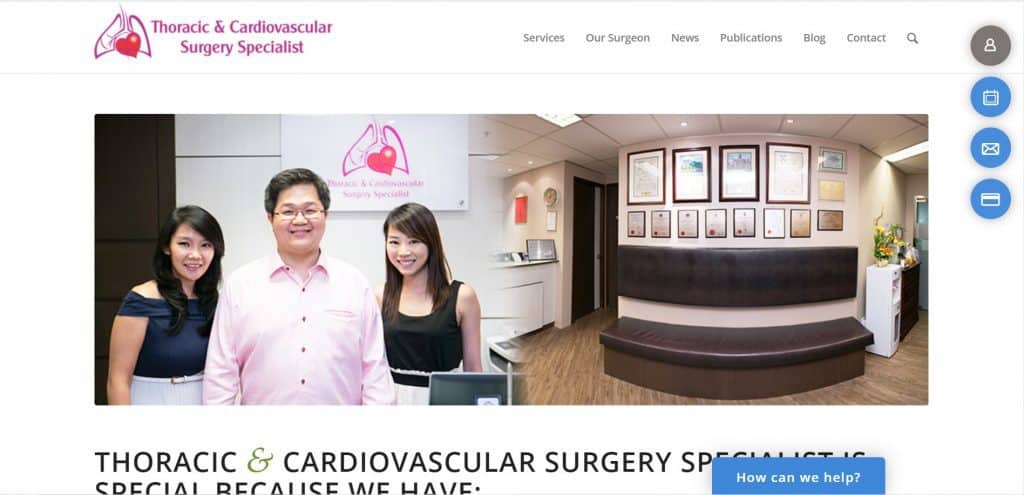 Dr Su Jang Wen graduated with a Bachelor of Medicine and Bachelor of Surgery from the University of Melbourne, Australia in 1998.
Subsequently, he obtained his Membership of the Royal College of Surgeons (Edinburgh) and his Master of Medicine from the National University of Singapore in 2002 and 2003 respectively.
In 2006, the heart surgeon in Singapore became a Fellow of Royal College of Surgeons (Cardiothoracic Surgery, Edinburgh) and was the first-ever Singapore candidate to be awarded the gold medal for the Fellowship examination.
Dr Su is one of the very few cardiothoracic surgeons who is accredited to perform both heart and lung surgery.
Upon returning to Singapore in 2009, Dr Su served as a Consultant in The Department of Cardiothoracic Surgery, National Heart Centre Singapore, making him one of the youngest ever cardiothoracic surgeons in the world.
Since 2007, Dr Su has accumulated extensive experience having carried out more than 5,000 heart, lung, and oesophageal surgeries.
He has since remained one of the busiest Cardio-Thoracic surgeons in the region, performing more than 350 surgery per year.
During his practice, he held the record of having no mortalities in all his elective thoracic surgery as well as most cardiac surgeries conducted.
Apart from performing a full range of surgery for cardiac and thoracic conditions, Dr Su's main interest is in Minimally Invasive Surgery.
For thoracic surgery, he routinely performs video-assisted thoracoscopic surgery (VATS) in lung cancer, mediastinal tumours, and many other thoracic conditions.
In 2010, he was the first in South East Asia to have successfully resected lung cancer using Da Vinci Robot.
2. Paediatrics & Adult Cardiothoracic Surgery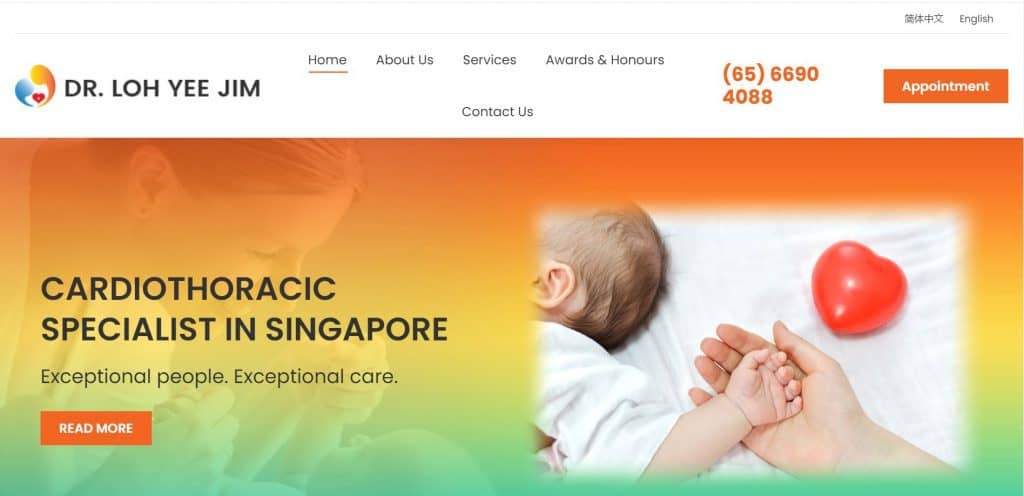 Dr Loh Yee Jim is one of the most experienced congenital heart surgeons in Singapore.
He is the past head of cardiothoracic surgery service at KK Women's and Children's Hospital (KKH).
Under his leadership, KKH is leading the nation in having the best outcomes after congenital heart surgery.
Having been a heart patient himself, he fully understands the stresses that the patients and families face.
Having graduated in 2000, Dr Loh started his training in cardiothoracic surgery in 2004 and became a Fellow of the Royal College of Surgeons, Edinburgh in 2009.
The heart surgeon in Singapore was subsequently awarded the prestigious overseas training scholarship from the Ministry of Health (MOH), Singapore.
Besides his interests in paediatric heart surgery, Dr Loh is also actively involved in adult cardiac surgical work.
He championed the use of video-assisted thoracoscopic (VATS) closure of atrial septal defects as a form of minimally invasive cardiac surgery.
The heart surgeon in Singapore has also performed the largest series of aortic valve sparing root replacement procedures in Singapore.
3. Livingstone Cardiology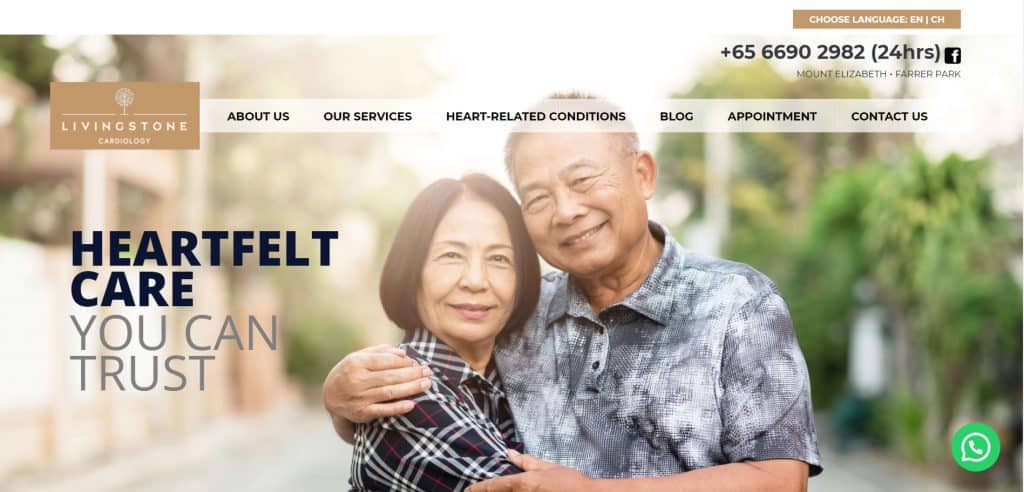 At Livingstone Cardiology, delivering heartfelt care to patients is their ethos.
The heart surgeon in Singapore always strives to understand every individual patient's needs, concerns, and condition before recommending a suitable treatment plan.
Livingstone Cardiology is a heart clinic helmed by Singapore cardiologist Dr Ang Teck Kee, who has more than 10 years of experience in cardiology together with his team of cardiac technicians.
The heart specialist clinic offers a comprehensive range of cardiac services from screening to treatment procedures while adopting reliable and accurate technology to provide the highest quality of care.
With over 15 years of experience treating cardiac conditions, Dr Ang has performed over 3,000 coronary angiographies and percutaneous coronary interventions.
The heart surgeon in Singapore is also a Clinical Teacher and Clinical Educator at the Lee Kong Chian School of Medicine and Yong Loo Lin School of Medicine.
4. C H Lim Thoracic Cardiovascular Surgery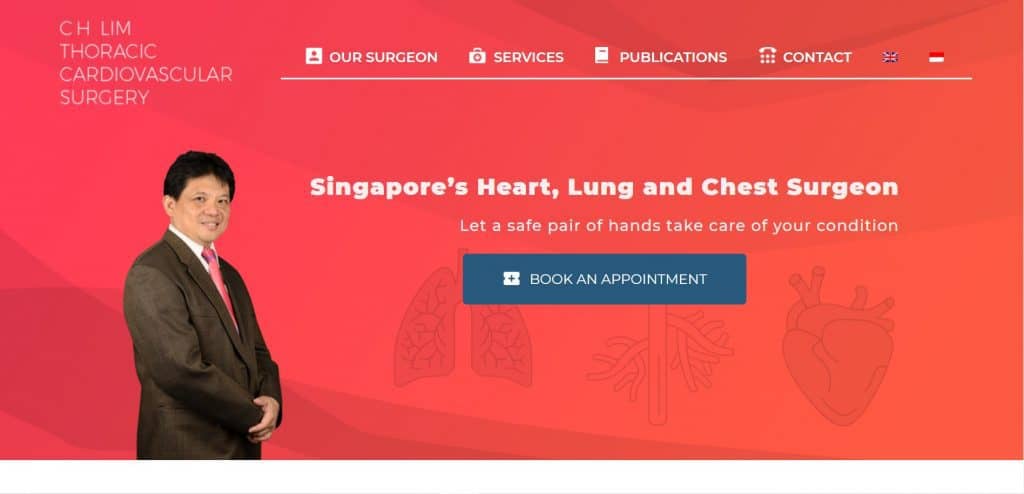 Dr Lim Chong Hee graduated with his Bachelor of Medicine and Bachelor of Surgery degree from the National University of Singapore in 1990.
Thereafter, he earned his Fellowship of the Royal College of Surgeons (Edinburgh) in 1994.
From 1999 to 2001, the heart surgeon in Singapore furthered his training in cardiothoracic surgery at the world-renowned Cleveland Clinic Foundation in Cleveland, USA.
With more than 23 years of experience in cardiac surgery, Dr Lim's clinical interests lie in:
Minimally Invasive Lung Surgery
Heart Valve Repair and Replacement
Coronary Artery Bypass Surgery
Aortic Aneurysm Surgery
Esophagectomy for Esophageal Cancers
Pulmonary Embolectomy & Endarterectomy Surgery
He is interested in Heart/Lung Failure pioneering in Extra Corporeal Membrane Oxygenation (ECMO) and implantation of Left Ventricular Assist Devices (LVAD).
Dr Lim is also the regional Proctor for LVAD, for both HeartWare and HeartMate II and III devices, which provide support for patients with advanced heart failure.
5. EH Heart Specialist Private Limited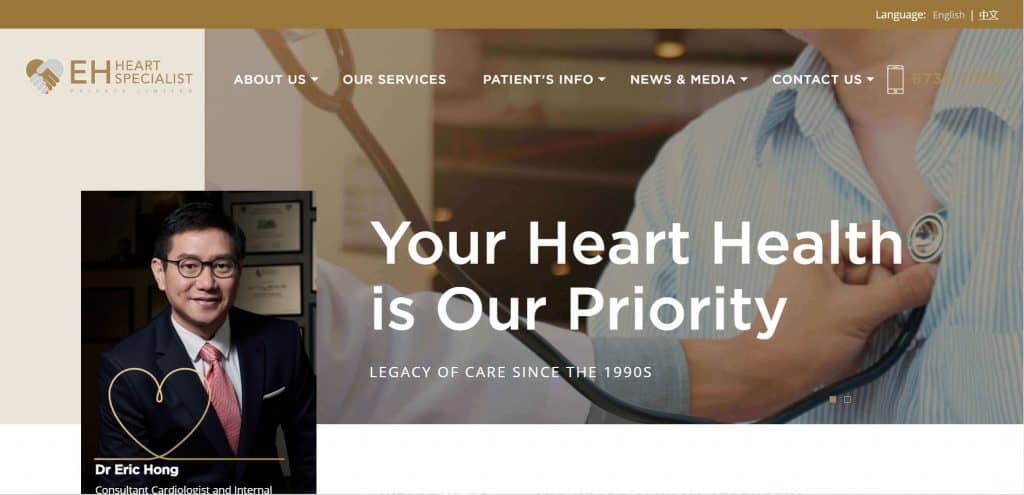 Dr Eric Hong is one of the few doubly accredited Singapore Cardiologists after being trained in two ACGME (Accreditation Council for Graduate Medical Education, USA) clinical fellowships of interventional cardiology and non-invasive cardiac imaging (including cardiac CT angiography, PET/SPECT imaging, nuclear cardiology).
The heart surgeon in Singapore is is currently Consultant Cardiologist at EH Heart Specialist, Mount Elizabeth Medical Centre, and Visiting Consultant to Mount Alvernia Hospital, Raffles Hospital.
Dr Hong has special interests in interventional cardiology (Femoral and Radial access), sports cardiology, cardiac rehabilitation, and advanced non-invasive multi-modality cardiac imaging.
He is also accredited to perform renal denervation procedure, an emerging therapy for hypertension.
After receiving his medical degree from Royal College of Surgeons in Ireland, he went on to pass the United States Medical Licensing Examinations.
He worked in Ireland before beginning specialist training at Singapore General Hospital.
After becoming a member of Royal College of Physicians (Edinburgh), Dr Hong completed his advanced Specialist training in cardiology at National University Hospital and was inducted as a Fellow of the Academy of Medicine.
He also passed the certification examinations of the American College of Sports Medicine (ACSM).
6. Dr Eugene Sim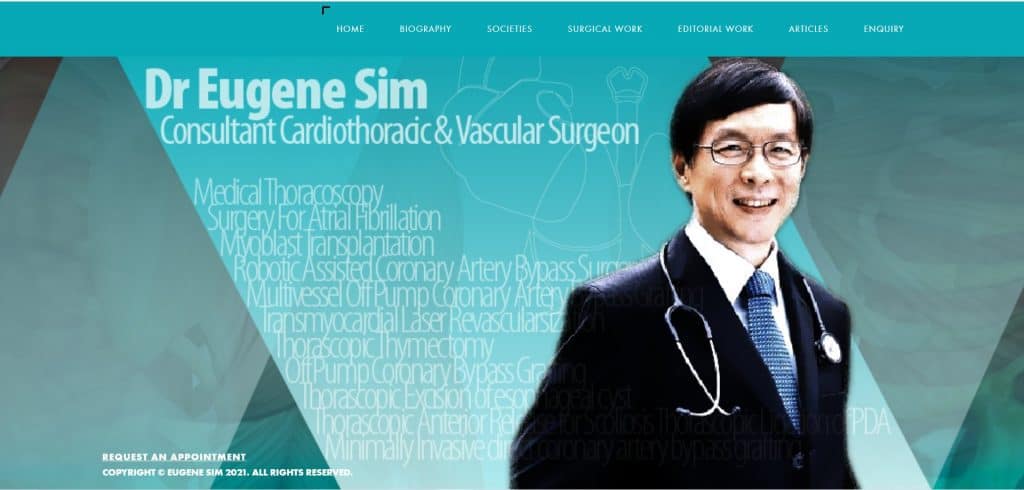 Dr Eugene Sim is a well known cardiothoracic surgeon in Asia.
He has one of the busiest practices and has performed more than 3000 cases of open heart surgery.
He is renowned for his pioneering work in cardiac surgery.
In Nov 1995 he was one of the first surgeons in Asia to perform minimally invasive direct coronary artery bypass grafting and has performed more than 100 such procedures to date.
The heart surgeon in Singapore was also the first in Asia to perform off-pump coronary artery bypass grafting using the Octopus stabilizer and has conducted many training courses to train surgeons in the use of this new technique.
He was one of the first surgeons in the region to perform thoracoscopic ligation of a patent ductus arteriosus in Dec 1995,
Thoracoscopic anterior release for scoliosis in January 1996, thoracoscopic thymectomy in 1997, multivessel off-pump coronary artery bypass grafting in July 1997, and robotic-assisted coronary artery bypass surgery in April 2000.
Dr Sim was appointed to the Board of Directors of the International Society of Minimally Invasive Cardiac Surgery in 2001.
7. The Heart Doctors Clinic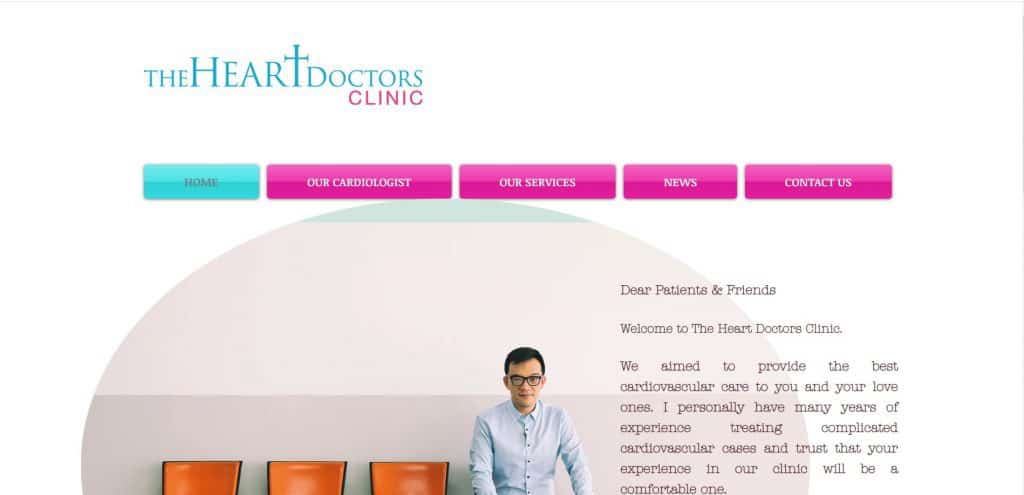 The Heart Doctors Clinic is a dedicated heart specialist clinic located at the newly completed Mount Alvernia Medical Centre D.
The heart surgeon in Singapore, led by Dr Soon Chao Yang, aims to provide excellent quality, holistic, cost effective cardiovascular disease prevention, diagnosis and treatment to their patients.
Dr Soon graduated from University of Otago, New Zealand in 1997.
He has worked and trained extensively in New Zealand and United Kingdom before completing his training in the field of cardiology at National University Hospital Singapore in 2004.
Dr Soon is one of a select few cardiologists to receive formal training in interventional cardiology, as well as a peripheral vascular intervention at the prestigious Methodist DeBakey Heart Centre (Baylor College of Medicine) and Texas Heart Institute, Houston, United States of America.
The heart surgeon in Singapore is also board-eligible for interventional cardiology in the United States of America.
8. Novena Heart Centre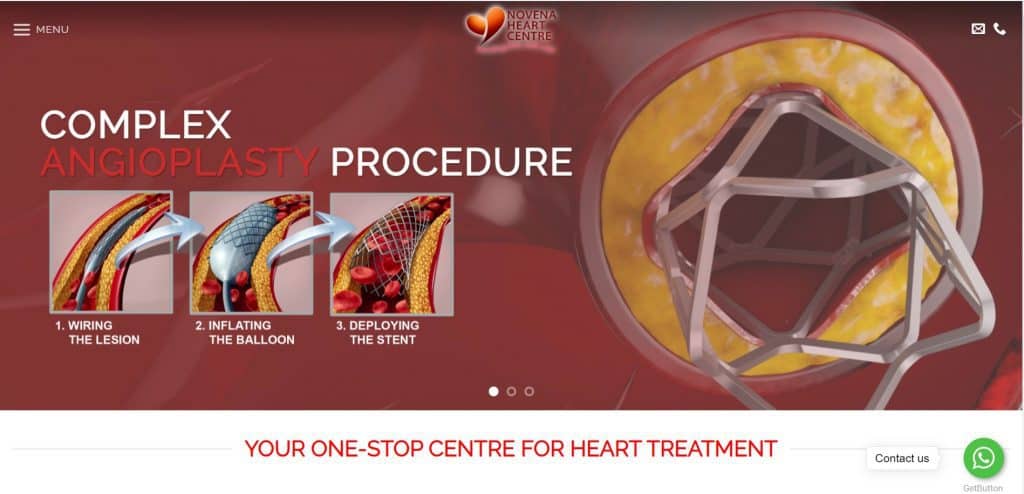 The combined speciality skills of the team of cardiologists at Novena Heart Centre cover the full range of heart treatments, making Novena Heart Centre your one-stop resource for heart screening, treatments and preventive care.
The clinic is led by Dr Hsu Li Fen, who is widely recognized as an expert in the field of heart rhythm problems.
His specific research interests include the evaluation and treatment of atrial fibrillation and flutter, and sudden cardiac death.
He graduated from the National University of Singapore and completed his post-graduate degree, the Membership of the Royal College of Physicians (United Kingdom), in 1997.
The heart surgeon in Singapore underwent advanced specialist training in Cardiology at the National Heart Centre, Singapore from 1998 to 2001.
This was followed by further training in the management of cardiac arrhythmias at the Hôpital Cardiologique du Haut-Leveque, Bordeaux, France from 2002 to 2004.
9. Julian Tan Heart Specialist Clinic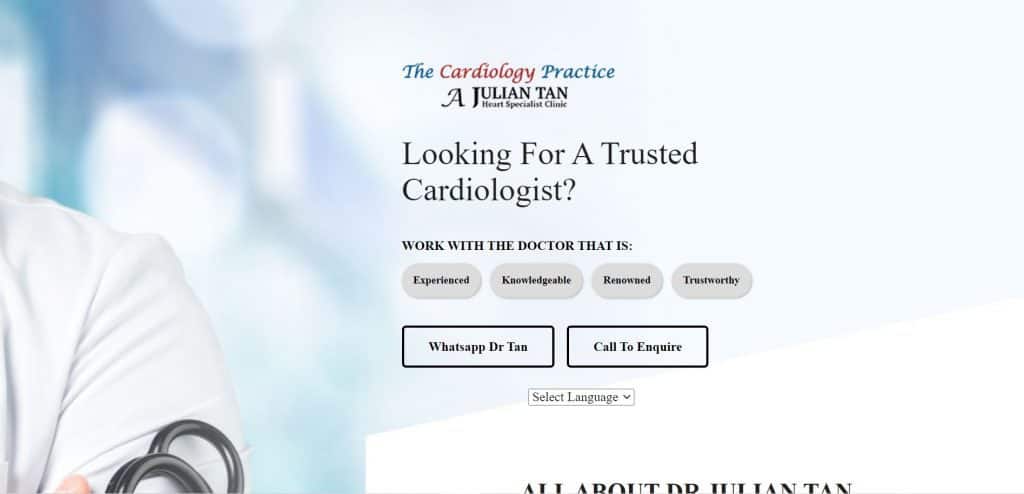 Dr Julian Tan is a pioneer in Interventional cardiology, and is highly qualified in treating patients with heart diseases, including the most advanced forms of valvular, coronary, heart rhythm and heart muscle disorders.
With over 20 years of experience in the field, Dr Tan has been able to treat over 1,000 blocked heart arteries in Singapore as well as to help patients achieve a healthy heart.
The heart surgeon in Singapore has also received additional sub-specialty and fellowship training in performing angioplasties.
Being a renowned interventional cardiologist, Dr Tan has experience in minimally invasive techniques and is dedicated to treating all heart conditions without the need for major surgery, especially for procedures like Angioplasty and Stenting.
10. International Centre for Thoracic Surgery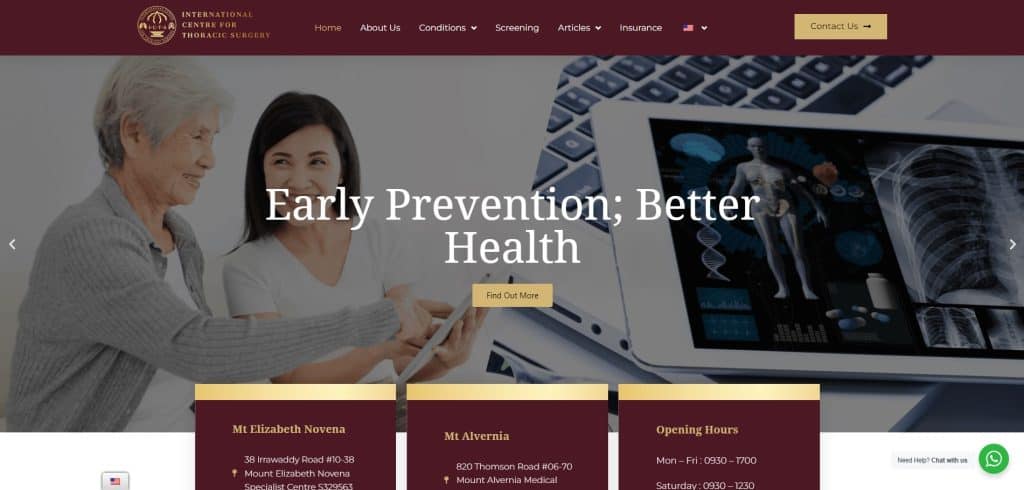 The heart surgeon in Singapore offers a full range of thoracic services.
These services include surgery for the lungs, esophagus, and chest wall.
At International Centre for Thoracic Surgery (ICTS), they believe in the marriage of technology and medicine to help improve lives.
Robot-assisted surgery allows surgeons to perform procedures with more precision and control compared to conventional techniques.
Robotic surgery is performed through tiny incisions.
This means a quicker recovery for patients with shorter hospital stays, minimal scarring and reduced risk of infection.
Dr Aneez Ahmed is the first in the Association for Southeast Asian Nations (ASEAN) cohort to attain a Level III Certificate in Robotic Thoracic Surgery.
The heart surgeon in Singapore is also one of the only two accredited surgeons in Singapore trained to perform Robotic Thoracic Surgery and the only proctor for Thoracic Surgeons in ASEAN.
Conclusion
Do you have any reviews and comments to share regarding our choices for the best heart surgeon in Singapore?
While SBO is committed to supporting our local businesses, we welcome any feedback and anonymous sharing regarding your experience with the listed heart surgeon in Singapore.
We hope that this guide will be useful in helping you to make an informed decision when it comes to finding the best heart surgeon in Singapore.
Explore More Content