9 Best Urologist in Singapore to Cure Your Ailments [2023]
Find the best urologist in Singapore to cure your ailments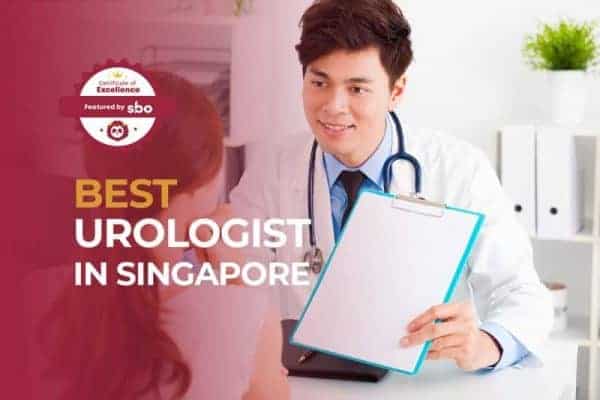 Are you suffering from any urological conditions but have no idea where to seek the appropriate treatment? If so, why not seek treatment from the best urologist in Singapore.
The best urologist in Singapore has the necessary expertise and medical equipments to treat various forms of urological condition.
In this post, we've gathered all the necessary details including unravelling reviews and testimonials to derive a list of the 10 best urologist in Singapore to cure your ailments.
1. Advanced Urology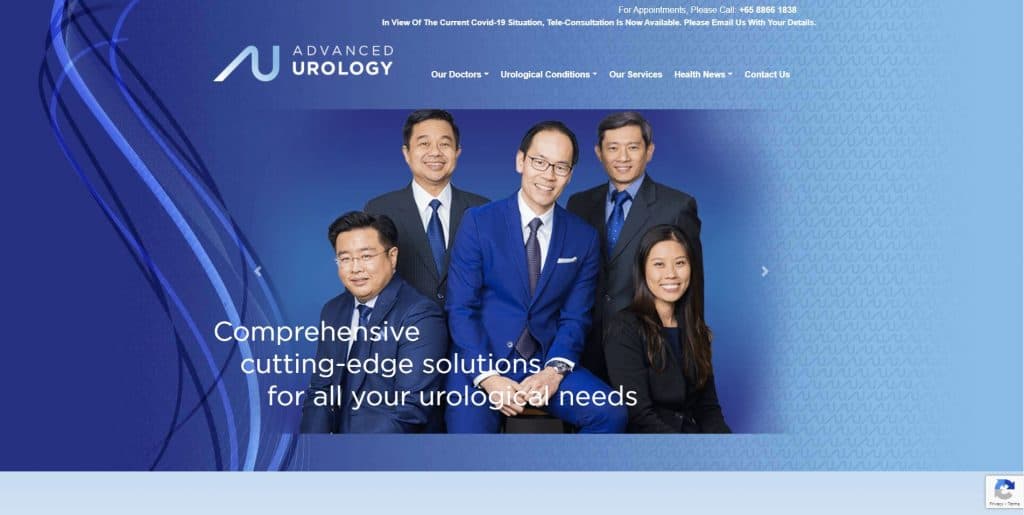 Founded in 2018, Advanced Urology is the largest group of urology specialists in private practice who are respected experts in their individual subspecialties. They work closely together to design a comprehensive evidence-based treatment approach for solving complex and challenging urology conditions.
Advanced Urology treats various forms of urological conditions such as kidney stone, recurrent urinary infections, prostate cancer, hernias & groin lumps as well as male infertility.
They have an extensive range of diagnostic equipment as well as state-of-the-art medical technologies such as the UroNav MRI fusion prostate biopsy device. Their clinics are Medisave-accredited which will help their patients to accelerate the process of treatment claims.
2. Tan Urology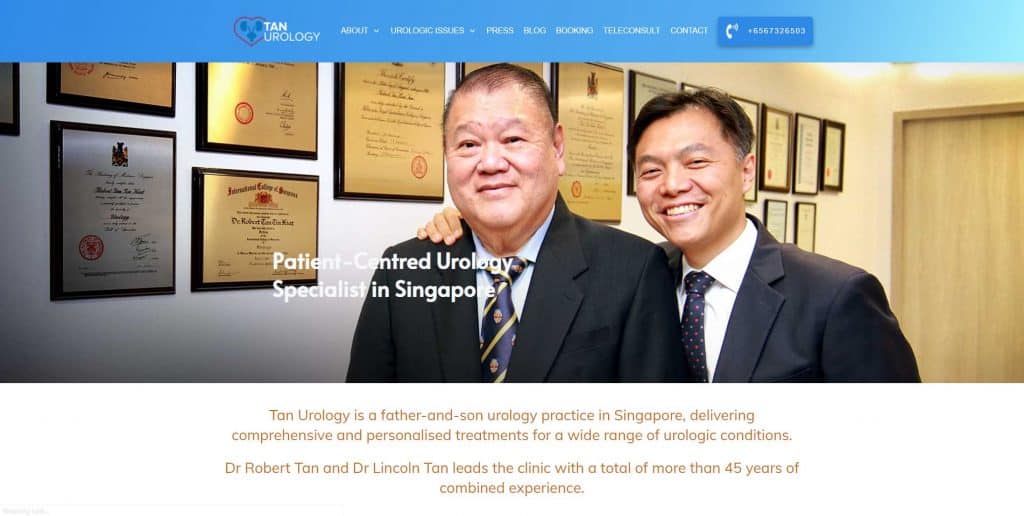 Tan Urology is a urology practice in Singapore which is helmed by father and son, Doctors Robert and Lincoln Tan, having a combined experience of over 45 years. Together, they aim to deliver quality, compassionate care and the highest level of service to patients suffering from urological conditions.
Tan Urology treat many kinds of urological conditions such as prostatitis, urinary tract stones, nocturia, hematuria, hernias and short penile frenulum.
They also offer specialised treatments. One of them is the advanced prostate cancer diagnostics which will give you the most accurate diagnosis and as such, minimising unnecessary prostate biopsies. The other is the Catheter-less Robotic Radical Prostatectomy that will minimise disrupt of patient's life and accelerate their recovery.
For your convenience, Tan Urology also provides teleconsultation services where you can speak to their doctors without the need to leave your home.
3. International Urology, Fertility & Gynaecology Centre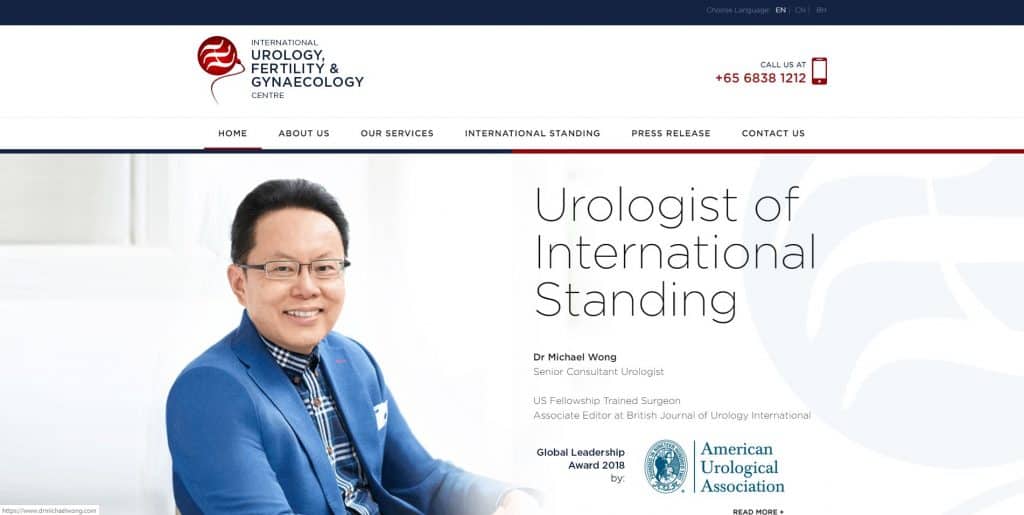 The International Urology, Fertility & Gynaecology Centre, helmed by Dr Michael Wong, offers a one-stop centre diagnosis and treatment of your urological, fertility or gynaecological problems.
They treat various forms of urological conditions such as kidney stones, infertility, prostate conditions, incontinence, urological cancer, erectile dysfunction and urinary tract infection.
Their unique feature is that joint urology-gynaecology consultations are available by appointments in the complex medical areas of male and female fertility, female bladder and pelvic floor issues.
4. Urohealth Medical Clinic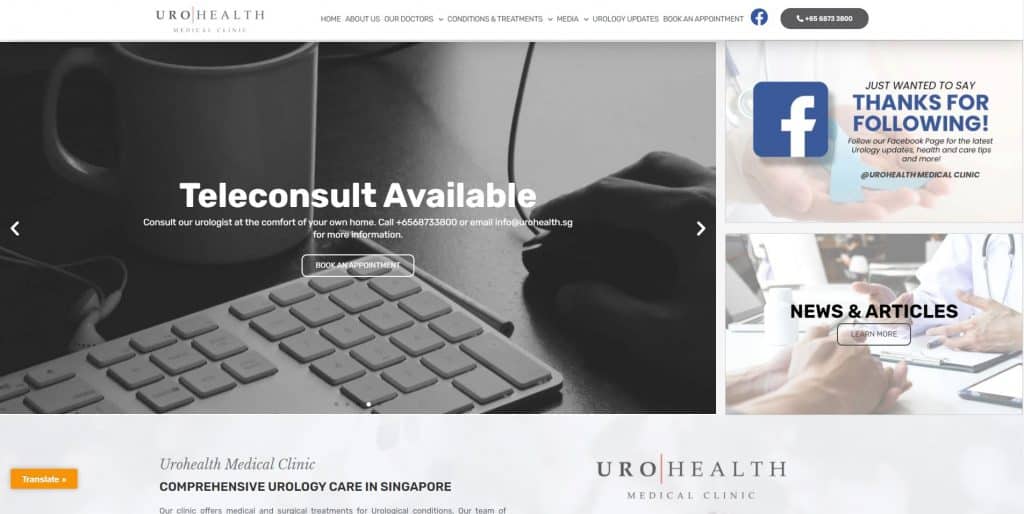 Urohealth Medical Clinic provides an integrated urologic patient care with the highest level of expertise. They aim to provide the high quality urological care through their broad and specialised network of resources and professional service providers.
Urohealth Medical Clinic treats urological conditions of various kinds such as renal cysts, neurogenic bladder, testicular cancer, pelvic floor disorder and nocturia. With our years of experience, you can be assured that you are being treated in a trusted and safe environment.
5. Colin Teo Urology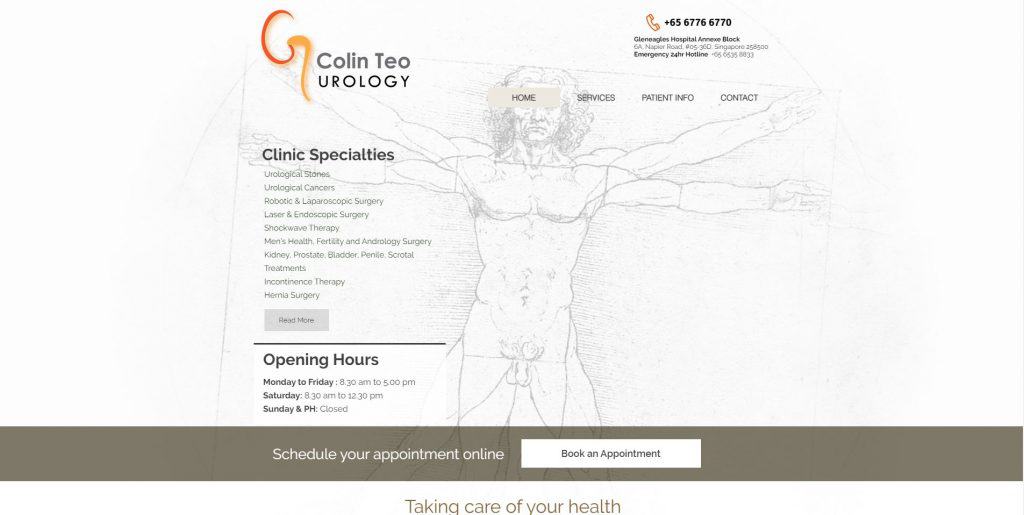 Colin Teo Urology is helmed by a senior consultant urologist in Singapore, Dr Colin Teo. Besides his expertise, he is known to his patients as sincere, friendly and compassionate.
Dr Teo regularly engages a multidisciplinary approach combining pharmacological, minimally invasive surgery and multimodality therapy when indicated with related specialists.
Dr Teo treats various kinds of urological conditions such as urological stones, incontinence and hernia.
6. BK Poh Urology Centre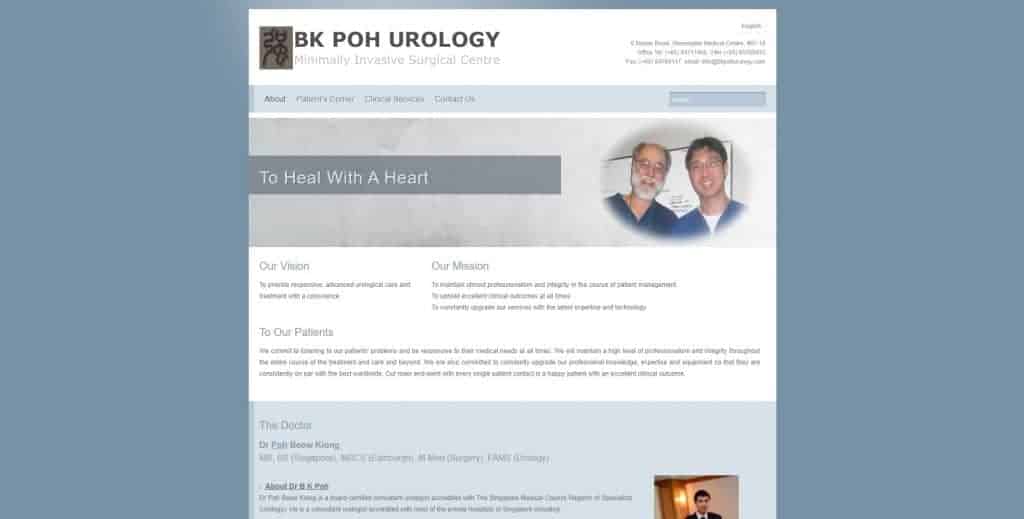 BK Poh Urology Centre is helmed by Dr Poh Beow Kiong, a board-certified consultant urologist in Singapore who specialises in advanced minimally invasive surgery and endourology, including Retrograde Intrarenal Surgery (RIRS).
BK Poh Urology Centre provide various form of services to treat urological conditions such as Laser Cystolithotripsy of Bladder Stones, Flexible Cystoscopy and Urine Flow Assessment. Their ultimate goal is that patients can leave the centre with an excellent clinical outcome.
7. Paediatric Surgery & Urology International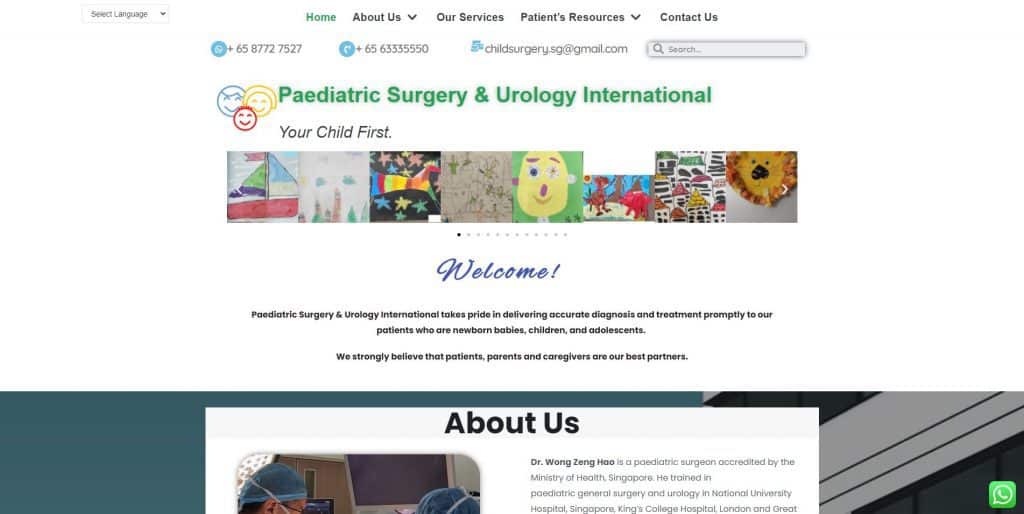 Helmed by Dr Wong Zeng Hao, Paediatric Surgery & Urology International aims to deliver accurate diagnosis and treatment promptly patients who are newborn babies, children and adolescents.
For them, Dr Wong provides treatments and surgeries for various conditions. If patients find that it is inconvenient to leave the house, the clinic offers a telemedicine option via video consultation.
8. Chin Chong Min Urology & Robotic Surgery Centre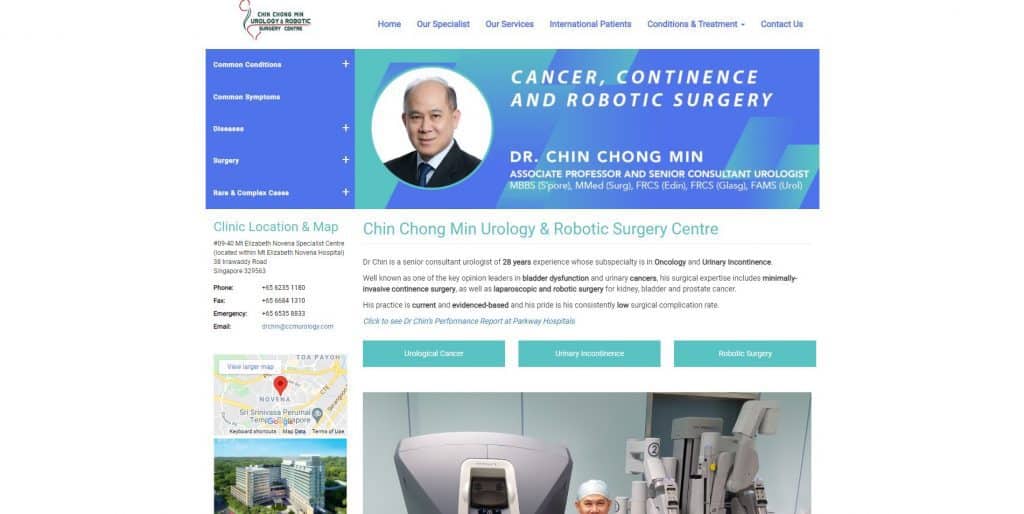 Dr Chin Chong Min, a senior consultant urologist, runs his own urology and robotic surgery centre. He has over 20 years of experience as a urologist whose subspecialty is in oncology and urology incontinence.
Dr Chin possesses expertise in various surgeries such as Robotic/Laparoscopic Adrenalectomy, Vasectomy and Collagen Injection for conditions such as Bladder Cancer, Erectile Dysfunction and Urinary Tract Infection. He is a well-known key opinion leader in bladder dysfunction and urinary cancers.
Dr Chin's centre is the first in Singapore to carry out the first robotic adrenalectomy. His practice is current and evidence-based. He also enjoys a consistently low surgical complication rate.
9. ACE Urology Clinic & Surgery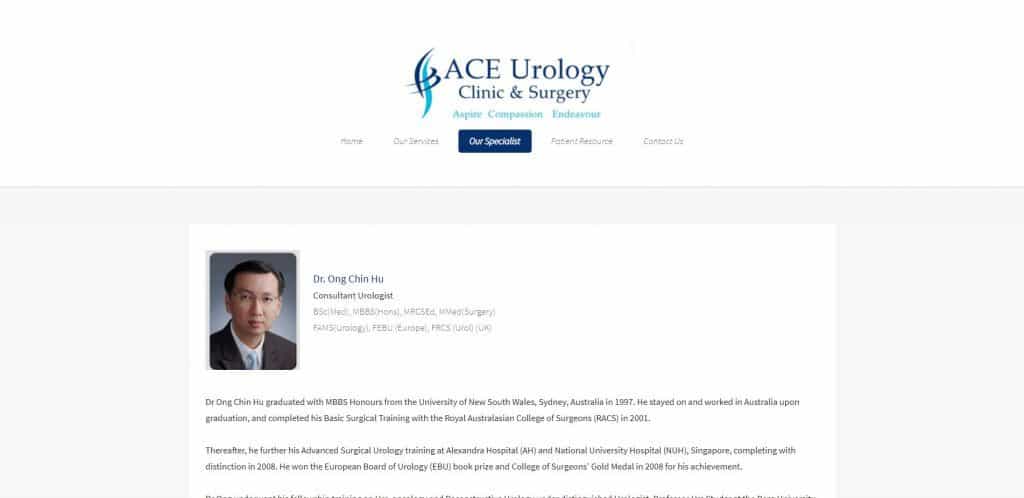 ACE Urology Clinic & Surgery is run by an experienced urologist, Dr Ong Chin Hu. The clinic aims to provide its patients with better urological care.
They provide various treatments such as screening and treatment of haematuria, abnormal PSA and minimally invasive, endoscopic and robotic urological surgical.
Conclusion
Do you have any reviews and comments to share regarding our choices for the best urologist in Singapore?
While SBO is committed to supporting our local businesses, we welcome any feedback and anonymous sharing regarding your experience with the listed urologist in Singapore.
We hope that this guide will be useful in helping you to make an informed decision when it comes to finding the best urologist in Singapore.
Explore More Content