10 Best Bunion Treatment in Singapore to Relieve Discomfort from Bunions [2023]
Bunions are way scarier than bunnies.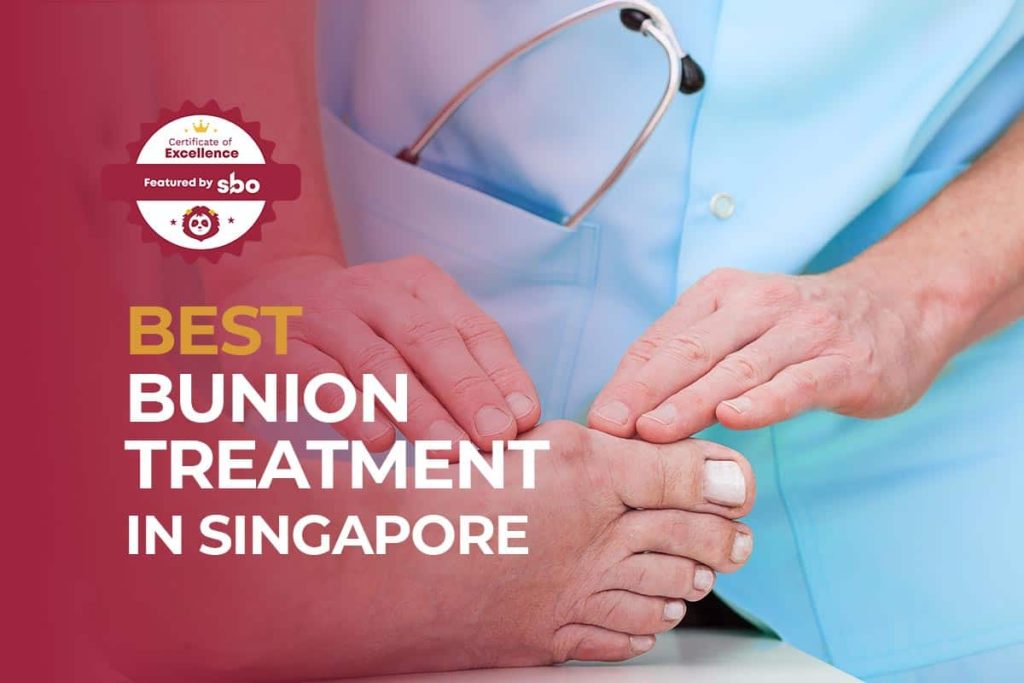 Bunion. Sounds innocuous? Well, you couldn't be more wrong for thinking that way!
A bunion is a bony bump that forms on the joint at the base of your big toe. It occurs when some of the bones in the front part of your foot move out of place.
In some cases, the bump is painless. Over time, however, a bunion will cause the toes to crowd together. This can cause pain and possibly permanent deformity.
Shoes with narrow toes (e.g. high heels) can trigger a bunion, but they're not the underlying cause. Bunions run in families, because foot type (shape and structure) is hereditary, and some types are more prone to bunions than others. Low arches, flat feet, loose joints and tendons all heighten the risk and aggravate the condition.
Looking for a bunion treatment in Singapore? In this post, we've gathered all the necessary details to compile a list of the 10 best bunion treatment in Singapore.
1. The Bone & Joint Centre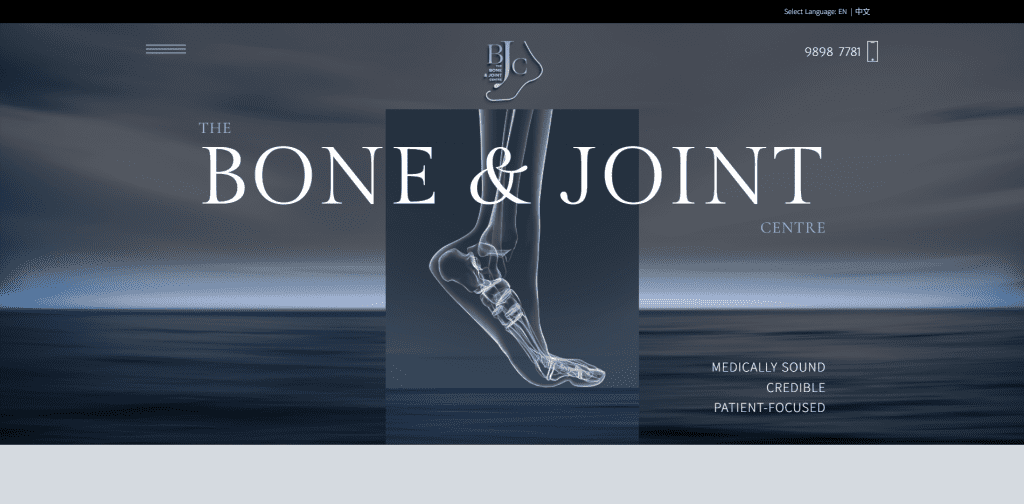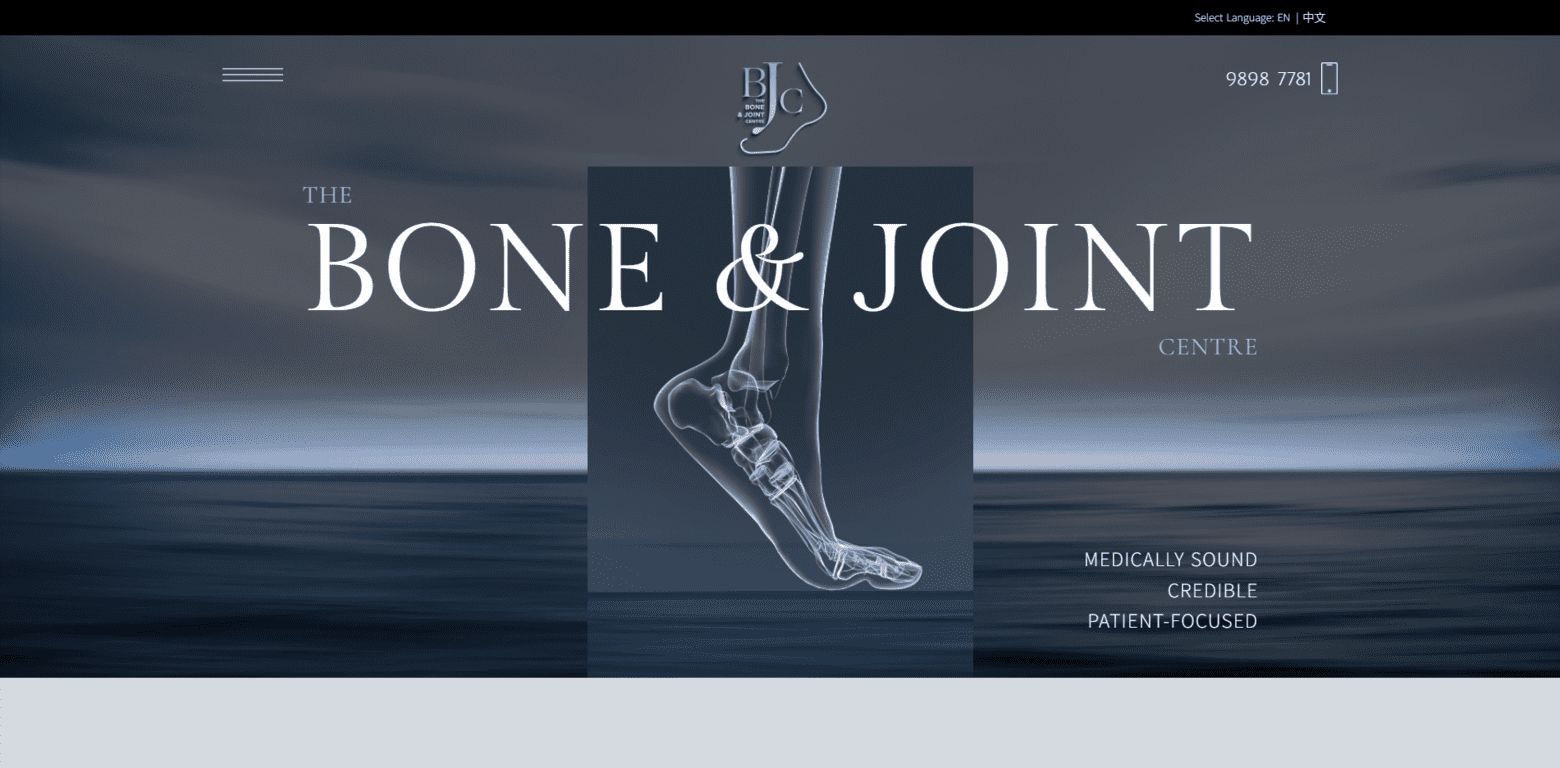 The clinic is helmed by Dr Kevin Koo, a fellowship-trained Consultant Orthopaedic Surgeon and former Director of Foot and Ankle Service at the Singapore General Hospital with over 15 years of experience. He is also an Adjunct Assistant Professor with both NUS Yong Loo Lin School of Medicine and Duke-NUS Medical School.
The veteran bunion surgeon is extremely well-versed in carrying out various types of bunion surgery in Singapore, ensuring that your identified bunion condition is resolved with as little concomitant discomfort and downtime as possible.
In particular, the bunion treatment specialises in the minimally invasive technique, where the procedure is done via tiny incisions using fine surgical instruments to remove the bunion as well as to straighten the big toe.
As a highly experienced and well-practised medical professional, besides bunions, Dr. Koo also addresses numerous bone and joint ailments, with his expertise being in sports injury management and rehabilitation, foot and ankle surgeries, knee conditions, joint replacements, dance injuries, and minimally invasive procedures.
2. My FootDr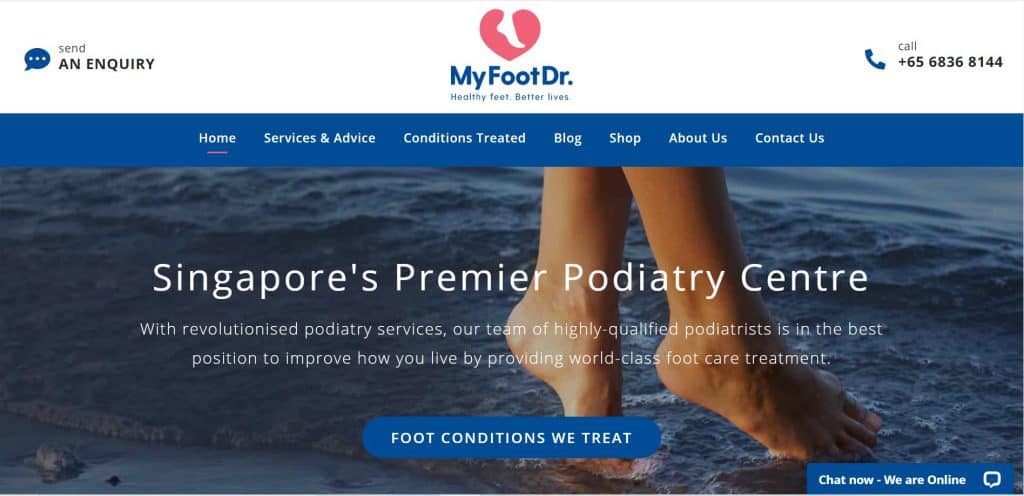 Established in 2012 by Brisbane podiatrists Greg Dower and Darren Stewart, My FootDr underwent a merger with Queensland-based podiatry group, Balance Podiatry, in 2016. The bunion treatment is now Australia's largest podiatry group, with 57 podiatry clinics, and over 150 podiatrists and support staff.
Before treating your bunions, My FootDr will first conduct a biomechanical assessment to evaluate whether biomechanical foot abnormalities like excessive pronation are the root cause behind the formation of bunions on your foot.
In cases of excessive pronation, they will prescribe custom orthotics to maintain the condition of the big toe joint and to avert the rise of further complications.
My FootDr can also suggest particular footwear for you to wear, which alleviates pain and pressure to the big toe joint and prohibits subsequent bunion formation.
3. SBF Sports & Hand Centre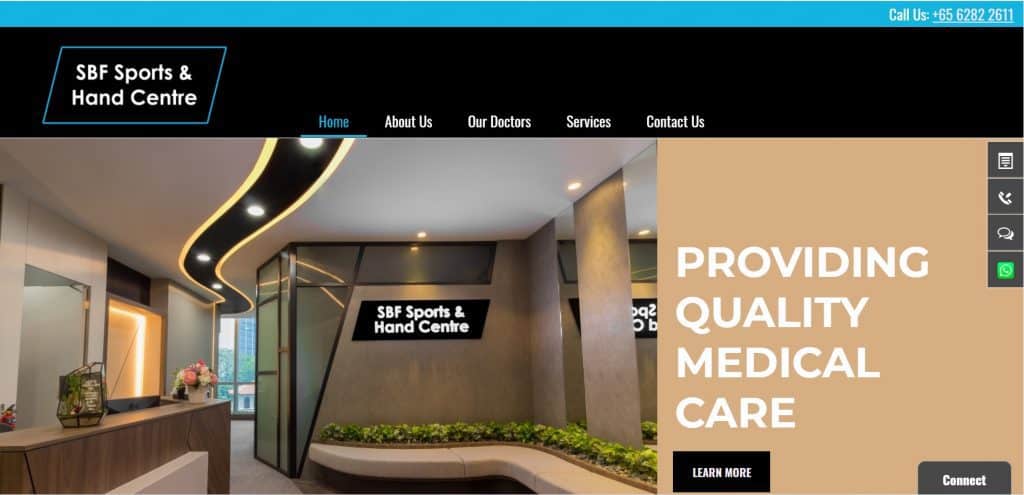 Dr Tan Ken Jin is the go-to surgeon for minimally invasive bunion correction at their clinic. Dr Tan is a fellowship trained orthopaedic surgeon with a subspecialty interest in foot and ankle disorders and sports injuries.
He obtained his medical degree from the National University of Singapore and underwent orthopaedic surgical training in Singapore. Dr Tan has had the chance to work in different hospitals in Singapore where he was exposed to the field of orthopaedic surgery.
The centre boasts modern facilities and high-quality infrastructure, while sitting on a spacious area of 68,082 square feet. The medical lobby drop-off offers direct lift access to the top storey medical suites, making convenience a dream come true.
The best part of it all: the centre is also conveniently located, with the bunion treatment in Singapore being a stone throw's away from Tanjong Pagar MRT Station.
4. Physio & Sole Clinic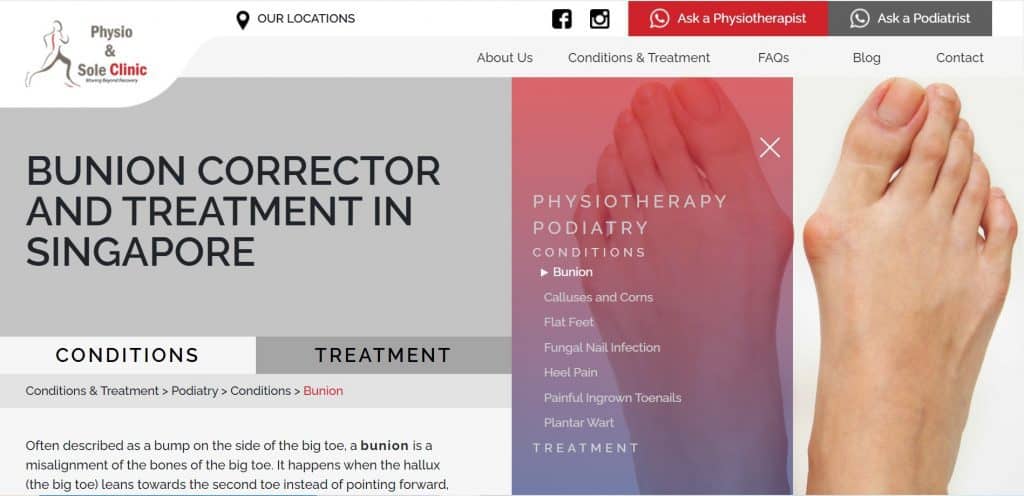 To determine the cause of your bunions, the podiatrists at Physio & Sole Clinic will perform a detailed evaluation of your legs and feet. The suite of tests includes:
Hip examination
Knee examination
Ankle and foot examination
Standing and gait analysis
Footwear analysis and advice
Post-assessment, the podiatrists will design a customised treatment plan for you. This includes general fittings, personalised foot orthoses, modifications to footwear, sports taping, and exercises designed to strengthen the foot and lower limb.
The bunion treatment in Singapore will also spend time dispelling common misconceptions surrounding the efficacy of bunion correctors or splints.
5. BJIOS Orthopaedics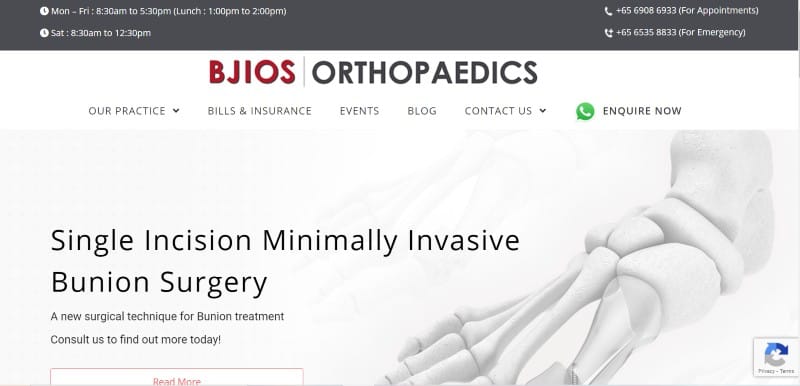 BJIOS Orthopaedics specialises in single incision minimally invasive bunion surgery. This type of surgery is done by cutting a tiny incision near the big toe so that bone cutting instruments may be inserted to correct the deformity. With the help of this minimally invasive technique, the incisions are much smaller and also less visible.
Their team of healthcare professionals will ensure that your healthcare needs are adequately met — pre and post surgeries. Their state-of-the-art facilities are instrumental for surgeries performed under both local and regional anaesthesia.
BJIOS Orthopaedics also possesses an in-house imaging department to carry out X-ray and MRI examinations. This eliminates the need to go down to external radiology centres, thereby saving both valuable time and travelling expenses.
6. Ardmore Orthopaedic Clinic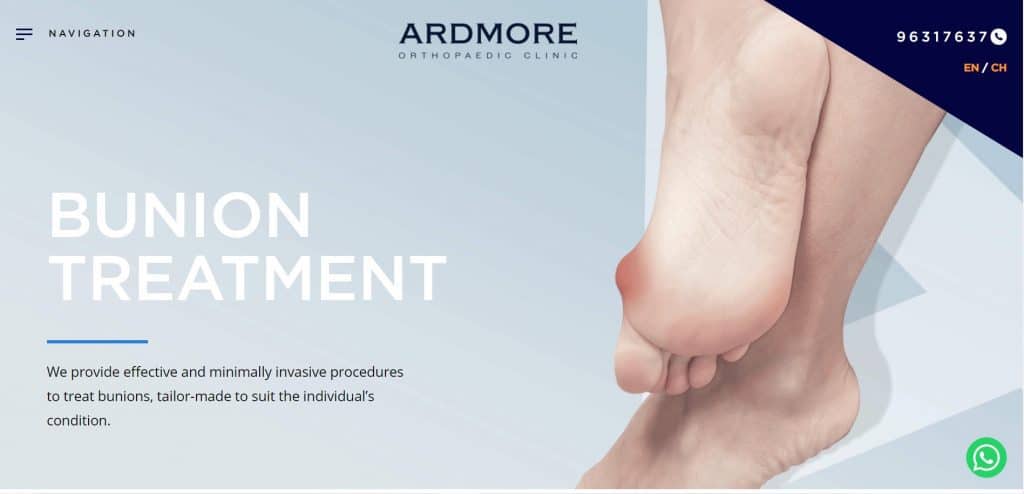 Before treating your bunions, Ardmore Orthopaedic Clinic will first carry out an X-ray examination to ascertain the cause and severity of the bunion. This simple procedure allows the orthopaedic surgeon to determine if bunion surgery is needed for the patient, or if conservative and non-invasive treatment will be sufficient.
The bunion treatment in Singapore carries out the following types of surgeries:
Osteotomy: The big toe joint is operated on and realigned to a normal position
Exostectomy: The bunion is removed from the big toe joint
Arthrodesis: The damaged joint will be substituted with screws or metal plates to correct the deformity
You will be treated by Orthopaedic Surgeon Dr Sean Ng, who is an expert in foot and ankle surgery, like the treatment of bunions. Apart from the correction of foot deformities, the bunion surgeon is also particularly interested in minimally invasive surgery of the foot, and how to attain effectual results with least pain and scarring.
The bunion surgeon in Singapore is also a member of the European Group for the Study and Research of Minimally Invasive Surgery of the Foot and Ankle.
7. Specialist Orthopaedic Centre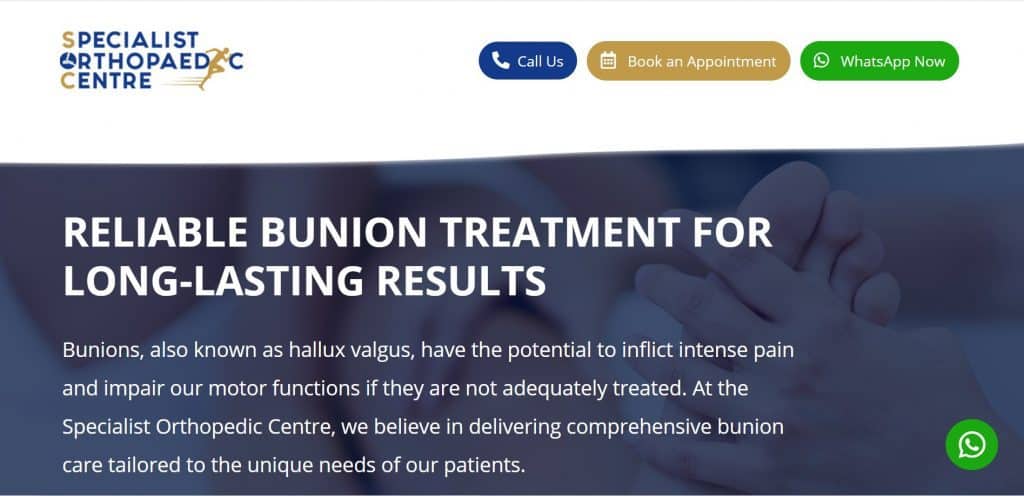 Dr. Kannan is an expert in diagnosing and treating bunions, having been trained as an orthopaedic surgeon with a subspecialty in foot and ankle disorder.
Under the Singapore Ministry of Health Scholarship, he furthered his training in lower limb reconstruction surgery in Switzerland and the Netherlands.
In fact, not only does Dr. Kannan possess clinical expertise in treating bunions, but he has also been a contributor to international peer-reviewed journals, journals, and educational talks!
What differentiates Specialist Orthopaedic Clinic from its competitors is that it will design a customised treatment plan for its patients. You will also gain immediate mobility following bunion removal surgery with the help of soft sandals provided.
Lastly, the bunion treatment in Singapore also facilitates insurance claims, ensuring that you will be able to get your pre-authorisation for treatment.
8. Orthosports Foot and Ankle Clinic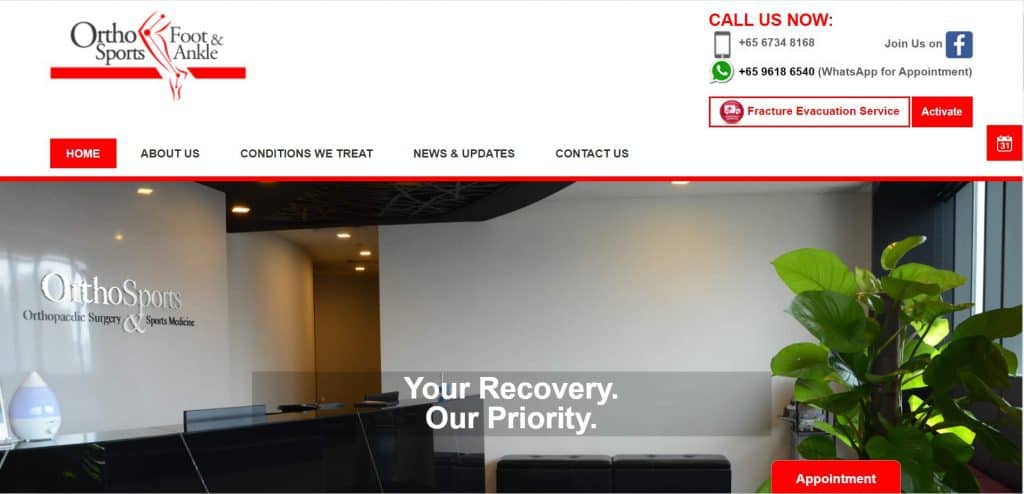 Orthosports Foot and Ankle Clinic's services cater to people of all ages with foot and ankle disorders and trauma. They are of the belief that sub-specialized care will help patients to have access to an accurate diagnosis and individualised therapeutic choices. Their treatments comprise non-surgical and rehabilitative approaches, minimally invasive procedures and formal reconstructions.
The bunion treatment is able to carry out bunion surgery as a minimally invasive correction. This entails an incision the size of a keyhole where the correction is completed using specialised equipment, which alleviates the post-operative pain and also lowers risk of complications to the bare minimum.
Their patients generally get this completed as a day surgery. The correction is also extremely stable, with patients able to instantaneously walk on the foot with a medical sandal. Typically, an anaesthetic block is also administered during surgery so that the pain after surgery is alleviated and is usually within tolerable limits.
9. FeetCare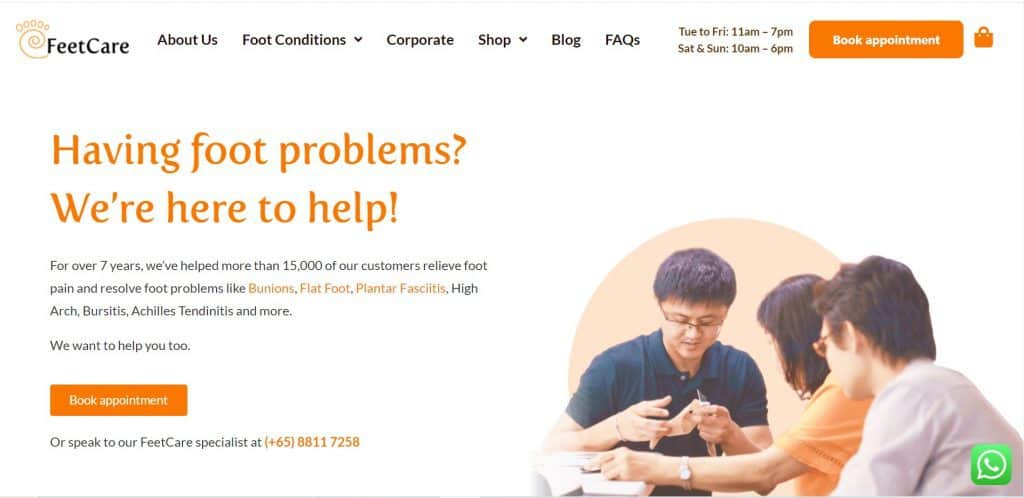 With over 7 years in the health and wellness industry, FeetCare has assisted over 15,000 of their clients alleviate foot pain and treat foot problems like Bunions, Flat Foot, Plantar Fasciitis, High Arch, Bursitis, Achilles Tendinitis and many more.
Unlike other specialists who operate on your bunions, FeetCare treats them using accredited bunion products. Their bunion correctors are endorsed by podiatrists.
Their bunion correctors offer a layer of cushioning for shock absorption and safeguard from friction and pressure. Their most raved about bunion corrector is their Ultrathin Bunion Booties, which has been proven to deliver effective results.
10. Family Podiatry Centre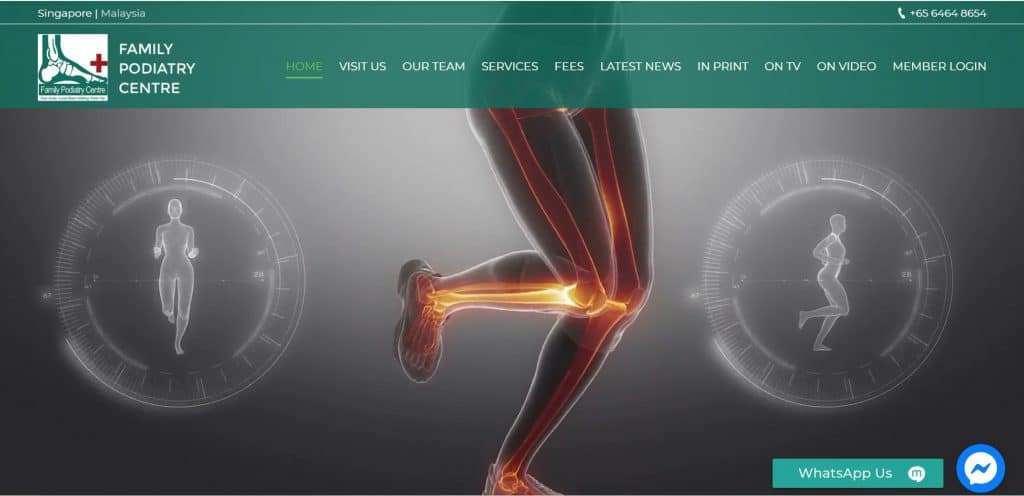 With branches in both Singapore and Malaysia, the Family Podiatry Centre provides treatments for toe, foot, knee and lower back pain. They administer a variety of treatments including custom orthotics manufactured using CAD/CAM technology, treatments incorporating shock wave (ESWT), taping as well as exercises.
They acknowledge that many podiatry conditions, such as bunions, are hereditary. Their specialists always strive to administer conservative, non-invasive treatments first, since they are often the most effective way of treating lower limb conditions.
Conclusion
Do you have any reviews and comments to share regarding our choices for the best bunion treatment in Singapore?
While SBO is committed to supporting our local businesses, we welcome any feedback and anonymous sharing regarding your experience with the listed bunion treatment clinics.
We hope that this guide will be useful in helping you to make an informed decision when it comes to finding the best bunion treatment in Singapore.
Explore More Content