10 Best Psychotherapist in Singapore to Mind Your Mental Health [2023]
Your mind matters, especially at these 10 best psychotherapist in Singapore!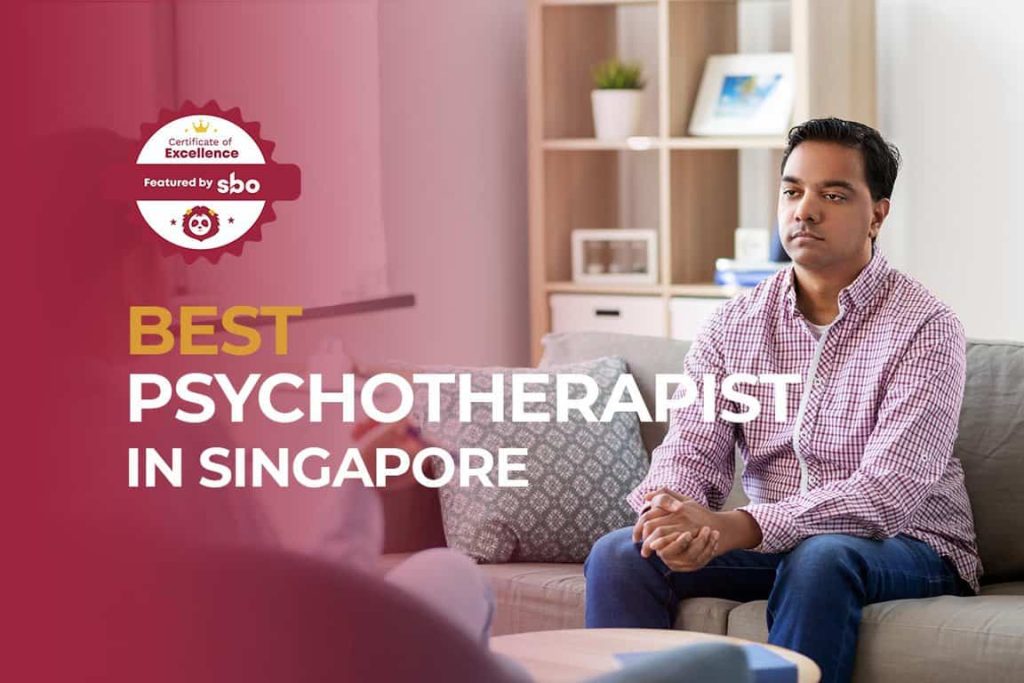 Mental health awareness has been growing around the world.
Have you taken the time to manage your own?
Whether you have a condition or not, or if you're just feeling overwhelmed of late and need a professional to speak to, there are plenty of reliable psychotherapists available to help.
A psychotherapist is simply a psychologist who has received additional training in psychotherapy. It can also take on different forms with different target groups.
In this article, we take a look at the 10 best psychotherapist in Singapore that you can find.
1. The Psychology Clinic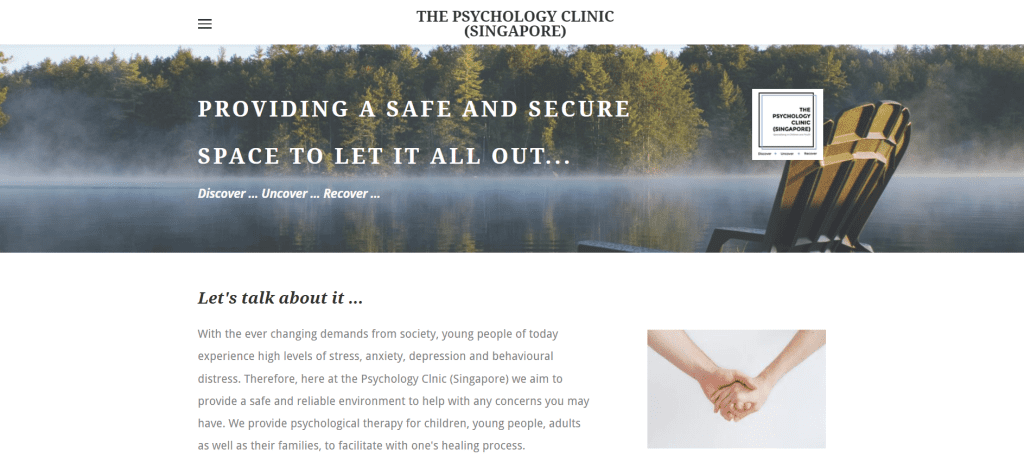 The Psychology Clinic aims to help you speed up the healing process and be the best kind of yourself.
With a fully accredited team of specialists, it is committed to helping you feel supported and confident. Here, you can be assured of a safe space for you to pour out your worries and troubles.
The Psychology Clinic focuses on helping children from 6 years of age to adults aged 20 years and above. In addition, it also specialises in providing psychological aid to families going through a crisis.
Some types of therapies it offers are cognitive-behavioural techniques (CBT), play- and art-based therapy, hypnotherapy, and more.
2. Psynaptica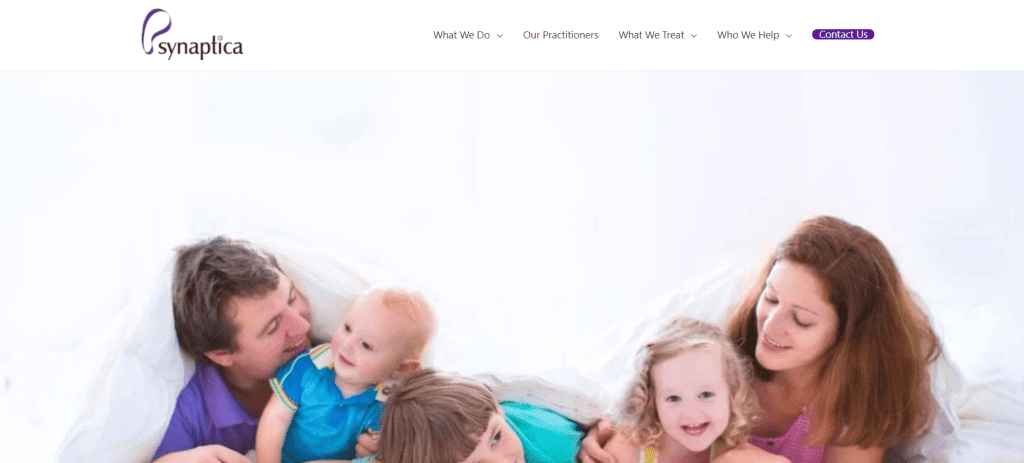 Psynaptica was established as part of a dedication to ethical practice and excellent service.
Since 2008, it has been providing safe and secure psychological services using modern techniques. Psynaptica has worked together with a plethora of families and individuals to help them obtain positive mental health results.
To date, the centre has made an impact on customers from more than 35 nationalities worldwide through a team of highly experienced psychologists.
It aids in coping with life issues or various types of mental health problems, like:
Depression
Anxiety
Parenting problems
Relocation problems
Specifically, it even provides dance movement psychotherapy as part of its services.
3. The Psychotherapy Clinic
Run by Dr Simon Neo, The Psychotherapy Clinic wants to be your personal therapist.
Equipped with a wealth of experience, Dr Neo sits on the board of many prestigious memberships in the field, whether in Singapore or in other countries worldwide.
He has over 18 years of experience in the industry, welcoming his customers warmly with compassion and the heart to help. Dr Neo has also lectured in many educational institutions like Ngee Ann Polytechnic, as well as held a training session at the world-renowned Chulalongkorn University in Bangkok, Thailand.
Some services he provides are:
Personal therapy
Couple therapy
Process group
Grief therapy
Corporate workshop
4. Adelphi Psych Medicine Clinic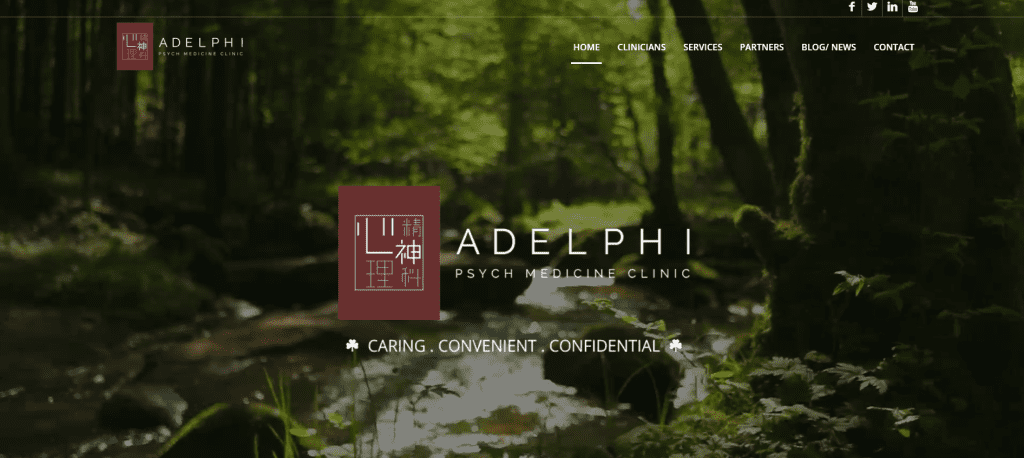 Adelphi Psych provides psychotherapy to help boost its clients' wellbeing.
Some of the different types of therapy it offers are:
Play therapy for children
CBT
Art therapy for adults and children
Clinical hypnosis
Forensic psychiatry
Its clinicians include psychiatrists and therapists who are highly experienced in their individual expertise with a passion to serve. Adelphi Psych provides a comfortable clinic environment with you in mind, as well as affordable fees to cater to the majority of the community.
5. Psychotherapy Nicole Chew-Helbig Singapore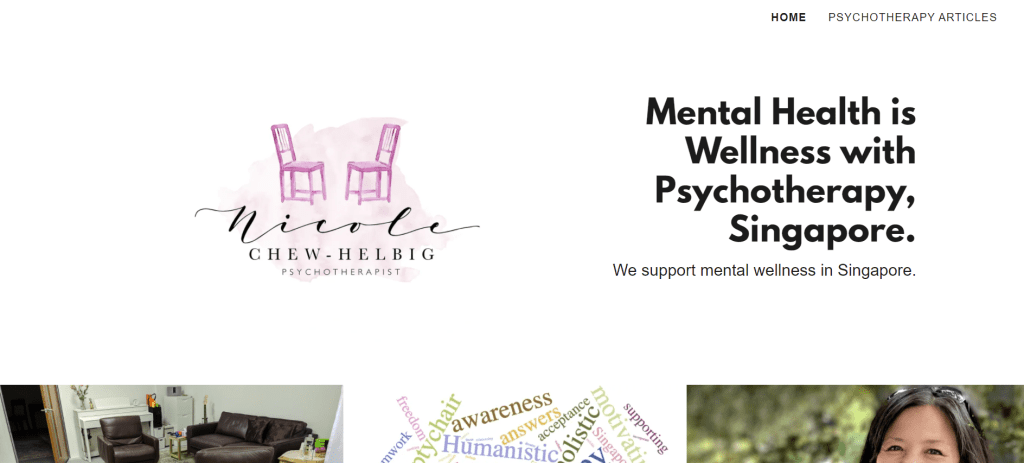 Nicole Chew is an accredited gestalt psychotherapist in Singapore with a certificate from the birthplace of psychotherapy, Vienna, Austria.
Gestalt therapy is a time-honoured form of psychotherapy that has existed since the 1940s. Nicole provides individual psychotherapy and counselling sessions which range from 45 to 50 minutes each.
Aligned with gestalt therapy, her sessions are relationship-based, and she encourages families and couples to take part in them together if possible. Every treatment plan is carefully curated for each customer.
6. Solace Art Psychotherapy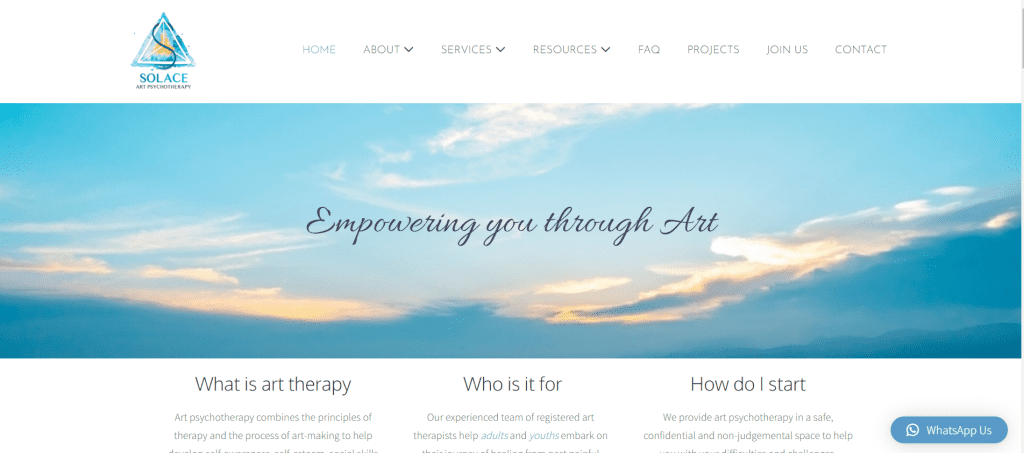 Solace Art Therapy was founded on a person's amazement at how art therapy had improved the lives of her customers.
Solace is a professional private practice that uses art therapy to help those with mental health struggles. Since its inception, the centre has partnered with numerous government agencies, private institutions, and charitable organisations.
It has a team of registered art therapists and customer service professionals who facilitate useful art therapy sessions and assist struggling customers.
Watch how it can transform your life through art empowerment!
7. The Therapy Room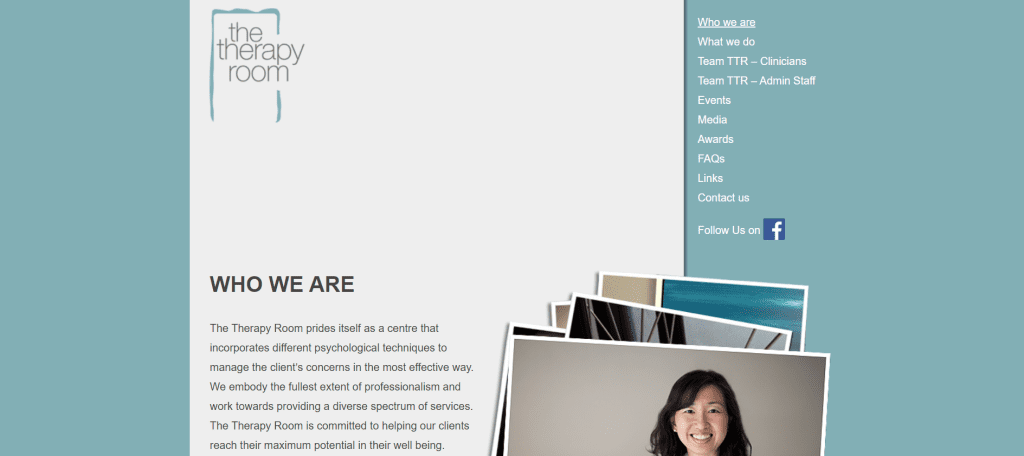 The Therapy Room is a centre that uses various psychological skills to manage their customers' concerns in the most effective manner.
Principal Psychologist Geraldine Tan has more than 20 years of experience helping individuals with various psychological problems. She is also trained in different techniques, like:
CBT
Choice and Reality Therapy (CTRT)
Movement Desensitisation and Reprocessing (EMDR)
Here, you can find help for both adults and children across a diverse range of therapeutic interventions.
8. Mind What Matters Psychology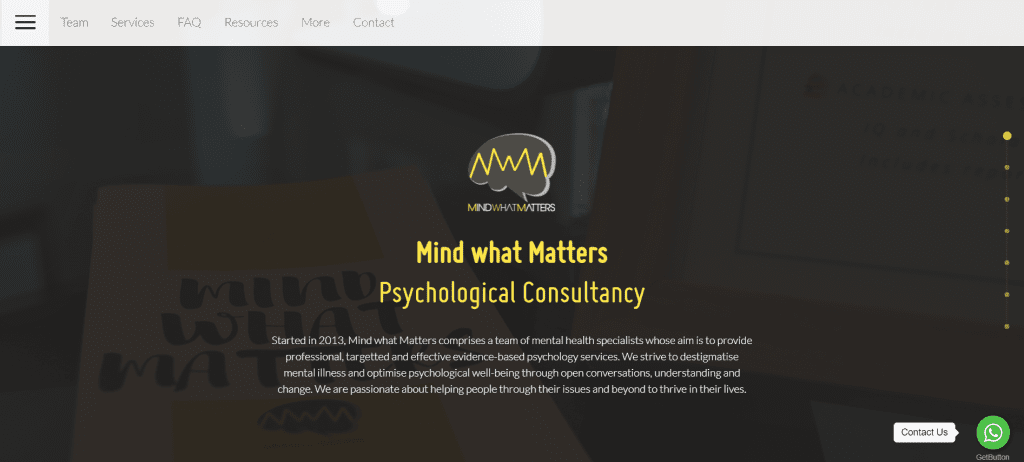 Mind What Matters is made up of a team of mental health experts who aim to provide professional and effective evidence-based psychology services.
It wants to use open conversations, change, and understanding to boost psychological well-being and reduce the stigma of mental illness.
Every member of the team has their own specialisation and outstanding list of accreditations and achievements. Apart from helping customers, it also provides a counselling internship for Masters students who want to finish their practicum hours with them.
9. Resilienz Clinic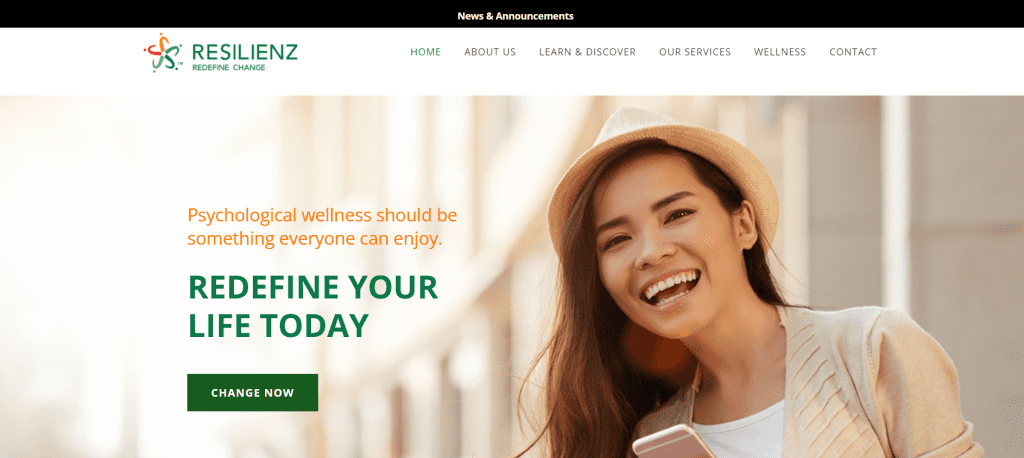 Resilienz is a psychological clinic that helps people boost their capacity of developing psychological immunity by fostering a resilient culture.
Regardless of the mental health problem you're going through, it strives to help at a customised pace by enhancing your mental strength and resilience.
It provides a more holistic and customised way to treat mental health conditions using case studies and real-world examples. The services offered are:
Psychiatry
Therapy and counselling
Assessment and testing
10. Psychology Experts Online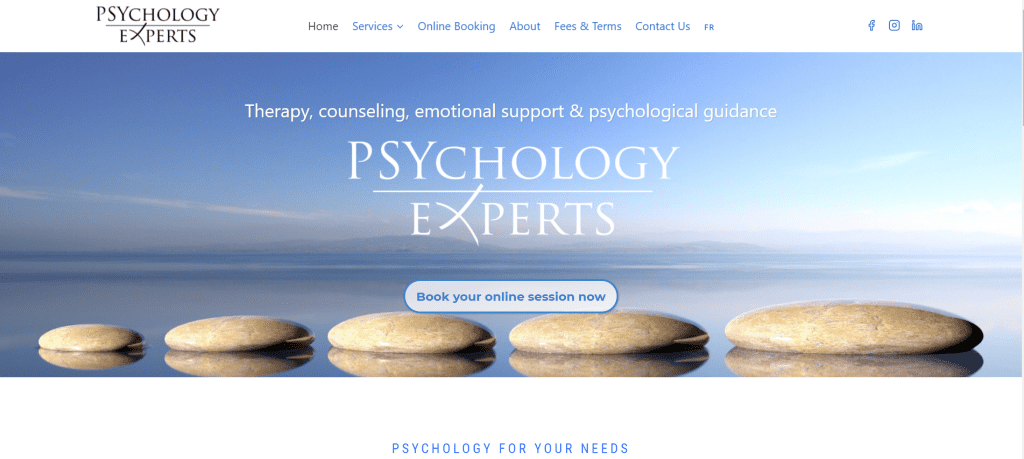 Psychology Experts Online is a private psychological clinic that offers psychological support to children, adults, families and even couples.
It focuses on the well-being of its customers to help tackle difficult problems in a safe and confidential haven. The clinic also endeavours to provide professional support to patients to help them to get their ability to enjoy life back again.
The Supervising Doctor, Dr Elefant-Yanni, is a Clinical Psychologist who holds more than 2 decades of clinical practice. She has had experience in countries like South Korea and Geneva, and now runs her practice in Singapore.
Conclusion
Do you have any reviews and comments to share regarding our choices for the best psychotherapist in Singapore?
While SBO is committed to supporting our local businesses, we welcome any feedback and anonymous sharing regarding your experience with the listed foie gras in Singapore.
We hope that this guide will be useful in helping you to make an informed decision when it comes to finding the best psychotherapist in Singapore.
Explore More Content