10 Best Dental Implant in Singapore to Bring Your Smile Back [2023]
Forget word of mouth - these 10 best dental implant in Singapore are the best recommendations you'll find!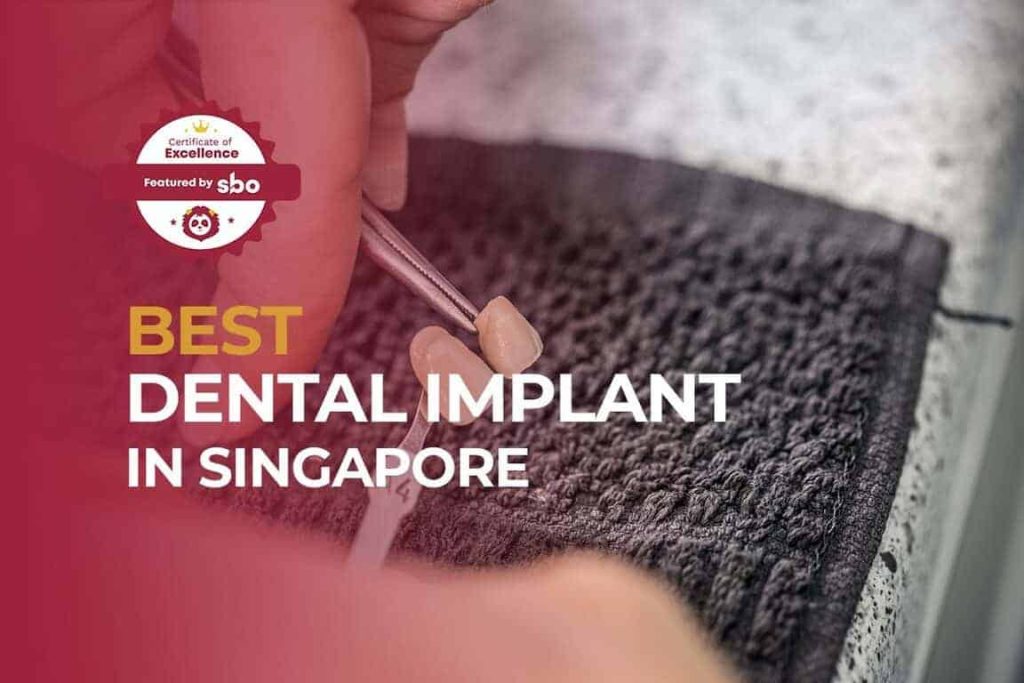 Flash your brightest smile.
Not exactly what you'd like to do when you're missing one tooth, is it?
Tooth loss doesn't have to be embarrassing and awkward! Modern dentists offer plenty of tooth restoration services, the cream of the crop being dental implants. When it comes to your teeth, it's important to place your trust in professional and qualified dentists. A bad tooth job can lead to pain, reduced speech and quality of life.
Dental implants blend effortlessly with your other teeth even though it isn't a real tooth. A dental implant involves an artificial tooth root formed with a medical-grade titanium screw, implant tooth and connector.
They last many years and allow you to achieve a better and stronger bite. Its advantages make it an ideal choice over dental bridges and dentures.
In need of this service? Find the 10 best dental implant in Singapore to drill down on your implant issues!
1. Ashford Dental Centre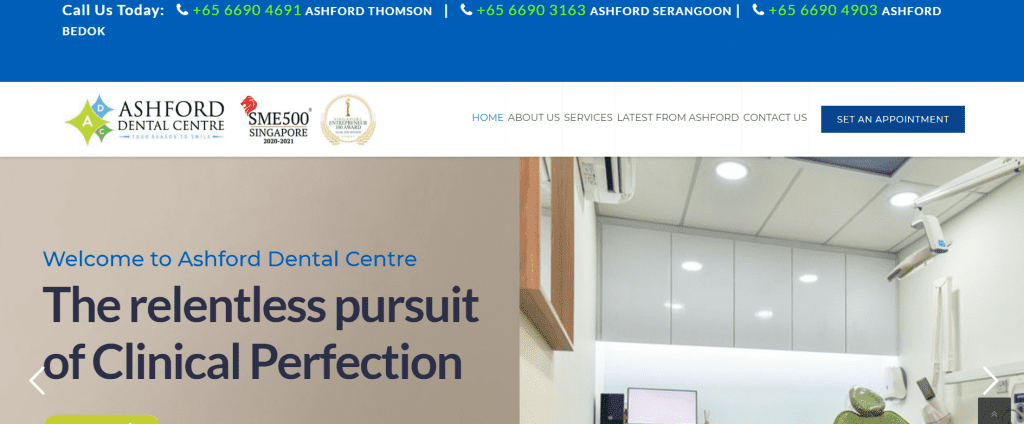 Ashford Dental Centre comprises three different branches located in central and accessible areas of Singapore.
With more than a decade of clinical experience, it's confident to serve each patient with varying needs. There's no one-size-fits-all methodology here – every individual patient is treated with a unique experience. This experience begins with your first phone call or clinic visit, where you'll be served by their trained staff!
Treatment rooms are equipped with state-of-the-art dental technology and equipment. There are even TV screens on the ceilings to keep you entertained. Costs are kept transparent and treatment options will be offered to you for your choice. Apart from Medisave, you can also explore the flexible interest-free instalment plans available on-site to manage your costs.
2. Casa Dental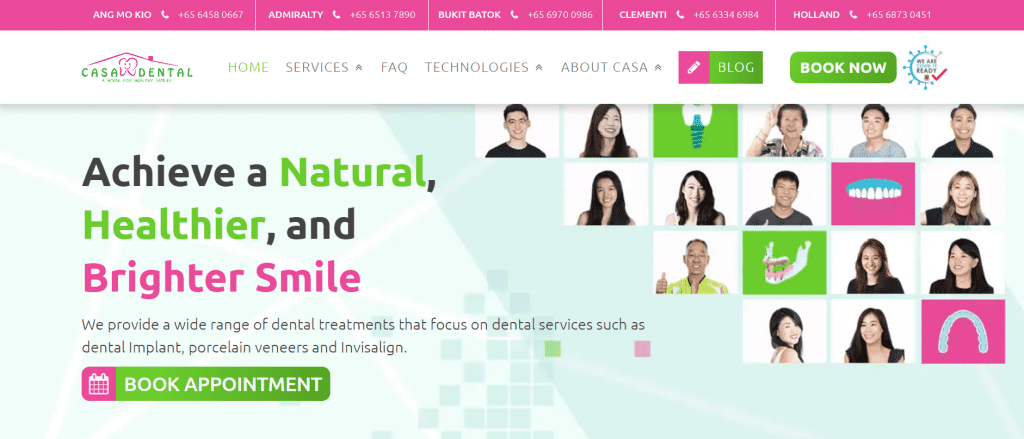 Casa Dental has many outlets scattered around the different parts of Singapore.
A partner of various dental-related organisations and manufacturers, Casa Dental has the ability to treat a wide range of dental conditions, including dental implants. They use an advanced x-ray machine known as Digital Cone Beam Computed Tomography (CBCT) and virtual planning software to ensure smoother and safer surgeries.
The dental group offers dental treatment guarantee claims for selected treatments including dental implants. This is a value-added service that gives you more assurance and peace of mind.
They are also accredited by Medisave, CHAS, the Baby Bonus Scheme and more! This gives you plenty of cost-managing options to cater to your needs. Payment options like dental insurance, in-house instalment plans, and 0% bank instalments are accepted.
3. Nuffield Dental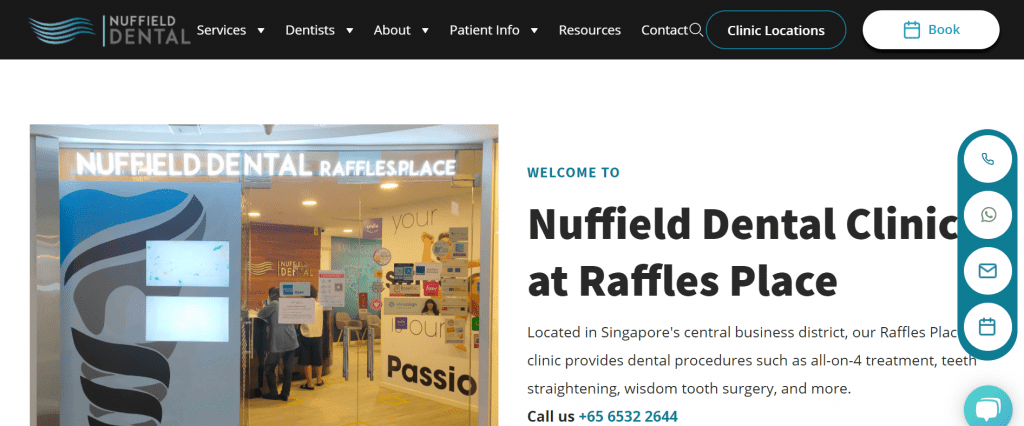 Nuffield Dental genuinely cares for your well being. They advocate that maintaining good oral hygiene is key to your happiness and health, and your oral health has a direct impact on how you feel.
By putting customers first and prioritising personalised service, Nuffield Dental remains the go-to clinic for many. It has an impressive number of 10 clinic branches located all around Singapore. Make your way down to one of them for your dental implant to receive high-quality service and treatment. This is coupled with their core values of transparency, integrity and compassion.
At Nuffield Dental, the dental implant process consists of four steps. It also has different types of implants to offer, like zygomatic, tubero pterygoid and metal-free implants for different types of patients. You can use the Baby Bonus Scheme, Medisave or dental insurance to help defray costs!
4. Orchard Scotts Dental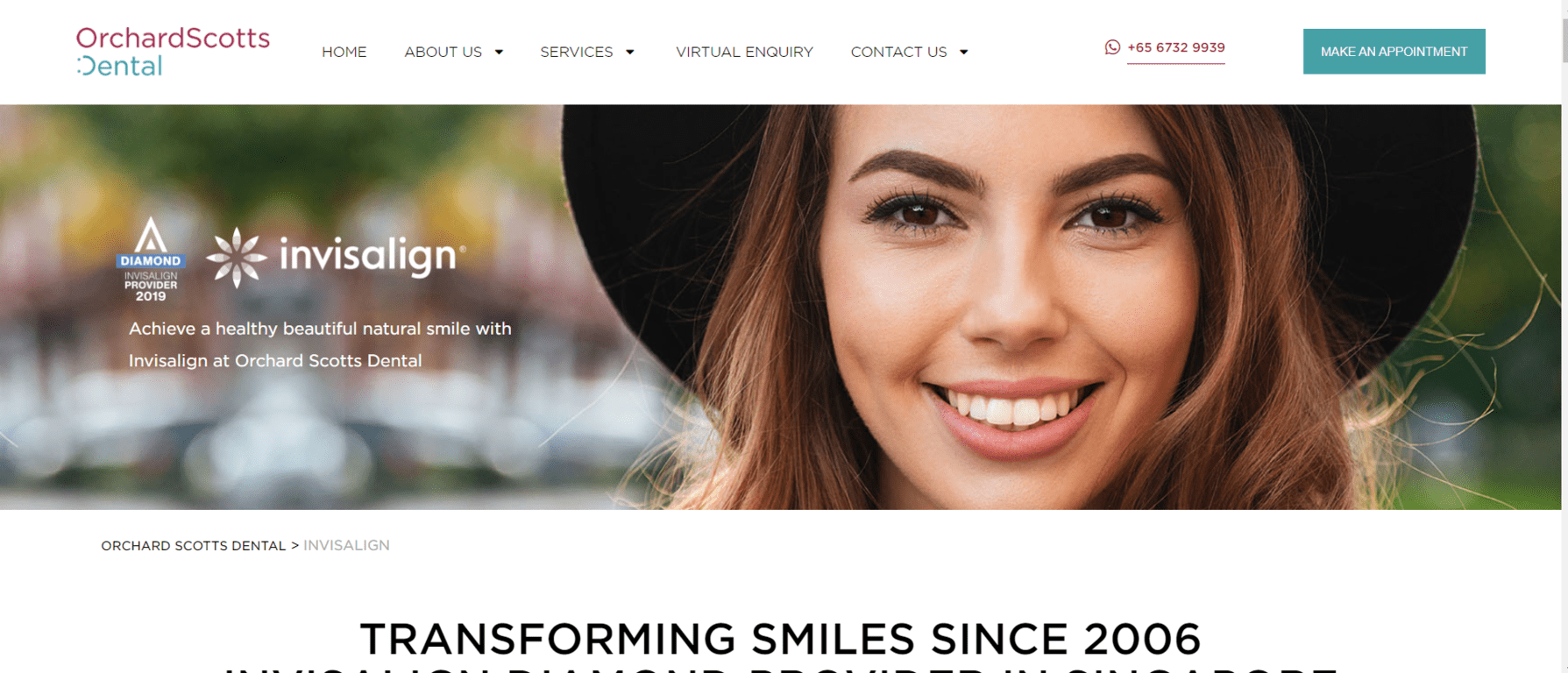 Orchard Scotts Dental may specialise in Invisalign procedures, but that doesn't mean that it's not skilled in other areas.
As a recognised centre for Switzerland-made Straumann dental implants, you can be at ease knowing that your implant is from a world-famous manufacturer. More than 14 million people have benefited from their implants since 1974. Orchard Scotts Dental also uses 3D x-ray technology to guide its dentists and ensure that surgeries are completed correctly.
5. 1728 Dental Practice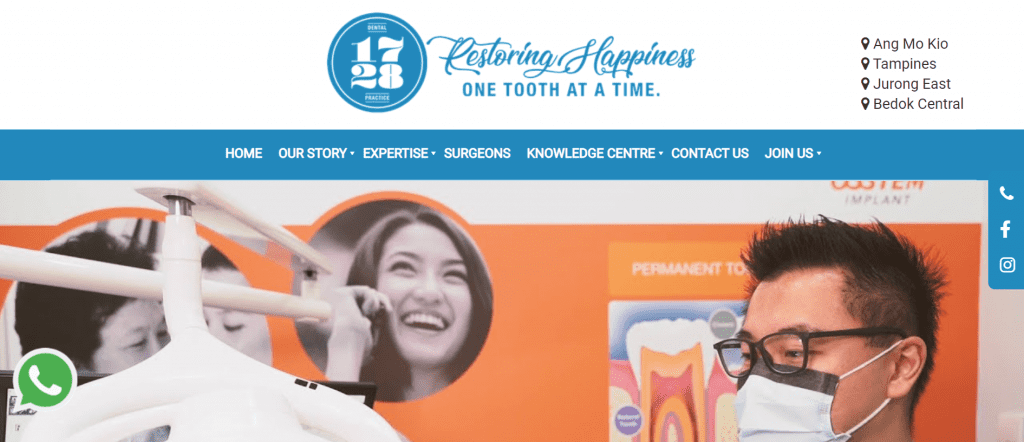 In 1728, famed dentist Pierre Fauchard created the world's first comprehensive Dentistry text.
1728 Dental Practice was named in honour of the year of this groundbreaking achievement. They deliver premium dental care to patients at affordable rates. Despite being a newcomer to the industry, they've proven their tenacity and popularity by opening 4 clinics in various parts of the island.
1728 Dental Practice works together with Osstem Implants to deliver affordable solutions that are approved by dentists. Osstem Implants are specially made to look and feel like real teeth. You can claim up to $1,250 of the procedure cost with Medisave!
6. Royce Dental Aesthetic and Implant Centre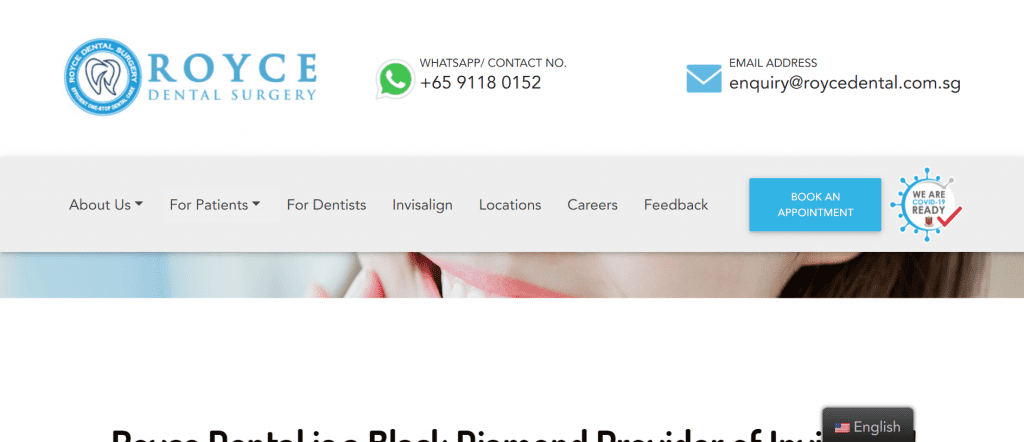 Royce Dental Surgery has a plethora of experience and skills from years of service in dental care. These shine in each of their 20 outlets all around Singapore.
They aim to deliver the best possible dental care that remains affordable. Each outlet is trained to handle a variety of dental conditions that range from basic dentistry to specialist treatments. Royce Dental Surgery relies upon contemporary technology to give you quality dental care.
Specialists with more than 15 years of experience are highly suited to providing dental implant treatments. VATECH Cone Beam CT scans and 3Shape scanners are employed to achieve high success rates and patient safety. You can use the Baby Bonus, CHAS, Public Assistance schemes and more for your payments!
7. NoFrills Dental @ Marina Square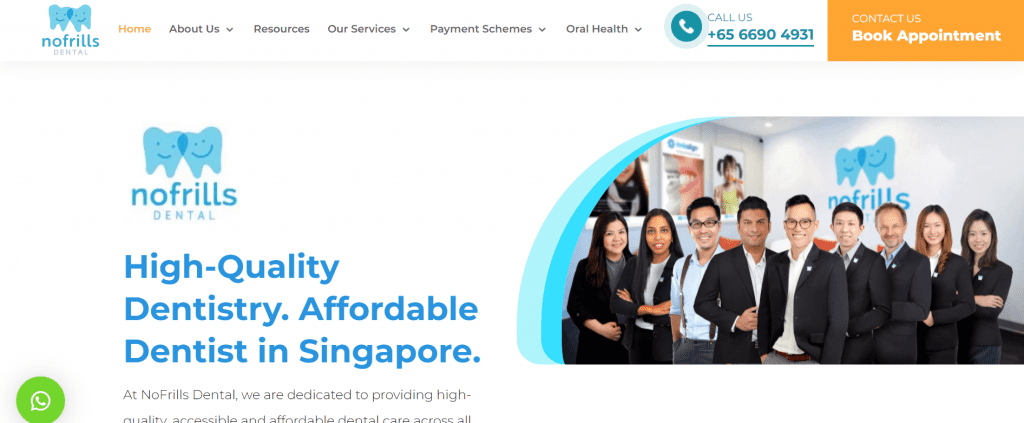 At NoFrills Dental, its name says it all.
You'll find a wide range of dental services, whether simple or specialist-required that's managed by their team. Step into a modern facility where you'll get your dental implants done in a sterile and comfortable environment. The people behind this dental group are wholly committed with a heart to serve.
They use leading dental technologies to give you the best kind of dental care you can find. Prices usually range from $2,500 to $6,000 per implant here. This sum is before they account for any Medisave deductions. There are also other flexible payment options available!
8. UDS – United Dental Surgery Implant and Braces Centre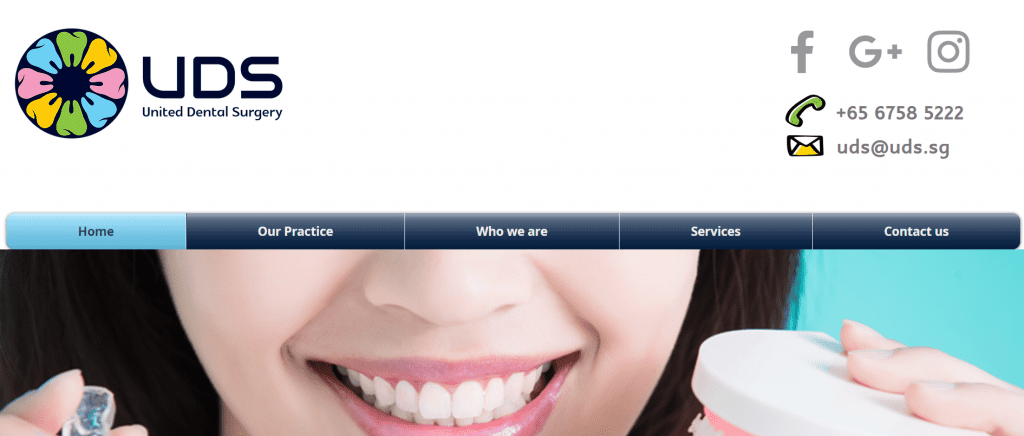 Led by a veteran in the industry with nearly 30 years of experience, UDS offers a reputable and trustworthy name to patients. Established in 1990, the dental clinic has been serving generations of customers and returning their stunning smiles to them.
You can be confident that you're getting only the best dentistry care from its experienced and skilled dentists. It's not all business here, but also building lifelong relationships between customers and dentists. They have various types of services, from dental implants to the treatment of gum disease!
9. Smileworks Dental – Implants & Orthodontics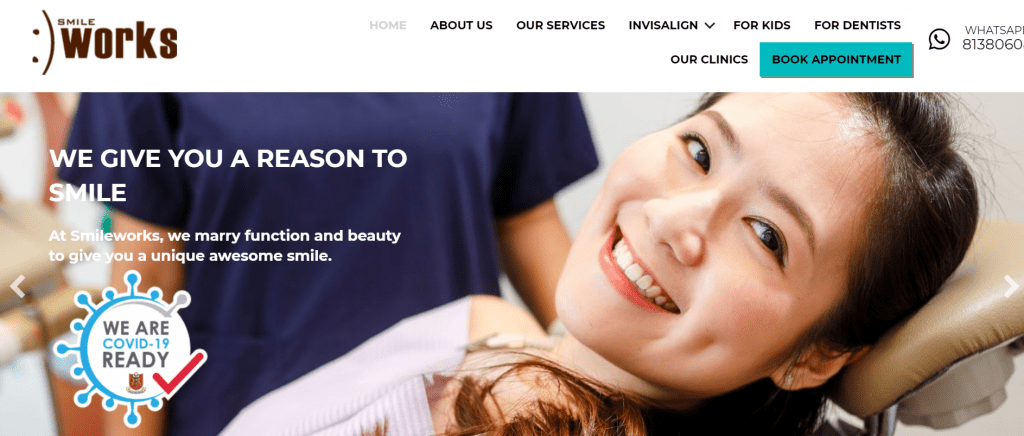 Smileworks Dental believes that every smile is unique.
Their experienced dentists strive to understand your condition to meet your expectations. Here, you can find your reason to smile again! Apart from adults, they also deal with children's dentistry to help children achieve good oral health through their growing up years.
4 phases are involved in the dental implant process. They also make use of innovative technology like CBCT systems and digital x-rays to improve patient outcomes and satisfaction!
10. AJ WARREN Dental Clinic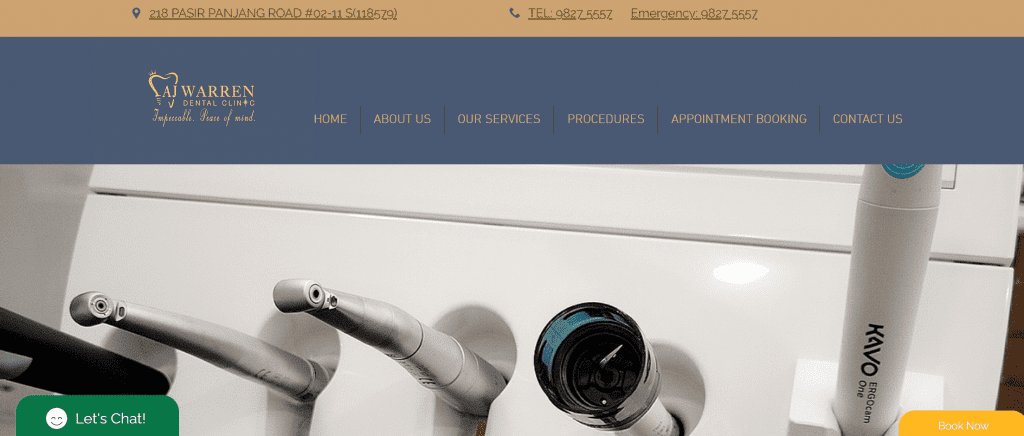 Step into a resort-like loft in AJ WARREN Dental Clinic where it's meticulously designed for you to feel right at home.
It extends the same care to all patients, whether that's children, the youth or adults. Expect to be treated warmly like family where your needs will be fully catered to. You can find services classified under Essential Dental Care, Cosmetic Transformation and Surgical Care! Have your dental implants sorted here in a comprehensive and all-rounded manner.
Conclusion
Do you have any reviews and comments to share regarding our choices for the best dental implant in Singapore?
While SBO is committed to supporting our local businesses, we welcome any feedback and anonymous sharing regarding your experience with the best dental implant in Singapore.
We hope that this guide will be useful in helping you to make an informed decision when it comes to finding the best dental implant in Singapore.
For more suggestions on dentists for general oral health, check out our list of dentists to consider.
Explore More Content