10 Best Neurologist in Singapore for Your Nervous System's Conditions [2023]
A bundle of nerves over a medical condition that affects your nervous system? These neurologists in Singapore are here to save the day.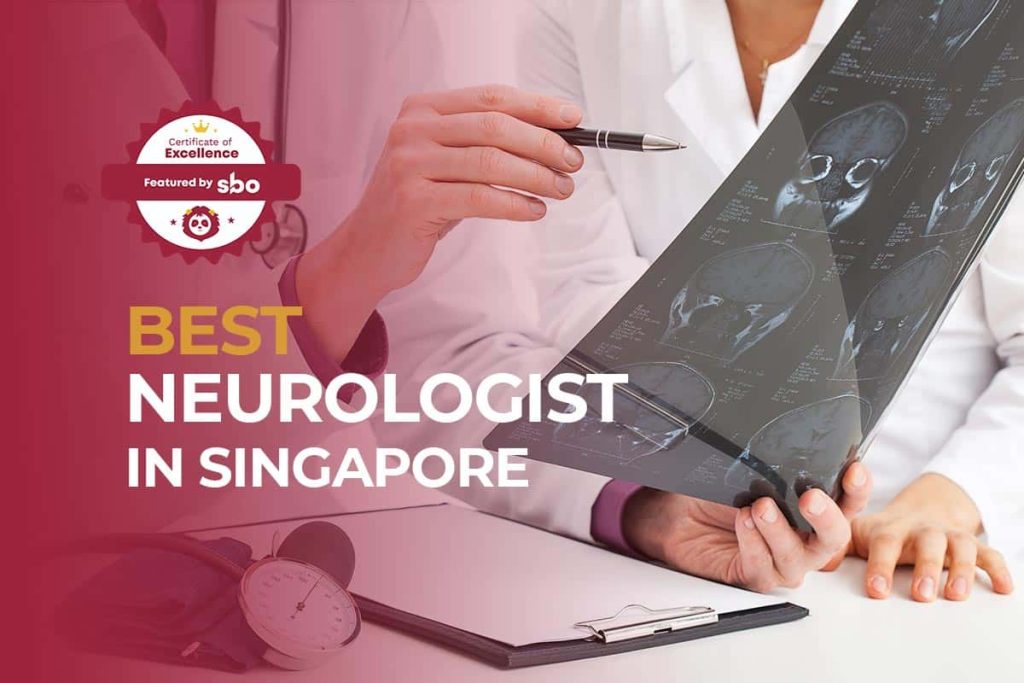 The numbers paint an appalling picture: according to the National Neuroscience Institute, more than 50,000 Singaporeans are afflicted with neurological conditions, with a staggering 22% increase from 2013 to 2017 (over a span of only four years!)
Neurological disorders are diseases of the central and peripheral nervous system. In other words, the brain, spinal cord, cranial nerves, peripheral nerves, nerve roots, autonomic nervous system, neuromuscular junction, and muscles.
These neurological disorders include epilepsy, Alzheimer disease and other dementias, cerebrovascular diseases including stroke, migraine and other headache disorders, multiple sclerosis, Parkinson's disease, neuroinfections, brain tumours, as well as traumatic disorders of the nervous system caused by head trauma.
Looking for a neurologist in Singapore? In this post, we've gathered all the necessary details to compile a list of the 10 best neurologist in Singapore.
1. Mount Elizabeth Medical Centre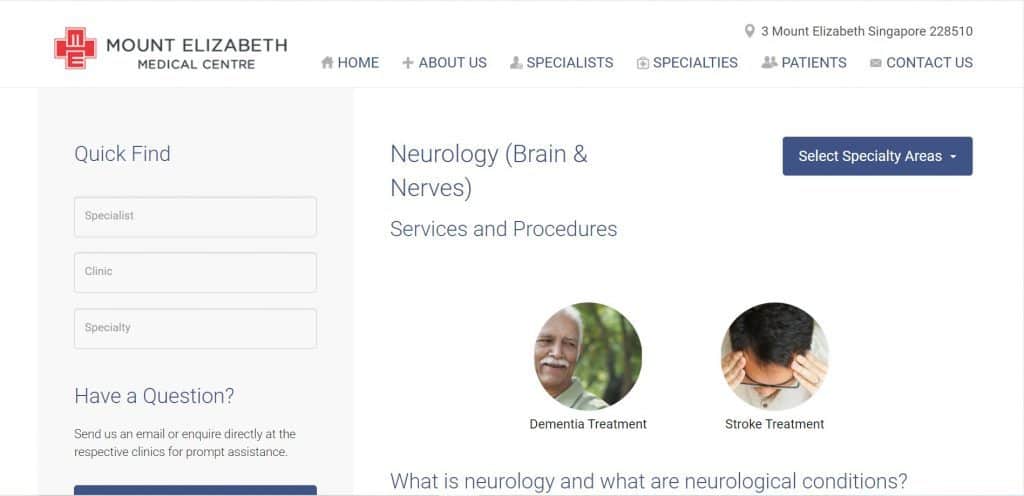 Mount Elizabeth Medical Centre is supplied with technologically advanced systems that are able to accurately screen and diagnose neurological conditions affecting the brain, spine, nerves, and associated muscles. Led by experienced neurologists and neurosurgeons, their doctors are well-versed in delivering a comprehensive range of procedures which minimise the risk of damage to vital body functions.
Their team of neurologists have an excellent track record of diagnosing, treating, and rehabilitating neurological disorders. With the help of advanced medical technology, their doctors are committed to treating your neurological conditions.
Google reviews praise the neurologist in Singapore for being a premium private hospital with excellent facilities and medical practitioners. They are also very well structured in terms of hospital layout and have a fully staffed medical centre.
2. The Brain & Spine Clinic – Dr Timothy Lee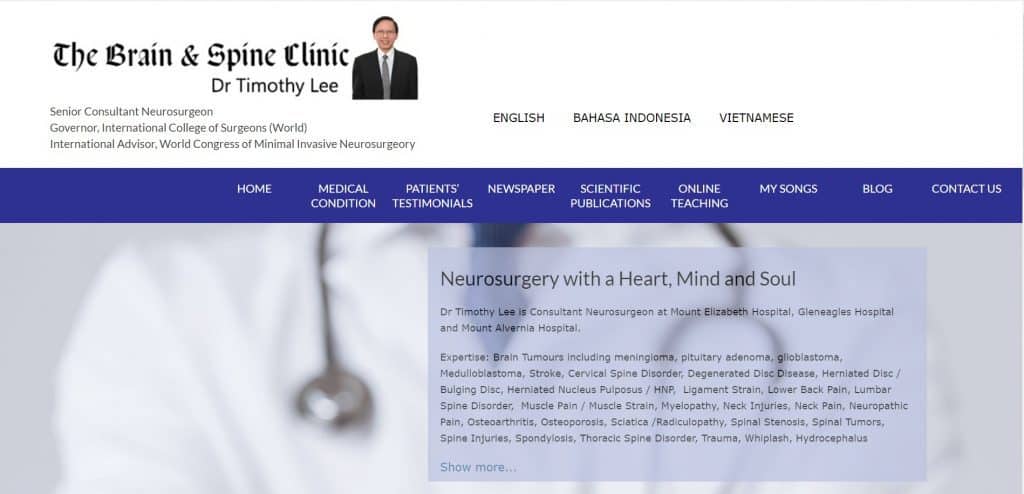 Looking for a neurologist with a wealth of experience? Dr Timothy Lee is an experienced Consultant Neurosurgeon at Mount Elizabeth Hospital, Gleneagles Hospital and Mount Alvernia Hospital, so you can rest assured in his capabilties.
He is presently Co-ordinator of the Mount Alvernia Brain Centre and was previously the Director of the Vascular Programme at National Neuroscience Institute. He was the Head of Neurosurgical Division, National University Hospital from 1990-2002 and was professor at the National University of Singapore for many years. He was also Senior Visiting Consultant at John Hopkins Hospital (Singapore), a branch of the John Hopkins Hospital in the U.S.A. which specialises in cancer treatment.
He was a member of International Advisory Panel for World Congress of Minimal Invasive Neurosurgery. He is a committee member of the International College of Surgeons and has held positions such as Secretary and Treasurer in the Singapore branch. He is presently governor of the International College of Surgeons (World), U.S.A, and a member of the editorial board of the journal International Surgery.
3. National Neuroscience Institute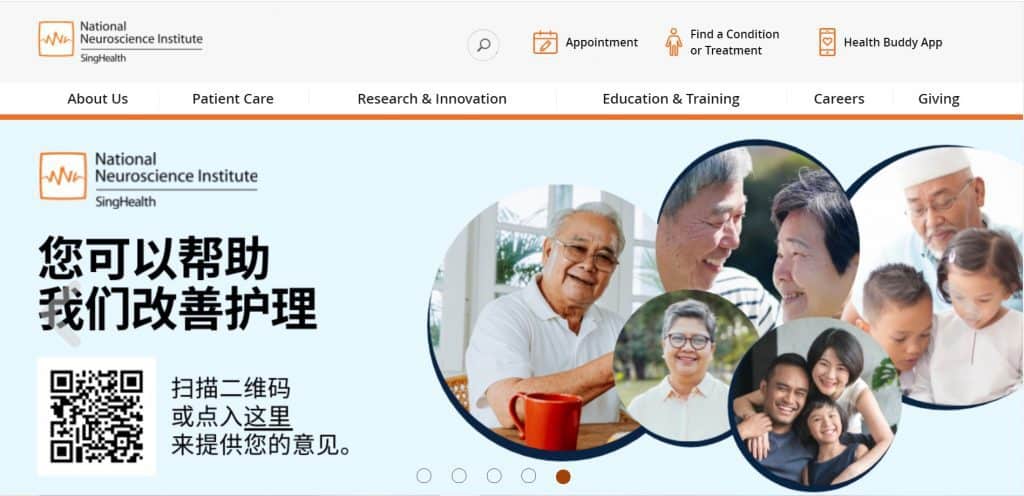 Looking for an authoritative neurologist in Singapore? The National Neuroscience Institute (NNI) is the go-to national specialist and regional centre for clinical referrals pertaining to the management and treatment of the neurosciences, as well as for education and research carried out in the field of neurology.
The National Neuroscience Institute (NNI) is also an active contributor towards Continuing Medical Education and holds advanced training and conferences for medical and healthcare professionals locally, in Southeast Asia and beyond.
Lastly, the National Neuroscience Institute (NNI) is the principal neuroscience research facility in Singapore. NNI research contributes towards the scientific advancement of medical treatment and finds cures for neurological diseases.
4. Neurology and Orthopaedic Clinic Singapore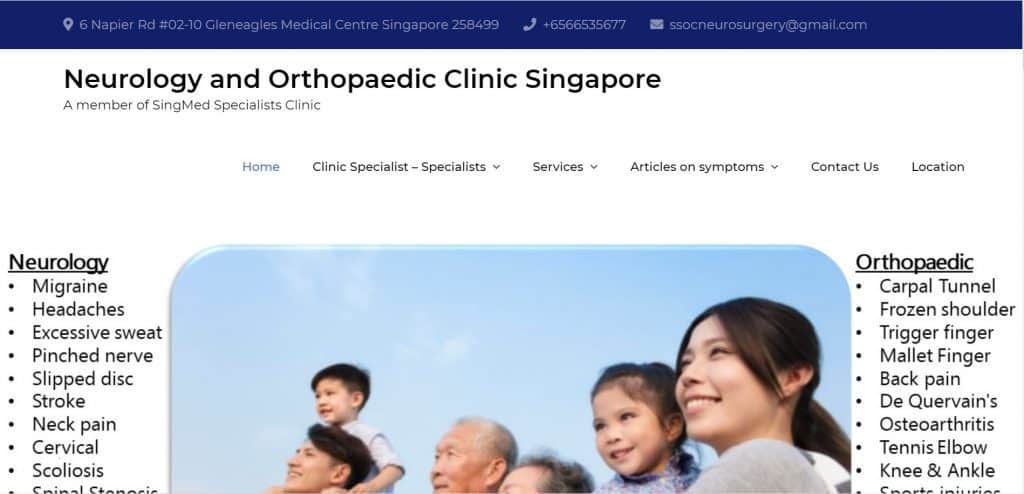 Led by a clinical neurologist in Singapore with over 20 years of experience, Neurology and Orthopaedic Clinic Singapore is a specialist clinic that treats both Neurology and Orthopaedic conditions. They also have a team of neurology specialists under them with a combined experience of more than 50 years.
Their neurologists treat all kinds of disorder affecting the nervous system, including the brain, spinal cord, peripheral nerves, and the cerebrovascular system. The clinic specialises in treating back pain, excessive sweat, stroke and brain conditions.
The neurologist in Singapore can also carry out METRx tube spine surgery. The aformentioned surgery is performed by only a few medical specialists in Singapore.
5. Siow Neurology Headache & Pain Centre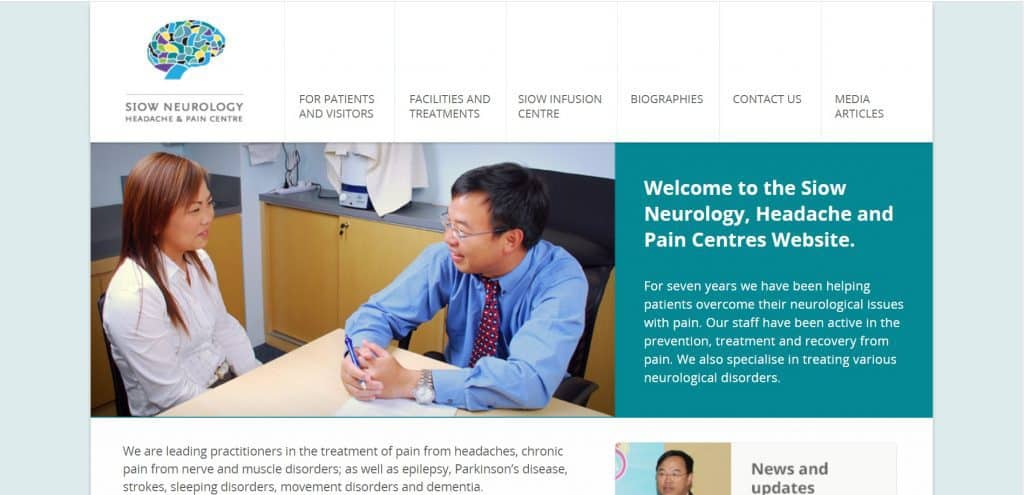 Siow Neurology Headache and Pain Centre offers a full range of treatment options for headaches, chronic pain from nerve and muscle disorders; as well as epilepsy, Parkinson's disease, strokes, sleeping disorders, movement disorders and dementia.
The clinic is helmed by Dr Siow Hua Hiang, Charles. Dr Charles Siow has been a renowned neurologist for the past fifteen years. He has been practising locally for the past ten years.
Although the neurologist in Singapore is capable of treating all neurological conditions, he is the President of the Singapore Headache Society and a member of both the Singaporean and International Neurological Associations.
Conveniently located at the medical centres at Mount Alvernia, Mount Elizabeth Orchard and Mount Elizabeth Novena, the neurologist in Singapore provides all-rounded care for its patients. They also strive to make your visits fuss-free.
6. Singapore Sports & Orthopaedic Clinic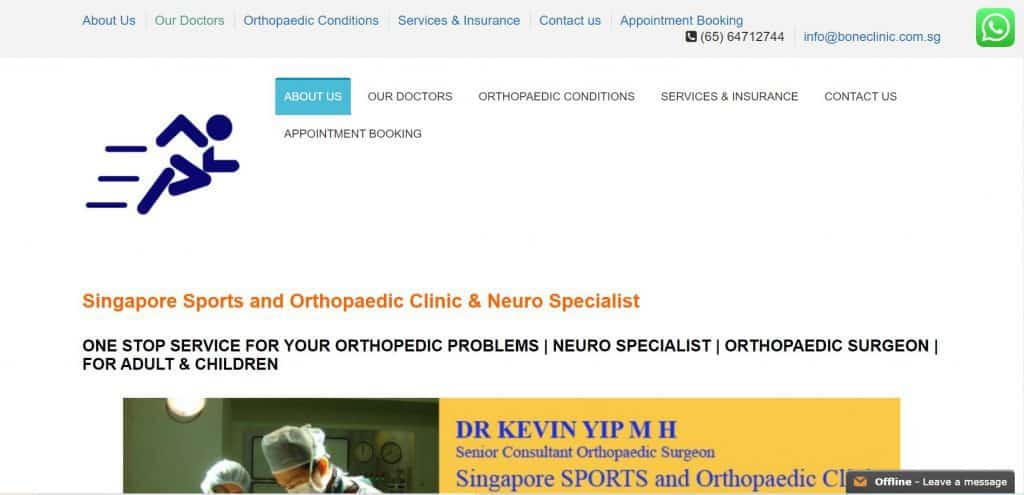 Singapore Sports and Orthopaedic Clinic provides specialist consultation, inpatient management and outpatient treatment for patients with disorders of the musculoskeletal system. Their doctors are Orthopaedic and Neurosurgeon Specialists trained in minimally invasive and bone conserving techniques.
They implement specialized treatment for fractures and complex trauma. Sports injuries are healed with state-of-the art equipment and by highly skilled experts.
The clinic is led by Dr Kevin Yip, a senior orthopaedic surgeon and a professor who specialises in orthopaedic trauma surgery. The neurologist in Singapore has published close to 100 research pieces and is a world acclaimed specialist in the field of neurology.
He previously worked at the established Raffles Hospital and now owns his own clinic at the Parkway Health Gleneagles Medical Center.
7. Spine Neuro Specialist Centre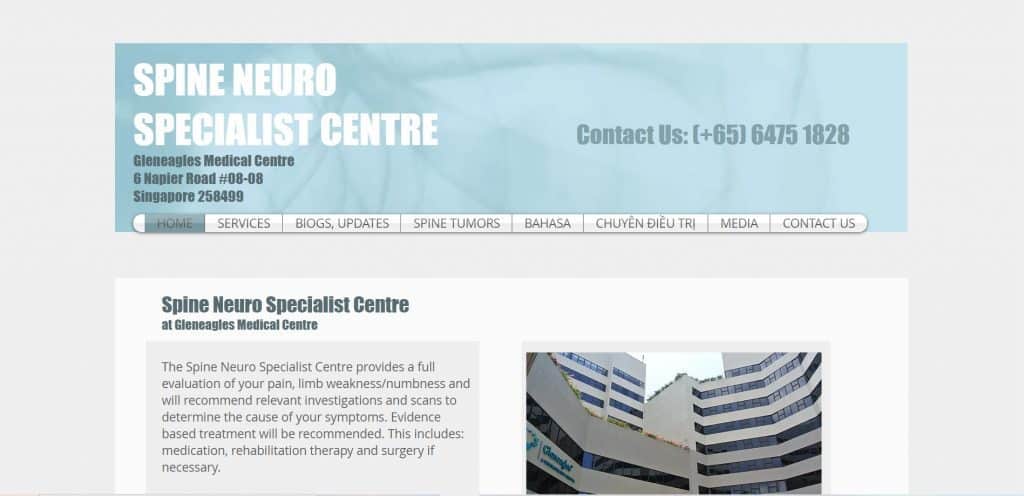 The Spine Neuro Specialist Centre is known for their step-by-step approach to resolving your neurological problems. They will conduct a comprehensive evaluation of your pain, limb weakness/numbness before proposing investigations and scans to ascertain the cause of your symptoms. Evidence based treatment will be given, consisting of medication, rehabilitation therapy and surgery when necessary.
Dr Rajendra Tiruchelvarayan is a Senior Consultant Neurosurgeon at Spine Neuro Specialist Medical Centre, based in Gleneagles Medical Centre. The neurologist in Singapore treats a wide spectrum of general neurosurgical conditions, and his two areas of sub-specialities comprise spine surgery and children's neurosurgery.
Following the completion of his basic neurosurgery training in Singapore, he was awarded a Ministry of Health Fellowship (HMDP) to the UK from 2005-2006. He continued his speciality training in London at St George's Hospital from 2005.
The neurologist in Singapore has also treated many patients suffering from cranio-cervical junction disorders. He has carried out many of such operations using the iCT navigation facility, and has also published the largest volume of academic literature in Singapore in the Surgical Neurology International Journal 2013.
8. Neuro Asia Care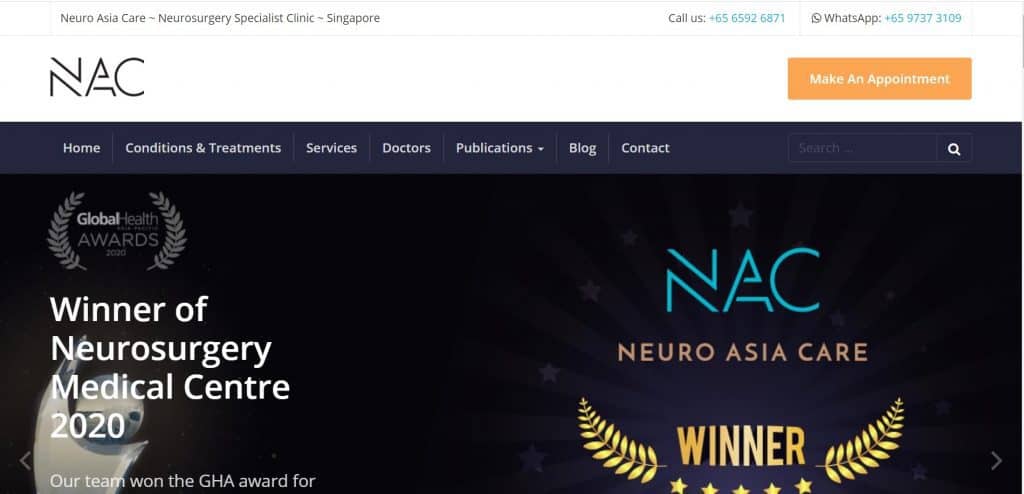 Neuro Asia Care is helmed by Dr Nicolas Kon, an experienced neurologist in Singapore practising at the Mount Elizabeth Hospital, Singapore. He possesses a clinical interest in neuro-oncology (brain tumours, awake surgery), minimally invasive brain surgery (brain tumours, brain haemorrhage), functional neurosurgery (trigeminal neuralgia, hemifacial spasm, spasticity, spinal cord stimulation), as well as deep brain stimulation (Parkinson disease, tremors and other disorders).
He has been actively involved in research in neurosurgery and is the author of over 90 peer-reviewed publications and book chapters, while having registered several patents.
He has been the principal investigator of numerous randomized controlled clinical trials and is the recipient of national and international research grants. He also sits on the ethics board of the Centralised Institutional Review Board.
He is strongly passionate about neurosurgery and has received a long service award from the National Neuroscience Institute, Singapore for his contributions. He also received an Outstanding Faculty Award for the training of neurosurgery residents.
Moreover, Dr Kon is a fervent champion of patient care and has been awarded several Service with A Heart awards by the Singapore General Hospital.
9. Asia Brain Spine and Nerve Medical Centre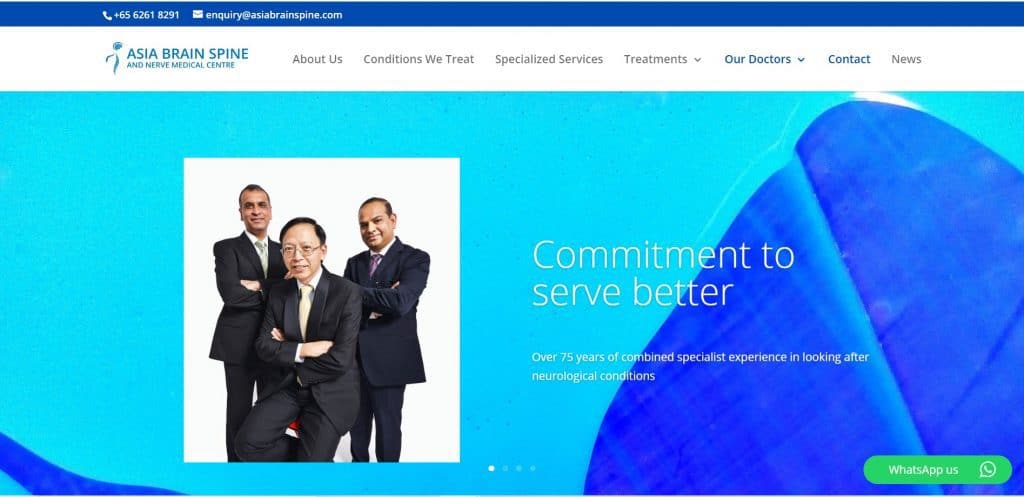 Asia Brain Spine and Nerve Medical Centre is comprehensive one-stop facility practice in Singapore that treats all brain, spine, nerve and pain-related conditions.
Their practice offers full evaluation and management of all neurological, neurosurgical and neurointerventional conditions. The neurologist in Singapore possesses the entire range of neurodiagnostic, neurophysiology, imaging, interventional suites, operating facilities for broad-based medical treatment.
Patients can also undergo a comprehensive brain health and spine health assessment at their centre. Brain health assessment entails screening for the potential onset of neurological conditions such as stroke and dementia.
10. The Neuro Spine & Pain Center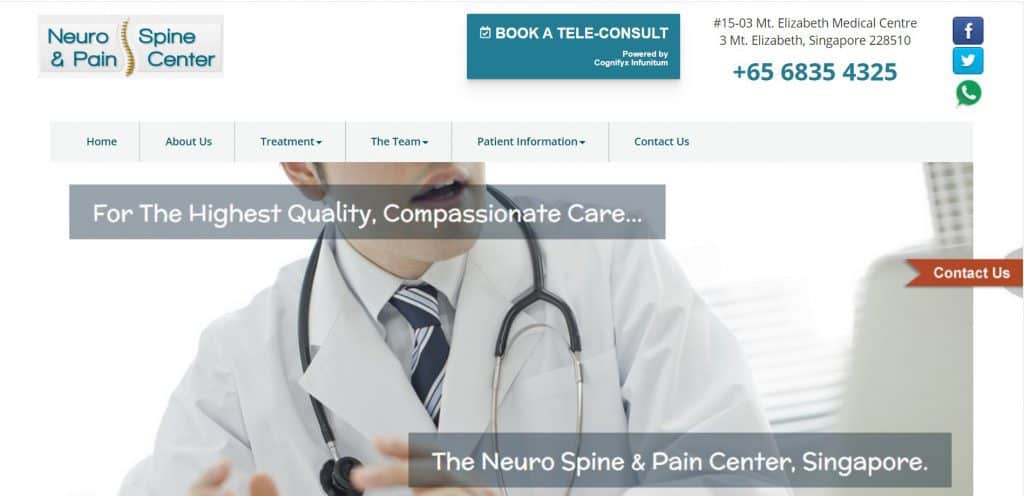 The Neuro Spine & Pain Center specialises in treating back and neck-related neurological conditions. They are also capable of treating leg and arm-related neurological conditions. They provide the full spectrum of treatments that range from non-surgical to spine injections and sophisticated modern spine surgery.
The specialists under the neurologist in Singapore are accredited by established private hospitals in Singapore and regionally. The hospitals used by the Center, such as Mt. Elizabeth Hospital (Orchard), Mt. Elizabeth Novena and Gleneagles Hospital, are Joint Commission International accredited and ISO certified.
Their hospitals are equipped with the latest diagnostic and treatment facilities, including PET-MRI Scanning, 3 Tesla MRI Scanning, 320-Slice 3D Computed Tomography Scanning and the highest quality Operating Theatres. These tertiary hospitals also have fully equipped Intensive Care Units and experienced staff.
Conclusion
Do you have any reviews and comments to share regarding our choices for the best neurologist in Singapore?
While SBO is committed to supporting our local businesses, we welcome any feedback and anonymous sharing regarding your experience with the listed neurologist in Singapore.
We hope that this guide will be useful in helping you to make an informed decision when it comes to finding the best neurologist in Singapore.
Explore More Content