10 Best Nutritionist in Singapore to Eat Your Way to Better Health [2023]
Improve the relationship between your food and health by visiting these 10 best nutritionist in Singapore!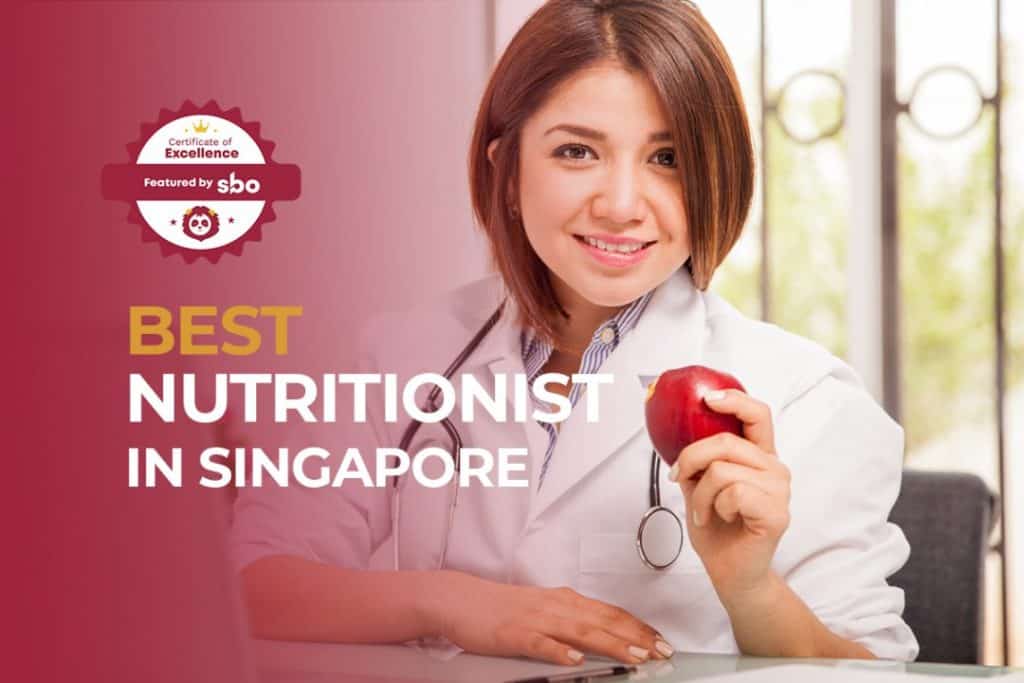 Do you live to eat or eat to live?
If you have always struggled with your weight or have been recently diagnosed with a medical condition, kickstart a healthier lifestyle with the support of these 10 best nutritionist in Singapore!
Note: In Singapore, there are currently no statutory regulations governing the practice; however, the majority of nutritionists do hold a degree in nutrition or are registered with the Singapore Nutrition & Dietetics Association (SNDA).
1. Sheeba The Nutritionist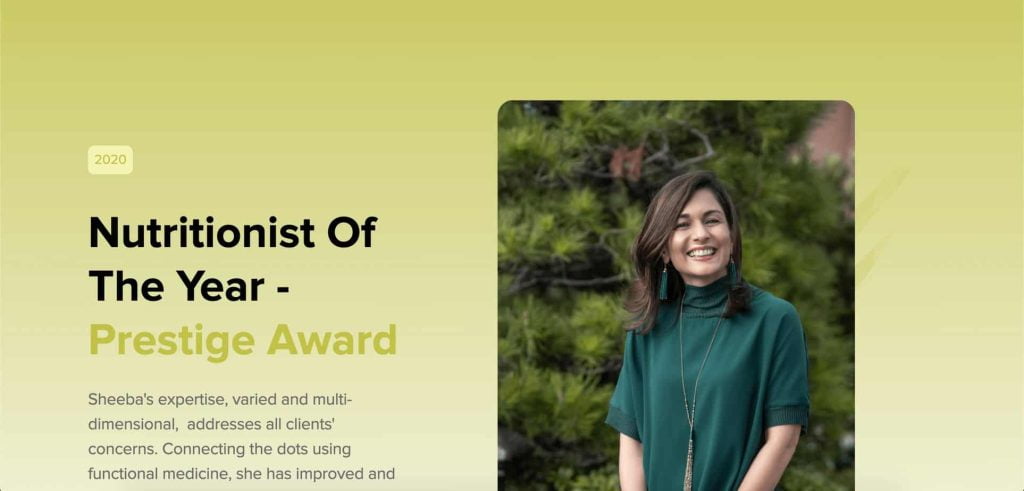 Having won the Nutritionist of the Year (2020) by Prestige Awards, Sheeba specializes in functional medicine and takes a naturopathic approach to improve the lives of her clients.
Having served over 1,000 happy clients, she is frequently recommended by doctors and specialists and offers a wide range of health assessments such as Functional Blood Chemistry Analysis and Food Allergy Testing, as well as treatments like Biodynamic Craniosacral Therapy and Aromatherapy.
Reviews talk about Sheeba's knowledgeable and insightful programmes and how they have attained great results despite being unsuccessful with other programs.
2. The Nutrition Clinic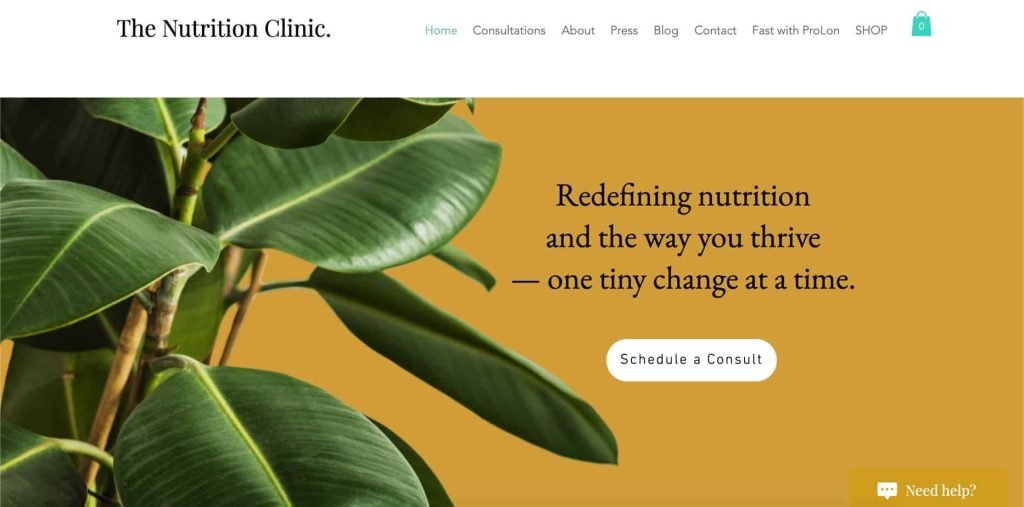 Introducing the idea of intelligent nutrition via Functional Medicine, The Nutrition Clinic integrates the latest science with practical suggestions to put together a nutritional program that is tailored to your unique biochemistry.
At the heart of their programs is the TNC method—a deep dive review and analysis of your medical history, diet and lifestyle to uncover the source of your symptoms.
Reviews talk about the team's friendliness and founder Pooja's warm and genuine interest in her clients' needs and goals. Many customers have experienced not only weight loss but also a general improvement in their mood and energy levels after their time at TNC!
3. Eat Right Nutrition Consultancy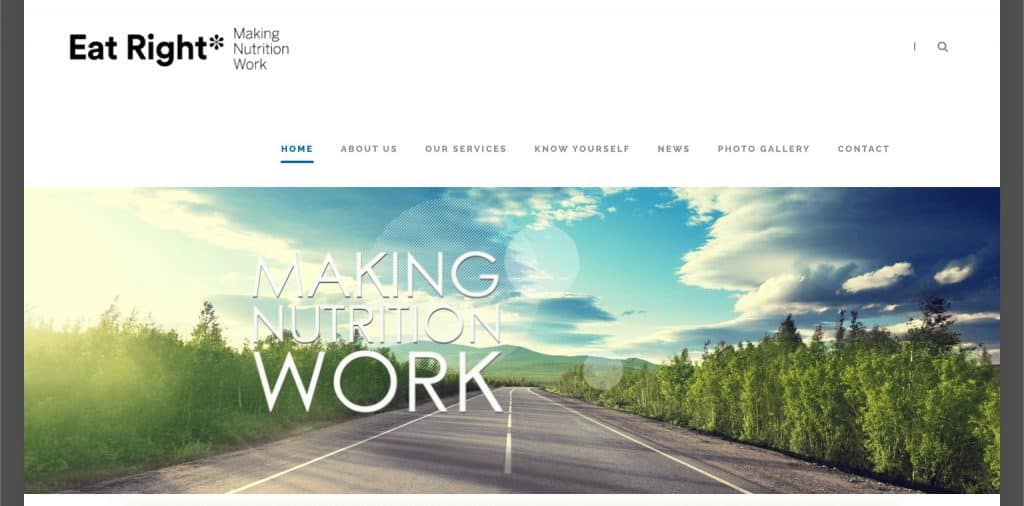 Founded in 2010 by Mr Derrick Ong, an accredited dietician of Singapore, Eat Right hopes to make dietetic services readily accessible to the community.
Core services include a Personal Dietetic Consultation, Sports Nutrition, Nutrigenomix, Emergenetics, Culinary Nutrition Solutions and various corporate nutrition and wellness programmes.
The team is made of a group of dietitians, nutritionists and chefs that follow a food-first approach—utilizing evidence-based knowledge to better understand your habits, behaviours and genetics and how it all plays a role in your overall health.
Reviews talk about the friendly, passionate team and Derrick's kind and humble personality.
4. Body With Soul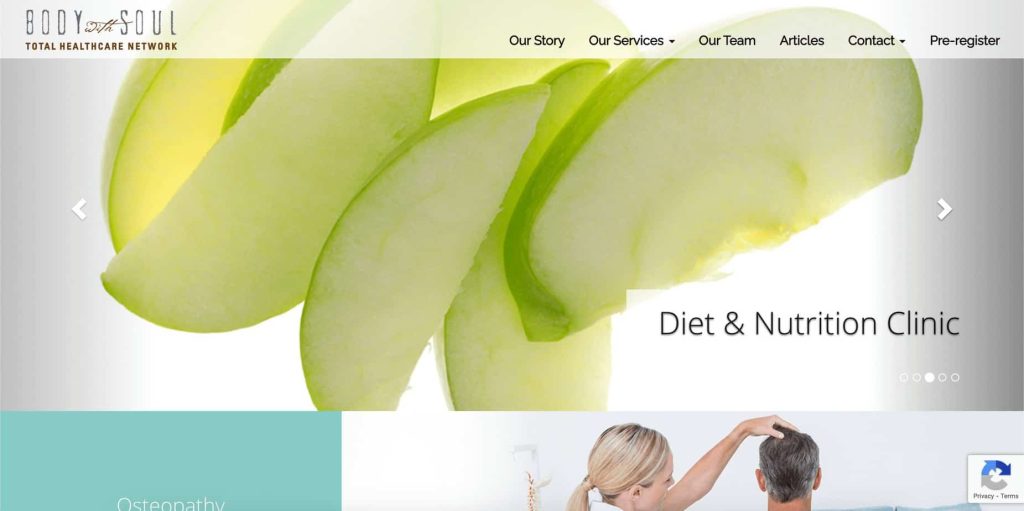 Established in 2008, Body with Soul is an integrated allied healthcare and wellness practice that aims to deliver the best results for patients in a safe and compassionate environment.
Having treated more than 16,000 unique patients across the island, the team is made of healthcare professionals in the field of osteopathy, psychology, dietetics and nutrition, occupational therapy, and speech and language therapy.
All their treatments are based on scientific evidence and designed for all ages and delivered with the utmost attention to your needs and goals. 
5. Alive Nutrition Consultancy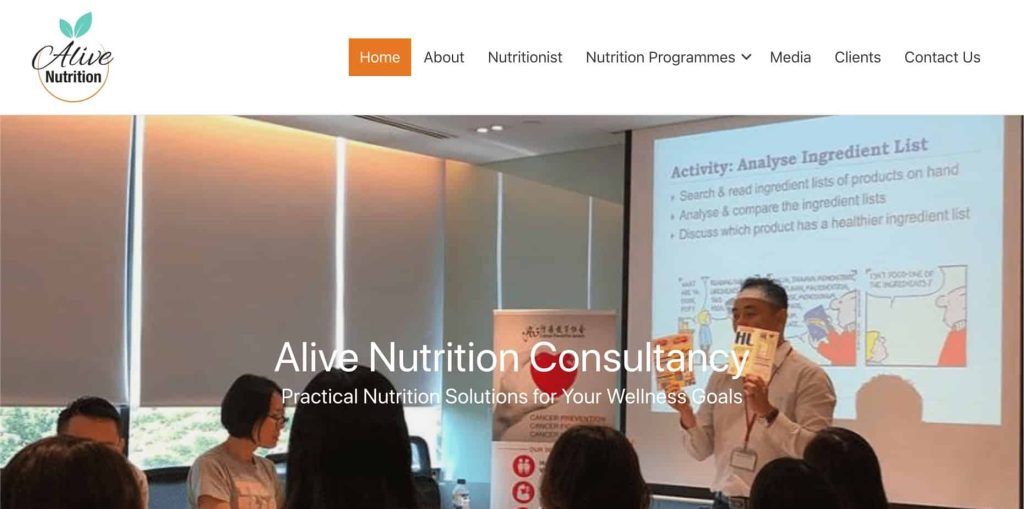 Alive Nutrition Consultancy believes in providing practical and evidence-based health and nutrition solutions for both individuals and corporations.
Founder and nutritionist Chan Joy Seng holds a Masters of Medical Science in Human Nutrition (UK) and is also accredited by SNDA. He currently offers health talks, healthy cooking demonstrations, supermarket tours and personalized coaching services.
Covering a range of topics such as food and nutrition labelling, snacking and weight management, he also provides consulting services to businesses looking to develop a healthier menu or apply for the Healthier Dining Programme.
Reviews talk about Joy Seng's passion and expertise in the area of nutrition and his commendable work ethics. An easy-going and highly committed nutritionist who understand the needs of his clients and goes out of his way to help them.
6. Food Advisory Group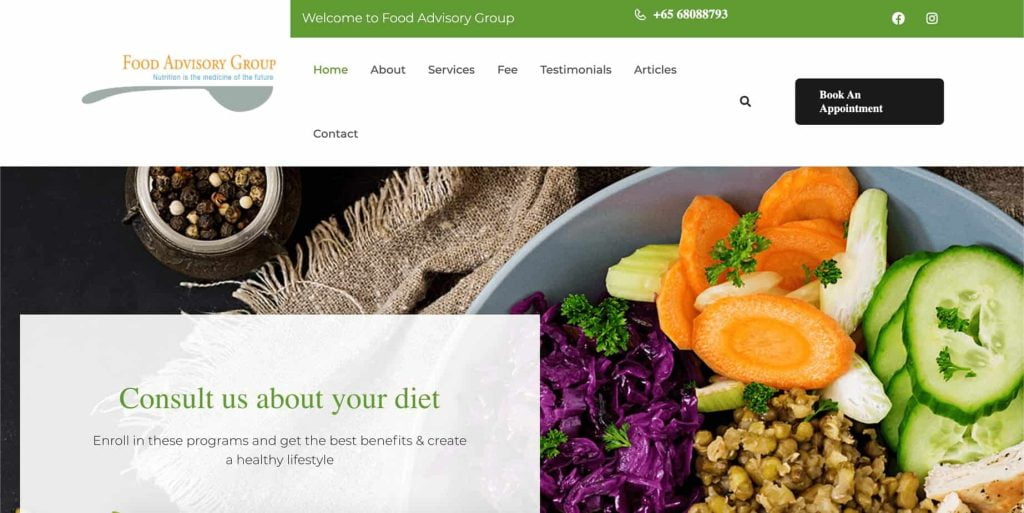 Holding the belief that "Nutrition is Medicine", the Food Advisory Group provides customized diet plans for people dealing with issues including digestive complaints, stress and anxiety, and a weak immune system.
Their core services include a personalized nutrition plan and personalized exercise plan that addresses your overall health conditions with the support of a team of experts such as health consultants, speaks and qualified fitness and health instructors.
Founder and principal consultant, Vivianna Wou, is an accredited nutritionist with over 15 years of experience in dealing with ailments such as high blood pressure, diabetes, obesity, stroke, acne, eczema, food intolerances and weight loss.
Reviews talk about Vivianna's effective coaching and advice that has helped them regain their energy, strength and relieved their symptoms.
7. Nutra Nourish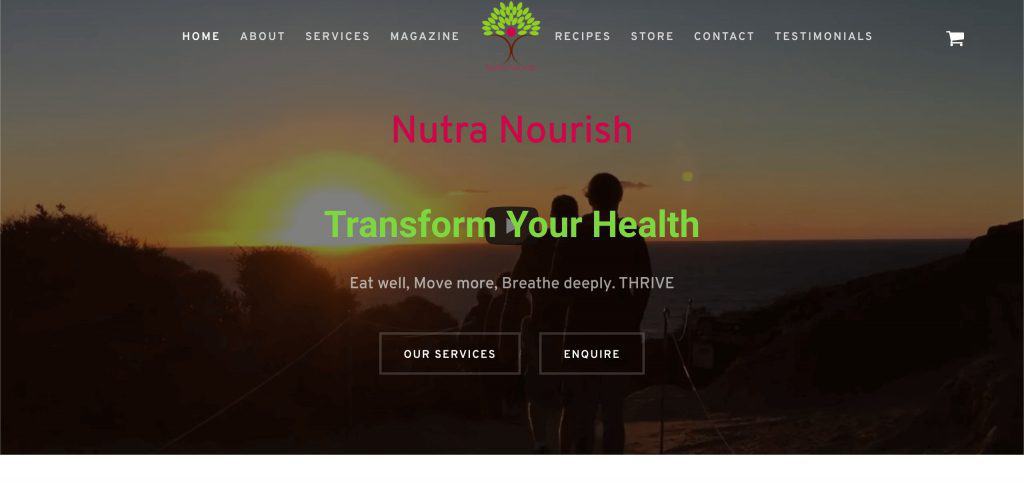 Nutra Nourish employs an integrated systems-based approach to explore the root cause of disease and come up with individualized lifestyle strategies to help you achieve optimal health.
Comprising of a team of certified functional medicine practitioners, Dr Menka Gupta is the founder and first Certified Functional Medicine practitioner in Singapore.
The Functional Medicine 360º Wellness Program is a 10-week intensive program for those looking for a comprehensive evaluation of their health and combines nutrition and exercise coaching, mindfulness practice and assessments to achieve your goals.
Reviews talk about the insightful workshops and advice provided by the team that has enabled them to become more intentional and aware of their eating habits.
8. Health Can Be Fun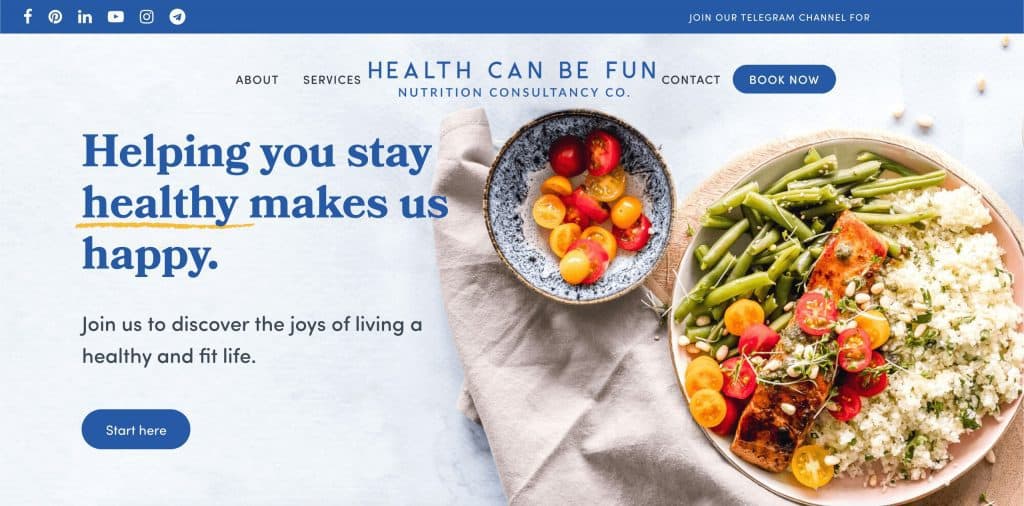 Just like their name, Health Can Be Fun aims to help clients discover the joys of living a healthy and fit lifestyle.
Comprised of a team of nutritionists, dietitians, workplace health consultants and food scientists, they currently offer a range of personalized nutrition programmes for individuals, schools and corporations.
From organizing seminars and webinars covering the latest health research and trends to cooking demonstrations and 1-on-1 nutritional consultations, they also offer services catered to F&B companies looking to partake in the Healthier Dining Programme.
Reviews talk about the nutritionists' patience and cheerful demeanour, as well as confident and calm attitude towards their patients. Great at listening and systematically recommending so that you don't feel overwhelmed. 
9. Balanced Nutrition Lab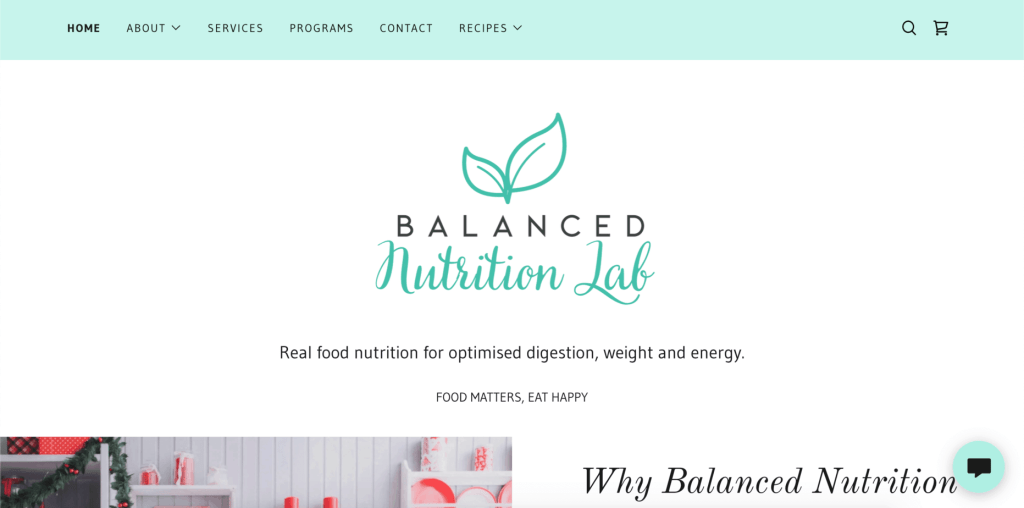 Balanced Nutrition Lab was founded by Teresa, a registered Holistic and Culinary Nutritionist with a passion for education, cooking and healthy eating.
Instead of following fad diets or dictating what you can or cannot eat, Teresa focuses on teaching you how to make positive, long-term changes.
From meal plans, cooking workshops, corporate wellness sessions and in-home culinary courses, Teresa will also focus on your lifestyle, health history and emotional state to determine the root of your health issues.
Reviews talk about the informative and engaging workshops and easy to follow recipes. Many clients have also commended Teresa's meal plans and have seen great results!
10. Levitise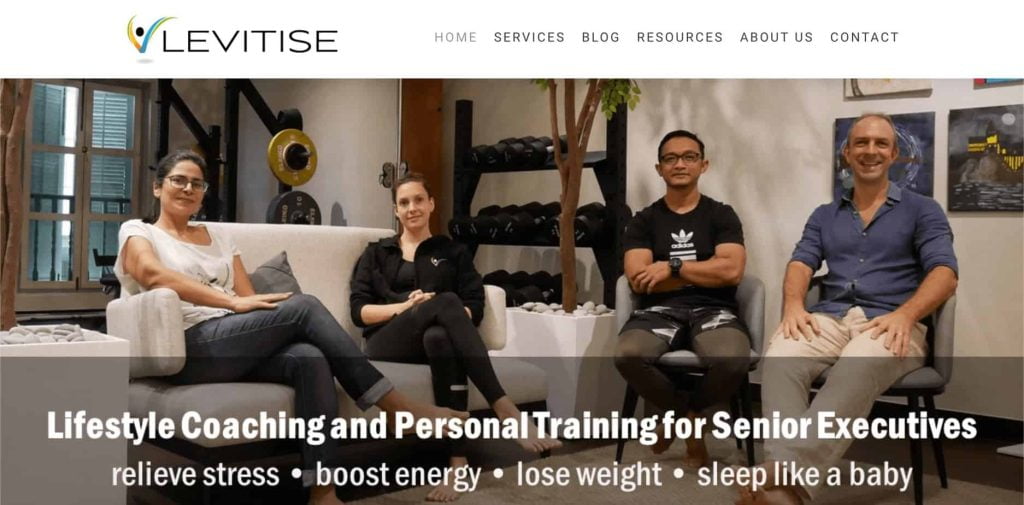 The team at Levitise believes that working on the root cause of health is key to seeing results.
Whether you are suffering from chronic fatigue, insomnia, weight gain or stress, the team works with multiple trainers, doctors and other specialists to present a one-stop solution tailored to you.
Levitise's Nutrition and Lifestyle Coaching looks at all 10 essential factors (movement, nutrition, sleep, breathing, emotions, hydration, environment, social, thinking and sunlight) that make up your life and works on optimizing it for your health, happiness and well-being.
Reviews talk about the great energy of the team and the overall experience that has helped them regained their confidence and gained better control of their physical and emotional health.
Conclusion
Do you have any reviews and comments to share regarding our choices for the best nutritionist in Singapore?
While SBO is committed to supporting our local businesses, we welcome any feedback and anonymous sharing regarding your experience with the listed nutritionist in Singapore.
We hope that this guide will be useful in helping you to make an informed decision when it comes to finding the best nutritionist in Singapore.
Explore More Content