10 Best Podiatrist for Heel Pain Treatment in Singapore [2023]
Manage the stress of running and walking by seeking help from the 10 Best Podiatrist for Heel Pain Treatment in Singapore.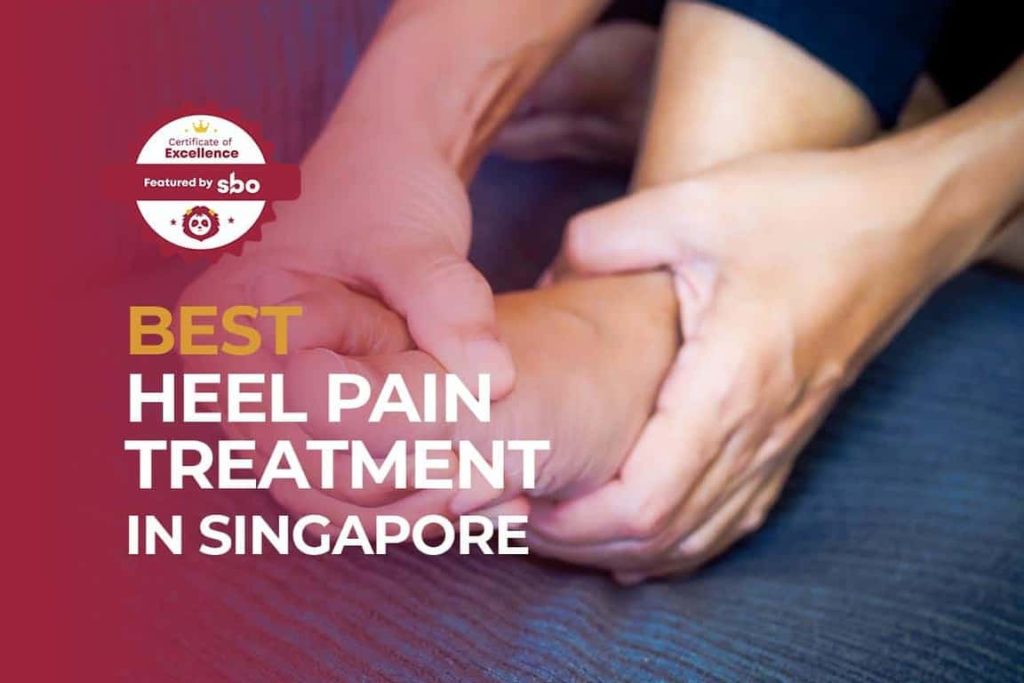 The heel bone, the largest bone in the foot, gives your heel its shape and is surrounded by muscles, tendon and another small bone to help provide balance and movement of the foot.
As most of your weight rests on the heel, this bone, muscle, and tendon mechanism often hold a lot of stress that would eventually lead to heel pain. Many factors contribute to heel pain, but the most common causes are plantar fasciitis and Achilles tendonitis.
If you have been suffering from heel pain for some time, it is highly recommended to seek professional help immediately to prevent a delay in treatment.
In this article, we have compiled a list of the 10 Best Podiatrist for Heel Pain Treatment in Singapore to help you manage the stress of running and walking placed on your heels.
1. MyFootDr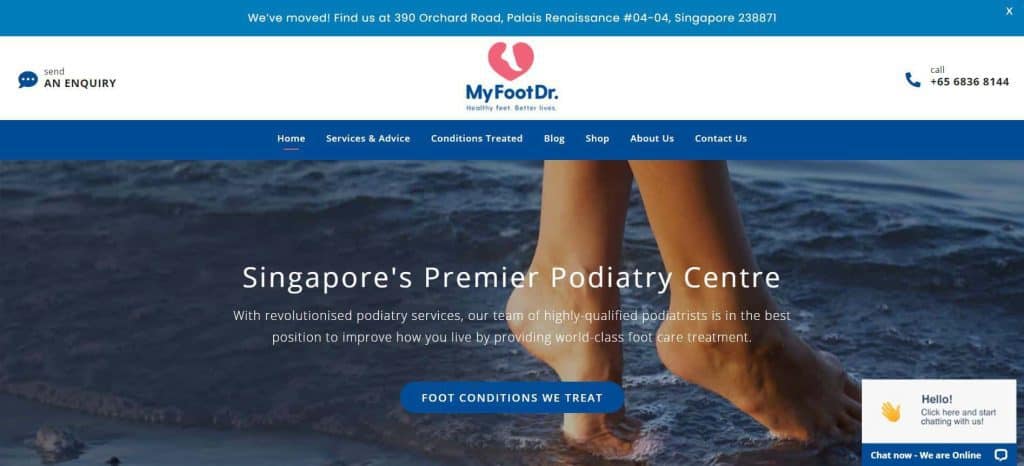 First opened in Singapore in 2012, MyFootDr Singapore is a member of Australia's largest podiatry group.
MyFootDr Singapore offers a wide range of services that includes cracked heels, heel pain (Plantar Fasciitis), heel spurs and Sever's Disease.
Well equipped with the latest advanced podiatry equipment, you can be sure to expect world-class podiatry care while you're there.
2. East Coast Podiatry
At East Coast Podiatry, the professional and friendly practitioners would focus on treating your heel pain without surgery.
Conservative treatment to help you recover from your plantar fasciitis (heel pain) condition would include shockwave therapy, orthotic insoles, ultrasound therapy, sports taping and focused stretching exercises which are tailored specifically for your heel condition.
3. Orthosports Foot and Ankle Clinic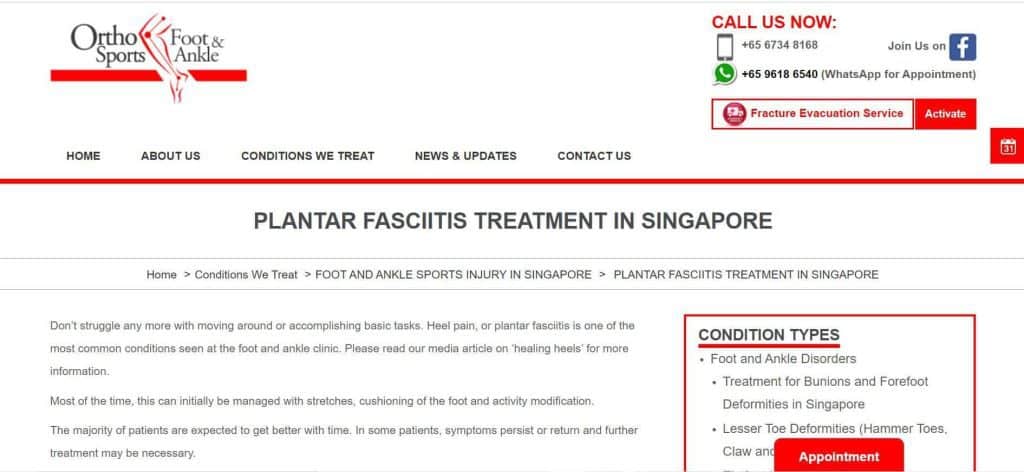 Having achieved notable success in using an endoscopic (keyhole) release of the fascia for chronic plantar fasciitis treatment in Singapore, Orthosports Foot and Ankle Clinic is most experienced in the adoption of minimally invasive treatment for plantar fasciitis.
At the clinic, your doctor will examine your lifestyle habits and work closely with you to find the most suitable treatment plan without the use of surgery to help you get back to an active lifestyle.
4. Physio And Sole Clinic
Depending on your heels' condition as assessed clinically at Physio And Sole Clinic, you may be provided with various treatment options that range from manual therapy techniques to sports taping, stretching and strengthening exercises, and prescription of orthotics.
If you're suffering from chronic heel pain, shockwave therapy, surgery, or injections may also be recommended to you.
5. Family Podiatry Centre
Highly recommended by past patients who have gained positive impacts from their visits, Family Podiatry Centre offers you efficient treatment solutions to target the main cause of your heel pain.
Your doctor will explain and highlight the pros and cons of each treatment option at the clinic clearly and concisely and ensure you a smooth experience recovery period.
6. Dr Foot Podiatry Clinic
A podiatry clinic that opens every day of the week, Dr Foot integrates various modernized platforms such as Shockwave Treatment for heel pain (Plantar Fasciitis & Achilles Tendinitis) for all patients.
Supported by very knowledgeable and encouraging staff and doctors, your heel condition will definitely improve significantly with proper practice and care.
7. The Foot Practice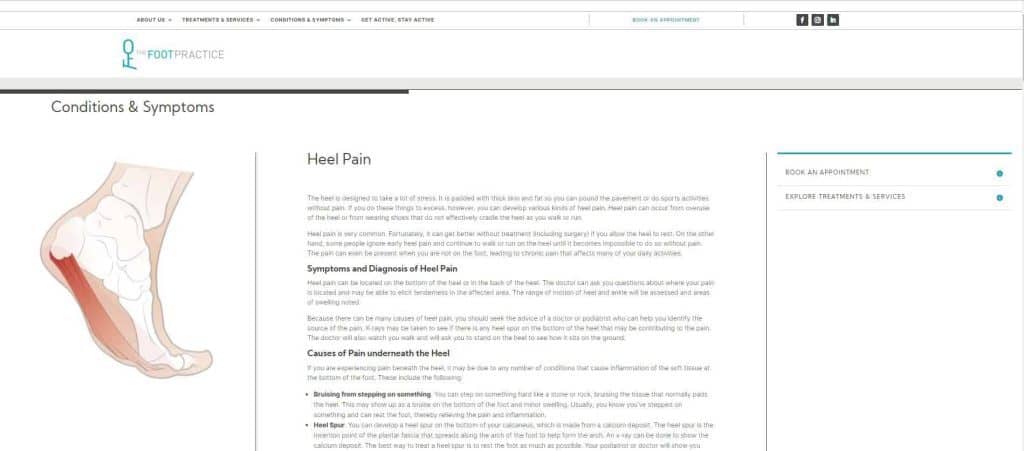 To help you identify the source of your heel pain, your doctor at The Foot Practice may take an X-ray of your heel and also ask you to walk and stand on the heel to see how it sits on the ground.
To treat the pain behind the heel, your doctor would recommend various kinds of stretching exercises specific to your healing.
In addition, he may also prescribe heel inserts to put pressure on the different parts of your heel to aid in your heels' recovery.
8. The Podiatry Centre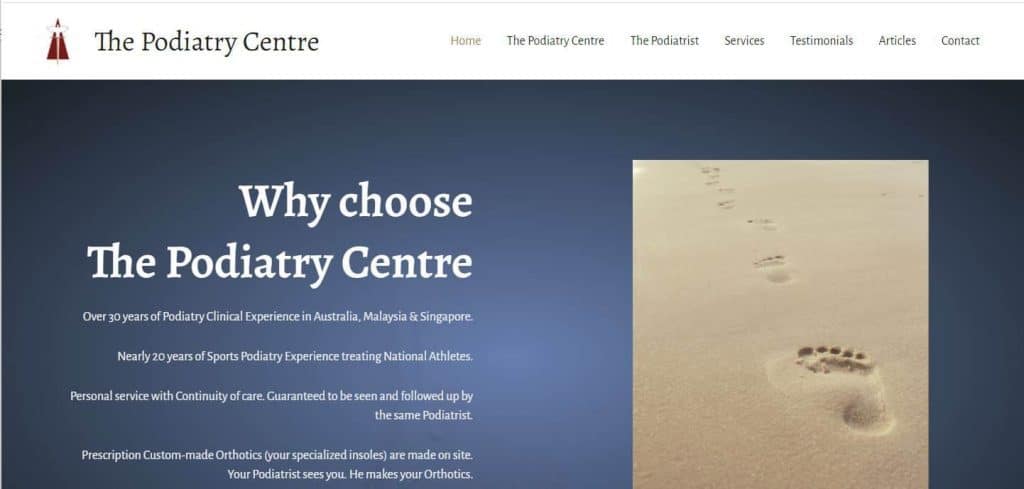 A veteran in the field, The Podiatry Centre has over 30 years of podiatry clinical experience in Australia, Malaysia and Singapore, and out of which, 20 years of Sports Podiatry experience in treating National Athletes.
In addition to being transparent, open and reasonable with their pricing, the clinic also guarantees their patient to be seen and followed up by the same Podiatrist throughout all their visits.
9. Footworks Podiatry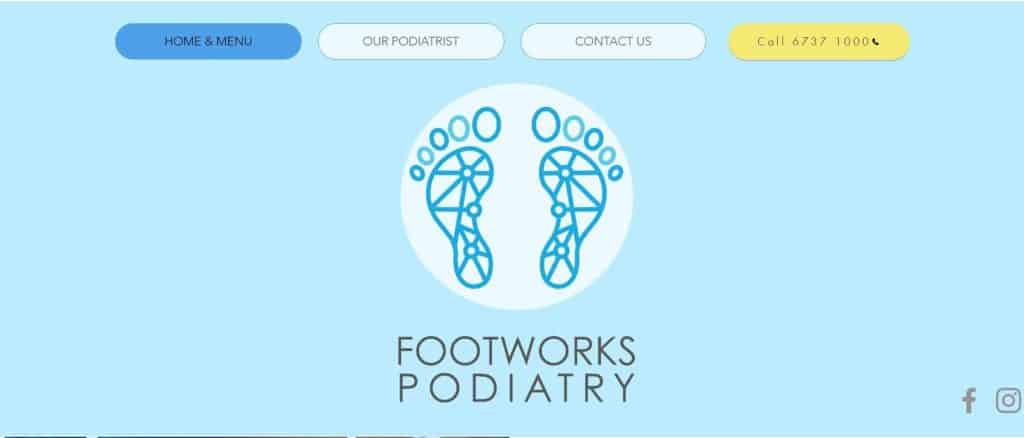 A one-stop centre for injury management and prevention, Footworks Podiatry specialises in non-surgical treatment methods for everyone, including athletes, children and the silver generation.
Internationally trained with many years of experience in hospitals and polyclinics in Singapore, your podiatrist will offer you the best treatment options to help you hit the road to recovery – all at an affordable price.
10. Singapore Sports Clinic and Orthopaedic Clinic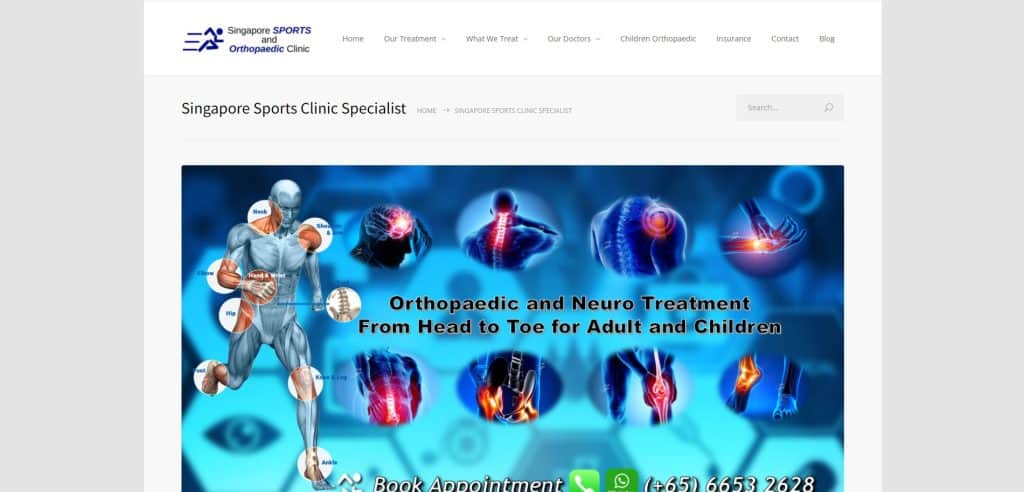 At the Singapore Sports Clinic, you'll be first assessed on the condition of your heel pain.
Treatment options that include anti-inflammatory medicine, anti-inflammatory injections, shockwave therapy, and orthopaedic accessory like silicone heel cups will then be offered to you based on the severity of your condition.
Most patients (about 90%) have seen themselves recover from conservative treatments in just a few months with constant treatment and proper care.
Conclusion
Do you have any reviews and comments to share regarding our choices for the best podiatrist for heel pain treatment in Singapore?
While SBO is committed to supporting our local businesses, we welcome any feedback and anonymous sharing regarding your experience with the listed 10 Best Podiatrist for Heel Pain Management in Singapore.
We hope that this guide will be useful in helping you to make an informed decision when it comes to finding the best podiatrist for heel pain management in Singapore.
On a side note, do check out the list of the 10 Best Breast Specialist In Singapore to improve your health.
Explore More Content