13 Best Clinics For Spine Specialist in Singapore to Go Back to a Normal Life [2023]
Go back to doing your routine by visiting a spine specialist in Singapore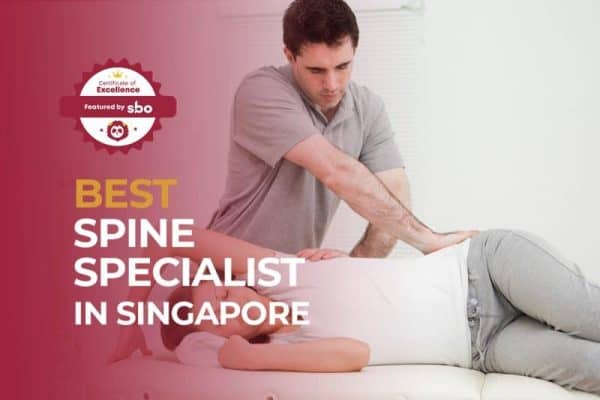 We know that spinal conditions such as neck and back pain can be a big problem in your life, whether you are a sedentary office worker or an active sportsperson. If this has become a major disruption to you, then it is time to consult the best spine specialist in Singapore.
With the appropriate treatment from the best spine specialist in Singapore, you will find yourself in a strong position to tackle the complexities of life.
In this post, we've gathered all the necessary details including unravelling reviews and testimonials to derive a list of the 13 best clinics for spine specialist in Singapore to go back to a normal life.
1. Avant Orthopaedics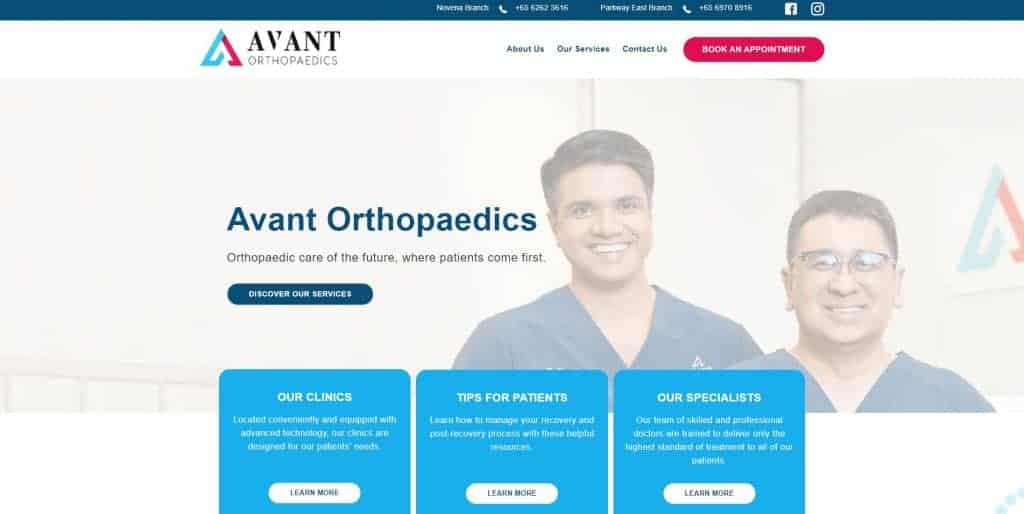 Headed by experienced orthopaedic doctors Ramesh and Razmi, Avant Orthopaedic aims to provide an individualised and emphathic care coupled with the use of advanced techniques and technologies for their patients.
Avant provides various forms of orthopaedic services which include the treatment of all spinal conditions, joint replacements, management of arthritis as well as sports injuries.
Depending on the severity of the patient's condition, treatment may be carried out using surgical methods.
2. The Orthopaedic Centre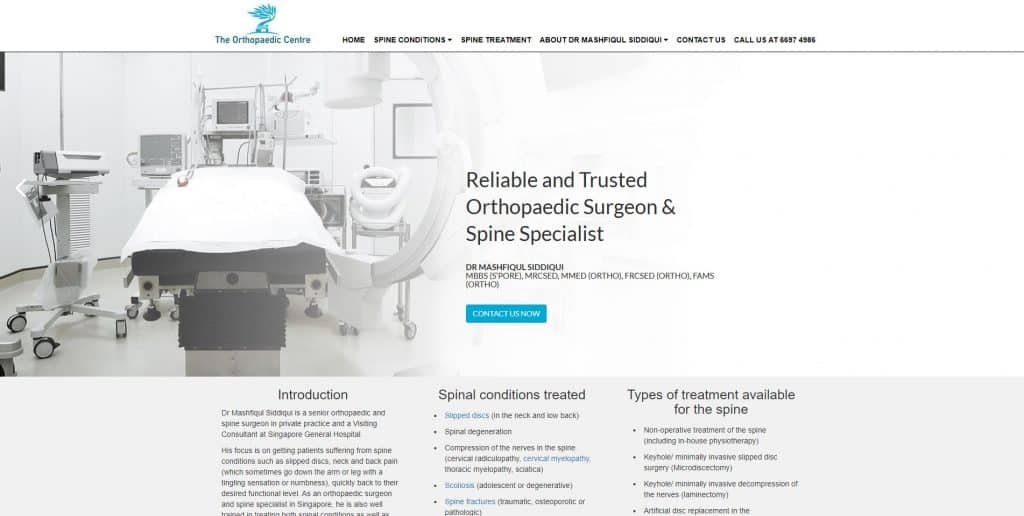 Founded in 2013, The Orthopaedic Centre is headed by a group of experienced orthopaedic, spine and sports surgeons providing a wide spectrum of orthopaedic and trauma services such as knee/hip replacements, spine surgery, sports medicine/surgery, and minimally invasive orthopaedic procedures.
For those suffering from spine conditions, they offer various range of spine treatments such as an accurate diagnosis of spinal problem, spinal injections, minimally invasive (keyhole) surgeries for spinal conditions and slipped disc as well as artificial disc replacement (ADR).
With the amount of comprehensive spinal treatments available, you can be sure of a quick return to your routine and sporting activities.
3. Singapore Sports and Orthopaedic Clinic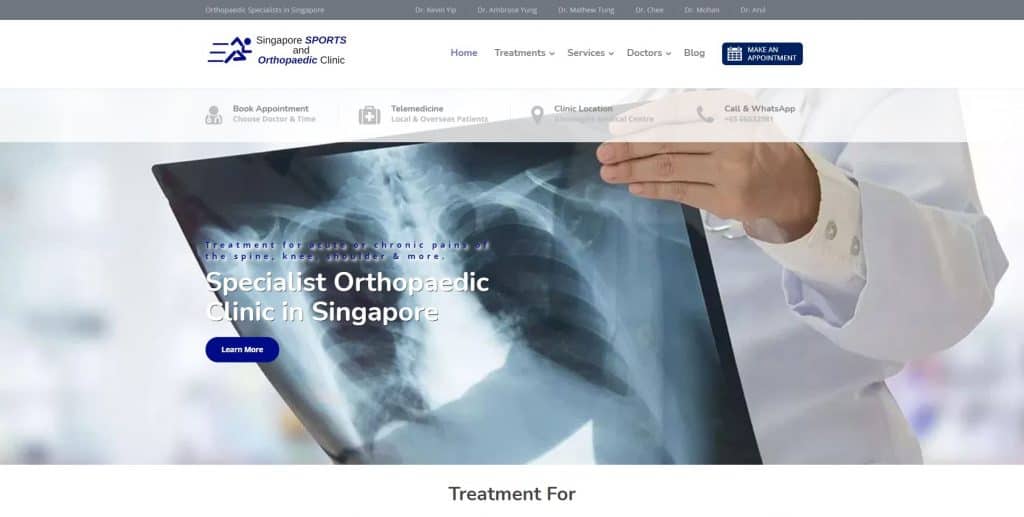 Singapore Sports and Orthopaedics Clinic is a specialist orthopaedic clinic in Singapore that provide treatments ranging from common orthopaedic problems, sport injuries to degenerative changes of the bone.
If you are suffering from these conditions, you can be assured of a safe and high-quality treatment by their experienced orthopaedic and spinal specialist in Singapore.
They offer both surgical and non-surgical treatments including arthroscopy and shockwave therapy.
4. Dr Ong Kee Leong Orthopaedics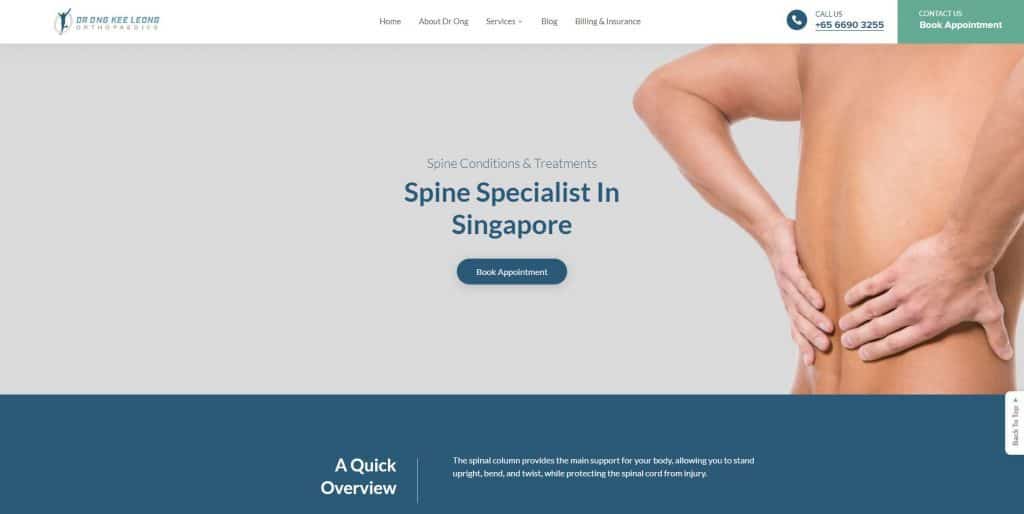 Having over 15 years of experience as specialist in orthopaedics and sports medicine, Dr Ong Kee Leong has been able to design customised treatment plans for his patients that would treat the cause of their injuries quickly and to ensure a smooth and long-term recovery.
Spine conditions are one of the many conditions that Dr Ong Kee Leong Orthopaedics treat. These treatments usually start off with non-surgical forms such as activities modification, physiotherapy and orthotics. Surgical treatments such as spinal/lumbar decompression surgery as well as surgical fusion and instrumentation are considered only when non-surgical treatments are not effective.
Over the years, Dr Ong has received numerous awards for his expertise and commitment such as Best Service and Eastern Health Alliance Caring (Gold) Awards.
5. Neuro Spine & Pain Center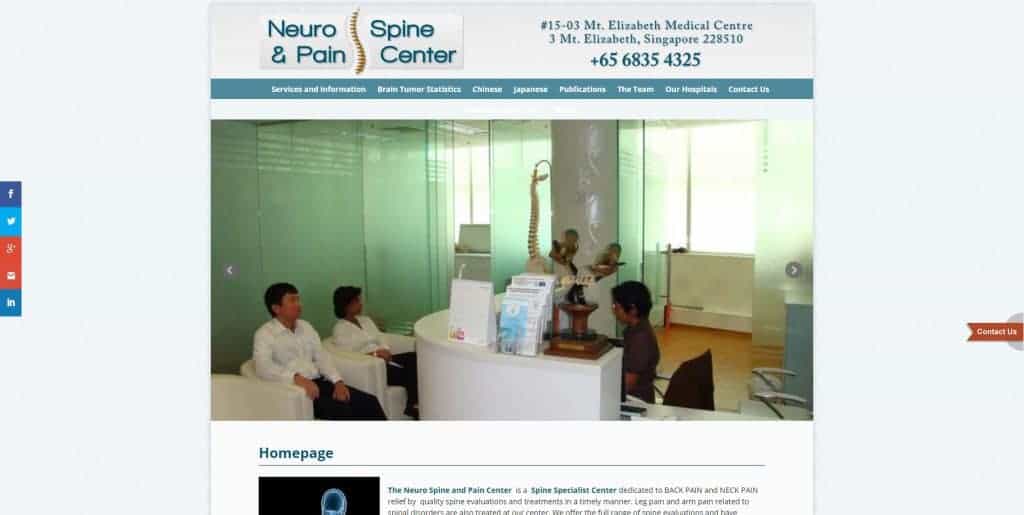 The Neuro Spine and Pain Center is a spine specialist center that dedicates itself in providing high-quality spine care for the relief of back pain, neck pain, arm and leg pain caused by spinal and nerve disorders using evidence-based medical treatment.
The various treatments provided for your spinal conditions include microdiscectomy, laser spine surgery and lumbar spinal stenosis.
6. Pinnacle Orthopaedic Group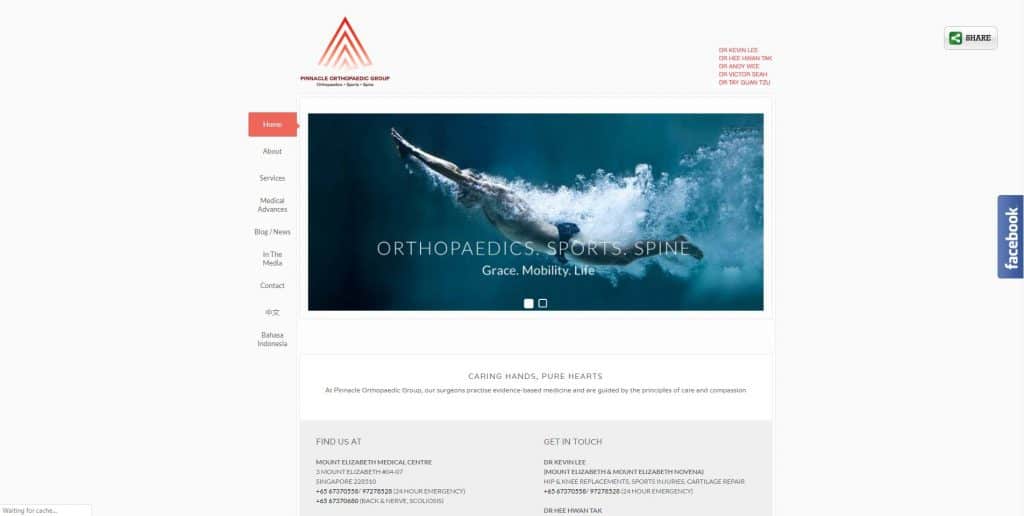 Established in 2013, Pinnacle Orthopaedic Group aims to provide scientifically-proven and ethical medical treatment to their patients.
Their experienced surgeons are specialised in various parts of the orthopaedic practice such as hip and knee replacement surgeries, spine and scoliosis surgeries in the neck and back, shoulder and elbow surgeries as well as foot and ankle surgeries.
7. Singapore Paincare Center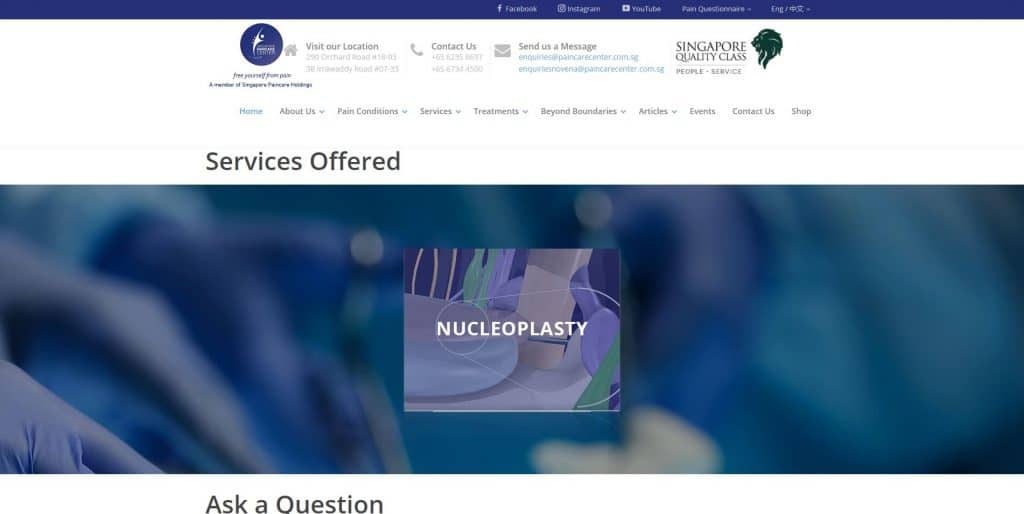 Headed by Dr Bernard Lee, Singapore Paincare Surgery is a fully-established pain management center in South-East Asia which provides an alternative to open surgery.
They are focused on eliminating and managing painful conditions including acute pain injury, chronic back and neck pain as well as cancer pain through treatment processes such as minimally-invasive procedures, pharmacotherapy, rehabilitation program, cognitive behavioural therapy and cancer pain treatment.
They use a multi-disciplinary approach to treat your orthopaedic conditions for patients to have the best outcome.
8. The Pain Specialist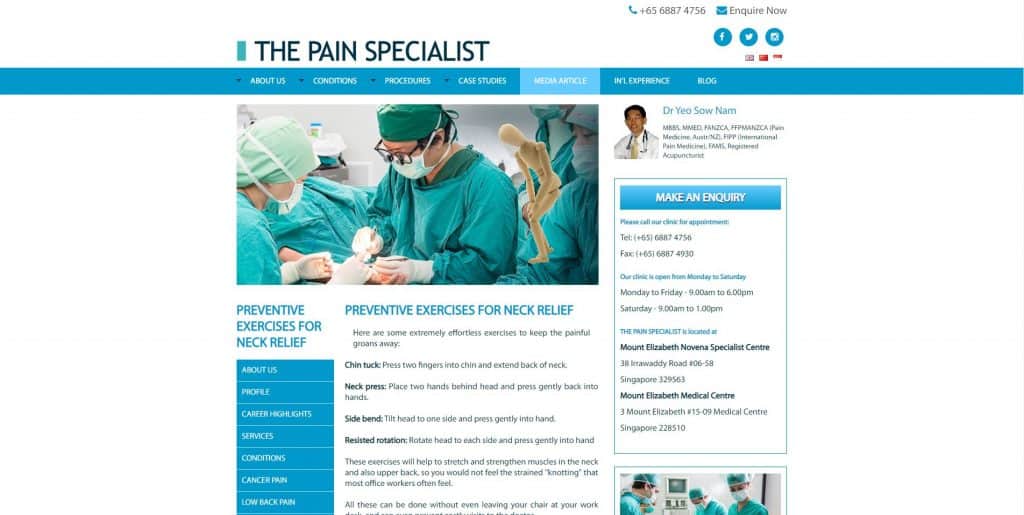 Headed by accredited spine specialist in Singapore Dr Yeo Sow Nam, The Pain Specialist provides a comprehensive treatment for those suffering from spinal and orthopaedic conditions such as low back pain, neck pain, lumbar and cervical as well as pelvic pain.
The clinic understands that having cancer pain can be a real burden. Hence, they use various drug-free methods to relieve the pain which include nerve blocks and computerised implantable pump.
9. Bijos Orthopaedics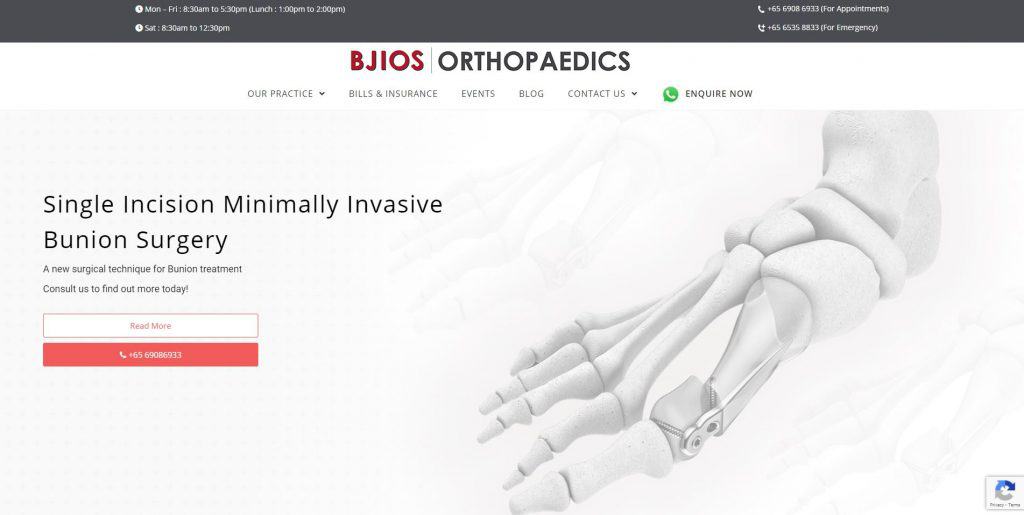 Run by a team of experienced orthopaedic surgeons, BIJOS Orthopaedics is committed to providing high-quality orthopaedic care. With comprehensive facilities, this one-stop orthopaedic centre streamline its processes and eliminates the need to commute to an external facility for radiology and surgery.
It serves as a single point-of-contact to facilitate appointments for your spinal treatment as well as insurance claims.
BIJOS Orthopaedics is a MOH approved Medisave accredited centre. This will be beneficial if you are undergoing outpatient scan or day surgery.
10. Align Brace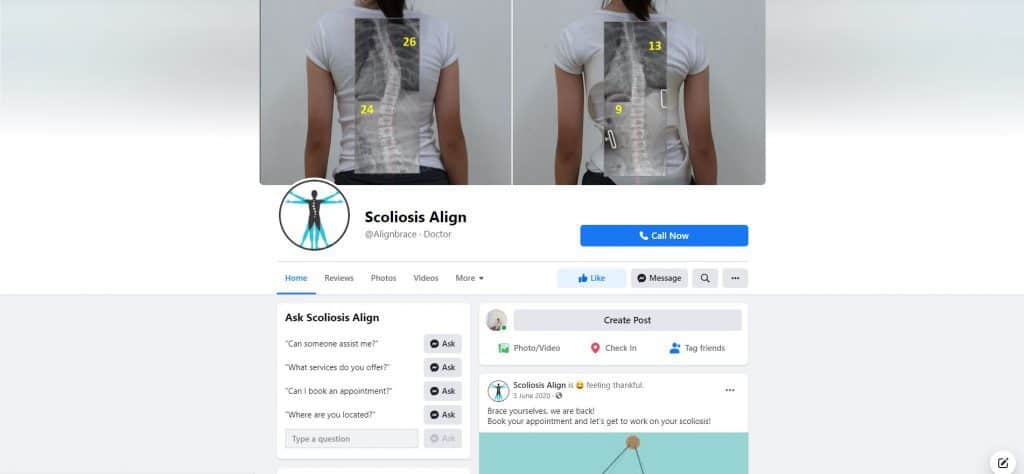 Align Brace is known to be the first in Singapore to adopt the advanced scoliosis bracing treatment system that specialises in designing and providing custom made 3D spinal bracing solutions.
Align Brace's focus is to help their patients treat their spinal conditions so that they can lead a healthier and unrestricted lifestyle.
11. Pan Orthopaedics & Spine Surgery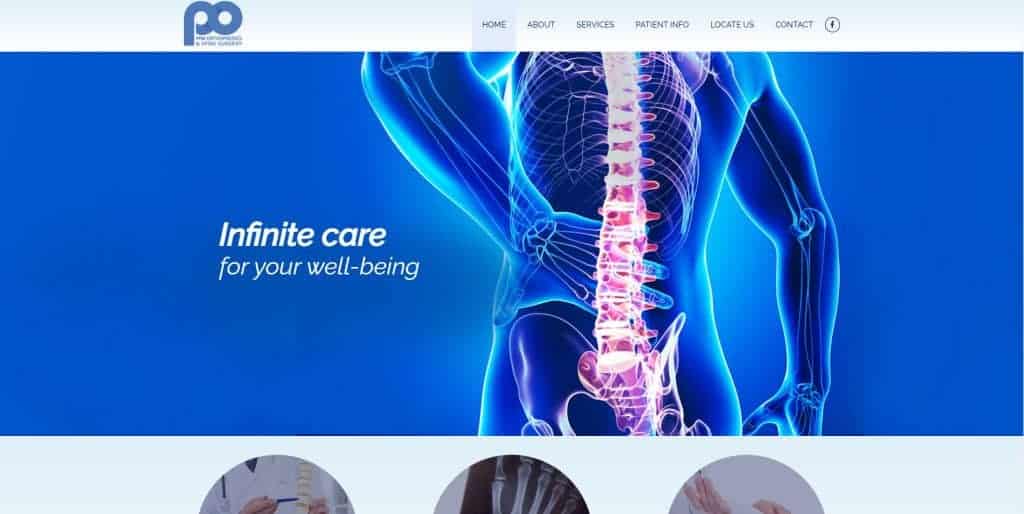 Pan Orthopaedics and Spine Surgery is headed by Dr Pan Woei Jack, an experienced orthopaedic surgeon specialising in spine surgery.
The Clinic provides a detailed evaluation of your orthopaedic and spinal problems like neck pain, back pain, nerve impingement and pinched nerve.
An initial investigation such as x-rays, ultrasound, CT scans and Magnetic Resonance Imaging (MRI) may be conducted to determine the type of treatment that will be appropriate for you.
If you are suffering from other orthopaedic conditions such as sport injuries and trauma & fractures, Pan Orthopaedics & Spine Surgery is a good place to seek treatment.
12. PTL Spine & Orthopaedics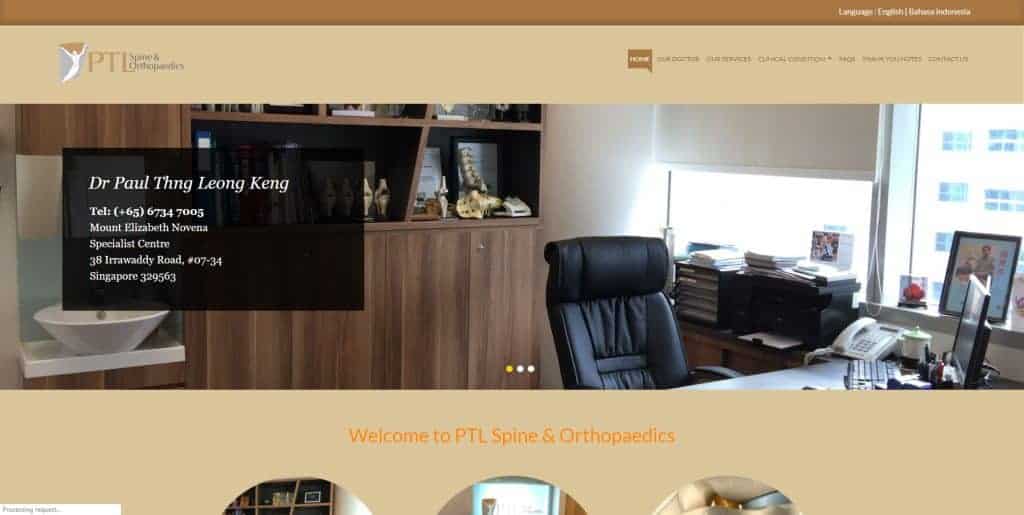 Headed by an experienced spine specialist in Singapore Dr Paul Thng Leong Keng, PTL Spine & Orthopaedics specialises in treating various orthopaedic conditions such as back pain (With or without pain/weakness radiating to the lower limbs), neck pain, hip pains and knee pains.
They also provide surgical treatment for spine, joint replacement and acute soft tissue injuries.
13. Precision Spine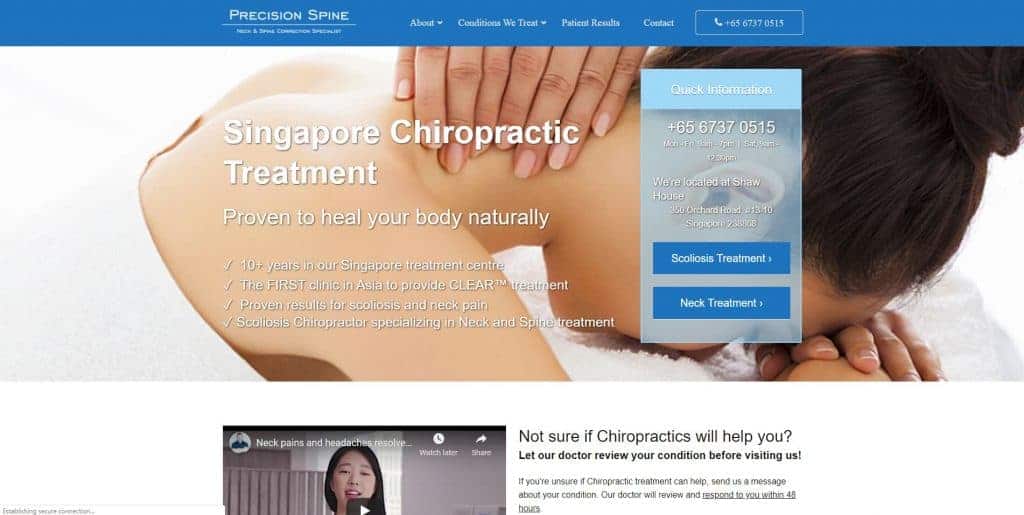 Established in 2006, Precision Spine provides safe, effective and nonsurgical spinal treatment in Singapore.
They use the latest CLEAR technology to mitigate pain and disfigurement by correcting your spine which allows your body to heal naturally without the need for a brace or surgery.
Precision Spine provides a comprehensive chiropractic consultation service which consist of X-ray review and measurement, lifestyle and activity measurement, doctor examination, clinic session, spinal adjustment and at-home care recommendations.
Conclusion
Do you have any reviews and comments to share regarding our choices for the best clinics for spine specialist in Singapore?
While SBO is committed to supporting our local businesses, we welcome any feedback and anonymous sharing regarding your experience with the listed clinics for spine specialist in Singapore.
We hope that this guide will be useful in helping you to make an informed decision when it comes to finding the best spine specialist in Singapore.
Explore More Content