10 Best Hypnotherapy in Singapore to Help You Cope with Pain, Stress and Anxiety [2023]
Activate your body's natural relaxation response and increase your overall sense of well-being.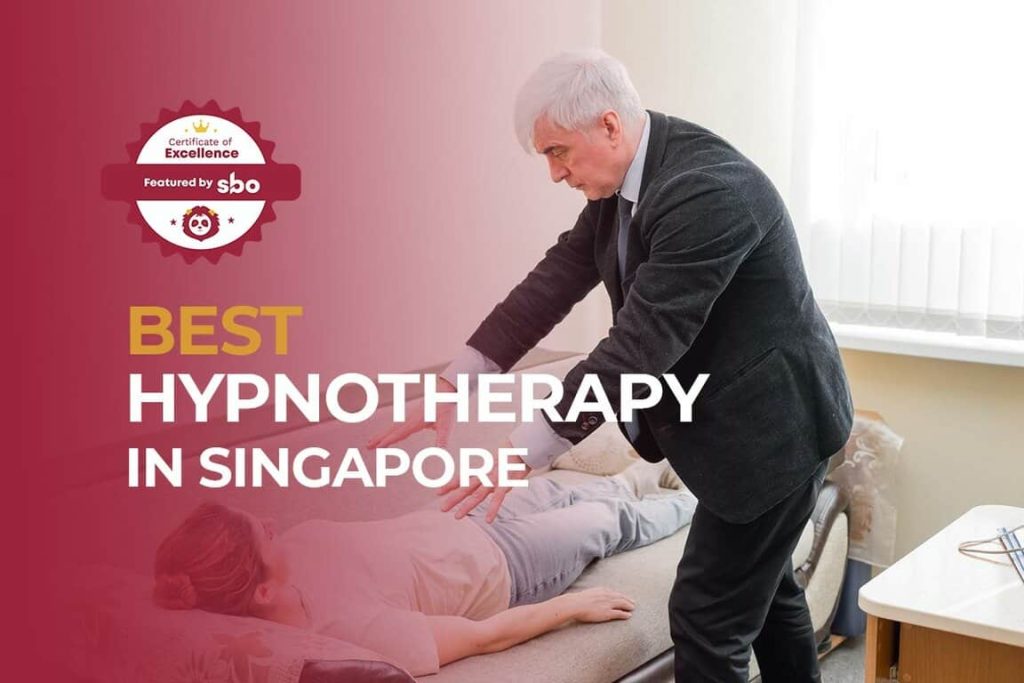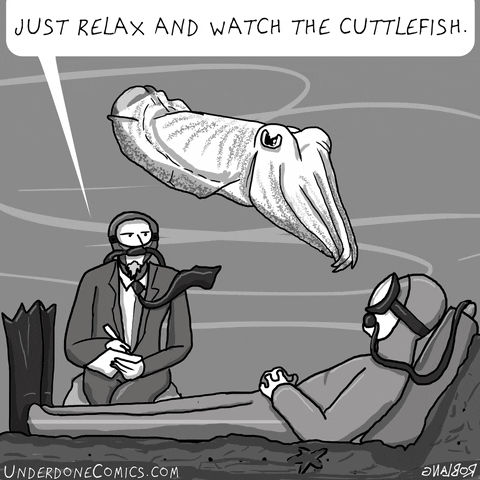 A technique that adopts guided relaxation, intense concentration and focused attention, hypnotherapy is used by practitioners along with traditional medical or mental health practices to help people learn to manage their physiology with lesser discomfort.
Less dramatic and more valuable than what is portrayed in media and fiction books, hypnotherapy helps reduce anxiety and stress levels and helps in weight loss, improve gut health, treat trauma or pain, and helps you fall asleep.
Experience the benefits of hypnotherapy yourself with the 10 Best Hypnotherapy in Singapore!
1. The Hypnosis Clinic (The Hypnotherapy Clinic Pte Ltd)
A certified Neuro-Linguistic Programming practitioner with the American Union of NLP, Jab MacCardy is also a member of the prestigious National Guild of Hypnotists who has helped The Hypnosis Clinic win the prestigious What Clinic award for Customer Service for the last two years.
Having trained in Clinical Hypnotherapy under Jonathan Garside-Atkinson, who has over 20 years of experience in the field, Jab is now a qualified practitioner in clinical hypnotherapy who will have your treatment plan individually tailored to you.
2. STRESS.SG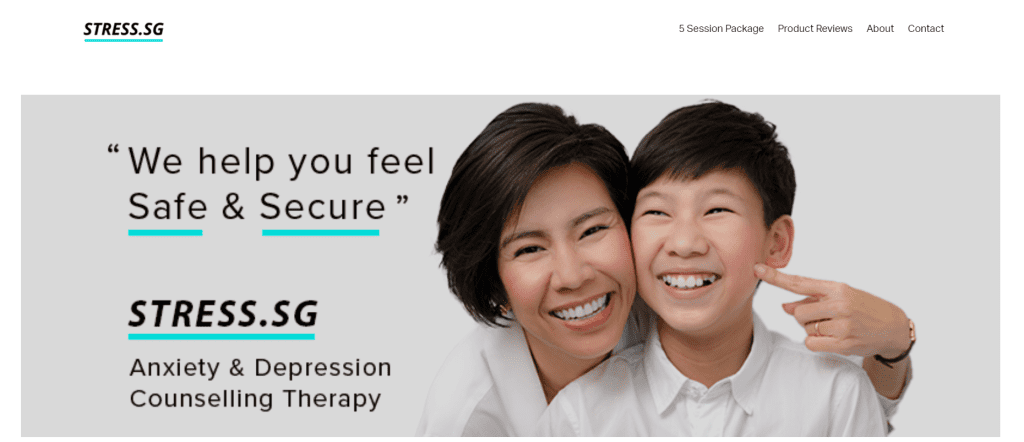 Highly praised and recommended by previous clients who have benefited from the clinic's 5-Session package, Hypnosis Professional offers those who suffer from depression and anxiety a structured and personalized Counseling and Therapy program tailored to every individual's unique situation and challenges.
Without medication, the therapy used is designed to be easy, relaxing, and practical for everyday life.
3. Maria Micha Counselling Center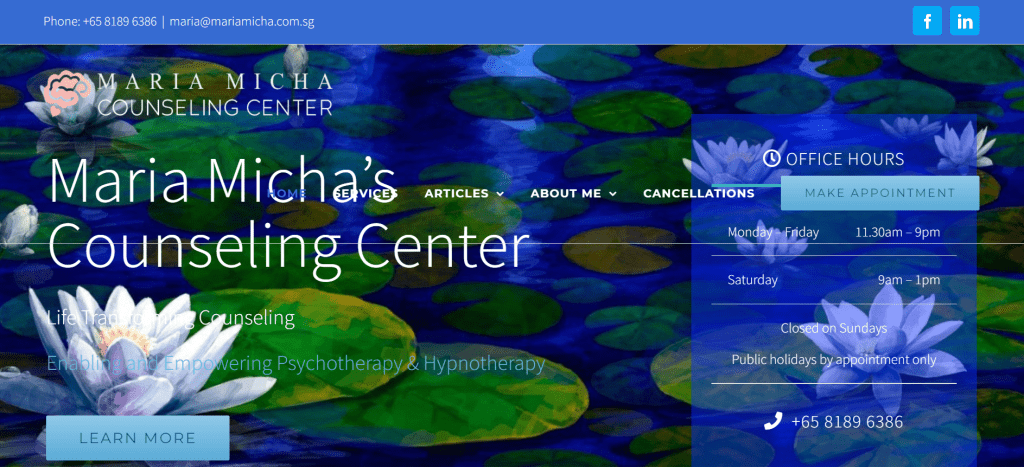 A psychotherapist and hypnotherapist who has worked in this field for over two decades, Maria Micha dedicates herself to helping individuals living with mental and emotional challenges overcome their limitations, redefine and reconstruct their lives.
Often referred by her clients as a "life transformer", Maria Micha offers her service in many areas of expertise that include Depression, Anxiety, Bipolar Disorder, Life Transitions, OCD, Smoking cessation, Stress Management, etc.
4. Collaborative Change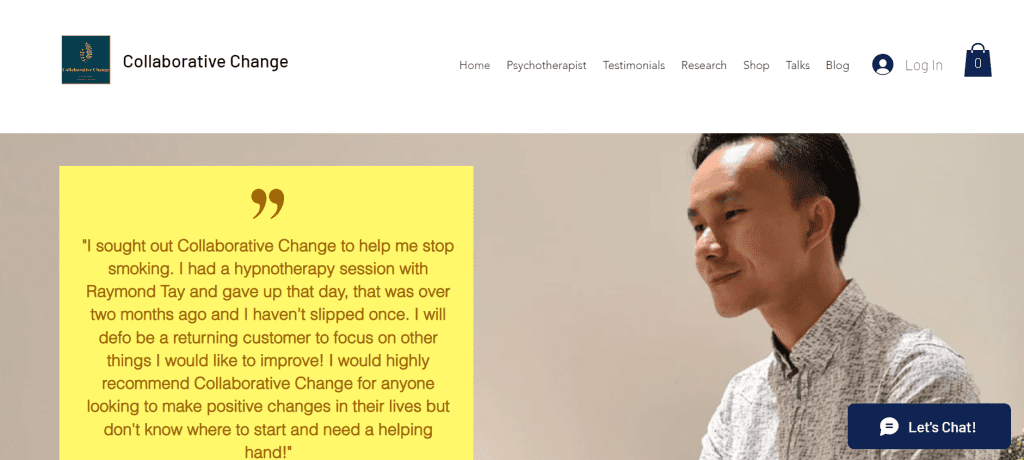 Having experienced being a caregiver to his loved one who has a mental disorder, Raymond Tay understands the emotional roller coaster and struggles that one has to go through and feels empowered to help them.
Previously a facilitator in human capital development from youths to professionals, Raymond is currently a clinical hypnotherapist who has successfully guided individuals to stop smoking, adopt a healthy lifestyle, build better relationships, increase self-esteem and discipline, etc.
5. Professional Hypnotherapy and Counselling – Karita Fischer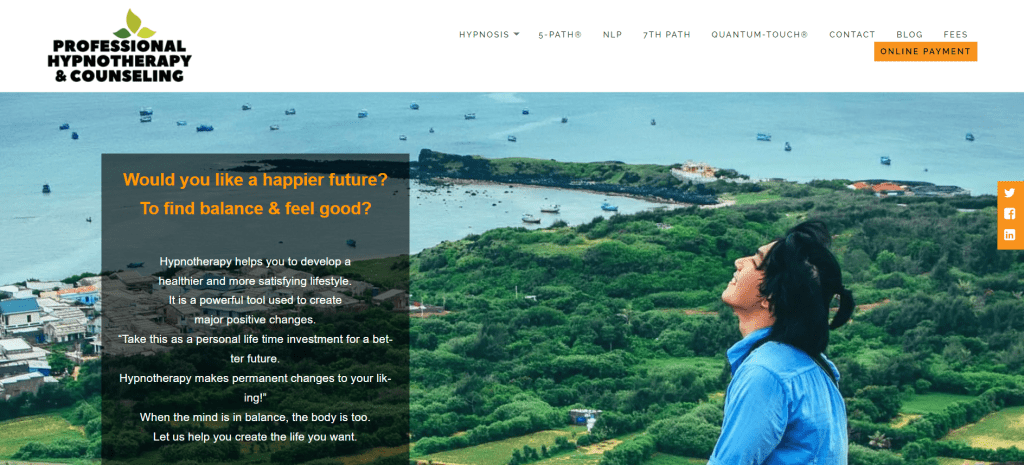 A certified hypnotherapist who holds a Master in Social Psychology and in Social Policy, Karita Fischer offers home visits exclusively for therapies with children to help children work better in their own homes in a familiar environment.
Known for offering her clients the 5-PATH® Hypnotherapy tools (Five-Phased Advanced Transformational Hypnosis™), Karita has seen reliable results for a number of issues, such as addictions, weight loss, alcohol abuse, smoking cessation, mood improvement, anxiety, insomnia, stress management, etc.
6. Lee McKing Hypnotherapy Pte Ltd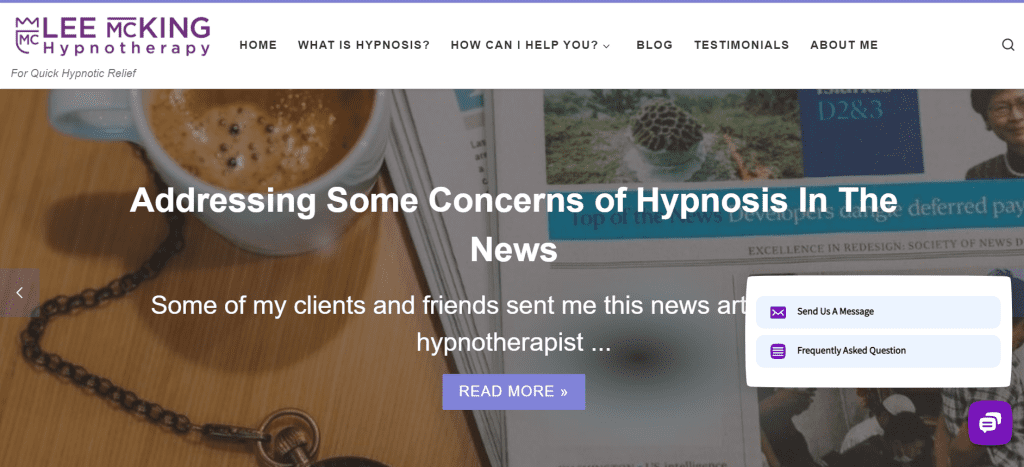 A certified Master Practitioner in Neuro-Linguistic Programming, Lee McKing uses hypnosis to tap into a client's unconscious mind to find solutions to the issues the client is having and experiencing.
Once a victim of Post Traumatic Stress Disorder due to unforeseen circumstances, depression, and anxiety, McKing decided to use his skills and expertise in hypnotherapy to help others like himself.
Since then, he has received recognition for his work and has also been invited to multiple interviews to share his story and expertise in the area.
7. Mindease Hypnotherapy Singapore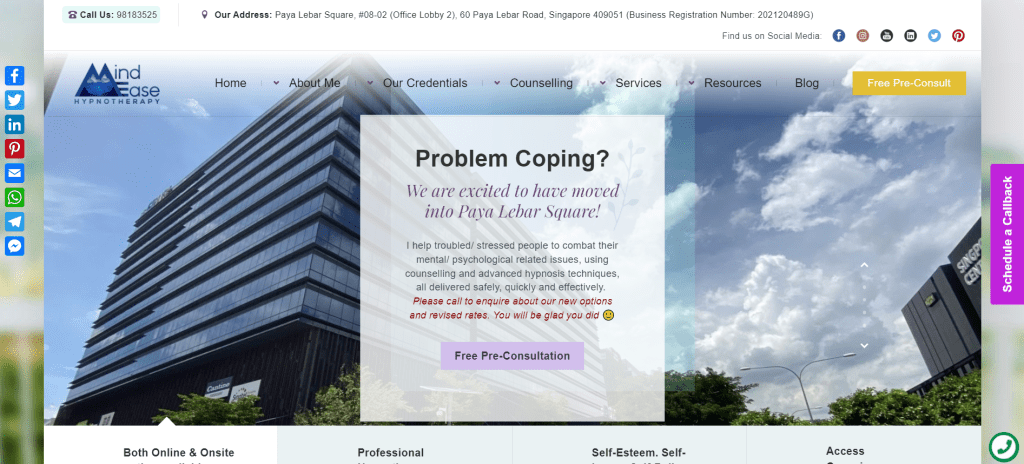 A Certified Consulting Hypnotist, Patrick Ho uses advanced Hypnosis and Energy therapy methods to empower overly stressed, anxious and/ depressed people to regain their mental, physical and emotional wellness.
Patrick uses methods like the 5-PATH® Hypnotherapy and the 7th Path Self-Hypnosis® to work directly with his client's subconscious mind to achieve positive results in as few as 2 sessions so that they can be joyful and enjoy their life again.
8. The Pathlight Centre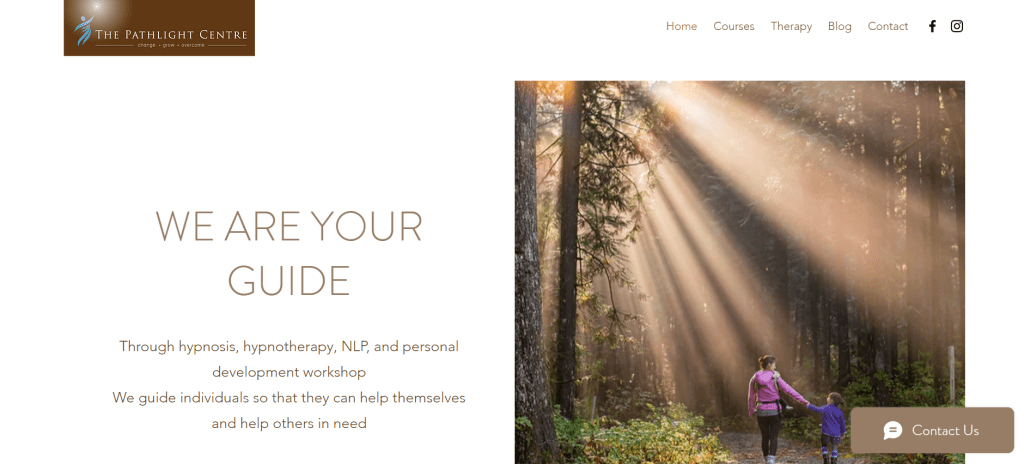 Singapore's most trusted and recognized hypnosis, hypnotherapy & NLP training centre, The Pathlight Centre offers the highest standard of training and services through hypnosis, hypnotherapy, NLP, and personal development workshop.
Their services include managing relationship problems, child behaviour issue, anger management, unresolved guilt, stress management and removing fears.
9. Trans4mational Therapy Centre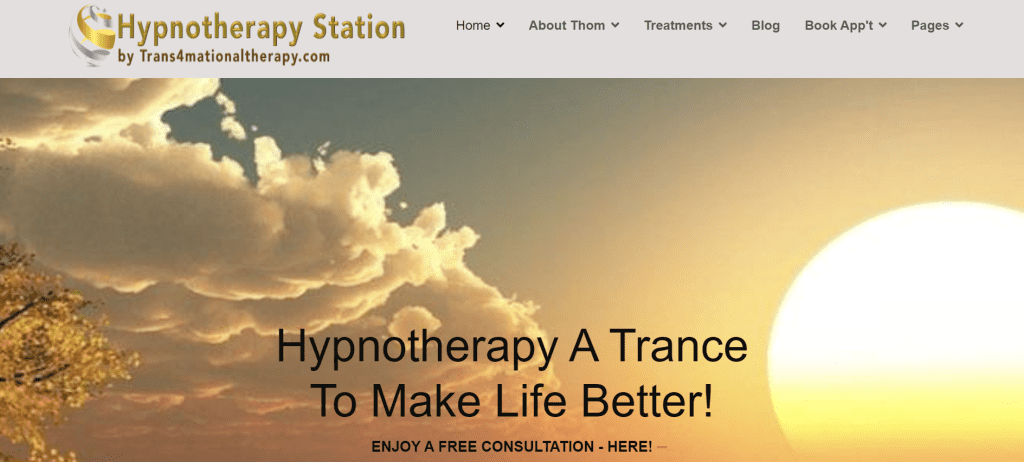 A clinical hypnotherapist who has been in private practice for 21 years, Thom Bush specialises in treating conditions such as Anxiety and Stress disorders, as well as the many forms of Depression.
Besides these conditions, Thom also treats other conditions like eating disorders, phobias and fears, pain management, etc with hypnotherapy.
Whatever the condition or problem you're facing, Thom has the experience and wisdom to put you at ease and allow you to explore the causes of your behaviour, understand these causes, make peace with them and change them for good.
10. ​The Hypnosis Clinic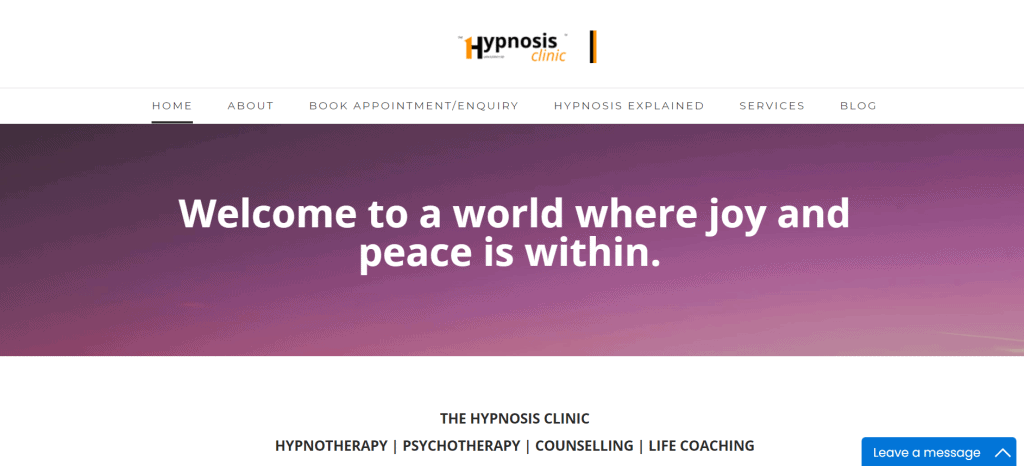 A 2013 registered entity with the Accounting and Corporate Regulatory Authority of Singapore (ACRA), The Hypnosis Clinic has helped transform the lives of hundreds of individuals to be a better version of themselves.
Headed by the Principal Clinical Hypnotherapist Aloysius Tay, the clinic provides general treatment for numerous needful issue with a specialisation in stress management and self-confidence building.
Conclusion
Do you have any reviews and comments to share regarding our choices for the best hypnotherapy in Singapore?
While SBO is committed to supporting our local businesses, we welcome any feedback and anonymous sharing regarding your experience with the listed 10 Best Hypnotherapy in Singapore.
We hope that this guide will be useful in helping you to make an informed decision when it comes to finding the best hypnotherapy in Singapore.
Explore More Content