10 Best Back Pain Specialist in Singapore to Renew Your Vitality [2023]
Suffering from backpain again? No worries, the best back pain specialist in Singapore has got your back.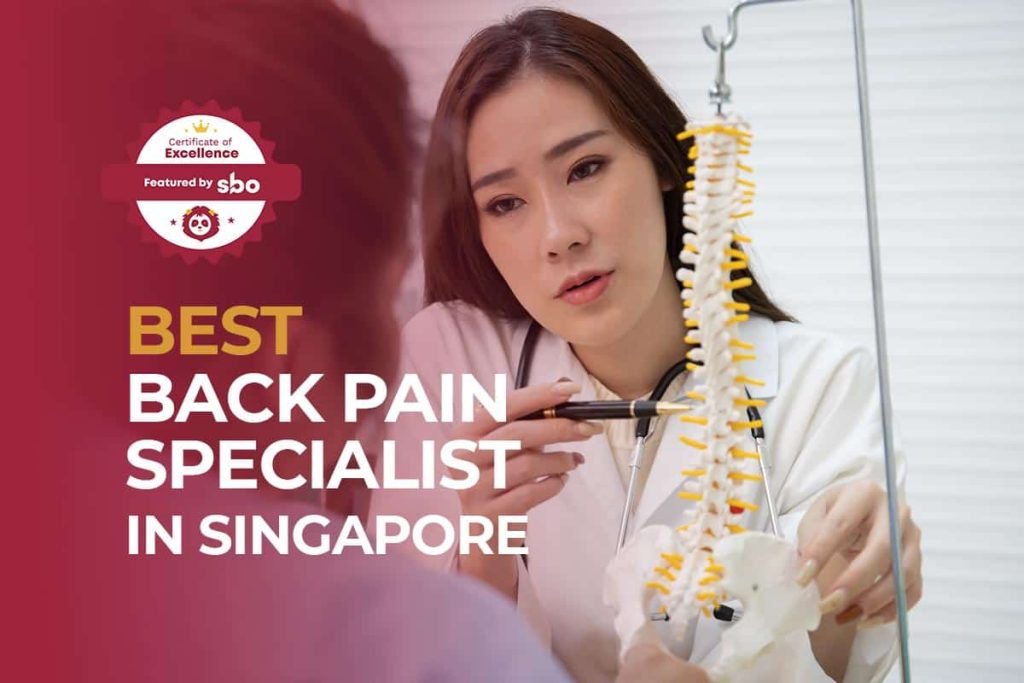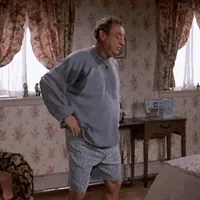 One of the most common reasons people go to the doctor, back pain is becoming more and more prominent not only for the old but also the young.
There are many reasons why one would suffer from frequent backaches. One of the most common attributes to back pain is high-intensity sports. It could also be due to your lifestyle habits such as sitting at your desk for too long or slouching resulting in poor posture.
Whatever the reasons, it is best to tackle your back pain problem before it worsens. Here's the 10 best back pain specialist in Singapore to help you relieve your backaches and renew your vitality.
1. The Pain Specialist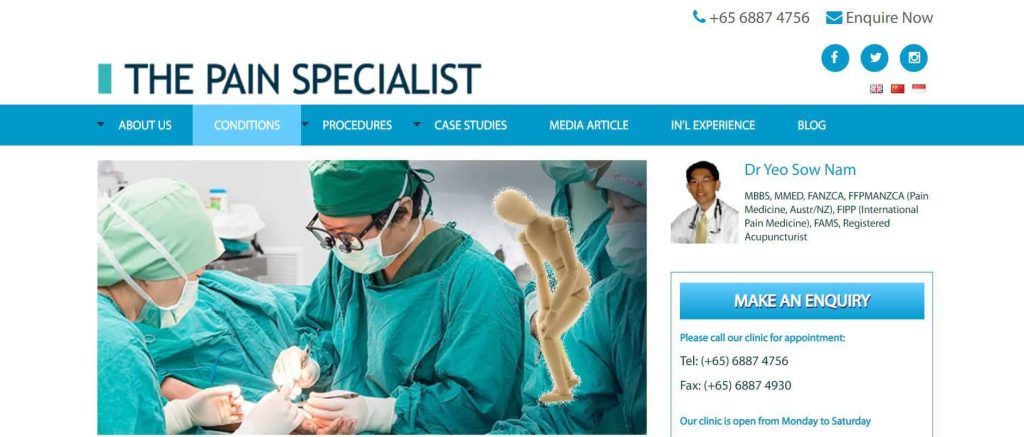 Trained in Prince of Wales Hospital, Sydney, director of The Pain Specialist Dr Yeo Sow Nam is also Past President of Pain Association of Singapore and a Ministry of Health appointed advisory member for Pain Management, Chairman of Pain Section, Chapter of Anesthesiology, Academy of Medicine, Singapore.
In addition, he is also the president for World Institute of Pain, South East Asia Chapter.
2. Singapore Paincare Center (SPCC)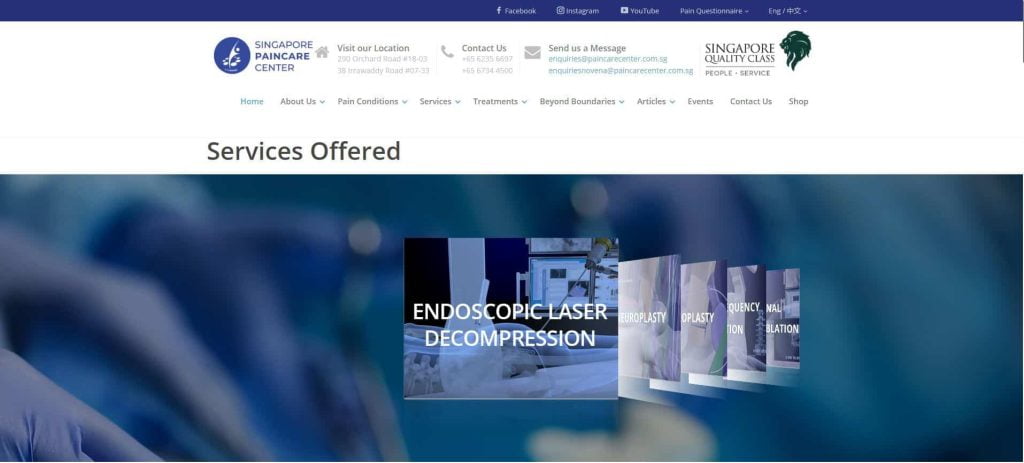 A fully-established pain management center in South-east Asia, Singapore Paincare Center has been providing an alternative to open surgery for over a decade.
Led by Dr Bernard Lee, a long-time specialist in the field of pain management and anaesthesia, the team at SPCC comprises of consultant pain specialists, physiotherapists, surgeons and pain psychologists where each one is equipped with avant-garde knowledge and skills in pain medicine and interventional pain procedures to successfully provide pain relief, and provide a holistic approach in pain resolution permanently.
3. Singapore Sports and Orthopaedic Clinic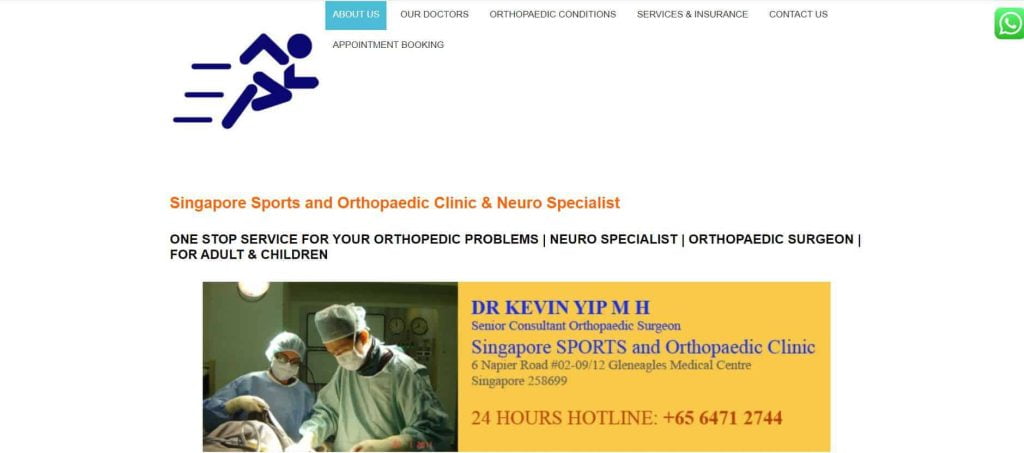 A one-stop service for your orthopaedic problems, Singapore Sports and Orthopaedic Clinic offers specialist consultation, inpatient management and outpatient treatment for patients with disorders of the musculoskeletal system.
At Singapore Sports and Orthopaedic Clinic, the doctors are Orthopaedic and Neurosurgeon Specialist in minimally invasive and bone conserving techniques; hence you can rest assured that you're in good hands.
4. Novena Pain Management Centre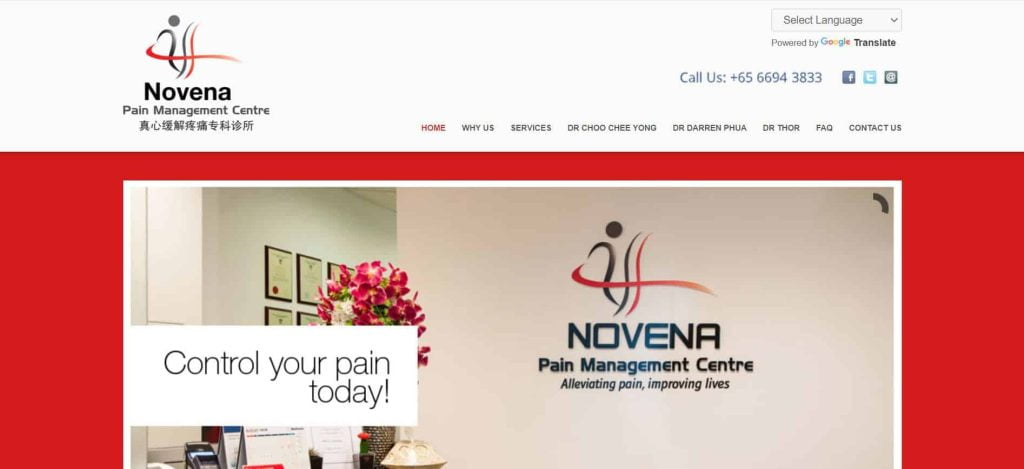 With an aim to alleviate pain, improve quality of life, reduce limitations to daily activity, improve function and avoid unnecessary surgery, Novena Pain Management Centre comprises of pain physicians who are certified specialist anaesthesiologists with years of experience and post-graduate Fellowships in pain management and interventional pain therapy.
In addition, the clinic puts in place a detailed, specific pain management plan tailored for each and every unique patient in Singapore under their care.
5. Re:chiropractic (SG Pain Solutions)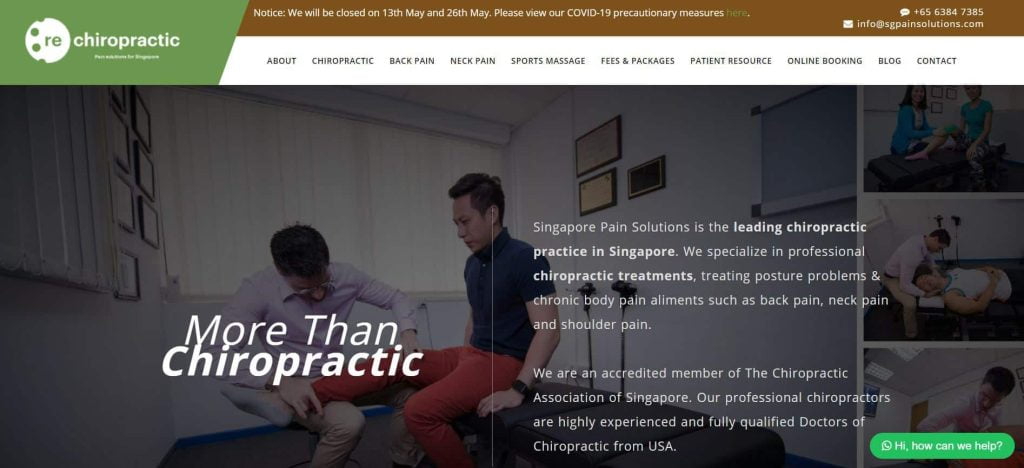 With a vision to become one of the best chiropractic providers in the Asia Pacific, Singapore Pain Solutions was established in 2015 by 2 highly experienced professional chiropractors to help patients manage their back pain problems through authentic chiropractic treatment services and specialized treatments like Spinal Decompression Therapy.
The number one choice of chiropractic service provider in Bodybuilding, Fitness and Sports Community, Singapore Pain Solutions is the only chiropractor who is recognised by National Bodybuilding Association World Fitness Federation Singapore.
6. Pain Clinic @ Wellness Philosophy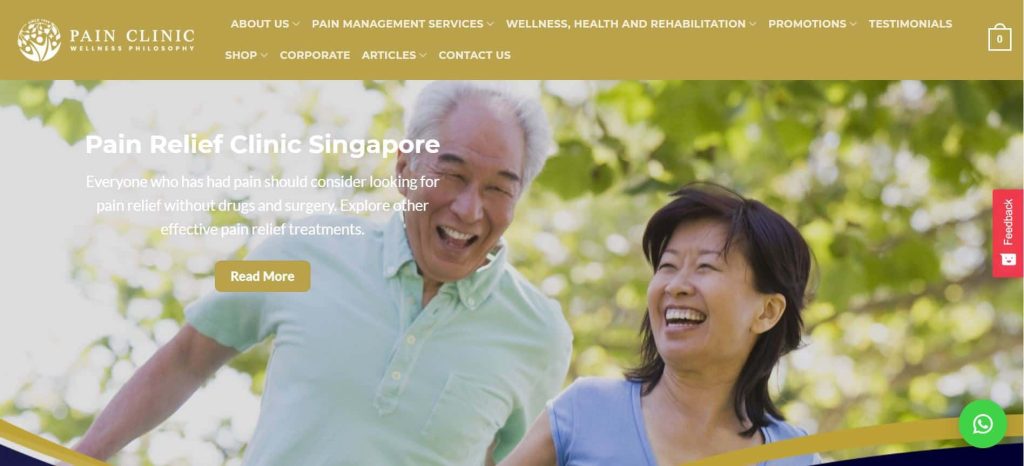 Your one-stop exercise, wellness, and pain management clinic that practices extensive and intensive therapy, Wellness Philosophy provides relief to their clients' physical pain under an optimised ideal time frame, while bearing in mind their health conditions.
At Wellness Philosophy, two decades of rich history is utilised to formulate and integrate balanced pain management programs that are drug-free and non-invasive treatment approach.
7. Precision Spine Chiropractic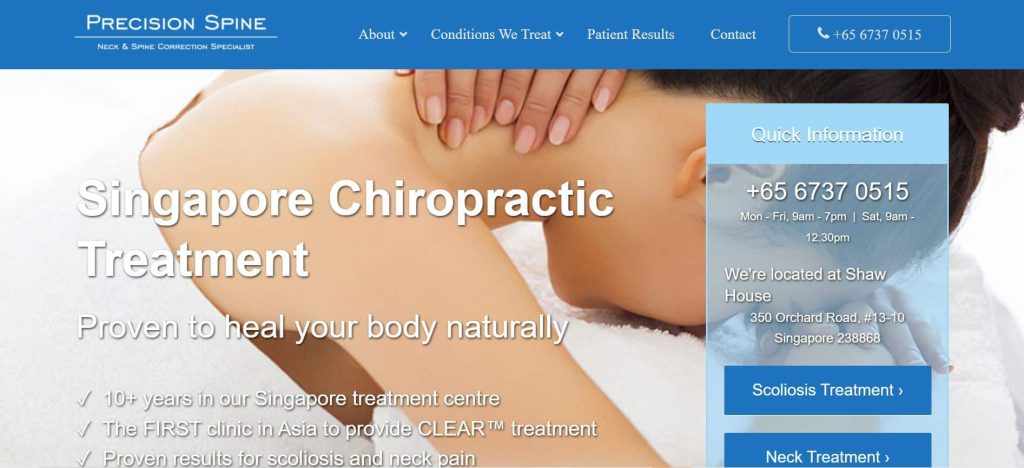 A clinic that has provided safe, effective and nonsurgical chiropractic treatments in Singapore since 2006, Precision Spine's is to provide relief to our patients while fixing the root cause of their problem.
The first Chiropractic Clinic in Asia to Provide CLEAR™ Treatment, this technology reduces your pain and disfigurement by actually correcting the curves in your body.
If you think that your back pain could be related to disfigurement of your spine then this is the place you're looking for.
8. Natural Healings Chiropractor @ Kovan Heartland Mall (NATRAHEA)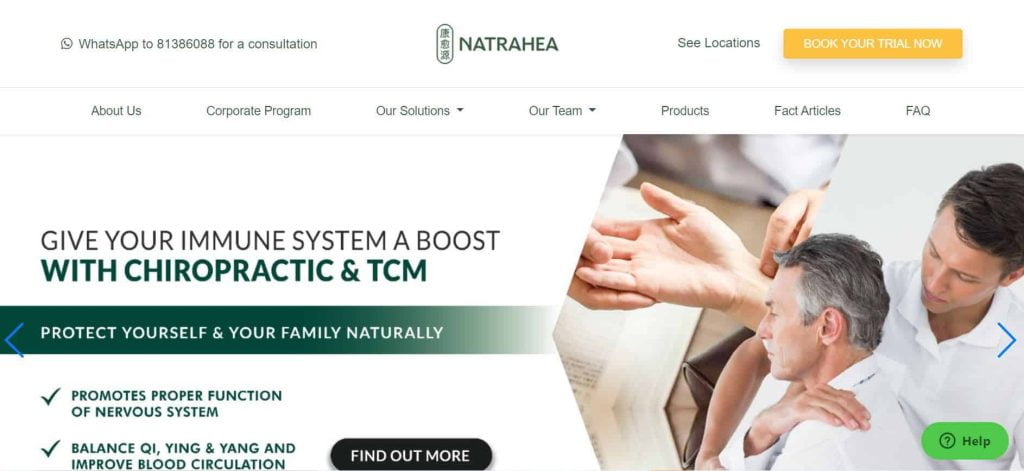 With a vision to be a global nexus for total wellness by reaching out to each and every individual with a natural, non-surgical, drugless and non-invasive approach, NATRAHEA strives to improve everyone's quality of life through the promotion of total health.
At NATRAHEA, they believe passionately that our bodies are masterfully designed to heal itself, hence they adopt perfectly safe and non-invasive treatments like Chiropractic, TCM, Functional Wellness rebalance our body's elements to make room for natural self-healing.
9. Orthopaedic and Neurology Specialist
A member of Singapore Sports and Orthopaedic Clinic, Orthopaedic and Neurology Specialist is a professional clinic that treats both Orthopaedic and Neurology issues.
Comprising of Orthopedists with a combined experience of more than 50 years and a Neurologist with over 20 years of practice, the doctors at the clinic are well experienced in treating Musculoskeletal injuries that include common problems such as frozen shoulder, trigger finger, back pain, carpal tunnel syndrome, tennis elbow, ankle and knee injuries.
10. All Well Scoliosis Centre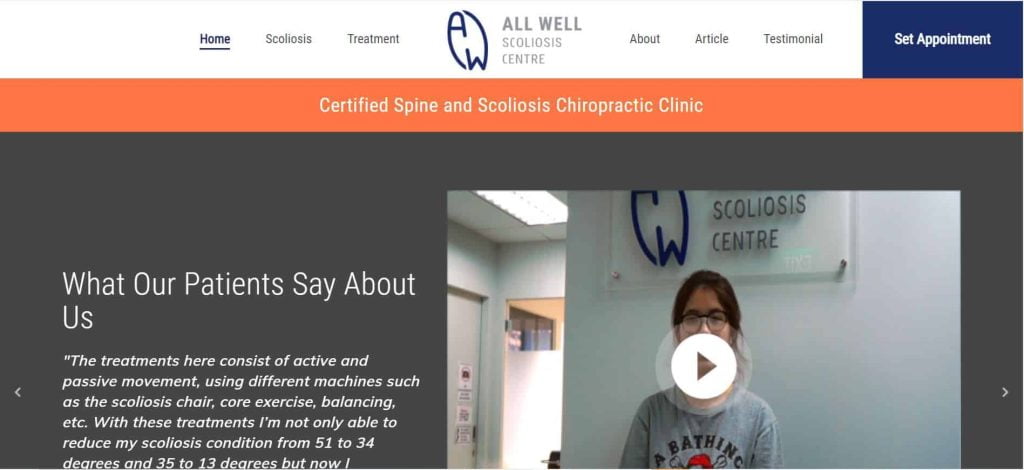 With a vision to give hope to the community and help them reach a balanced body, mind, & spirit, All Well Scoliosis Centre aims to promote specific lifelong changes to help their patients reach their health potential no matter what age they are at.
Located conveniently at Orchard Road in Singapore, the clinic offers the highest level of specialized Scoliosis care, postural care, preventive care and treatment for lower back pain, neck pain and sports injuries.
Conclusion
All in all, we hope that you find this guide useful in making an informed decision when it comes to choosing the best back pain specialists in Singapore.
Do you have any reviews and comments to share regarding our choices for the best back pain specialists in Singapore?
While SBO is committed to supporting our local businesses, we welcome any feedback and anonymous sharing regarding your experience with the listed back pain specialists.
On a side note, do feel free to check this list of Best Chiropractor In Singapore you can visit for more back pain treatments by chiropractic methods.
Explore More Content