10 Best Otoplasty in Singapore For The Best Possible Treatment [2023]
If you're looking to change the appearance or position of your ear, check out our compiled list of the 10 Best Otoplasty in Singapore!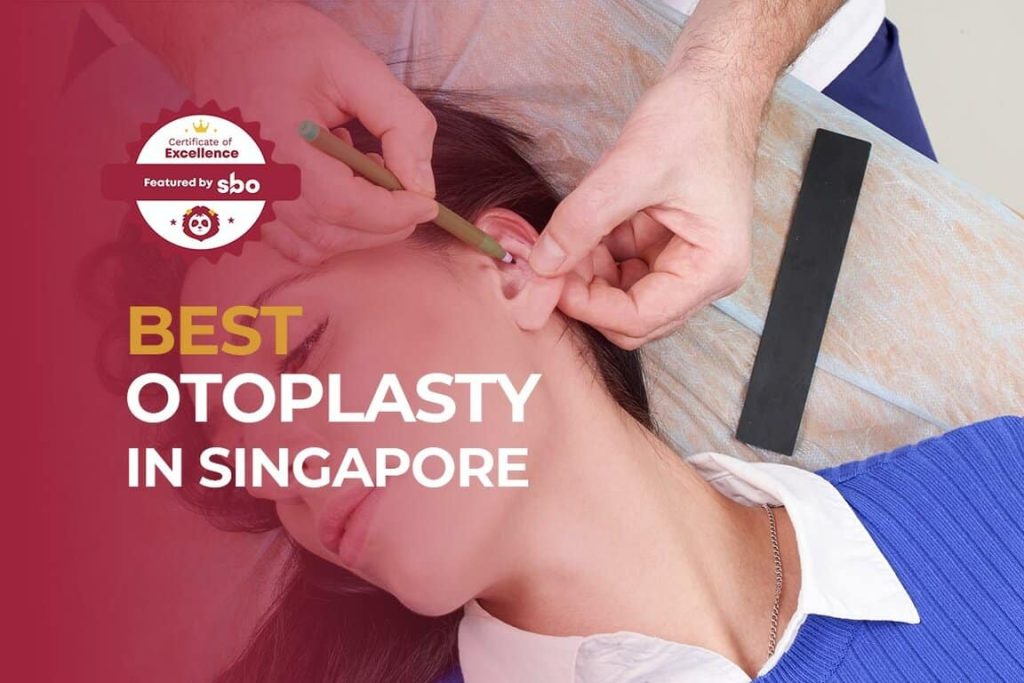 As more people get more concerned with their appearance, the trend of plastic surgery grew in popularity. Common procedures include nose surgery, liposuction, etc.
Today, we'll be touching on Otoplasty, a cosmetic ear surgery that is not widely known (at least I don't HAHA). If you're looking to change the appearance or position of your ear, check out our compiled list of the 10 Best Otoplasty in Singapore!
What is Otoplasty?
Otoplasty — also known as cosmetic ear surgery — is a procedure to change the shape, position, or size of the ears. You might choose to have otoplasty if you're bothered by how far your ears stick out from your head. You might also consider otoplasty if your ear or ears are misshapen due to an injury or birth defect.
This procedure is mainly performed for aesthetic purposes which can improve the self-image and is a minimally invasive surgery that is safe and effective.
1. Allure Plastic Surgery
Located at the penthouse floor of Wisma Atria, Allure Plastic Surgery is headed by consultant plastic surgeon Dr. Samuel Ho. This elegant day surgery center focuses on Mummy makeovers, Tummy tucks, Eyelid surgery, delicate Rhinoplasty work, and Breast surgery.
Dr. Samuel has a keen research interest and has had more than 17 publications in various leading international journals such as the Plastic & Reconstructive Surgery and Journal of Plastic Reconstructive & Aesthetic Surgery and is one of the contributing authors in leading plastic surgery textbook Grabb's Encyclopaedia of Flaps.
Other accolades to his name include receiving the Gold Medal from the College of Surgeons in 2014 and being awarded the MOH Health and Manpower Development Program award for Aesthetic Surgery and Craniofacial Surgery Fellowship in Seoul, South Korea.
Regardless of your gender, Dr. Samuel has the confidence to build your confidence in your appearance so head over now!
2. Colin Tham Plastic Surgery Clinic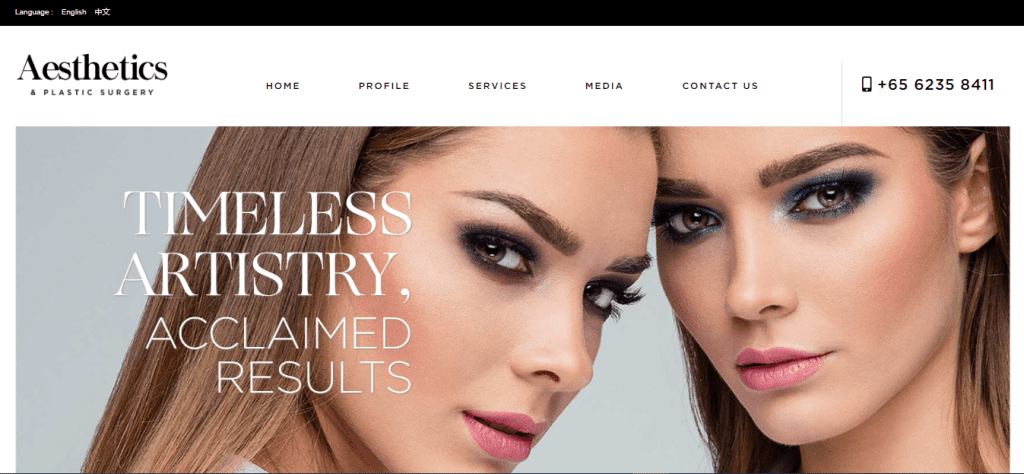 Colin Tham Plastic Surgery Clinic regards safety as the highest priority and the clinic takes every measure to ensure your safety during your time there. Their facility has an accredited day surgery center and is supported by a diverse medical team comprising an experienced plastic surgeon, anaesthetist, and dedicated nurses.
"We are all familiar with the timeless adage that "no two individuals are the same." Respected Singapore plastic surgeon Dr. Colin Tham extends this principle to each and every case: "No two individuals are the same, therefore, no single technique is suited to all cases"."
Dr. Colin Tham is a consultant plastic surgeon in private practice. He is also accredited and recognized as a specialist reconstructive and plastic surgeon by Singapore's Ministry of Health. In 1992, he obtained his Bachelor of Medicine and Surgery from the University of Aberdeen, Scotland.
Then, he proceeded to undergo Basic and Advanced Specialist Training in Plastic Surgery at Singapore General Hospital and was subsequently admitted as a Fellow of the Royal College of Surgeons (Ireland) in 1999. All these past experiences trained him to have lots of experience in providing pieces of advice to his clients.
3. Dr Leo Plastic & Reconstructive Surgery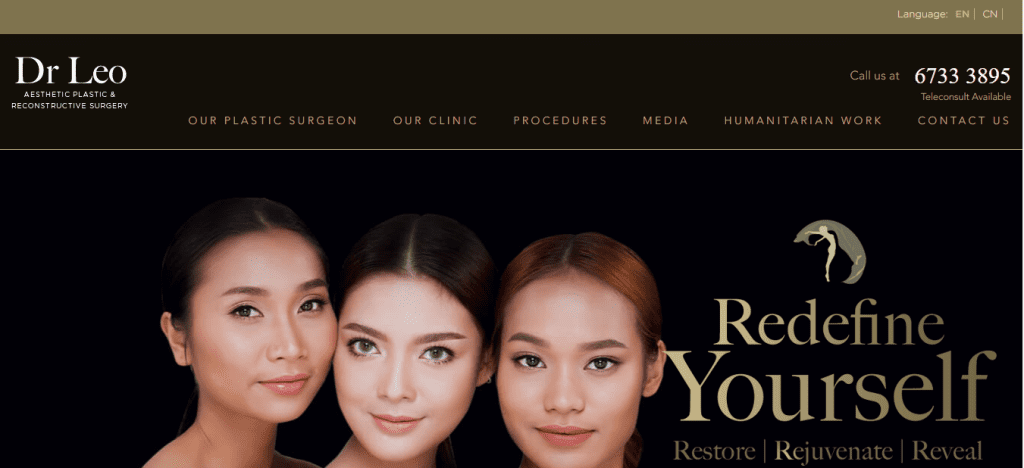 Dr Leo Plastic & Reconstructive Surgery has over 30 positive reviews and all aesthetic, plastic and reconstructive procedures are all performed by Dr Leo Kah Woon, an experienced and accredited plastic surgeon by the Singapore Ministry of Health.
Dr. Leo is an Adjunct Assistant Professor with the Duke-NUS Graduate Medical School and an Examiner for the Plastic Surgery Exit Examination for qualifying plastic surgeons in Singapore. He was an Examiner for the Final M.B.B.S Surgical Examination for the Yong Loo Lin School of Medicine in 2014.
With all this industry experience, he can give you suggestions with regards to the procedures and surgeries that you can consider.
4. Shens Clinic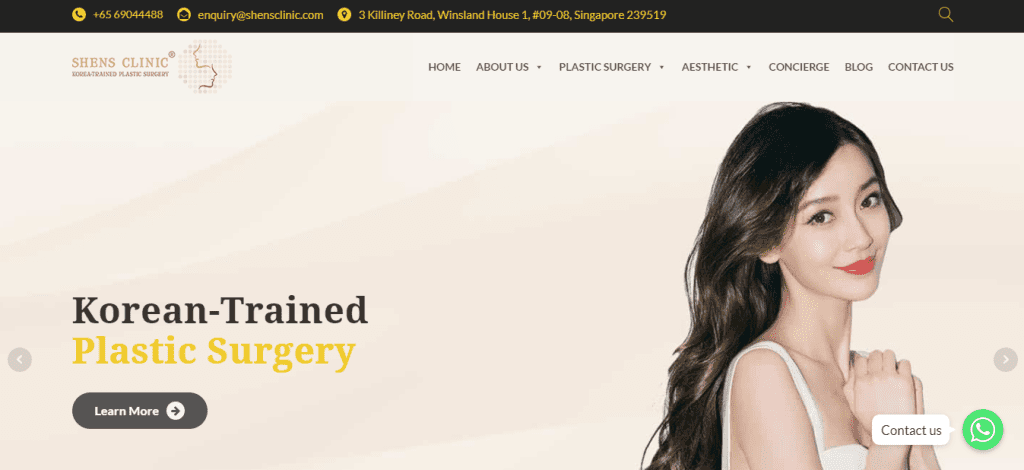 Dr. Shens leads a team of professionally trained staff that dedicates itself to enhancing nature's gift and building up confidence and images of clients. Dr. Shens is trained in Korea and has years of experience in more than a few thousand procedures.
They are renowned for high quality and standards because of their commitment to improving their services and equipment with the latest technology and innovations.
Clients will enjoy the highest standards and qualifications for a satisfied and happy result-oriented experience because Dr. Shens and his team are committed to building this clinic to be Asia's top beauty destination.
Their dedicated staff members in Shens Clinic also work together as a cohesive team in serving the patients as they take their patient's comfort and confidentially in priority.
With over 50 positive reviews, many clients credited the team for their professionalism and skillfulness in the procedures done.
5. AZATACA Plastic Surgery Centre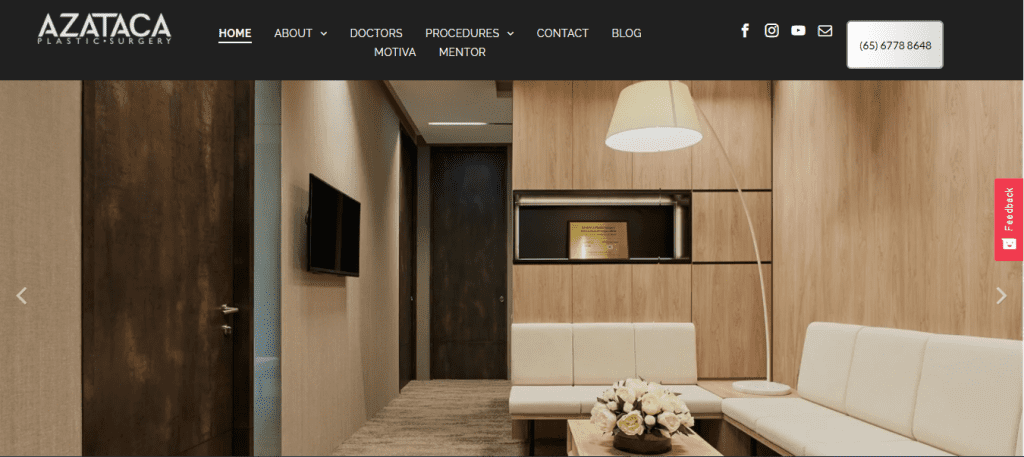 Founded in 2017, the history of AZATACA Plastic Surgery started way back in 1999, when Terence and Zul, classmates at the National University of Singapore, who were on their elective posting in Melbourne, met Chris, who was then studying at the University of Melbourne.
While initially pursuing their careers at various hospitals, their relationship was further cemented when Chris, having migrated to Singapore with his wife, joined Zul and Terence to work together at Singapore General Hospital in 2003. 
All three founding surgeons were awarded the Health Manpower Development Plan (HMDP) fellowship by the Ministry of Health (MOH). Zul chose to train in Brussels, focusing on microsurgical breast reconstruction, Chris learnt about the latest techniques in facial trauma and rhinoplasty in Germany, and Terence elected to further his skills on blepharoplasty, rhinoplasty, and lower limb reconstruction in South Korea.
With three well-trained and experienced surgeons working in unity with a common goal and vision, you can rest assured that you will be in excellent hands every step of your journey at AZATACA, where the team is always there for you.
6. Sweng Plastic Aesthetic and Reconstructive Surgery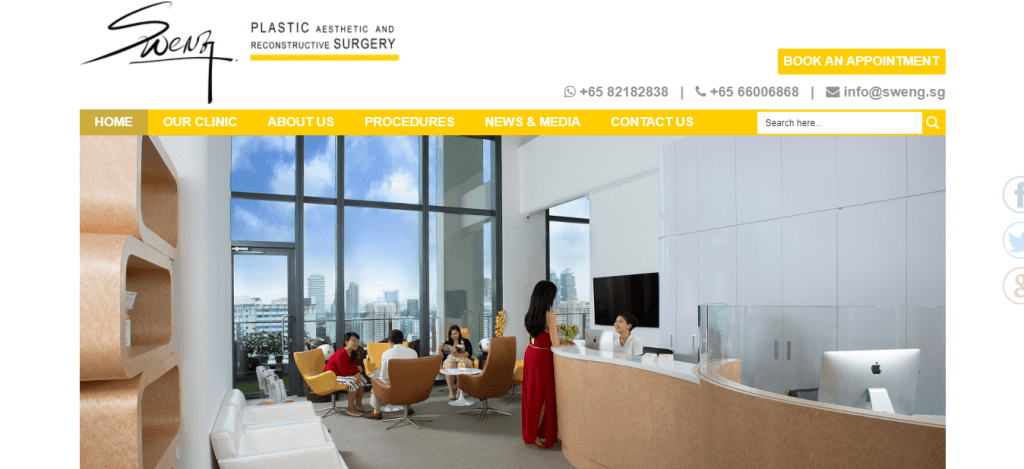 "There is no shortcut to perfection."
Sweng Plastic Aesthetic and Reconstructive Surgery is amongst the best plastic surgery clinics in Singapore offering a fully equipped, Ministry of Health accredited Ambulatory Surgical Centre as well as the state of the art health care facilities to ensure that their patients receive the best cosmetic surgery experience in Singapore, in a safe and comfortable environment.
Dr. Ng Siew Weng is a Consultant Plastic & Reconstructive Surgeon accredited by the Ministry of Health of Singapore. He was also the first surgeon from Singapore General Hospital (SGH) to have undergone one year of intensive training in the field of Plastic Surgery in South Korea under the Ministry of Health's Human Manpower Development Programme Scholarship (HMDP).
During his intense training in South Korea, Dr. Ng worked with world-renowned top Plastic Surgeons and his surgical techniques have a strong Korean influence especially in popular procedures like rhinoplasty, breast augmentation, etc.
7. Dr Marco Faria Correa Plastic Surgery Pte Ltd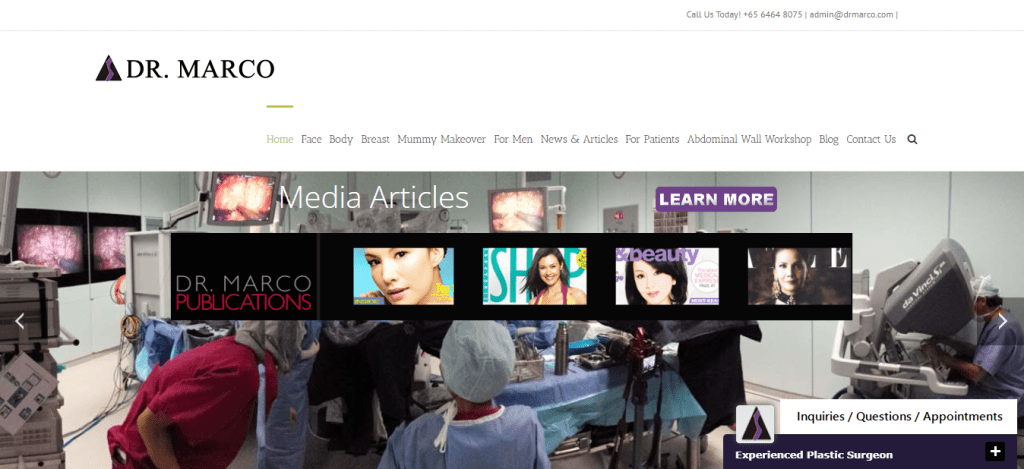 Located within the Mount Elizabeth Novena Hospital's Specialist Centre, the Mount Elizabeth Novena Hospital is the latest healthcare facility brought together by clinical expertise with new state of the art medical equipment and operational excellence to provide local and international patients with quality healthcare, greater privacy, and quick access.
Plastic Surgent, Dr. Marco first came to Singapore for the purpose of transferring knowledge and conducting workshops and surgical demonstrations in 1996. In 2000, he was invited again by the Singapore Association of Plastic Surgery to present his techniques in "Refinements in Liposculpture with a patient in Standing Position" as well as updating on "Endoscopic Plastic Surgery".
He is also frequently invited to conduct surgical demonstrations and to impart his knowledge on his special techniques.
With his expertise in this field, you can put your faith in his skills and knowledge. If you're looking into any of these procedures, arrange a consultation with him now!
8. Dr Kenneth Oo Ear Nose Throat Head and Neck Surgery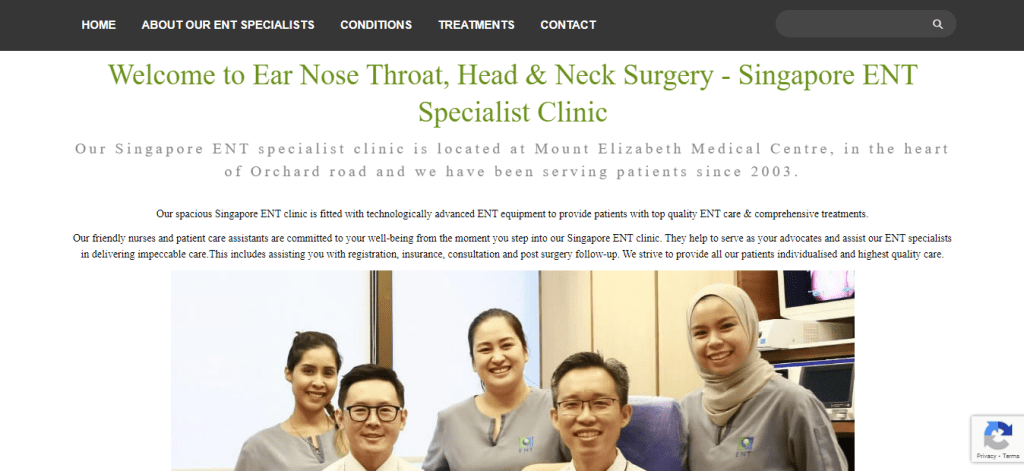 Serving patients since 2003, ENT Specialist Clinic is fitted with technologically advanced ENT equipment to provide patients with top-quality ENT care and comprehensive treatments. ENT doctors are specialised in diagnosing and treating a wide range of ear nose throat (ENT), head and neck conditions like sinusitis, allergic rhinitis (nose allergy), hearing loss, vertigo, hoarseness, head and neck cancer, otoplasty, tympanoplasty, pediatric ENT issues, and others.
ENT's experienced Singapore Otolaryngologists will be able to diagnose and offer personalised treatments for your specific condition.
Hence, you can expect a high level of ENT care in a spacious setting with in-house audiology, hearing aid fitting, minor surgical, endoscopy, allergy testing, and microscopy services.
9. Aesthetic & Reconstructive Centre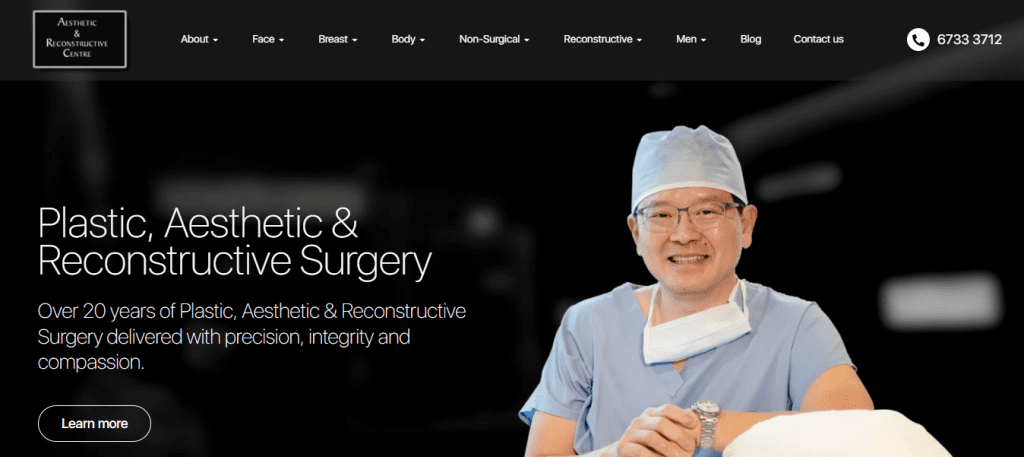 With over 20 years of Plastic, Aesthetic, and Reconstructive Surgery experience, Dr. Andrew Khoo delivers results with precision, integrity, and compassion. He runs the Aesthetic & Reconstructive Centre dedicated to providing a high standard of professional healthcare in a relaxed and private setting.
Dr. Khoo combines only safe and effective surgery techniques with modern equipment for the finest results possible. He is also competently supported by a trained and experienced medical team that is committed to offering personalized, friendly, and skilled care to all ARC patients. Besides that, Dr. Khoo actively contributes to clinical research in Singapore by continually refining the results of reconstruction and aesthetic procedures.
With this amount of passion, you can be assured in his hands!
10. Polaris Plastic Surgery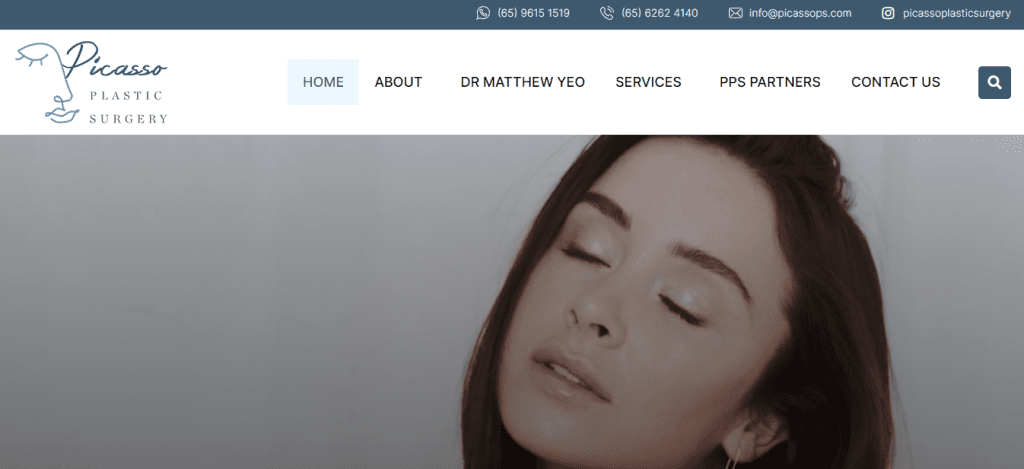 Picasso Plastic Surgery is a well-established name in the Asia- Pacific region. They are committed to delivering bespoke and exceptional outcomes by amalgamating the science and art of plastic surgery.
They offer a range of non-surgical and surgical options to meet your aesthetic and reconstructive needs, in a clinic environment optimized to deliver expedient, safe, and comfortable care whilst maintaining maximal privacy. Their healthcare professionals leverage their rich experience and rigorous training to offer tailored solutions for your individual needs.
PPS believes that good aesthetic and reconstructive outcomes arise from the appreciation of the form and function of the human anatomy, an eye for detail, cumulative clinical experience, and meticulous execution. Thus, they offer effective treatments that are based on strong medical evidence. They also hold safety in equal regard and conform to the highest safety standards and published guidelines.
Conclusion
We hope that this guide would allow you to understand Otoplasty a little more and that it would be useful to those who are considering this procedure!
SBO also compiled a list of the 10 Best Lip Fillers in Singapore for those who are looking to have thick and plump lips~
Explore More Content