7 Best Eye Doctor in Singapore to Visit For Better Eye Health [2021]
The best eye doctor in Singapore can help you to maintain a good eye health
Health & Wellness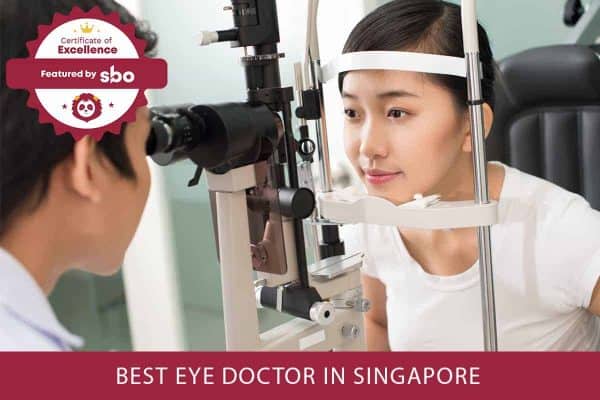 Our team at SBO.sg is committed to being a one-stop avenue to connect local businesses and consumers. We hope that our research efforts can help you save time and money by finding you the best deals without having to search around the vast world-wide-web.
Your eyes are definitely an important part of your body. You require those pair of eyes to function in your daily routine. Hence, if you have any problems with your eyesight, why not visit an eye doctor in Singapore?
The best eye doctor in Singapore has the expertise and modernised equipments to give you the treatment you need to keep your vision in the best state.
In this post, we've gathered all the necessary details including unravelling reviews and testimonials to derive a list of the 7 best eye doctors in Singapore to visit for better eye health.
1. LSC Eye Clinic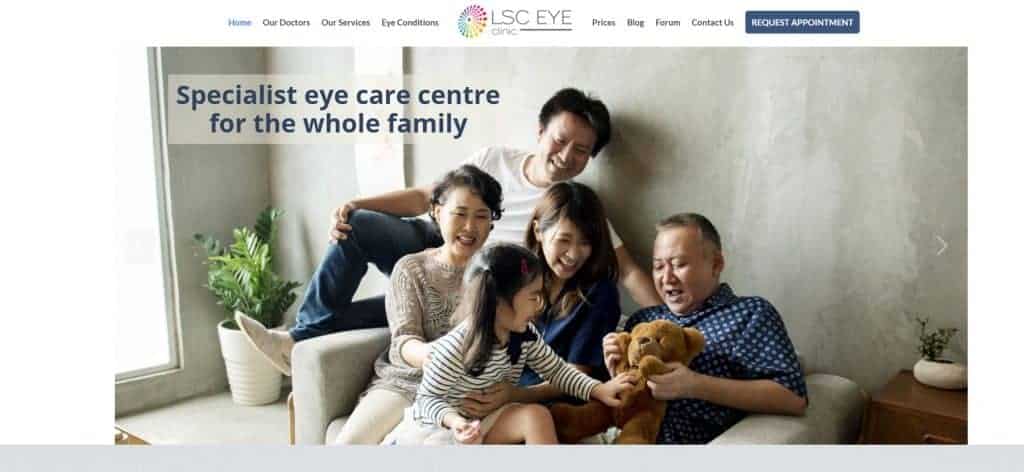 Founded over 10 years ago, LSC Eye Clinic has since helped more than 60,000 of its patients to achieve their improved vision through our refractive laser procedures.
Besides helping patients correct their vision using the LASIK treatment, LSC Eye Clinic provides treatment for various form of eye conditions such as cataract, myopia and refractive errors. The treatments provided comprise of Implantable Collamer Lenses (ICL), cataract surgery and eye screenings.
2. Dr Leo Adult & Paediatric Eye Specialist Pte Ltd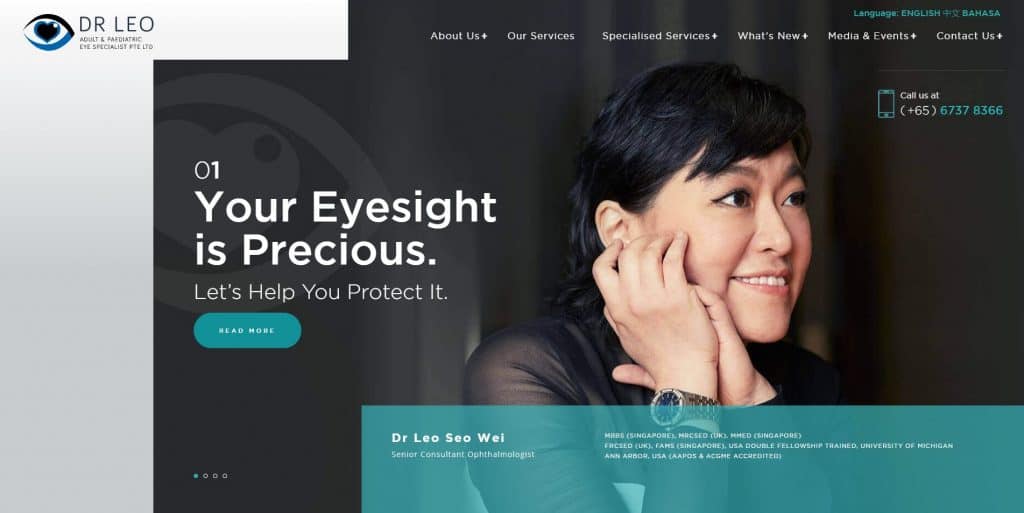 Founded by an experienced eye doctor in Singapore Dr Leo Seo Wei, Dr Leo Adult & Paediatric Eye Specialist is a one-stop eye clinic from diagnosis to treatment. They are passionate about delivering patient-centric and effective specialist eye care.
Dr Leo Adult & Paediatric Eye Specialist provides general eye care services such as eye screening, laser procedures and presbyopia correction.
The eye clinic also provides specialised services which consist of Age-Related Macular Degeneration Treatment, Bladeless Cataract Surgery, Diabetic Eye Disease Treatment, Glaucoma Treatment, Implantable Contact Lenses, Myopia Control and Strabismus Treatment.
They approach these treatments with the use of modern equipment and techniques to significantly improve patient outcomes.
3. TheEyeClinic By Dr Cheryl Lee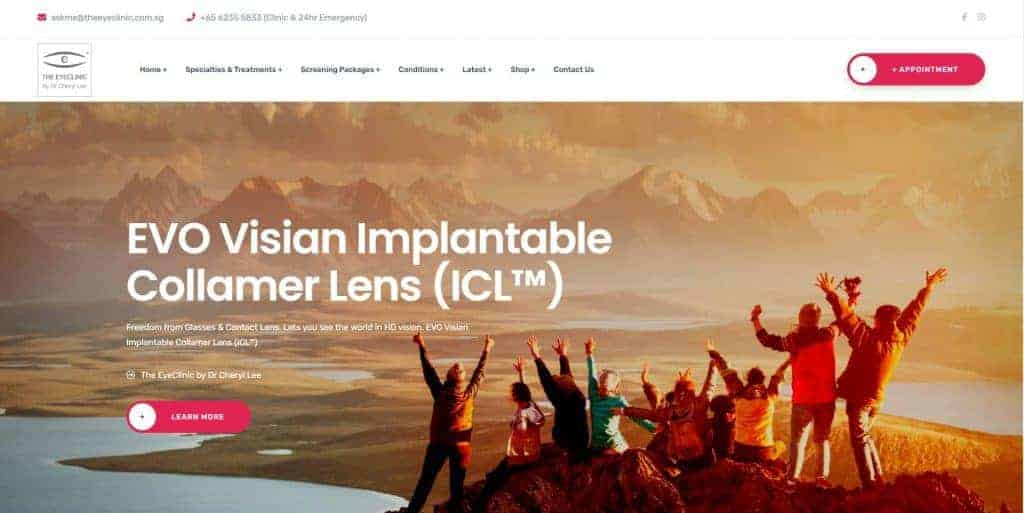 Established by an experienced eye doctor in Singapore Cheryl Lee, The EyeClinic by Dr Cheryl Lee is a boutique clinic that combines personalised service and state of the art technology.
The clinic provides specialised eye care treatments comprising of EVO Visian Implantable Collamer Lens, Childhood Myopia Control, Cataract Surgery, Dry Eye Treatments, Good Night Lens and Presbyopia. These specialised treatments have gained an international reputation over the years.
The clinical staff are trained optometrists and the administrative staff are experienced in financial counselling for Medisave and Insurance. If you intend to seek treatment at The EyeClinic, you can check your insurance eligibility with your respective insurer.
4. Eye Care Clinic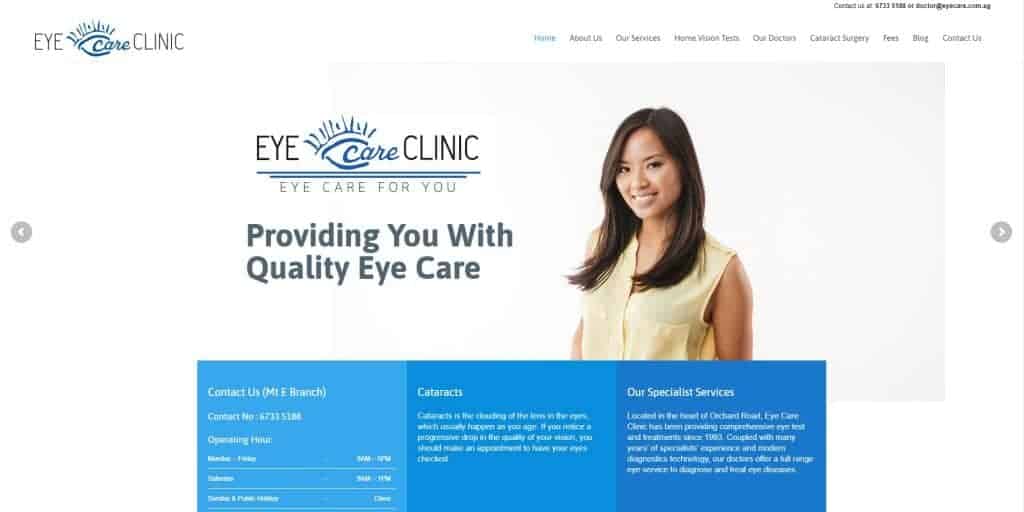 Founded in 1993 by Senior Consultant Ophthalmologist Dr Tony Ho, Eye Care Clinic is a private specialist eye clinic that provides a full-range of quality eye care treatments.
These treatments include a comprehensive full eye medical examination, Macular Degeneration treatment as well as treatments for cosmetic and medical eyelid disorders.
Eye Care Clinic specialises in Cataract Surgery, Atropine eyedrops therapy for childhood myopia control, Glaucoma screening and management, surgery for retinal detachment and retinal tears as well as diabetic eye disease management.
The clinic provides a Home Vision Test to encourage early detection and treatment of eye disorders. They are by no means a substitute for a complete eye examination by an experienced eye doctor in Singapore.
Eye Care Clinic aims to provide patients, together with the use of modern technology, a world-class treatment with precision.
5. W Eye Clinic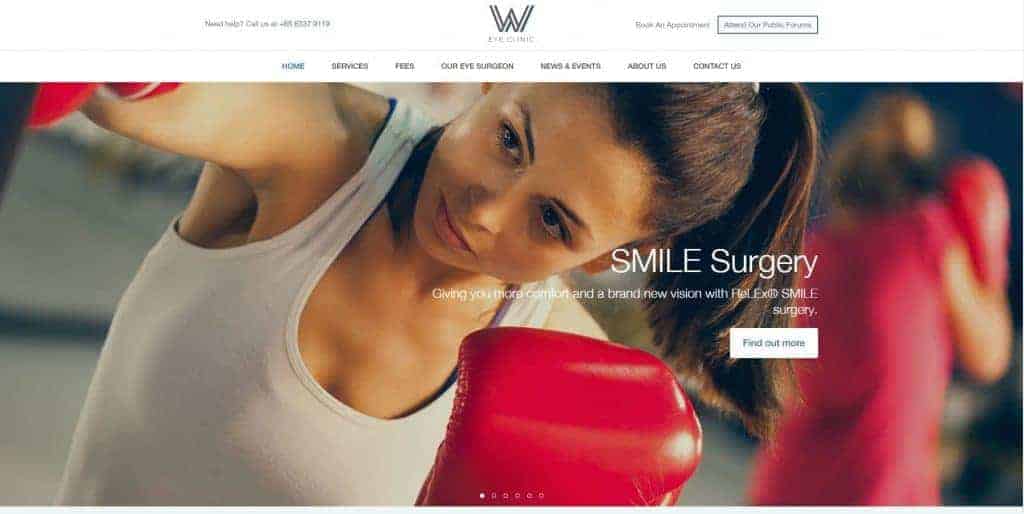 Headed by Medical Director Dr Gerald Nah, W Eye Clinic places a great emphasis on patient care beginning with thorough checks to determine the best procedure and treatment for their patient's desired lifestyle and needs.
W Eye Clinic provides eye care services of various forms. They offer LASIK surgeries, vision care screening and general ophthalmology services (Dry eyes, Conjunctivitis, Eyelid Styes and Contact lens-related issues).
6. Shinagawa Eye Centre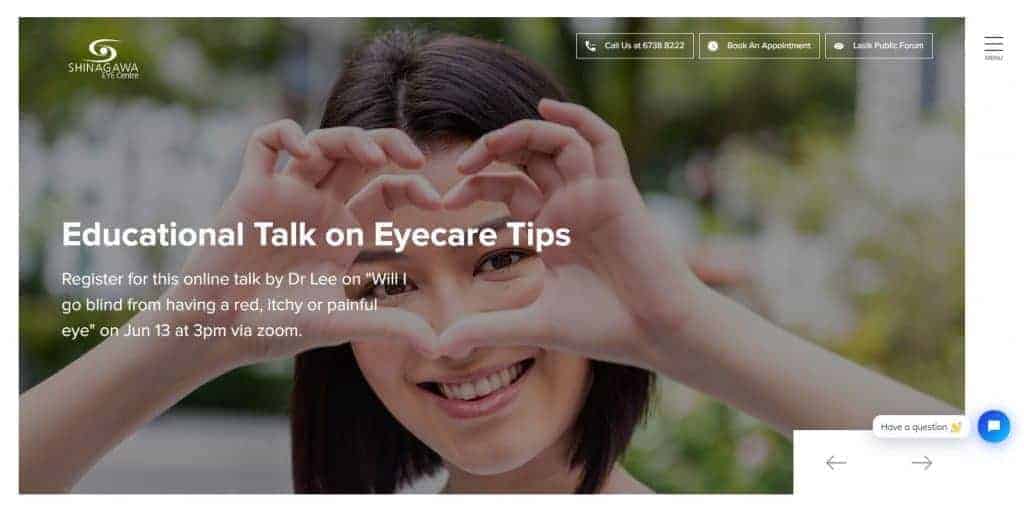 Headed by senior specialist eye doctor Lee Sao Bing, Shinagawa Eye Centre has a long history of helping people who are suffering from eye conditions. They treat patients with the highest quality care and advanced medical equipments.
The eye centre provides an entire spectrum of eye care services. Those who are well can undergo eye screening or pre-employment eye check-up. Examinations and tests are conducted so that they can diagnose many different types of eye disease, prescribing the appropriate medication and carry out surgical treatment for various eye problems.
7. Asia Pacific Eye Centre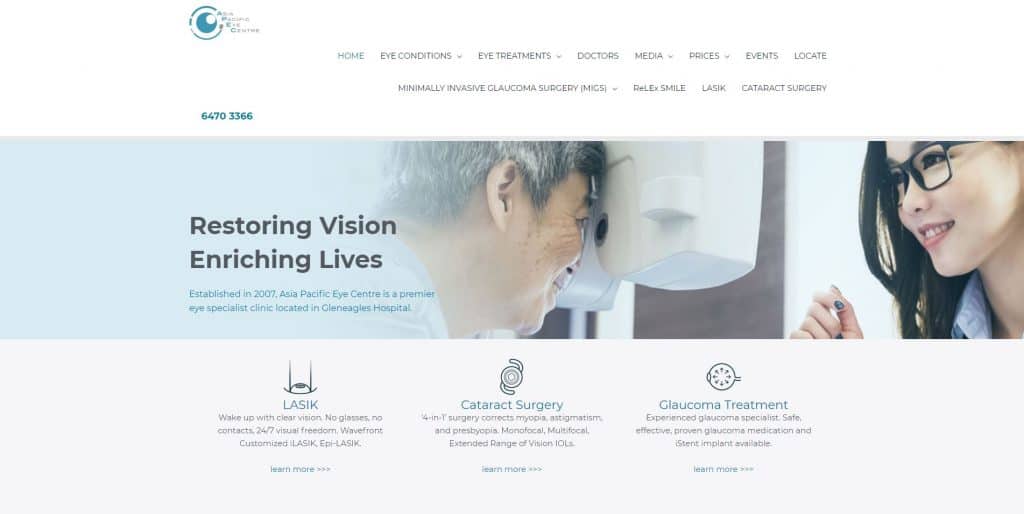 Headed by experienced eye doctors in Singapore Dr Lee Hung Ming and Dr Tan Yar Li, Asia Pacific Eye Centre (APEC) is a premier eye specialist clinic with its reputation being built around experience and trust as evident by their large pool of referral patients.
They also regularly update their medical technology according to the latest industry developments to better serve their customers.
APEC treats various eye conditions such as age-related macular degeneration, cataract, glaucoma and meibomian gland dysfunction.
Treatments carried out in the clinic comprise of LASIK, cataract surgery, Glaucoma treatment, Implantable Contact Lenses (ICL), Lipiflow and Childhood Myopia.
Conclusion
Do you have any reviews and comments to share regarding our choices for the best eye doctor in Singapore?
While SBO is committed to supporting our local businesses, we welcome any feedback and anonymous sharing regarding your experience with the listed eye doctors in Singapore.
We hope that this guide will be useful in helping you to make an informed decision when it comes to finding the best eye doctor in Singapore.
>