10 Best Custom Tailor in Singapore to Smarten Your Look [2023]
Bespoke is still in vogue today.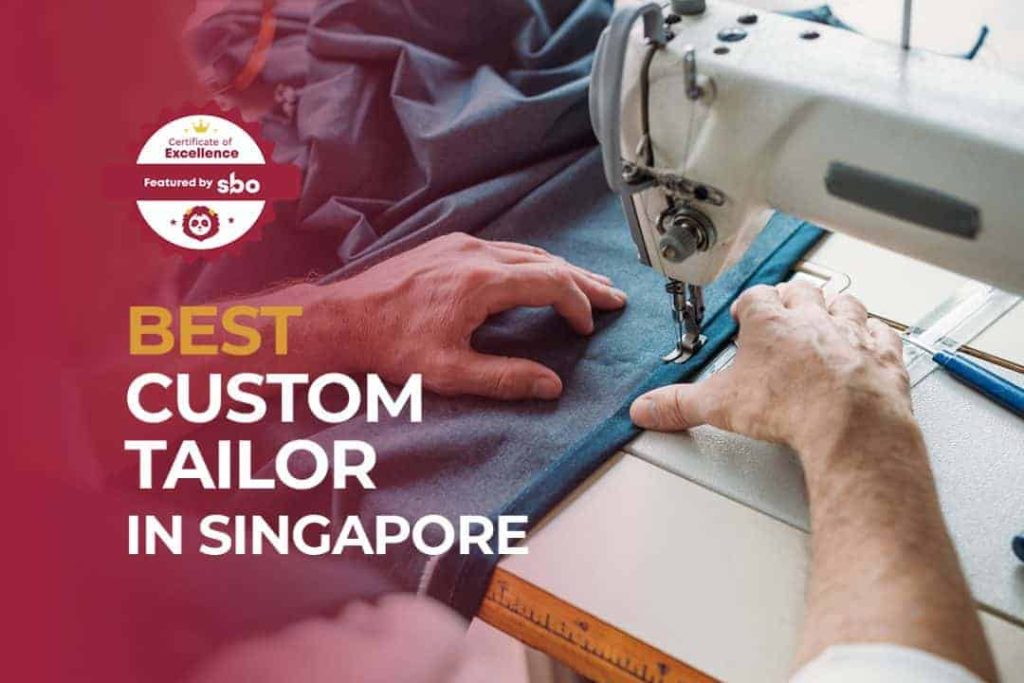 The tailoring industry has been sent into a tailspin by the COVID-19 pandemic as Singaporeans switch to working from home and ditch formal office wear.
Despite a drop in demand for bespoke clothing, however, tailors see more discerning consumers looking for quality, well-cut pieces that last.
Looking for a custom tailor in Singapore to help you to design long-lasting pieces of quality?
In this post, we've gathered all the necessary details to compile a list of the 10 best custom tailor in Singapore for you to alter your clothes.
1. Edit Suits Co.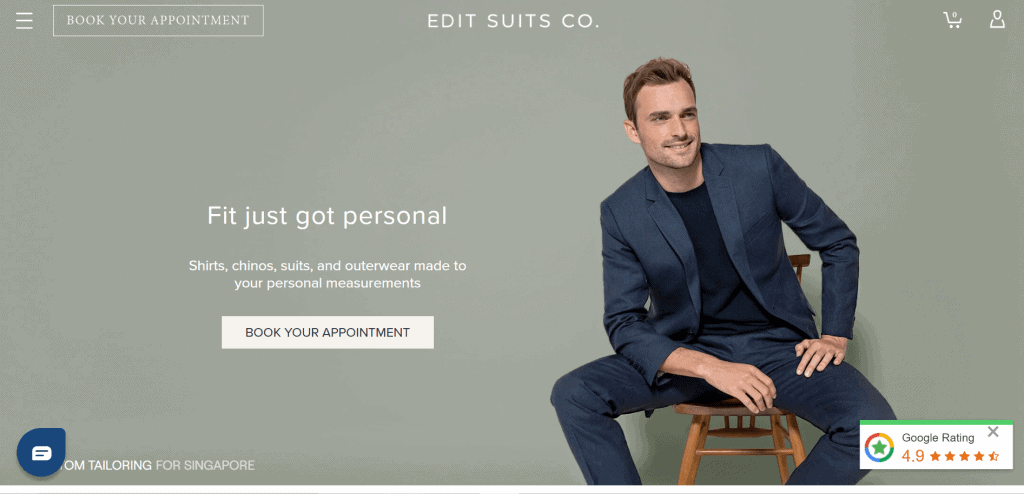 Edit Suits Co. offers the custom suiting experience without the bespoke price tag.
With thousands of fabrics and countless customisation options available, Edit Suits Co. can relieve much of the pressure of finding the perfect garment.
All their products are of premium calibre.
The custom tailor in Singapore carefully selects highly-skilled manufacturers and uses fabrics of the same calibre as the bespoke tailors on Savile Row.
In order to ensure that the designs and quality of their products meet their strict standards, they control the entire supply chain themselves; from product design to manufacturing, quality control, sales, and distribution.
For their customers, this not only leads to superior products and a great customer experience, but it also allows you to purchase products at a fraction of the price of comparable luxury brands or bespoke tailors.
2. Made Suits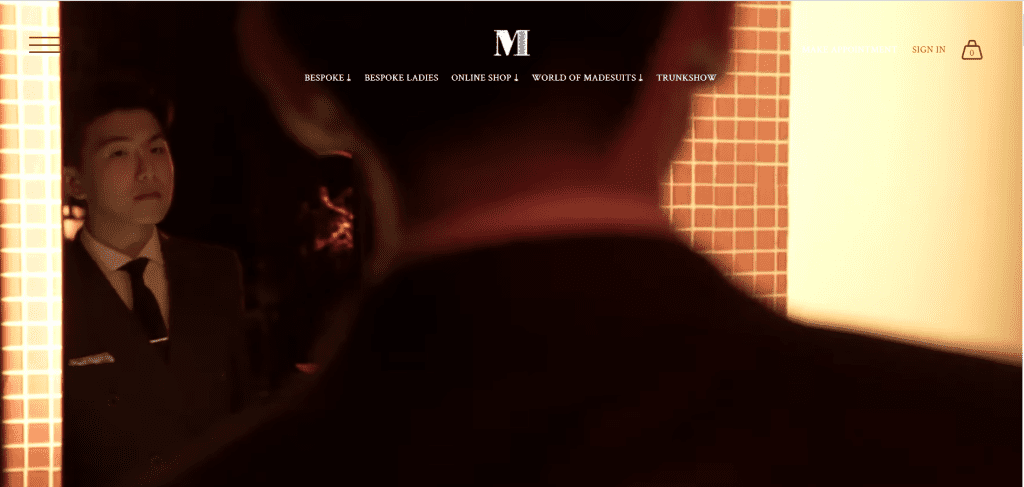 Made Suits is a contemporary custom tailor in Singapore that keeps to traditional sartorial essence with a touch of Neapolitan tailoring.
Their house style draws inspiration from Italian tailoring traditions, such as the florentine neatness and the neapolitan soft precision.
These are cut into a style that is contemporary yet classical.
The custom tailor in Singapore helps you to find the perfect tailored garment by assisting you to create your own customised suit at their showroom conveniently located in Singapore's business district.
The House boasts thousands of fabrics with detailed customisation options available.
The custom tailor in Singapore ensures quality through one-on-one private tailoring.
Their Bespoke Shirt made from House Fabric begins from S$179, while their Premium option made from Czech Republic Fabric begins from S$299.
3. SuitYourself Singapore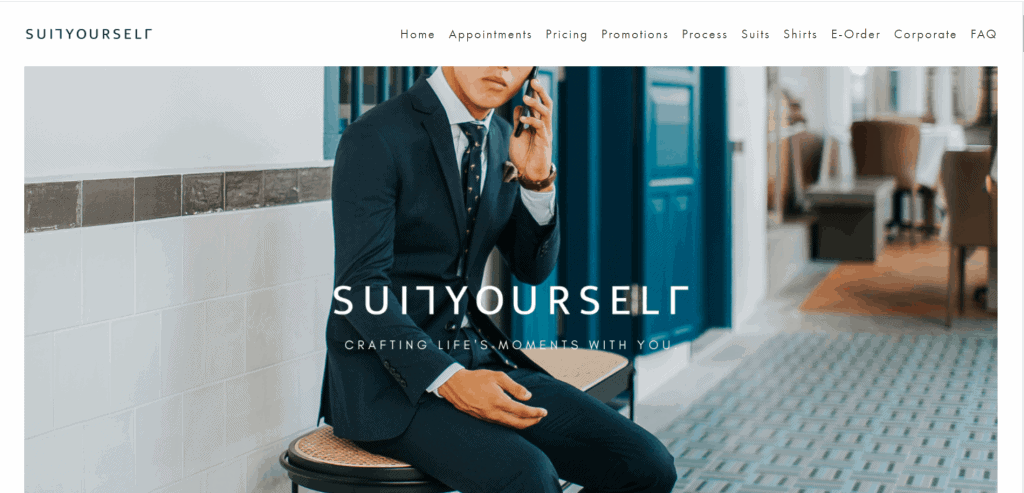 SuitYourself Singapore is a made-to-measure menswear brand and custom tailor in Singapore specialising in quality garments for both your everyday and once-in-a-lifetime moments at affordable prices.
They believe in using only the highest quality materials, with a superior look and feel.
This includes a durability that will dramatically increase the lifespan of the product.
Their materials are sourced from the best vendors from around the world and are hand selected based on the quality of the materials and the ethically sound nature of their production.
Instead of mass-produced standard sizes, the custom tailor in Singapore manufactures a unique product for every order and customer.
The suit and shirt can be slim, loose or somewhere in between depending on your preference.
Their measurement process is augmented with a three-second 3D body scan that feeds detailed posture and sizing information into their order forms so that their tailors can construct a suit that takes into account all the nuances of your body.
SuitYourself Singapore is, in fact, the only custom tailor in Singapore who has truly operationalised this technology of tomorrow!
4. Meiko Tailor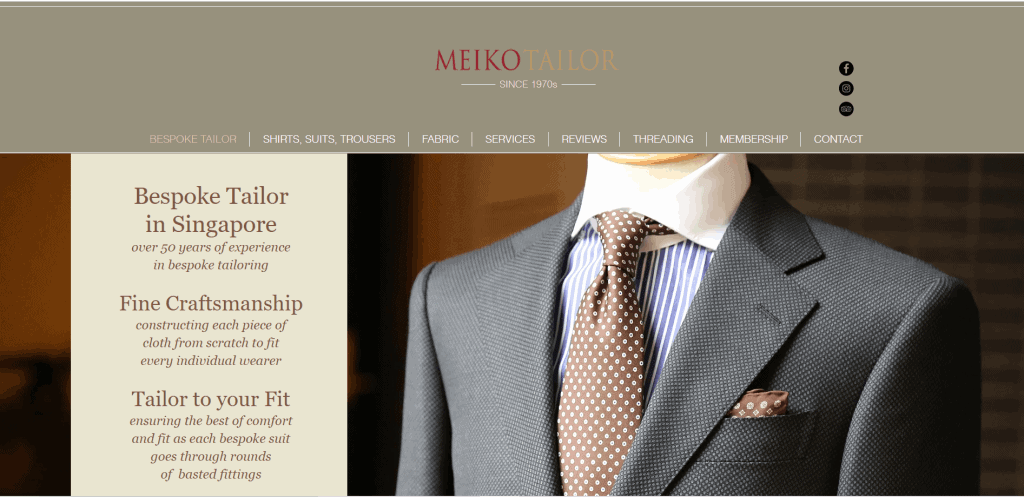 Meiko Tailor is Singapore's leading homegrown bespoke tailor with over 50 years of experience in bespoke tailoring.
Over the years, they have developed their house-style in suits-crafting, pants and shirt-making, and in particular, their bespoke suit.
Every piece of suit is the culmination of hours of handiwork from start to finish by their team of deft craftsmen under Master Tailor Chung.
The custom tailor in Singapore ensures that every piece of your customised wear is tailored to your fit and comfort.
It is not only the fitting of cloth to the body but the attention to details from the cut to the fitting; from design style selection to the choice of fabrics and buttons, they are with you throughout the whole process.
Their resident personal styling advisor, trained and certified by Academy of ImageWorks (AIM) is always happy to help you with simple styling advice and colour profiling that flatter your body so you look your absolute best.
They also provide overseas mail orders and personalised house visits within the CBD area for busy executives and/or business travelers upon appointment.
5. Mohan's Custom Tailors
Decorated with upwards of 45 years in the business, 70,000 suits sewn, 60,000 satisfied customers, and 400,000 yards of fabric used – Mohan Customs Tailors is without a doubt a major player in the custom tailor industry.
The journey all starts with the tailors getting to know the customer.
This is subsequently followed by material selection and measurements – before the cutting and fitting can start.
For the actual sewing, more than 80% is done in-house and by hand.
Typically, you can expect your suit to be ready seven days from your fitting session.
In addition to their clear processes and timelines, they are also supported by many overwhelmingly positive reviews.
Many past customers have complimented their quality service and true-to-size fitting.
The extensive history of the business no doubt plays a large role in upholding various standards and expectations.
If you are looking for something that has been tested and proven through time, you should swing by Mohan's Custom Tailors for your fit.
6. Maharaja's Custom Tailors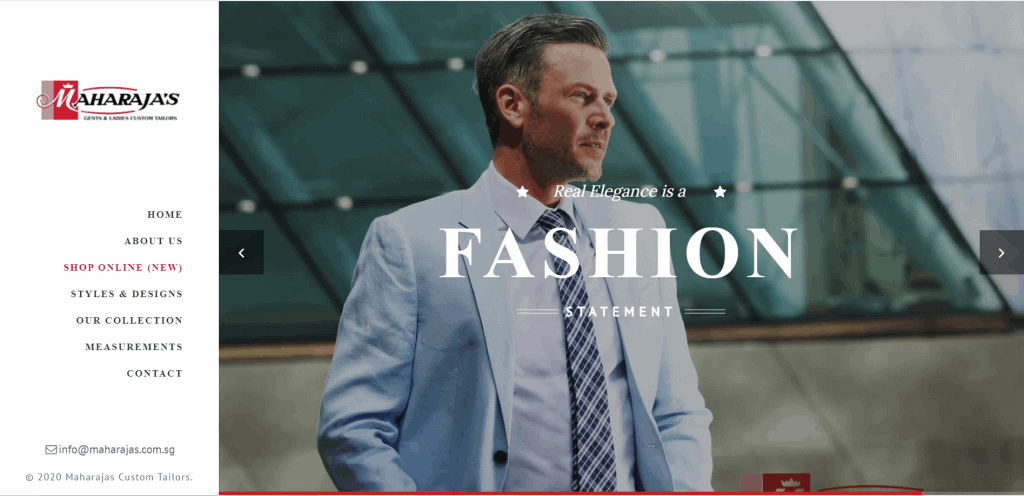 Established in 1958, Maharaja's Custom Tailors is the first few tailors in Singapore to offer custom-tailored suits and shirts.
Their experienced and knowledgeable tailors are meticulous in their workmanship and quality control.
Soon, high-quality suits and shirts became the trademark of the Maharaja's brand.
The custom tailor in Singapore carries an extensive selection of fabrics in a wide range of styles for clients to choose from.
Their collection includes fabrics such as wool, wool-cashmere, silk, cotton, Egyptian cotton, linen, corduroy, etc, from England, Italy, France, Germany and various parts of the world.
Their wide range of specialised services include exquisite and quality tailoring services for both gents and ladies, as well as value-added services such as mail order service, alteration services, delivery services and pickup services.
At Maharaja's, they place an emphasis on superior quality and workmanship.
The custom tailor in Singapore has served many foreign ambassadors and has received recommendations from the foreign embassies of France, Germany, Netherlands and Spain.
They are recommended by foreign trade travel magazines as a clothing destination.
7. Q MENSWEAR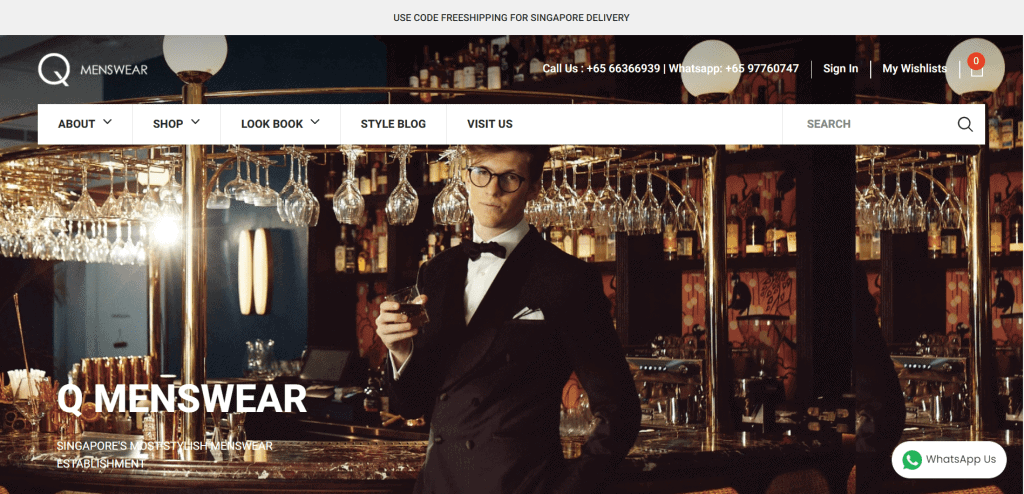 Q Menswear's story started in 2011 as a designer spoke store where they offered basic selections and limited options for customised suits and shirts.
Over the years, they have perfected their craft to bring their clients sharp and classic pieces that bode well in an ever-dynamic and trend-conscious society.
Today, Q MENSWEAR has become a sought-after custom tailor in Singapore.
All their shirts seams are joined together using the French fell seam technique, a tedious process which makes your shirt seaming more durable and comes with a cleaner finish.
Collars and cuffs are also fused with two different layers of German quality interlining using an industrial strength hydraulic heat press machine.
This ensures their collars and cuffs are structured and supple without the stiffness or 'plastic' hand feel.
Standard buttons are real Mother of Pearl buttons and are attached to the shirt using an electronic lockstitch machine.
The lockstitch machine can create locking stitches at the stem to ensure durability.
8. The Prestigious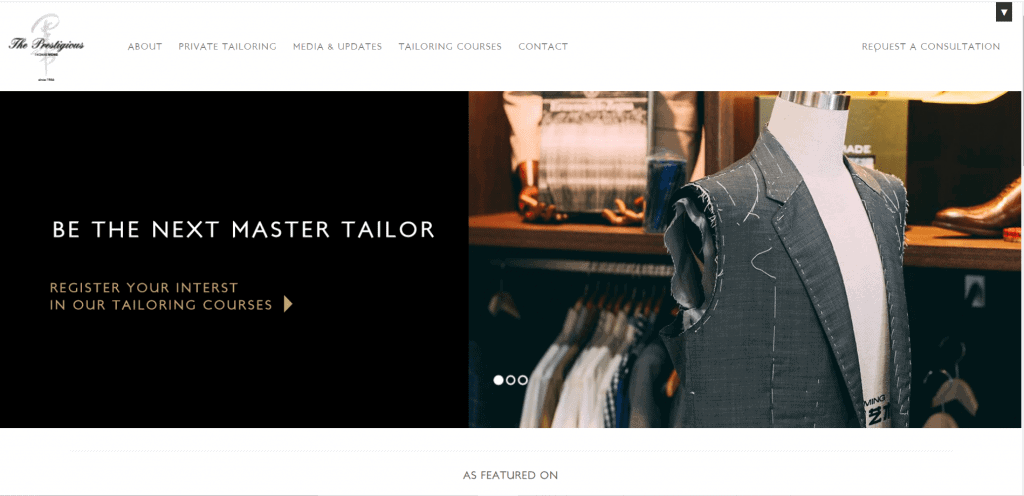 Founded by Master Tailor and former President of the Singapore Master Tailor Association, Thomas Wong, The Prestigious is dedicated to crafting bespoke clothing to extracting standards.
In a climate of outsourced manufacturing, The Prestigious keeps true to its traditions and roots, and demands that every commission be bespoke made.
The custom tailor in Singapore boasts an atelier within its retail premise and every commission is woven onsite without being outsourced or transferred offsite.
Their tailors have all undergone years of rigorous training, and are mentored and personally supervised by Master Wong.
Nothing is compromised – from the start to finish of the bespoke process, every detail is meticulously taken care of.
The Prestigious has gained significant recognition and following since its founding days.
It now counts Titled Dignitaries and Captains of Industries amongst its exclusive list of supporters.
The custom tailor in Singapore is privileged to be regularly featured in Social and Business Magazines and platforms.
9. ethan men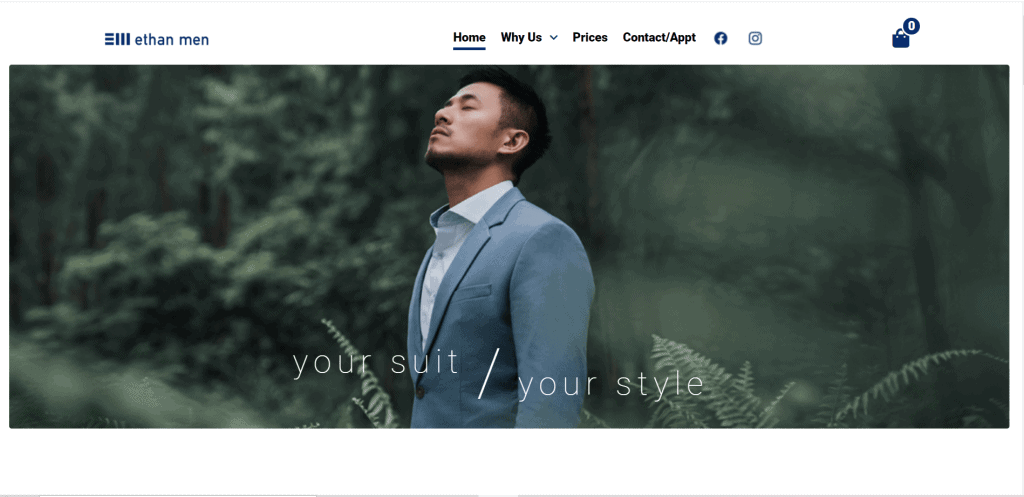 ethan men is the only custom tailor in Singapore that produces their suits in-house and sells them at low prices.
For example, their custom-made shirts begin from S$59.
They have a dedicated team of tailors, seamstress and quality control personnel working full-time to develop and maintain consistently high standards.
They buy their fabrics directly from reputable mills, at prices you cannot find anywhere else.
All their fabrics are handpicked not only to look good, but are also easy to iron.
They are also elastic and breathable to suit the hotter climate of Singapore.
ethan men is a true made-to-measure Singapore tailor.
Every suit or shirt is backed by their perfect fit guarantee.
Their master tailor reviews not only your measurements, but also details like height, weight and shoulder slopes.
Reviews praise the custom tailor in Singapore for its excellent workmanship and impeccable customer service, along with its affordable prices.
10. CYC Made to Measure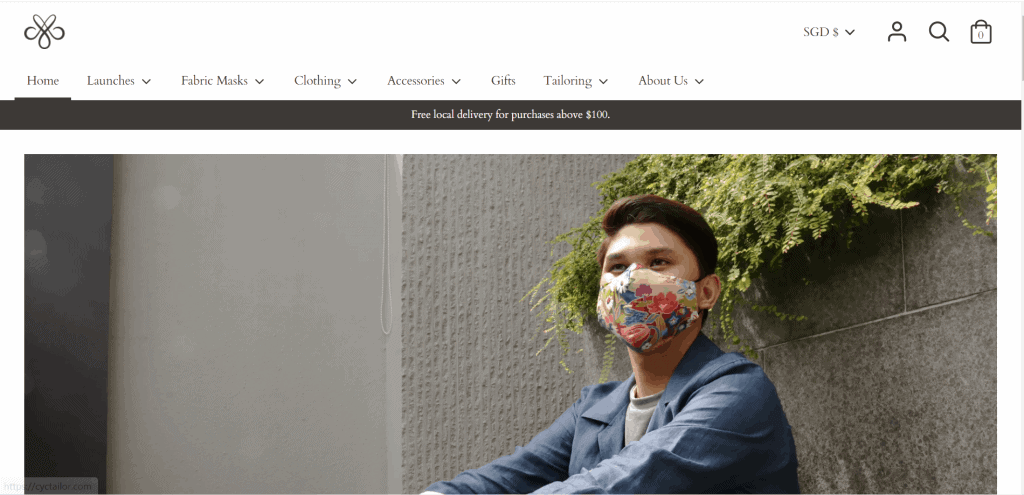 CYC Made to Measure's story began in 1935 when the custom tailor in Singapore was founded by Shanghainese tailors Mr. Chiang Yick Ching (CYC), and his wife, Mdm Foo Ah Neok.
CYC soon garnered a reputation for pioneering a combination of Western technology (Swiss-fused collars) with Eastern craftsmanship (Shanghainese tailoring) to craft garments of superior quality and cut.
Today, the custom tailor in Singapore allows you to customise your garments online.
You can browse their extensive fabric library and pick a fabric to customise your tailored shirt with online — featuring a wide range of fine fabrics from premium Egyptian cottons, pure Italian Linens, to easy-care and wrinkle-free cottons.
Their fabrics are sustainably sourced from top international fabric mills.
The custom tailor in Singapore has also launched a reusable face mask collection for you to protect yourself against COVID-19.
Their masks come with the following features:
Premium Egyptian cotton fabric
Three Sizes: Large, Small, and Kids'
Over 30 floral and solid colour designs
Designed with adjustable earloops so you can adjust it to fit
The sale of their masks helps support CYC's Corporate Social Responsibility initiatives
Conclusion
Do you have any reviews and comments to share regarding our choices for the best custom tailor in Singapore?
While SBO is committed to supporting our local businesses, we welcome any feedback and anonymous sharing regarding your experience with the listed custom tailor in Singapore.
We hope that this guide will be useful in helping you to make an informed decision when it comes to finding the best custom tailor in Singapore.
Speaking of custom-made clothing pieces, if you're looking for a bespoke suit in Singapore, we also have you covered.
Explore More Content