12 Best Bespoke Suit in Singapore to Bedazzle [2023]
'Cuz one-size-fits-all is too mainstream.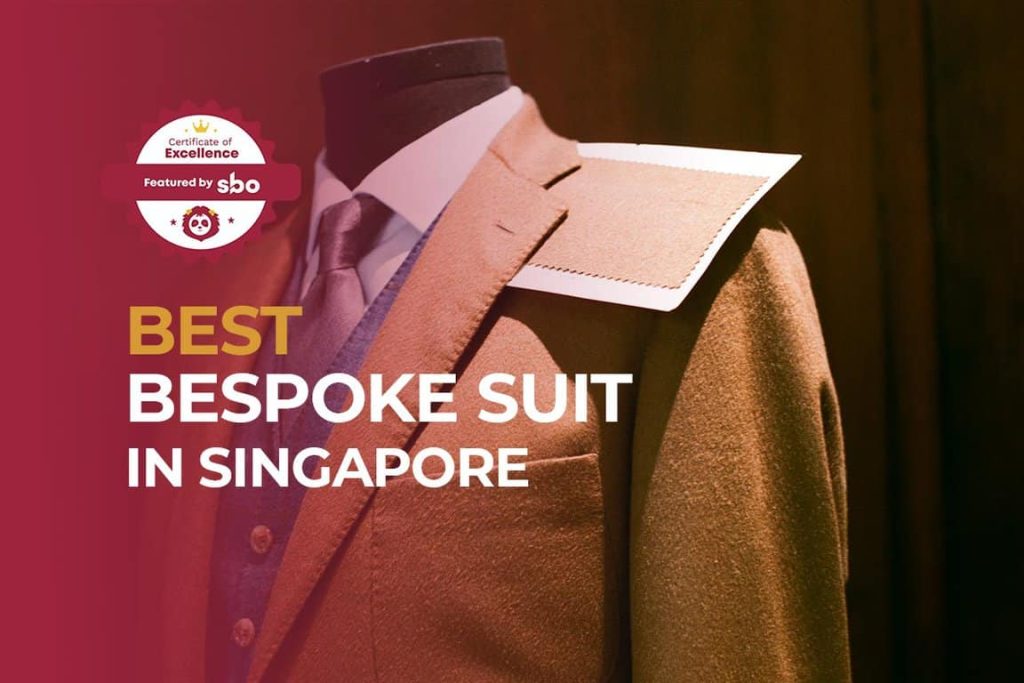 A bespoke suit is a suit made to a customer's specifications by a tailor.
The word bespoke is derived from the verb bespeak, to speak for something, in the specialised meaning of "to give order for it to be made."
Fashion terminology reserves bespoke for individually patterned and crafted men's clothing, analogous to women's haute couture, as opposed to mass-manufactured ready-to-wear (off-the-peg or off-the-rack).
The term has its origins in Savile Row, a street in London considered the "Golden Mile of tailoring".
A bespoke suit is traditionally cut from a pattern drafted from scratch for the customer.
Hence, a bespoke suit differs from a ready-to-wear suit, which is factory made in finished condition and standardised sizes, and from made-to-measure suit, which is produced to order from an adjusted block pattern.
Looking for a bespoke suit in Singapore to bedazzle?
In this post, we've gathered all the relevant details to compile a list of the 12 best bespoke suit in Singapore.
Where to Get a Bespoke Suit in Singapore for Men:
1. Edit Suits Co.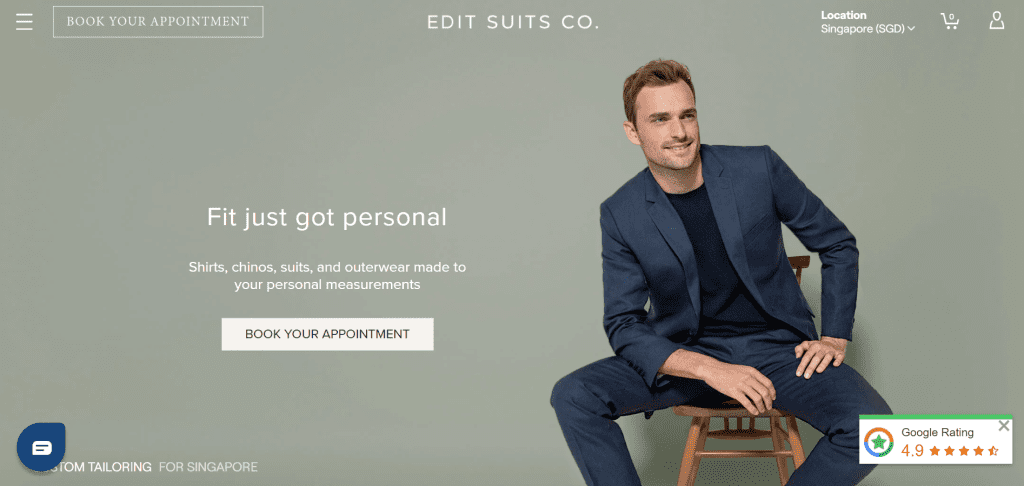 Edit Suits Co. is Singapore's leading tailored suits tailor, specialising in men's affordable suits and custom-made clothing.
As an established leader in the tailoring scene, they are able to offer countless customisation options.
According to your preferences, you can get slim-fitted suits, or regular fitted suits; fully customised to your individual specifications.
Forget about standard sizes, because all of their suits are 100% made to measure suits.
Design your suit with the help of a professional, currently located in their Singapore showroom.
There, you will be able to browse through their fabrics from brands like Holland & Sherry, Loro Piana, Ermenegildo Zegna, Scabal, Reda, Vitale Barberis Canonico, to make your bespoke suit in Singapore.
Reviews praise the bespoke suit in Singapore for being professional and knowledgeable.
They readily provide recommendations on selection based on individual's physique.
They were also meticulous with their measurements, making sure there would be minimal alterations.
2. Made Suits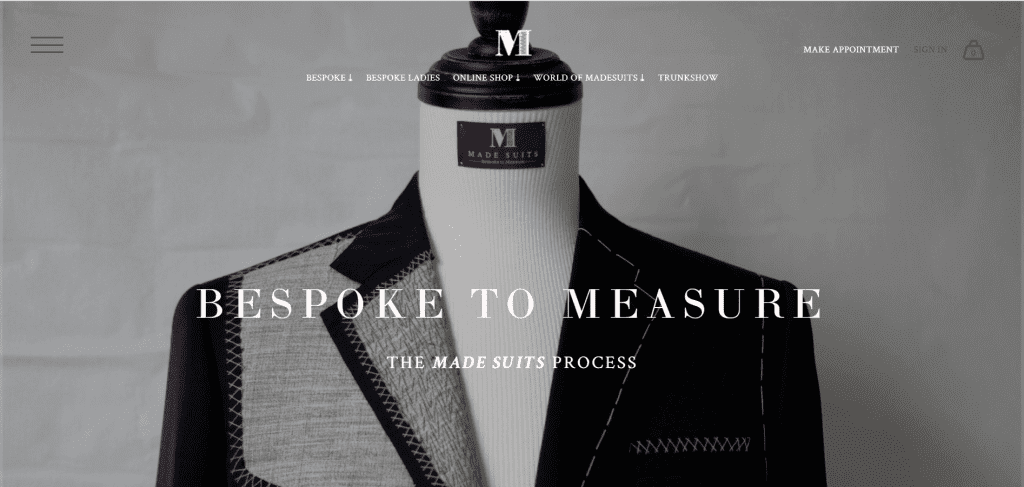 Made Suits is a high-end made-to measure menswear company with showrooms in Singapore that is revolutionizing the way men shop for clothing.
They pride themselves on tailoring bespoke suits to your exact specifications.
They understand the importance of finding the right suit to match your own distinctive style.
Whether you are looking for a classic or more contemporary look, they can provide suit designs that fit your needs.
They consider around 30 body measurements and body positions to create garments that fit your body shape, giving you a stylish and professional look.
With a wide array of choices in fabrics, linings, buttons and options, you can customise your suit to express your individuality.
Their options include features such as the style of the lapel, pockets, vents and the canvas construction – meaning that your suit will be uniquely yours.
Their tailored suits are made to measure using some of the finest fabrics from around the world.
They use only suit fabrics from the most reputable Italian and British fabric mills, such as Vitale Barberis Canonico, Cerruti1881, Dormeul, Holland And Sherry.
Reviews praise the bespoke suit in Singapore for their contentious staff, who will take the time to patiently explain each step and each detail in the process of making a bespoke suit.
They have been a great help in bolstering customers' sartorial awareness.
3. SuitYourself Singapore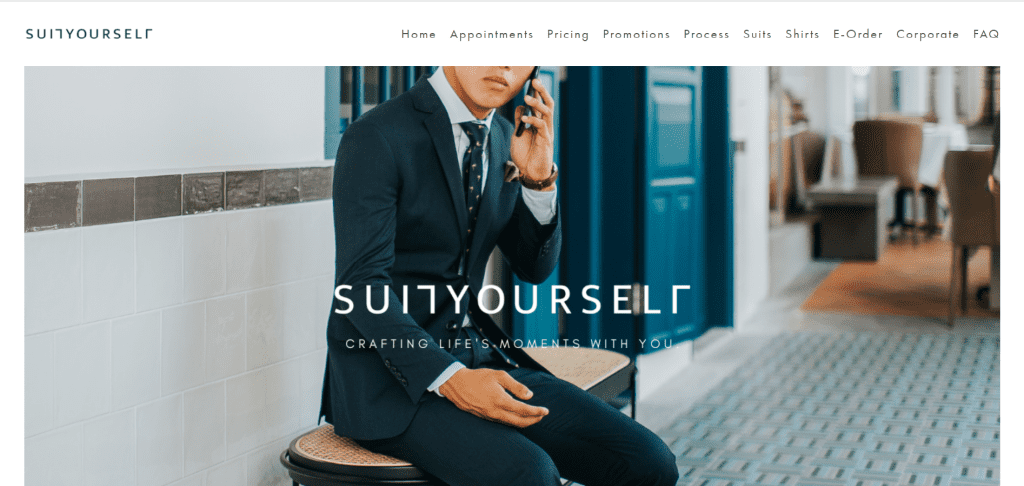 SuitYourself Singapore is a made-to-measure menswear brand specialising in quality garments for both your everyday and once-in-a-lifetime moments at affordable prices.
They believe deeply in using only the highest quality materials, with a superior look and feel, and a durability that will dramatically increase the lifespan of the product.
Their materials are sourced from the best vendors from around the world and are hand-selected based on the quality of the materials, and the ethically sound nature of their production.
Their bespoke suits in Singapore come in a wide range of colours to suit every occasion.
You will be able to have your pick from colours like Black Twill, Navy Grey, Dusty Pink and Tan Sharkskin.
Reviews praise the bespoke suit in Singapore for providing excellent advice on how to pair colours.
4. The Prestigious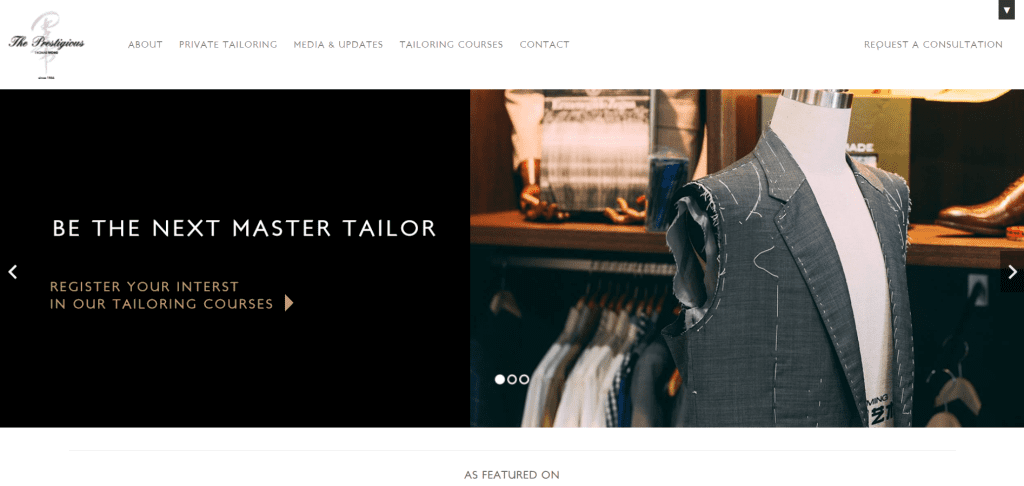 Founded by Master Tailor and former President of the Singapore Master Tailor Association, Thomas Wong, The Prestigious is dedicated to crafting bespoke clothing to extracting standards.
In an environment of outsourced manufacturing, The Prestigious keeps true to its traditions and roots, and demands that every suit be bespoke-made.
Every single process is personally carried out by their skilled tailors and is completed in-house.
The Prestigious boasts an atelier within its retail premise and every suit is crafted onsite without being outsourced or transferred offsite.
Starting with taking more than 20 measurements for a bespoke suit in Singapore, the commission undergoes several stages of drafting, fitting and revision till finally a proper fit is achieved.
Only after this, do they incorporate your desired fabric for the final bespoke suit in Singapore.
Nothing is compromised – from the start to finish of the bespoke process, every detail is meticulously taken care of by the team, who has been mentored and personally supervised by Master Wong.
Reviews praise the bespoke suit in Singapore for their impeccable customer service and the welcoming atmosphere of their store.
The bespoke suit in Singapore was also a great fit.
5. Picadilly Custom Tailors

In the 1930s, a distinguished gentleman and a fine tailor, Mr Mulchand set up Mulchand's Dressmaker and Suit Tailors in Bras Basah Road, Singapore.
Under his wing, many tailors were trained in the art of cutting and sewing.
They were also educated in the fine art of dressing the exquisite gentleman.
In 1986, Raffles Hotel Singapore acquired the shop premise that housed Mulchand's Dressmaker and Suit Tailors.
It was then that Picadilly Tailors was born.
Today, Mr Suresh Mulchand and Mr Dave Manoo are the Chief Fashion Consultants and owners of the business, which continues to go from strength to strength.
Looking for a bespoke suit in Singapore that won't make your wallet cry out loud?
Our recommendation is to go for their 100% Bespoke Tailor-Made Suit, which is priced at S$259.00.
Reviews praise the bespoke suit in Singapore for their amazing customer service.
Their staff answered customers' queries patiently and provided a professional consultation.
Suits and shirts were well made and are of superior quality.
6. Graziaa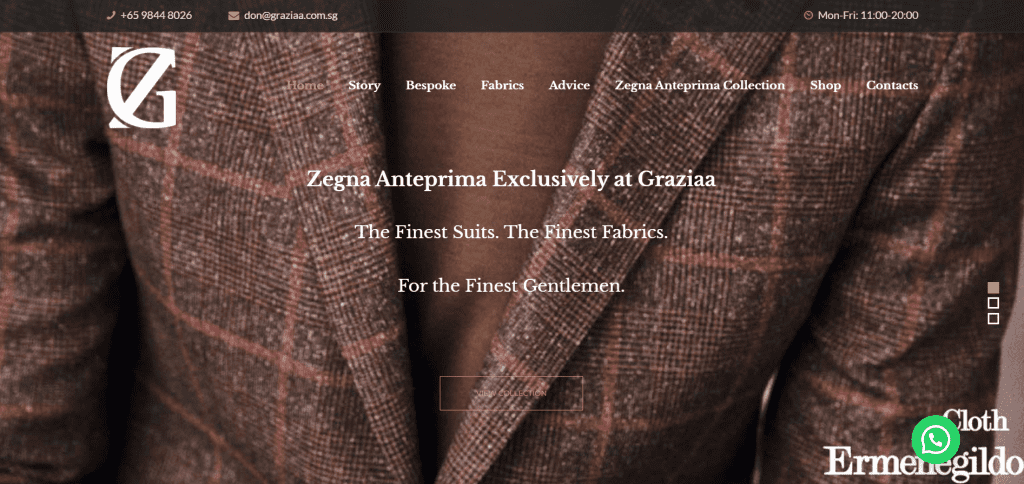 Inspired by an appreciation for true bespoke craftsmanship, Graziaa presents a new standard of tailoring.
Every piece at Graziaa is 100% hand-stitched in Singapore, following the classic rules of tailoring while being custom-made specially for you.
Graziaa's bespoke suits use little to no shoulder padding, which ensures a soft slope up towards the neck for a natural but suave look.
Using either standard peaks or notched lapels, they create a clean look suitable for either the office or the most elegant dinners.
Buttons are handpicked from top quality shell and double-stitched for extra durability.
Bespoke suits at Graziaa also aim to bring out every individual's unique body shape using suppressed waists.
This is further evidence of the Italian influence on their family's tailoring traditions.
Trousers are cut to create an elongated line, tailored exactly to your body's shape.
The slimmer cut lengthens the leg and guides the viewer's eyes upwards towards the wearer's face.
Reviews praise the bespoke suit in Singapore for having a wide selection of brands for customers to choose from.
Their workmanship is also excellent and is a class above that of other tailors.
7. Assemble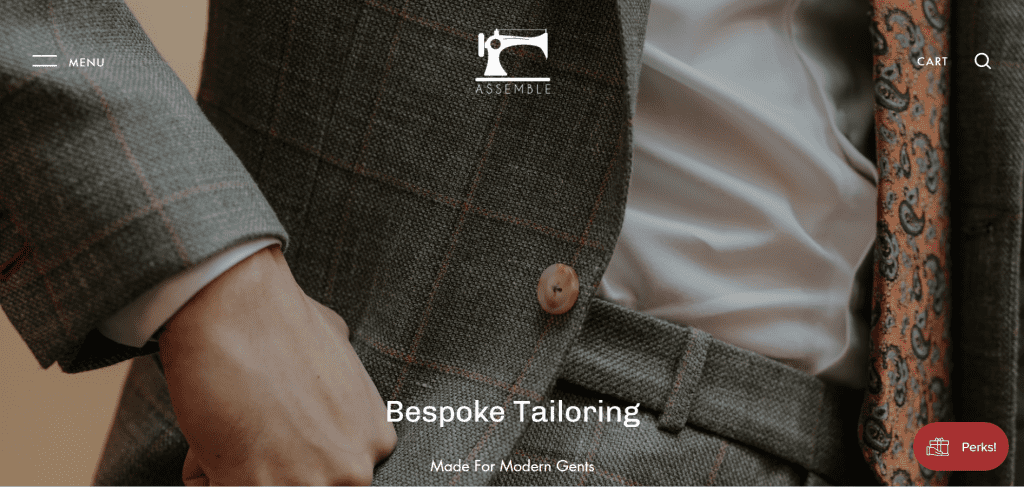 A bespoke and custom-made couturier in Singapore, Assemble is dedicated to bringing you unparalleled craft and precision through the outfits they made.
Every client who walks through their door is entitled to a one hour-long exclusive styling session with them where they will discuss with you in-depth about getting the right color, fabrics, patterns, budget, and more, no matter the occasion.
With over 3,000 fabrics and over 28 customisations for you to pick from for their bespoke suits, you will be spoilt for choice!
Their bespoke suits are all tailored locally using precise techniques.
Plus, their bespoke suits are some of the most affordable in the market.
Looking for a classic bespoke suit in Singapore that is perfect for every occasion?
Our advice is to go with their Classic Two-Piece Suit, which is priced at S$650.00.
Crafting of the bespoke suit in Singapore requires six weeks with two fitting sessions in between.
Reviews praise the bespoke suit in Singapore for their boss, who readily shared his knowledge and gave good recommendations on the type of cloth and style to choose from based on customers' budgets.
8. ethan men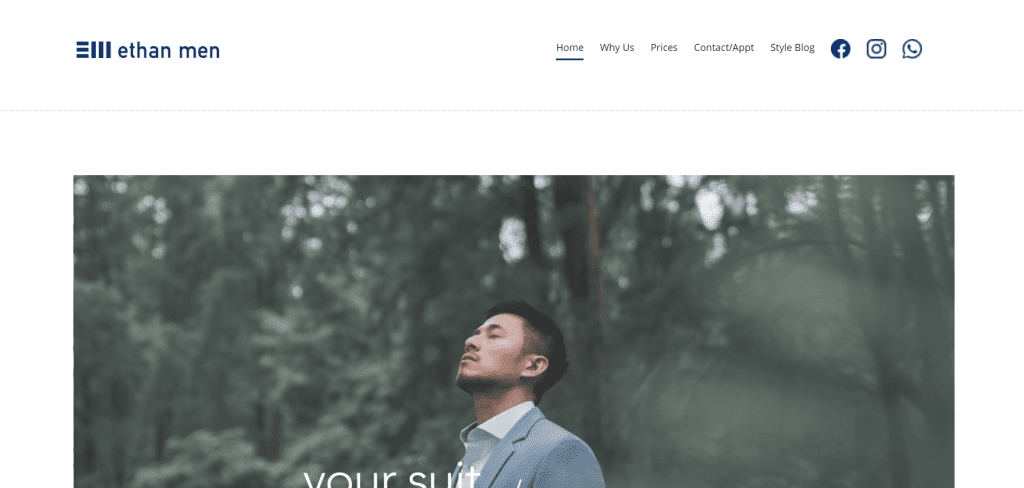 ethan men is one of the best tailors in Singapore with an in-house production line.
They procure fabrics and materials directly from factories.
The tailor in Singapore pays special attention to the material used for a bespoke suit in Singapore.
They use Freudenberg horsehair canvas to construct each tailor made suit.
The superior quality of natural horsehair canvas improves the drape and reduces stiffness of the suit.
They use Helsa shoulder pads and sleeve heads for maximum comfort and flexibility.
The sleeve heads ensure a better fit, allowing the sleeve to fall perfectly from the shoulders.
Soft velvet collars are also used for the construction of the jacket collar, enhancing comfort yet ensuring that they are durable enough to last for a long time.
Reviews praise the bespoke suit in Singapore for using fabric of top-notch quality for their suits.
The fabric material is one of the softest and most breathable that customers have ever worn, with a price tag that is affordable for the average person.
9. Meiko Tailor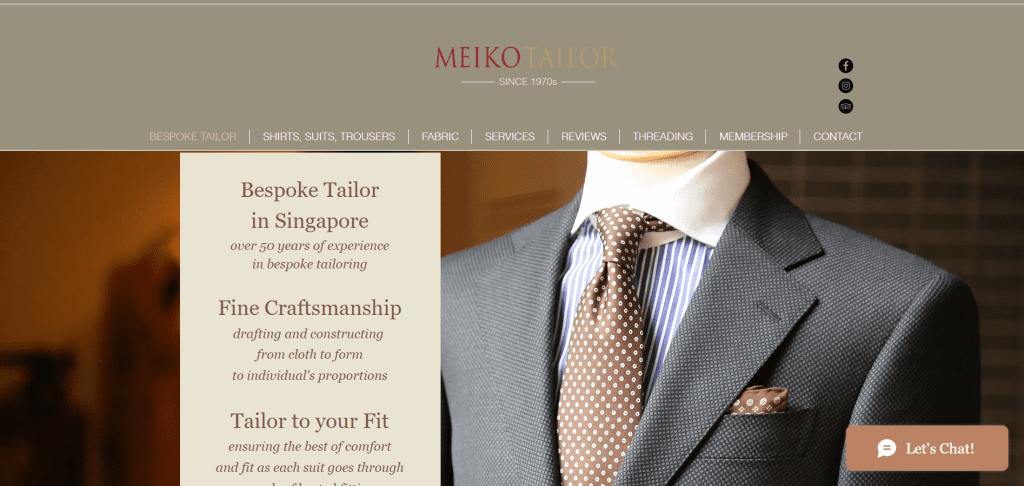 Meiko Tailor is Singapore's homegrown bespoke tailor with over 50 years of experience in bespoke tailoring.
Over the years, they have developed their house-style in suits crafting, trousers cut and shirts making, in particular, their bespoke suit construction where they always insist on making suit jacket the full-canvassed way.
Every piece of tailored suit is the culmination of hours of handwork from start to finish by their team of experienced craftsmen trained by Master Tailor Chung.
They ensure that every piece of their bespoke suit in Singapore is tailored to customers' fit and comfort.
It is not only the fitting of cloth to the body but also the attention to details from the cut to the fitting.
From design style selection to the choice of fabrics and buttons, they are with you throughout the whole process, ensuring that you get only the best tailoring experience.
Their resident personal styling advisor, trained and certified by Academy of ImageWorks (AIM) is always happy to help you with simple styling advice and colour profiling that flatter your body so you look your absolute best in your bespoke suit in Singapore.
Reviews praise the bespoke suit in Singapore for their meticulous tailor, who paid attention to every small detail.
10. Prince Custom Tailors
Prince Custom Tailors was started in 1990.
Since then, they have been serving customers all over the world for the past 26 years.
They have highly experienced sales staff and they carry a wide range of fabrics.
Suits made by Prince Custom Tailors have all the hallmarks you would expect from true bespoke tailoring.
More than 20 measurements and body details are taken from the customer.
Thereafter, a personal pattern will be hand-drawn and cut from scratch, instead of using the basic, adjusted template pattern which is commonly used by other tailors these days.
Using your pattern, the cloth is then cut and trimmed, along with the finest linings and silks available.
A single tailor is then given the parts of the garment to sew together, from the earliest fitting stages, to the final, complete suit.
Each bespoke suit is completely hand-made, even down to the individual button holes.
Their bespoke tailoring gives you full creative control over the fabric utilised, as well as the cut, color, and style of the suits you purchase.
Hence, they give you the opportunity to make your clothing a true extension of yourself by allowing you to be fully involved in the creative process.
Reviews praise the bespoke suit in Singapore for their short turnaround time.
The fitting in the shop was conducted seamlessly.
The staff were also helpful throughout the entire process.
Conclusion
Do you have any reviews and comments to share regarding our choices for the best bespoke suit in Singapore?
While SBO is committed to supporting our local businesses, we welcome any feedback and anonymous sharing regarding your experience with the best bespoke suit in Singapore.
We hope that this guide will be useful in helping you to make an informed decision when it comes to finding the best bespoke suit in Singapore.
That's not all: if you're looking to design other long-lasting pieces of quality, we encourage you to engage the services of a custom tailor in Singapore to smarten your look.
Featured Image by Yasamine June on Unsplash
Explore More Content