10 Best T-Shirt Printing in Singapore for Your Customised Designs [2023]
Print your favourite graphic design on your T-shirt with the best T-shirt printing in Singapore.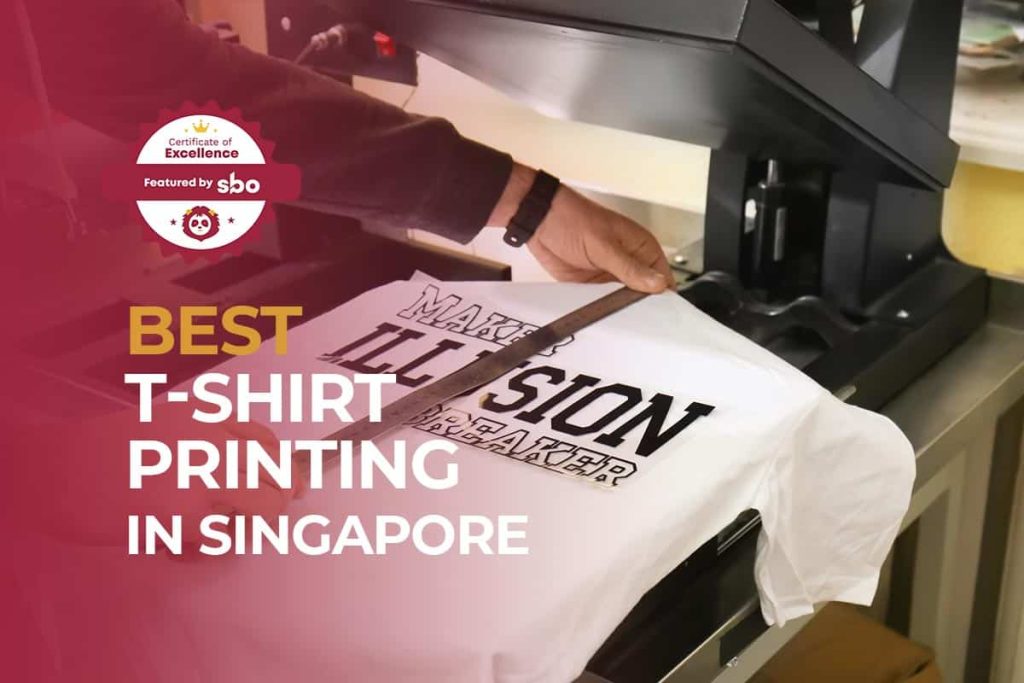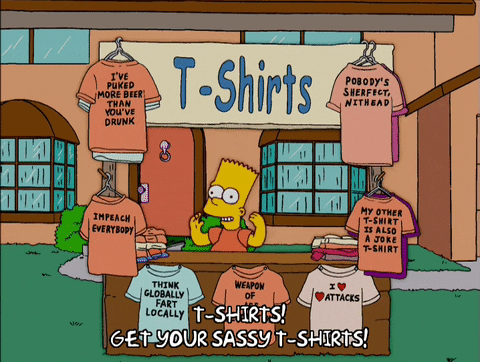 T-shirts are cool. Nope, they don't just keep us cool in Singapore's sweltering hot weather. They're easy to match with any bottoms… sweatpants, skirts, Bermudas, FBT shorts (well I mean.. isn't that what local students would wear to lectures? 😉 and jeans etc.
In recent years, printed T-shirts are becoming more popular as anyone can just print any designs they want on their shirt…just submit your designs and poof…the design's delivered to you in the form of a T-shirt. Many events and schools also order customised shirts for their participants and students to promote their brands.
Want to get your own customised T-shirts but not sure where to print them? Fret not, here's the 10 Best T-Shirt Printing in Singapore for your customised T-Shirt designs.
1. T-SHIRT GUYS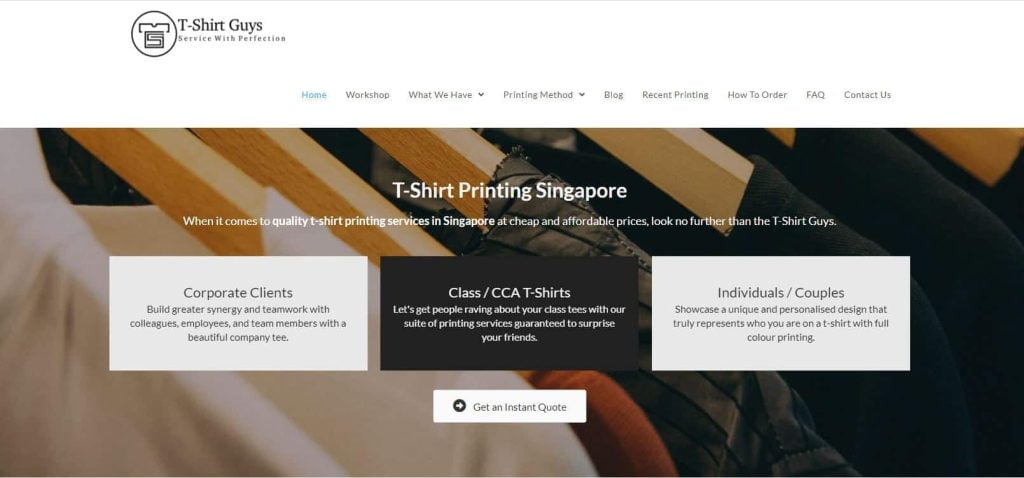 At T-Shirt Guys, they don't want to just print another t-shirt but also aims to go even beyond high-quality personalised t-shirts.
T-Shirt Guys are obsessed in creating a unique identity for you and your organisation, transforming groups of people into teams, gatherings into occasions and moments into memories.
They hope that their T-shirts can give you the voice, the power to feel like you're part of something BIG, something HUGE and something FANTASTIC.
2. MonsterPrints T-Shirt & Gifts Printing

A team of passionate people with high interest in design and fashion, MonsterPrints started out doing a small fashion line to earn extra cash during their schooldays, and have since researched and invested a lot of time on learning the different methods and ways to have designs printed onto apparels such as t shirts, jackets and hoodies.
Now, they have grown a love for the art of printing on t shirts and apparels and also discover their passion to help others achieve their desired design on t shirts and apparels.
3. MeowPrint T-Shirt Printing

A custom T-Shirts & Apparels customisation provider in Singapore, MeowPrint aims to provide the best quality, affordable prices, fast leadtime & the best customer experience for everyone.
One who believes that T-Shirt Printing should be easy and hassle-free, MeowPrint's passionate crew are here to provide the best experience for you.
4. Ministry Of Print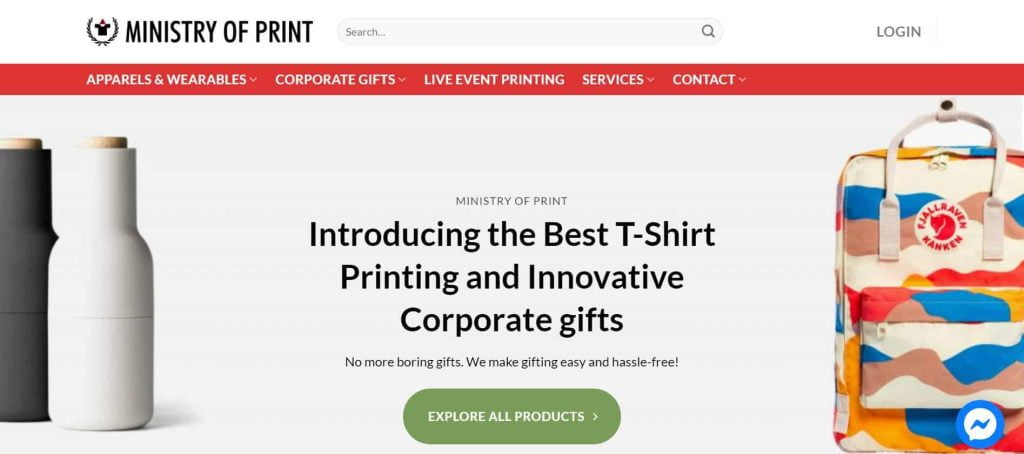 With a vision to provide quality products & services for end-users, Ministry Of Print believes in providing quality corporate gifts and apparels for their clients who are looking for trusted brands and reliable products.
With their impeccable service, MOP aims to deliver T-shirts of superior quality and ensures that their clients receive their T-shirts with satisfaction.
5. Butter Prints Private Limited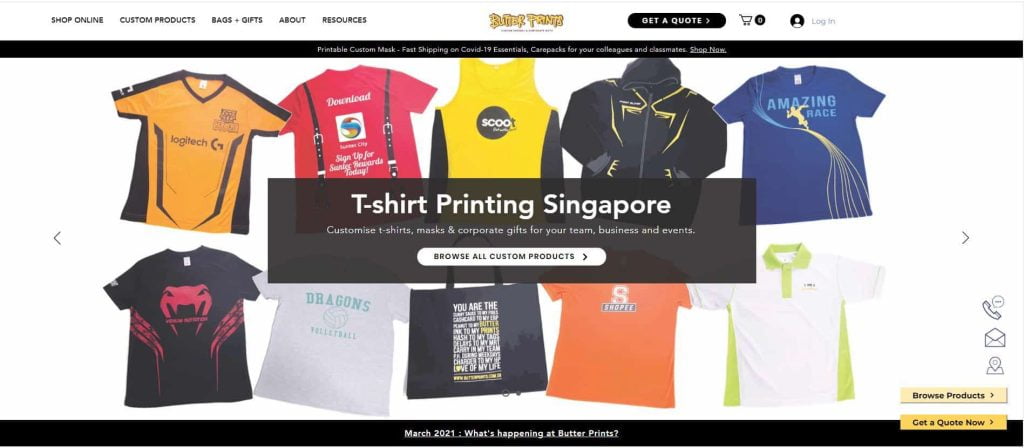 Unlike usual t-shirt printers, Butter Prints Private Limited don't simply print your apparels when it comes to t-shirts and customized apparels.
They love to talk, and will go as far as finding out your t-shirt printing requirements to ensure that they only provide quality printed t-shirt as requested.
6. PrinteeSG Pte Ltd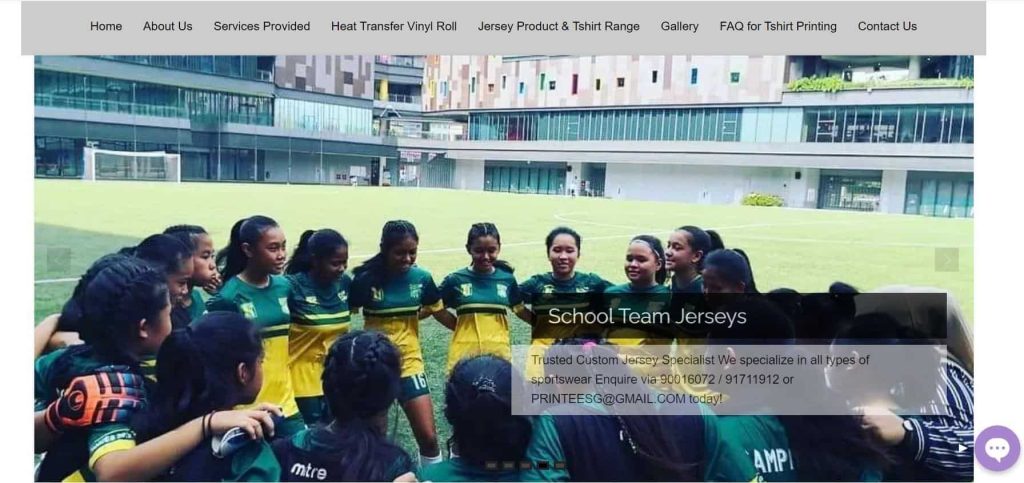 A leading custom t shirt printing company that personalises apparels for any event, PrinteeSG offers a wide range of printing services, apparel materials, and colours that will meet your needs and complement your design ideas.
In addition, understanding the need for convenience and how digitalisation is a key economic driver, PrinteeSG also taps on the ever-growing online market by offering customers the opportunity to design their own apparel and receive them at express speed.
7. ICONIQUE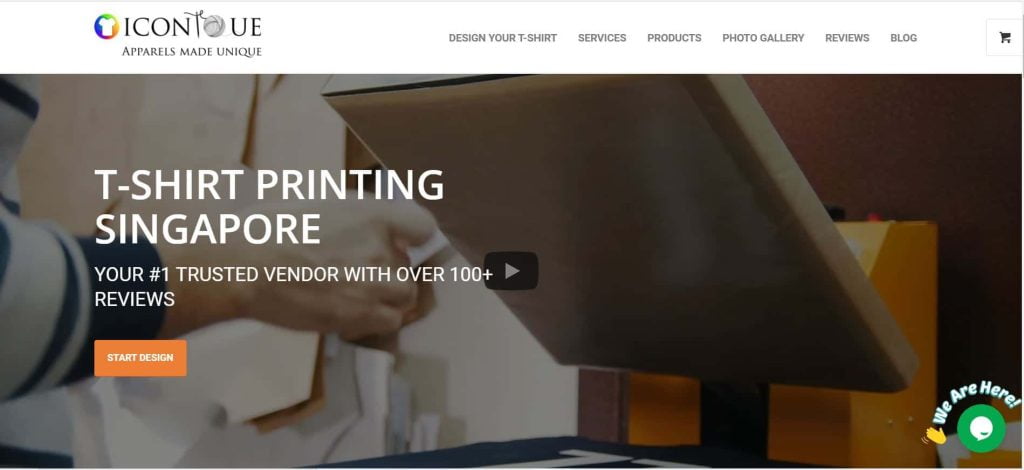 A humble startup by a group of young and energetic designers with flair for embroidery digitising, ICONIQUE – coined from the words "Icon" and "Unique" – specialises in embroidery services and printing solutions for apparels to meet the fashion standards and styles of the modern society – iconic and unique.
8. TJG PRINT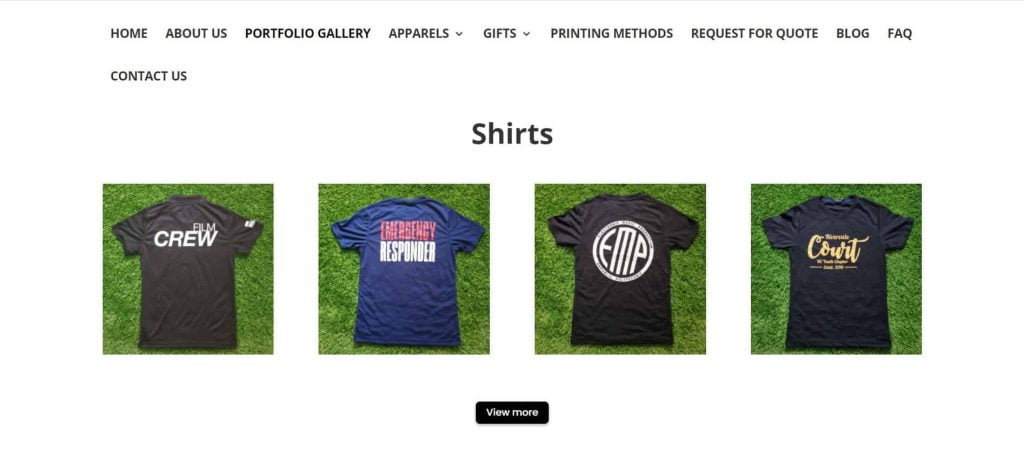 A T-Shirt printing Singapore Company that specialises in customised T-Shirt printing, TJG Print delivers good quality printing at competitive pricing, reinforce with reliable delivery.
Not only do they offer a wide range of products from Dri-fit T-Shirt, Cotton T-Shirt, Polo T-Shirt, Singlets, Hoodies, Outerwear and Gift Products, they also provide extensive printing techniques ranging from the commonly used method of silkscreen printing and popular heat transfer printing, embroidery, sublimation and many more printing options.
4. OrangeBox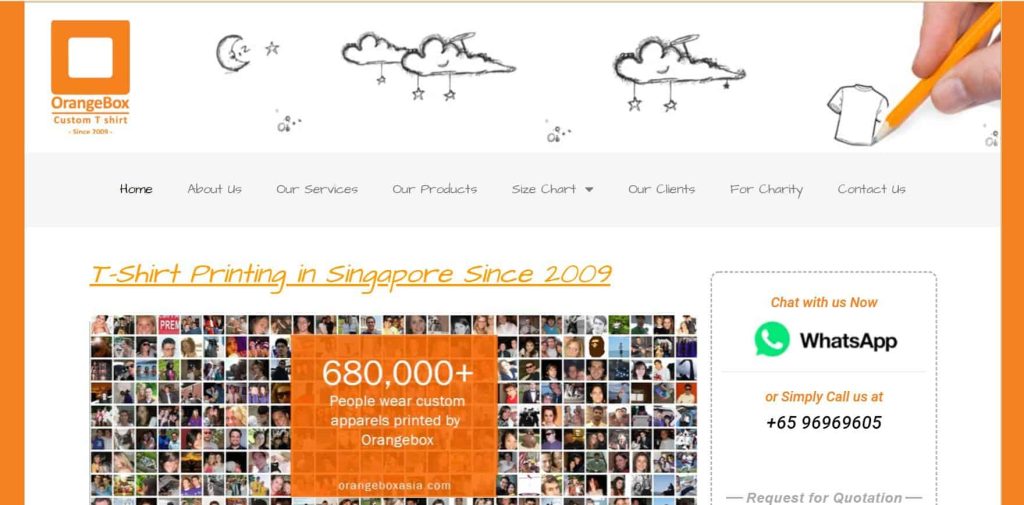 A leading company in T-shirt printing in Singapore, OrangeBox provide one-stop solutions for good quality printing and embroidery services that greatly shortens the production time and as a result faster delivery.
Founded in 2009, OrangeBox has grown from a small print shop with a few products to now a company with the largest ready-stock T shirt, Jersey, Polo Tee & Jacket catalog in Singapore.
10. Directtshirt.com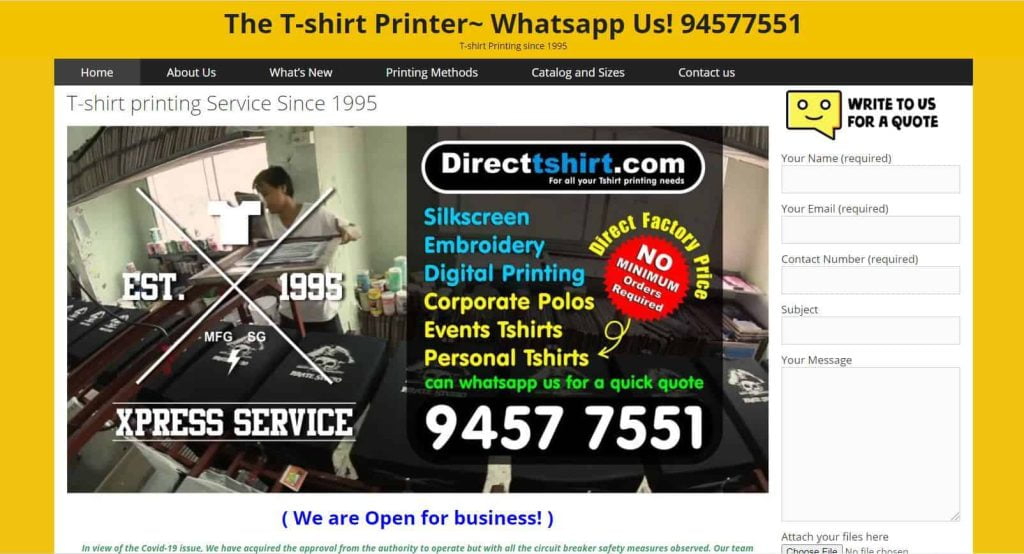 A company that has been in operation since 1995, Directtshirt.com was once a silk screen positive film company that specialized in Colour Separation for overseas silkscreen factory.
Today, they have evolved to become Singapore's one stop solutions in t-shirt printing. Everything from Silkscreen to heat transfer printing are all done in-house, so as to provide their loyal customers over the years with extremely fast and professional printing results.
Conclusion
Do you have any reviews and comments to share regarding our choices for the best T-Shirt printing in Singapore?
While SBO is committed to supporting our local businesses, we welcome any feedback and anonymous sharing regarding your experience with the listed T-Shirt printing in Singapore.
We hope that this guide will be useful in helping you to make an informed decision when it comes to finding the best T-Shirt printing in Singapore.
Explore More Content