6 Best Pet Insurance in Singapore to Protect Your Pets [2023]
We all know how expensive veterinary expenses can be. Therefore, it is important that you check out the 6 best pet insurance in Singapore that can help you minimize your costs when your beloved pet falls sick.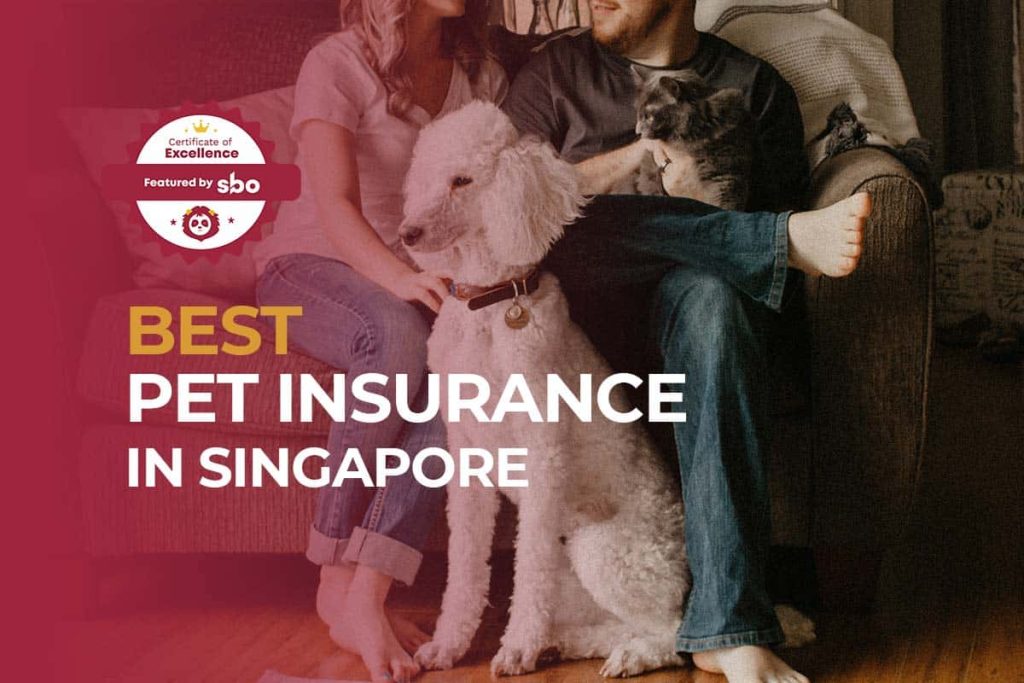 Shout out to all pet lovers, it is essential that you purchase pet insurance for your pets to protect them from events you least expect. Veterinary expenses in Singapore are really expensive and you wouldn't want money to be a factor in preventing you from getting the necessary care your pet needs.
With pet insurance, you will be able to minimise your veterinary expenses, helping you to cover up to 80-90% of your total veterinary bill. As such, we have put together a list of the 6 best pet insurance in Singapore according to you and your pet's needs. Please don't let the veterinary price tag be the reason why your pet could not get the longest, happiest, healthiest life it could have.
1. AIA Paw Safe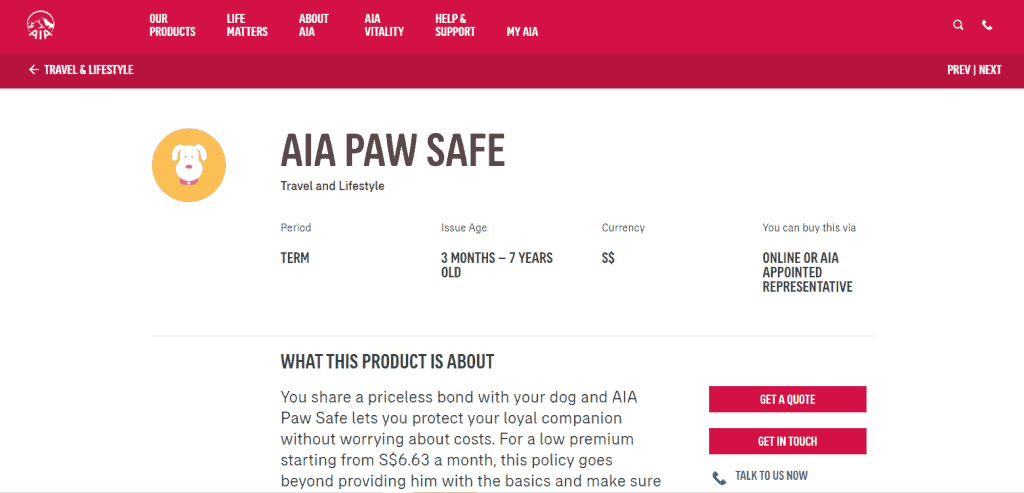 At the top of the list of the best pet insurance in Singapore is AIA Paw Safe. AIA Paw Safe is specially designed to protect dogs aged 3 months to 7 years old. AIA Paw safe knows that you share a priceless bond with your dog and they want to let you protect your loyal companion without worrying about costs.
Premiums are as low as S$6.63 a month and this policy goes beyond providing him with the basics and make sure he has the best life possible.
If your furry buddy needs to be treated within 30 days of an accident, AIA Paw Safe will reimburse up to S$1,000 of the incurred medical expenses. In the case if your dog is stolen and is not found within 28 days after being reported to the police, they will pay you S$1,000 or his purchased price, whichever is lower.
2. CIMB My Paw Pal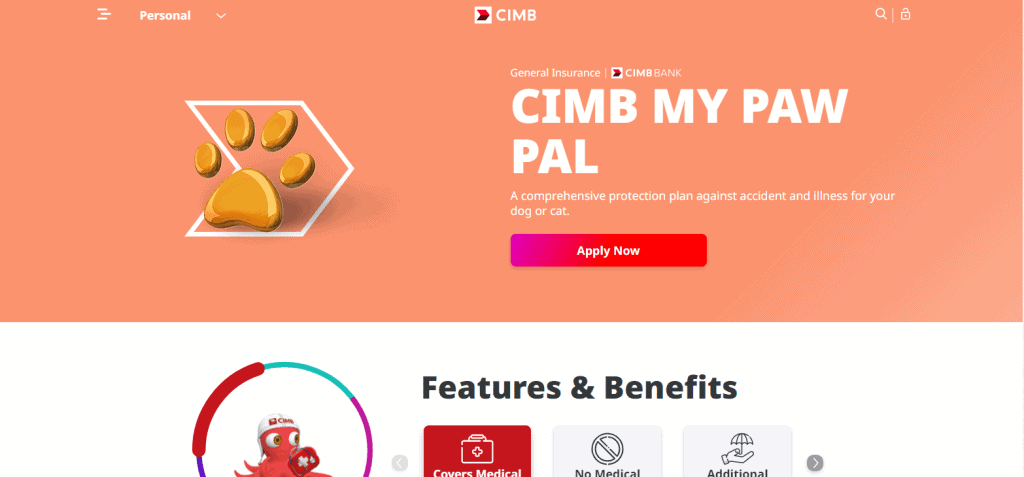 CIMB My Paw Pal is a comprehensive protection plan against accidents and illness for your dog or cat. With CIMB My Paw Pal, you can claim up to S$3,000 per year on medical expenses due to accident and illness, for both surgical and non-surgical expenses. To be eligible, your pet must be at least 3 months old and not more than 7 years old.
Premiums start from $74.90 per year and there are options for additional covers such as for loss of dog due to theft or medical and cremation or burial expenses due to illness. If you are interested, all it takes you is 10 minutes of online application and your pet will be well protected.
3. Happy Tails

Designed by pet lovers for pet lovers, Happy Tails is the only standalone online pet insurance in Singapore that provides lifetime coverage for your pets, including specified hereditary and congenital conditions.
Their plans offer comprehensive coverage for accidents and illnesses, including specified hereditary and congenital conditions, for your beloved pets. You will be able to receive up to 80% reimbursement of your vet bills before a mandatory Deductible of $250.
Once purchased, the cover is immediate for accidents and 3 months after policy commencement for sicknesses. The six specified hereditary and congenital conditions will be subjected to a 12-month waiting period.
4. Pet Care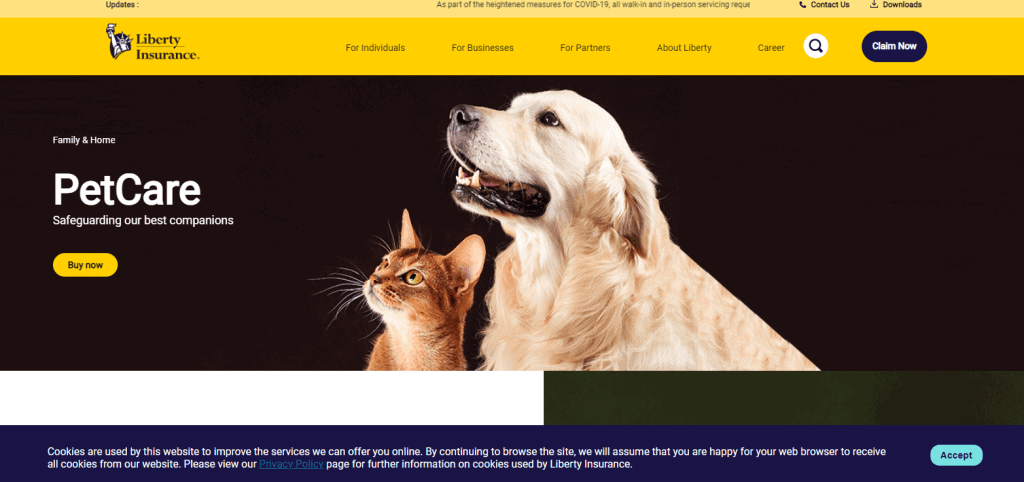 Headquartered in Boston, Liberty Mutual Insurance Group is a diversified global insurer and the sixth-largest property and casualty insurer in the U.S based on 2019 direct written premium. With their reputation, you can count on them for your furry kids' needs.
With PetCare, you can enjoy a 30% co-insurance for any surgical procedure your pet may require. This will help to control how much you will need to spend on veterinary expenses while helping your pet get the treatments it needs. PetCare offers the highest benefit for the accidental death of your pet, of up to S$3,000, which is a selling point especially to owners with pedigree pets.
5. Prestige Pets Insurance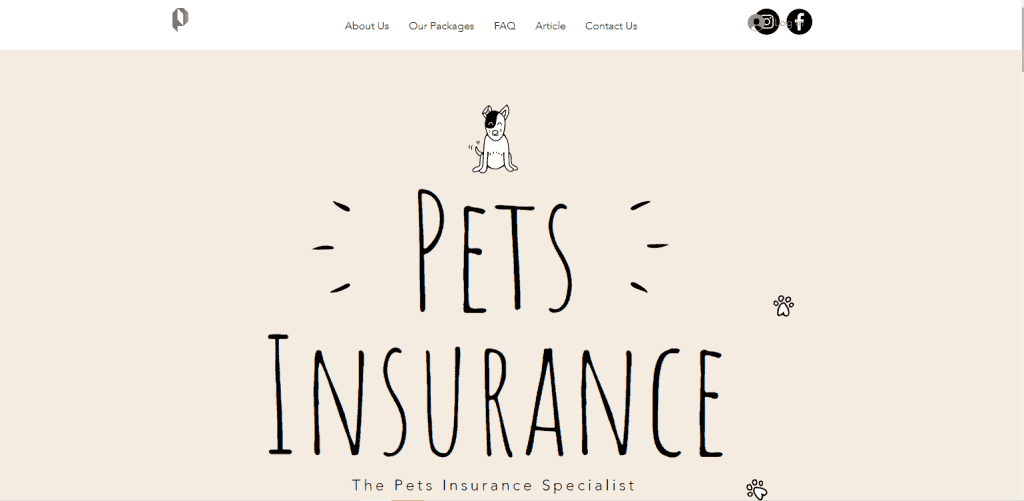 Prestige Pets Insurance is Singapore's first and only pet insurance policy that covers vet treatments on illnesses. Their comprehensive coverage for your pet dog or cat ensures that you have financial protection should you incur medical and surgical expenses due to illness or accidents that may befall your beloved pet. ​
With Prestige Pets Insurance, you will be able to save 50% on non-surgical bills and 70% for surgery treatments (up to $10,000). Your beloved furry kid will receive the best care with licensed SG vets of your choice. No pre-medical checkups are required and registration for the insurance can be done online.
6. Dash Pet Insurance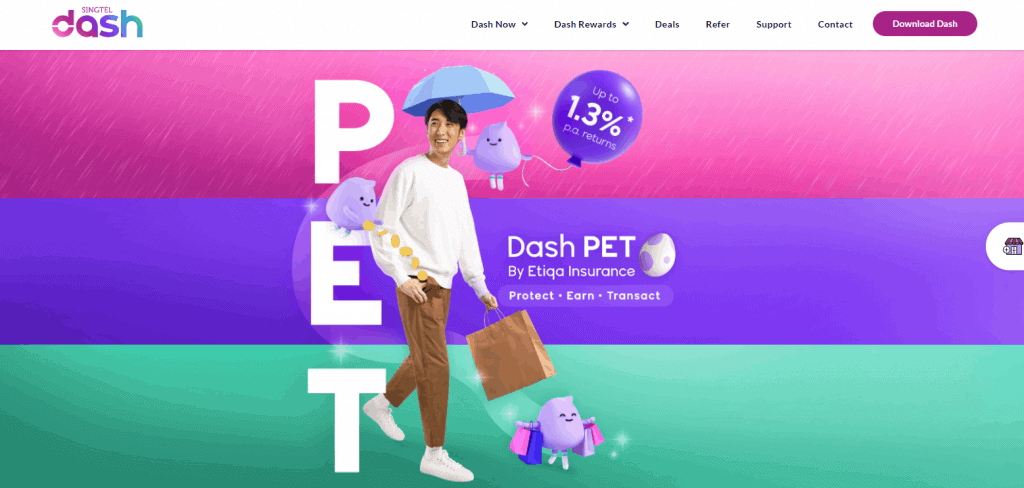 ​
Have you heard of pet insurance that takes care of the pet owner instead of the pet? Last on the list is Dash PET, a unique pet insurance savings plan that allows your pet to take care of you.
Dash PET offers savings at high returns, with capital guaranteed and full flexibility of funds. You will be able to earn up to 1.3% p.a. on what you save, save from S$50, capital guaranteed, and receive interests every month.
You can choose from 3 protection plans and premiums can start as little as 2 cents per day. All Dash PET life insureds are also covered for life protection and COVID-19. There is no lock-in period or monthly commitment. You can top-up instantly or withdraw money anytime. Transferring money is also made easy via Dash wallet or your bank account.
Conclusion
We know that pet insurance may seem like a pricey item to purchase, especially if your pet is healthy, to begin with. However, in the event of unexpected accidents and illnesses, ongoing insurance costs can get expensive, and having pet insurance can help make your sudden out-of-pocket costs much more manageable. To me, it is a worthy investment to make.
Do you have any reviews and comments to share regarding our choices for the best pet insurance in Singapore?
While SBO is committed to supporting our local businesses, we welcome any feedback and anonymous sharing regarding your experience with the listed outdoor furniture in Singapore.
We hope that this guide will be useful in helping you to make an informed decision when it comes to finding the best pet insurance in Singapore.
Featured Image by sarandy westfall on Unsplash
Explore More Content