10 Best Schools for Dog Training in Singapore To Keep Your Dogs In Line [2023]
Here's how to restore sanity for both the hound and the 'hooman' with proper dog training in Singapore.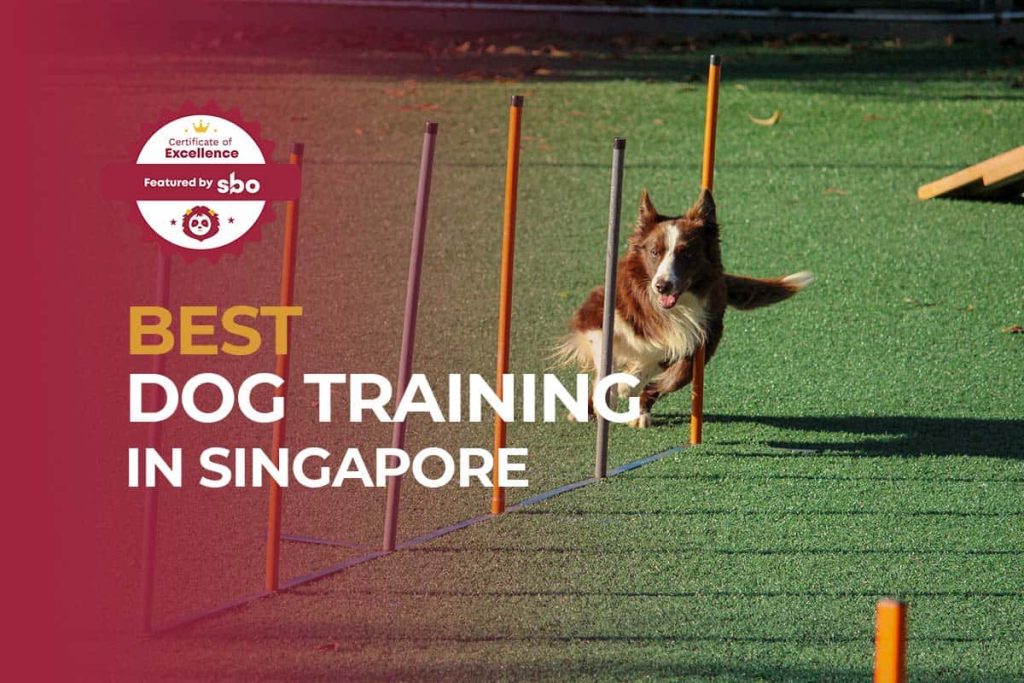 Dogs are undoubtedly one of mankind's best friends, but if you're only smitten by their adorable wagging tails and affectionate kisses, you have not met those that behave like a bull in a china shop.
Are you one of the unlucky new pup owners who are getting irritated with your pup's incessant barking and rowdy behaviour?
If you're facing difficulties in controlling the chaos, learn how to train them properly with the best schools for dog training in Singapore!
1. Waggies Dog School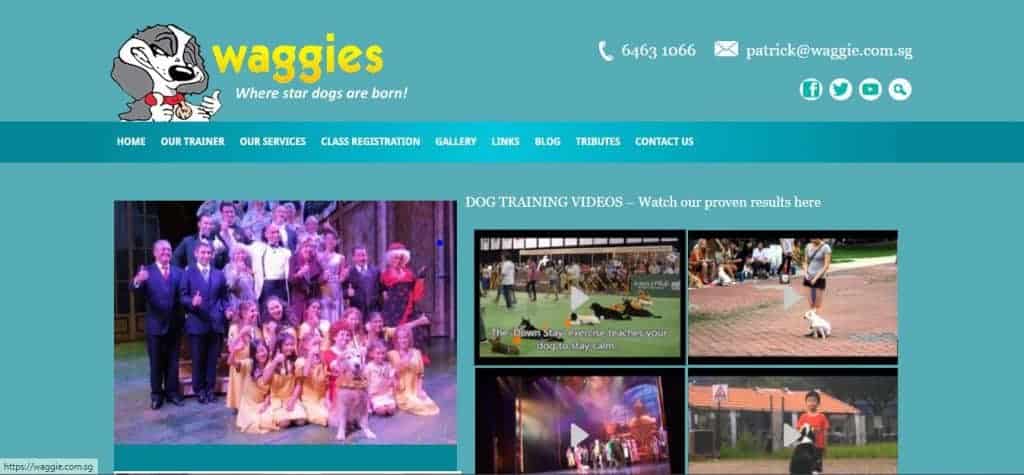 If you've seen the iconic Nippon Paint advertisement with the adorable bulldog featured beside the Japanese family in the commercial, you've unknowingly met one of the star canines of Waggies Dog School.
With their expertise in training dogs to appear on shows and commercials, they have dog training in Singapore as well for pet owners like you and me to properly train your little paw friends at home.
With the uncertainty of the Covid-19 situation, online classes are also available for pet parents to join safely conveniently. This includes common topics from urination, barking, biting & aggression and more.
2. Pawrus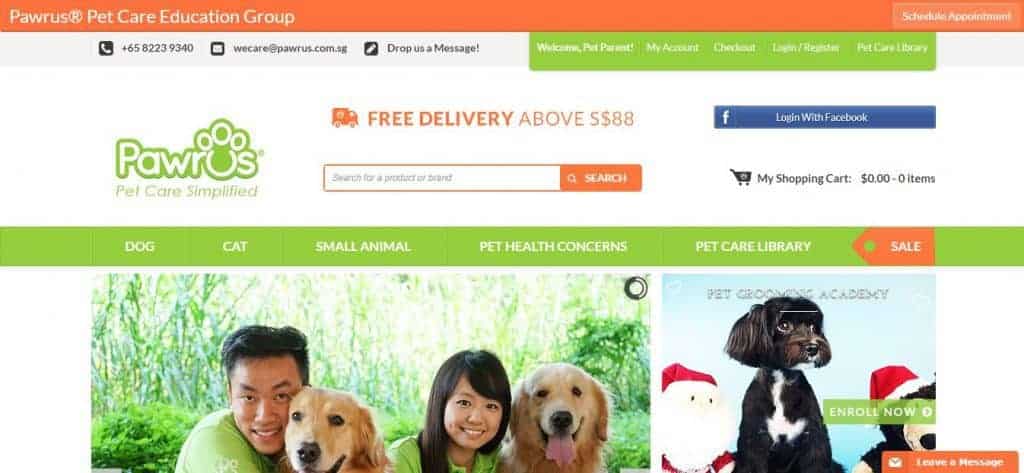 Pawrus offers both training and supplies for your beloved furry friends, all on one website. Originally a pet care and supplies online store, they grew their range of services from e-commerce to training programs for dogs.
With their founder and Senior Clinical Animal Behaviourist and Trainer, Kevin, well-accredited with overseas credentials for dog training, be rest assured that you are getting the best dog training in Singapore.
The company's dog training academy offers an extensive range of programs pertaining to dog manners, private, one-on-one or speciality programs at varying levels of experience: elementary, intermediate to advanced.
3. Sunny Chong Dog Training School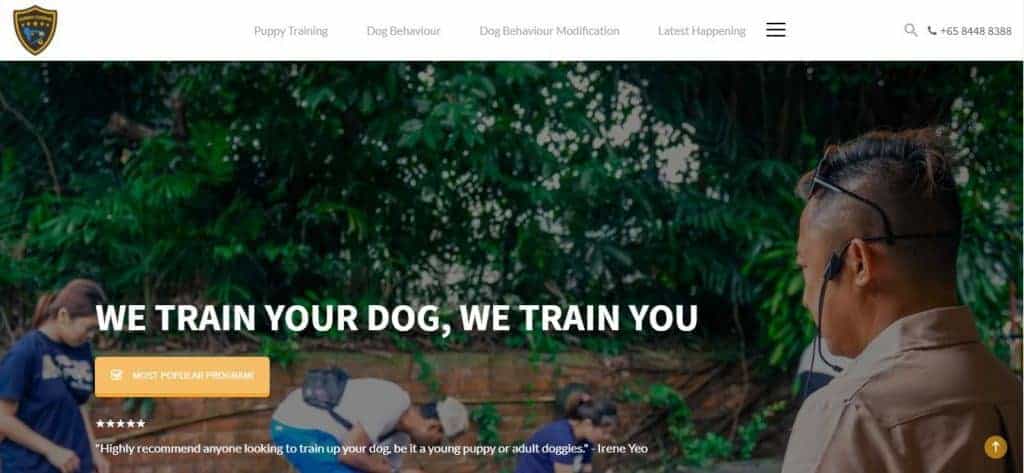 Sunny Chong Dog Training School is one of the most established schools for dog training in Singapore, being incorporated since 1998 and with a steady track record of training more than 40,000 dogs all over the island. They also work closely with other pet-related brands such as Pet Lover's Centre, Singapore's biggest pet store chain.
Their services consist of dog behavioural training for pups and dogs, pup potty training, and also day school for them. With the advancements of technology, they have also incorporated virtual lessons so that your dogs can take classes from the comfort of your home. Their lesson plan includes social interaction, obedience classes, treadmills and more.
For more customisable and focused learning, parents can even opt for their '1 on 1' lessons that offer dedicated coaching and answering of your queries, with demonstration provided. Check out their site for more information!
4. Happy Dog Training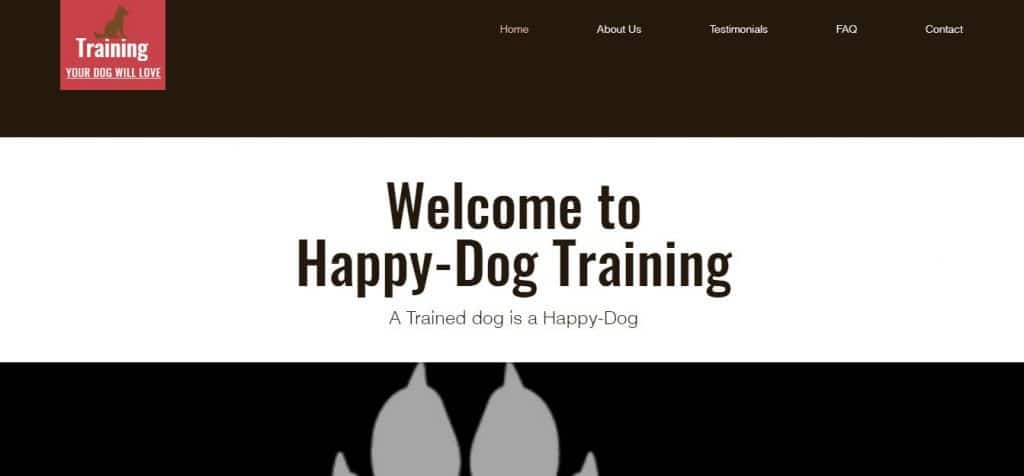 Happy Dog Training is started by a UK-certified dog trainer, who believes in adopting human science-based methods to his dog training in Singapore.
Having travelled across the globe volunteering in animal shelters, he has accumulated a wealth of experience in handling the most troubled and fearsome dogs. He is a distinguished member of the Association of Professional Dog Trainers.
The company specialises in puppy socialisation classes, aggressive behaviour consultation, fearful dog classes, reactive classes, separation anxiety, K9 nose work that can be conducted on a group or private class basis. For dog owners new to training programs, you can fill out their handy form online to help customers get specific, tailor-made training programs!
5. Hope for Dogs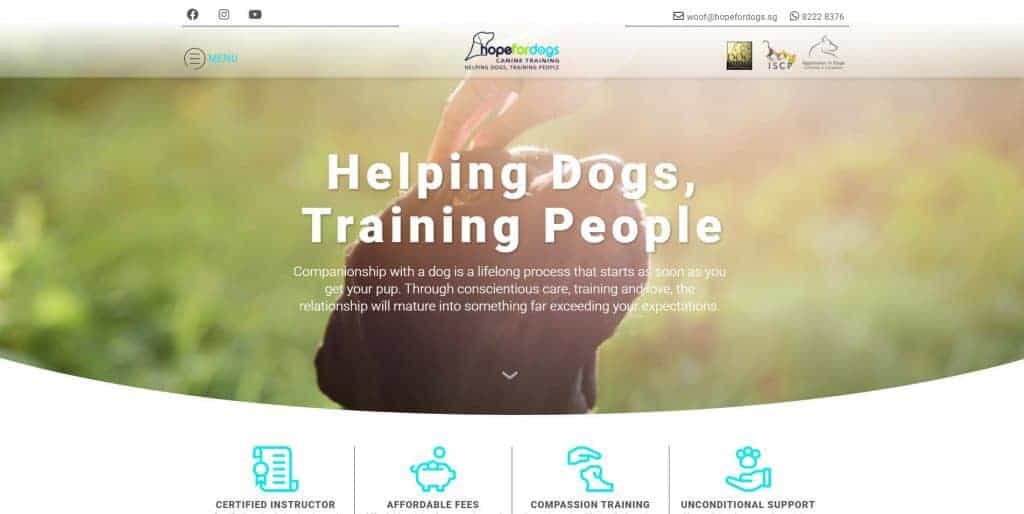 Jacky, the man behind Hope for Dogs, is a certified dog trainer who has clinched multiple dog training-related credentials. At this school, they believe in adopting the least intrusive, minimally aversive (LIMA) approach to their dog training and behaviour training programs.
The school provides a wide range of services for your paw pals like their kindergarten puppy training, obedience training, behaviour modification and their 'Board & Train' program where your dog will stay with the trainer for a more up-close training session. All their package prices for dog training in Singapore are kept affordable for the masses as well.
If you're unsure of which training programs to enrol for your dog, you can also book them for a free assessment on their website!
6. Pawsitive Furkids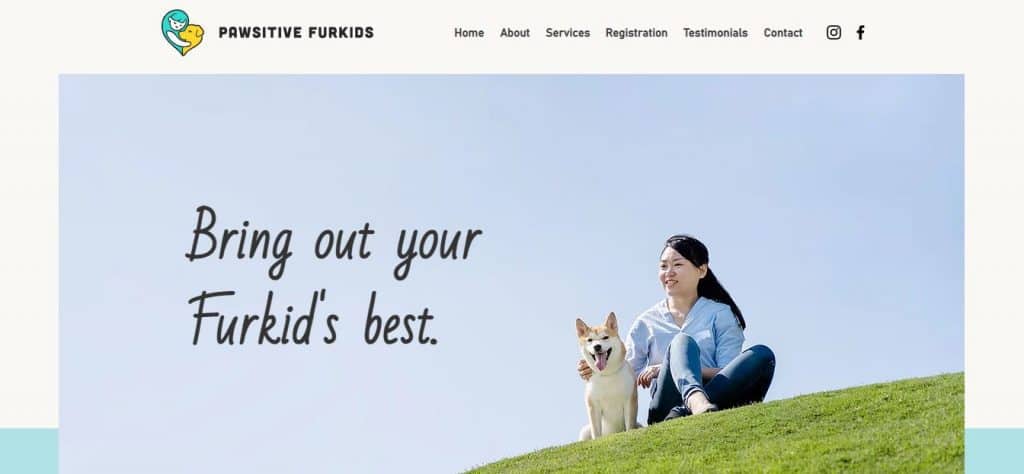 Established by lifelong dog devotees and passionate trainers, power couple Patrick Koh and Veronica Tan started Pawsitive Furkids initially to search for better ways to train their dogs. With both holding multiple credentials, they are one of the best trainers for dog training in Singapore.
They host a wide range of services for dogs which include basic obedience training, behaviour modification, canine conditioning fitness, private classes, puppy kindergarten, trick training and consultations for new owners unsure where to start off with.
If you're looking for pet food or supplies, you're just in time to hear this: New students of Pawsitive Furkids can enjoy 10% off their first purchase at Kohepets, a pets online store with more than 18,000 products.
7. K9 Matters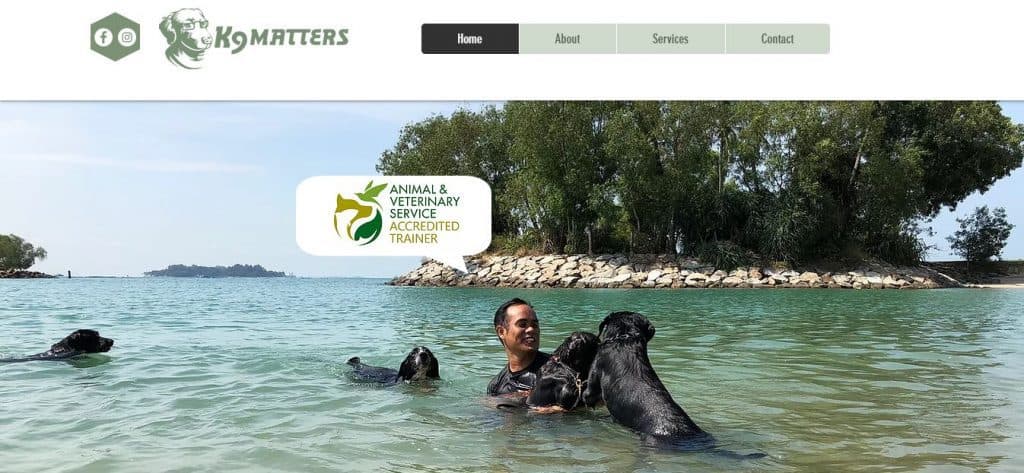 The man behind K9 Matters was formerly a proud fire investigation and search and rescue dog trainer under SCDF, with numerous notable achievements under his belt. Now, he founded K9 Matters to share his wealth of dog training experience with the community.
Apart from the group and private lessons, the school provides dog walking services for busy paw-rents and nose work training that utilises skills learnt from his previous firefighting career into daily use. Home-based dogs can now put their sniffing skills to good use, with the trainers coaching them to pick up scents from daily objects.
8. Mutt Matters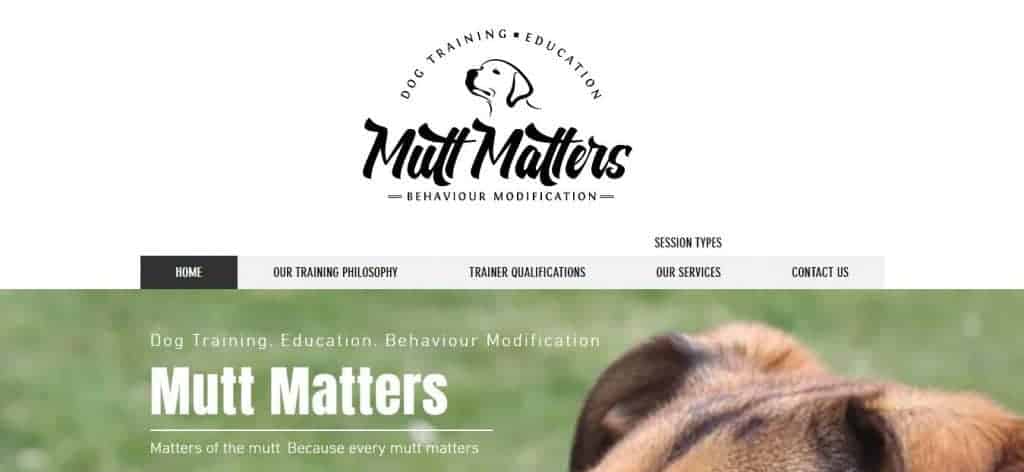 Founder of Mutt Matters, Anna Khoo is a seasoned dog trainer who has been accredited by CCPDT as a Professional Dog Trainer (CPDT-KA) and Canine Behaviour Consultant, which are rarely found in Singapore. With her expertise and strong credentials, she's one of the top trainers for dog training in Singapore.
Mutt Matters cater to the unique needs of each dog owner and their pet with their highly customised training programs. Her dog training focuses on science-based, force-free techniques which emphasize kind and humane methods. She will assess each client based on their home lifestyle to propose practical training solutions.
Not only that, but she also hosts workshops about dog obedience and behaviour, with topics readjusted towards the participant's level of understanding of dog training.
9. Dog Listener Consultancy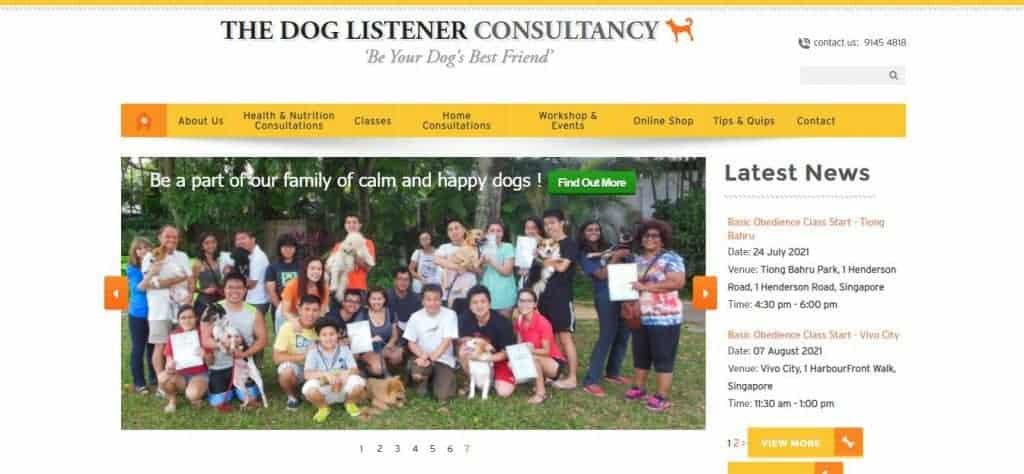 At Dog Listener Consultancy, they believe in adopting patience, kindness and proper communication to train dogs, instead of using force or over-controlling their behaviour. Aside from learning about basic obedience techniques which can be found in most dog training schools, owners will also get understand the Amichien Bonding™ method that reinforces owners as 'leaders of the household' in your dog's minds.
They offer the usual group and private home-based lessons for owners who have difficulties in coming to the physical venue, or simply prefer a more focused teaching environment. On top of that, you can also get health and nutrition consultation from their in-house experts! For some quick tips and tricks, you can gain a brief understanding from their online Q&A section too.
10. Woofie Dog Training School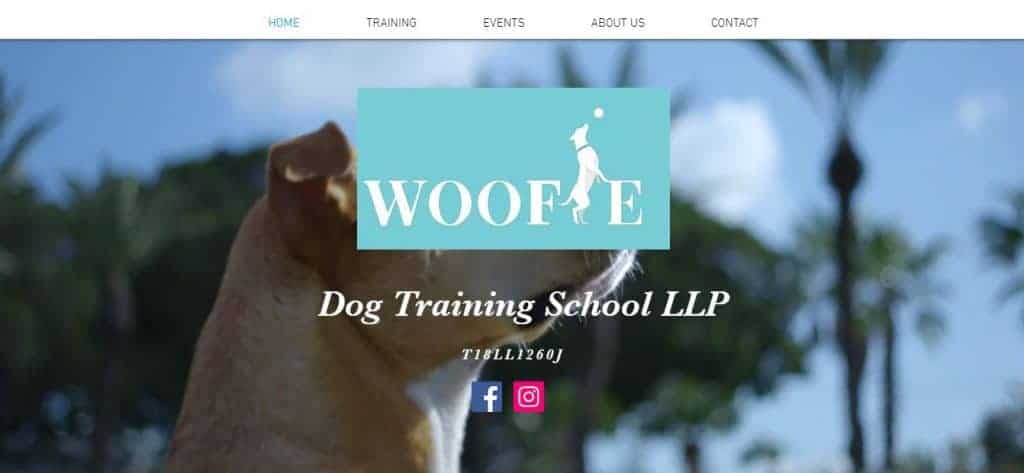 Woofie Dog Training Singapore's belief that all dogs can be trained and placing the dogs as their top priority has fueled their success in becoming one of the best dog training in Singapore, despite being in the industry for only 3 years. Their trainers are also well-skilled, with experience in SCDF's K-9 unit.
At their training academy, they specialise in basic obedience training and behaviour training, including both aggression and non-aggression problems. Their training packages range between $435 – $900, with more details on their page here.
Featured Image by Murilo Viviani on Unsplash
Explore More Content