11 Best Cat Grooming in Singapore to Keep Them Looking Good [2023]
Save yourself the time and hassle with the 11 Best Cat Grooming in Singapore!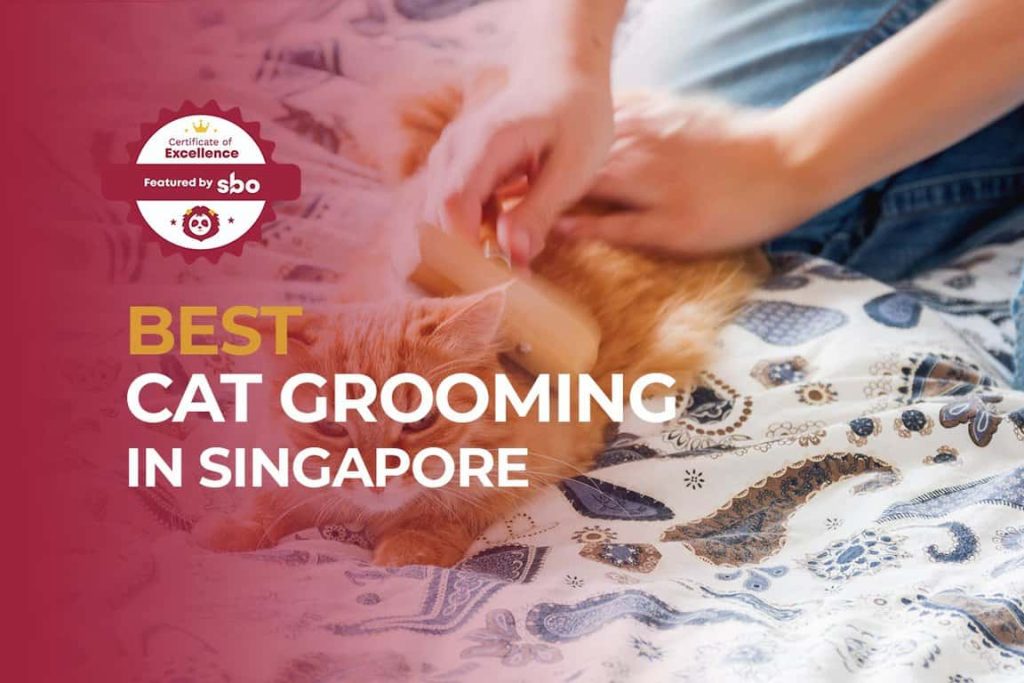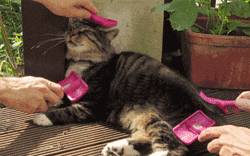 Just like how we need to clean ourselves every day to maintain our appearance and hygiene, our pets also need regular grooming, vital for their wellbeing.
No matter how busy our schedules are, we mustn't forsake the care and attention our cats need. Regular grooming not only keeps the shine of our furkids' coats and help maintain healthy nails, but it also helps our cats move freely with comfort.
Too busy to give your cat the proper trim it needs? Here's the 10 Best Cat Grooming in Singapore to give your cat the most shiok grooming session it needs!
1. Nekomori Cat Salon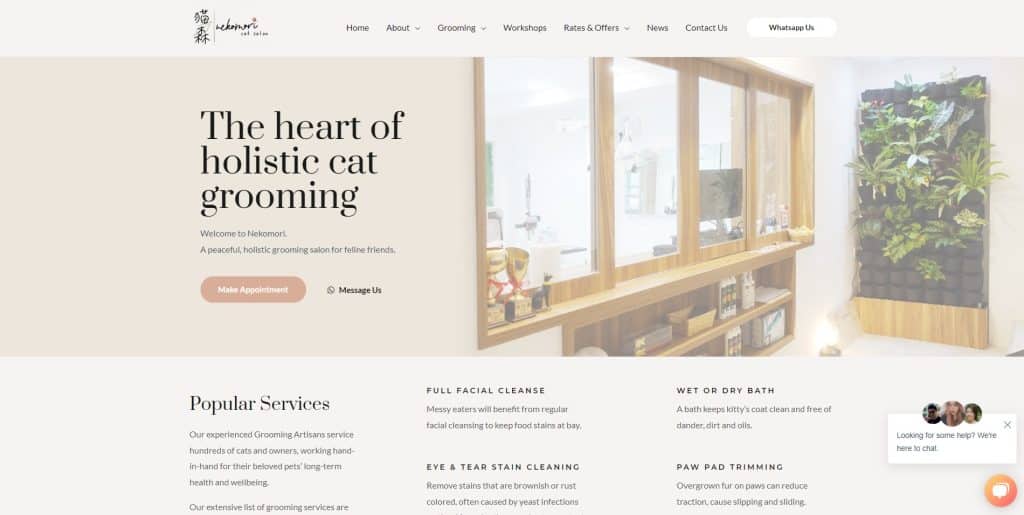 A peaceful, holistic grooming salon for feline friends, Nekomori Cat Salon is one of the most popular cat grooming salons in demand.
From eye & tear stain cleaning to undercoat removal to paw pad trimming, the salon offers an extensive list of grooming services that are personalised to fit you and your feline friend.
Widely reviewed for their excellent technical grooming techniques and high standards of professional pet care, Nekomori Cat Salon is definitely one of the best cat grooming salons on this list!
2. The Precious Pets (Mobile Pet Grooming Services)
Certified by California Academy Of Animal Aesthetics, DC International Grooming Academy, International Grooming Association (IGA), and Singapore Kennel Club (SKC), the groomers at The Precious Pets provide professional cat grooming services right at your doorstep.
With The Precious Pets, your cat gets the full undivided attention of the groomer in the comfort of a quiet and minimum stress environment without having to deal with other animals at the salon.
3. Likeable Pets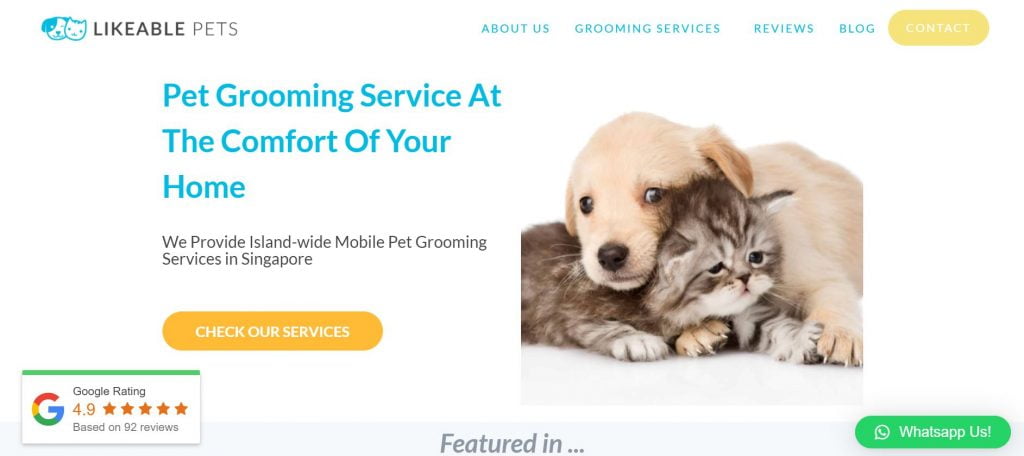 Think bringing your cat to a salon is too much of a hassle for you? Check out Likeable Pets for their fuss-free house-call pet grooming service!
Professional, gentle and reliable, the groomers from Likeable Pets will engage and groom your cat perfectly without stressing it out.
Easy to book and hassle-free, the Likeable Pets offers Basic Cat Grooming and Full Cat Grooming services priced reasonably from $100.
4. Hanis The Groomer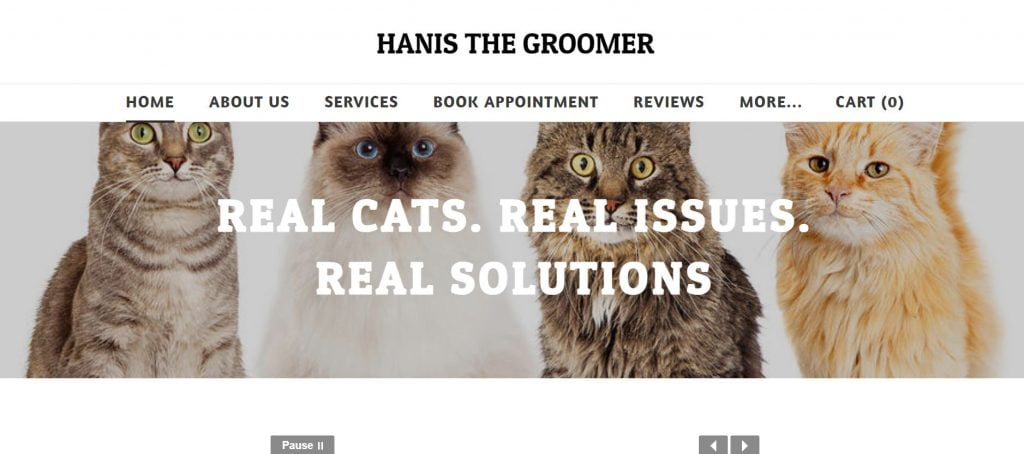 Known to be very patient, professional, and comfortable handling cats with different temperaments, Hanis The Groomer is highly recommended to those who have more conservative and less compromising cats.
A husband (Saffri) and wife (Hanis) team of cat groomers, Hanis The Groomer is currently located at Blk 264 Tampines St. 21 and offers a full range of services, including baths, lion cuts and flea treatments.
5. Hey Good Cat
Founded with the mission to raise the standard of cat care and grooming in Singapore, Hey Good Cat ensures that all their grooming specialists undergo vigorous theoretical and hands-on cat grooming training with Desmond Chan, Southeast Asia's first and only Certified Feline Master Groomer (CFMG) under National Cat Groomers Institute of America (NCGI).
Set in a quiet and comfy environment with eco-ethical cat supplies and an exclusive feline facility, your cat is bound to have a great blast there!
6. Mewtants & Woofs
Always going the extra mile to give your cats the best grooming experience possible, Mewtants & Woofs provides consistent, reliable and professional pet grooming services at competitive and affordable prices.
Praised by many of their clients for consistently delivering excellent standards, Mewtants & Woofs will ensure that your cat leaves the place smelling fresh, looking good and happy!
7. Surrpaws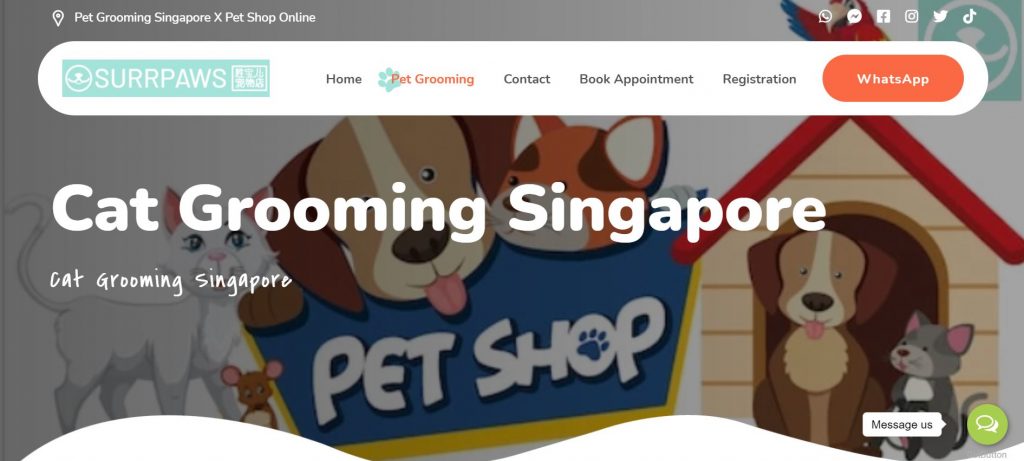 Having accumulated more than 10 years of experience in the industry, Surrpaws has helped more than 2500 cats achieve the ultimate glow up they need to date.
Providing an extensive range of cat grooming services at affordable prices, Surrpaws' knowledgeable cat groomers will also give you free pet care advice to help you understand and look after your little ones.
8. The Grooming Table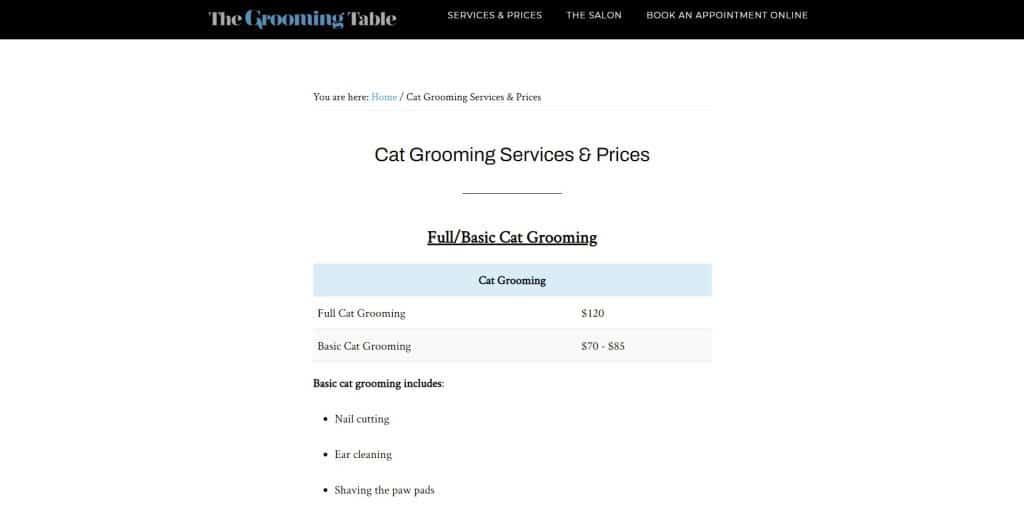 Save your time, money and frustration by seeking professional cat grooming service at The Grooming Table!
At The Grooming Table, each pet has its own sterilized table and equipment to ensure maximum hygiene and sanitation.
Besides offering cat grooming services at affordable prices, the salon also allows only limited appointments per day for quality control.
9. Pets Eden Spa & Salon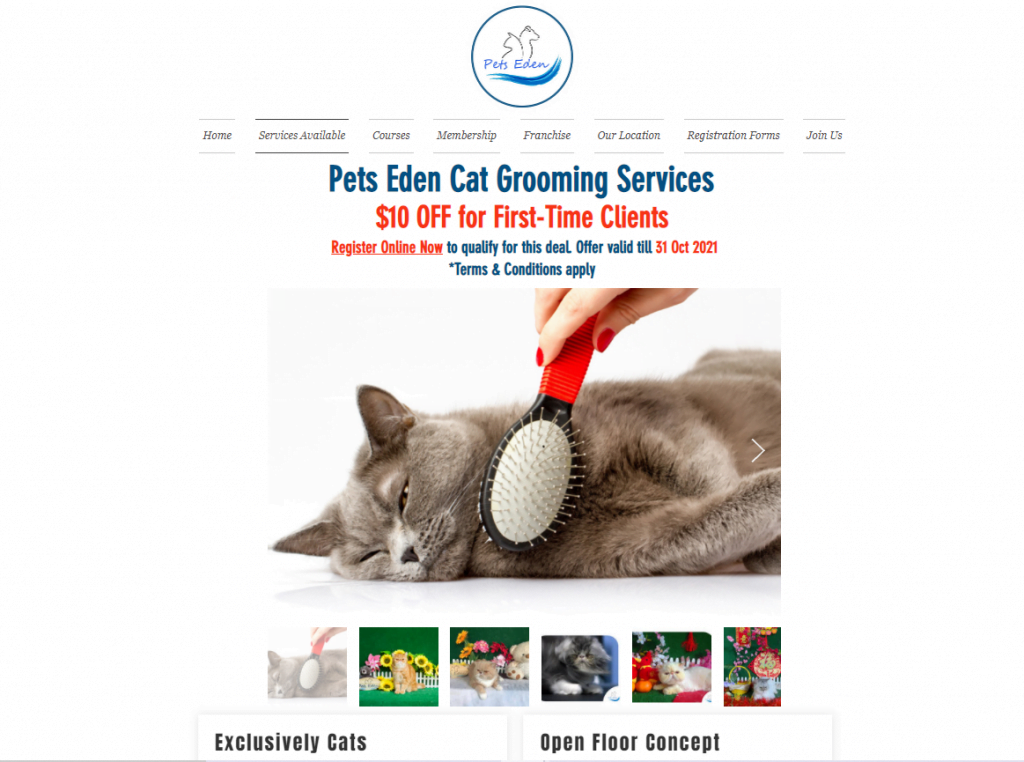 At Pets Eden, hygiene and sanitation practices are taken very seriously. Hence, you can rest assured that grooming tables and bathtubs between pets are also disinfected alongside the premises that are disinfected at the end of every day.
In addition, your cat will also be groomed in a separate room, away from other pets, to provide your furkid with the most enjoyable, least stressful grooming they've ever experienced.
10. Grooming Studio SG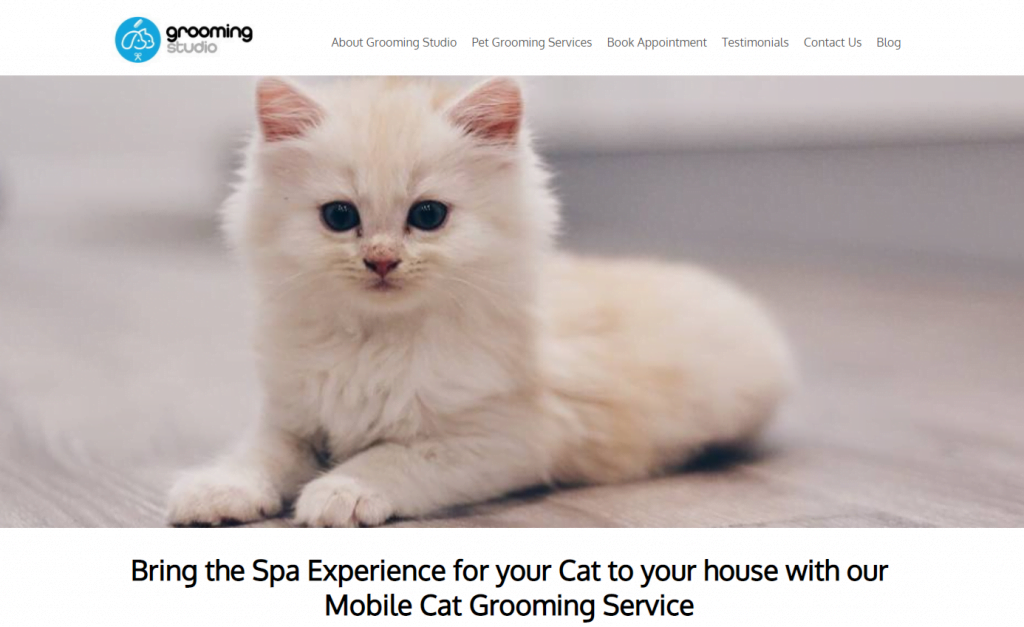 Established to help pet owners groom their furkids at the comfort of their homes, Grooming Studio SG gives you peace of mind by bringing you professional, hassle-free cat grooming service to your doorstep.
With only 3 steps to secure your spot, you can now say goodbye to complicated booking besides the transparent pricing offered by the pet grooming service provider.
11. Grooming Studio SG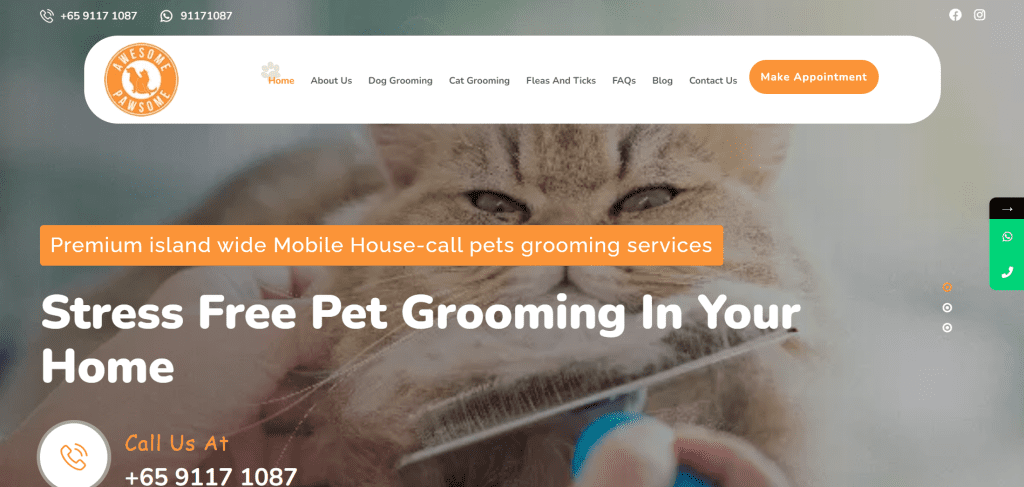 On top of having experienced groomers to groom your cats, Awesome Pawsome also offers all-in-one specialised pet grooming services, such as: tick treatment, bathing solution, ears and eyes cleaning, nail filing, and even coat styling.
What their mobile pet grooming services mean to your pets: no separation anxiety or day-long waits, no contact with other animals, so no risk of illnesses/diseases – a short stress-free grooming experience!
For folks with both cats and dogs, you'd be glad to know they also offer dog grooming – that'll be even more convenient for you!
Conclusion
Do you have any reviews and comments to share regarding our choices for the best cat grooming in Singapore?
While SBO is committed to supporting our local businesses, we welcome any feedback and anonymous sharing regarding your experience with the companies listed.
We hope that this guide will be useful in helping you to make an informed decision when it comes to finding the best cat groomers in Singapore.
Explore More Content