10 Best Sleep Clinic in Singapore to Have a Sound Rest [2023]
Get yourself treated by the best sleep clinic in Singapore to have a sound rest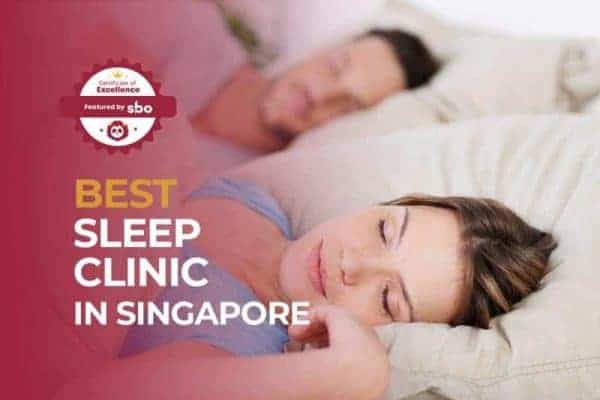 Have you been facing difficulty falling asleep over a long period of time? If so, it's time to get yourself treated at the best sleep clinic in Singapore.
The best sleep clinic in Singapore gives you a much needed treatment to get your well-deserved good night rest back.
In this post, we've gathered all the necessary details including unravelling reviews and testimonials to derive a list of the 10 best sleep clinic in Singapore to have a sound rest.
1. Ear Nose Throat, Head & Neck Surgery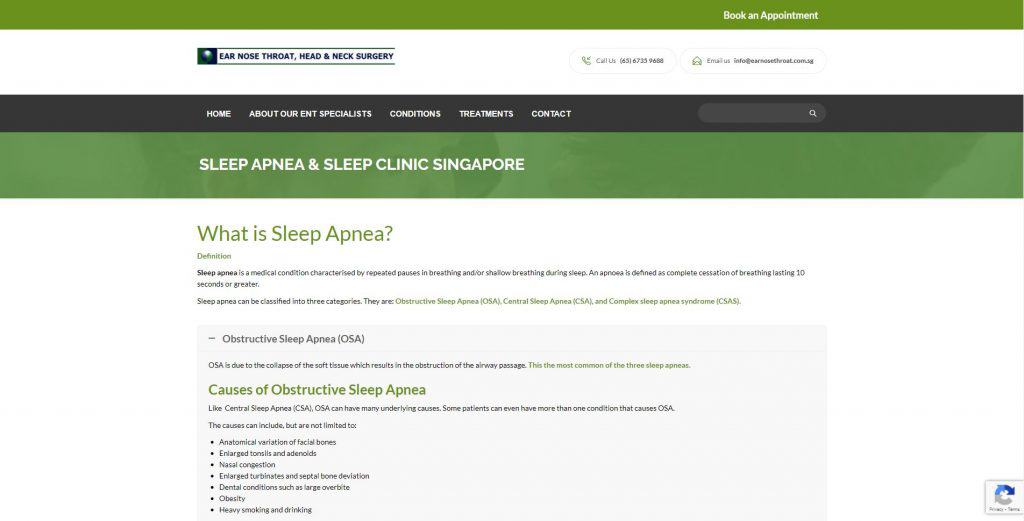 Founded in 2003, Ear Nose Throat, Head & Neck Surgery Clinic is led by experienced ENT specialists, Dr Goh Yau Hong, Dr Kenneth Oo and Dr Lim Keng Hua who possess an expertise in the field of Otolaryngology.
The clinic has one of the most technologically advanced ENT equipment to provide their patients to treat your sleep problems.
In Ear Nose Throat, Head & Neck Surgery Clinic, their ENT doctor will commence treatment with a detailed interview on your symptoms, sleep pattern and quality. They will proceed with the necessary examinations comprising with a nasoendoscopy and sleep study to determine the types and severity of sleep apnea. With all these information, the doctors will be able to customised a tailored treatment plan for you.
2. SOG Petrina Wong's Clinic For Children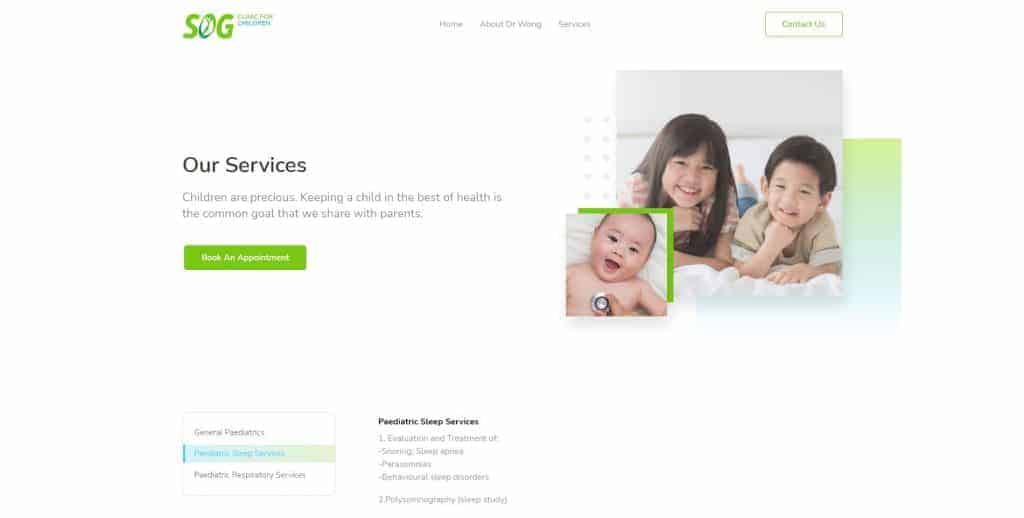 SOG Clinic for Children is helmed by Dr Petrina Wong, a fully accredited specialist in paediatrics with the Ministry of Health in Singapore, focusing on childhood respiratory and sleep conditions, in addition to general paediatrics.
For Children suffering from sleep condition, the sleep clinic in Singapore offer paediatric sleep services. This will consist of an evaluation and treatment of snoring, sleep apnea, parasomnia and behavioural sleep disorders. A polysomnography (Sleep Study) will be conducted to gauge the severity of your child's sleeping condition.
3. Asia Sleep Centre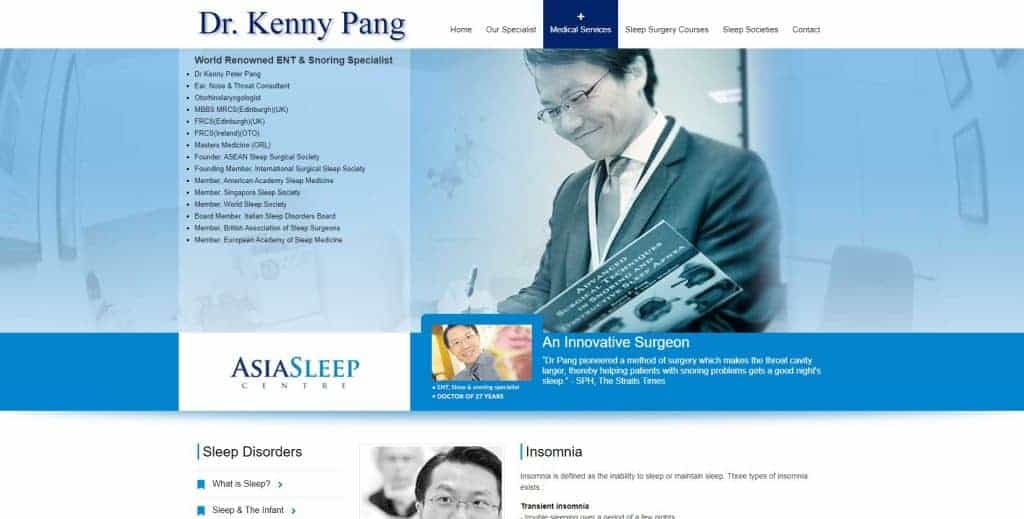 Asia Sleep Centre is helmed by experienced ENT specialist, Dr Kenny Pang who treat all forms of sleep disorders including snoring, obstructive sleep apnea, insomnia, narcolepsy, sleep walking, night terrors, bed wettings, and parasomnias.
To cure sleep disorder, a sleep test will be conducted using the latest Watch PAT device which has shown to be effective with 93% accuracy and reliability which will determine the relevant treatments that you will undergo.
Treatments include Nasal Continuous Positive Airway Pressure (nCPAP) which is a non-invasive treatment method, oral appliances and surgery.
4. Dr Annabelle Leong Ear, Nose & Throat Surgeon For Children & Adults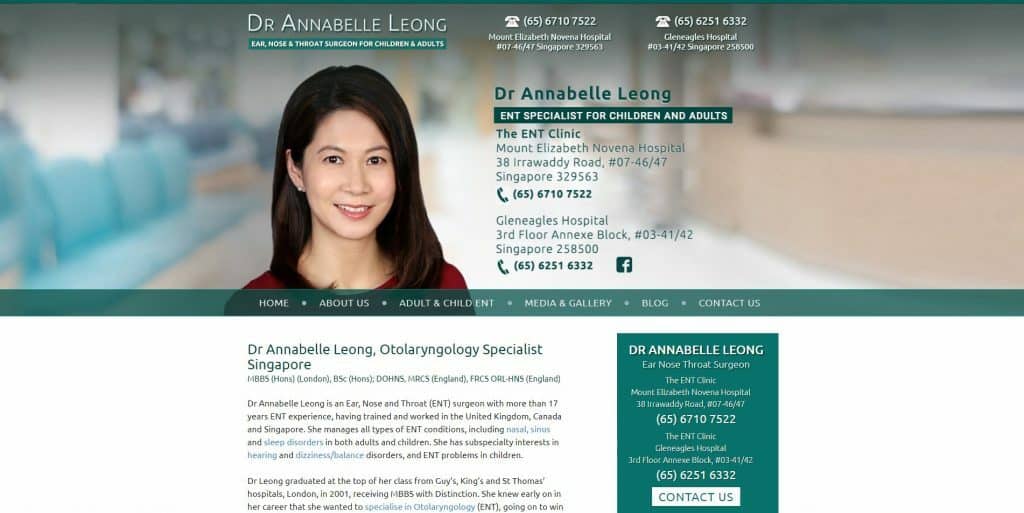 Dr Annabelle Leong is an experienced ENT specialist who has managed different paediatric and adult ENT conditions. She believes in delivering patient-centric care supported by evidence-based clinical practice.
The clinic provides treatment for kids and adults suffering from ENT conditions including sleep apnea.
As with all other sleep clinics in Singapore, Dr Annabelle Leong's clinic conducts a sleep study for all patients getting treatment for sleep apnea. This test gives the ENT specialist an idea of the type of treatment to undergo to cure your sleep apnea which could either be a Continuous Positive Airway Pressure (CPAP) or a surgery.
5. Mount Elizabeth Medical Centre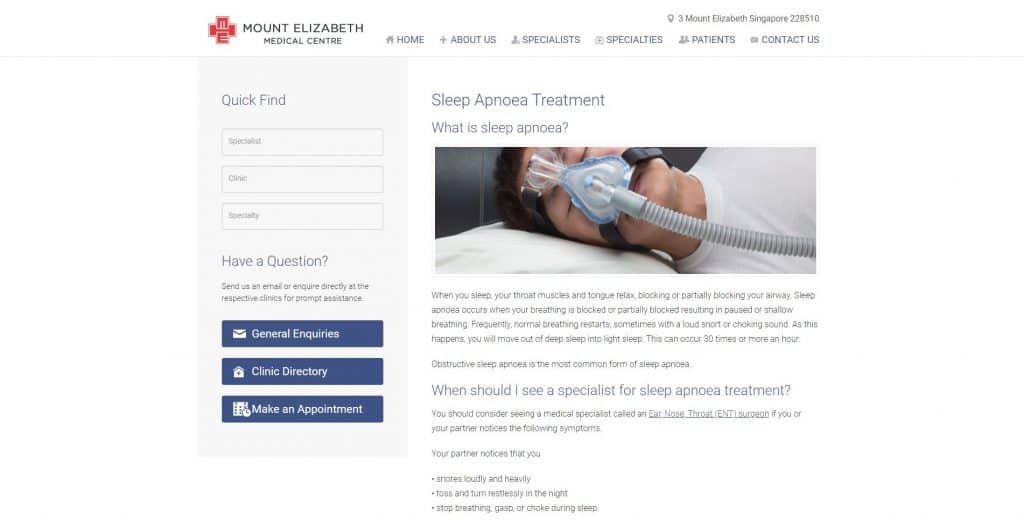 Mount Elizabeth Medical Centre provides the necessary expertise and equipment to treat your sleep apnea.
The treatments undertaken will be determined by the severity of your condition. For mild cases, you will be encouraged to carry out lifestyle alterations such as weight loss and smoking cessation.
If this is a moderate or severe case, you may be recommended to undergo certain form of treatments such as Continuous Positive Airway Pressure (CPAP), Expiratory Positive Airway Pressure (EPAP), putting on oral appliances or undergoing surgery.
6. Kinder Clinic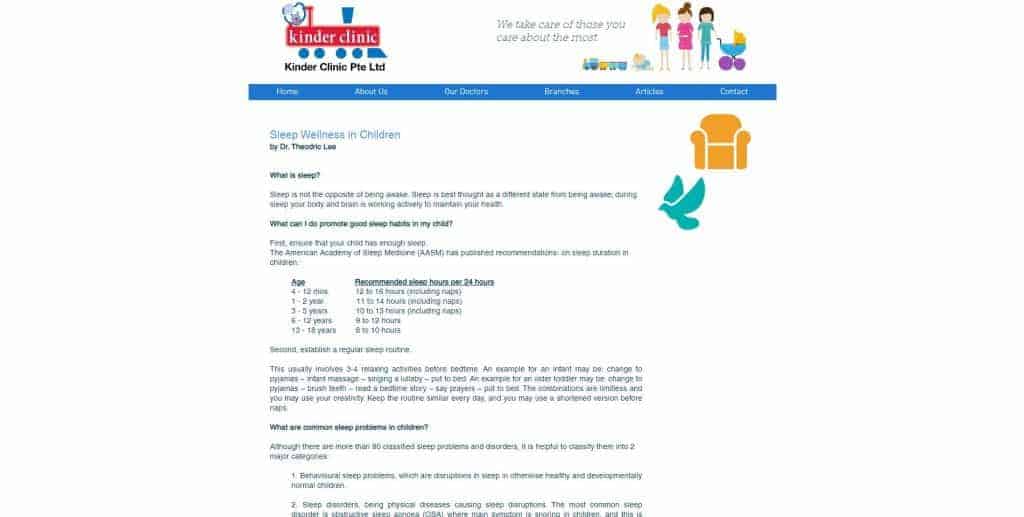 Founded in 2000, Kinder Clinic is one of the largest paediatric group practices in Singapore that provide sub-speciality private paediatric healthcare services.
The Clinic provide various forms of paediatric services for children such as neonatology, general paediatrics as well sub-speciality paediatrics which include paediatric sleep treatment.
7. The ENT, Voice & Snoring Clinic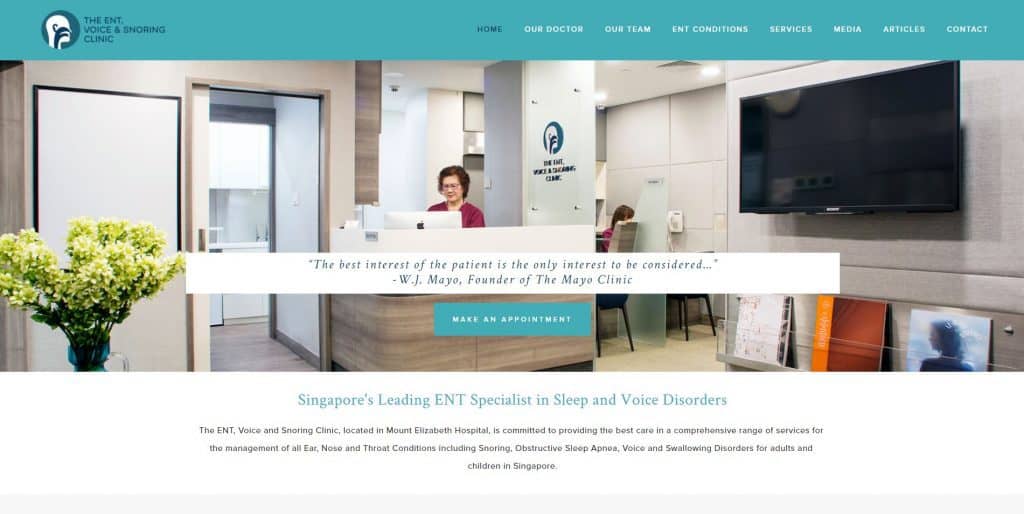 The ENT, Voice & Snoring Clinic aims to provide the best ENT care for adults and children in Singapore. It is run by experienced consultant ENT surgeon, Dr Han Hong Juan. His experience lies in areas such as minimally invasive and office-based surgical treatment for a wide variety of ear nose throat conditions.
He also possesses his subspecialty expertise in advanced surgical treatment of snoring and obstructive sleep apnea, voice and swallowing disorders, including the use of laser and robotic surgery.
If you suffer from these conditions, you will benefit from Dr Han's treatment.
8. My ENT Specialist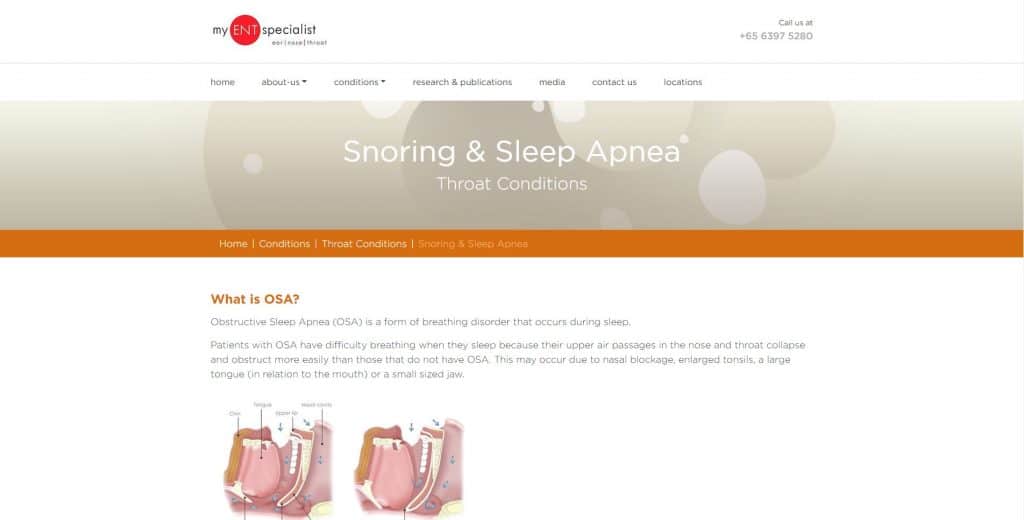 My ENT Specialist is led by Dr Paul Mok and Dr Lau Hung Tuan, experienced ENT specialist in Singapore. They believe in personalising each of their patient's care in order to have better outcomes for the treatments.
My ENT Specialist provides a high-quality treatment to cure your sleep disorder such as snoring and sleep apnea.
An overnight sleep test will be conducted either at home or in the hospital to determine the severity of your condition so that the necessary treatment can be made.
These treatments could be sleep hygiene and weight loss for mild cases or Mandibular Advancement Appliance (MAD), Continuous Positive Airway Pressure (CPAP) device and a surgery.
9. Ear Nose & Throat Centre CC Lau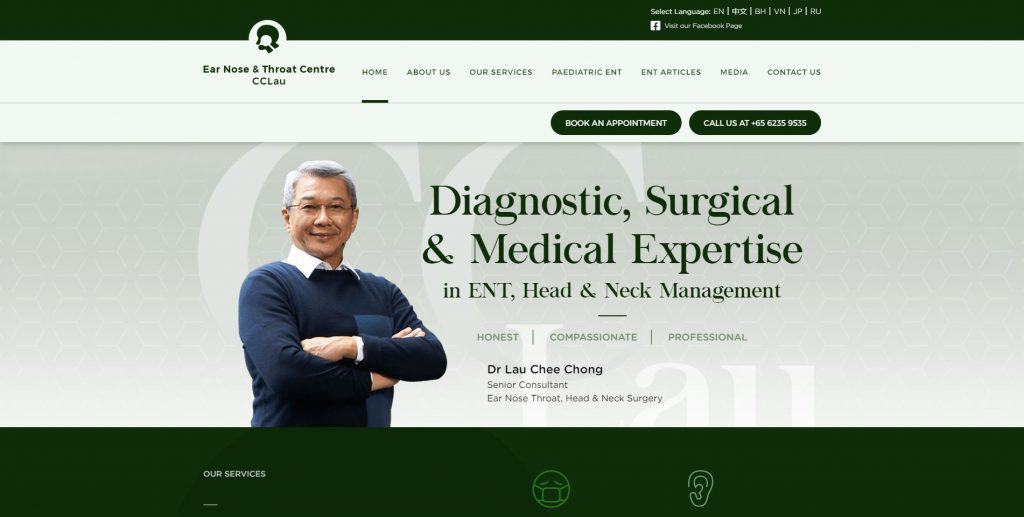 Ear Nose Throat Centre CC Lau is led by an experienced ENT specialist Dr Lau Chee Chong. With 18 years of experience, he has worked at various hospitals in both Singapore and United Kingdom. He has surgical and visiting rights to all private hospitals in Singapore.
The clinic provides a comprehensive diagnosis and treatment for all ENT conditions. This include diagnosis and treatment of allergies, snoring and obstructive of obstructive sleep apnea and screening, diagnosis and management of cancers.
It has the necessary equipment to treat various forms of ENT conditions including Narrow Band Imaging Video Rhinolaryngoscopy.
10. Dr Gan Eng Cern ENT & Sinus Specialist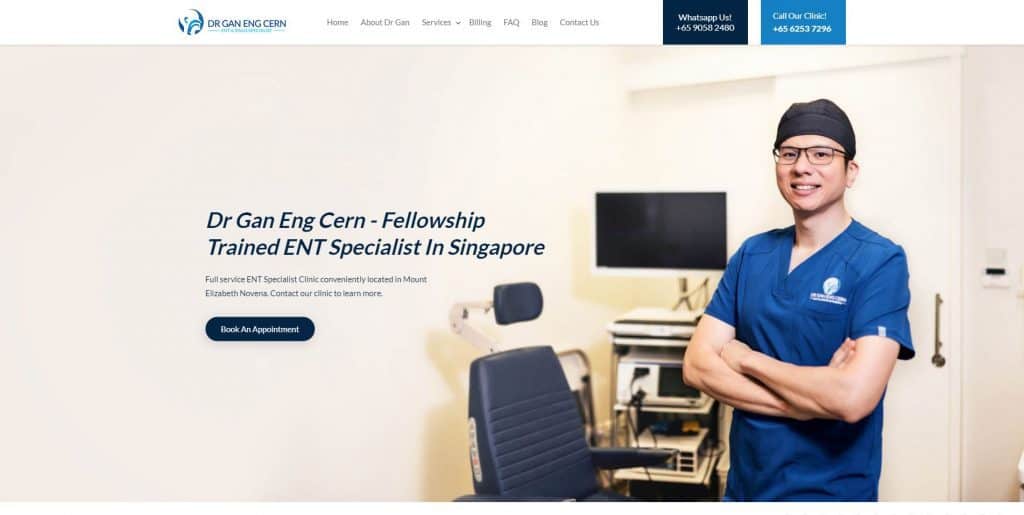 Dr Gan Eng Cern is a fellowship-trained consultant ear, nose & throat (ENT) surgeon. He provides comprehensive management for various ENT conditions including obstructive sleep apnea.
You can expect one of the most advanced ENT equipment and a fully-equipped facility to treat your sleep apnea condition.
Dr Gan has been recognised for his expertise through various awards such as the Reader's Choice Gold Award for Best ENT Specialist (Expat Living Singapore) and the Best Educator Award (Eastern Health Alliance).
Conclusion
Do you have any reviews and comments to share regarding our choices for the best sleep clinic in Singapore?
While SBO is committed to supporting our local businesses, we welcome any feedback and anonymous sharing regarding your experience with the listed sleep clinic in Singapore.
We hope that this guide will be useful in helping you to make an informed decision when it comes to finding the best sleep clinic in Singapore.
Explore More Content