10 Best Clinics to Treat Sleep Apnea in Singapore for Better Sleep [2023]
Have a good night's sleep with the 10 Best Clinics to Treat Sleep Apnea in Singapore.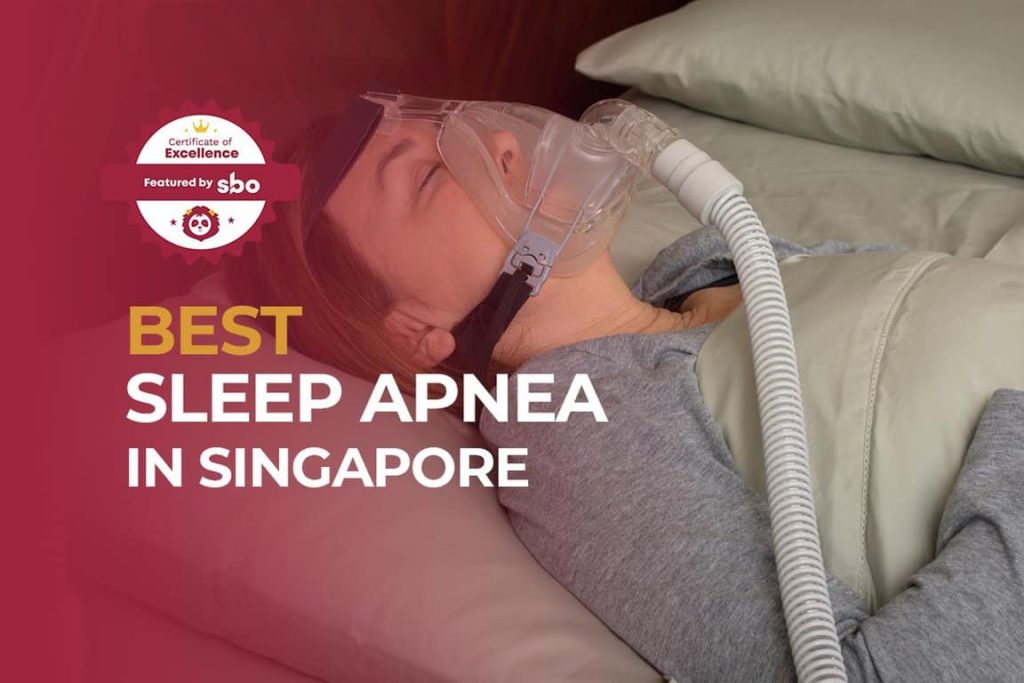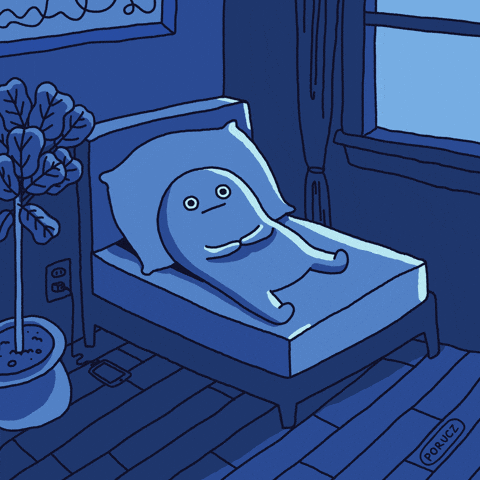 A sleeping disorder that causes multiple extended pauses in breath during sleep, resulting in loud snoring and daytime fatigue, sleep apnea can lead to serious health problems if left untreated.
One of the most common types of sleeping disorders, it is estimated that approximately 3-7% of men and 2-5% of women have sleep apnea, with over 100 million people suffering from sleep apnea worldwide.
If you are also one of the many who are facing difficulties in breathing normally during sleep, it is high time you seek professional help to get it treated.
Scroll down for the list of the 10 Best Clinics to Treat Sleep Apnea in Singapore to help you get a good night's sleep now.
1. ENT Surgeons Medical Centre (Dr Dennis Chua)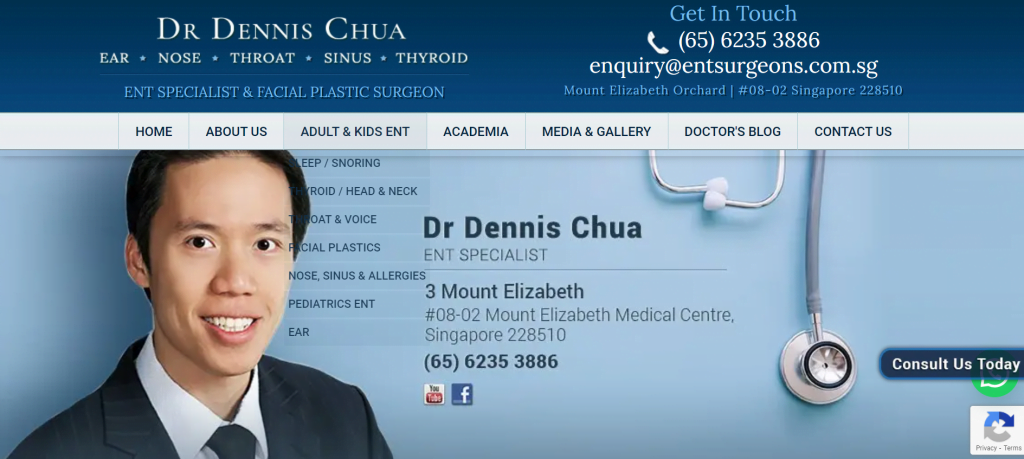 An Ear Nose & Throat Specialist, with a subspecialty focus in Facial Plastics & Reconstructive Surgery, Dr Dennis Chua focuses on nose and sinus conditions and helps most patients deal with breathing and snoring related issues.
An experienced ENT Specialist in Singapore that treats patients with sleep apnoea and snoring conditions, Dr Dennis Chua will do an evaluation via nasendoscopy to assess the narrowest point in the nasal or oral passage and conduct a sleep study to diagnose and assess the severity of your condition if needed.
2. Dr Kenny Pang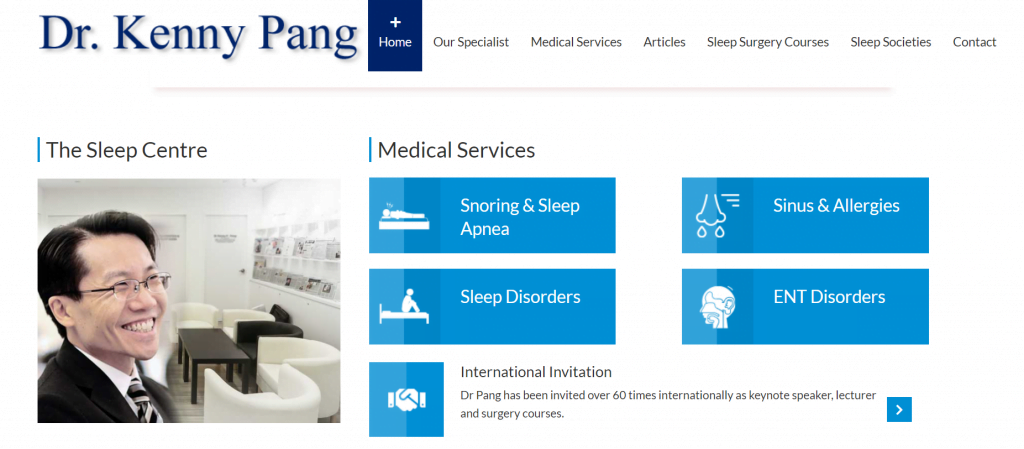 An influential figure in the industry, Dr Kenny Pang is a major contributor to the International Sleep Medicine Field having successfully invented the new surgery, Pang's Expansion Pharyngoplasty, that is effective in treating snoring and sleep apnea.
A fellow of the American Academy of Sleep Medicine and the American Surgical Modification Task Force, Dr Pang has published over 25 articles in international peer-reviewed journals and written over 10 chapters in the various American textbooks.
3. Asia Pacific Dental Sleep Medicine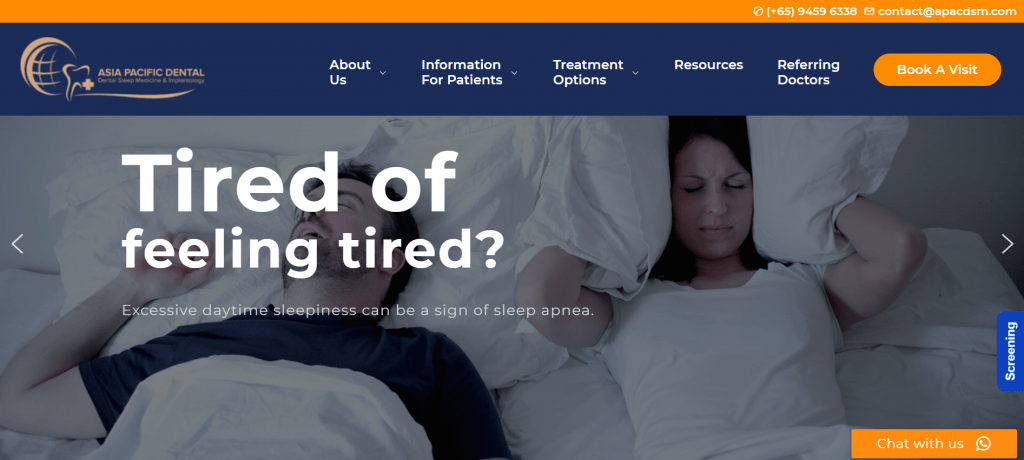 The new leader in dental sleep medicine, Asia Pacific Dental Sleep Medicine offers the use of OrthoApnea NOA, a device capable of solving different problems: snoring and obstructive sleep apnea.
Clinically approved, ISO certified and guaranteed the efficiency of its management, the device guarantees a perfect adaptation to the patient's teeth while providing the patient with a considerable range of jaw movement.
4. Sleep Easy Centre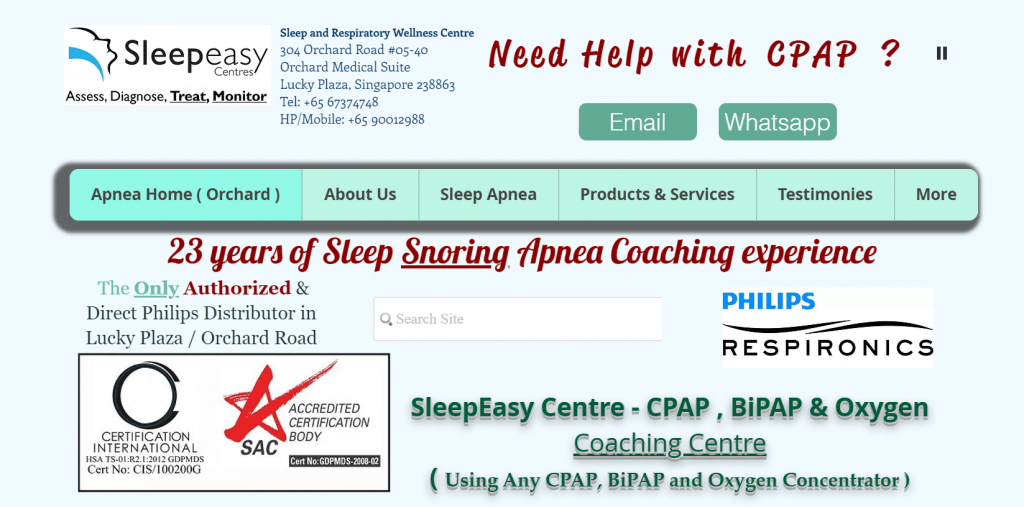 Located in the heart of Singapore, Sleep Easy Centre is an Auto CPAP, BiPAP Auto and Respiratory Coaching Service Provider, that helps patients to achieve quality-sleeping habits with the help of their CPAP, Auto CPAP, BiPAP Auto, BiPAP Auto SV machines and Ventilatory ( Bi-Level ) and Oxygen Devices.
Having more than 20 years of clinical experience with patients with Obstructive and Central Sleep Apnea and Complex Sleep Apnea, Mr Eugene Baey, founder of the centre, uses his knowledge and past experiences to assist patients and walk their CPAP/ BIPAP journey with them.
5. Lee Respiratory and Sleep Clinic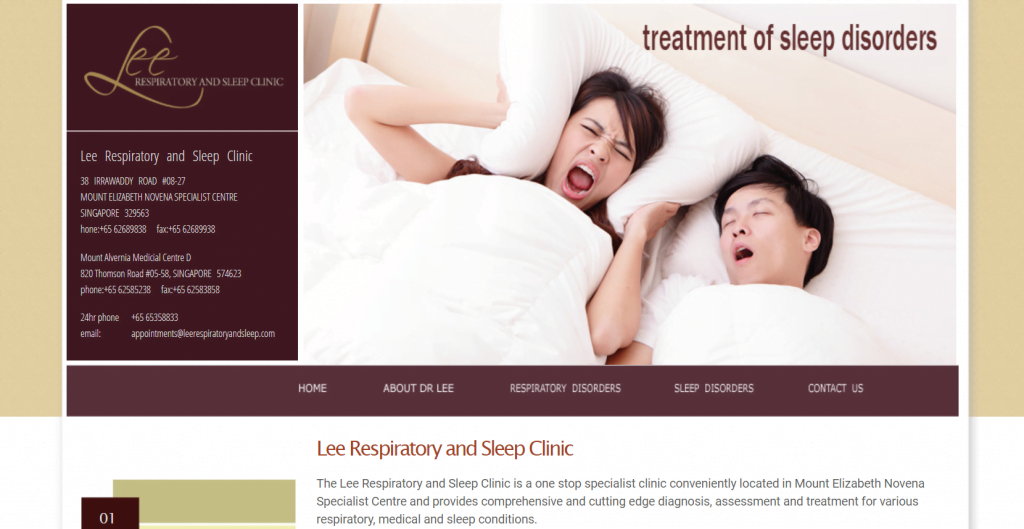 A one-stop specialist clinic conveniently located in Mount Elizabeth Novena Specialist Centre, Lee Respiratory and Sleep Clinic provides comprehensive and cutting edge diagnosis, assessment and treatment for various respiratory, medical and sleep conditions.
A Consultant Chest and Sleep Physician and a Specialist in Intensive Care Medicine currently practising in the Mount Elizabeth Novena Specialist Centre, Dr Lee Yeow Hian is recognised for his expertise in Sleep Medicine and has been invited to speak at major scientific conferences internationally as well as in the region, including the World Congress of Sleep Apnoea in Seoul in 2009.
6. Snoring & Sleep Disorders Institute (SSDI)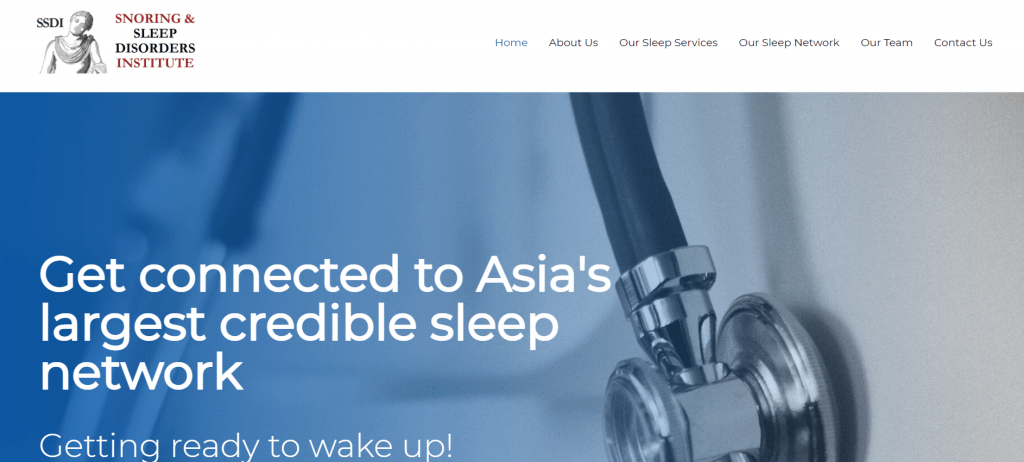 Established in 2009 in Singapore, Snoring and Sleep Disorders Institute (SSDI) is a professional organization composed of clinicians sharing a common interest in promoting, educating and establishing high-quality sleep facilities and services.
Today, SSDI has expanded its network all across the Asian region to Malaysia, the Philippines and Indonesia.
7. Yap Wee See Respiratory And Sleep Clinic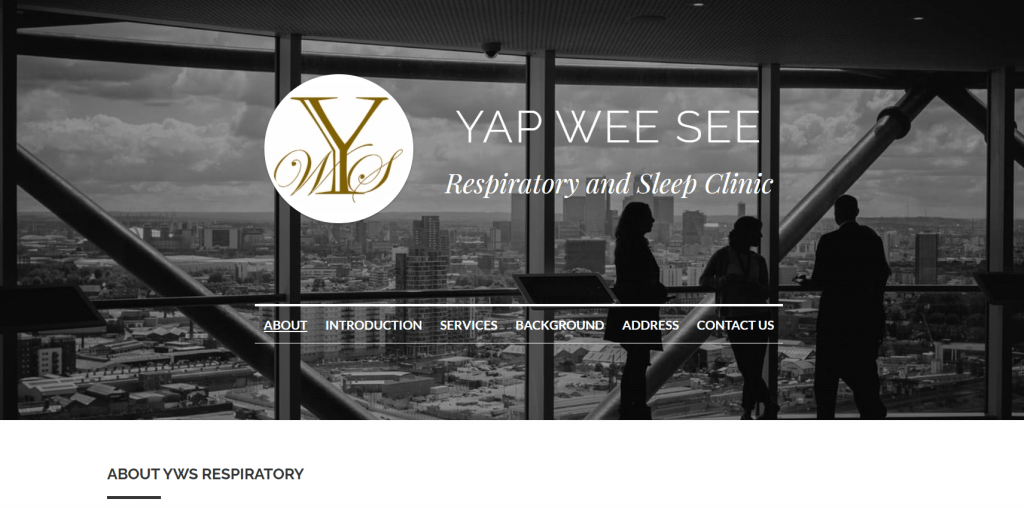 Previously the Head of Department and Senior Consultant of the Department of Respiratory and Critical Care Medicine, Tan Tock Seng Hospital (TTSH), from 2011 to 2014, Dr Yap Wee See held an important role in setting up the current Sleep Laboratory and Sleep Clinic in TTSH.
While doing his fellowship in Canada, Dr Yap Wee See also spent a year in advanced training in Sleep Medicine and Bronchology at the Vancouver General Hospital and the University of British Columbia, Canada.
8. The ENT, Voice & Snoring Clinic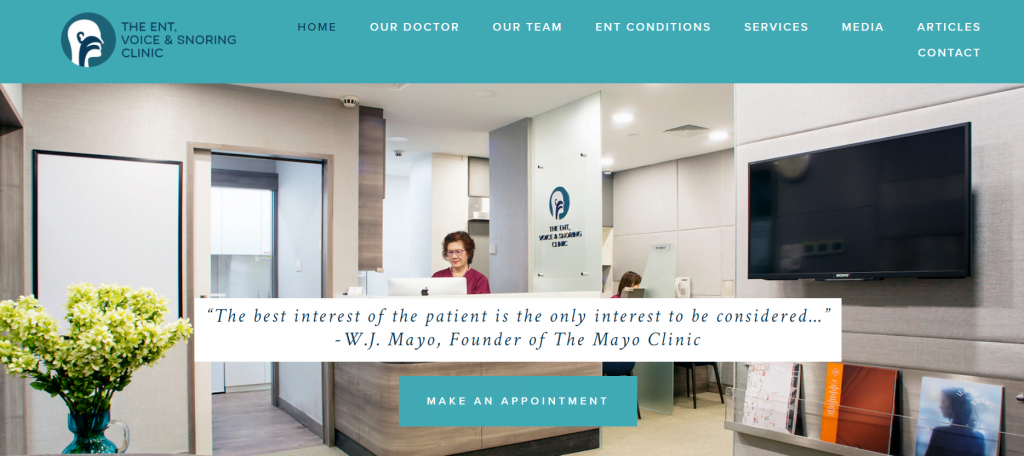 Located in Mount Elizabeth Hospital, The ENT, Voice and Snoring Clinic provides a wide range of services for the management of all Ear, Nose and Throat Conditions such as Snoring, Obstructive Sleep Apnea, Voice and Swallowing Disorders for adults and children in Singapore.
Treatment at the clinic includes minimally invasive and office-based surgical treatment such as the use of Laser and Robotic surgery for treatment of snoring and obstructive sleep apnea, voice and swallowing disorders.
9. Dr Gan Eng Cern – Sinus & ENT Specialist Singapore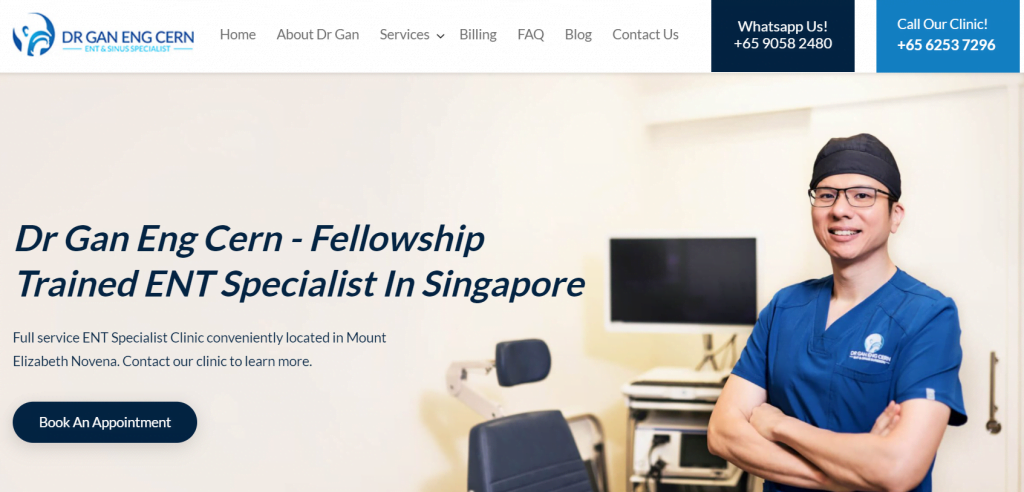 Sub-specialised in Nose & Sinuses (Rhinology & Endoscopic Skull Base Surgery), Dr Gan Eng Cern received his training at St Paul's Sinus Centre (affiliated to the University of British Columbia, Vancouver, Canada), one of the top nose and sinus centres in the world.
With many awards under his belt such as the 2020 Reader's Choice Gold Award for Best ENT Specialist
(Expat Living Singapore), Dr Gan was also an invited speaker and surgical dissection teacher in many ENT conferences and courses.
10. Dr Annabelle Leong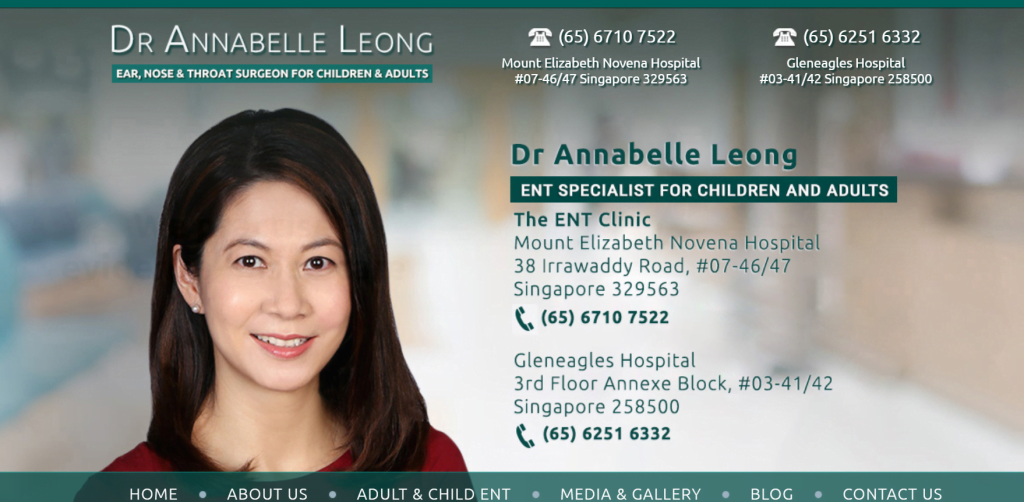 An Ear, Nose and Throat (ENT) surgeon who has accumulated more than 17 years of ENT experience, Dr Annabelle Leong is very experienced in managing all types of ENT conditions, including nasal, sinus and sleep disorders in both adults and children.
Not only has she worked for the National Health Service in the United Kingdom for 12 years, but she is also the first and only Singaporean recipient of the Royal Society of Medicine (RSM) National Temporal Bone Prize for displaying the best surgical skill in-ear dissection in the United Kingdom.
Today, she is presently registered with both the General Medical Council in the United Kingdom and the Singapore Medical Council as a specialist in Otolaryngology (ENT).
Conclusion
Do you have any reviews and comments to share regarding our choices for the best clinics to treat sleep apnea in Singapore?
While SBO is committed to supporting our local businesses, we welcome any feedback and anonymous sharing regarding your experience with the listed 10 Best Clinics To Treat Sleep Apnea in Singapore.
We hope that this guide will be useful in helping you to make an informed decision when it comes to finding the best clinics to treat sleep apnea in Singapore.
Explore More Content