10 Best Metal Fabrication in Singapore to Create Metal Structures [2023]
This article was not fabricated.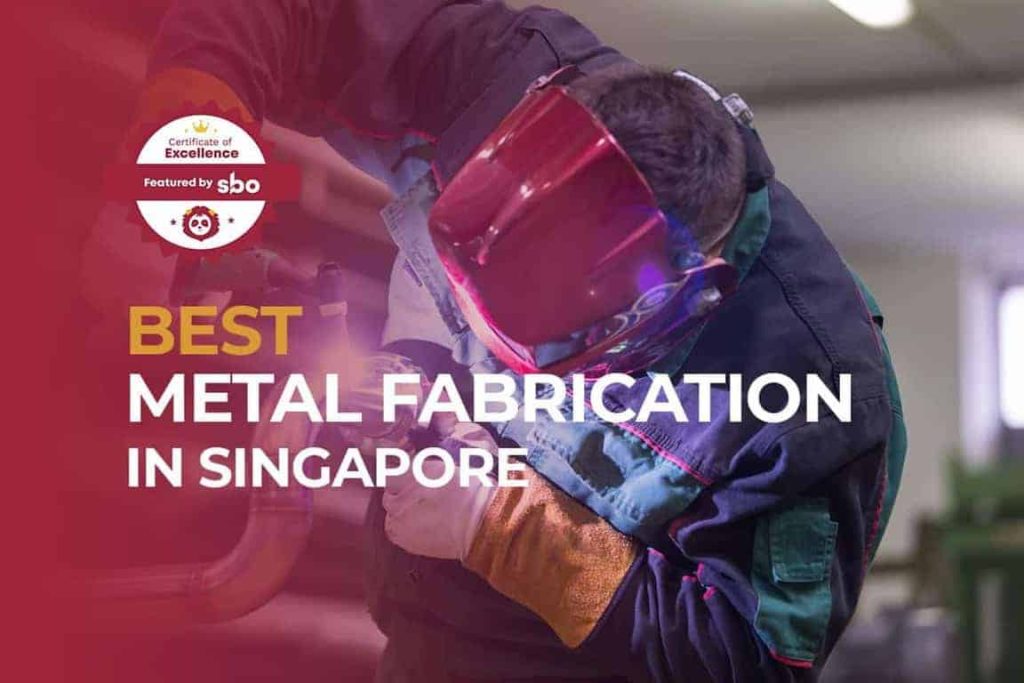 Metal fabrication is the creation of metal structures by cutting, bending and assembling processes.
It is a value-added process involving the creation of machines, parts, and structures from various raw materials like plate metal.
Looking for metal fabrication in Singapore?
In this post, we've gathered all the relevant details to compile a list of the 10 best metal fabrication in Singapore.
1. Chong Fong Engineering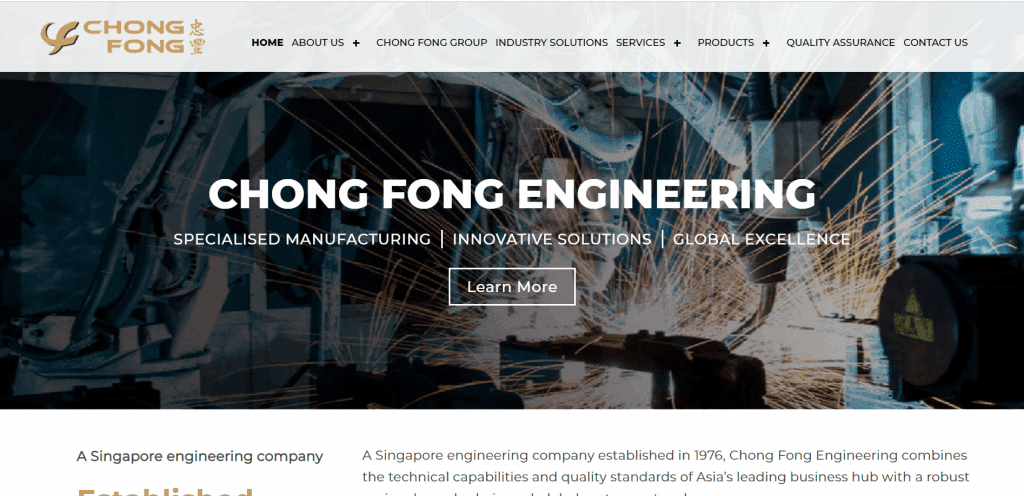 A Singapore engineering company established in 1976, Chong Fong Engineering combines the technical capabilities and quality standards of Asia's leading business hub with a robust regional supply chain and global partner network.
They offer their industry customers top-quality specialised manufacturing services and products.
Catering to industries such as aerospace, construction, marine and oil and gas, the metal fabrication in Singapore provides a wide range of steel structural fabrication works using materials like steel, high tensile steel, stainless steel, and aluminium.
Equipped with in-house CNC machines, one of their strongest specialities lies in metal fabrication work with machining (milling and turning) requirements.
With fully equipped facilities and experienced, highly trained welders and machinists, they can provide quality, custom-built work aligned with your specific requirements.
2. FMB Trading And Engineering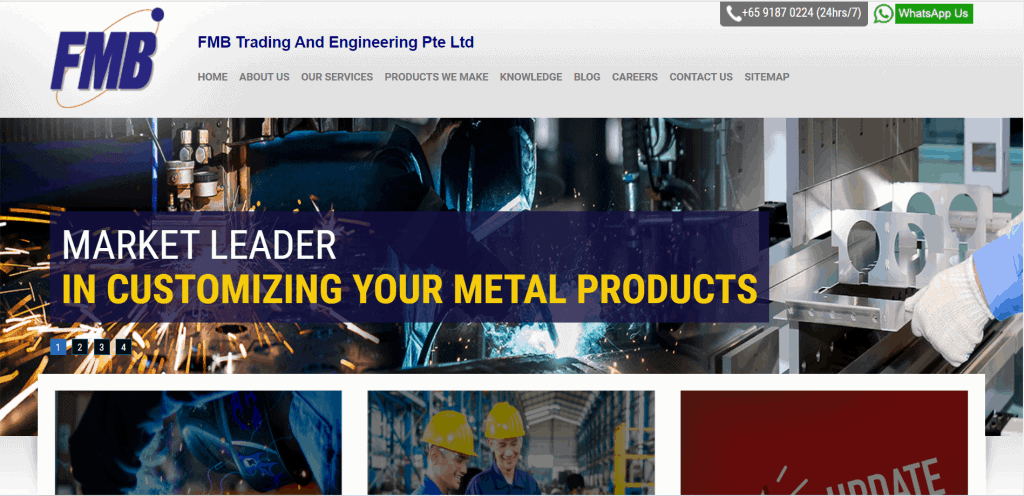 Founded in 1991, FMB Trading and Engineering was established to provide customised fabricating services to cater to their customers' requirements and needs.
They specialise in complete sheet metal fabrication using various methods such as laser cutting, metal bending, metal rolling, metal shearing and complete sheet metal fabrication to produce mild steel, stainless steel and aluminium.
Our recommendation is to go to them for aluminium fabrication services.
Their thorough aluminium fabrication process entails laser cutting, metal bending, shaping, welding, reforming, assembling the aluminium for specific needs.
Reviews laud the metal fabrication in Singapore for their prompt response and excellent workmanship.
Their delivery of fabricated products was also fast.
3. Sunny Metal & Engineering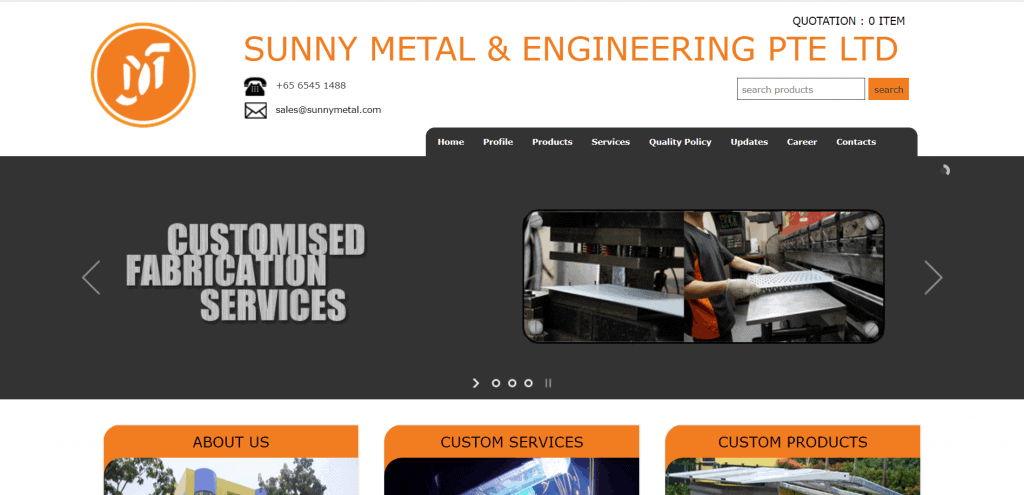 Sunny Metal & Engineering was founded in 1974 with simple cutting tools and few workers, to fabricate sheet metal products largely demanded by the construction industry.
Over the years, it has grown to become one of the leading companies to provide sophisticated solutions like electronic consoles, 19″ racks, wall-mounted cabinets, and many other types of enclosures including those with noise control.
They are able to fabricate perforated metals.
Perforated panels provide both a lightweight and aesthetic solution, especially for solar shading and cladding purposes, as it allows natural light and air to pass through.
Plus, beautiful patterns can be created to give rise to an exterior that is both aesthetic and functional.
Reviews laud the metal fabrication in Singapore for their excellent service.
4. TNL Engineering Works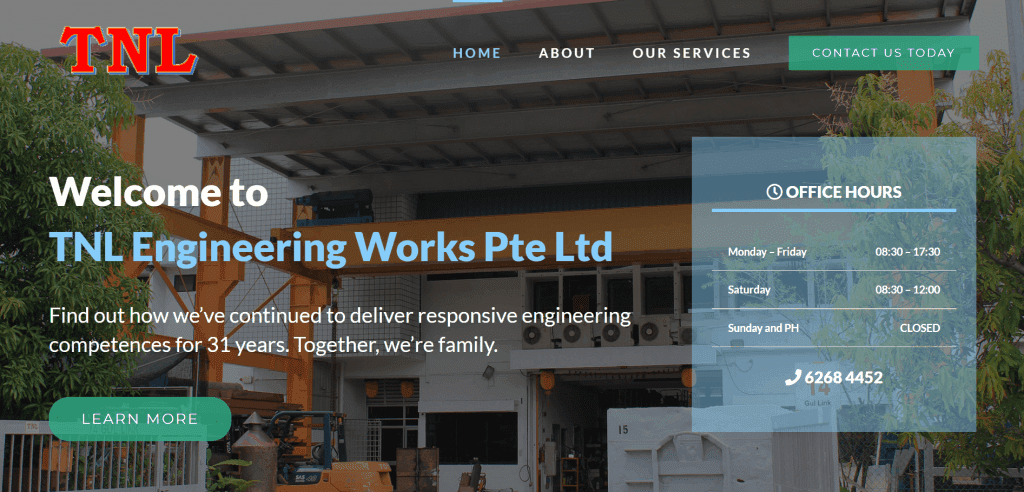 TNL Engineering was established in 1990.
They started off as a humble, small company at Fan Yoong Road, offering conventional machining services – drilling, turning and milling services.
Their operations slowly expanded and incorporated CNC precision machining capabilities to meet the needs of various customers.
TNL Engineering Works Pte Ltd provides metal fabrication and structural steel fabrication services in Singapore.
They also provide complementary metalworking services such as metal bending, metal shearing and sheet metal rolling services.
In addition to years of welding experience, they have procured marine-class approved Welding Procedure Specification (WPS) documents that provide welders clear guidance towards an effective weld that meets applicable code requirements.
5. Kian Huat Metal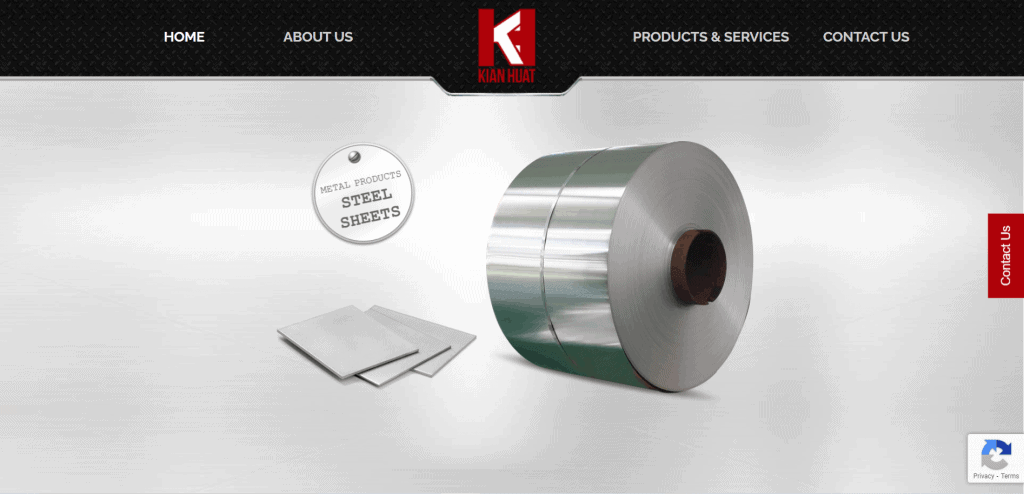 Kian Huat Metal is the chief distributor of aluminium and stainless steel products, recognised for its reliability, efficiency, and commitment to quality.
Their extensive range of aluminium and stainless steel products are sourced from manufacturers worldwide with footprints in countries like China, Indonesia, Thailand, and Malaysia.
The metal fabrication in Singapore provides high precision custom metal fabrication services with precise and consistent cutting according to your specifications.
They also provide metal finishing services like galvanising, coating, cutting and drilling.
Reviews laud the metal fabrication in Singapore for their good service and they always managed to accommodate customers' requests.
Be it angle bars or stainless steel plates, they are able to cut to length to meet business needs.
6. Brooklynz Stainless Steel Pte Ltd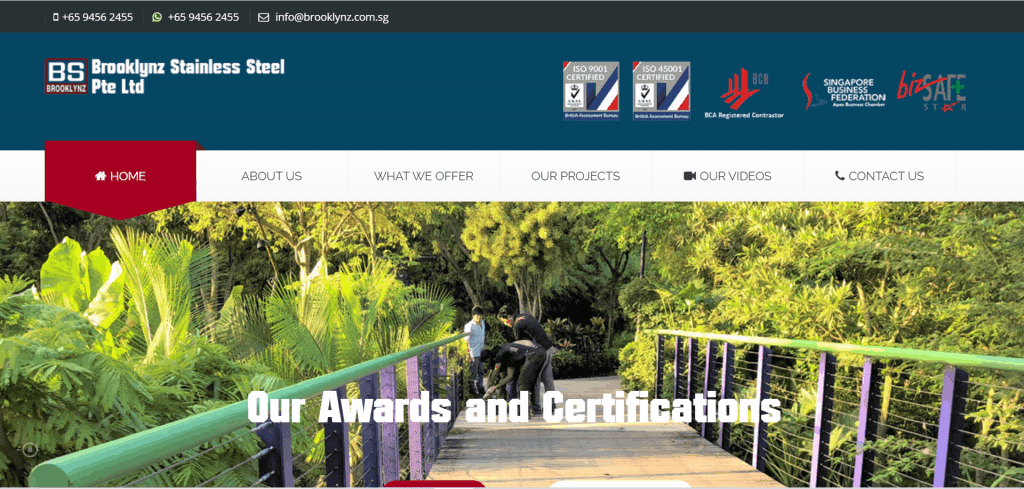 Brooklynz Stainless Steel Pte Ltd is a specialised tier 1 company involved in the design, fabrication and installation of customized stainless steel products for construction projects.
Brooklynz provides end to end solutions for all types of stainless steel works across all sectors which employ the use of steel structures.
Brooklynz has its own in-house design team that is home to skilled fabricators and installers.
Along with top-notch infrastructure, the ability of the metal fabrication in Singapore to source quality raw materials enables them to produce and supply stainless steel products adhering to the statutory standards for all project types.
Reviews laud the metal fabrication in Singapore for their speedy service from order to installation.
They were also professional and delivered top-notch workmanship.
7. Cititech Industrial Engineering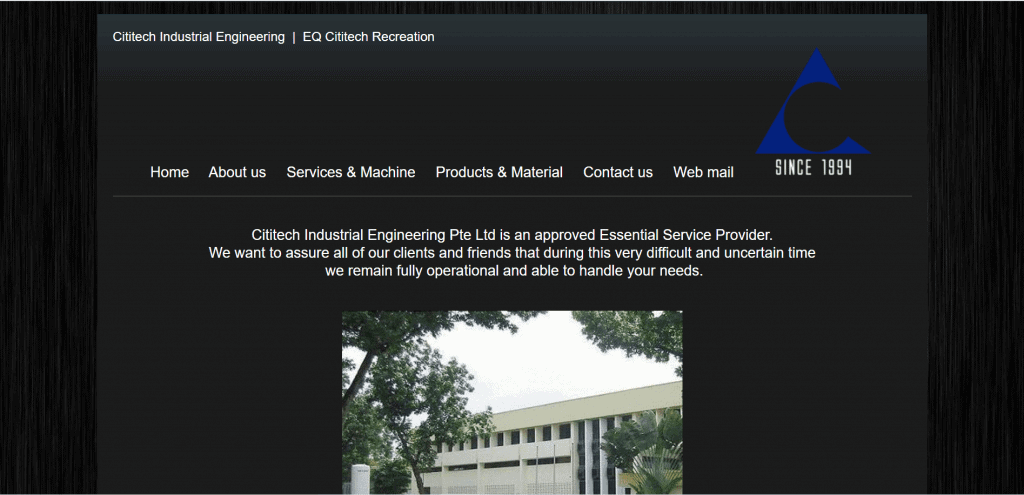 Cititech Industrial Engineering Pte Ltd was founded in 1994 by Mr Siew YF.
Cititech Industrial Engineering is a metal fabrication and machine shop that has been producing high-quality metal products for over 25 years.
The bulk of their business has been about producing customised products based on customers' drawings.
Since 1994, they have been a one-stop manufacturing center for sheet metal fabrication products. Cititech Industrial has invested heavily in machines and engineering software in past years.
They are now capable of fabricating a wide range of products like small souvenirs, mid-size fire/waterproof doors, server racks to full-sized structural components completed with powder coating upon request.
Their hard work and dedication in fabricating high-quality products have been acknowledged when Cititech Industrial Engineering Pte Ltd was awarded the distinguished ISO 9002 Quality Assurance Award in 1999.
The accolade was later upgraded to ISO 9001:2015 Quality Assurance Award in 2017.
In 2012, they also received the BizSAFE STAR award and met the SS506:Part1 management system standard.
8. MASUTAI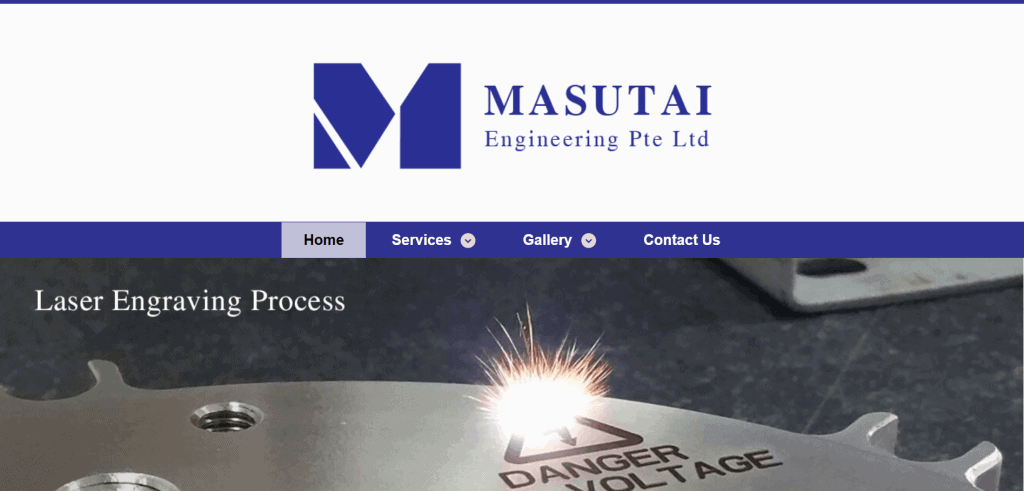 Established in 1984, Masutai Engineering Pte Ltd offers top-notch workmanship and professional advice to create metal components of all sizes.
With a team of experts, they provide over a dozen metal fabrication services to various clients.
The company also works with a wide variety of metals and raw material forms.
They are well-equipped to handle orders of any volume, including prototypes and are committed to offering a range of laser engraving and laser cutting services.
Their creativity and open-mindedness allow for the customisation of metal works.
Let them know your project's specifications and they'll give you a tailored solution.
9. Choon Hoe Heng Engineering and Metal Works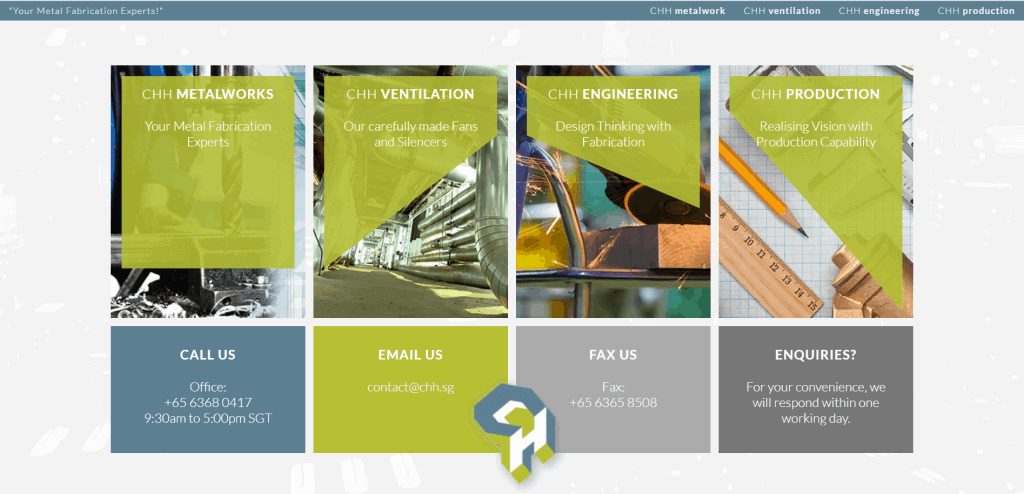 Established in 1988, Choon Hoe Heng has more than 25 years of experience.
They provide a range of services including manufacturing, processing, installation, and maintenance of fabricated products.
They are proud to be ISO 9001:2008 certified, which bears testament to the consistent quality of their fabricated metal parts.
Their technical capabilities for metal fabrication in Singapore include: CNC Plasma Cutting, Welding, Flanging, Shearing, Sawing and Rolling.
Their material list includes various metals such as Mild Steel, Galvanised Iron, Stainless Steel and Aluminium.
Afraid that your metal product will rust after being exposed to air?
They have a hot-dip galvanising method available, which is the most cost-efficient for ensuring protection against rusting of the metal structure.
The strong, silvery galvanisation will coat the surface of the structure, leaving no area exposed to natural elements.
10. C S Marine & Engineering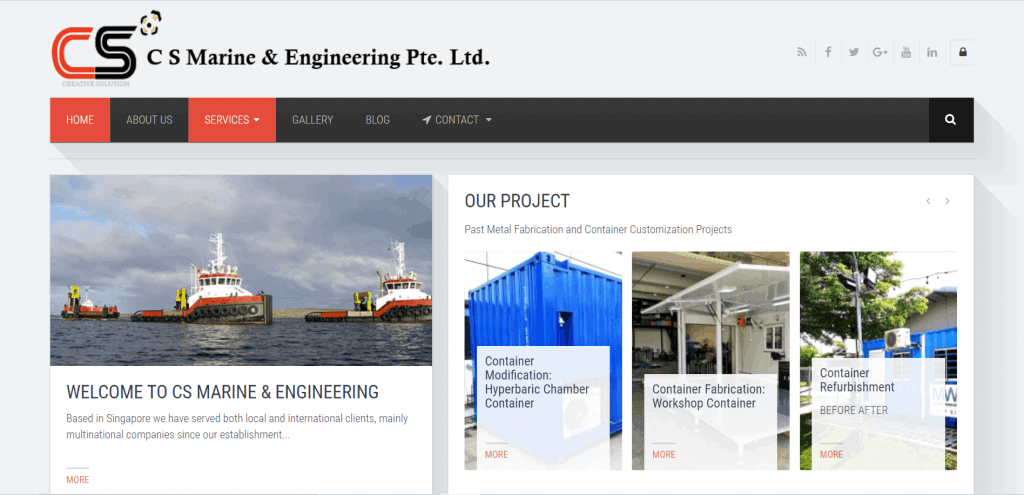 Established in 2011, C S Marine & Engineering Pte Ltd provides clients with a range of metal services.
These include but are not limited to custom metal fabrication services, welding works, container fabrication services, container customisation, container modification services, as well as stainless steel fabrication services.
Metal fabrication involves a variety of metal works processes that the company can execute.
It involves cutting, welding, bending, shearing and at times machining.
Their fabrication shop here in Singapore has state of the art machines and tools to fulfil your metal fabrication needs.
They have the ability to take on major metal fabrication projects from the housing, commercial, industrial and public sectors.
Reviews praise the metal fabrication in Singapore for adding a human touch.
Conclusion
Do you have any reviews and comments to share regarding our choices for the best metal fabrication in Singapore?
While SBO is committed to supporting our local businesses, we welcome any feedback and anonymous sharing regarding your experience with the best metal fabrication in Singapore.
We hope that this guide will be useful in helping you to make an informed decision when it comes to finding the best metal fabrication in Singapore.
Explore More Content