10 Best Security Companies in Singapore to Keep You Safe and Secure [2023]
Finding the best security companies in Singapore keeps you safe and secure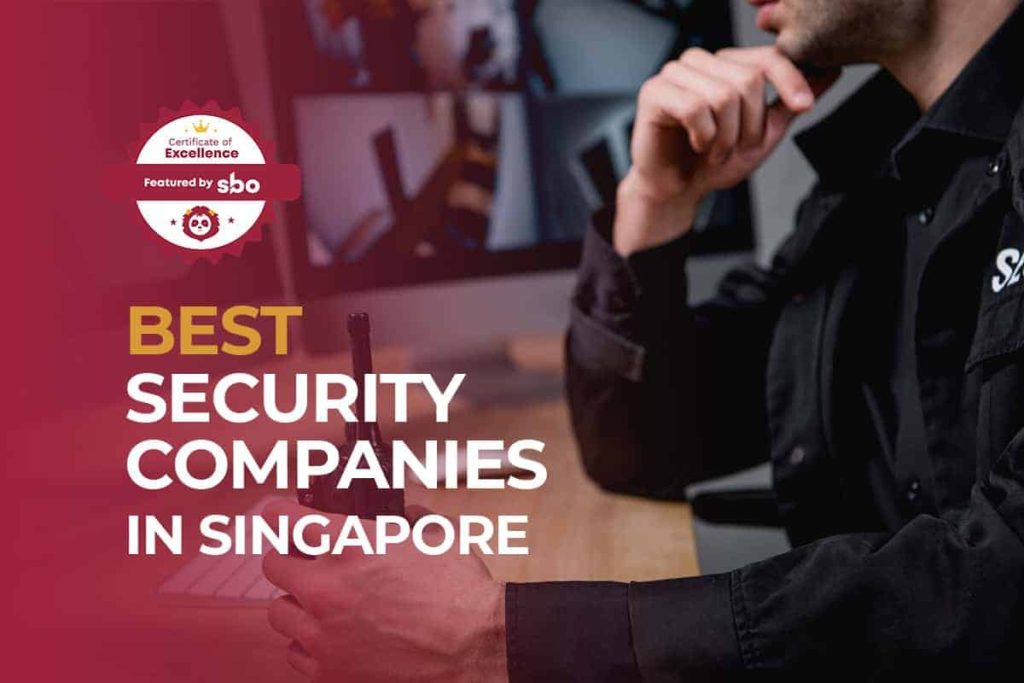 We value security in our lives. Because we are safe, we can go on doing the things that you do in our everyday life.
This is even more crucial for business owners because insecurity can mean a potential loss. Therefore, you can look for one of the best security companies in Singapore to prevent this from happening.
The best security companies in Singapore have the expertise required to protect you and your property.
In this post, we've gathered all the necessary details including unravelling reviews and testimonials to derive a list of the 10 best security companies in Singapore to keep you safe and secure.
1. Centurion Security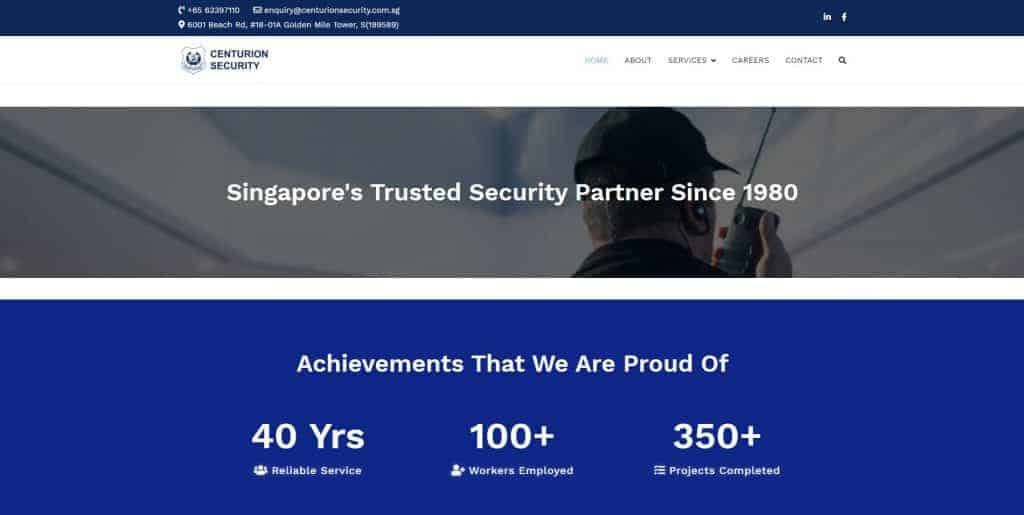 Established in 1980 as KS Security Agency by the late Captain Karam Singh, Centurion Security is the one of most trusted security companies in Singapore.
They provide comprehensive security solutions with the highest standards, all tailored to the security needs of their clients. With the various forms of security services offered, their well-trained and licensed security officers are ready 24/7 to protect your loved ones and property. Their security team is also capable of ensuring a secured environment for events of all forms in Singapore.
KS Security Agency also provides a comprehensive risk assessment which will be crucial in understanding the underlying security risks and threats facing their clients as well as the control measures required. They utilise the latest technology in ensuring that all their security tasks are carried out in an efficient and decisive manner.
Their hard work and dedication over the years have helped them to become one of the top 10 security companies in Singapore.
2. Deep Security Services Pte Ltd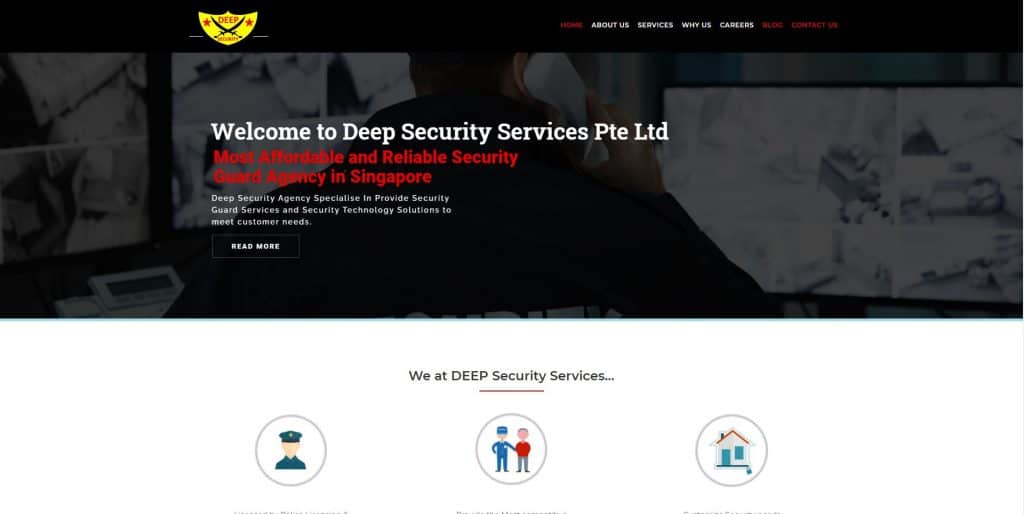 Founded in 2009 by Mr Tejdeep Singh, Deep Security Services is a reputable security guard agency that has been licensed by the Police Licensing & Regulatory Department (PLRD).
With Deep Security Services, your security needs are customised based on your requirements. In order to better achieve your security goals, they utilise the latest technology such as CCTV, analytic cameras and VMS system (Visitor Management System). You can be assured that these services are affordable and will by no means compromise the security of the premises.
Over the years, Deep Security Services have built up its reputation as reliable security agency. It is an active member of ACSA (Association of Certified Security Agency) and Bizsafe Level 3 Certified.
3. Metropolis Security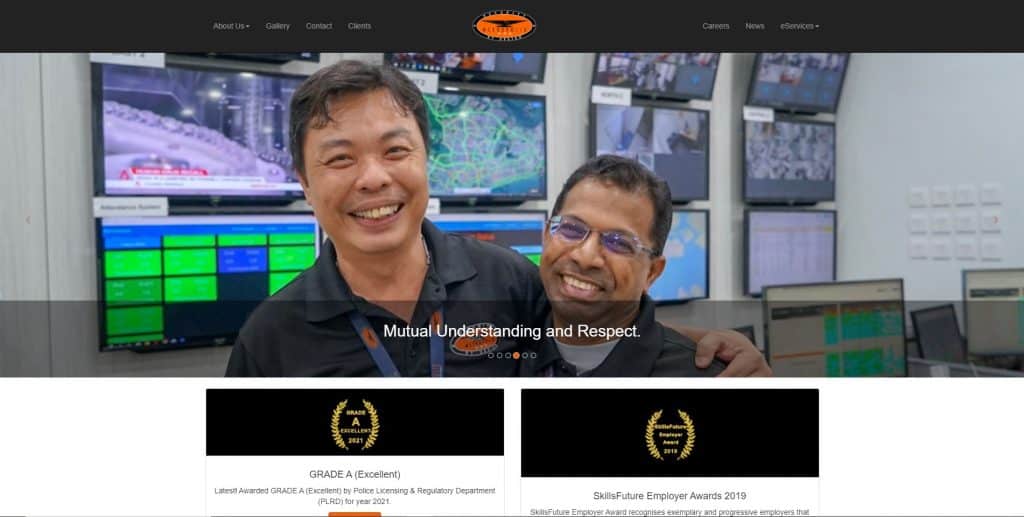 Metropolis Security aims to be the foremost security company in Singapore that provides security with the highest standards.
They provide various security technology solutions such as the centralised command centre, customised video analytics solutions, and visitor management systems.
Their hard work and dedication has earned them several accreditations such as the Grade A (Excellent) award by the Police Licensing & Regulatory Department (PLRD) and the Outstanding Security Agency of the Year 2016.
4. Sovereign Security Services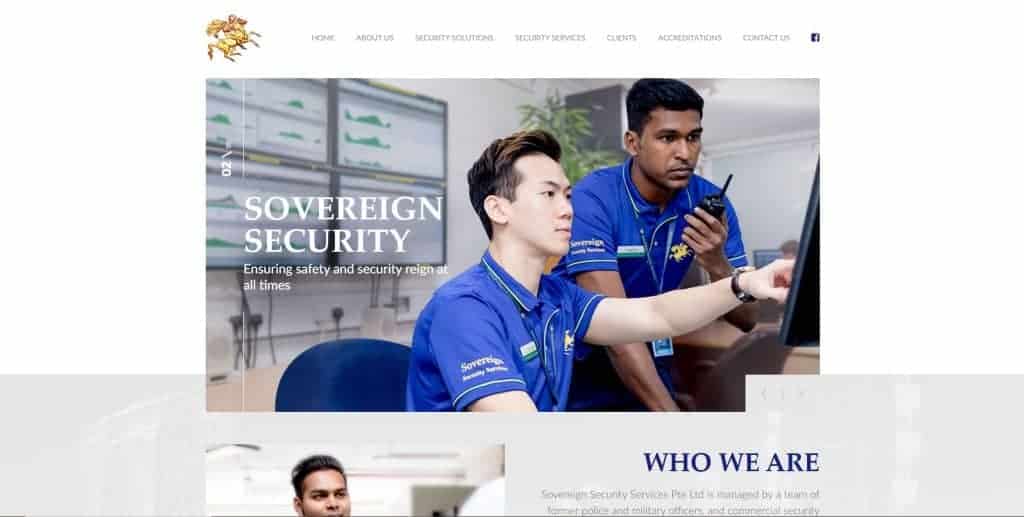 Founded in 1991, Sovereign Security Services is a holistic security organisation that has been certified by the Police Licensing & Regulatory Department (PLRD). They are equipped with security personnel serving as an elite and extensive team of highly qualified officers.
They provide a range of security services to meet the individual security needs of their clients. These include a versatile security service for the commercial/industrial sectors, patrol car services, guard dogs and guardianship for residence and premises.
Technology is an important element of everyday life in the 21st century, and Sovereign Security Services utilise an interactive security operations network to ensure that they complete their tasks with the highest standards. These include the 24/7 command centre, security management system and visitor management system.
5. SCHEMPP Protection & Investigation Services (SPIS)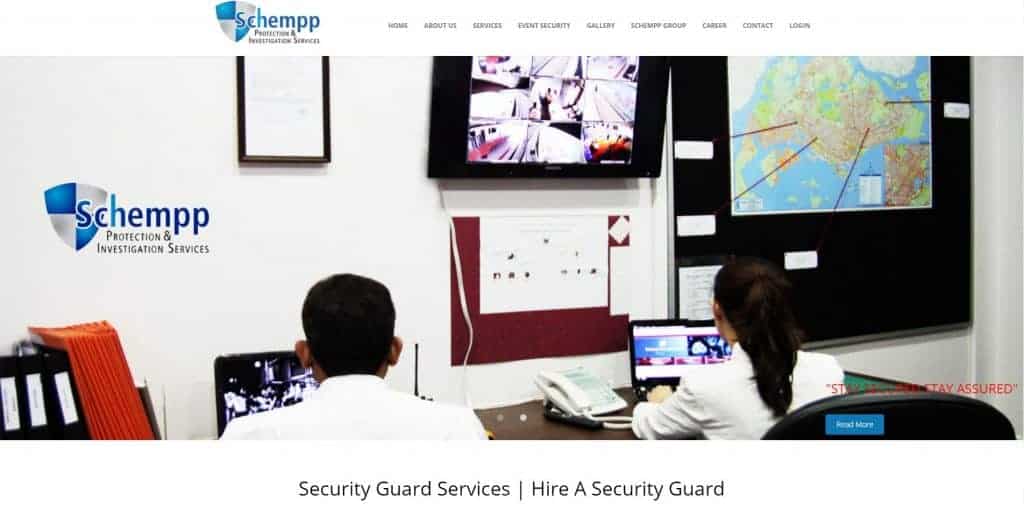 SCHEMPP Protection & Investigation Services (SPIS) is a renowned Security Company in Singapore that aims to provide reliable security services that put the safety and security of their clients at the top priority and being efficient in providing them with the best.
They provide quality security services for commercial/industrial, private/public buildings, aviation servicing centres as well as event/exhibition locations. They dedicate themselves to adding value to their clients by providing a regular review on operations, security equipment and installation and a ready pool of security officers.
6. Live Sensor Security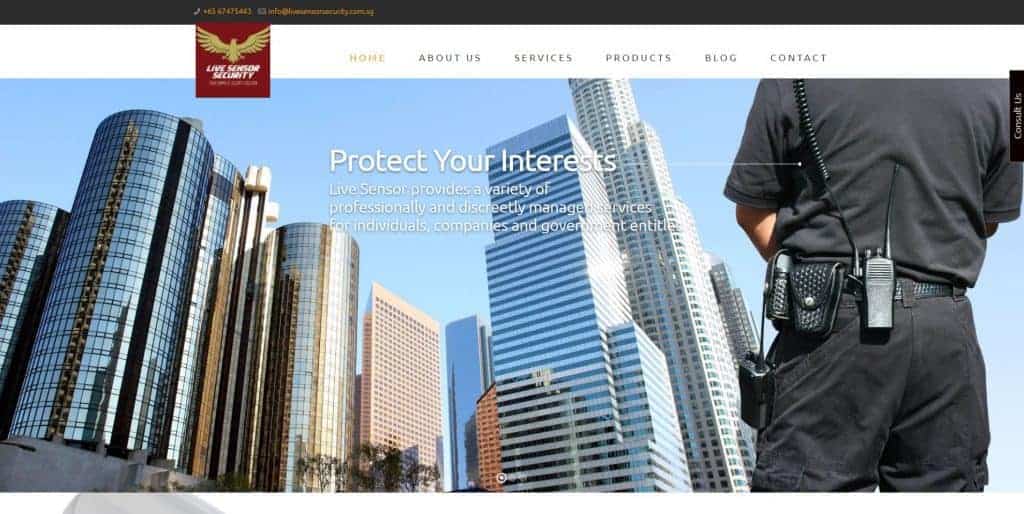 Live Sensor Security was founded in 2005 by a group of former police officers and specialist professionals. Since then, they have built themselves a reputation as one of Singapore's leading security agencies. Licensed by the Police Licensing Regulatory Department of Singapore Police Force, the team of experienced professionals possessing expertise in criminal and commercial investigation are able to complete their tasks efficiently and cost-effectively.
The agency offers various types of security services and systems solutions for customers from the industrial, commercial and private sectors. These include security guard services, security consulting, GPS Surveillance, Close Protection, Central Monitoring systems and Specialist Training Services.
A wide range of security cameras and access control systems are available if you need to make your premises more secure.
7. Guardforce Services Pte Ltd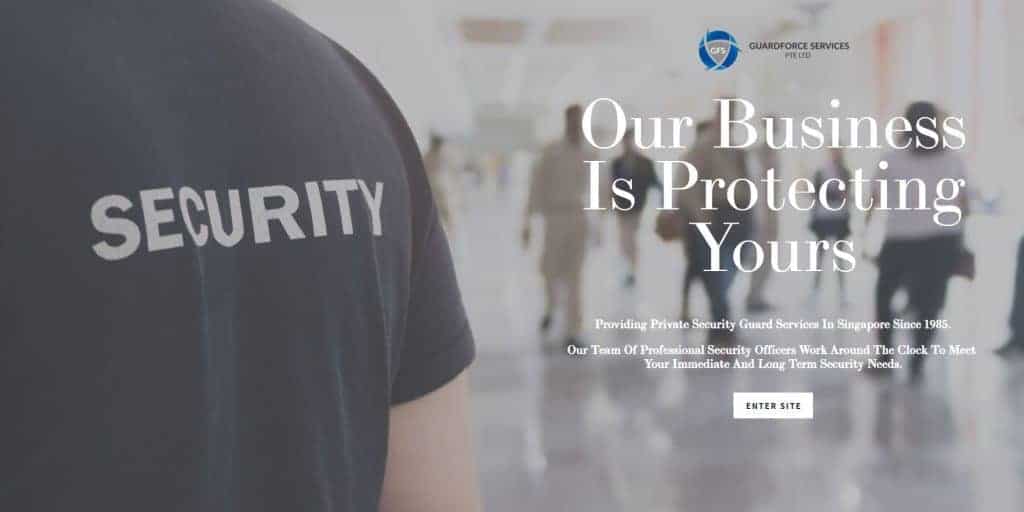 Guardforce Services has been providing private security services since 1985. Led by managing director Mr Ang Kok Keng, this company comprises of well-trained and qualified security officers ready to be deployed in various locations such as industrial buildings, shopping malls, and commercial buildings.
In recognition of their professionalism and quality service, Guardforce services have been awarded a "B" grade for Security Agencies Grading Exercise (SAGE) 2019, and is bizSAFE level 3 certified. They are also members of Association of Certified Security Agencies (ACSA) and Security Association of Singapore (SAS).
8. ESS Group of Companies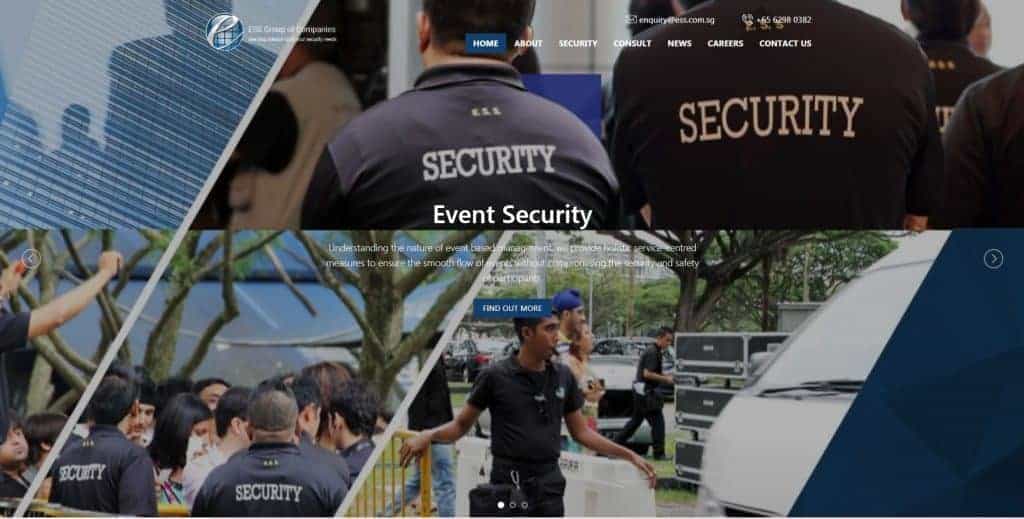 ESS Group of Companies consists of 3 security services namely Events Security Specialists, ESS Consulting, and ESS Global Sourcing which seek to provide premier holistic security services in Singapore and across the region.
Their management and staff comprises of experienced professionals from the Military, Police, Auxillary Police Force, and Private Security Industry. With their experience, they are able to provide the various aspects of events security such as guarding services, crowd management, access control as well as VIP & Artiste Escort with the highest level of professionalism.
This agency also provide organisations with various consulting services. They conduct audits using the latest assessment standards such as The Threat Vulnerability Risk Assessment (TVRA) to evaluate the security of their clients. In the event of a bomb threat, ESS is capable of providing with the necessary services such as the "Golden Hour" activities which refers to the immediate actions to mitigate risks, hazardous mail management as well as specialised equipment evaluation. These are carried by qualified Explosive Ordinance Disposal professionals.
9. Impact Security Services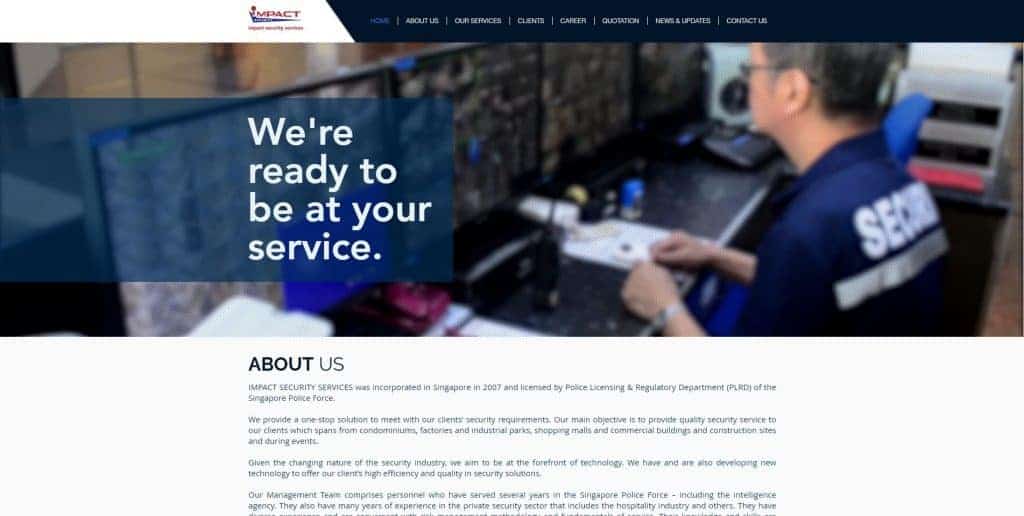 Established in 2007, Impact Security Services aims to provide quality security service to their clients. They have been licensed by the Police Licensing & Regulatory Department (PLRD).
They provide guard and patrol services as well as security risk surveys. In addition, they utilise modern technology namely, Visitor Management System, Remote Monitoring Using CCTV, 24-Hour Command Centre and Guard Tour Patrol System.
10. KYOWA Security Guard & General Services Pte Ltd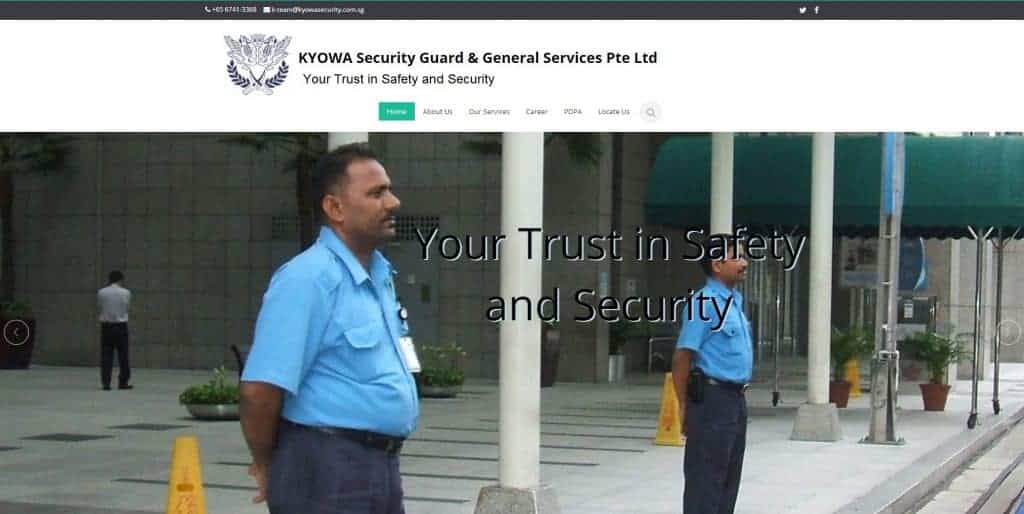 For over 30 years, Kyowa Security Guard & General Services has built up a solid service track records with a focus on service quality and reliability.
They provide security services for various settings such as factories, shopping centres, schools, residential areas and work sites. To facilitate an secured environment for their clients, they offer a wide range of products including intruder alarm system, card access system and CCTV system.
Besides this, they provide cleaning services for their clients as well. In order to provide clients with the best service, they constantly experiment with the latest cleaning methods, chemical materials and equipments.
Conclusion
Do you have any reviews and comments to share regarding our choices for the best security companies in Singapore?
While SBO is committed to supporting our local businesses, we welcome any feedback and anonymous sharing regarding your experience with the listed security companies in Singapore.
We hope that this guide will be useful in helping you to make an informed decision when it comes to finding the best security companies in Singapore.
Explore More Content