20 Best Name Card Printing in Singapore to Print Your Name Cards [2023]
Make an impression with these printed name cards.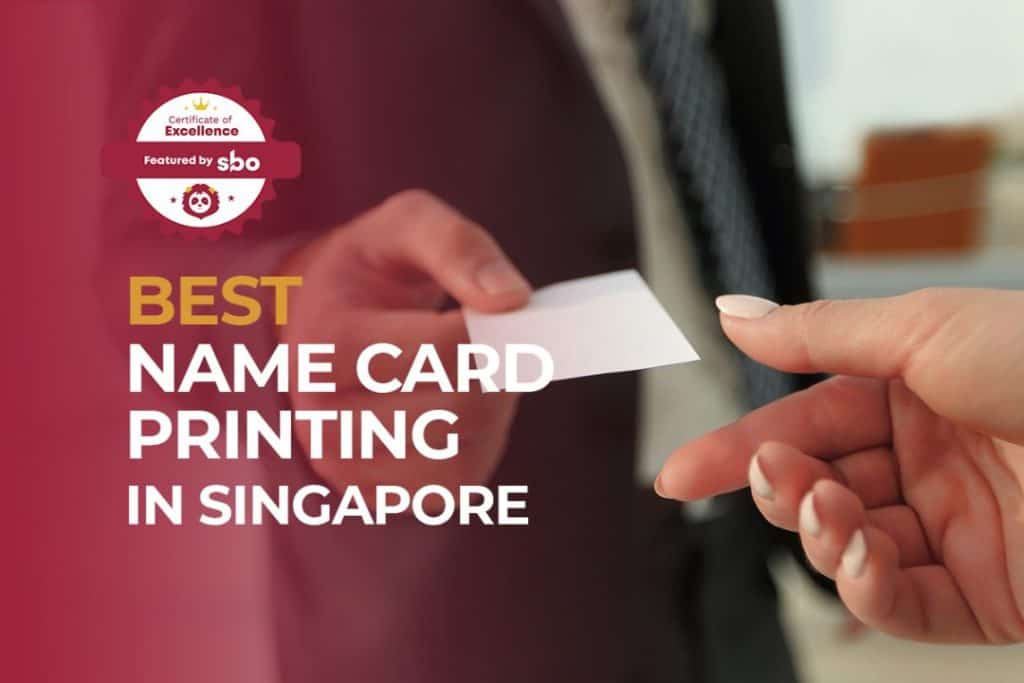 There's no better way to make a better first impression than to hand someone your name card.
Name cards are cards bearing information about a company or individual.
They are shared during formal introductions as a memory aid or a convenience.
Did you know that traditionally, many cards were simple black text on white stock, and the distinctive look and feel of cards printed from an engraved plate was a desirable sign of professionalism?
In the late 20th century, technological advances drove changes in style, and today a professional business card will often include one or more aspects of striking visual design to leave an indelible impression.
Looking for a name card printing in Singapore? In this post, we've gathered all the necessary details to compile a list of the 20 best name card printing in Singapore.
1. Vistaprint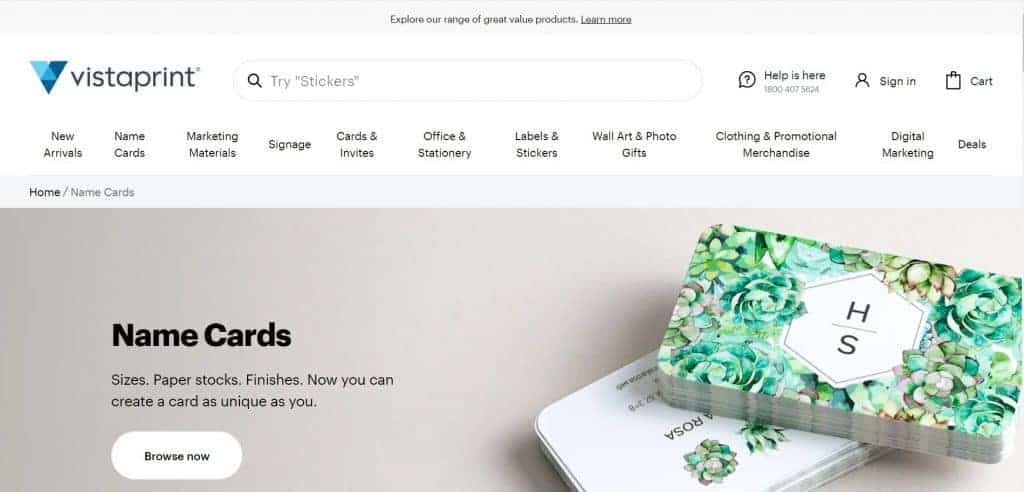 Vistaprint is known for its fully customisable name card design templates, which also include industry-specific designs.
If you already have your own design, you can also feel free to use it on your own choice of card size and paper.
They have 2 types of shapes for Matte name cards for you to take your pick from: Standard (91 x 55 mm) and Square (65 x 65 mm).
They start from S$19.99 and S$29.99 for 250 of each respectively.
Vistaprint is also the go-to name card printing in Singapore if you have a particular paper stock or finish in mind.
Our recommendation is to go with Pearl, which adds shimmer and shine to your card with luxe, light-catching paper, or Recycled Matte, which uses rustic, 100% post-consumer recycled paper for your card.
2. Gogoprint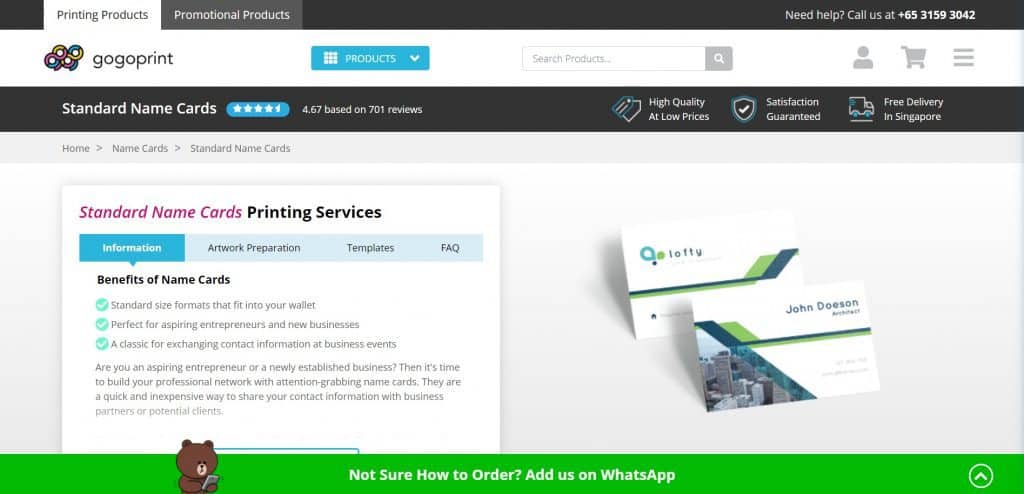 Gogoprint is known for its wide range of customisable options available for its name cards.
For example, they allow you to customise the size of your name cards.
The company's most popular option is the 310g Art Card, which has a smooth surface and luxurious feel.
The company also allows you to pick from three finishings: None, Matte Lamination and Glossy Lamination.
You can also choose the number of rounded corners that your name cards have, ranging from none (square corners) to four rounded corners.
You can also opt for a name card holder to come together with your name cards if you wish to store them.
There are three options for you to pick from: None, Black Card Holder and Silver Card Holder.
The Black Card Holder can fit an average of 15 cards per card holder, while the Silver Card Holder can fit an average of 10 cards per card holder.
3. Print Market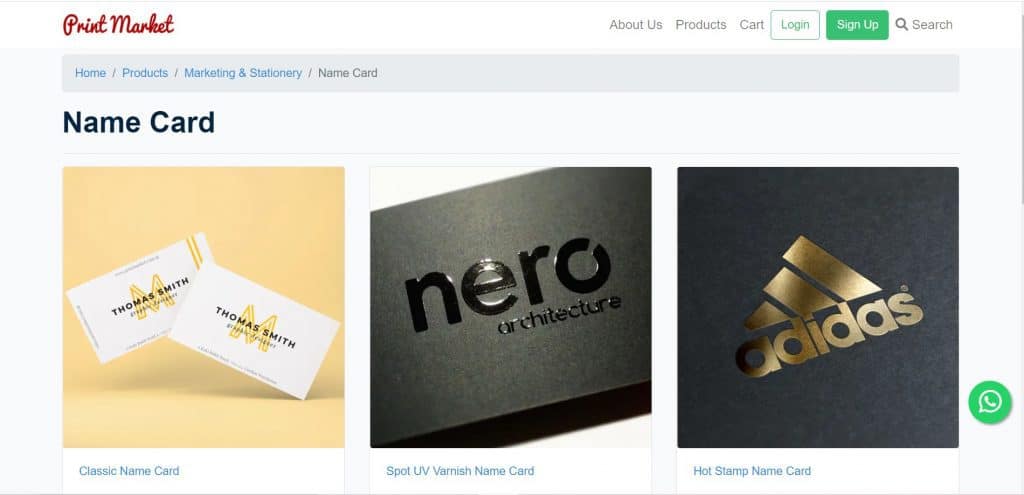 Print Market is known for its name card printing methods.
For example, the name card printing in Singapore offers a hot stamp printing service, where you will be able to create an outstanding look for your name card with metallic foil stamping.
The name card printing in Singapore also provides Spot UV name card printing service.
Spot UV Varnish is a clear shiny ink that is applied on matte lamination of the designated area to create the contrast between matte and shiny.
The name card printing in Singapore also offers two types of printing services: Express and Economy.
The difference between Express Printing and Economy Printing is time.
If you are looking for higher quantity and not in urgent need, Economy Printing is for you.
Meanwhile, Express Printing has a minimum order quantity and fast turnaround.
4. Easitech
Easitech Pte Ltd is one of the few business card printing specialist in Singapore.
With the latest IT technology, Easitech is glad to offer 100pcs name card from $2.50.
This also happens to be the cheapest name card printing in Singapore.
Their premium business card printing adopts full colour offset printing, which is of higher resolution.
It is commonly used for printing magazines and catalogues in huge quantities.
Easitech also provides many different types of business card printing with additional finishing such as blind embossed, hot stamp, Spot UV, and round corner.
Besides, the name card printing in Singapore also has some very unique business card material such as transparent plastic card and thick 360gsm artcard with matt lamination.
These ensure that your business card stands out from the crowd.
Also, go check out their convenient and time-saving feature for potential clients – their pricelist calculator!
5. Kiasuprint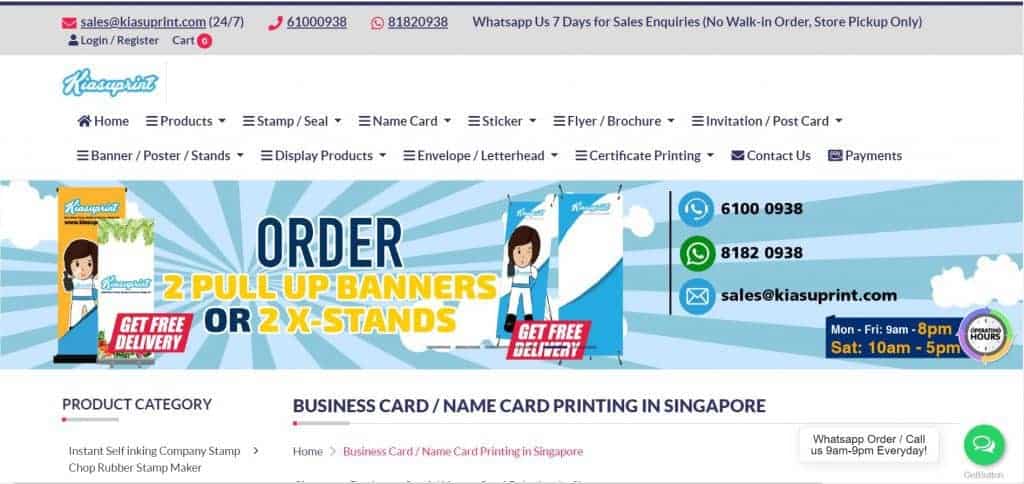 Want your name cards fast? Pay Kiasuprint a visit. They print name cards with a lead time of only one day.
Kiasuprint's express digital name cards are available in:
260GSM Artcard
310GSM Art Card
300GSM Matt White GQ Offset
350GSM Matt White GQ Offset
260GSM Textured Card Zeta Linen Brilliant White
290GSM Shimmering Card Majestic Marble White
330GSM Naturalis Vanilla Smooth
Unfortunately, extra finishing such as Matt Lamination, Spot UV and Rounded Corner options are not available at the name card printing in Singapore.
Simply confirm your design and make payment before 3.30pm on day of ordering to be able to do next day collection after 3pm at their office at People's Park Centre.
6. Print City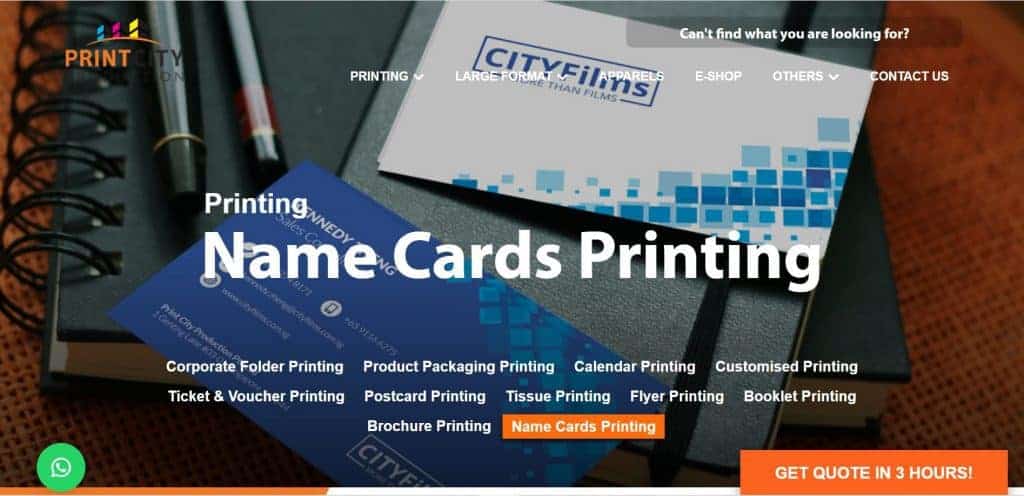 At Print City, they provide business cards & name cards printing services for businesses in Singapore.
Whether you are looking for finishing such as matt/gloss lamination, Spot UV, hot stamping, gold/silver coating, folded name cards or business cards printing, the name card printing in Singapore can support them all!
Print City invests in modern printing machines to provide the best quality name cards printing, as well as dedicated customer support for every single order.
Most of their customers go to Print City because the name card printing in Singapore truly believes in human support for printing services, and not simply servicing its customers with an online calculator, or web-to-print.
7. Printvenue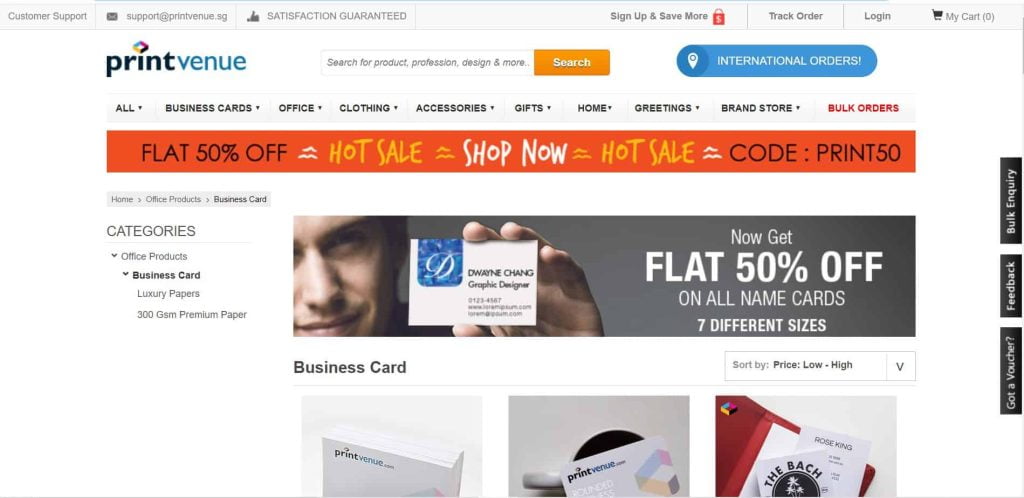 Printvenue brings to you an amazing collection of customized business cards, name cards and visiting cards printing in Singapore.
Simply choose a template of your choice and input the information that you want to print on it.
Printvenue is known for its unique card sizes.
They have a Premium Vertical Business Card design, which costs S$9.60 for 200 pieces.
The name card printing in Singapore also sells mini business cards, which cost S$10.00 for 100 pieces.
You can also take your pick from 300 GSM Premium Paper and Luxury Papers.
8. HoopStudio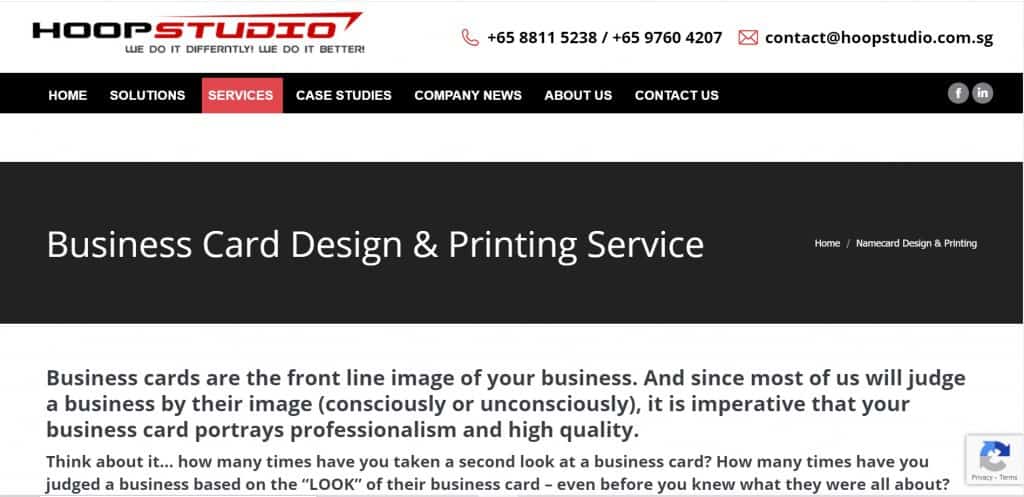 Founded in 2005, HoopStudio Technologies is an award winning Singapore based Integrated Digital & Design Studio (DDS).
Their services encompass the creation of designs to deliver and amplify the online digital presence of your business.
With over 15 years of experience, HoopStudio is the go-to name card printing in Singapore for you if you value expertise over all.
Their promotional package is priced at $49 for 500 pieces.
The key features of their name cards include:
Double Side Lamination
300gsm Art White Card
Double Side Printing
Offset Full Colour
Matt Finish
Ready in eight to nine working days
No GST, No Hidden Charge!
Free Delivery for Order Above S$160
9. iPrint Express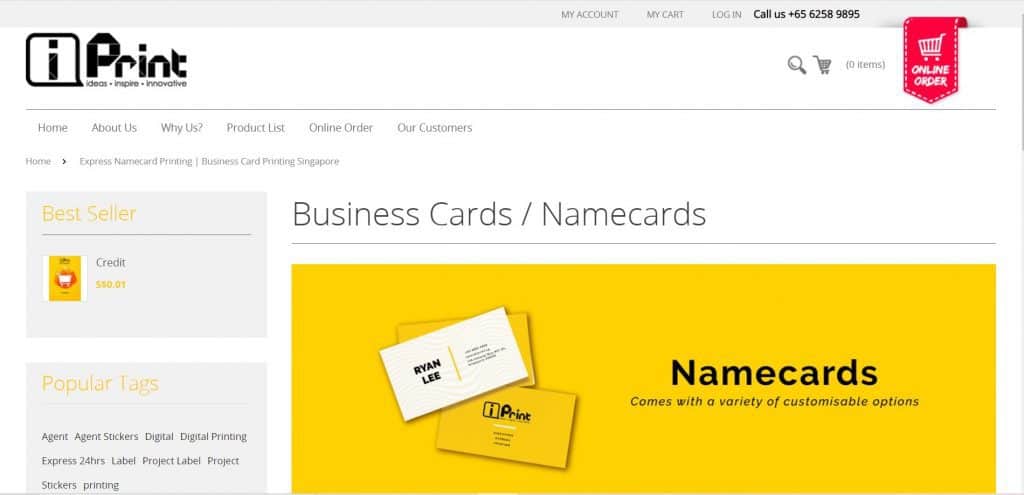 Are you looking for longer lasting Namecards? iPrint Express' Never Tear Namecards are ideal for those looking for long-lasting, more durable namecards.
These cards stand the test of time without compromising on quality.
Their tear-proof namecards are waterproof and printed on the 275mic Premium Never Tear Matt Card.
Digitally-printed namecards can be delivered within 24 hours after confirmation.
However, if you prefer offset namecards, which possess better print quality compared to digital namecards, they can deliver within four to five working days.
Additional custom printing effects offered include Spot UV, Round Corner, and Hot Stamping.
These cards get additional Matt Lamination, making them extra durable.
These could be the 260gsm Art Card with Matt Lamination on both sides and additional Spot UV or the 310gsm Art Card with both side Matt Lamination.
10. Red Printing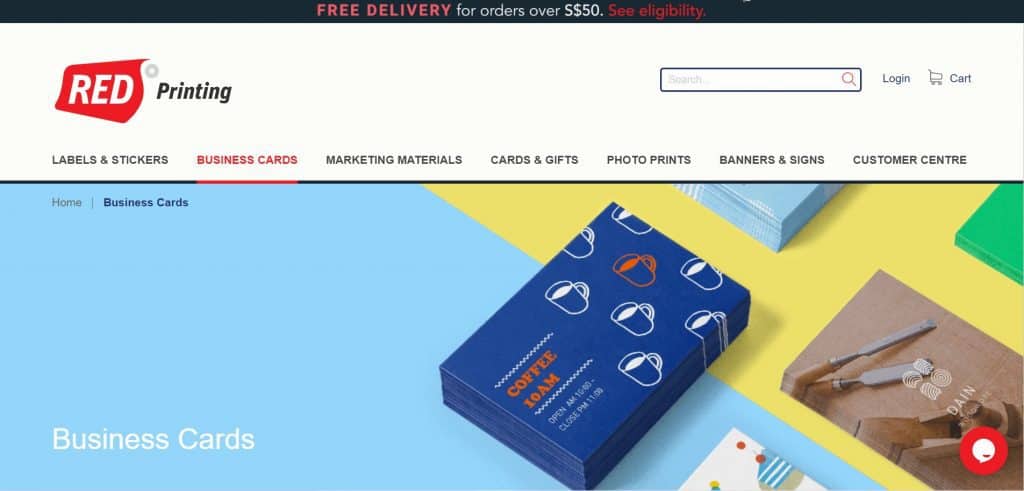 Red Printing is known for its unconventional name card printing methods.
For example, the name card printing in Singapore prints transparent name cards.
Printed on Highly Transparent PET (polyethylene terephthalate), these transparent cards are super durable.
The name card printing in Singapore also manufactures Scodix Business Cards if you're looking for something different.
Scodix is similar to Spot UV, but boasts 3D resin raised ink finish to give your business card a high-end professional look.
The best part of it all: the name card printing in Singapore offers free delivery for orders over S$50.
11. Fatty Print
Fatty Print is an online printing business that enables you to design, personalise, and order printed items via its website.
It has different products like:
Folders
Decals
Stickers
Paper bags
Flyers and brochures
Fatty Print also provides custom items for event management requirements like banners and standees.
You are allowed to have a maximum of 2 changes to the design. After which, any change will cost an additional S$8. Note that the designing service doesn't include logo design.
12. Pisti Prints
Pisti Prints has more than 6 years of experience in the printing industry.
It specialises in an extensive range of printing services like name cards, company stamps, wobblers, label stickers, t-shirts, and many more.
Get the Standard Name Cards if you're on a budget with a quick 1-day printing time and an express service that gives you the cards in 1 hour!
You can choose from 5 different card stocks and different finishing options as well.
13. Eazy-Printz
EazyPrintz is a comprehensive printing shop that is committed to a wide range of printing and designing services.
It endeavours to offer pocket-friendly and high-quality prints to everyone, from students to corporations.
It provides discounts for certain groups of people, like students and SMEs. Students can simply flash their student cards for special prices.
Other services include:
Saddle stitch binding
Poster board cut
Personalised restaurant laminated menu
14. FastPrint
FastPrint is ready to help you with any printing needs you may have, whether that's 1 single piece or mass printing.
It uses only modern technology to give you the best prints at competitive prices.
Even if you aren't a professional designer, you can also engage its layout service with its expertise to help.
Note that there are no walk-ins available; simply send over the things you need to its email address.
15. Asia CES
Asia CES is a big format printing firm that has more than 15 years of experience. It has a wide range of printing services like banner printing, acrylic signage, pull up banners and more.
It has helped many clients with their printing requirements. Choose between ordinary and premium types of printing, whichever you need.
16. Vz Print
Vz Print has been in the field for 16 years. This online store strives to be an all-in-one service provider for services like:
Printing
Display
Signage
Stamping
It operates round the clock so that you can seek them out if you need anything during odd hours. You can also find small and big range products and services as well.
There are different name card printing options, like digital print, waterproof print, with varying prices for different materials.
17. Leung Ping Graphic & Printing (Onedayprint)
Onedayprint has been operating in Singapore since 1995. It is one of the pioneers of online printing, and was part of the first few to create a fully useable e-commerce system specially for digital printing.
Choose from standard and synthetic name cards, with express name card printing done in 1 hour. Note that you need to have these:
Have your printable artwork prepared
Email your artwork over for them to check first
After you confirm the artwork and they receive payment, it takes 30 minutes to 1 hour to print
18. ExcelPrint Photocopy & Printing Bukit Timah
ExcelPrint Solutions began offering its printing services since 2003, and today, it continues to offer a multitude of related services like printing for decals, stickers, name cards, and labels.
It has 2 types of name card printing options available, the more premium Offset Business Cards (7-10 working days) from S$40 for 200 pieces and Digital Business Cards (1-3 working days) from S$23 for 200 pieces.
19. Myouki SG
Myouki has been selling in-demand things in Singapore since 2012. This includes products like balloons, travel packing accessories, and mobile accessories.
Its founders endeavour to provide premium products to its customers.
Myouki began to offer printing services in 2017, like name cards, car decals, banners and posters. You can get its help for last-minute printing services as well.
20. Landmark Print
Landmark Print is a sign craft business that has been helping its clients for more than 15 years. It also offers design, consultation, and other solutions to customers.
You can get quality printing services here with 24/7 printing support for your urgent needs. Its competitive prices means that you get plenty of value for your money. Other services you can get include:
Express Wedding Card Printing
Rubber Stamp
Fine PVC Banner
Conclusion
Do you have any reviews and comments to share regarding our choices for the best name card printing in Singapore?
While SBO is committed to supporting our local businesses, we welcome any feedback and anonymous sharing regarding your experience with the listed name card printing in Singapore.
We hope that this guide will be useful in helping you to make an informed decision when it comes to finding the best name card printing in Singapore.
Explore More Content