11 Best Waste Management Company in Singapore to Clear Your Rubbish [2023]
Proper waste management is a great way for you to play a role in saving the environment. Check out our 10 best waste management company in Singapore.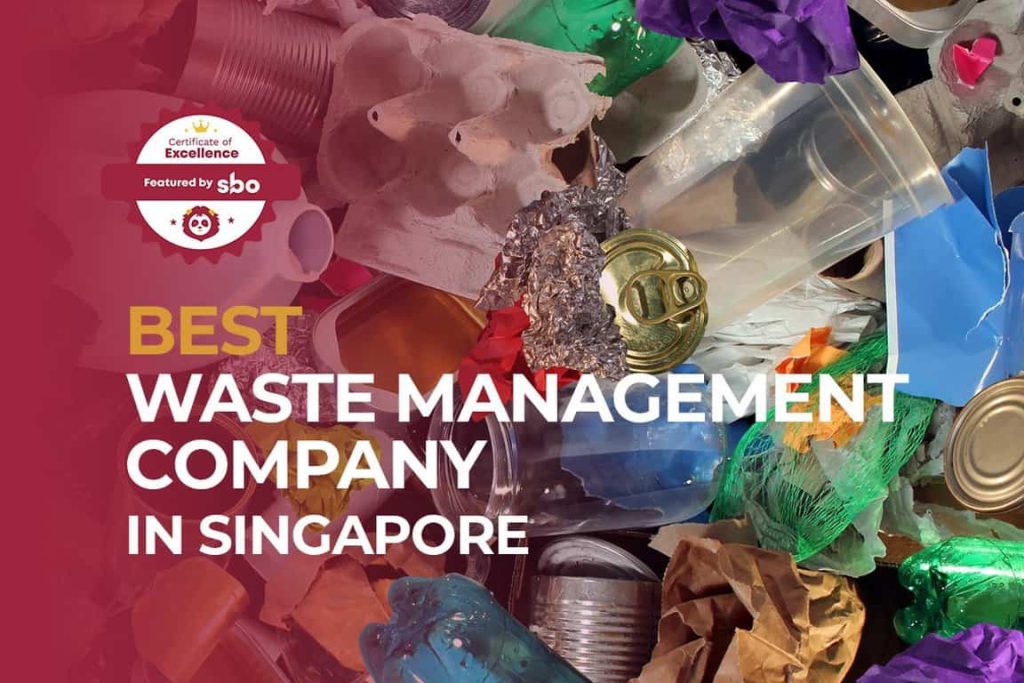 We create significant amounts of waste every day, which can detrimental to the environment in the long run. As such, it is important that all of us play a part in keeping our environment sustainable and the best way to do so is through proper waste management.
Waste management is the collection, transportation, and disposal of garbage, sewage, or other waste output. However, it is not easy to do waste management by yourself, especially if you have large amounts of waste to handle.
As such, we would like to present to you our 11 best waste management company in Singapore that can help both residents and business owners handle proper waste management.
1. Boon Poh Refuse Disposal Pte Ltd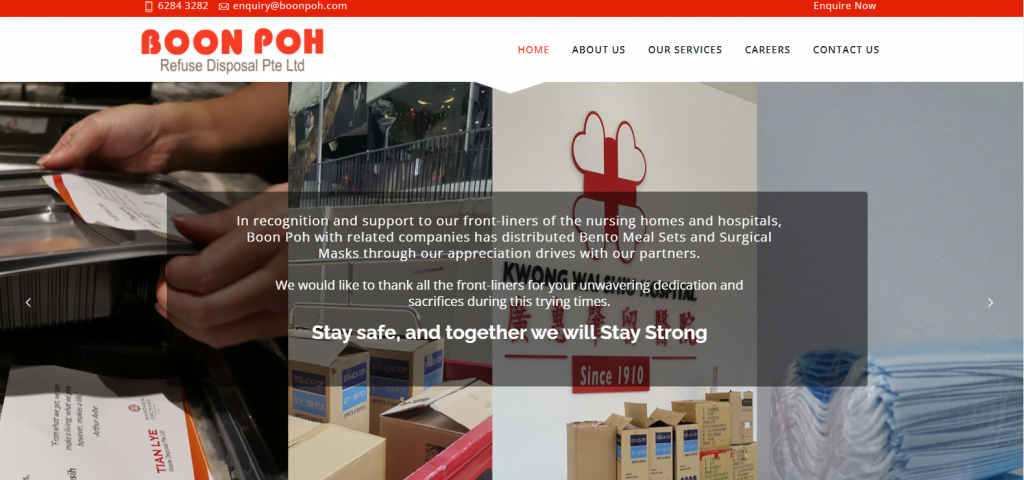 Founded in 1972, Boon Poh Refuse Disposal Pte Ltd has more than forty years of presence in Singapore. Since then, Boon Poh Refuse Disposal Pte Ltd has continued to provide valued services as a leading expert in waste disposal for a wide range of clients from both private and public sectors, with high-quality assurance.
Boon Poh is a one-stop platform for your environmental management needs. They provide a wide range of environmental solutions that works towards efficiency, performance, and productivity. They integrated waste management with recycling, cleaning and conservancy, and landscaping services that works towards efficiency, performance, and productivity.
2. 800 Super Waste Management Pte Ltd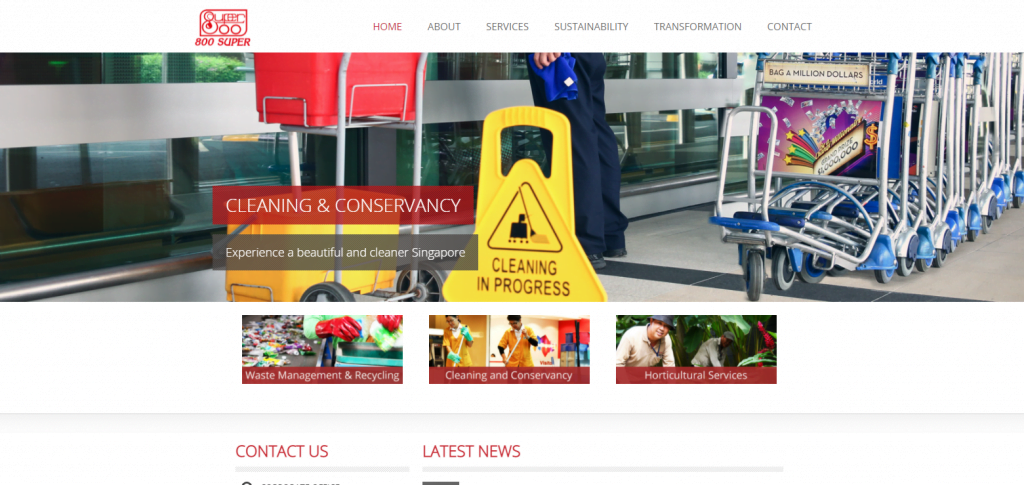 800 Super has a broad range of environmental solutions that range from waste management and waste treatment, cleaning and conservancy to horticultural services. They service both private and public sectors in Singapore and is a front-runner in the waste management business.
800 Super also operates self-sustaining integrated energy and resource recovery facility, which has a carbon-neutral footprint, reflecting 800 Super's way of contributing to Singapore's vision of a circular economy.
3. ALBA W&H Smart City Pte Ltd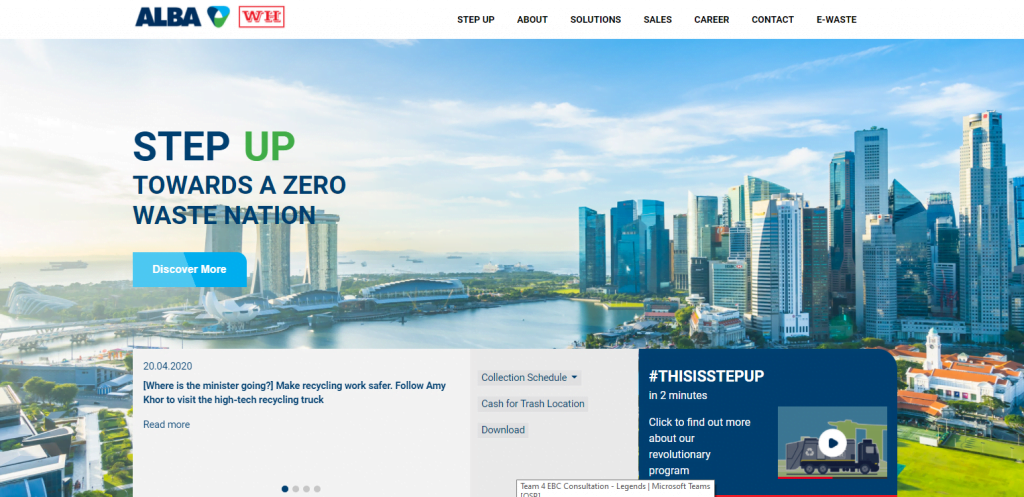 With the motto "Powerful alone, Better together, the ALBA Group is committed to setting up a zero waste nation in Singapore. They are one of the leading recycling and environmental services companies as well as raw material providers in the world.
The Berlin-based company was also awarded the contract by the Republic of Singapore to set up a completely new waste management system. They are the leading company that will help SIngapore move towards a digitalised waste management system, meeting high environmental standards and providing capacity to collect around 17,000 tonnes of waste a year.
4. Earth Recycling Services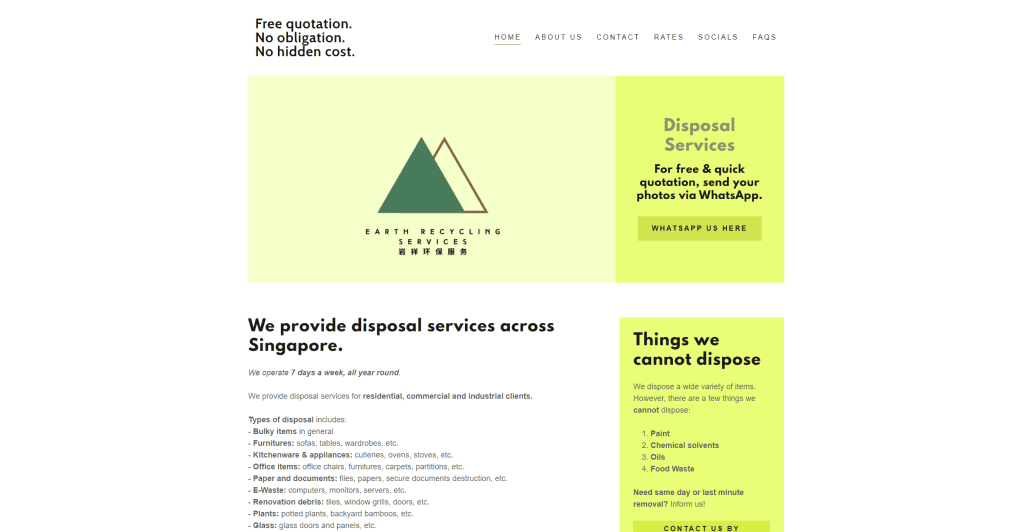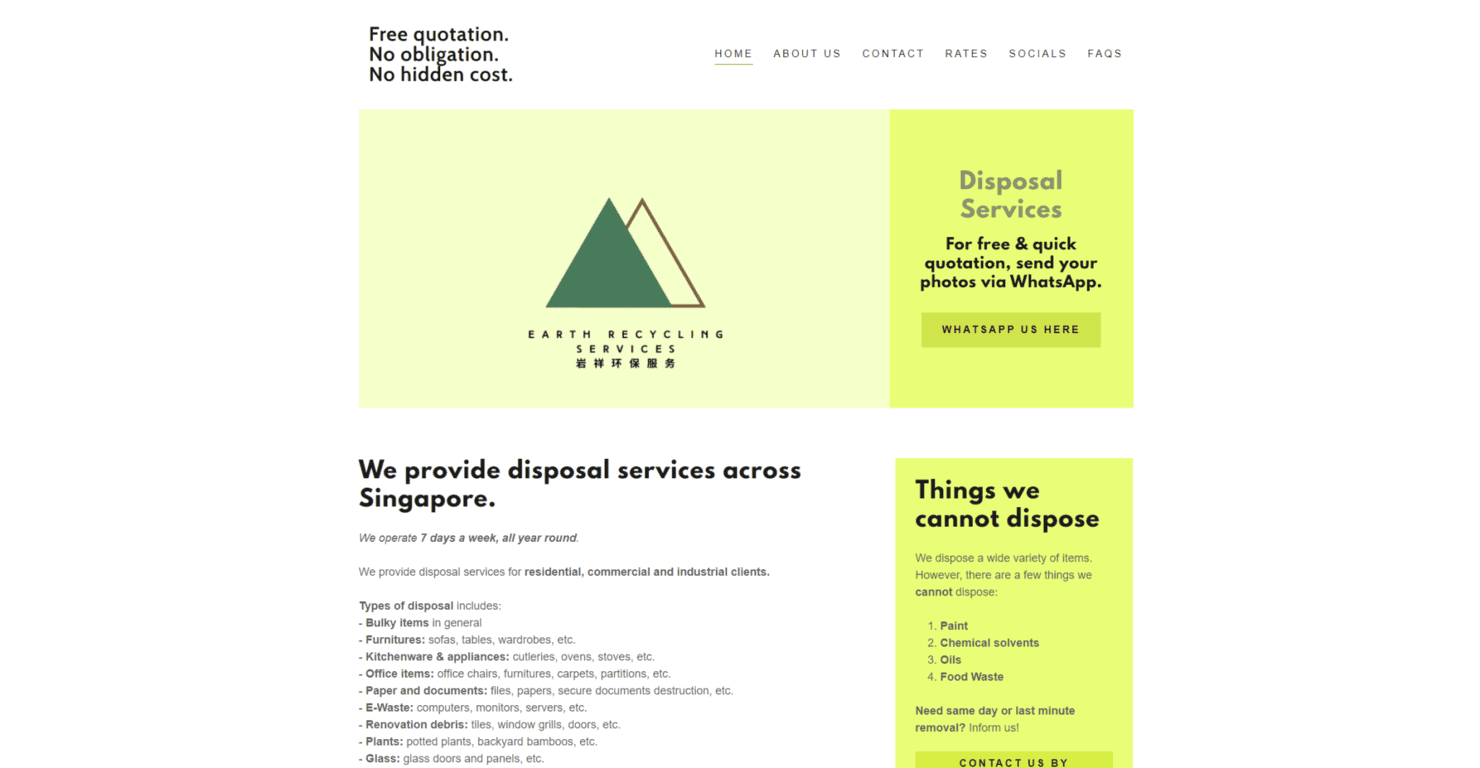 Earth Recycling Services provide disposal services of general waste and bulky items for residential, commercial and industrial clients across Singapore. They operate daily and their WhatsApp is open 24/7.
They aim to reduce waste going into landfills by sorting out collected items manually at their facility. Most items will be dismantled and sorted out into recyclables and non recyclables.
They aim to reduce, reuse and recycle.
Items that are in usable conditions may be donated to charities.
5. BAMA Environmental Pte Ltd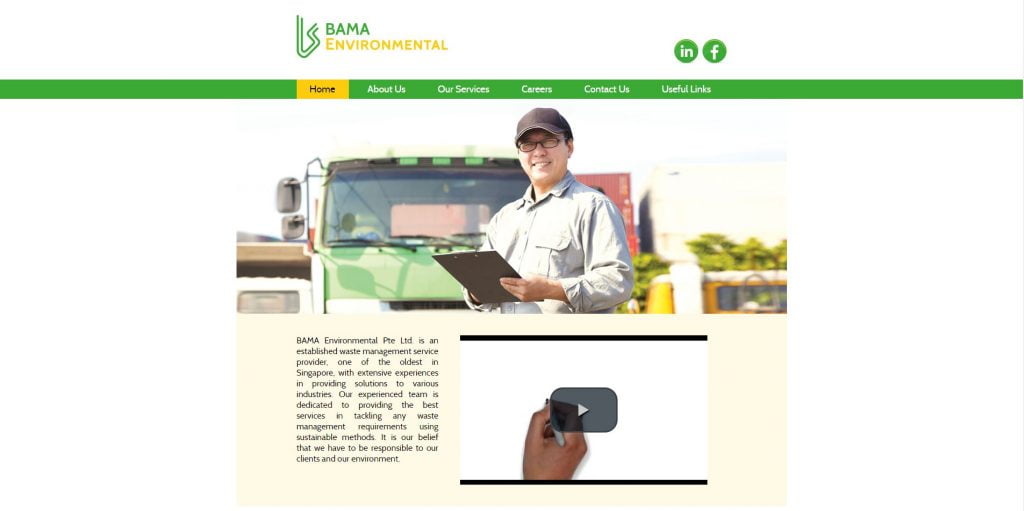 As one of the oldest in Singapore, BAMA Environmental Pte Ltd. has extensive experience in providing waste management solutions to various industries. They have a team of highly experienced professionals that are dedicated to providing the best services in tackling any waste management requirements using sustainable methods.
Upholding their pledge is to always consistently build their capabilities, they always make sure to provide high-quality services for their clients around the world whilst being mindful of the environment.
6. Junk To Clear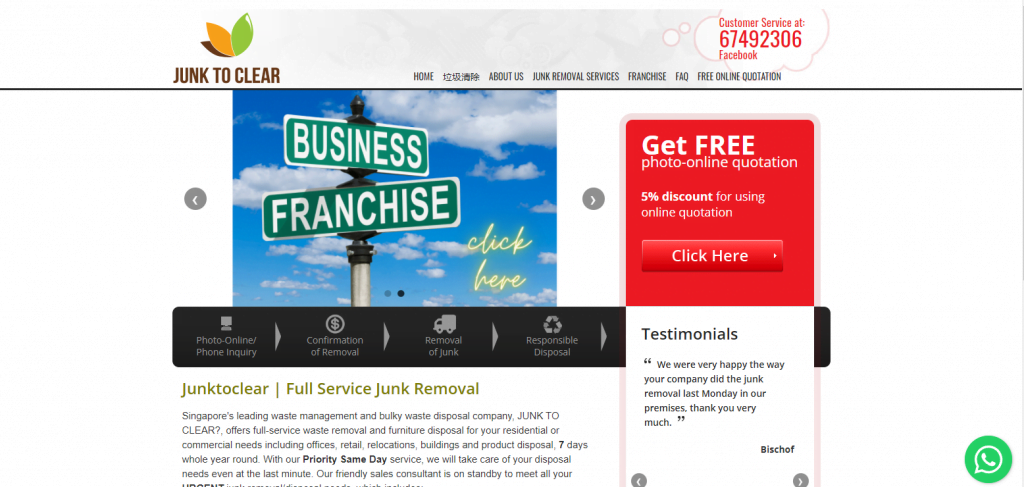 As a homegrown company, Junk to Clear is an award-winning waste management service provider in Singapore that is committed in helping people clear junk. Some of the awards they won include Casetrust, ISO and Bizsafe. Their manifesto of REDUCE-REUSE-RECYCLE meant that they do not throw away all the waste but rather recycle most of it.
Junk to Clear is the first disposal company to implement paperless invoicing and assure secure disposal of products. They are also a proud member of Waste Management & Recycling Association of Singapore (WMRAS), indicating their dedication to sustainability.
7. Greenway Environmental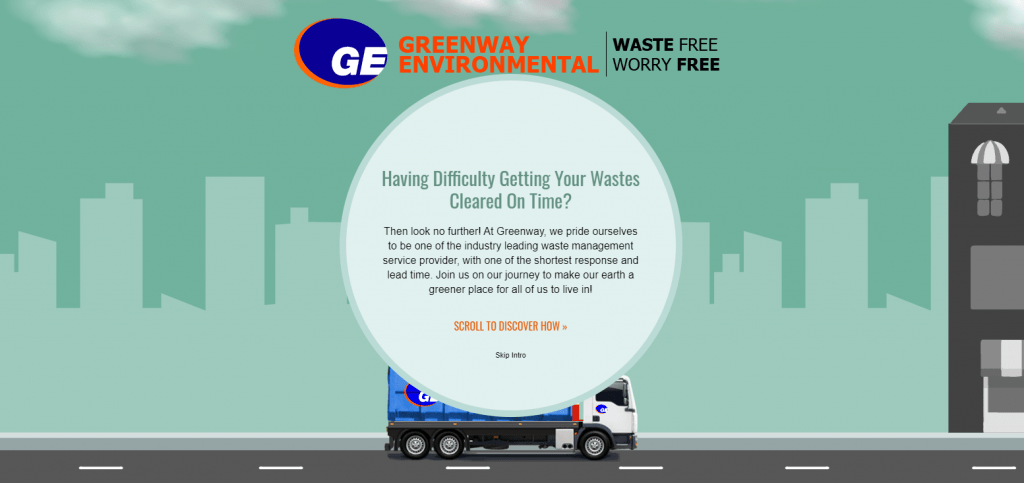 Greenway Environmental pride themselves with their skilled and knowledgeable team of professionals as well as their customer-oriented attitude. They are always committed to meet each and every of their clients' diverse needs with their vast array of equipment.
Greenway firmly believes in being an integrated waste service provider known for its safe, reliable and customer-facing operations. Their customer service officers are always very prompt in answering their clients' enquiries and their highly efficient operations also provide cost-saving benefits for their clients.
8. Eco Exchange Pte Ltd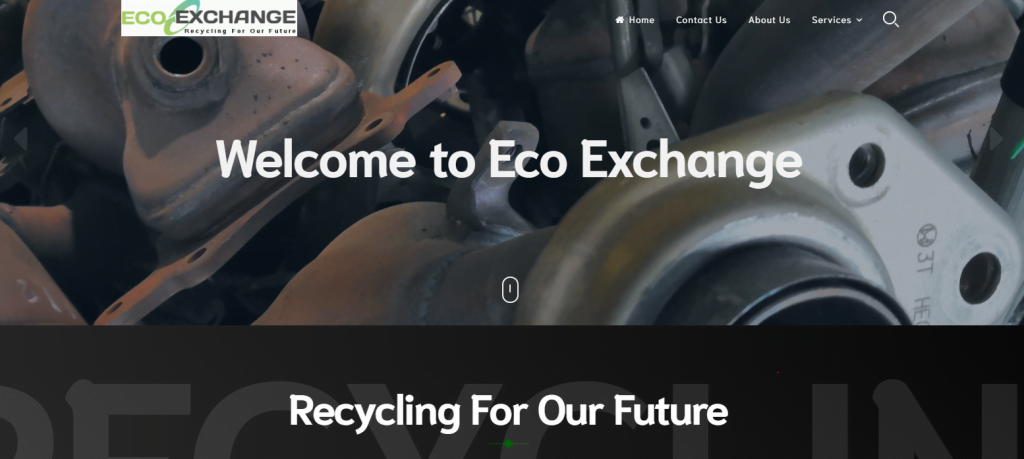 Eco Exchange strongly believes that more can be done by the people to save the Earth. This is especially so given the rapid urbanization and high consumerism. As such, Eco Exchange wants to work with their clients to recycle as much products as possible so as to preserve precious resources from Mother Earth.
All scrap materials will be recycled safely and responsibly, rather than being sent to the landfills and harming the environment. They will make sure to ensure that you or your company's carbon footprint is managed responsibly.
9. Tidy Disposal Service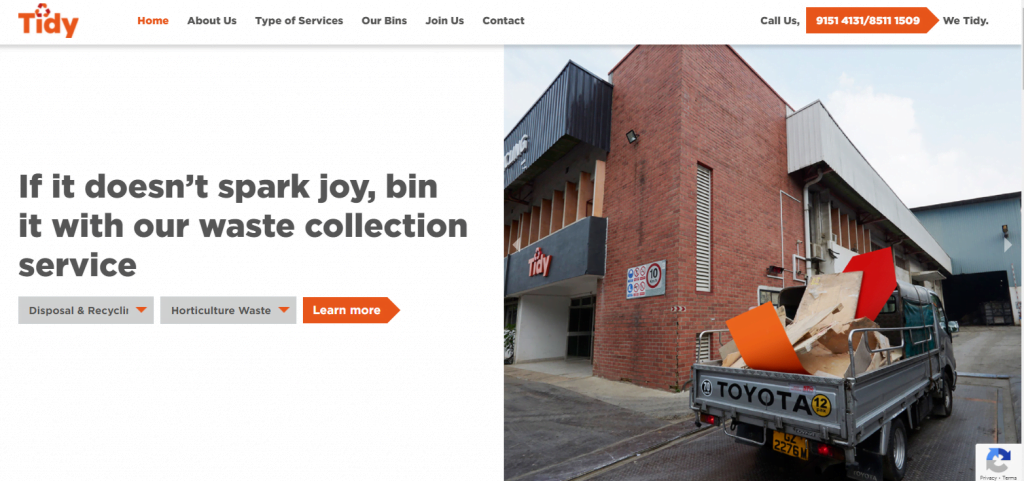 With over 30 years of waste disposal and recycling services, Tidy Disposal Service is committed to provide their client the best support and customer service possible. They serve all types of organisations from different industries, regardless of volume and type waste.
Their mission is to provide quick and efficient round-the-clock services. They know that handling waste can be challenging, especially certain bulky waste. As such, they want to help you manage your waste by offering integrated, reliable and versatile waste disposal and recycling service.
10. Skyland Bio-Energy Pte Ltd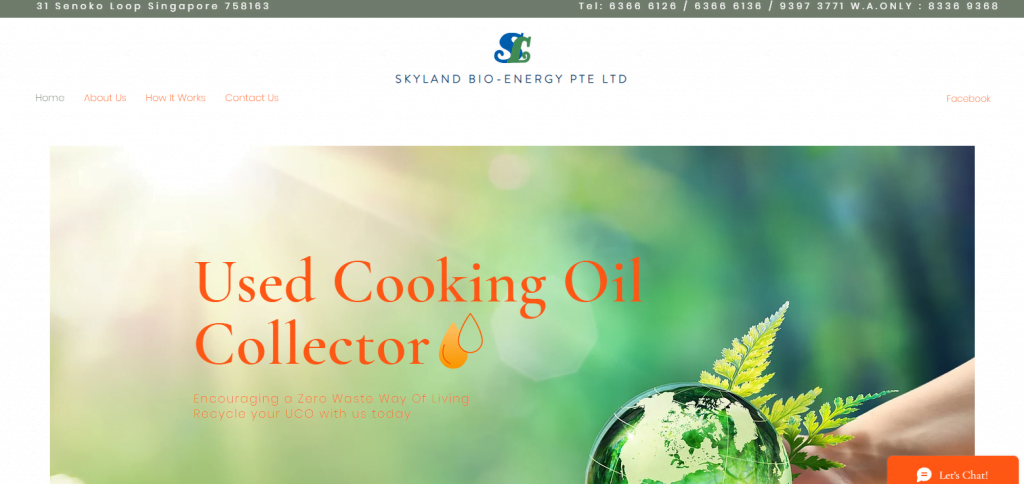 Established in 2012, Skyland Bio-Energy Pte Ltd is one of the leading waste management company in Singapore. They specialise in collecting Used Cooking Oil (UCO) from F&B outlets and Food Manufacturers across the island and process them into feedstock for biofuels.
Their vision is to create a better tomorrow through every little drop of oil today. All their staff received adequate training to provide the best service for each of their clients. Also, they are backed by numerous certified agencies, such as National Environmental Agency, for their services.
11. Maxiton Engineering Asia Pte. Ltd.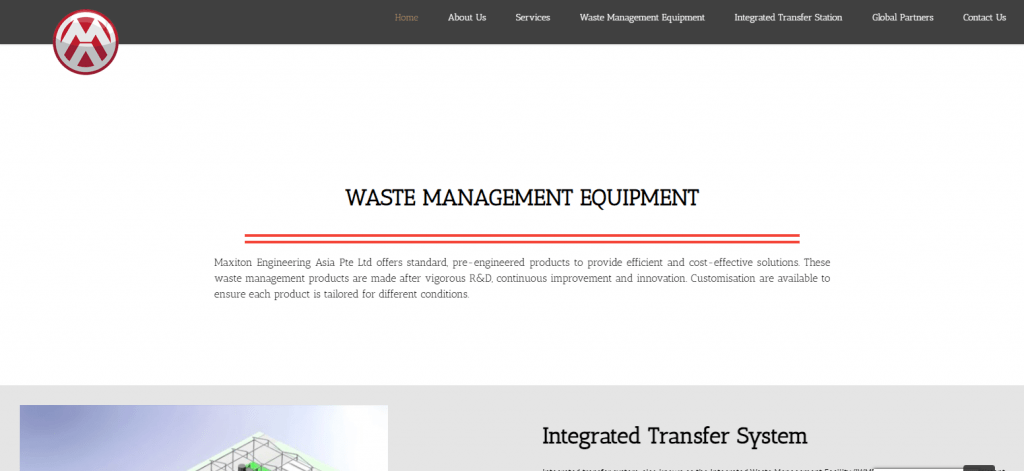 Maxiton Engineering Asia understands that waste management is a labour-intensive process that is inefficient and dangerous. As such, they specialise in the development of practical waste management solutions and equipment that automates your waste handling capabilities.
With an experienced team, they successfully integrated automation into waste management equipment to improve waste management efficiency and reduce costs. Customisation is also available to ensure each product is tailored for their clients' different needs.
Conclusion
Do you have any reviews and comments to share regarding our choices for the best waste management company in Singapore?
While SBO is committed to supporting our local businesses, we welcome any feedback and anonymous sharing regarding your experience with the listed waste management companies
We hope that this guide will be useful in helping you to make an informed decision.
Explore More Content