10 Best Laser Cutting Services in Singapore to Make a Clean Break [2023]
These laser cutting services in Singapore are a cut above the rest.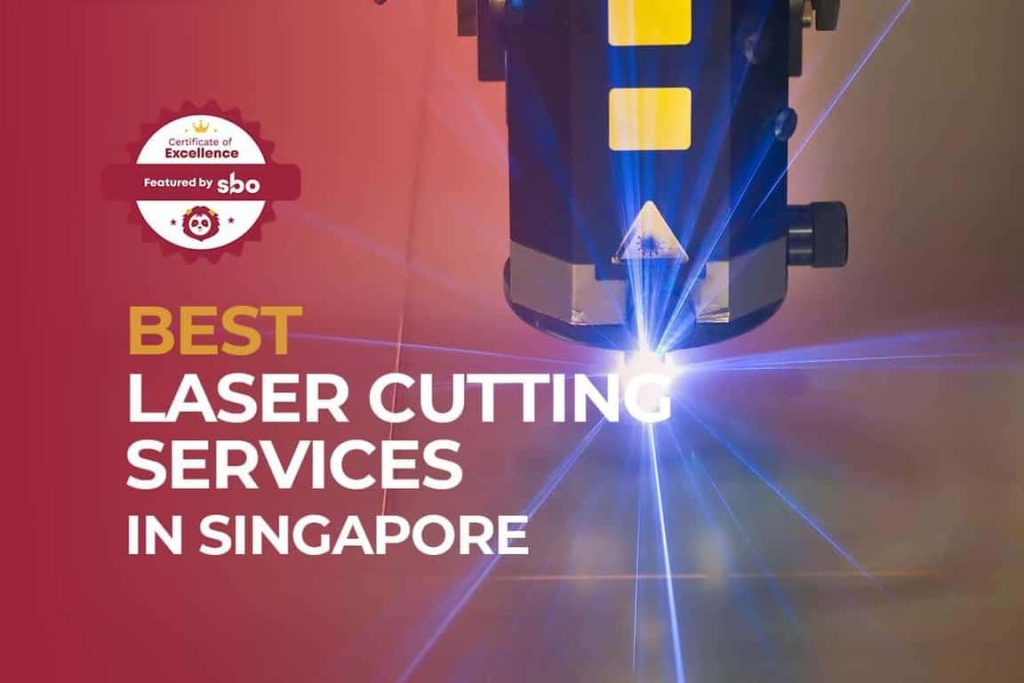 In laser cutting, laser beam technology is used to finely cut different kinds of materials.
Laser cutting works by directing the output of a high-power laser most commonly through optics.
The focused laser beam is directed at the material, which then either melts, burns, vaporizes away, or is blown away by a jet of gas, leaving an edge with a high-quality surface finish.
With laser cutters, you can easily cut and engrave sheets of various sizes.
This type of cutting service is ideal for the production of delicate architectural works, and the creation of bespoke beauty works for exhibitions, photo sessions, and events.
Laser cutting is also used in the production of customized articles like invitation cards and badges or patterns for jewellery or fashion, both in small and large quantities.
Benefits of Engaging a Laser Cutting Service in Singapore
It is versatile and can be utilised on several different types of organic and inorganic materials, including wood, MDF, textiles, cardboard, paper, metal foil (up to 0.5mm), acrylic and more.
It is a reliable, efficient and cost-effective process that delivers a result of substantially higher quality and output than the traditional technique, such as CNC cutting.
It is a safe cutting technique that requires no direct contact.
The laser technology makes it possible to achieve the finest motifs and geometries of any shape with maximum precision. Virtually everything that can be drawn can be cut using a laser.
Looking for a laser cutting service in Singapore?
In this post, we've gathered all the relevant details to compile a list of the 10 best laser cutting services in Singapore.
1. GPG Printing Pte Ltd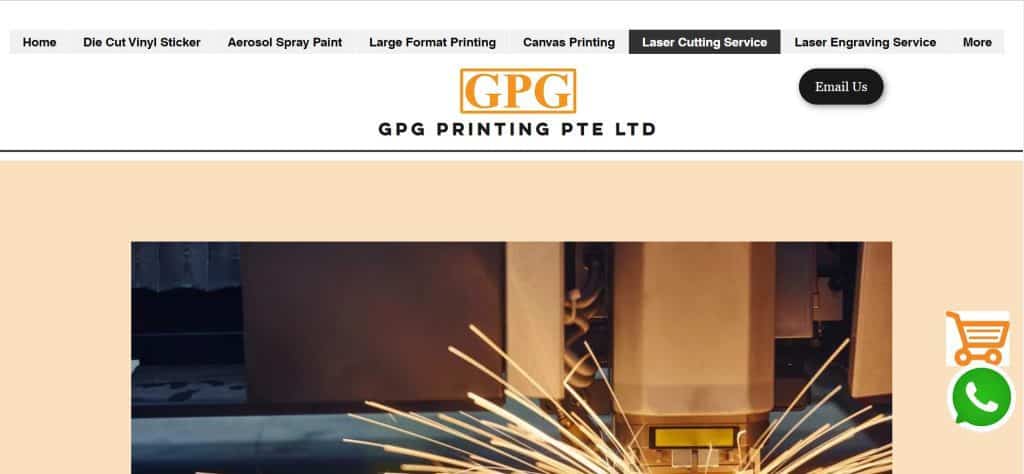 GPG Printing is your trusted printing, branding, and laser cutting company in Singapore.
Being in the industry for more than six years, they have established a reputation for quality printing and laser cutting services, exceptional efficiency, and the highest level of professionalism.
At GPG Printing, they offer only high-precision cutting services of the best quality.
Their laser cutting machines are both accurate and powerful.
They can create a clean cut on all materials like acrylic (plexiglass), plywood, balsa wood, MDF, leather, EVA foams and many more.
They specialise in providing precision laser cutting service with an emphasis on minute details.
They are fully equipped with the most skilled laser machine technicians in Singapore, and their staff are experienced and capable of laser cutting to the demands of utmost reliability and international standards.
They provide a wide range of materials and designs and ensure you're always satisfied with their works.
Their laser cutting service charges are counted by the machine's running time, and they offer discounts for students.
Reviews praise the laser cutting service in Singapore for their impeccable customer service.
Their staff were patient and prompt in handling all of customers' enquiries.
2. Finmark Laser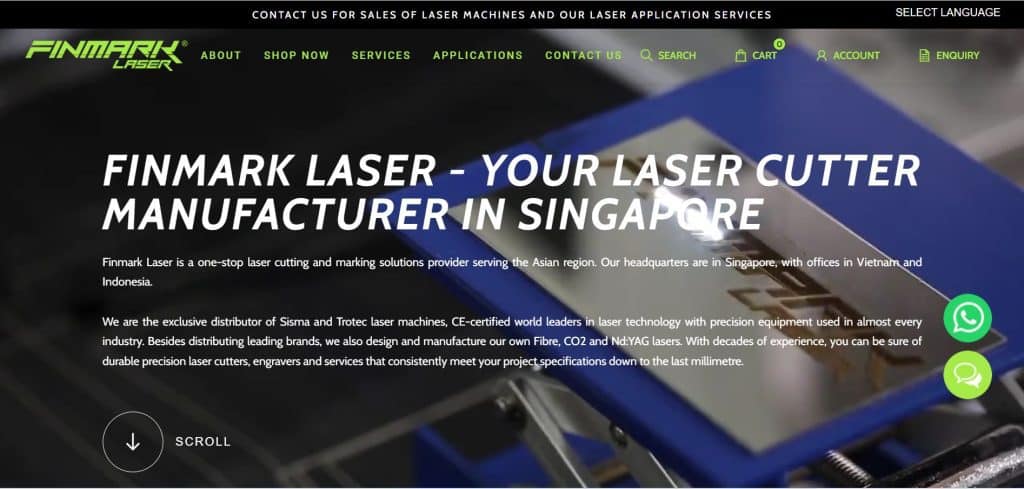 Finmark Laser is a one-stop laser cutting and marking solutions provider serving the Asian region.
Their headquarters are located in Singapore, with offices in Vietnam and Indonesia.
They are the exclusive distributor of Sisma and Trotec laser machines, CE-certified world leaders in laser technology with precision equipment used in almost every industry.
Besides distributing laser cutters from leading brands, they also design and manufacture their own fiber, CO2 and Nd:YAG laser cutter machines.
In fact, you can purchase laser cutter machines from them directly.
With decades of experience, you can be sure of durable precision laser cutters, engravers and services that consistently meet your project specifications down to the last millimeter.
Reviews praise the laser cutting service in Singapore for exceeding customers' expectations.
The team that handled customers' requests were extremely patient, professional and they provided excellent after-sales service.
3. Repla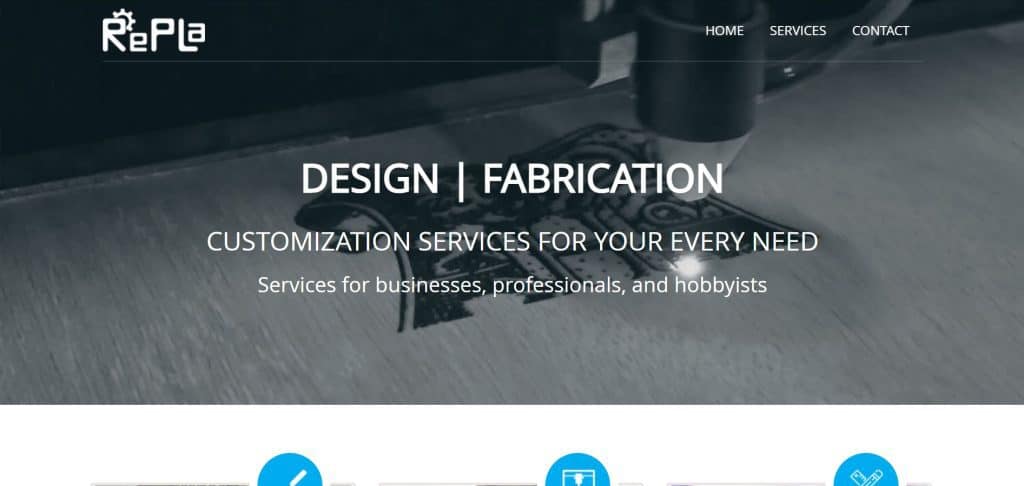 Repla is a design and fabrication company based in Singapore, specialising in laser cutting and laser engraving, and the custom production of props, displays, and models.
Materials that the laser cutting service in Singapore can cut include cloth, leather, foam, wood and acrylic.
However, they are unable to cut materials such as glass, metal and stone.
The maximum dimensions that the laser cutting service in Singapore can work on are 1300mm x 900mm, with larger sizes upon request.
They can also handle materials of maximum thickness of 25mm.
Reviews praise the laser cutting service in Singapore for their quick, efficient and accurate cutting.
4. Sunny Metal & Engineering Pte Ltd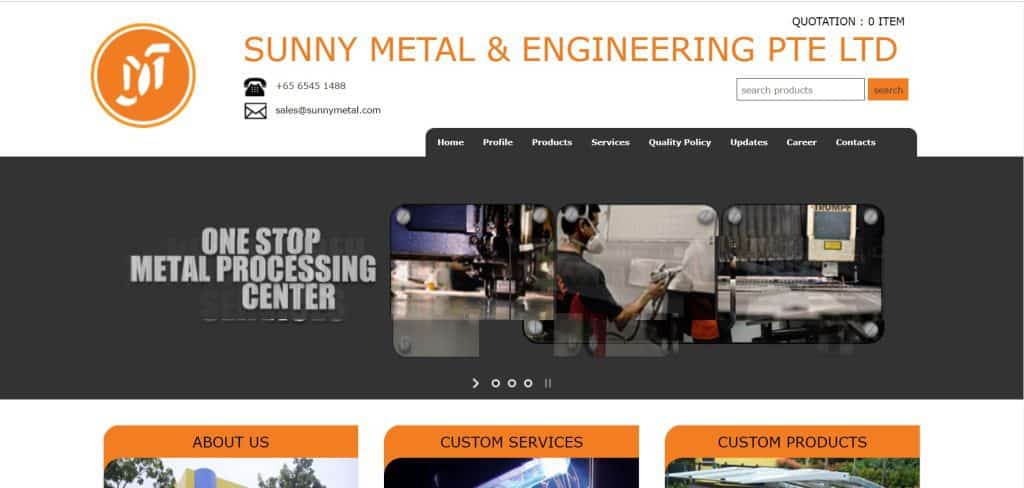 Sunny Metal & Engineering was founded in 1974 with simple cutting tools and few workers, to fabricate sheet metal products largely demanded by the construction industry.
Over the years, it has grown to become one of the leading companies to provide sophisticated solutions for electronic consoles, 19″ racks, wall mounted cabinets, and many other types of high-end enclosures including those with special climate and/or noise control.
Sunny Metal's laser cutting machines are able to perform customized profile laser cutting operations on sheet metal and plates, rectangular and square tubes, as well as round pipes made of materials such as stainless steel, mild steel, and aluminum.
There is no additional set-up cost when you engage the laser cutting service in Singapore.
Sunny Metal provides quotations based on the length and time of cut, so you can rest assured there are no hidden costs in the quotation process.
There is also no additional cost on complex or intricate designs.
As long as their cutting software is able to process your image's outline, no costs will be incurred on your part.
The best part of it all: they offer delivery of finished parts to your doorstep.
Customers do not have to hire external logistics services for transportation of their parts.
This is especially useful for projects with heavy or large parts.
Reviews praise the laser cutting service in Singapore for providing great customer service.
5. SSH Automation Pte Ltd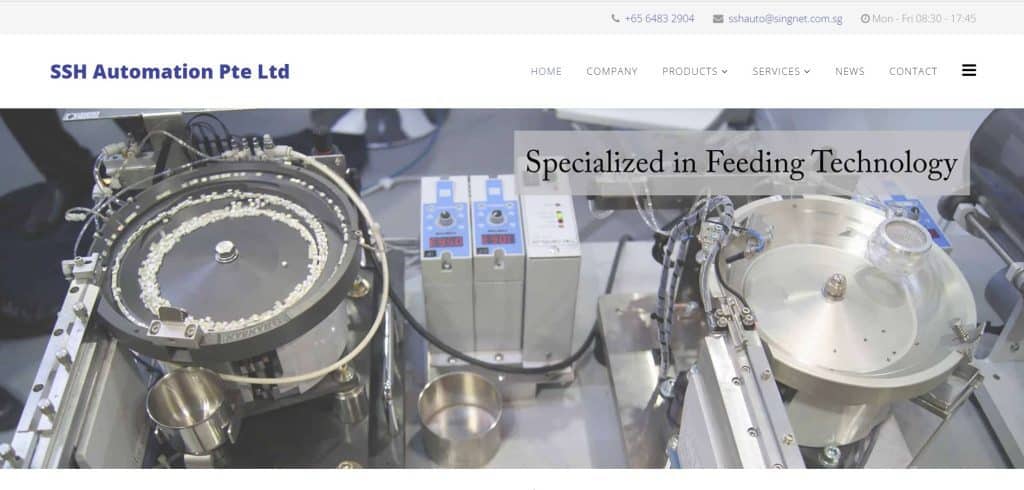 SSH Automation is a progressive company established in 1991.
For over 20 years, they have been actively involved in the design and fabrication of vibratory parts feeders for their customers from various industries.
Specialising in the area of automation engineering, they value-add by providing a one-stop solution for vibratory feeding equipment and metalworking/machining services.
Well-equipped with metal processing machineries, their experienced team can provide CNC laser cutting and bending services for you.
The range of materials they can process include stainless steel up to 12mm, mild steel up to 22mm and aluminum up to 12.7mm with a maximum dimension of 1525 x 3050mm.
What the laser cutting service in Singapore will need from you upon confirmation:
CAD drawing in the following format: 2D (dxf, dwg) or 3D (stp, igs)
Specify any requirements that are not clear (e.g. finishing, surface treatment, quantity and etc.)
Reviews praise the laser cutting service in Singapore for cutting exactly to customers' specifications.
6. Wong Hing Long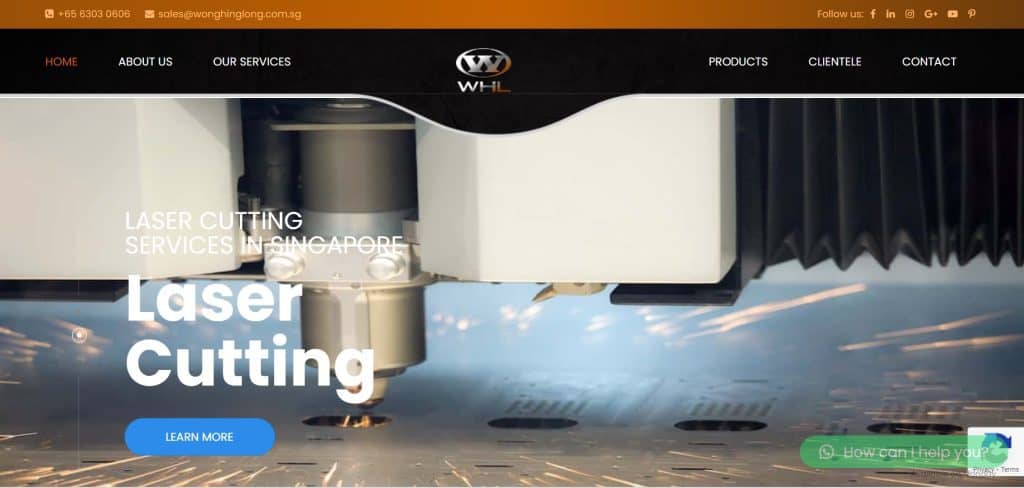 Wong Hing Long provides end-to-end metal fabrication works and turnkey project solutions in Singapore, such as metal processing, laser cutting, welding, and more.
They have both CO2 and Fiber laser machines.
They can cut various type of metals such as aluminum, mild steel and stainless steel.
Their fiber laser cutting machine can even cut brass and copper.
These machines can cut various profiles, giving a smooth and high-quality surface finish.
Reviews praise the laser cutting service in Singapore for their service quality, which meets customers' requirements.
7. FMB Trading And Engineering Pte Ltd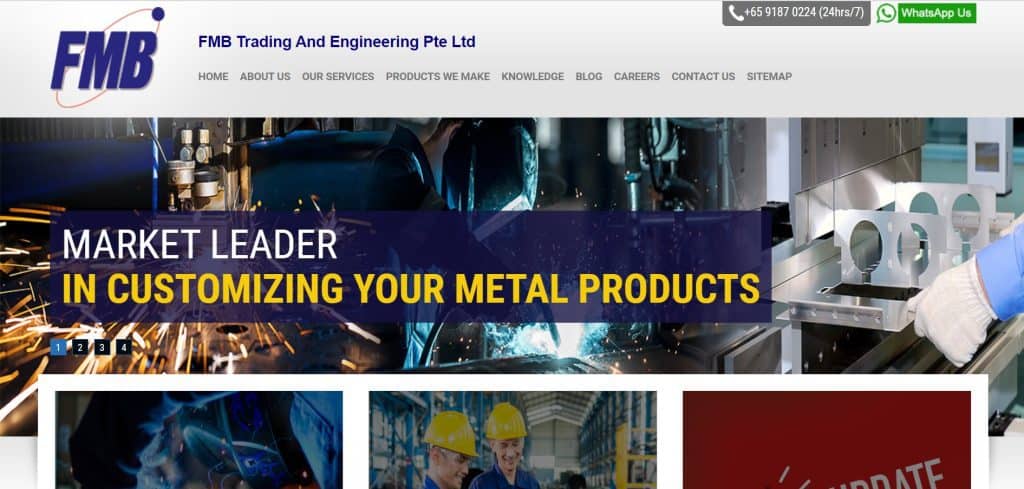 At FMB Trading And Engineering Pte Ltd, they offer laser cutting services using state-of-the-art technology coupled with their efficient, dedicated and well-trained staff; they guarantee excellent services.
They deal with a broad spectrum of products including those of mild steel, stainless steel, aluminum, plastic among other metal alloys and materials.
They are looking to offer more advanced services on sheet metal and hollow section designed products.
Their maximum material thickness for laser cutting is as follows:
Mild Steel: 25mm thick
Stainless Steel: 20mm thick
Aluminum: 12mm thick
Copper: 3mm thick
Brass: 3mm thick
Acrylic: 10mm thick
Wood: 30mm thick
The maximum material size they can cut is up to 3015mm by 1524mm, with a cutting tolerance of +/- 0.1 mm.
Reviews praise the laser cutting service in Singapore for their prompt replies and their top-notch workmanship.
8. iLaser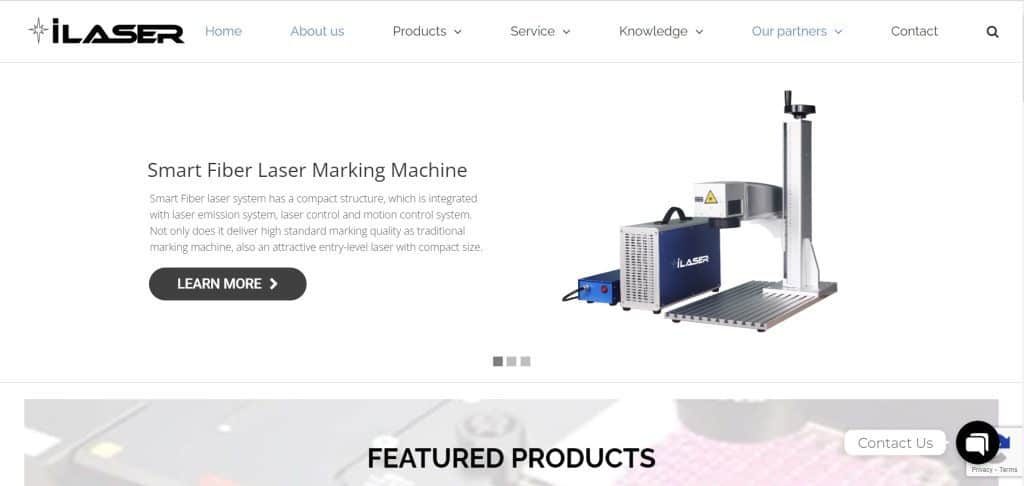 Based in Singapore, iLaser Pte Ltd is a solution provider company focusing on Photonics Technologies and Digital Fabrication Solutions for Research and Industrial applications.
They offer different types of laser processing machine such as laser marking, laser engraving, laser cutting, laser welding, customized systems, and components.
For non-metal materials, they usually use CO2 laser for the application.
For metal related parts, they typically use fiber laser as the laser source.
Reviews praise the laser cutting service in Singapore for their efficient and outstanding customer service.
9. The Mossiah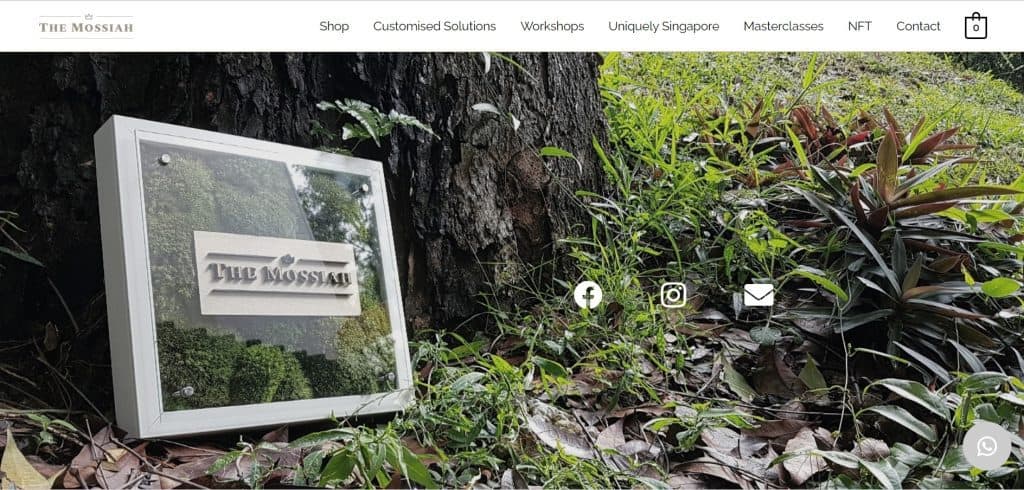 The Mossiah specializes in design and custom-made displays for all things moss.
With a passionate team of designers and curators, they aim to rekindle your innate love for nature through their biophilic designs in your living spaces and day-to-day lives.
Their 80w Class I laser machine cuts up to a whopping 2 X 1.8 meters.
The rates of the laser cutting service in Singapore are as follows:
10 mins – $15/-
15 mins – $20/-
20 mins – $27/-
30 mins – $40/-
40 mins – $54/-
60 mins – $80/-
The laser cutting service in Singapore is most suited for weddings, birthday parties and private events, especially if you have a ready artwork or design in mind.
The most common materials used for laser cutting are MDF boards, plywood, acrylic and craft paper of up to 12/15mm in thickness.
Reviews praise the laser cutting service in Singapore for their patient and accommodating staff.
10. Latech Engineering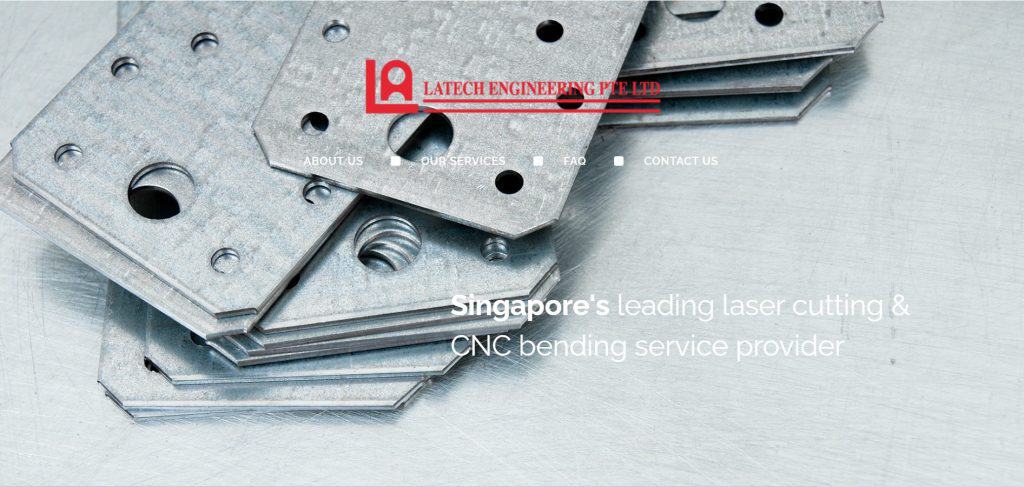 Latech Engineering Pte Ltd was founded by Mr and Mrs Low in 1996, who bring with them decades of experience in the engineering and machining industry.
Mr and Mrs Low's philosophy is simple: to provide quality lasercutting and CNC bending services at affordable prices.
Their dedication to achieve this philosophy is apparent to all their customers where they take immense pride in their work and strive to achieve customers' requirements for tight tolerances and smooth laser-cut finishing.
For their laser cutting service in Singapore, they are able to accurately process a wide range of materials including mild steel, stainless steel, aluminum, wood, acrylic and brass etc.
They keep stock of materials which thickness are more commonly used but they are also able to provide laser cutting services for customers who wish to provide their own materials.
Their machines are able to take in a maximum sheet size of 5 feet by 10 feet (1.5m by 3m).
Reviews praise the laser cutting service in Singapore for their friendly staff and reasonable prices.
Conclusion
Do you have any reviews and comments to share regarding our choices for the best laser cutting services in Singapore?
While SBO is committed to supporting our local businesses, we welcome any feedback and anonymous sharing regarding your experience with the listed laser cutting services in Singapore.
We hope that this guide will be useful in helping you to make an informed decision when it comes to finding the best laser cutting services in Singapore.
However, if you're looking for a service that can help you to cut wood precisely, your best bet would be to approach a wood cutting service in Singapore.
Explore More Content
Are you featured in this?
Display this exclusive SBO badge proudly on your website and get more sales!