11 Best Freight Forwarder in Singapore to Transport Your Goods [2023]
'Fraid not, these freight forwarders are here to save the day.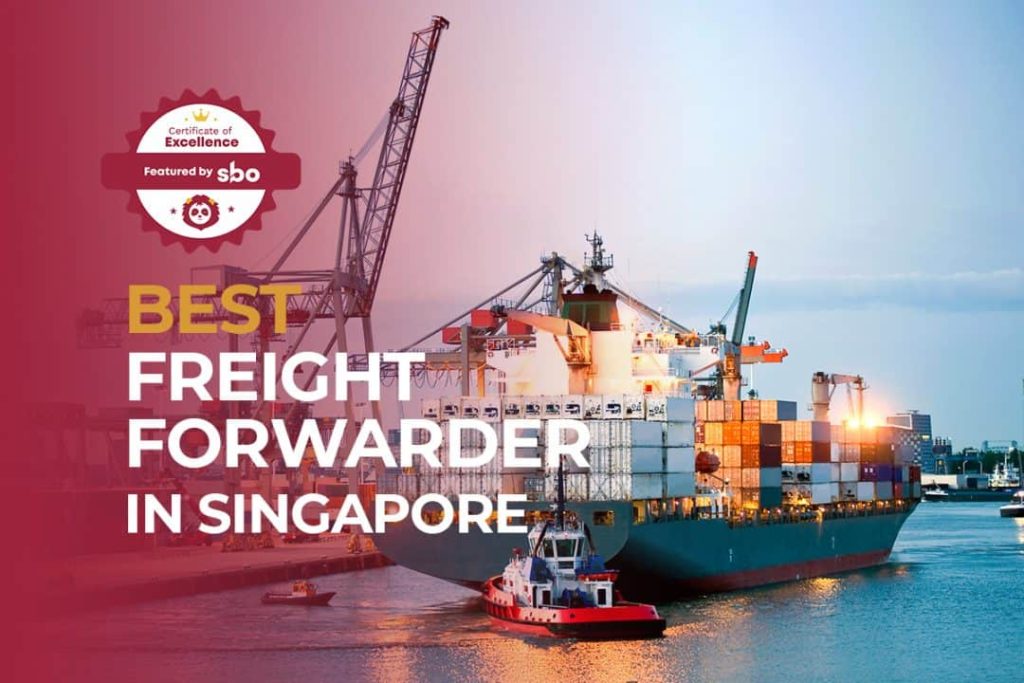 Most of us probably haven't heard of what a freight forwarder is.
And most of us probably won't need to engage the services of one.
Well, most of us anyway.
If you're looking to ship large quantities of goods from one place to another, then you need a freight forwarder.
A freight forwarder is a person or company that organizes shipments for individuals or corporations to get goods from the manufacturer or producer to a market, customer or final point of distribution.
Forwarders contract with a carrier or often multiple carriers to move the goods.
Looking for a freight forwarder in Singapore? In this post, we've gathered all the necessary details to compile a list of the 11 best freight forwarder in Singapore.
1. EES Freight Services Pte Ltd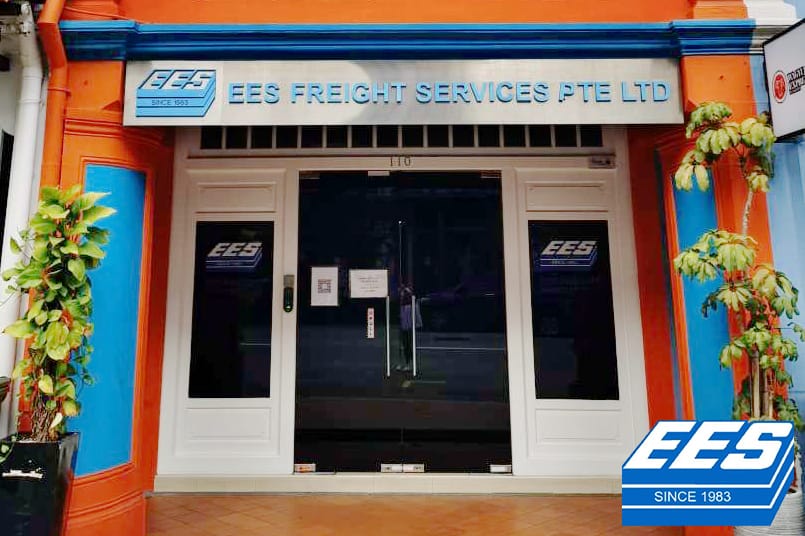 Established in 1983, EES is one of the leading logistics brands in Singapore, and with their extensive global network of industry partners working together, clients of EES can rest easy and be assured of reliable, timely, and economical point-to-point transportation solutions for their local and worldwide clients on a daily basis.
Their team of over 50 experienced professionals is able to provide consolidation services, project handling, warehousing and distribution, and customs clearance.
They even specialise in the handling of printed matters, events and exhibitions, automobiles, dangerous goods (DG), and marine equipment and spare parts for ships.
Impressively, EES was also recognised and awarded as one of the Top 1000 SME companies in Singapore every year from 2011 to 2019!
2. M&P International Freights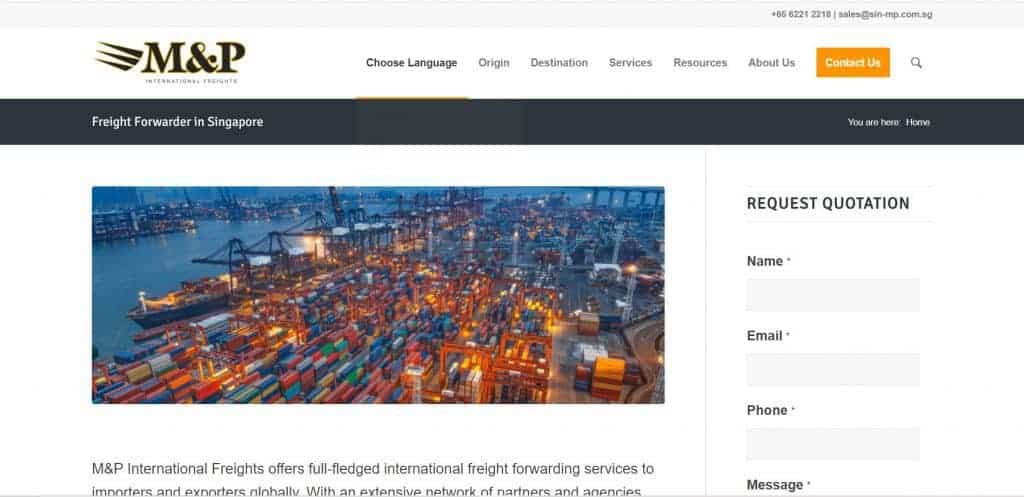 M&P International Freights offers international freight forwarding services to importers and exporters globally.
With an extensive network of partners and agencies worldwide, they can negotiate the best price to move your goods along the most cost-efficient route, be it air freight, sea freight or transportation.
As one of the world's leading international freight forwarder based in Singapore, they have successfully managed international trades between a wide variety of countries over the past 12 years.
Their clients have also come to trust M&P International Freights as their top freight forwarder of choice.
The freight forwarder in Singapore is known for its door to door sea freight services.
Door to door sea freight services refer to intermodal transport, where more than one transport mode, such as shipping and trucking, is used.
3. Megaton Shipping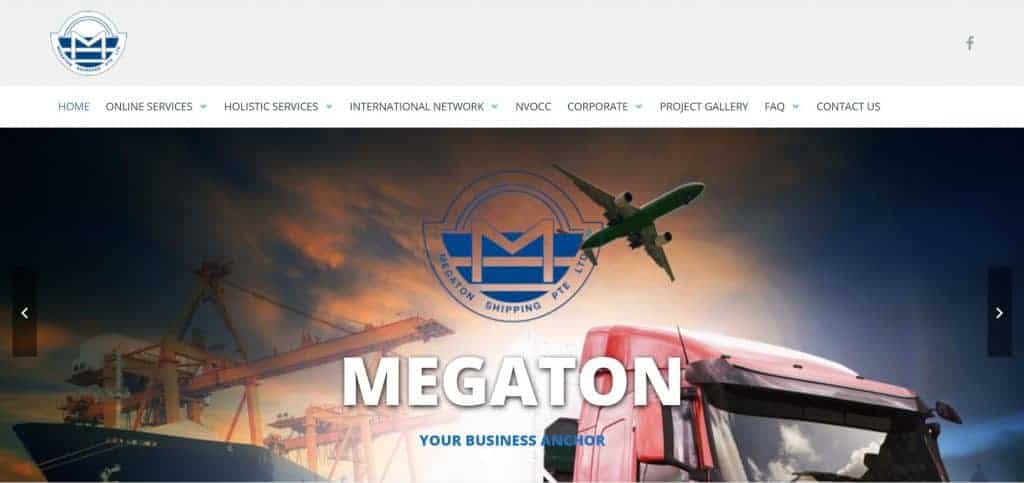 Megaton Shipping Private Limited, an international freight forwarder also recognised as one of the leading shipping companies in Singapore, was incorporated in 1991.
With 45 years of cumulative experience and has handled over a million shipping transactions, Megaton Shipping prides herself as the trusted and reliable professional logistics solutions provider for the supply chain management.
Today, Megaton Shipping comprises a diversified team of over 50 staff, 4 offices regionally and a global network of over 60 cities and representation.
They envision themselves to be the market leader through global network expansion and improved product lines, promising a better experience for their loyal customers.
The freight forwarder in Singapore is known for its suite of custom clearance services.
With over 25 years of expertise in freight forwarding and logistics services, Megaton has the capabilities to provide assistance in business' custom and permit requirements in Singapore.
These various obtainable permits include:
Transshipment Container Permit
Dangerous Cargoes in Containers Permit
Import Container Permit (FCL or LCL)
Export Container Permit (FCL or LCL)
4. Trans Global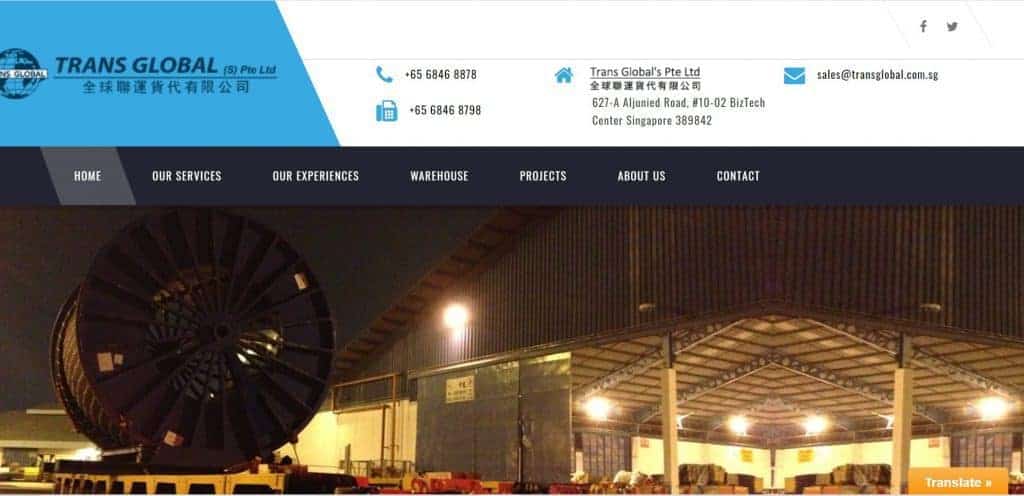 Trans Global (S) Pte Ltd was started in 2003.
The freight forwarder in Singapore was established with team leaders with over 25 years' experience in this field.
TGS is an international freight forwarder specialising in total logistics and project/over-sized cargoes.
They provide tailored solutions to meet their customers' requirements in ocean/air freight and land transportation.
They will always be there to support you from the time of picking up of the cargo till delivery.
TGS has been awarded with the QMS ISO 9001:2008/Biz-Safe 3 certification, which brings its service to a higher level in working/operating procedure management, thereby enhancing customers' satisfaction.
As a member of the Singapore Land Authority/Singapore Chamber of Commerce & Industry Association, they have first-hand information to keep up with industry changes.
5. Star Concord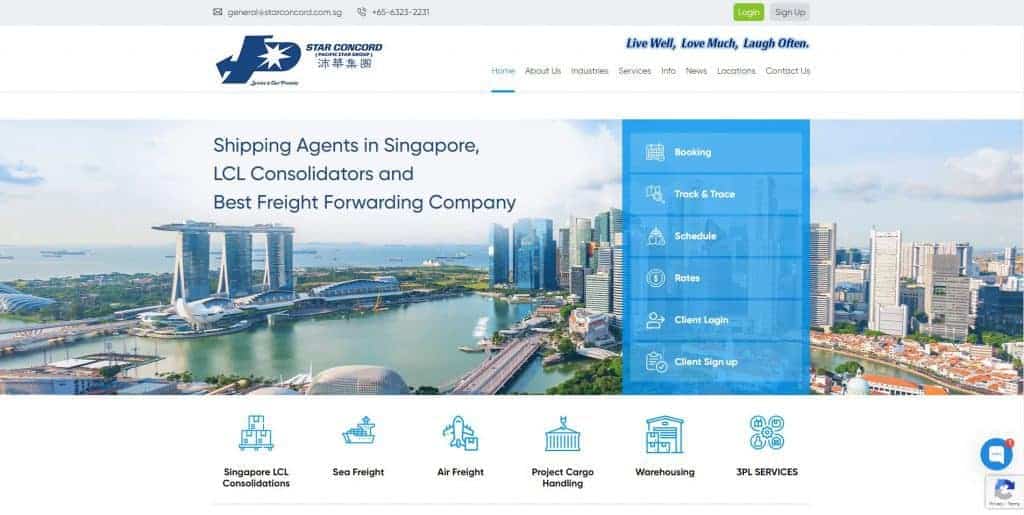 Star Concord (Under Pacific Star Group) is one of the leading freight forwarders in Singapore and an experienced shipping agency that will put their clients at ease by making sure that their cargo reaches their final destination safely and efficiently.
They provide various services including the Less-than-Container-Load (LCL) consolidation services, project cargo handling, warehousing, air freight forwarding services as well as sea freight forwarding services (which is the largest and the most important part of their operations).
They are also an expert in handling dangerous goods for their clients such as those that are toxic, corrosive and radioactive.
Over the years, they have managed to establish an expansive network of partners all over the world.
Their reputation as a reliable freight forwarding company has also brought them achievements such as The Best NVOCC of the Year by the Taiwan Ministry of Transportation and Communication and the Port Authority of Keelung.
6. The National Forwarder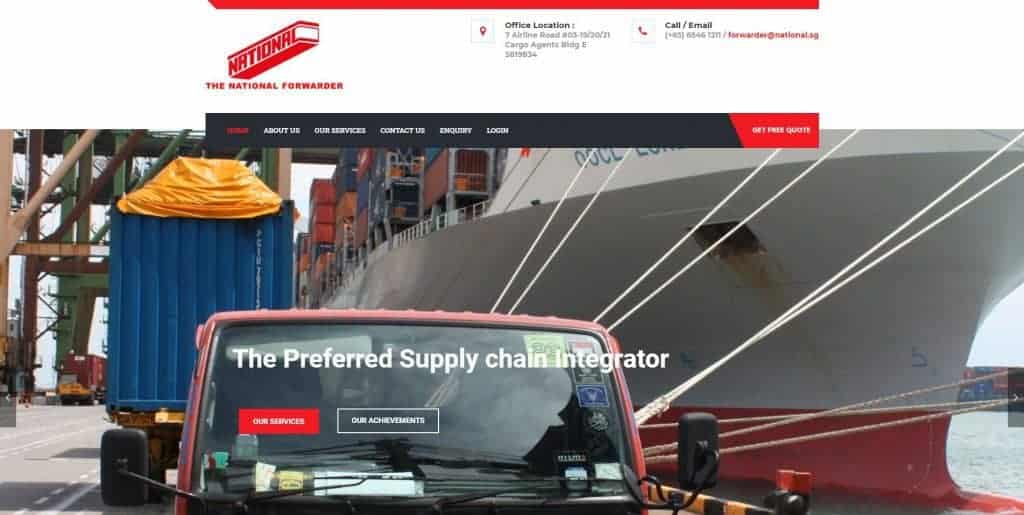 Established in 1991, The National Forwarder has a specific goal of providing freight forwarding and logistics services to their international and local customers by understanding the nature and requirements of their clients.
They provide these freight forwarding and logistics services for ship spares and general cargoes whether they are services such as air freight, sea freight, customs brokerage, paperwork and warehousing services.
They also provide international routing and courier services that will assure their clients that their goods will arrive on-time in tip top condition.
With their professionalism, The National Forwarder holds 2 national records for the Heaviest Air Cargo (Set in 2007) and the Longest Air Cargo (Set in 2008) ever flown out of Singapore.
7. Trans Air & Sea Cargo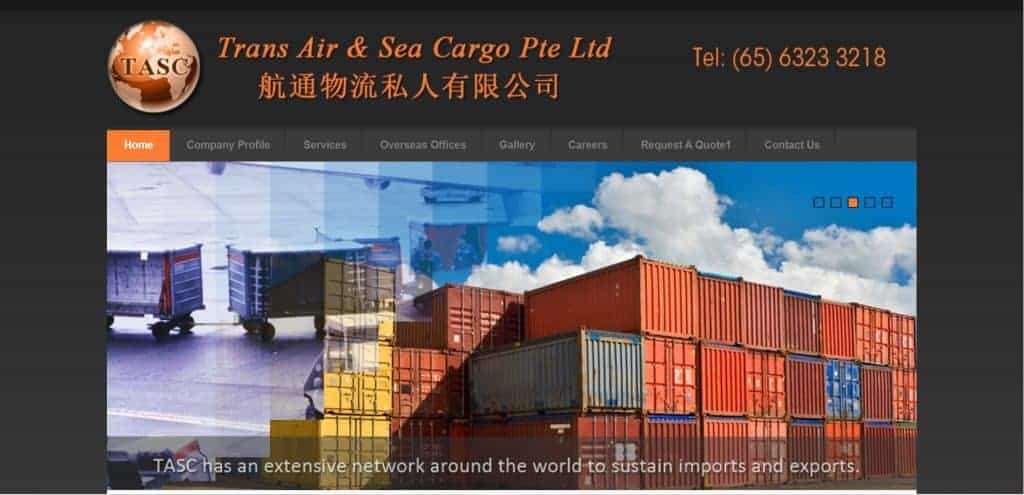 Trans Air & Sea Cargo (TASC) was incorporated in March 1995.
TASC has diversified its traditional freight forwarding activities into a fully integrated logistics provider and is equally involved in air and sea freight operations.
The company has evolved to become one of the most well-trusted logistics providers in Singapore today.
The freight forwarder in Singapore adheres to all customs regimes to ensure that customers have access to facilities such as duty deferment, Community Transit guarantee, NES export documentation, bonded warehousing, CFSP and ERTS.
In Europe, their nationwide office and affiliate network allows them to be in close proximity to all of the major seaports which regularly utilise inland hubs to ensure they provide a smooth transition from the port of loading till onward export.
8. AGI Freight Singapore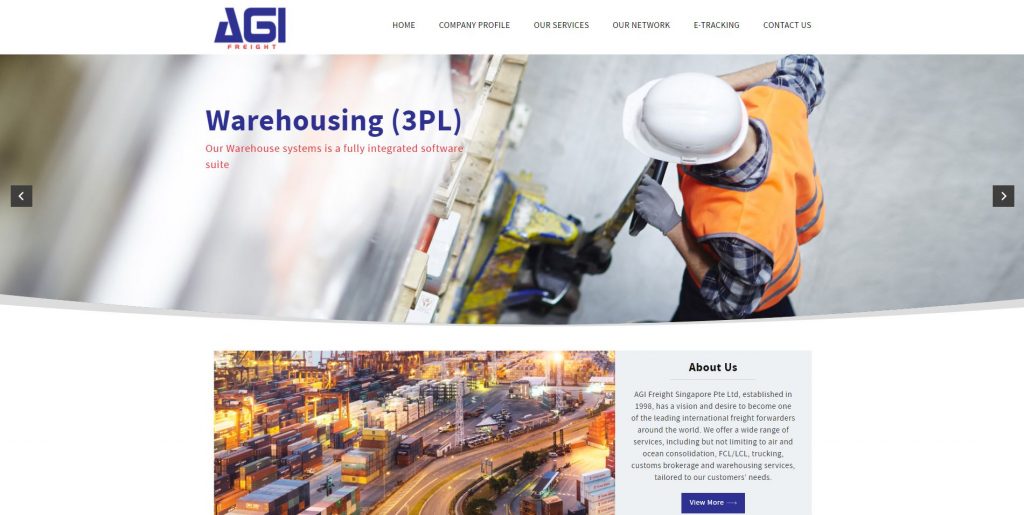 AGI Freight Singapore Pte Ltd. was established in 1998, with the vision and desire to become one of the leading international freight forwarders around the world.
The freight forwarder in Singapore offers a wide variety of services tailored to our customers′ needs, including air and ocean consolidation, FCL/LCL, trucking, customs brokerage and warehousing services.
Their well-trained and experienced operation teams, along with their most state-of-the-art track and trace systems, allow the company to surpass its customer's expectations by leaps and bounds.
Their global agency network covers more than 50 countries and they deal with over 30 cargo agents worldwide for freight traffic to and from Singapore.
9. KMS Logistics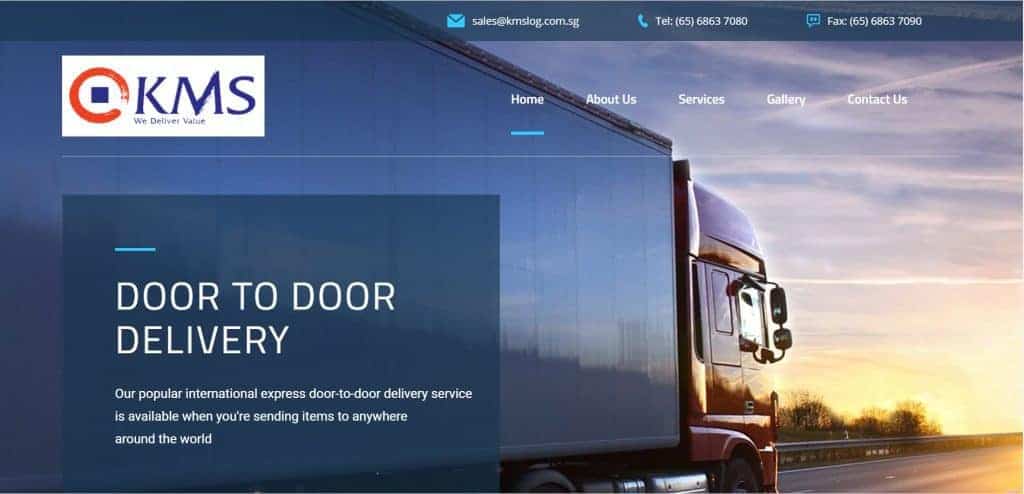 KMS Logistics (Singapore) is a subsidiary of AW Group of companies.
The AW Group owns a full service distribution centre in Singapore's largest industrial district located in Tuas.
The group also owns U-Bed trailers and modular HoldHoger Hydraulic type trailers to handle all sophisticated logistical requirements.
They began in 1972 as a Port of Singapore Authority approved transhipment contractor.
Since then, they have become an integrated logistics service provider.
The freight forwarder in Singapore is known for its warehousing capabilities.
Their asset-light operating model allows them to choose the correct qualified subcontractors based on diverse customer requirements with an emphasis on compliance, safety, security, professionalism and environmental leadership.
10. ACS Freight Services Pte Ltd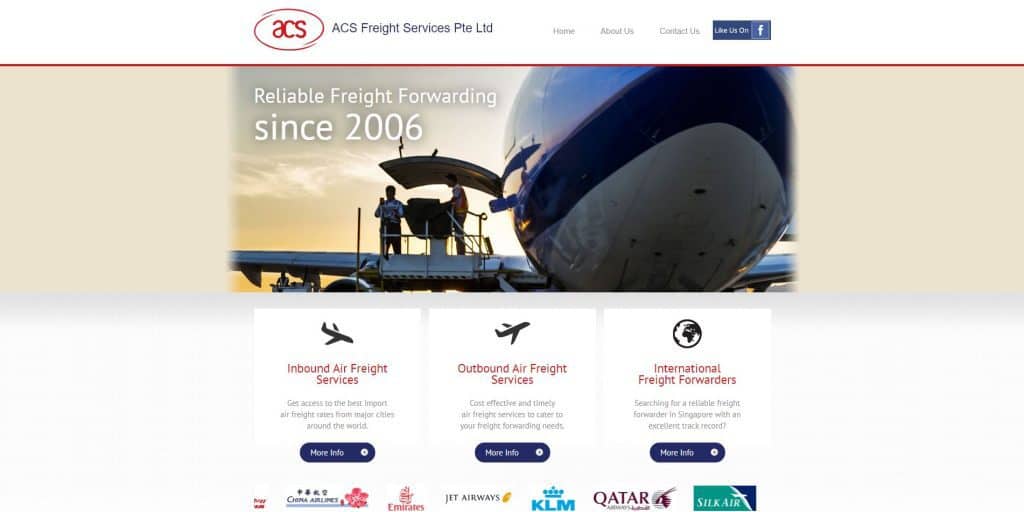 Established in 2006 and having delivered freight across more than 50 countries, ACS Freight Services has come to be known as one of the leading air freight forwarders in Singapore.
They are dedicated to helping their clients to deliver their goods in a timely manner and at competitive rates.
They provide flexible air freight services tailored to the needs of their clients whether they are inbound or outbound.
Clients can assured that their team of professionals will manage and monitor their shipments closely.
11. Interfreight Linc Logistics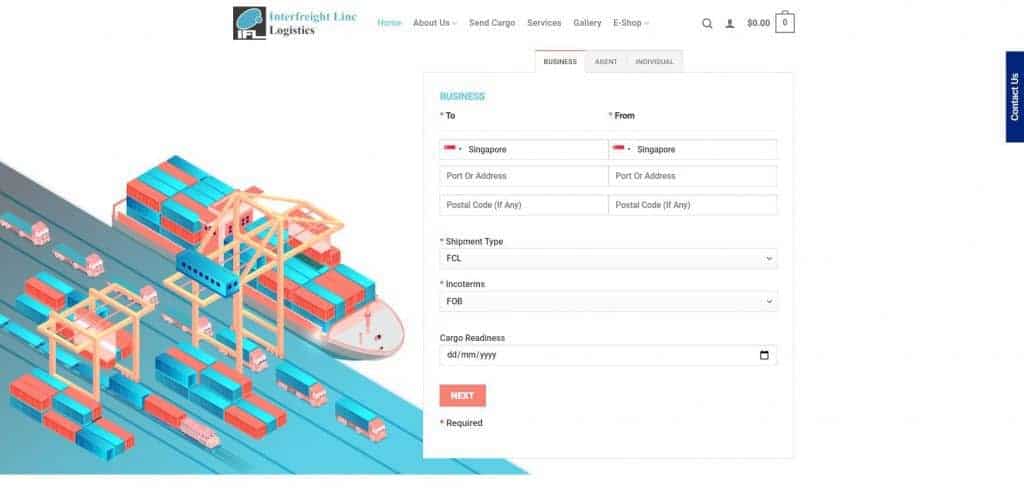 Interfreight Linc Logistics Group has built itself a reputation over the past 20 years as a trusted freight forwarder in Singapore with its timely organization and safe transportation of goods from manufacturers to its final destination.
The freight forwarder in Singapore offers various form of services such as sea freight, air freight, warehousing, project & heavy lift and NVOCC consolidations.
They also provide other value-added services such as islandwide trucking and transportation, marine/air/land cargo insurance and wooden crating.
These services aim to put their clients at ease.
Conclusion
Do you have any reviews and comments to share regarding our choices for the best freight forwarder in Singapore?
While SBO is committed to supporting our local businesses, we welcome any feedback and anonymous sharing regarding your experience with the listed freight forwarder in Singapore.
We hope that this guide will be useful in helping you to make an informed decision when it comes to finding the best freight forwarder in Singapore.
Explore More Content