12 Best Acne Treatment in Singapore to Have a Smooth Complexion [2023]
Find the best acne treatment in Singapore to have a smooth complexion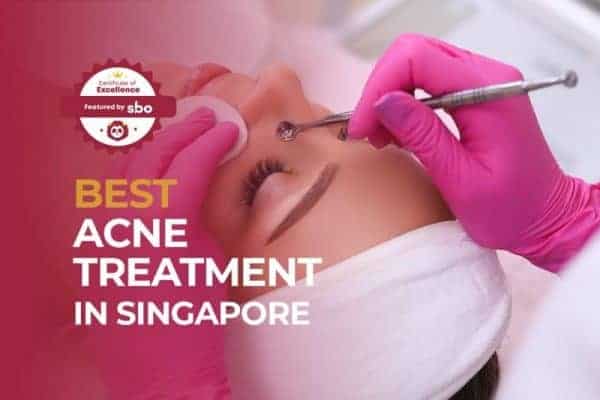 Are you annoyed by the number of spots and pimples on your face? Do you suffer a lack of self-esteem arising from such skin conditions? If yes, you can consider having an acne treatment in Singapore.
The best acne treatment in Singapore offers the latest medical technology and expertise to clear your skin of this inflammatory skin condition.
In this post, we've gathered all the necessary details including unravelling reviews and testimonials to derive a list of the 12 best acne treatment in Singapore to have a smooth complexion.
1. The Ogee Clinic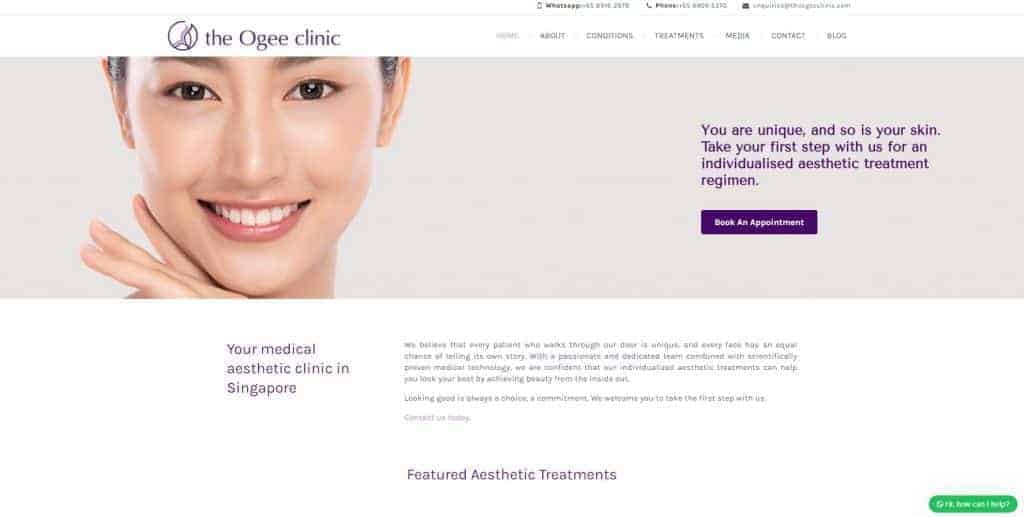 The Ogee Clinic is founded by an experienced aesthetic doctor Heng Wee Soon. He is an expert in non-invasive facial re-contouring and non-surgical procedures to treat various skin conditions. He aims to understand each patient's needs, provide accurate diagnosis and practical solutions for their problems.
For acne skin issues, they have the appropriate means to treat this problem. This could include the structured Acne Buster Program or the technologically advanced Rejuran Healer.
2. Ensoul Medical Clinic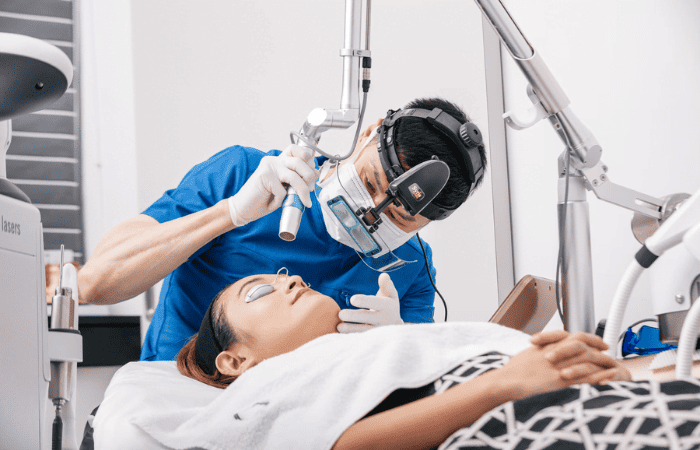 Ensoul Medical Clinic is a trusted medical aesthetic clinic that specialises in treatments for complex skin conditions like pigmentation, acne, acne scars and skin laxity. Equipped with leading-edge technologies, the team of experienced doctors is able to develop multi-modal treatment plans that maximise patient benefits using multiple permutations and multi-modal approaches. The clinical treatments are crafted to provide optimal results that are long lasting.
3. Aesthetic Studio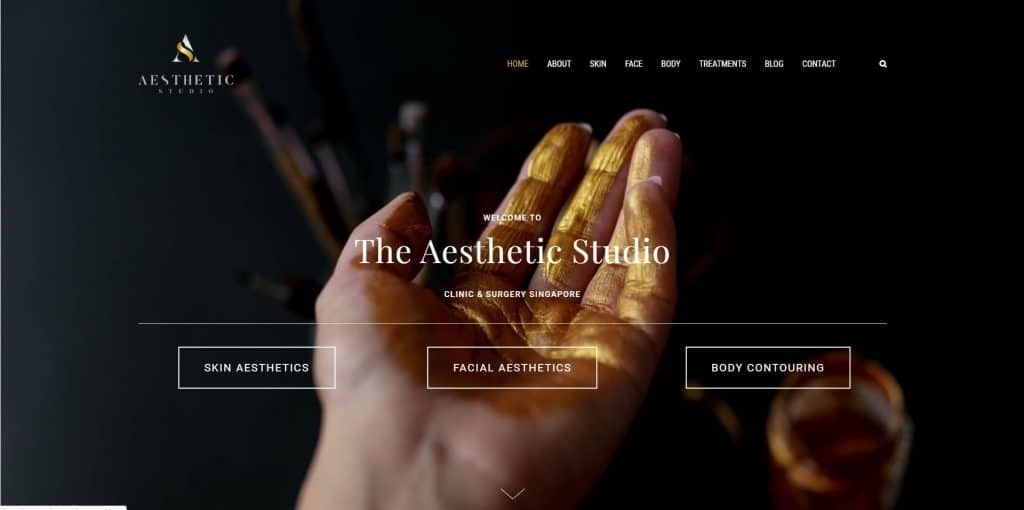 Aesthetic Studio is an aesthetic clinic that is helmed by experience aesthetic doctor and consultant surgeon Jonathan Lee.
Aesthetic Studio carries out its service on the basis of 3 principles. Consultation which aims to provide a more effective solution for patients by having an understanding their needs and expectations; Customisation in which the treatment will be customised based on your areas of concern, budget, timeframe and comfort level and finally; a combination of treatments that will be used for an overall improved look.
For Acne skin conditions, Aesthetic Studio offers various forms of acne treatment in Singapore to help patients to have a better skin complexion. This could be through medical facials, namely Gentle Medical Facial and Sciton Blue BBL, or the Acne Elimination Programme.
5. Assurance Skin Clinic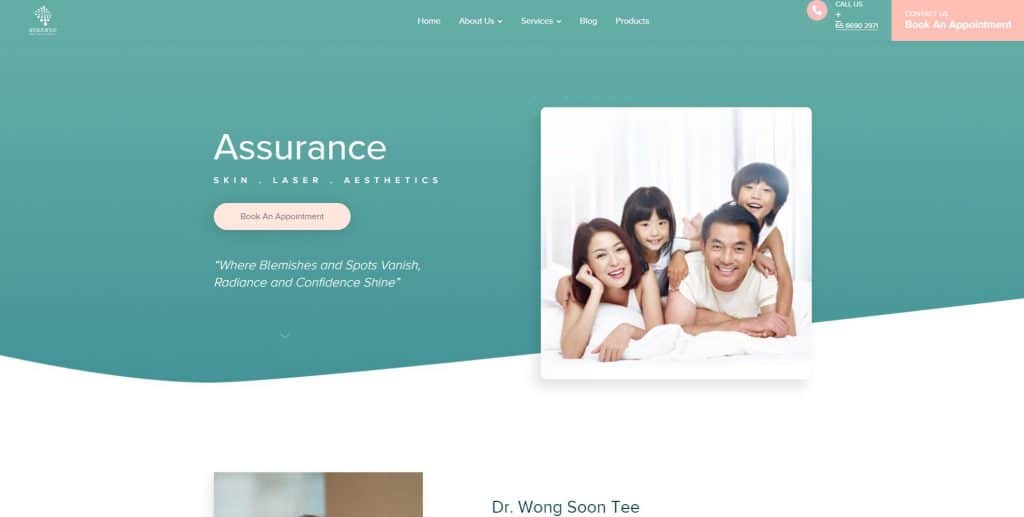 Assurance Skin, Laser & Aesthetics is a specialist dermatology clinic that offers an extensive range of medical, surgical and aesthetic dermatology services for regional and local across all age groups.
The clinic is helmed by Dr Wong Soon Tee, a specialist dermatologist with over 20 years of experience. He connects well with his patients, listening and explaining to them their skin issues and queries well.
Seeking acne treatment in Singapore under Dr Wong comes in varying degrees of your condition.
With a mild acne condition, treatment methods such as hydrafacial treatment and helios carbon acne laser peel are used to clear whiteheads and blackheads as well as to stop the acne zits from appearing.
With a moderate acne condition, helios acne laser toning, for example, will be used to eradicate the bacteria and controlling the inflammation.
With a severe acne condition, Dr Wong would recommend using Oral isotretinoin which is highly effective and prevents scarring.
6. APAX Medical & Aesthetics Clinic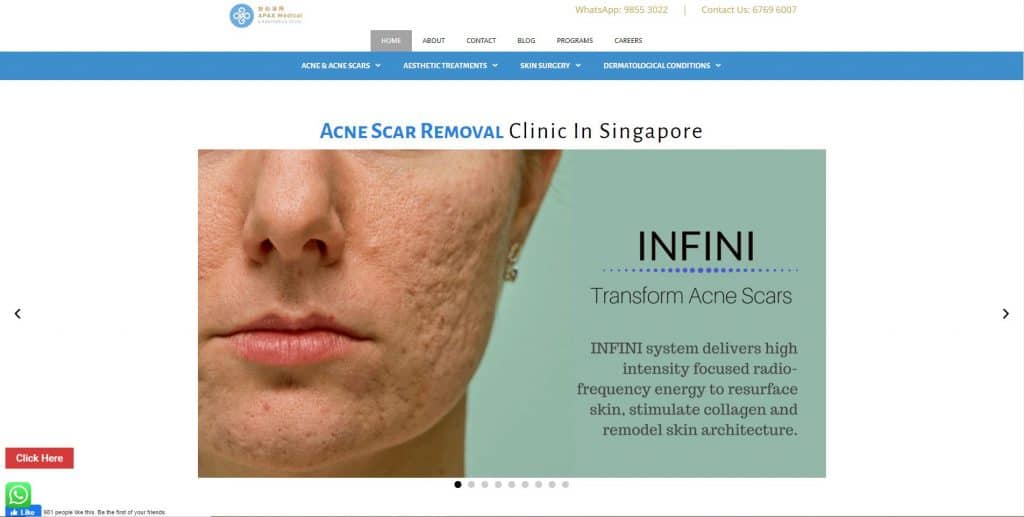 APAX Medical is an established aesthetic clinic in Singapore that focuses on advance acne care, cosmetic dermatology and skin surgery. Helmed by Dr Moses Ng, the clinic dedicates itself to delivering the most natural aesthetic outcomes through precision and accuracy.
The clinic treats various form of acne conditions which can include acne scar, inflammatory acne vulgaris and Comedomal Acne that is customised based on the condition of your acne.
Types of clinically proven acne treatment in APAX Medical include medical grade cream, oral medications, chemical peels, surgical techniques and laser devices.
7. Medical Aesthetics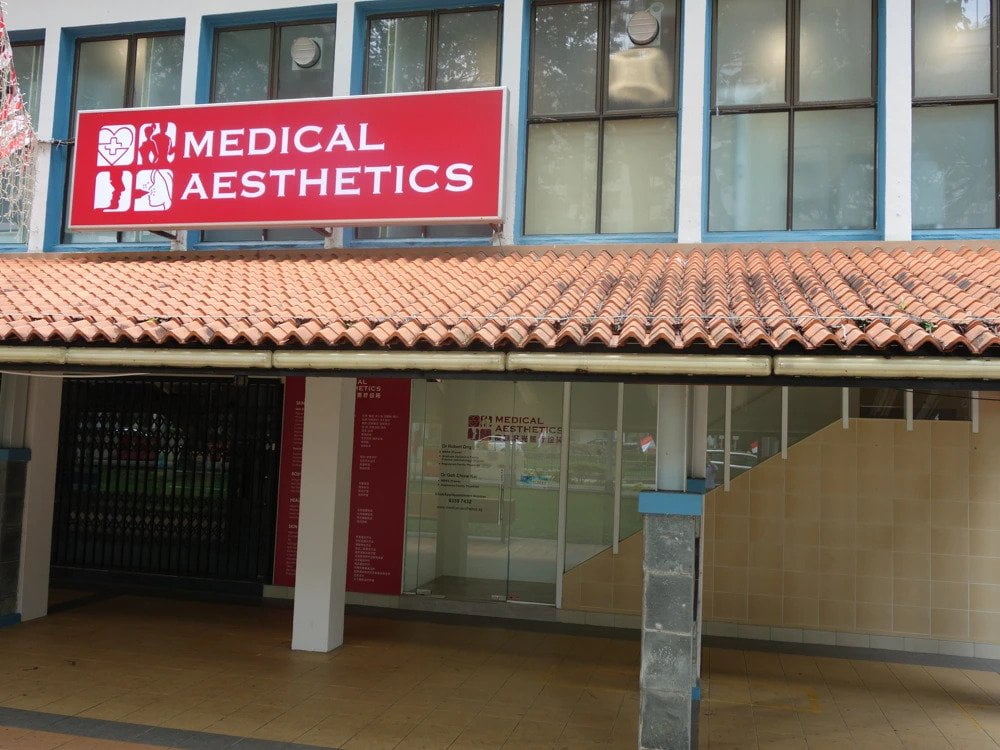 Medical Aesthetics was started in 2002, with the core vision of providing reliable, safe and affordable aesthetic treatments. They also provide general well-being healthcare services like adult vaccinations, health screening services and medical check ups.
Medical Aesthetics believes everyone should have the right to look and feel good about themselves. Some of their core services include: acne and acne scar treatment, eczema treatment, dermal fillers, weight loss programs and tattoo removal. They offer minor skin surgery for removal of moles, milia seeds, warts, sebaceous cysts & skin tags etc. They also have chemical peels, various Laser and IPL treatments available for various skin or scarring issues.
Their Toa Payoh clinic is conveniently located 3 minutes away from Toa Payoh MRT Station.
8. SOG – HM Liew Skin & Laser Clinic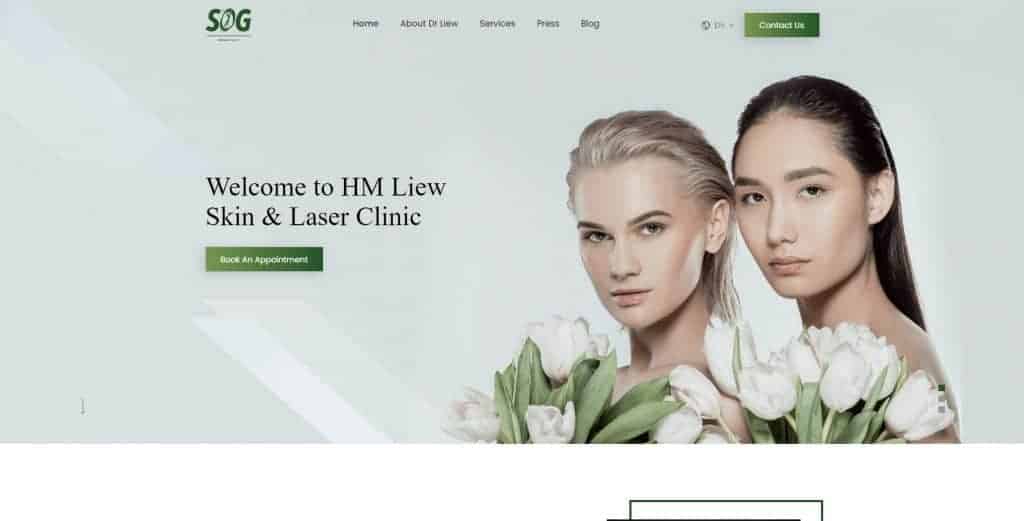 SOG – HM Liew Skin & Laser Clinic is led by an accredited dermatologist in Singapore Dr Liew Hui Min. Their clinic has modern dermatology equipments and a well-trained team prepared to meet skincare needs. You can be assured that their pricings are fair and transparent.
For acne skin conditions, Dr Liew has the right expertise to meet your needs. Some medicinal treatments that can used for acne include topical antibiotics, topical retinoid as well as oral antibiotics with topical.
For acne scars, treatments such as injection fillers and skin surgery may be used.
9. Edwin Lim Medical Aesthetic Clinic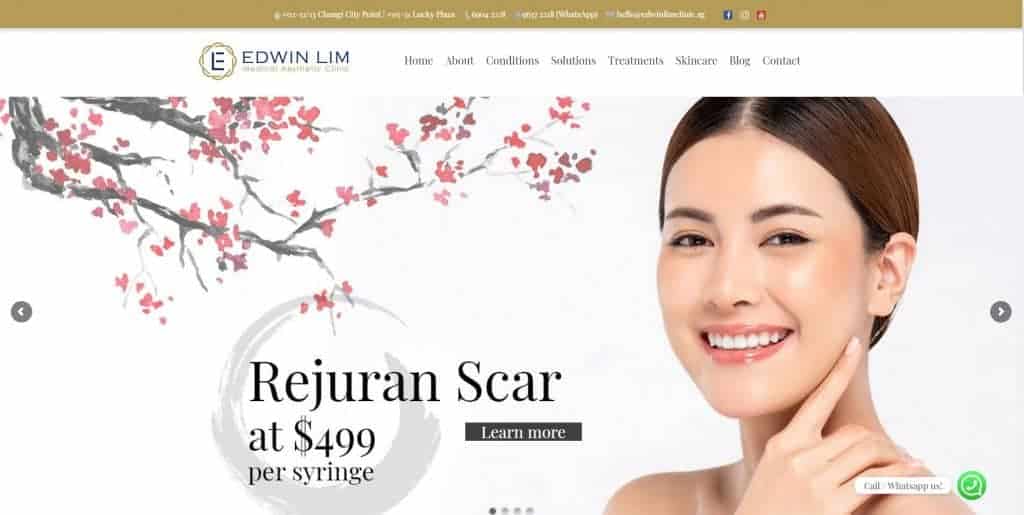 Edwin Lim Medical Aesthetic Clinic provides a comprehensive range of medical aesthetics services, equipped with the latest technology to help you look your best and yet with minimal discomfort and downtime.
Dr Edwin Lim, the owner of this clinic, has treated many dermatological skin conditions including acne skin and scar.
Acne treatment in the clinic has various forms. This could be acne medical facials, acne lasers or even oral acne medications.
10. EstheClinic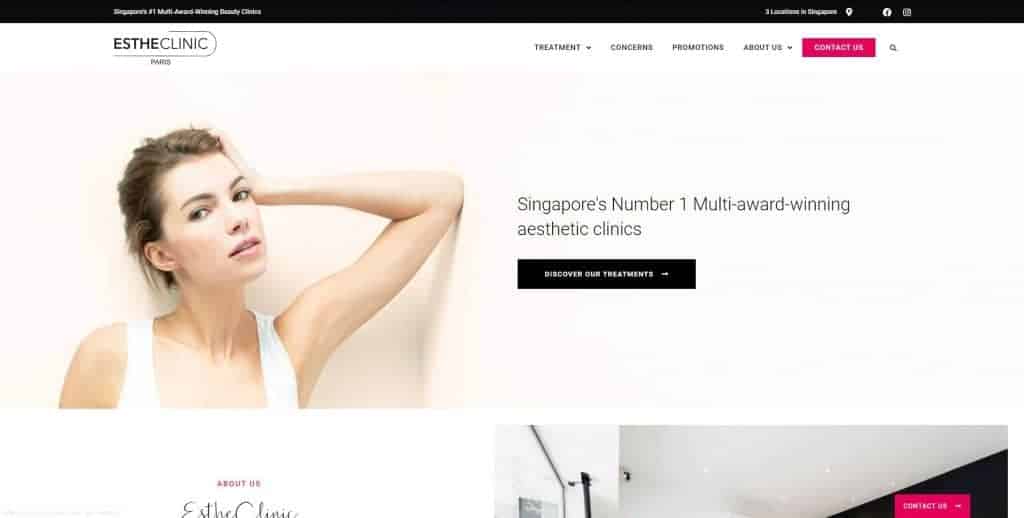 EstheClinic is a multi-award winning beauty clinic in Singapore with over 20 years of medical and technological expertise. They combine ground-breaking technologies and performance cosmeceuticals for the best results.
If you are suffering from acne skin or scar, they offer the Soothe & Becalm LED photo modulation treatment. This treatment uses a natural, painless, non-thermal light to remove your pimples which lasts only 20 minutes long.
You can be assured that their acne treatment in Singapore is safe, painless, non-invasive and with immediate and lasting results.
11. Caring Skin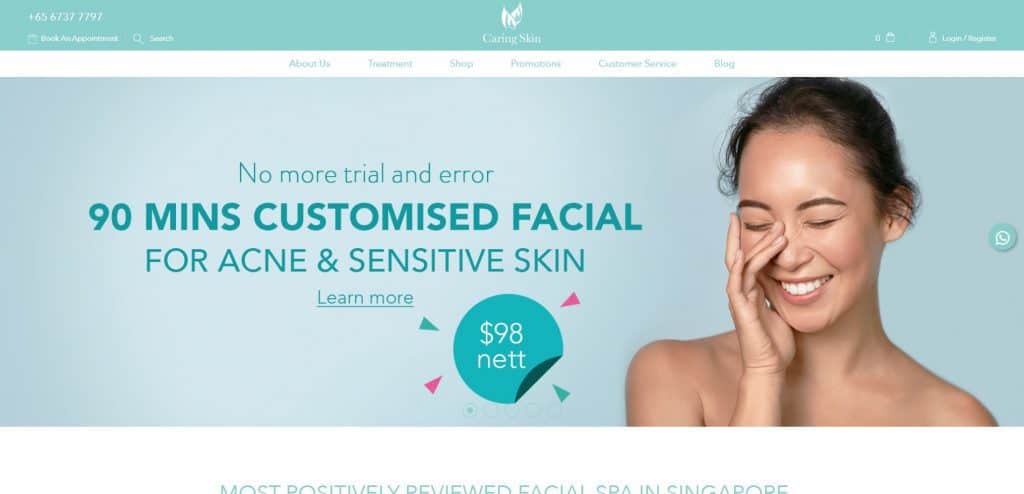 Caring Skin was founded in 2013, combining plant-based ingredients with cutting-edge technology to target the ever-changing skin concerns of both men and women.
Their acne treatments are carried out with ease and professionalism by their well-trained and experienced estheticians based on your unique skin profile generated through high technology analysis machines.
Types of acne treatments they offer are Light Wave Therapy Treatment, Acne Clear Nano Perfector and Plantomer Soothing Treatment which are effective yet gentle and delicate on your skin.
Sign up now for the S$98 90-minute customised trial facial for sensitive and acne skin which will also include free Cryo Meso Therapy worth S$250.
12. Fusion Medical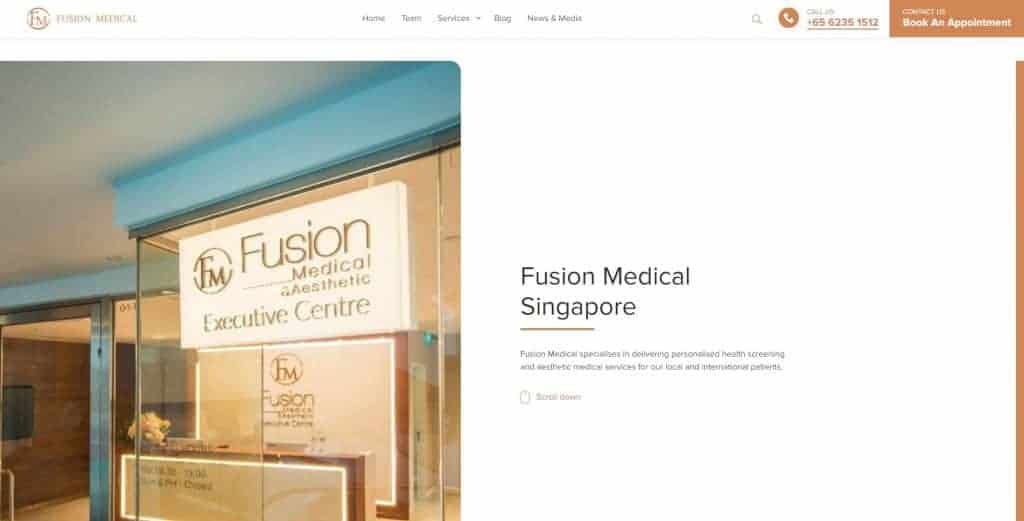 Founded in 2015, Fusion Medical specialises in providing personalised health screening and aesthetic medical services for local and international patients at affordable rates.
In Fusion Medical, various medical treatments are used to tackle your acne problems. This will be decided based on the severity of your acne skin condition. Treatments carried out would include topical medications, oral medications, chemical peels, skincare as well as laser treatments.
Conclusion
All in all, we hope that you find this guide useful in making an informed decision when it comes to choosing the best acne treatment in Singapore of your choice.
Do you have any reviews and comments to share regarding our choices for the best acne treatment in Singapore?
While SBO is committed to supporting our local businesses, we welcome any feedback and anonymous sharing regarding your experience with the listed clinics for acne treatment.
On a side note, if you are suffering from any other skin conditions such as pigmentation, do feel free to check this list of aesthetic clinics in Singapore you can visit.
Explore More Content