22 Best Aesthetic Clinics in Singapore to Make You Look Good [2023]
Find the best aesthetic clinics in Singapore to enhance your physical well being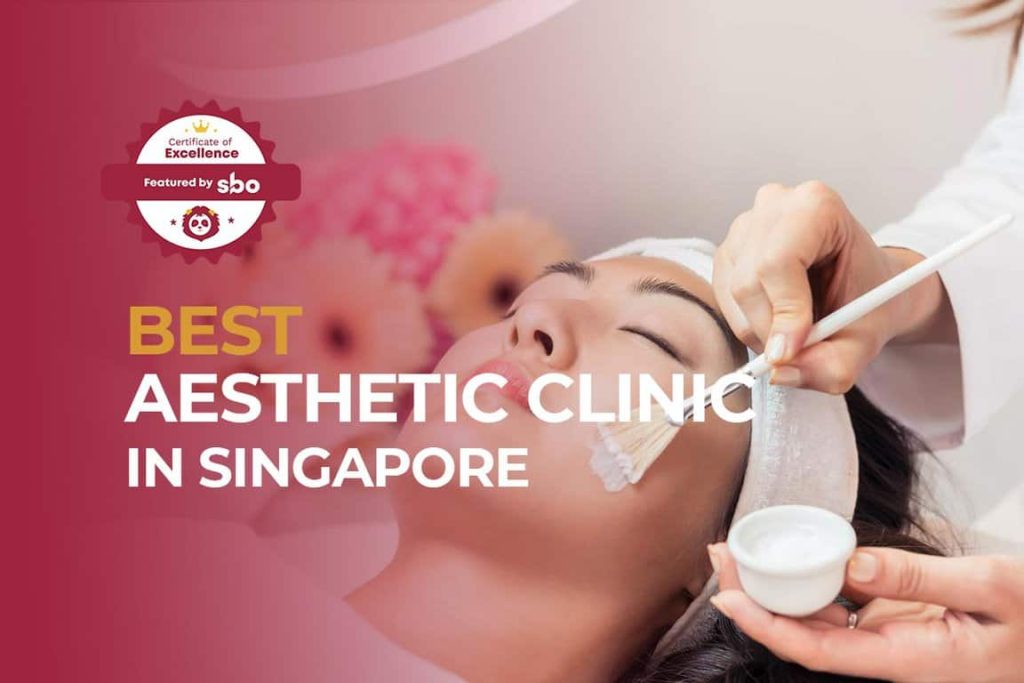 Everyone on this earth wants to look beautiful. We find many ways to make ourselves beautiful whether it is having a healthy diet or using a wide range of skincare products.
While skincare products help to enhance one's beauty, finding good aesthetic clinics in Singapore allows you to get professional help to keep your skin in the best condition.
In this post, we've gathered all the necessary details including unravelling reviews and testimonials to derive a list of the 22 best aesthetic clinics in Singapore to make you look good.
1. V Medical Aesthetics & Laser Clinic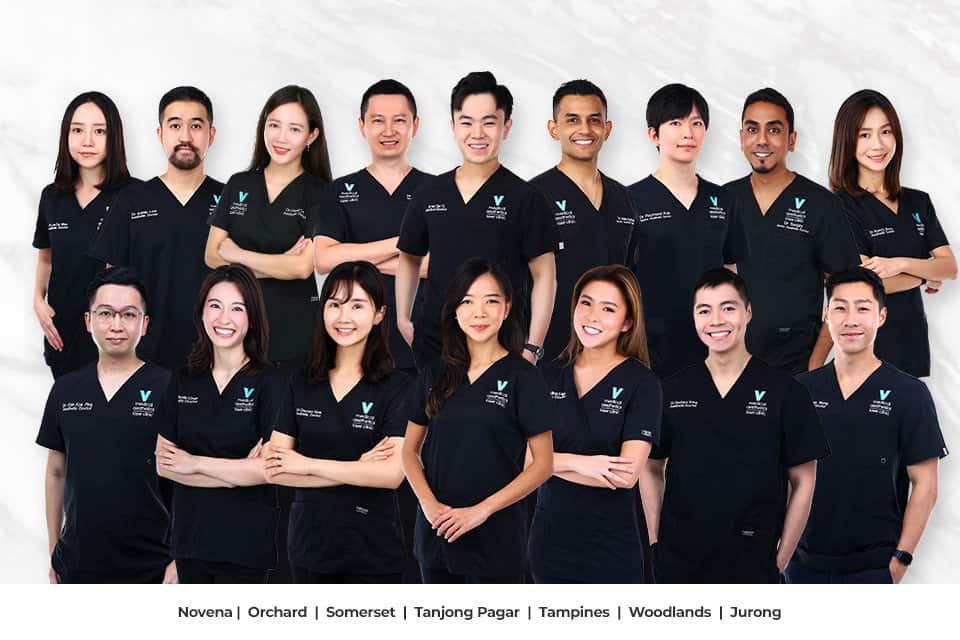 V Medical Aesthetics & Laser Clinic is a largest medical aesthetic group with 14 clinics conveniently located near MRT stations across Singapore. The chain of clinics focus on providing safe, clinically-proven and low-downtime medical aesthetic services, ranging from lasers, ultrasound, radiofrequency technologies and injectables.
Expert in V Shape Face Slimming, Pigmentation Removal and more, they have a team of 16 accredited doctors with extensive knowledge and expertise in Medical Aesthetics, focused on bringing the best in you, tackling facial and body concerns from ageing to acne, scarring, pigmentation, uneven skin tone, hair regrowth, and even tattoo removal.
Treatments are FDA-approved and use medical-grade equipment, prices are transparent and affordable for all. V Medical Aesthetics & Laser Clinic also received more than 7000 positive reviews across platforms such as Google and Facebook.
2. Become Aesthetics Clinic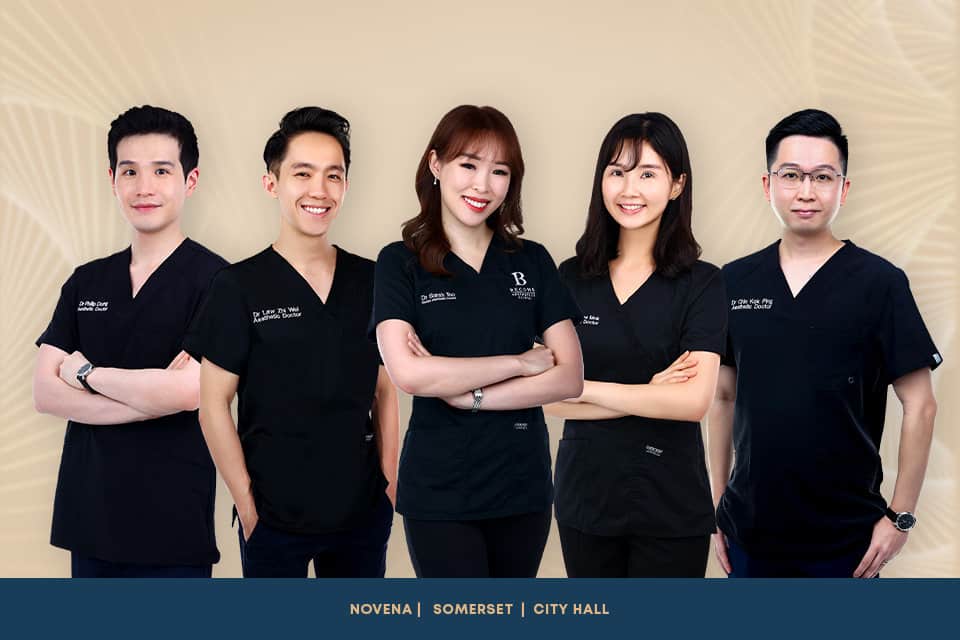 Become Aesthetics Clinic offers clinically-proven aesthetic services that are known for its safety and efficacy in treating a multitude of skin conditions such as saggy skin, pigmentation, scarring, fine lines and wrinkles. They also offer hair restoration lasers and treat body conditions such as stretch marks and dark underarms.
With 3 clinic branches across central Singapore – Novena, Somerset and City Hall, and 5 medical aesthetic doctors with extensive years of experience in the field to provide patient-centric care. Become Aesthetics Clinic is highly reviewed with more than 500 positive reviews across their platforms. Check out their transparent pricing of their aesthetic services.
3. Ensoul Medical Clinic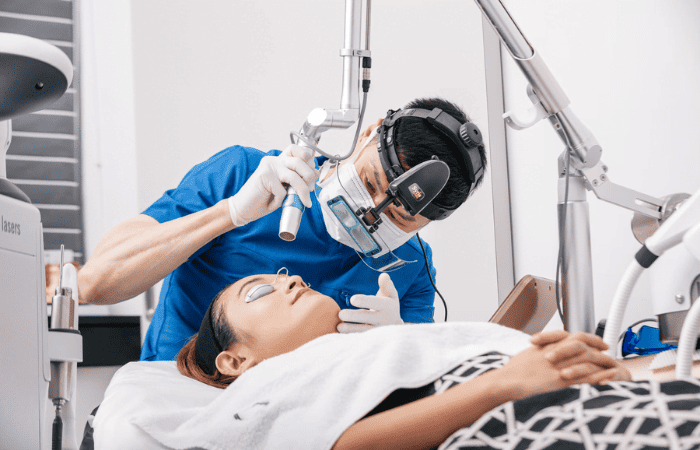 Ensoul Medical Clinic is a trusted medical aesthetic clinic that specialises in treatments for complex skin conditions like pigmentation, acne, acne scars and skin laxity. Equipped with leading-edge technologies, the team of experienced doctors is able to develop multi-modal treatment plans that maximise patient benefits using multiple permutations and multi-modal approaches. The clinical treatments are crafted to provide optimal results that are long lasting.
4. The Ogee Clinic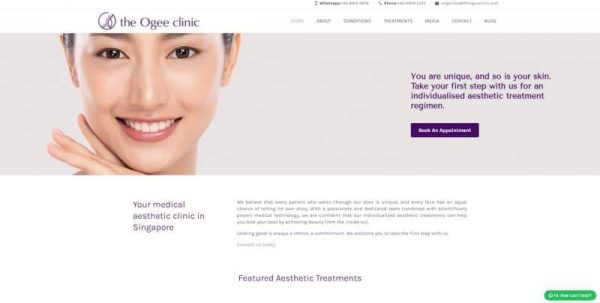 The Ogee Clinic is founded by an experienced aesthetic doctor Heng Wee Soon. He is an expert in non-invasive facial re-contouring and non-surgical procedures to treat various skin conditions. He aims to understand each patient's needs, provide accurate diagnosis and practical solutions for their problems.
They treat various skin conditions for their patients such as acne skin, dull skin tone and pigmentation. Treatments there are carried out using scientifically-proven medical technology. These include Rejuran Healer, Lunchtime HIKO Nose Lift and Juvederm Volite Skinbooster. They are made to help patients look their best.
The Ogee Clinic also offers its own line of skincare products of various ranges. Their skincare formulations are guided by the principles of personalisation, holistic and simplicity.
They've also been featured in various media platforms such as Her World, Today and Women's Weekly.
5. Mizu Aesthetic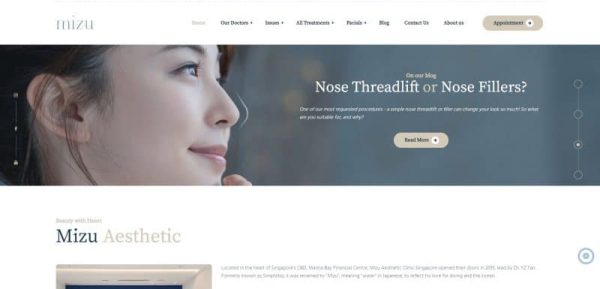 Mizu Aesthetic offers a variety of aesthetic and medispa treatments that are aimed to help you look and feel your best. The clinic specialises in neurosurgery, MRI-diagnostic and cardiology. All these emphasise the importance of providing high-quality treatments that are customised for their patients.
You can seek treatments for skin, face, eyes and body. Some of their popular treatments would be namely eye treatments, nose fillers & threads, pigmentation lasers, and v-shape face treatments.
6. Edwin Lim Medical Aesthetic Clinic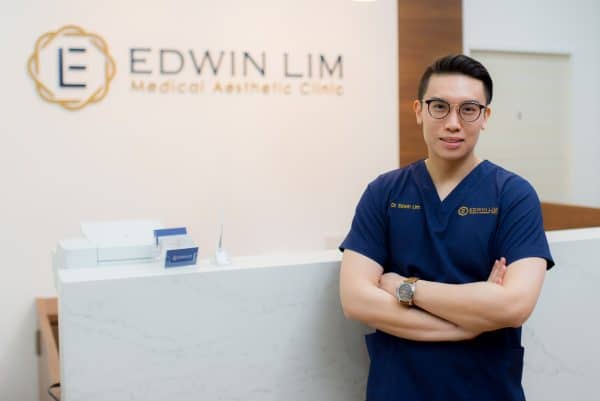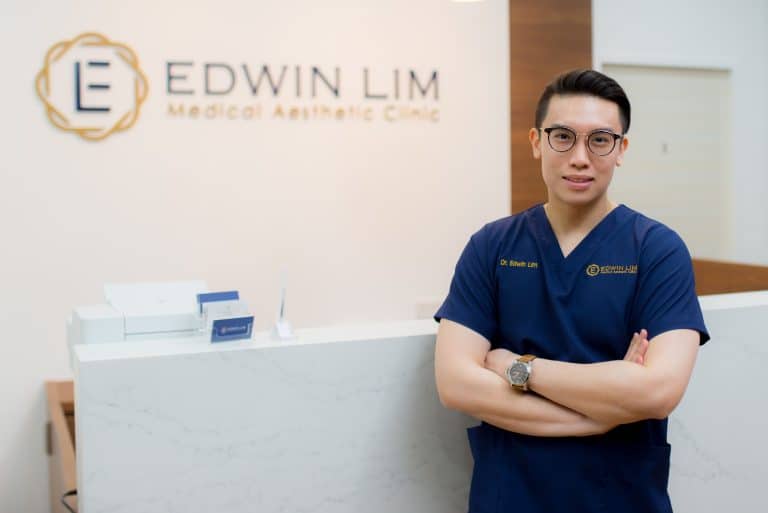 Helmed by Aesthetic Doctor Edwin Lim, Edwin Lim Medical Aesthetic Clinic provides a comprehensive range of medical aesthetical treatments using advanced technology to help you look your best with minimal discomfort and downtime.
Dr Edwin Lim's treatments are carried out with 3 core principles in mind: personalisation, evidence-based, and minimally invasive.
He has a fond interest in Aesthetic injectable procedures such as Botox, Fillers, Rejuran, Profhilo and Skinboosters. He is passionate about enhancing one's beauty by delivering natural-looking results with well-placed injections.
In addition, he is experienced in using a combination of Medical Aesthetic Lasers to treat various skin conditions such as Acne, Pigmentation, Anti-aging and Scars.
He is a firm believer in the importance of skincare products and has created his own range of specially formulated medical-grade skincare products to address specific skin concerns.
7. The Aesthetics Centre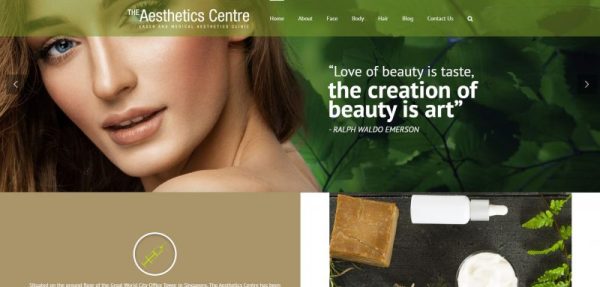 The Aesthetics Centre provides innovative aesthetic treatments with technologies that are proven to be safe, efficient and effective.
The clinic provides aesthetic treatment for face, body and hair such as photofacial IPL treatment, dermal fillers, Exilis Elite Body Contouring in Singapore, PicoWay Pigmentation Removal, Laser Hair Removal and Clinical Hair Restoration.
Reviews recommended The Aesthetics Centre due to their professionalism as well as the team's eye to details. Dr. Anita is an ethical doctor who does not hard sell products or services to you and only provides her professional opinion to your queries.
8. Shiro Aesthetic Clinic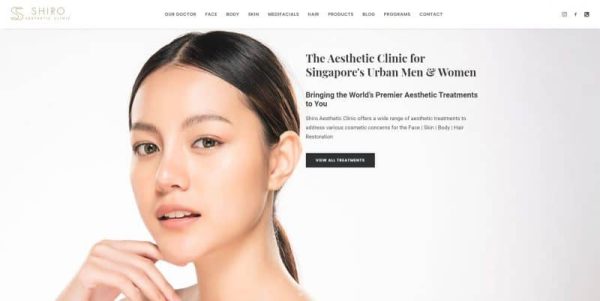 Established by Dr Zhang Yijun, Shiro Aesthetic Clinic aims to help patients to achieve beautiful glowing skin for the best and younger-looking you with a holistic approach combined with a philosophy of cultivating good skincare habits in their patients.
The clinic provides high-quality aesthetic treatments for their patients such as Airjet, Ellansé Dermal Filler, HIFU Shape, Shiro Cryo Fat Freeze, Venus Legacy, Profhilo, HydroPeel, Acne Peel, Regenera Activa and Theradome® Low-Level Laser Therapy.
Shiro Aesthetic Clinic sell medically researched skincare products from SkinCeuticals and Crystal Tomato®. This will help their clients achieve their best-looking self with a skincare routine.
9. The Aesthetic Studio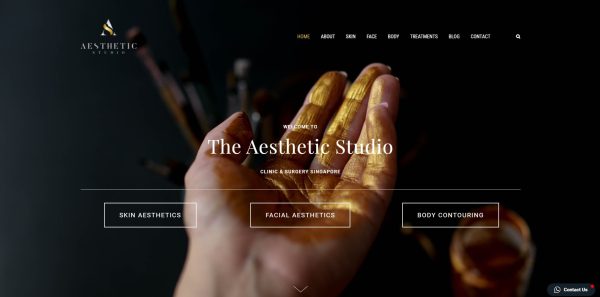 Helmed by experienced aesthetic doctor and consultant surgeon Dr Jonathan Lee, The Aesthetic Studio has a tailored approach to making you look your best.
The clinic offer various forms of skin aesthetic, facial aesthetic and body contouring treatments such as Laser Skin Treatment, Ultraformer III HIFU and Clatuu Alpha Fat Freezing using advanced medical techniques to achieve the results you are looking for.
10. ASTIQUE Clinic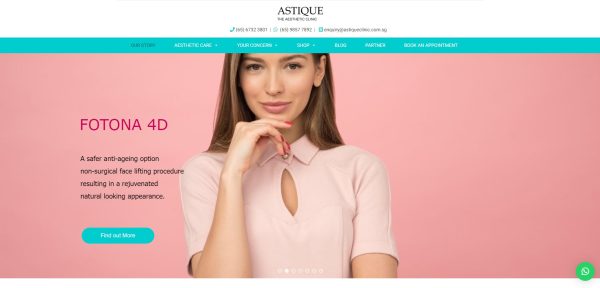 Founded in 2013, ASTIQUE is one of the many places in Singapore that provide a comprehensive range of FDA-approved medical aesthetic treatments which have minimal or no downtime.
Such treatments would include HIFU, Rejuran, Coolsculpting, Fotona 4D and Youthphotria tightening. In order to maintain your excellent skin complexion, ASTIQUE offers a wide range of skincare products.
To date, over 9 years, Astique has helped over 20,000 patients in achieving their desired results. All these Aesthetic procedures and more are aimed at improving one's physical appearance and confidence. Try them out now!
11. S Aesthetics Clinic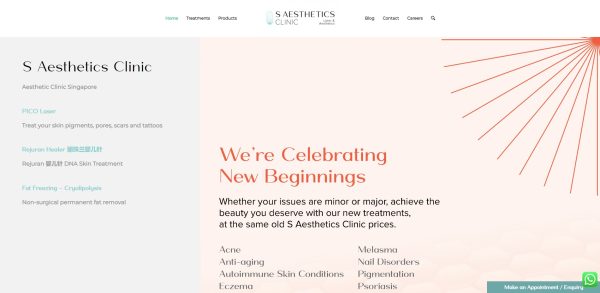 Led by leading aesthetic specialists Dr Sii Sik Liong and Dr Kwan Yuan Dong, S Aesthetics Clinic is committed to providing a holistic treatment for their patients to improve their quality of life and physical wellbeing.
They provide treatments for face, skin, hair, eye and body. Some of the popular treatments are PICO Laser, Rejuran Laser, and Fat Freezing (Cryolipolysis).
S Aesthetics Clinic also offers teleconsultation services to new and existing patients for free. A customised treatment plan will be prepared for patients once the consultation is done. Any medications that are required will be delivered to your doorstep and charged accordingly.
They also offer a range of their own skincare products for the benefit of patients.
12. Illumia Medical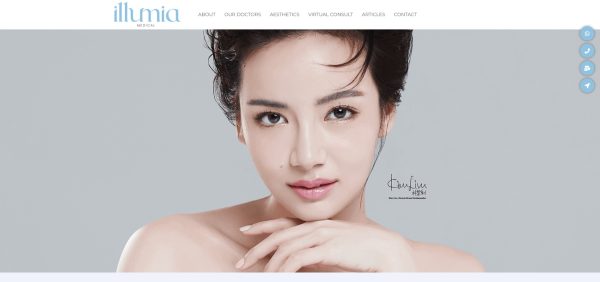 Helmed by Medical Director Dr Ram Nath, Illumia Medical is your go-to aesthetic clinic in Singapore for bespoke medical aesthetic treatments. They focus on helping you find a long-term solution rather than a short-term fix for your aesthetic issues.
They provide several aesthetic treatments such as the Forever Clear Acne Program, Baby ThreadLift, Lip Enhancement Fillers, Tesla Former, Hair Booster Treatment and Cooltech 360. These treatments are thoughtfully designed to enhance your appearance using their philosophy of natural-looking beauty.
13. EstheClinic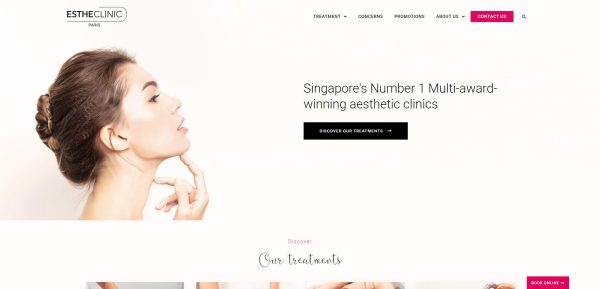 Recognised as a multi-award-winning aesthetic clinic, Estheclinic give their patients a safe, painless and non-invasive treatment with immediate and long-lasting results. This is achieved using exclusive French patented cutting technologies.
Treatments offered include IPL hair removal, EstheLED Radiance pigmentation & scars treatment, EstheRF Anti-Cellulite cellulite removal treatment and skin whitening treatments.
14. Healthsprings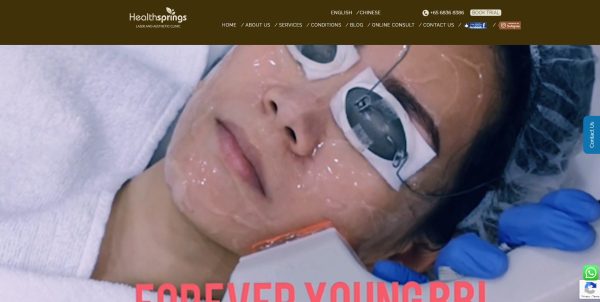 Established by Dr Soh Lea Sar in 2000, Healthsprings aim to give their patients the treatment programs they need that are tailored according to their age, condition and concerns.
They provide various aesthetic treatments Carbon Dioxide Laser, Fotona 4D Laser, LipoCryo, Ultrasound Lipolysis, Lip Augmentation and Nose Reshaping. With more than 20 years of experience, they are confident that their knowledge and skills can help their patients to achieve their desired results.
15. The Clifford Clinic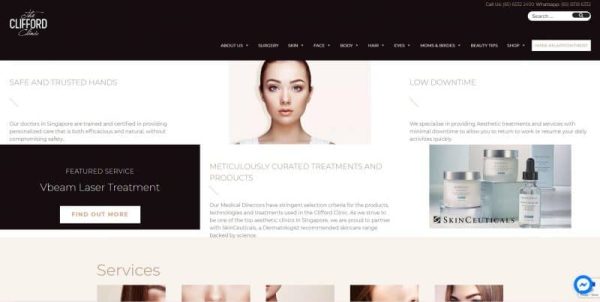 Founded by experienced aesthetic doctors Gerald Ee and Chow Yuen Ho, The Clifford Clinic is dedicated to helping their patients to attain natural-looking results with lesser downtime. The clinic also uses the latest state-of-the-art together with skincare products of top-notch quality which have gone through a stringent selection process before being used for the treatment.
They offer various aesthetical treatments for hair, face, body, skin, eyes and breast. These include Artas Robotic Transplant, Follicular Unit Extraction, Dermalift, Nose Thread Lift, Laser Hair Removal, Keloid Scars Treatment, Acne Scar Treatment, Rejuran Healer Treatment, Laser Eye Lift, Non-Surgical Eye Bag Removal, Breast Implant and Gynecomastia.
The Clifford Clinic partners with SkinCeuticals, a dermatologist-recommended skincare range backed by science.
16. Sozo Aesthetic Clinic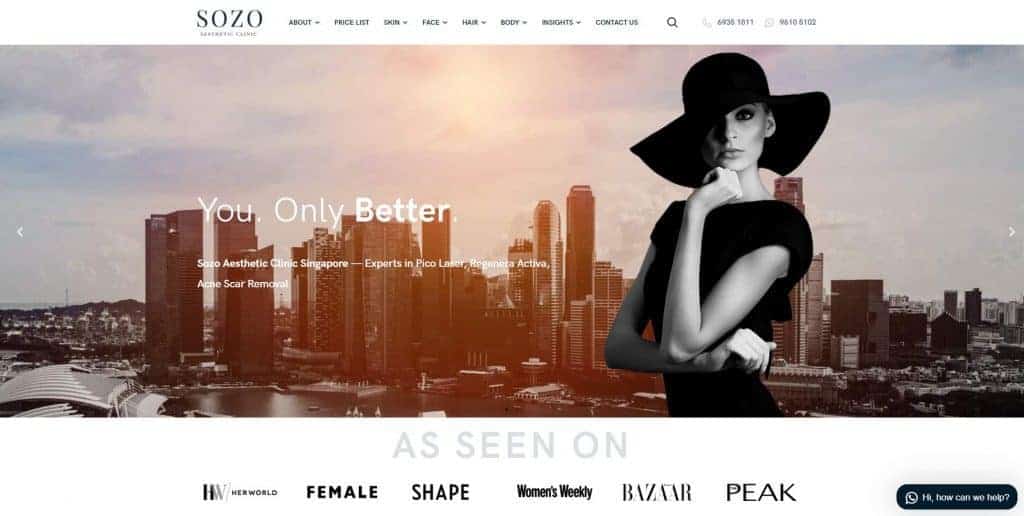 Founded by Dr Justin Boey, Sozo Aesthetic Clinic are designed for busy modern individuals who want the best-looking skin in the shortest possible time. Their treatments allow for quick recovery and minimal downtime. This is thanks to their forward-thinking experts who are willing to embrace new technology to improve patient outcomes.
They are the first clinic in Singapore to offer Lutronic's PicoPlus, a multi-wavelength Picosecond laser and possess expertise in Regenera Activa. They also offer one of the most comprehensive ranges of acne scar treatments in Southeast Asia.
Sozo Aesthetic Clinic has been featured in various publications such as Her World, Shape and Female.
17. The Chelsea Clinic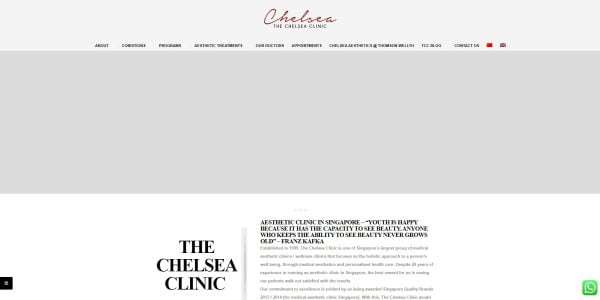 Founded in 1999 by experienced aesthetic doctor Ewen Chee Yew Wen, The Chelsea Clinic is one of the largest aesthetic clinics in Singapore. Their focus is on providing a holistic approach to the well-being of their patients through medical aesthetics and personalised health care with an emphasis on safety, effective, and affordability.
They provide various aesthetic treatments such as BB Laser, Facial Fillers, and illumiWave 180.
They were recognised for their commitment to excellence with their achievement of the Singapore Quality Brands 2013/2014.
18. The Aesthetics Firm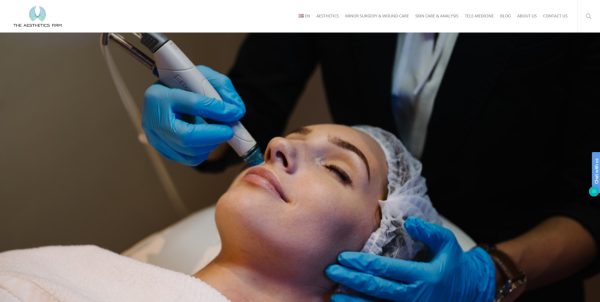 The Aesthetics Firm by Aquila Medical was the inspiration and created by Dr. Stephen Chu. Their goal is to give patients the most honest, reliable, and competent treatments available in the health industry today.
The Aesthetics Firm can provide you with a sense of well-being, radiating confidence with poise for all occasions. Their team would be honest and serious about your health and share on how they can achieve what you desire. They are confident that they will be able to meet your expectations and most importantly satisfied with their results.
19. Cove Aesthetic Clinic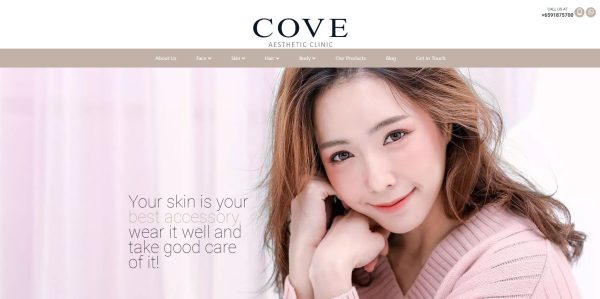 Cove Aesthetic Clinic is a boutique medical and laser aesthetic clinic located within Wheelock Place along Orchard Road. It was established to provide a medically sound and comprehensive aesthetic care in a comfortable and private environment.
Their clinic offers certified FDA approved machines, as well as Korean technology, to provide a comprehensive range of customised non-invasive therapeutic treatments for all our patients. Their range of services include laser and resurfacing therapies, radiofrequency, light and ultrasonic based treatments, botox and filler injections, chemical peels and various facial and body wellness treatments.
Under the experienced hands of their Medical Director, Dr Rachel Lim, Cove Aesthetic Clinic aims to provide and deliver solutions to unlock patients' true beauty inside out. Every treatment recommendation and program will be personally and specifically tailored to you, to ensure optimal results and outcome.
20. Aesteem Aesthetic Clinic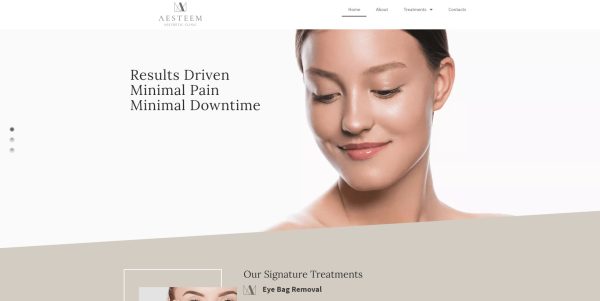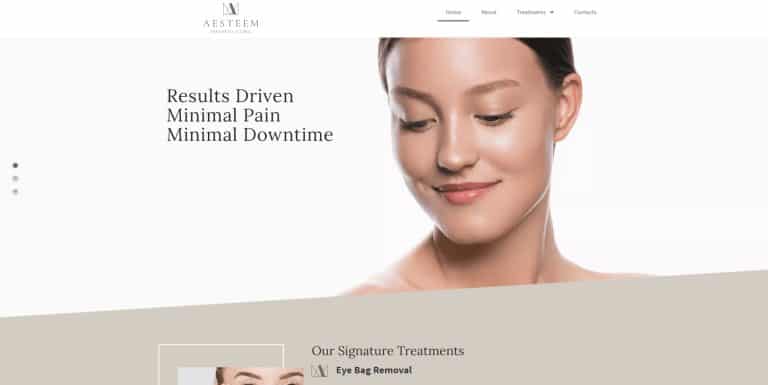 Aesteem Aesthetic Clinic believes in providing patients with up to date technologies and treatments at reasonable prices. Their signature treatments include acne scar removal, pigmentation removal, eye bag removal and skin rejuvenation.
Reviews complimented their team's professionalism, level of service and patience in serving every client. With the quality to service given, do expect to return for more of their services!
21. Dr D Aesthetics Medical Clinic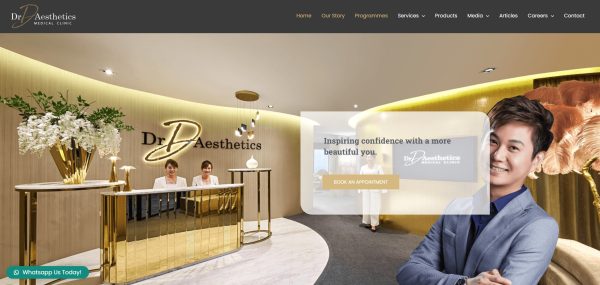 If you're looking to receive aesthetic treatment in a friendly and professional environment, then look no further than Dr D Aesthetics Medical Clinic in Singapore!
Using modern technology, their medical aesthetics team are fully trained, highly experienced and MOH approved; they're able to deliver a multitude of procedures for the treatment of a wide variety of skin conditions, listening to your needs and finding the perfect solution for you.
Each treatment offered at Dr D's medical and aesthetic clinic is evidence-based and delivered to ensure that as little downtime as possible is needed, enabling you to resume day-to-day activities in a short space of time.
22. Dr. Valentin Low Aesthetic & Laser Clinic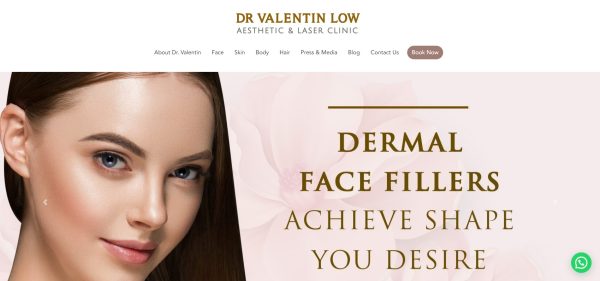 Women, regardless of age, want to feel good about themselves. And it is Dr. Low's determined intention to give them what they want, within reasonable limits.
Dr Valentin's clinic is a premier destination to meet your beauty needs. With a wide range of cosmetic services, Dr Valentin addresses your beauty with state-of-the-art laser equipment and the latest, trusted modern methods to meet your expectations.
Non-invasive services focus on body parts that requires attention of cosmetic enhancements, whether its getting a facelift for facial refining, a liposonix for your body treatment, skin tightening, or even hair regrowth, Dr Valentin's clinic aims to provide you the best cosmetic treatment to boost your beauty and confidence for yourself.
Conclusion
Do you have any reviews and comments to share regarding our choices for the best aesthetic clinics in Singapore?
While SBO is committed to supporting our local businesses, we welcome any feedback and anonymous sharing regarding your experience with the listed aesthetic clinics.
We hope that this guide will be useful in helping you to make an informed decision when it comes to finding the most suitable clinic for your needs.

On a related note, if you've always had thoughts to have undesirable moles or spots removed, check out our other article on suggested clinics which provide mole removal.
Featured Image by Alexander Dummer on Unsplash
Explore More Content