10 Best Waxing in Singapore for Long-Lasting Hair Removal [2022]
Here's to longer-lasting hair removal with the 10 Best Waxing in Singapore!
Beauty
Our team at SBO.sg is committed to being a one-stop avenue to connect local businesses and consumers. We hope that our research efforts can help you save time and money by finding you the best deals without having to search around the vast world-wide-web.
Have you ever heard that shaving makes your hair grow faster and thicker? I believe many of you who are reading this post have heard of this myth. Otherwise, you wouldn't be seeking to try out waxing, right?
Whether or not is the myth true, it is no doubt frustrating to see your hair grow out after having only shaved it a few days ago. Not to mention those painful ingrown hair and razor burns.
Hence, we'll be showing you the 10 Best Waxing in Singapore to help you achieve those long-lasting, smooth and hairless skin!
1. Pink Parlour Tampines One
Having won over 18 accolades in the grooming industry since its first operation in 2005, Pink Parlour entered the grooming scene with a mission to empower women to take control of how they can look and feel.
Prided for being the pioneer in premium services such as top-of-the-line Brazilian wax treatments, waxing for men and spray tanning offerings in Southeast Asia, the beauty parlour will ensure that your experience there is of time efficiency and minimal discomfort.
2. Bonita
Specializing in everyday beauty services and grooming that promises you "The Bonita Experience", Bonita or "beautiful" in Spanish represents all confident and beautiful women out there.
A business that strongly upholds its integrity and ethical practices, you can definitely be assured that there will not be hard-selling packages or cutting down on product quality.
3. Blush @ Somerset
A beauty salon established in 2008, Blush Wax takes pride in offering you quality services and professional advice by ensuring that your treatments are being performed by highly qualified and experienced therapists in the highest industry standards.
At Blush, you can rest assured that only the highest quality depilatory waxes and pre-wax & post-wax aftercare products from Australia's top leading brands are used in your treatments.
4. Wink Wax Wellness Tanjong Pagar
One that goes by a sustainable corporate strategy, Wink Wax™ cherishes every relationship with its clients. Hence, the business works consistently to provide you with an authentic experience at Wink Wax.
Despite having successfully transformed from a simple service provider to a leading industry player, Wink Wax™ continues to actively innovate its business model from time to time to provide you with the latest and up-to-date beauty practices in the industry.
5. Wax Factor
A waxing, tanning & beauty salon, Wax Factor offers a wide range of treatments serviced by a team of experienced therapists who will bring you the latest technology and beauty practices in the wax industry.
Priding themselves on their high hygiene standards and overall cleanliness, the salon makes sure that their equipment and rooms are sterilized after every use. In addition, the salon have a strict no double dipping of spatulas policy to keep up to quality hygiene standards.
6. SSKIN
Founded in 2019 with the goal to offer every client effective and safe treatments for all, SSKIN believes that smooth, beautiful and glowing skin is the basis for any look.
Set in a modern and Instagram-worthy private room, the salon is definitely a place worth seeking out for a unique waxing experience!
7. Supersmooth
Recommended for its "Quantum Dots Technology" that is engineered in Singapore, Supersmooth is known for Asia's first known technique for treating richer skin tones.
Offering waxing services for any areas on your body, including Brazilian waxing, you can be assured that you're in good hands as the service staffs are highly experienced in making the process a fuss-free and less painful one.
8. Thomas D'esthetique
Having attained foremost recognition as a pioneer and expert of body hair removal for men, Thomas D'esthetique's extensive experience ensures all services provided attain complete contentment.
With an astounding range of beauty essentials, Thomas D'esthetique not only takes pride in providing genuine solutions for men bothered by unwanted hair but also in providing holistic skincare enhancement for men.
9. Beauty Matters Asia
Driven by their mission to deliver the highest quality of customer service with a sense of warmth, friendliness, individual pride and company spirit, Beauty Matters Asia is a one-stop beauty salon that offers personalized attention and care for all of your beauty-related needs.
In addition, Beauty Matters also seek socially and environmentally responsible products before recommending them to you, thereby ensuring that the best result is delivered to you.
10. Sgbest Hair Removal
Embark on your hair-free journey with Sgbest Hair Removal's waxing services provided by friendly and highly skilled professionals who will keep the pain to the minimised level.
Offered at affordable and competitive rates, Sgbest Hair Removal is definitely a place recommended to all first-timers!
Conclusion
Do you have any reviews and comments to share regarding our choices for the best waxing in Singapore?
While SBO is committed to supporting our local businesses, we welcome any feedback and anonymous sharing regarding your experience with the listed waxing services in Singapore.
We hope that this guide will be useful in helping you to make an informed decision when it comes to finding the best waxing services in Singapore.
On a side note, if you are looking for the best eyebrow embroidery in Singapore to enhance your facial features, click here to find out more.
In this article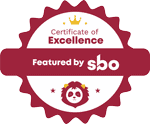 Are you featured in this?
Display this exclusive SBO badge proudly on your website!