10 Best Dark Eye Circle Treatments In Singapore to Remove the Dark Eye Circles [2023]
We know how irritating dark eye circles can be. So, we have rounded up the 10 best dark eye circle treatments in Singapore for you to finally get rid of those dreadful dark eye circles!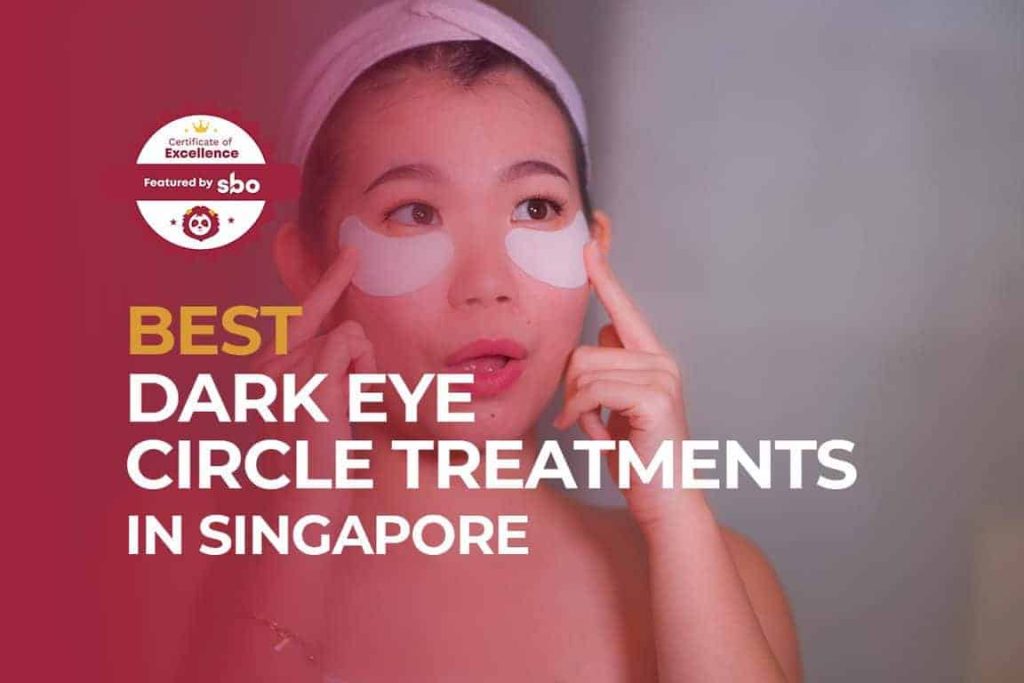 Dark eye circles are every girl's nightmare. We know how irritating dark eye circles can get, it makes us look sick, tired, old and unattractive. Everyone wants clear skin and no dark eye circles but we all know how difficult it is to get rid of those dreadful dark eye circles.
As such, many people resort to dark eye circle treatments so as to get rid of them once and for all. However, these dark eye circles are skin just below our eyes which mean that they are highly sensitive. As such, it is paramount that we engage the right experts to help us treat our dark eye circles. We have put together a list of the 10 best dark eye circle treatments in Singapore that we think are the best in the field, to help you get that youthful and attractive look.
1. Cambridge Medical Group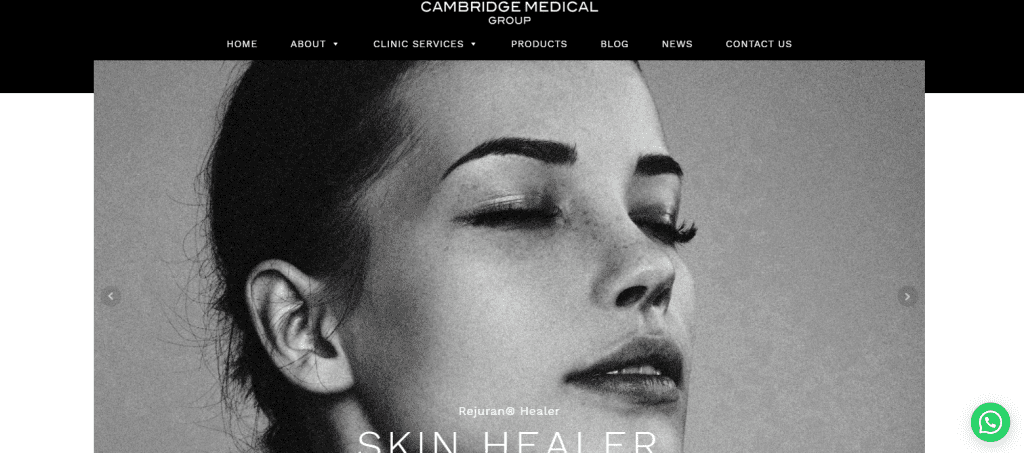 Helmed by Dr Lee Mun Heng who graduated from the prestigious and world-renowned University of Cambridge, United Kingdom, Cambridge Medical Group offers bespoke & technologically advanced medical anti-ageing, facial rejuvenation and facial contouring treatment plans.
With more than 10 years of medical aesthetics experience, Dr Lee Mun Heng is one of the best aestheticians in Singapore. He aims to draw out one's natural beauty through the application of safe, minimally invasive and holistic procedures, making sure your dark eye circle treatment is done safe and prettily. With Dr Lee as your aesthetician, you can be assured you are getting one of the best dark eye circle treatments in Singapore.
2. Illumia Medical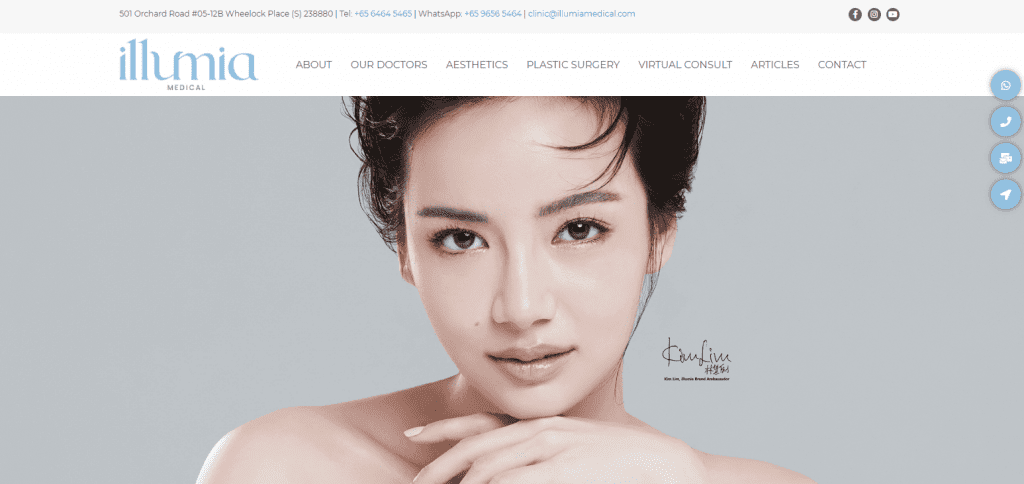 As an all-in-one centre, Illumia Medical always strives to push the boundaries of medical aesthetics and plastic surgery in Singapore to high standards and higher performance. With a mix of non-invasive, minimally invasive and surgical cosmetic enhancements, Illumia Medical's unique self-developed Hybrid2 protocol helps their clients realise their aesthetic dreams.
With their scarless eyebag removal, you will be able to remove your dark eye circles with little recovery time and most importantly, without leaving any visible scar. Their plastic surgeon is fully accredited with MOH, who is double-fellowship qualified and has extensively trained and observed with eminent blepharoplasty surgeons from the East and West.
3. Rexults Clinic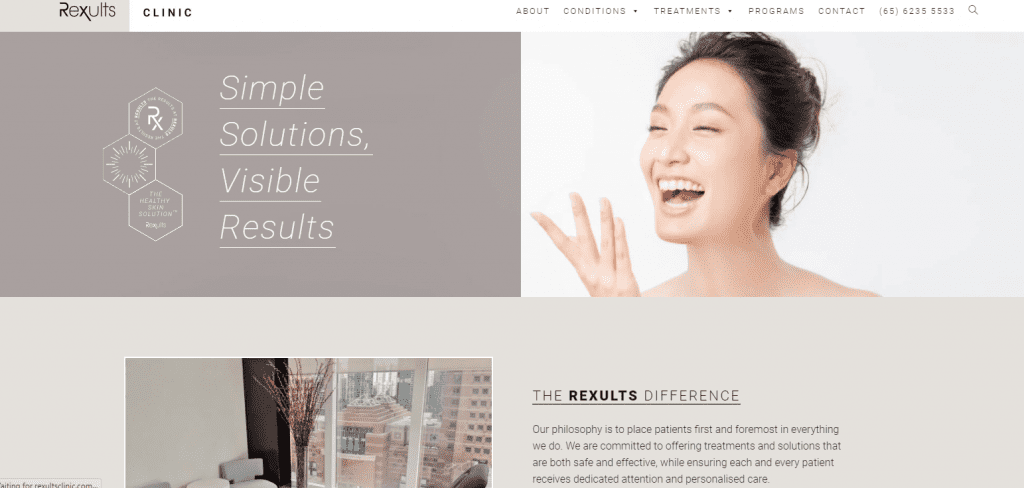 At Rexults Clinic, their philosophy is to place patients first and foremost in everything they do. Rexults Clinic was founded by Dr EP Wong, with decades of experience, who is known for comprehensive programs that address skin concerns relating to acne, pigmentation and the visible signs of ageing.
They are committed to offering treatments and solutions that are both safe and effective while ensuring each and every patient receives dedicated attention and personalised care. They offer 2 types of treatments for dark eye circles – dermal fillers and pico laser that you can try out.
4. Tiffiny Yang Aesthetics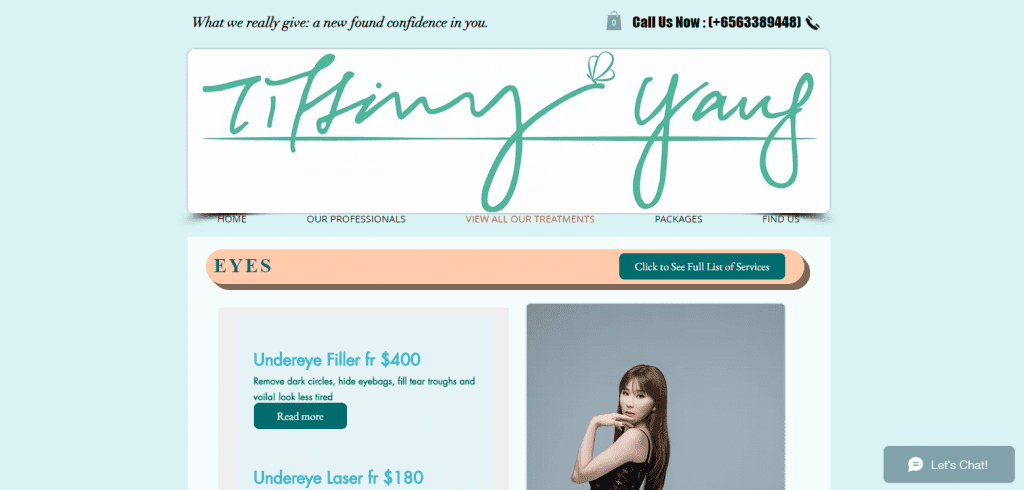 At Tiffiny Yang Aesthetics Clinic, they pride themselves on their wide range of clinically proven aesthetic treatments that you will ever need. But more importantly, they want to give you newfound confidence in yourself.
With their cosmetic treatment philosophy of 'a single problem ideally has a single solution', they make sure that they can offer aesthetics and beauty cosmetic treatment options for every aesthetic problem their patients have. Their professionals who are designing the beauty aesthetics treatments, are qualified & experienced, each with more than 10 years of aesthetics & cosmetics practice experience behind them.
5. Eeva Medical Clinic​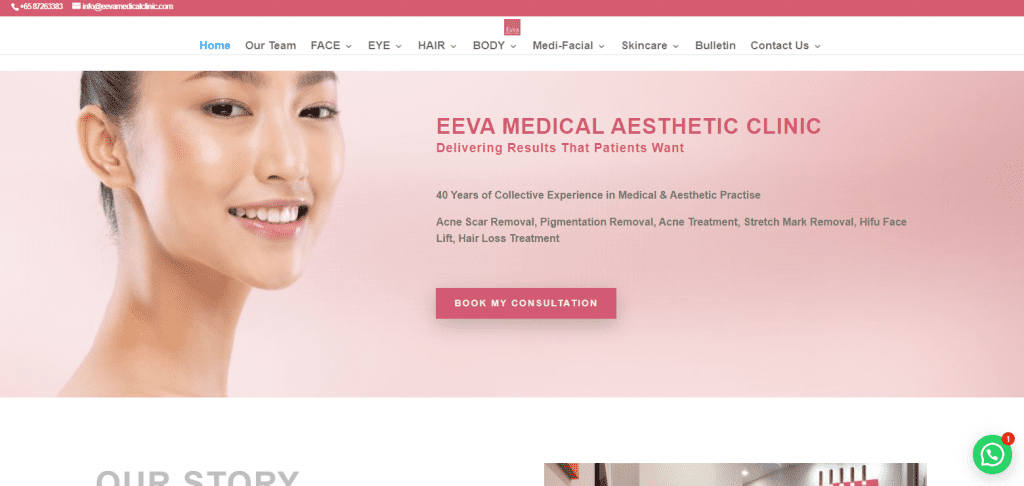 At Eeva Medical Aesthetic Clinic, you can be assured that all information about you remains private and confidential. They have private rooms specially dedicated to clinical treatment and medical aesthetic services, encompassing skin, body and hair, for maximum comfort and privacy.
Their special areas of interest include Customised Acne Scar Removal Treatment and Pigmentation Removal Treatment. Eeva Medical Aesthetic Clinic is helmed by 2 sensible and professional lady aesthetic doctors – Dr Grace Ling and Dr Lim Luping, with over 40 years of collective experience. They adopt a patient-centric, holistic and results-driven approach that aim to deliver results that their patients want.
6. The Artisan Clinic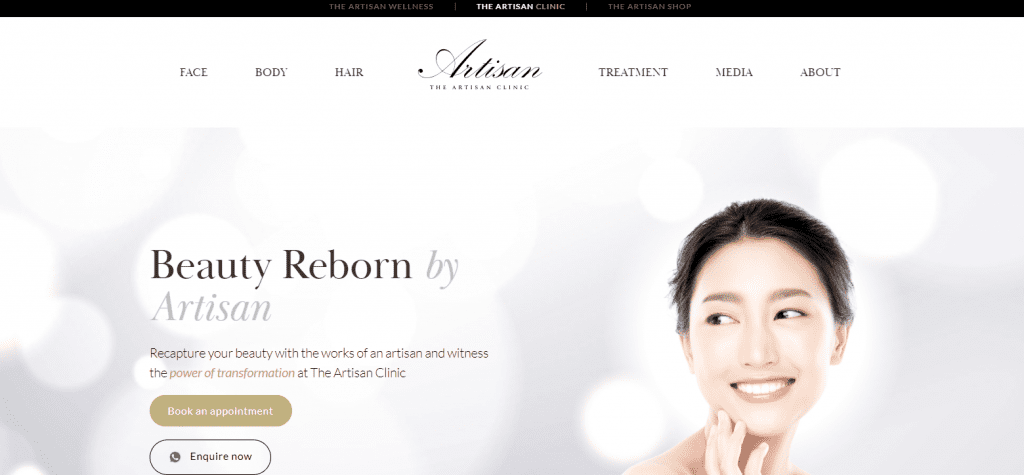 At the Artisan Clinic, their mission is to provide bespoke aesthetic treatments that are tailored meticulously to each and every patient. With their impressive service and experience, they are voted as one of the top 12 clinics for Best Dark Eye Circle Treatments in Singapore.
They offer two treatment options which are Picosure and Threadlift. PicoSure is a picosecond laser, which boasts more effectiveness and safety in removing dark eye circles than traditional lasers. As for Threadlift, it is minimally invasive;, and you will be able to achieve results that include a slimmer nose tip and tighten saggy skin.
7. Halley Medical Aesthetics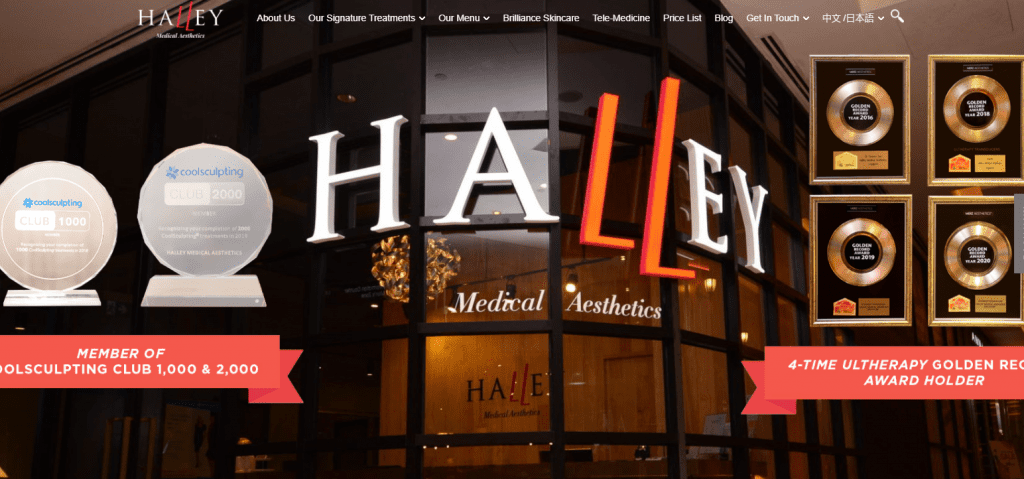 At Halley Medical Aesthetics, they want you to be just as beautiful, desirable, and unforgettable. They put their heart into finding and delivering treatments that are optimal for each patient. With a combination of modern, tried-and-tested medical tools and techniques, these are on-trend and non- or minimally-invasive treatment solutions to help you achieve the desired result.
Under the leadership of Dr. Terence Tan, Halley Medical Aesthetics was awarded the "Golden Record Award" by Merz in 2016, 2018, 2019, and 2020 for cutting-edge Ultherapy treatment. Halley was also recognised for its experience and achievements in CoolSculpting with the "Club 1000" award in 2018 and "Club 2000" award in 2019 by Allergan.
8. Sozo Aesthetic Clinic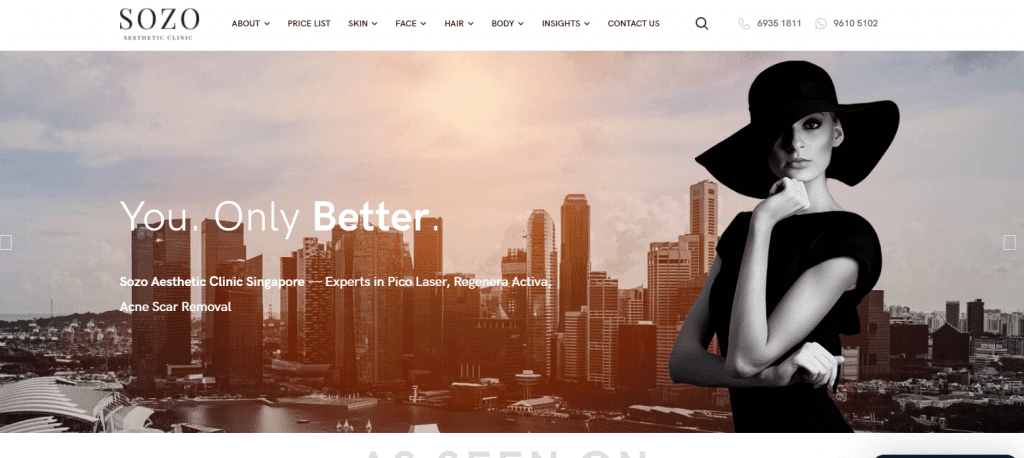 Sozo Aesthetic Clinic is designed for the Busy Modern Individual. They know how busy you are which is why they aim to integrate seamlessly into your hectic lifestyle through proprietary treatments that have a quick recovery and minimal downtime.
They believe that everyone is a person-first; patient-second; and number-never, and they embrace your natural beauty and bring out the best in you. Sozo is also the earliest clinic in Singapore and South-East Asia to offer Lutronic's PicoPlus, a multi-wavelength Picosecond laser. They are forward-thinking experts who embrace new technology to improve patient outcomes.
9. Veritas Clinic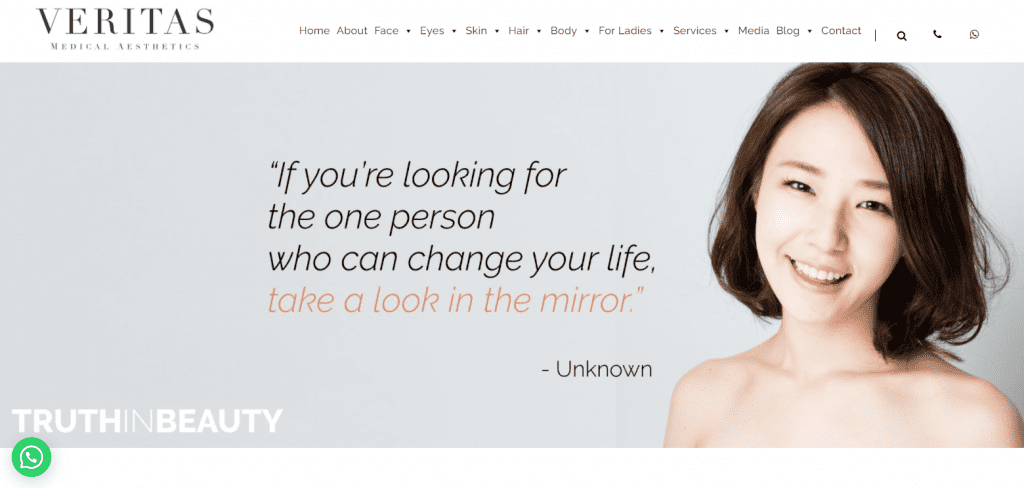 Veritas Clinic holds a strong belief that they should pursue aesthetic medicine via a holistic and scientific approach. Their vision is to administer aesthetic improvements to every patient through medical technology backed by research, data and proven science.
They are committed to providing a high quality of aesthetic care and all their treatments are backed by evidence-based methods that have already garnered real-life results. Their medical professionals have many years of in-field experience and hold themselves up to a high quality of ethics and professionalism.
10. Kowayo Aesthetic Clinic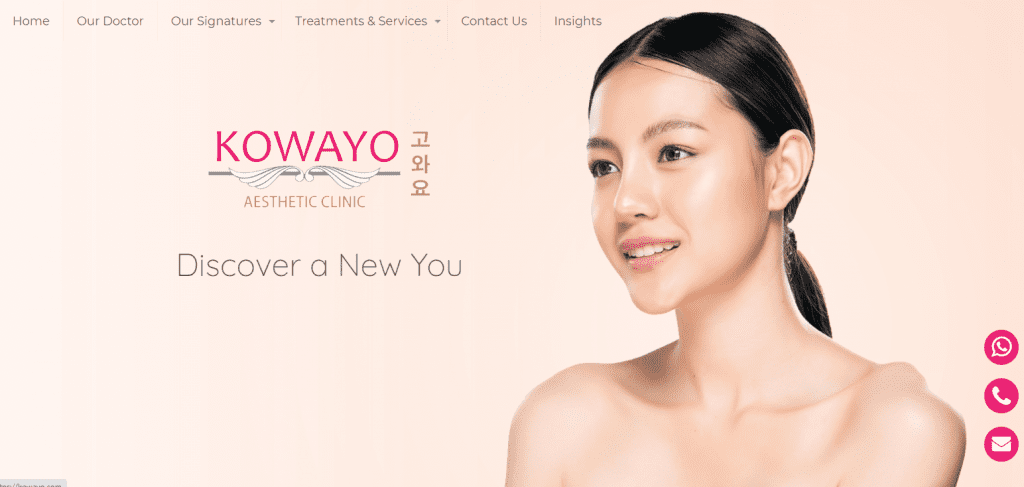 Kowayo Aesthetic Clinic believes in 3 important factors – Safety & Comfort, Effectiveness and Affordability. Founded by Dr Wong Kee Seng, the inspiration behind this clinic is from beautiful individuals who were sashaying down the streets of the Gangnam District in Seoul.
With Dr Wong's team of talented, experienced and well-trained therapists, you can be assured that you get quality, personalised and cost-effective services to maximize your beauty and express your individuality. They offer a variety of treatments, such as Redensity II, Ellanse and Eye Threading, to remove excess eye bag fat and rejuvenate under-eye skin to tighten it up. This is one of the many reasons they are one of the best dark eye circle treatments in Singapore.
Conclusion
Do you have any reviews and comments to share regarding our choices for the best dark eye circle treatments in Singapore?
While SBO is committed to supporting our local businesses, we welcome any feedback and anonymous sharing regarding your experience with the listed outdoor furniture in Singapore.
We hope that this guide will be useful in helping you to make an informed decision when it comes to finding the best dark eye circle treatments in Singapore.
Explore More Content