10 Best Outdoor Furniture in Singapore to Weather the Elements [2023]
Rain or shine, weather through the great outdoors as you lounge in your furniture handpicked from these 10 best outdoor furniture in Singapore!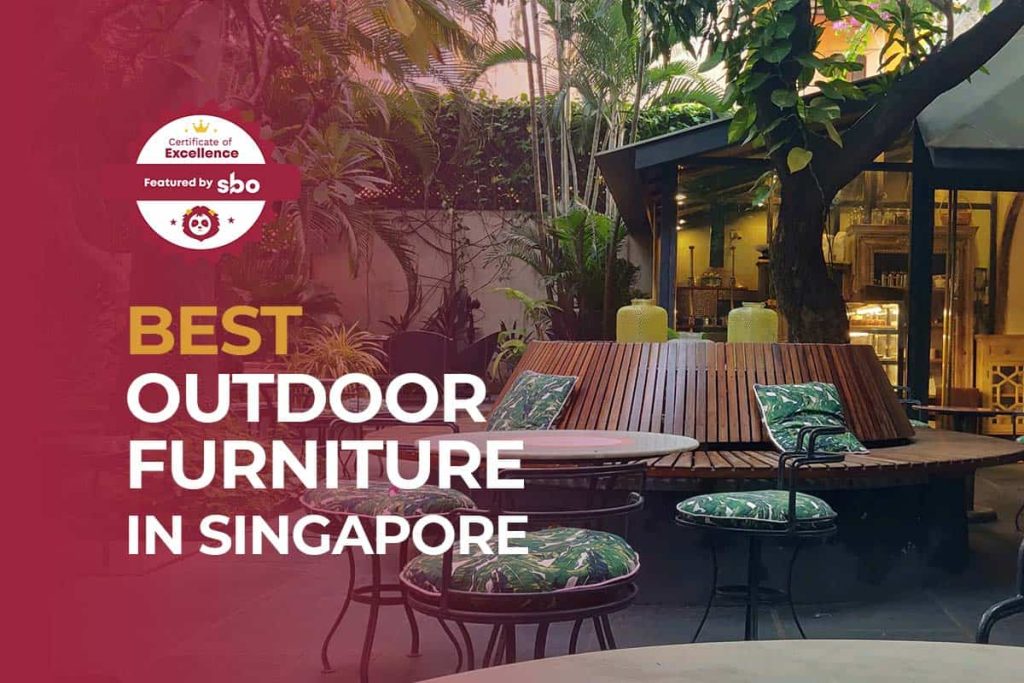 Got a cosy garden paradise outdoors that you can't wait to decorate, or an outdoor commercial space you need furnished to impress?
Outdoor furniture has a few differentiating factors from indoor furniture – it needs to be sturdy and durable to weather through the elements, while maintaining reasonable and affordable price tags. In this sense, it can be a challenge to sift through the many retailers in Singapore that truly offer something that fits your needs.
From restful rustic to contemporary, flowing and elegant styles, take your pick from these 10 best outdoor furniture in Singapore!
1. Arena Living Outdoor Furniture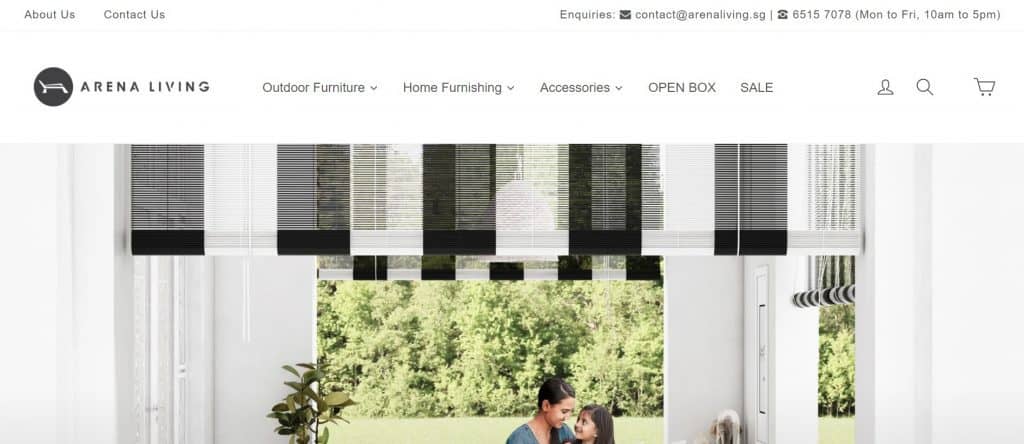 Arena Living Outdoor Furniture is a direct-to-consumer outdoor furniture retailer that seeks to elevate the outdoor furniture purchase experience for consumers. Unlike most other retailers, they guarantee a 100-day return policy and 5-year warranty which is typically unheard of.
One of the first brands to incorporate sustainability in their production, they use 100% high-density polyethylene wicker that is predominantly handwoven to create fully recyclable and resistant products suitable for all types of weather. The materials are procured from some of the industry's most well-known suppliers celebrated for their quality and sustainability.
Pleased customers effuse in the reviews about the amazing service, value-for-money quality products and ease of ordering on the website. Note that purchases can only be made online!
2. Choice Furniture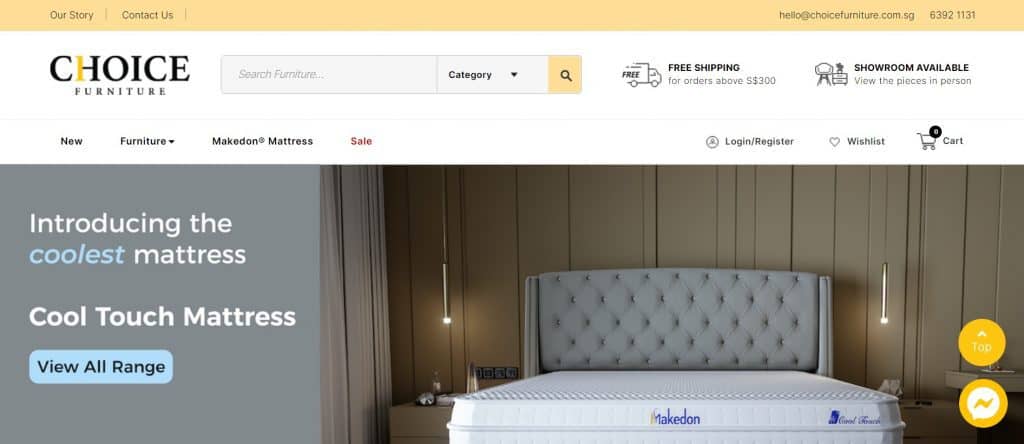 Choice Furniture's humble beginnings helped it gain a loyal following in the heartlands. To date, it has helped over 10,000 customers find the furniture they desire. It places a strong emphasis on a product's craftsmanship, which has shaped its endless pursuit of exemplary pieces afforded to customers.
Quality checks are performed overseas by experienced professionals in order to meet stringent quality expectations. You can have a look at its showroom and online site for a quick look at its entire range of furniture. You can also pick from different outdoor sets, tables, swing chairs and sofas and secure what you want.
The reviews talk about the efficient delivery and the remarkable quality worth every cent spent. The customer service is also highly praised, as well as the smooth process.
3. Boulevard Outdoor Inspirations (Keppel)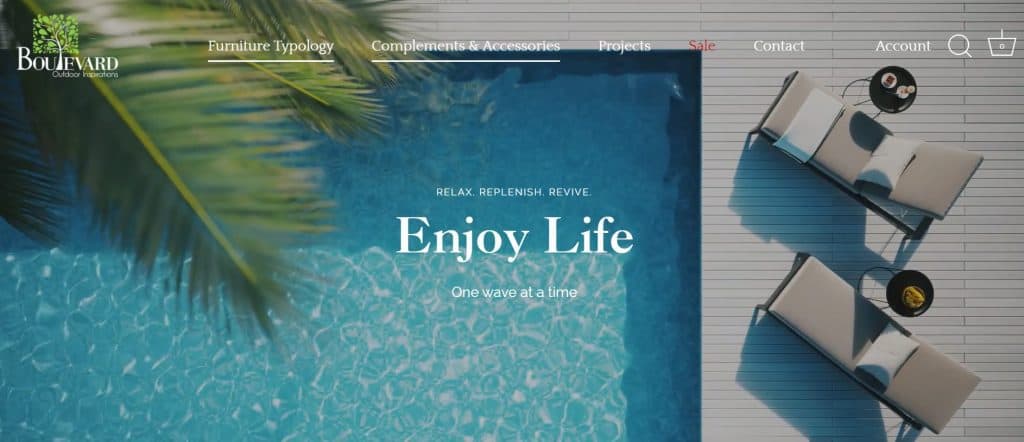 BOULEVARD hunts down inspirational designs that possess premium quality and ageless appeal to offer at pocket-friendly prices. Have a look at their signature Seychelles wicker collection, a compilation of modern and time-honoured design traditions, topped with a unique, sprightly twist.
They invite you to liven up outdoor setting with a fully furnished outdoor experience spanning lounge chairs, tables, ottomans, loveseats and plenty more. Each piece of furniture excels in aerodynamics, with its own streamlined, minimalist look designed to spruce up any deck, patio or garden.
Inspirations are derived from different parts of the world, and you can be assured that you're receiving environmentally friendly products crafted from world-famous outdoor material brands. Feel valued as a customer when you shop there and grab yourself a premium quality piece of furnishing in the spacious furniture store as the reviews show.
4. OHMM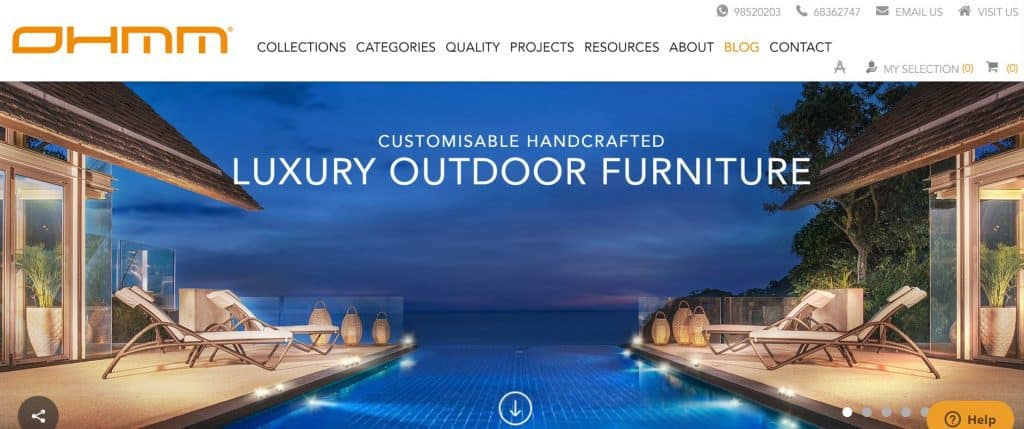 "Do one thing well" is OHMM's catchphrase, a glorious revelation of their focus on making the best outdoor woven furniture they can. Birthed from a love of forging outdoor spaces using high quality products for users to relax, rejuvenate and spend quality time with the people they love, OHMM fuses design and quality into every piece of furniture crafted.
They focus on using synthetic rattan, hand-woven in their in-house manufacturing facility in Cebu, The Philippines, by their master craftsmen. You can customise your furniture pieces, including the finishing colours and size. Visit the showroom to feel the quality as well as choose your favourite colours yourself while you enjoy a steaming hot cuppa.
Whether you're looking for something for residential or commercial purposes, there's plenty of furniture to choose from. Reviews highlight the exceptional quality, value-added products and service!
5. BFG Furniture – Outdoor Furniture Singapore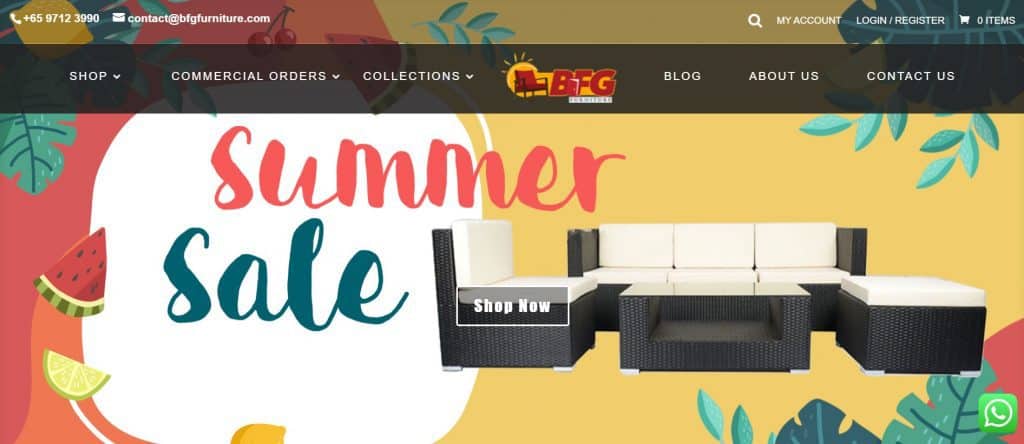 Looking for a smashing set of patio, balcony and outdoor furniture?
BFG Furniture promises only quality outdoor furniture designed to meet the highest standards of construction and style. You can choose something that catches your fancy from its extensive selection of vibrant chair cushions, beanbag seats, tables, rattan furniture and many more.
It also specialises in personalised furniture suitable for HDB, DBSS and BTO flats, as well as condominium units. It offers truly localised solutions with the understanding that space is often limited in Singapore, hence its modular and stackable furniture that can be used according to the needs of the occasion.
Operations are fully online to pass you the savings gained from the absence of a showroom, resulting in economical and accessible prices for all. In the reviews, customers mention the quick delivery, affordable prices and pleasant online shopping experience.
6. Teak & Mahogany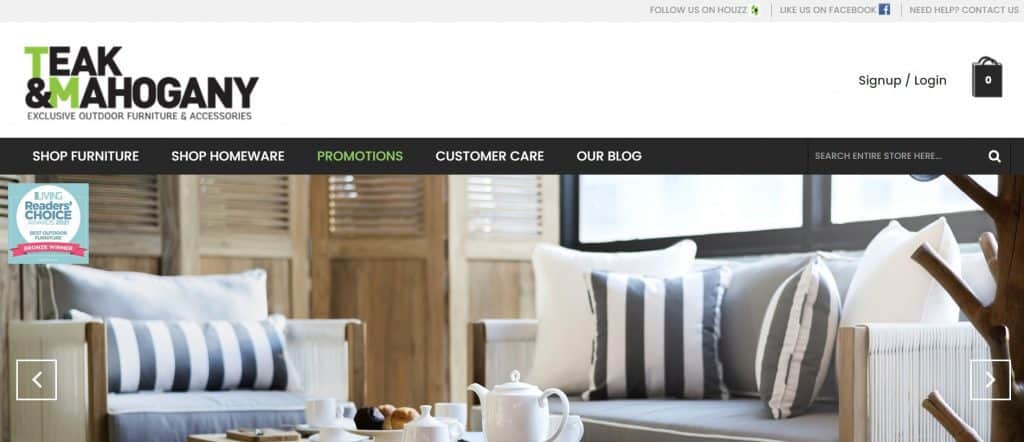 A seasoned player in the local furniture scene, Teak & Mahogany blossomed from an admiration of stunning and high-quality wooden furniture from Indonesia. It has since built up a solid reputation over the past two decades, adding not just wooden furniture, but an entire range of homeware, indoor furniture and soft furnishings as well.
If you're looking for a bespoke piece of furniture to truly call your own, you can work with their team of drafters and consultants to create something customised. From chairs to tables and recycled teak wine cellars, the team specialises in a slew of different durable materials for both indoor and outdoor furniture customisation.
Outdoor products range from loungers to swings, bars, barbecues and more. Reviews praise the knowledgeable team, their helpful suggestions for a variety of applications, outstanding product quality and brilliant customer service.
7. Konopi
Konopi was established from a keen desire to create hardy, inspirational outdoor furniture that can weather the elements and encourage people to immerse themselves in their outdoor spaces. Having been in the industry for 8 years, Konopi distributes and sells their collection of debonair outdoor furniture truly built to last.
At Konopi, you can explore different brands encompassing products like stools, chairs, dining tables, loungers and more to redefine the outdoors for you and your loved ones! Plus, if you've outdoor furniture with Textilene or mesh seats that have seen better days, you can send it over to be restored and renewed.
Reviews highlight the impressive after-sales service, reasonable prices, as well as high-quality products that are long-lasting. Buy over a certain amount to receive free delivery!
8. Hemma Online Furniture Store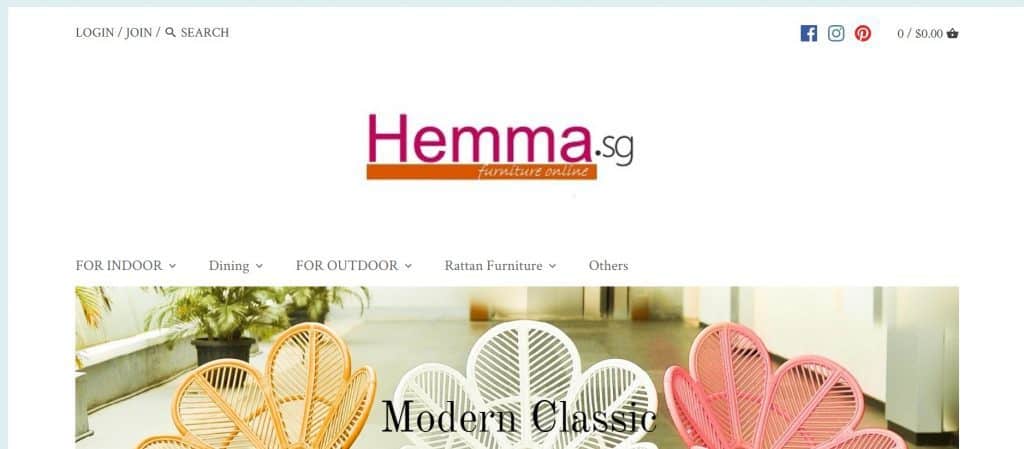 Hemma first ventured into the industry in 1998 as a teak garden furniture distributor in Sweden. Today, it supplies both indoor and outdoor furniture mostly in Swedish country and rustic style. It set up its sourcing office in Singapore and sells its cosy collection here via its online portal.
Prices are affordable with an entire indoor dining set priced from $480 and $549 for the outdoors. You can also get rattan furniture and other eclectic accessories. Materials used are varied, like oak, teak and wrought iron. Seeing as how the Scandinavian-style trend has been going strong over the past few years, it's definitely a place worth your while to shop at!
Reviews talk about its stylish and comfortable furniture, responsive replies and excellent customer service. Shop for a pleasant experience and have your goods delivered within a week!
9. Ambient Lounge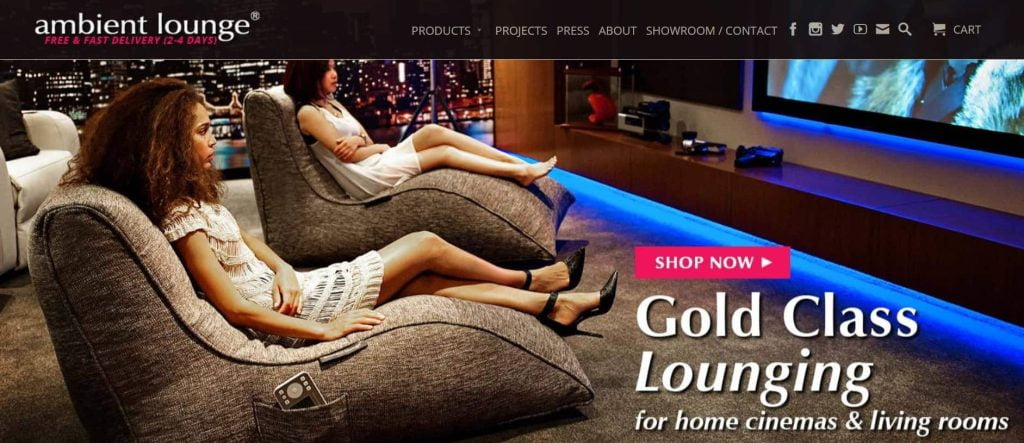 Ambient Lounge took the conventional, shapeless and saggy bean bags, and transformed it into a designer piece of innovation. Comfort, clean lines and cutting-edge form have become its hallmarks. Using a mix of luxurious materials, ingenious design concepts, and artistry, they've founded various leading products and systems.
Its products have been used in multiple major worldwide venues, including Singapore's very own Resorts World Sentosa. Under their selection of outdoor furniture pieces, you can find Avatar Loungers, Wing Ottomans, Evolution Sofas and more at affordable prices.
Reviews show praise for its cushy and quality products, together with the exceptional customer service. Drop by the store to have a look and feel of the materials before you select one you want.
10. The Furniture Makers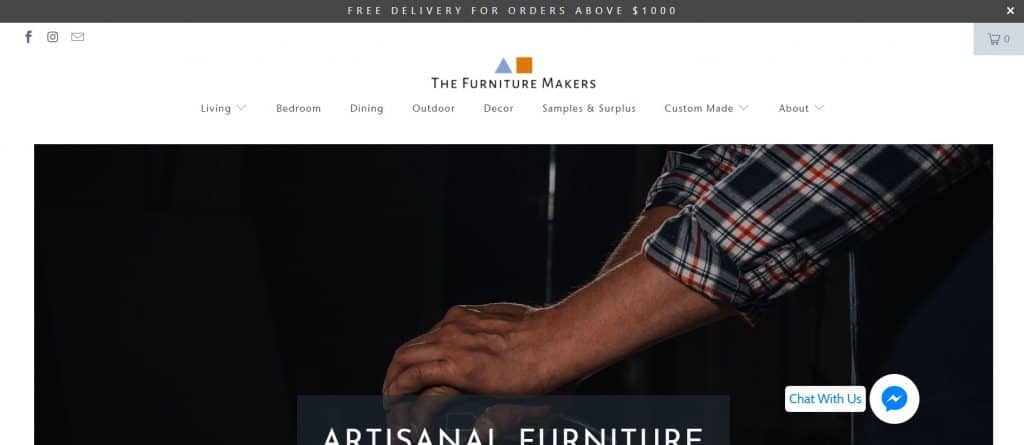 The Furniture Makers is an artisanal furniture producer with a factory located in Indonesia. Experienced in furniture-making for 3 decades, they have worked with a huge collection of both natural and synthetic materials. They spend the bulk of their time crafting, experimenting and teaming up with others to immortalise their tradition and skill.
Discover plenty of novel home decor pieces, as well as dapper outdoor furniture spanning lounge chairs, sofas, ottomans, coffee tables, side tables and swings. Prices start from an affordable $160. You can also customise bespoke furniture and cushions with their tailoring services.
The sole reviewer enthuses her exceptional experience with the staff who helped make her inspirations come to life. She also mentions the relatively affordable prices and amazing end result of her furniture pieces!
Conclusion
Do you have any reviews and comments to share regarding our choices for the best outdoor furniture in Singapore?
While SBO is committed to supporting our local businesses, we welcome any feedback and anonymous sharing regarding your experience with the listed outdoor furniture in Singapore.
We hope that this guide will be useful in helping you to make an informed decision when it comes to finding the best outdoor furniture in Singapore.
Featured Image by Birendra Bikram on Unsplash
Explore More Content