10 Best Door Repair in Singapore to Keep Your Door in Good Condition [2023]
These door repair companies have got their foot in your door.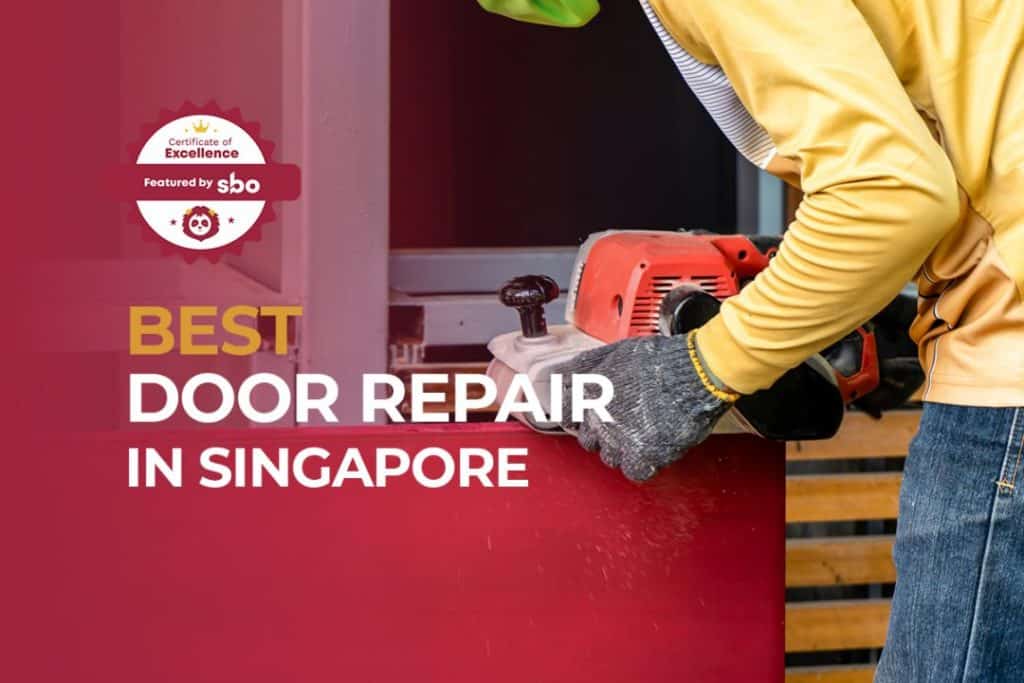 Door locks, hinges, handles can be subjected to wear and tear over time and will likely need to be repaired.
As most locksmith services may not offer hinge or door handle repairs, a handyman is the best person to call for all door repair services.
Looking for a door repair in Singapore? In this post, we've gathered all the necessary details to compile a list of the 10 best door repair in Singapore.
1. Singapore Door Repair Service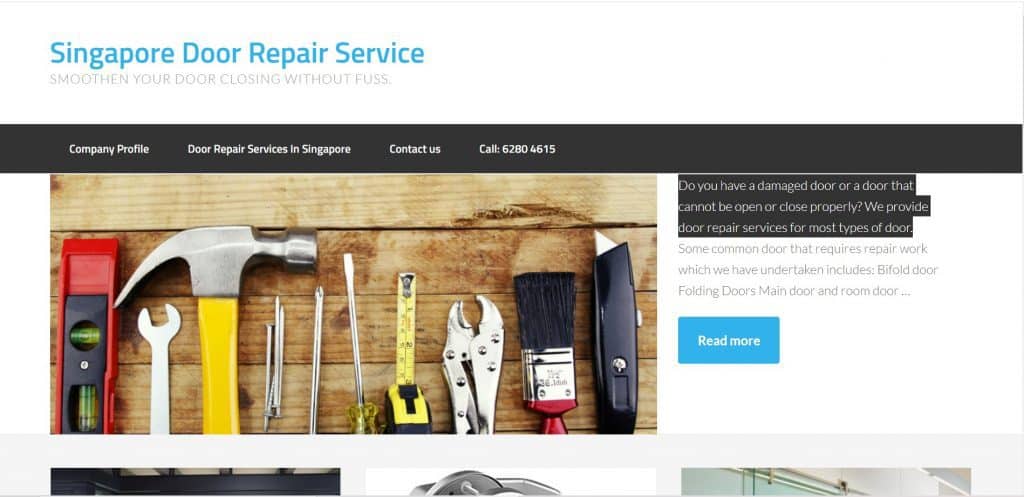 Do you have a damaged door or a door that cannot open or close properly?
Singapore Door Repair Service provides door repair services for most types of doors.
For example, they provide repair service for patio or balcony folding doors and sliding doors.
These door systems are space saving as they do not require much width to open the door fully.
However, instead of hinges, these doors rely on other mechanisms such as rollers.
The tendency for such mechanisms to be damaged is quite common.
The repair of door rollers can differ in difficulty as there are different designs for each door.
The door repair in Singapore can also help repair glass doors.
Glass doors are commonly used in offices so as to provide a open concept in the design.
Besides, it is also used in private projects for condominiums.
One problem they can resolve is glass door alignment correction.
This is usually the case when a door that is working fine starts to scratch against the floor or when you have a problem trying to lock the door due to the alignment between the lock and the catchment area.
2. LS Door Repair Singapore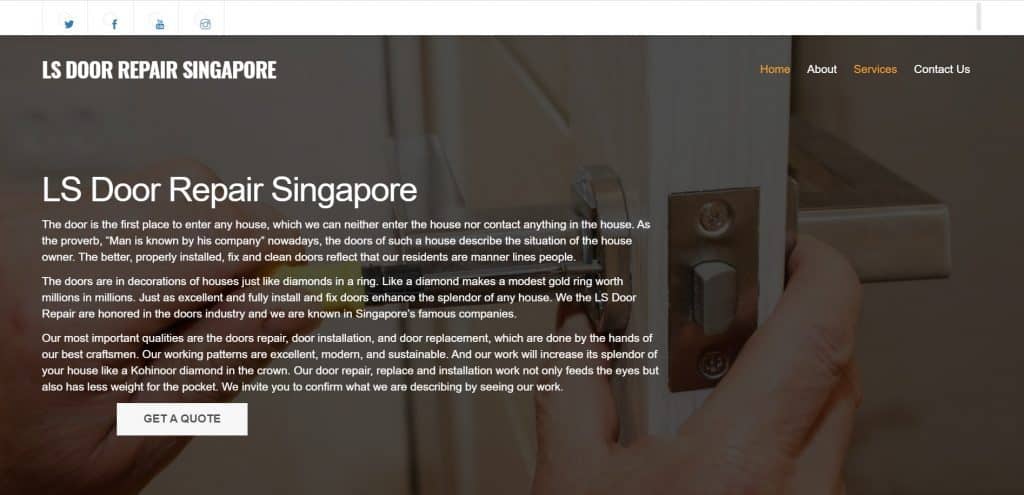 LS Door Repair Singapore can repair a variety of doors (even unconventional ones!).
These include wardrobe doors, cabinet doors, toilet doors and pocket doors.
Cabinet doors are those that are used in the kitchen to cover an empty storage place.
Kitchen cabinets are installed in many kitchens in order to store cooking equipment, food and most often precious and sensitive crockery or silverware.
There are three types of cabinet doors that they are capable of repairing:
In full overlay cabinets, the doors of the cabinet cover almost the entire face of the cabinets revealing very little frame between the cabinet units. This creates a very simple view of a kitchen and almost removes all gaps.
In artial overlay cabinets, as the name suggests, the cabinet doors have a partial gap between them which gives it a very nice look while maintaining appropriate gap. Smartly, it also cuts the overall manufacturing cost.
In inset cabinets, the door of the cabinets and the drawers are fixed inside the cabinet face which makes it look very modern and classy.
3. Superstar Handyman Singapore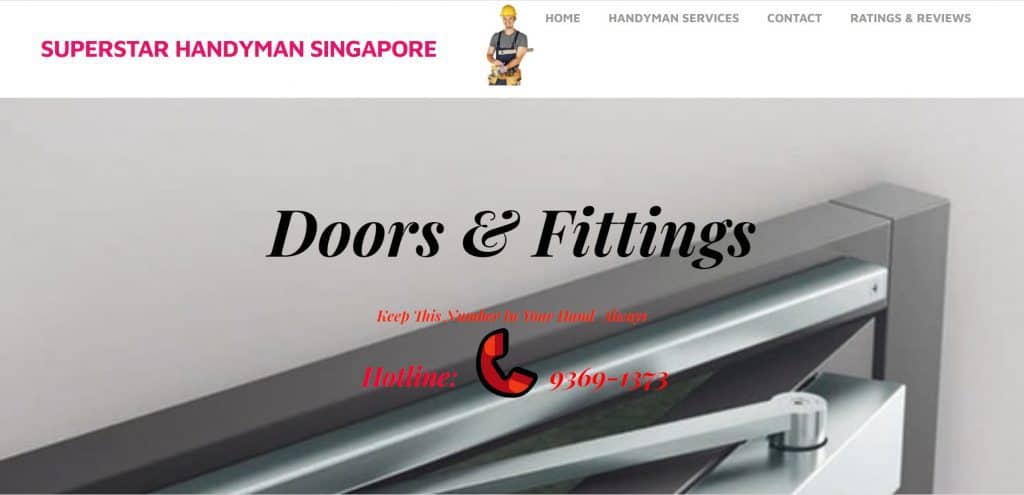 Superstar Handyman Singapore specialises in installing and replacing automatic door controls for landed properties, Housing Development Board flats, Build-to-Order flats, Offices and Condominiums.
Automatic door controls can be adjusted to close after you and also lock in position when needed.
If you have just moved in or are renovating your premises, you can also ask the door repair in Singapore for information on new home discount packages.
Offices frequently need their floor springs replaced, including the stainless steel door handles for glass fittings.
Look no further — they can fix this as well.​
4. A1 Handyman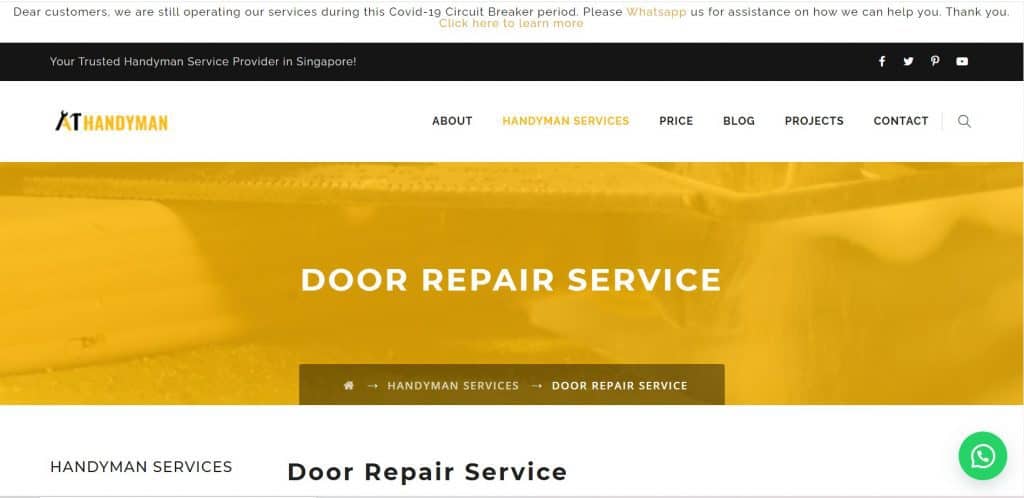 At A1 Handyman Singapore, they specialize in a range of premium household repair services at affordable prices.
With their knowledge and expertise, their team of handymen have solved several handyman projects in Singapore.
Their handymen can be depended on to provide professional handyman services with expertise and punctuality.
Prices are always quoted nett and itemised to let you know the exact prices of general handyman services which you will be provided with.
The best part of it all: they are always available if you need a door repair in Singapore.
They understand the need to tackle home maintenance problems as soon as possible – you can contact them seven days a week and they will get back to you in a jiffy!
Both their customer service and operations team are also well-equipped with the relevant knowledge to help you with queries.
5. Everyworks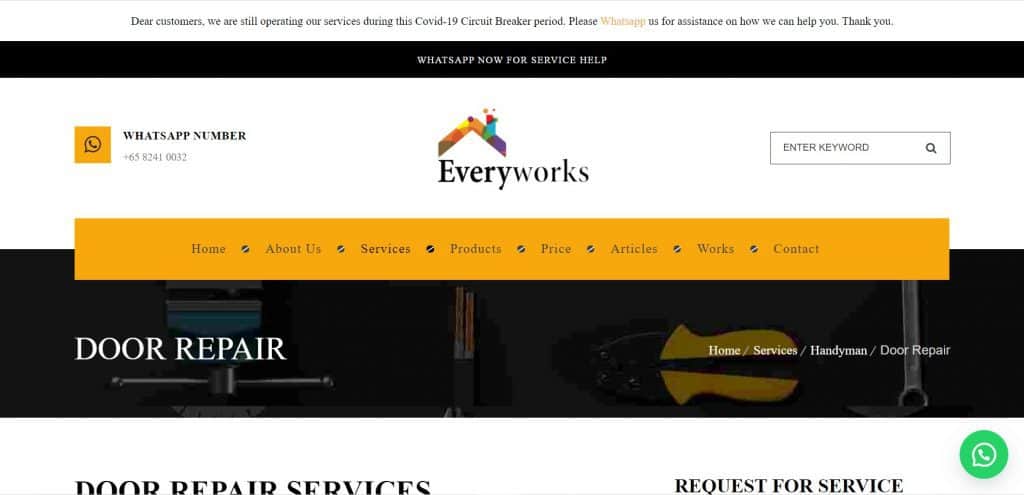 Have a loose, old door lock or a stuck door lock at home that needs repairing?
Everyworks can help you fix it, change it or replace it for you.
The door repair in Singapore can also help you replace your hinges on all types of doors.
These include main doors, cabinets, kitchen cabinets and cupboards.
They can also supply you with a doorknob for replacement if your doorknob is faulty.
The door repair in Singapore is known for having a seamless booking system in place.
Message them to get an instant diagnosis and a quote.
Book one or multiple services and they will arrange everything in the most convenient manner for you.
Everyworks also has strong customer support services.
Their dedicated team will follow-up on your needs with open and transparent communication.
They will diagnose the problem before recommending the best solution for your exact needs.
6. Joydom Engineering
Joydom Engineering specialises in repairing rotten wooden doors.
This issue can be repaired by removing the rotten wood.
If the damaged area is not that serious, they can use putty to patch up the damaged area and fill up the hollow area.
To smoothen the area, they will also sand and repaint the door to have a more even color tone.
The door repair in Singapore can also help you if your door laminate has cracks or peels off.
If there is a peel-off from the main body on the door laminate, you can use a max bond to stick it on the main body of the door.
They will be extra careful as the laminate is quite fragile, especially if you are using the thin laminates.
Lastly, Joydom observes the necessary safety standards and ensures that your sliding door repair, wooden door repair or glass door repair is of high quality.
7. A5 Door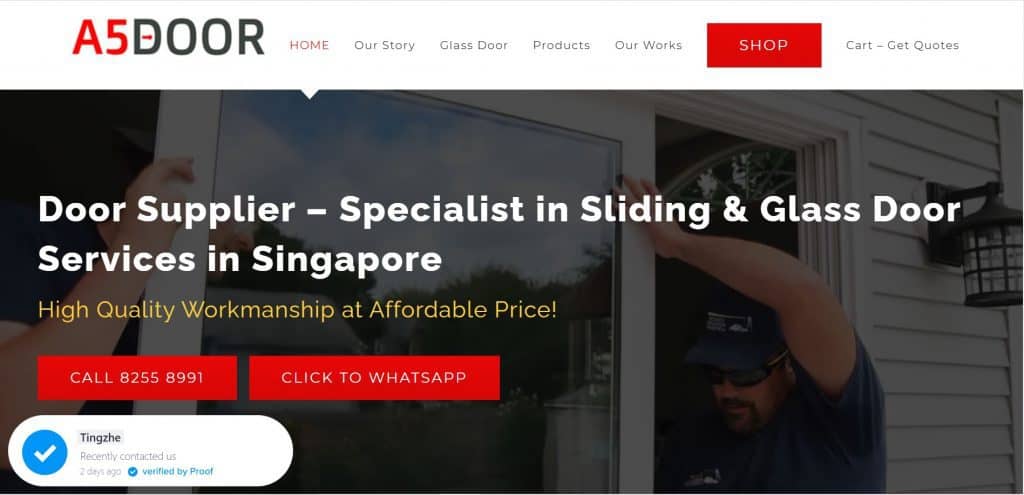 A5 Door is the leading door installation and repair contracting company in Singapore, with a penchant for repairing glass doors.
They specialise in glass door projects, notwithstanding their size, design requirements, and placement.
Additionally, having worked on numerous projects on both the residential and commercial fronts, the door repair in Singapore has accrued valuable experience in repairing all types of glass doors.
These include shower screens, sliding doors, frameless doors, wrought iron gates, kitchen doors and tempered glass doors.
They also specialise in repairing Housing Development Board (HDB) gates, bedroom & wooden doors, folding doors and toilet doors.
You will be hard-pressed to find any other contractor with the understanding, hands-on experience, and passion for their work than them.
8. Handyman King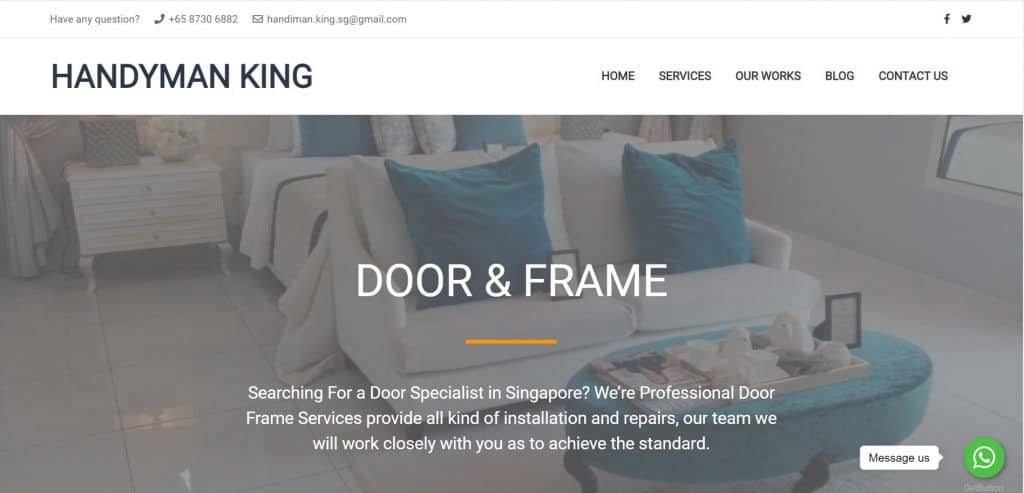 Handyman King offers a directory of door repair companies in Singapore.
You can compare and choose from a list of door repair companies which will suit you.
Handyman King provides exceptional support when it involves tackling home maintenance problems.
They will fix your problem with reasonable and affordable prices.
You'll get the best quality handyman workmanship from their company.
Past door repair projects completed include wooden door frame damage by termites, wooden door frame damaged by water, and main door lock repair.
9. Jecom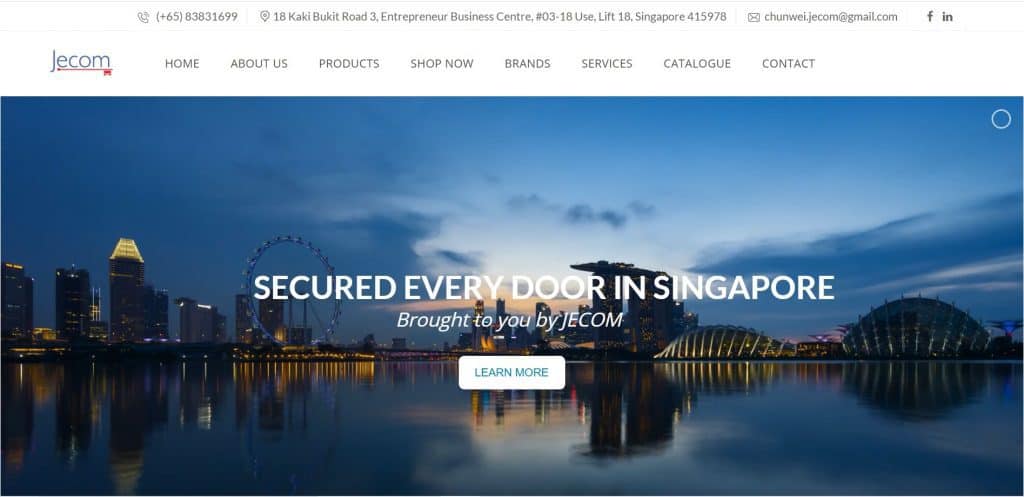 Jecom supplies and installs automatic door systems for swing and sliding doors in many projects in Singapore.
They provide after-sales service, as well as repair and maintenance for the automatic doors at reasonable prices.
Their teams are well-trained and experienced in repairing all kinds of automatic door systems.
They can also supply and install glass doors.
The door repair in Singapore also provides a suite of Business to Consumer (B2C) services.
Their experienced installers are capable of performing replacement of floor spring and door closers for residential units, retail shops, and offices.
They have a full range of Dorma products as well as products from other popular brands like P&M and Atena.
10. FixinGuru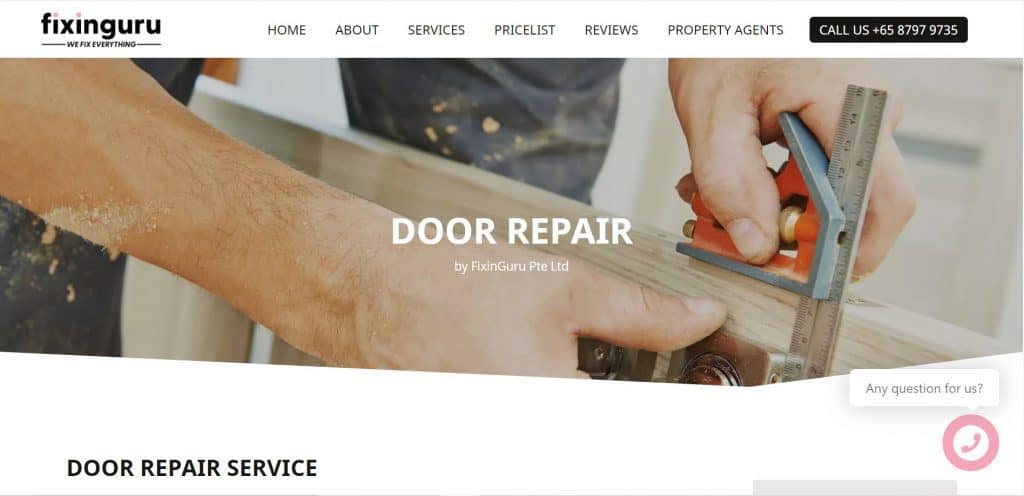 FixinGuru Pte Ltd is a Singapore handyman and cleaning service company with more than ten years of experience.
They have served numerous Singapore customers throughout the years, especially in the provision of door repair services.
Customers who require a flexible arrangement to repair their doors find the door repair in Singapore easy to work with.
Bigger companies usually charge based on a fixed price-list.
However, they are flexible with making changes for your unique needs.
Their headquarters is located in Jurong East and they serve customers over the island at a moment's notice.
Feel free to contact them by phone, SMS, WhatsApp, online chat or email anytime.
They will get back to you as soon as their staff are available.
Conclusion
Do you have any reviews and comments to share regarding our choices for the best door repair in Singapore?
While SBO is committed to supporting our local businesses, we welcome any feedback and anonymous sharing regarding your experience with the listed door repair in Singapore.
We hope that this guide will be useful in helping you to make an informed decision when it comes to finding the best door repair in Singapore.
Explore More Content